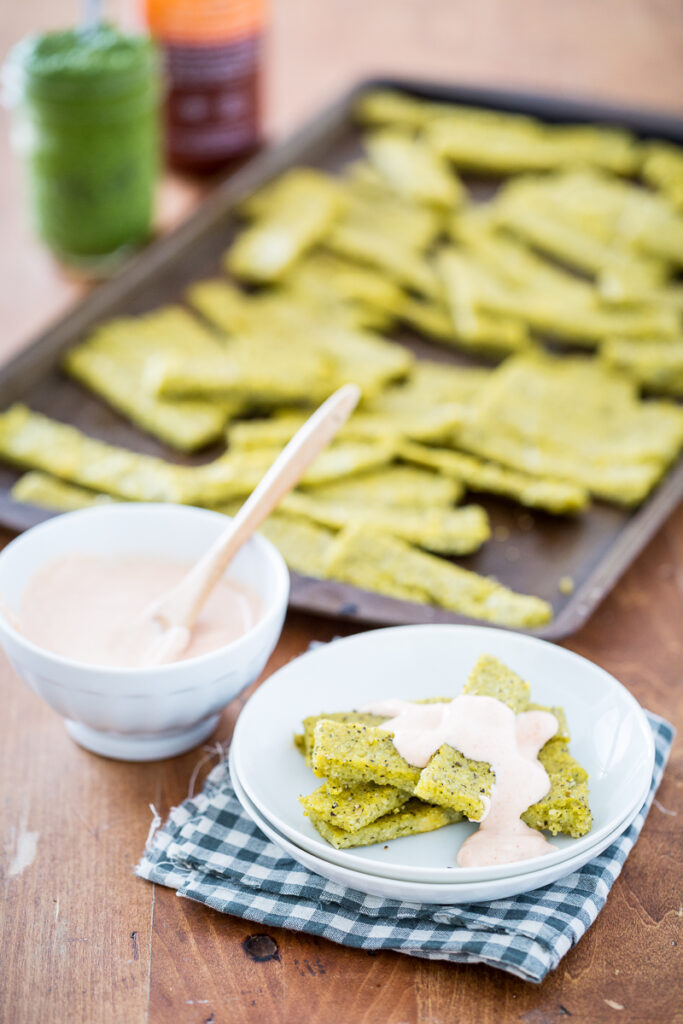 When I first started blogging there were a handful of blogs that always blew me away with the tastiness of their recipes, the quality of their writing, and the beauty of their photography. One of these blogs was Cupcakes and Kale. Jessica Nadel, herself, was so cute and down to earth and totally one of the bloggers I just knew I would be friends with if we'd ever met (it wasn't nearly as creepy/stalkery as it sounds). Then she started her own bakery and I couldn't have been more happy for her. And then she had the most adorable baby boy, named Woodrow (cutest name ever!), and each of her updates on him put the biggest grin on my face. And now, I am just beaming for Jess because she has just come out with her own cookbook, Greens 24/7.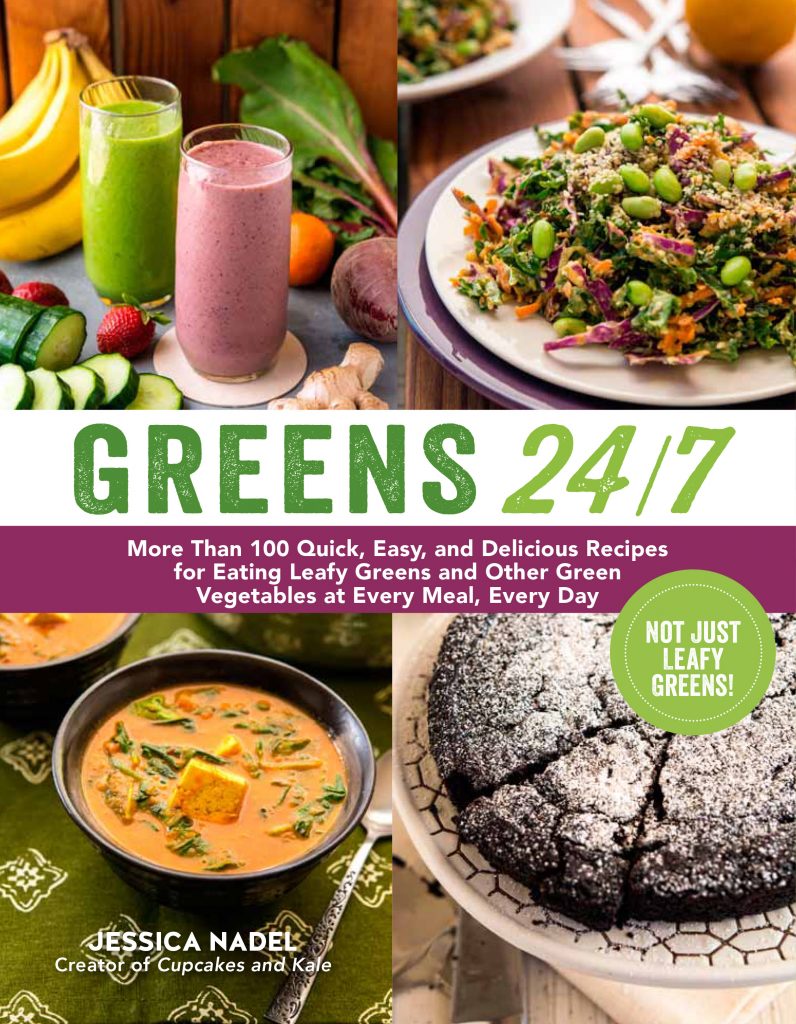 photography by Jackie Sobon
I'd heard about the book several months before it came out and I couldn't wait for it to be released. When I finally got my hands on it, I couldn't have been more thrilled- both for Jess and her huge accomplishment and because this book is fantastic! My friend, Jackie Sobon of Vegan Yack Attack, did all of the photography so of course, every page is stunning. What really shines, though, are the recipes.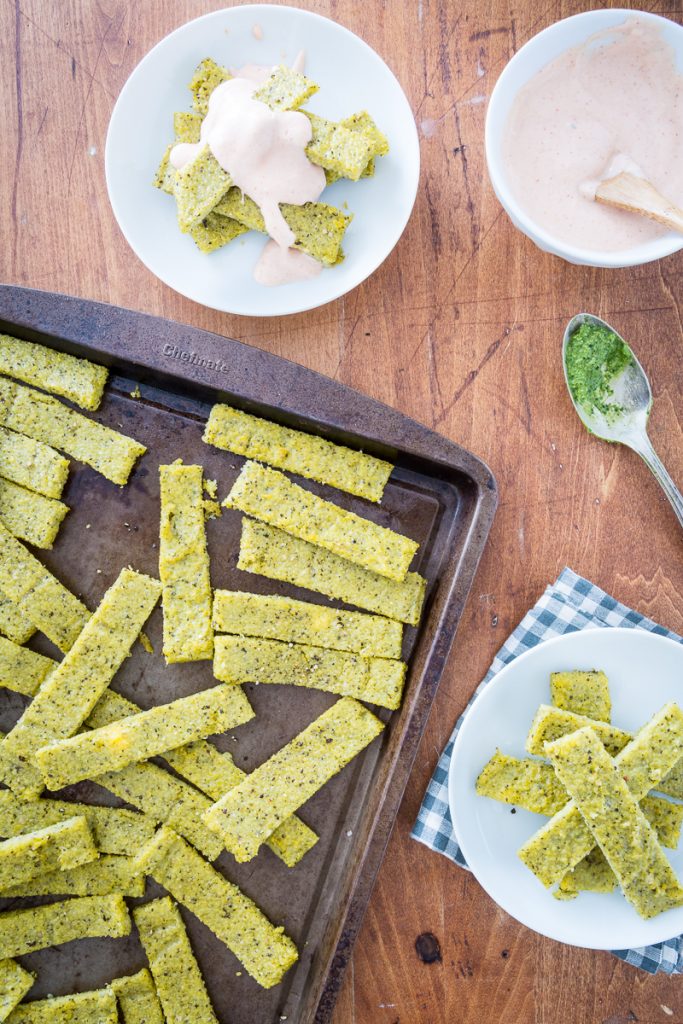 Jess managed to come up with a book full of recipes based around green vegetables and instead of all being a.) green and b.) all vegetable-y looking (as one might expect), they all look incredibly drool-worthy and inviting and many of them, you can't even tell there's a vegetable in them at all! I mean there's a Chocolate Zucchini Cake that looks to die for and with there's no trace of green anywhere.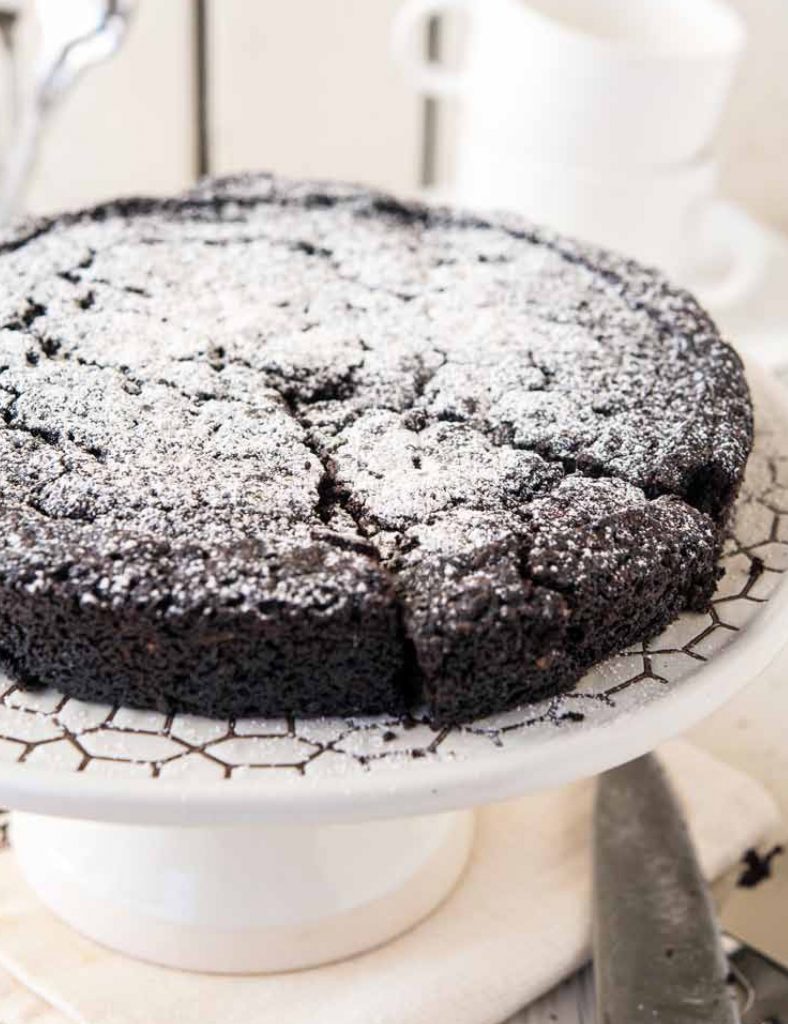 photography by Jackie Sobon
The first recipe I chose to try were the Pesto Polenta Fries with Spicy Aioli because I love all things polenta and pesto and I wanted something munchy. I was really excited about the pesto for this recipe too- The Kale Walnut Pesto. I was pretty excited about getting some kale into the mix and sneaking it into my fries. I love the richness the walnuts gave to the pesto as well.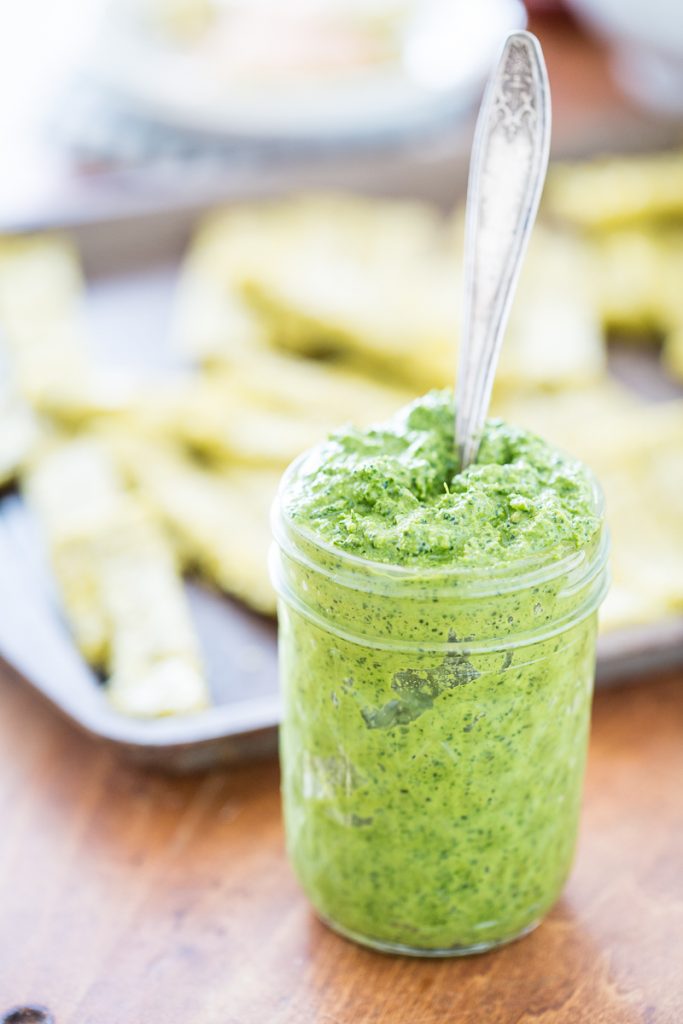 The fries couldn't have been more simple to make. Just cook up some polenta, add the pesto, and then spread it out on a baking sheet and let cool until solid. Slice into strips, bake and, not to sound like Emeril, Boom- you've got polenta fries!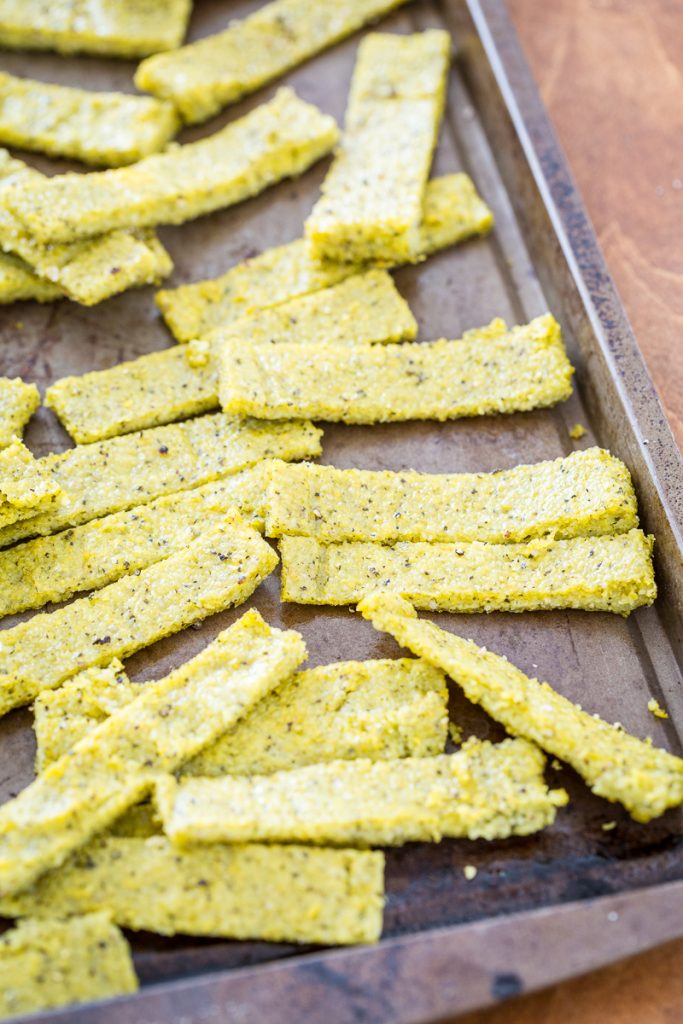 We also really liked the spicy aioli which is basically a mixture of sriracha and vegan mayo with a splash of citrus. Sriracha + Mayo = A Guaranteed Win in my book. Because Jess is the best and so is our publisher, The Experiment, I get to share the recipe with you guys!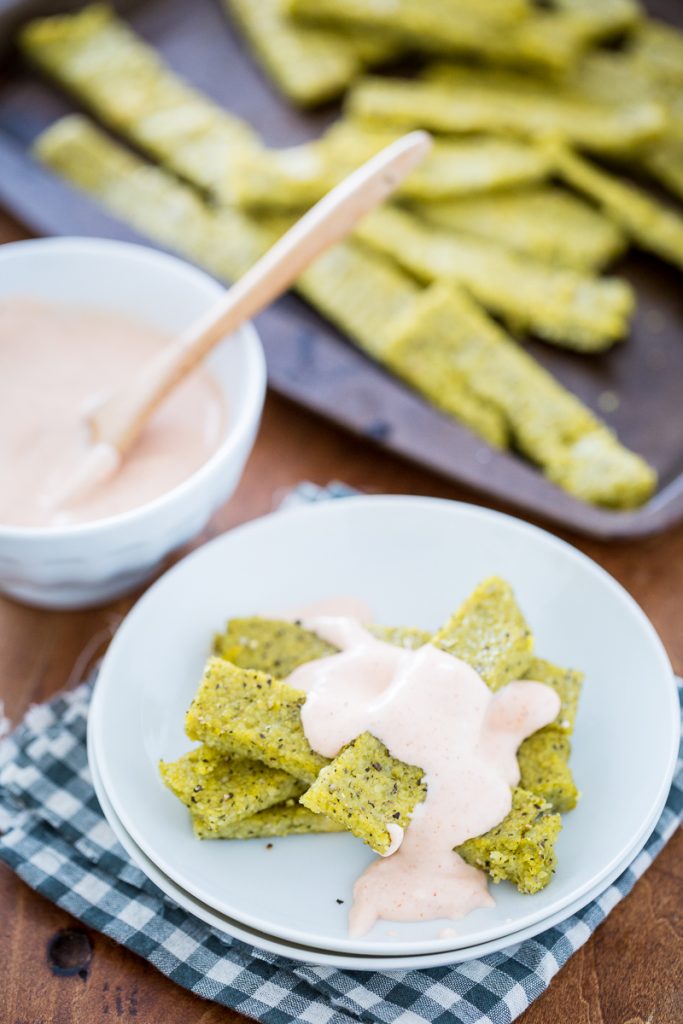 Pesto Polenta Fries with Spicy Aioli from Greens 24/7 + A GIVEAWAY!
These polenta fries are a breeze to whip up and are a huge crowd-pleaser. You can even prepare the polenta a day in advance so that you only need to slice and bake it—just be sure to cover the baking sheet tightly with plastic wrap to keep the polenta from drying out.
Ingredients
3 ½ cups (875 ml) water
sea salt
1 1/3 cups (200 g) cornmeal
¼ cup (60 ml) Kale and Walnut Pesto (see below)
Vegetable oil, for baking
½ cup (125 ml) vegan mayonnaise
1 tablespoon Sriracha chili sauce
squeeze of fresh lime juice

for the kale walnut pesto

2 cups (140 g) kale, woody stems removed
1 cup (45 g) fresh basil leaves
½ cup (50 g) raw walnuts
2 tablespoons extra virgin olive oil
2 tablespoons fresh lemon juice
2 tablespoons nutritional yeast
1 clove garlic
½ teaspoon sea salt
freshly ground black pepper
Instructions
Line two baking sheets with parchment paper. Bring the water to a boil in a medium-sized pot. Add a pinch of salt and stir to dissolve, then slowly add the cornmeal, stirring constantly.
Reduce the heat to low. Add the pesto and continue to stir until the polenta mixture thickens significantly and pulls away from the sides of the pot. This will take anywhere from 2 to 10 minutes.
Scoop the polenta onto one of the prepared baking sheets and press it down to a ¾-inch (2-cm) thickness; it will be very sticky so use a silicone spatula or even wet hands. Allow the pan to sit for 1 to 2 hours to allow the polenta to set; you can pop it in the fridge to speed up the process.
Once set, the polenta is ready to be sliced into fries. Preheat the oven to 425°F (220°C), then slice the polenta with a sharp knife, or use a pizza cutter.
Transfer the fries to the second baking sheet, brush or spritz lightly with vegetable oil, and place in the oven. Bake for 20 minutes, turning the fries halfway through, until they are slightly browned and crispy on the outside.
Meanwhile, mix all the aïoli ingredients together in a small bowl.
Remove the fries from the oven, season with a little salt, and serve with the spicy aïoli for dipping.

to make the kale walnut pesto

Place all the ingredients in a food processor and process until smooth, stopping to scrape down the sides of the bowl as necessary. Season to taste with pepper and more salt.
Notes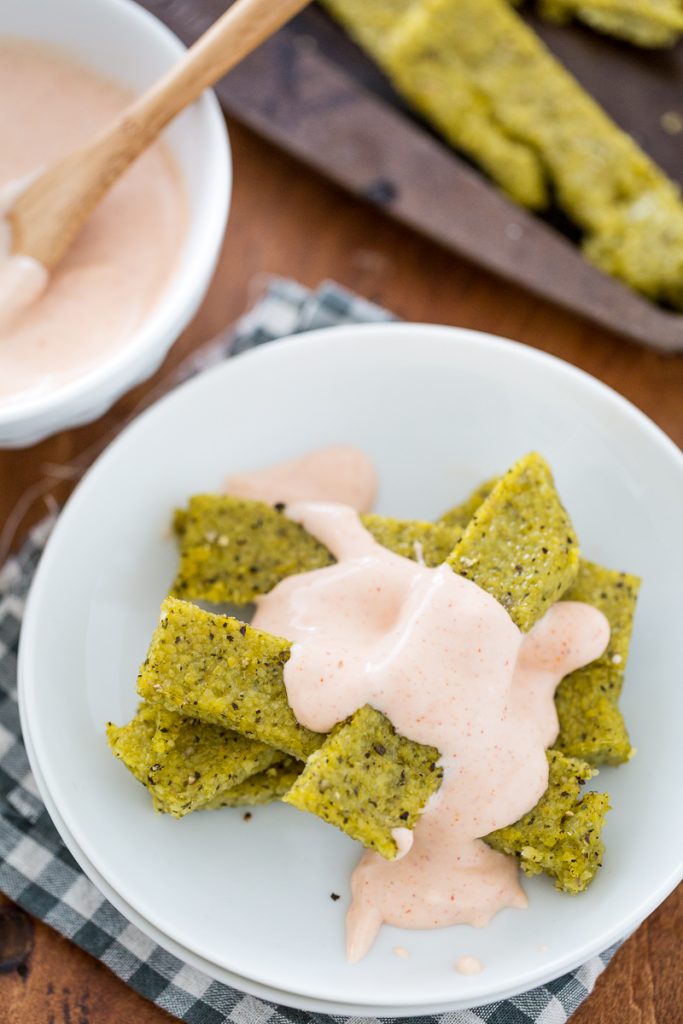 The Experiment is also being so kind as to let me give away a copy of Greens 24/7! The giveaway will run until 11:59pm on February 17th, 2015 and is open to US and Canadian residents only (sorry everyone else!). All you have to do to enter is comment below, telling me your favorite green vegetable and your favorite way to use it. A winner will be chosen at random.
ALSO, thank you to all who entered last week's giveaway for a copy of 100 Best Juices, Smoothies, and Healthy Snacks! Congratulations to our winner, Natasha (she has been notified via email)!
Thank you all for stopping by and thank you to Jessica Nadel and The Experiment for letting me review this awesome book! Have a great day!