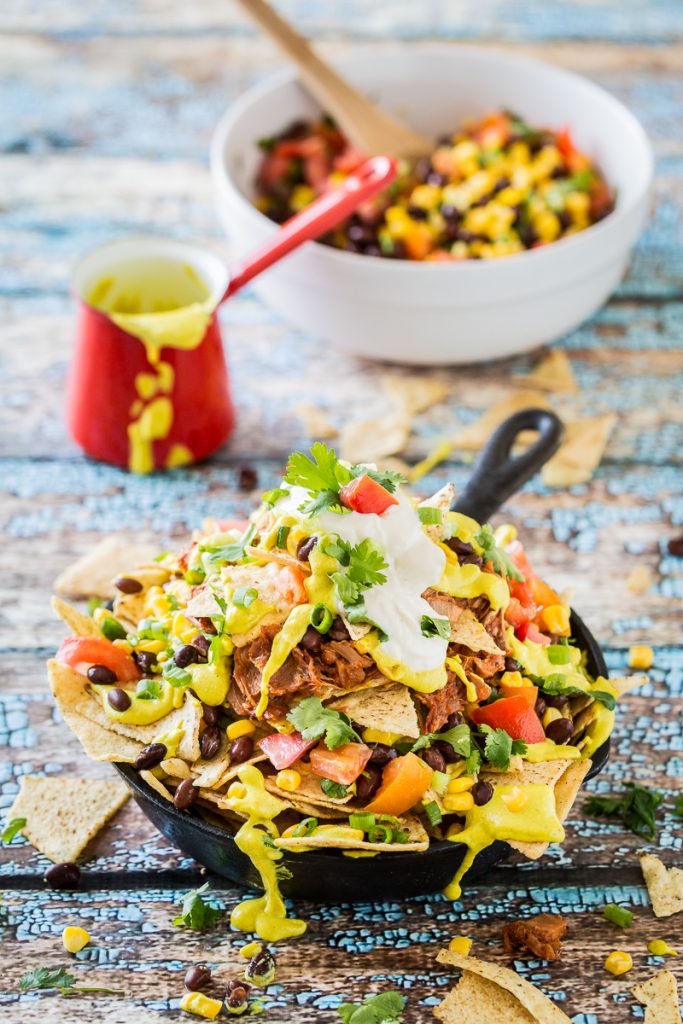 Aren't nachos the best?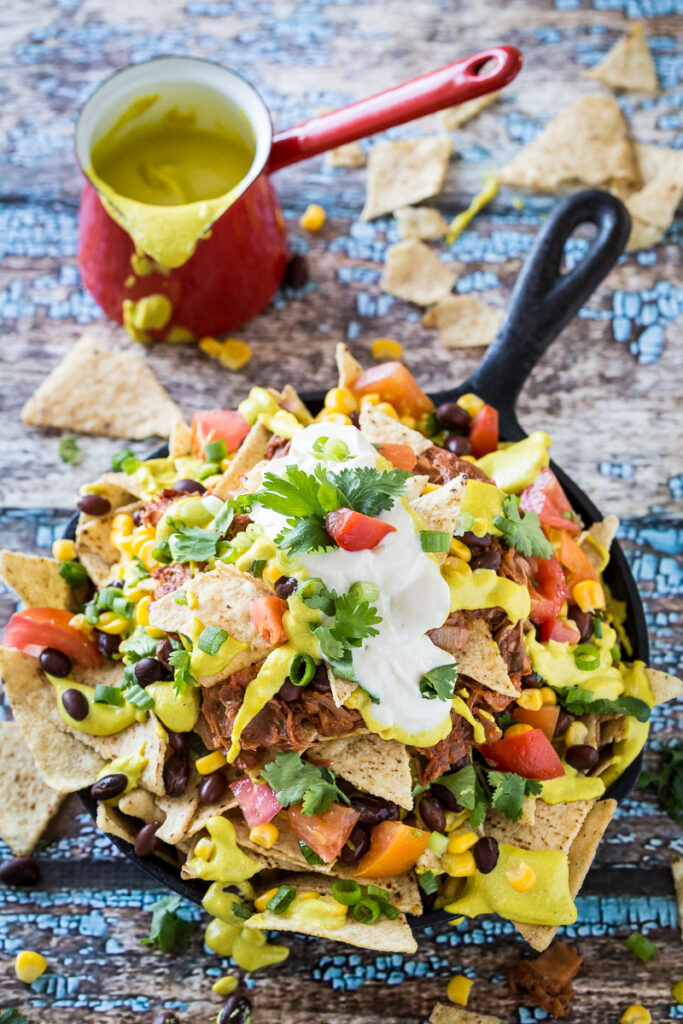 Especially when they're piled high with jackfruit, black bean and corn salsa, and drenched in oodles of creamy nacho cheese. Am I right? These jackfruit nachos are from my book, But I Could Never Go Vegan! and I wanted to share them with those of you who may not have bought the book yet, just so you would have them in time for the Super Bowl.
Speaking of the book, if you want to read more about my book or check out more recipes, then you should check out these awesome reviews:
Olives For Dinner's Review + the Recipe for the BBQ Bacon Burger
The Vegan Crew's Review + the Recipe for the Caramel Apple-Stuffed French Toast
My Darling Vegan's Review + the Recipe for the Pumpkin Chocolate Chip Cookies (which, by the way, I recently made using Bob's Red Mill 1 to 1 Gluten Free Baking Flour and they turned out perfectly!)
The Taste Space's Review + the Recipe for the Balsamic Maple Brussels Sprouts & Sweet Potato
Farmer's Market Vegan's Review + the Recipe for the Caramel Apple-Stuffed French Toast
Choosing Raw's Review + the Recipe for the Roasted Broccoli & Apple Salad with Lemon Tahini Dressing
I'm also loving reading the reviews on Amazon that some of you have left. If you've left a review, thank you so much. If you have the book and love it, I would be so appreciative if you could leave a little review there. Thank you!
Also, for those of you who have already purchased the book, I need to make note of a typo. For the Sunflower Cheddar recipe, the recipe should read 2 tablespoons of agar flakes rather than the 2 teaspoons as it is written. I apologize for any problems or inconveniences this may have caused. Now, let's eat some nachos!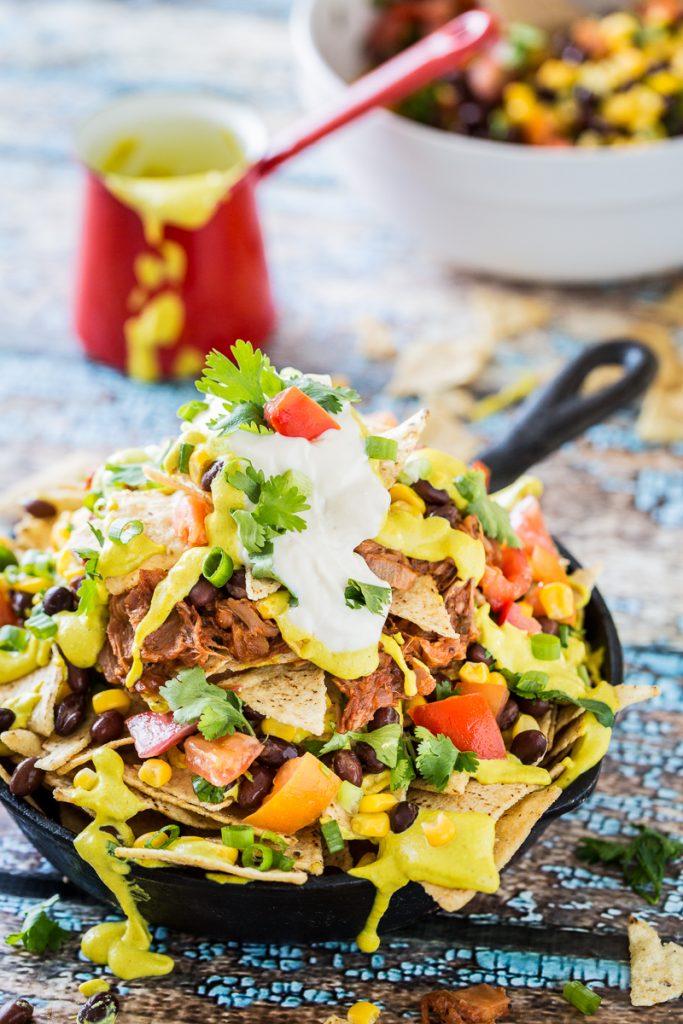 Are you afraid your friends won't come over to watch the game after you go vegan? When you serve up these nachos, you won't be able to keep them away! What makes these nachos "supreme" is the whole layer of spicy shredded jackfruit hiding beneath black bean and corn salsa, sour cream, guacamole, and, of course, super-creamy cashew based nacho cheese. It creates a mountain of nachos that no group of armchair quarterbacks can resist devouring.
Ingredients
black bean and corn salsa

1 ½ cups (265 g) cooked black beans or one 15-ounce (425 g) can, rinsed and drained
1 ½ cups (210 g) corn kernels (fresh, or defrosted if frozen)
1 cup (160 g) chopped Roma tomato
½ cup (20 g) chopped fresh cilantro
2 tablespoons fresh lime juice
1 tablespoon chopped jalapeno
Salt to taste
¾ cup (120 g) raw cashews, soaked for at least 1 hour, water reserved
¼ cup (35 g) nutritional yeast
2 tablespoons chopped canned green chiles
2 tablespoons lime juice
2 teaspoons white miso
1 teaspoon garlic powder
1 teaspoon cumin
½ teaspoon turmeric, optional
Salt to taste
Two 20-ounce cans (1130 g) jackfruit packed in brine (not syrup)
1 teaspoon extra virgin olive oil
3 garlic cloves, minced
½ large onion, chopped
1 red bell pepper, chopped
2 tablespoons diced canned green chiles
¼ cup (60 ml) liquid aminos
¼ cup (60 g) tomato paste
2 teaspoons liquid smoke
1 ½ teaspoons cumin
1 teaspoon smoked paprika
½ teaspoon dried ancho chile powder
Smoked salt or regular salt to taste
Black pepper to taste
6 to 8 handfuls tortilla chips
Tofu Sour Cream, optional
Guacamole, optional
¼ cup (25 g) chopped green onions (white and green parts)
Instructions
Toss the salsa ingredients together in a large bowl, cover, and chill until ready to use. The longer it sits, the tastier it gets.
Combine the nacho cheese ingredients, including ½ cup of the reserved soaking water, in a food processor or blender and process until smooth. Cover until ready to serve.
Place the jackfruit in a colander and rinse thoroughly. Use two forks or your fingers to tear it into shreds. Set aside.
Heat the oil in a large shallow saucepan over medium heat. Add the garlic and saute for 1 minute. Add the onion and saute until translucent. Add the bell pepper and green chiles and saute until the bell pepper is tender, about 5 minutes.
Meanwhile, mix the liquid aminos, tomato paste, liquid smoke, cumin, paprika, and chile powder in a cup. Add the shredded jackfruit to the pan and saute for a couple more minutes before adding the tomato paste mixture. Stir to combine and simmer for about 10 minutes, until heated through and the sauce has thickened. Add smoked salt and pepper; remove from the heat.
Spread the tortilla chips on a large plate or platter. Top with the jackfruit. Add the black bean and corn salsa. Drizzle the nacho cheese over the top. Top with Tofu Sour Cream and/or Guacamole, if using. Sprinkle with the green onions. Serve immediately.
Notes
Variation: If you prefer hot nacho sauce, transfer it to a medium pot and warm over medium-low heat, stirring occasionally while the jackfruit is cooking.
Recipe from But I Could Never Go Vegan!: 125 Recipes That Prove You Can Live Without Cheese, It's Not All Rabbit Food, and Your Friends Will Still Come Over Dinner, copyright © Kristy Turner, 2014. Reprinted by permission of the publisher, The Experiment. Available wherever books are sold. www.theexperimentpublishing.com
 Happy Munching!
Photography by Chris Miller