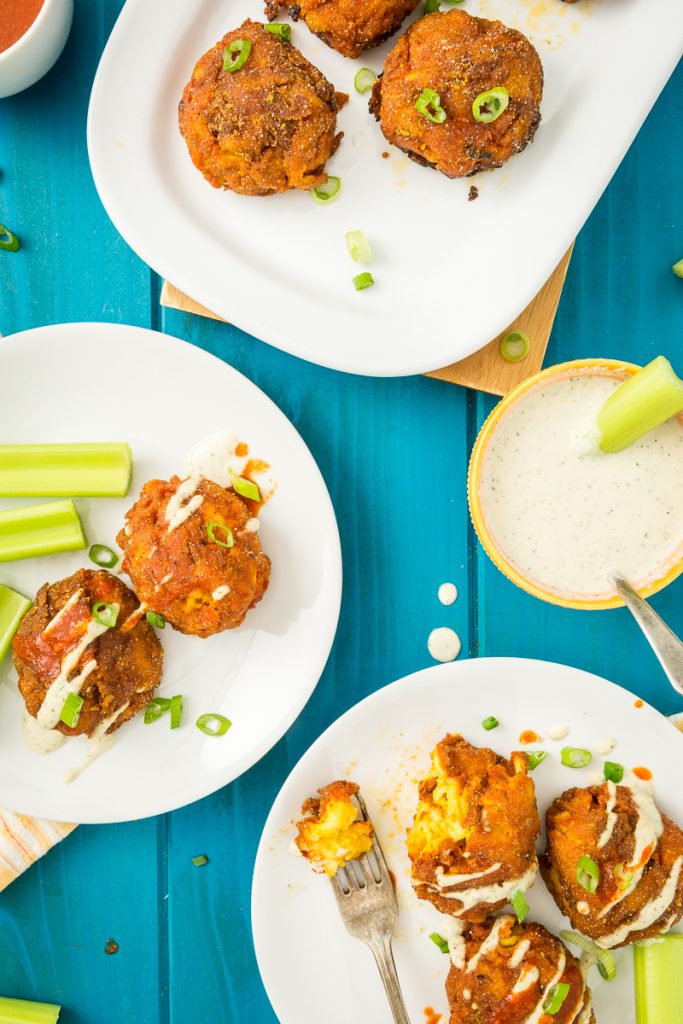 Holy crap, guys.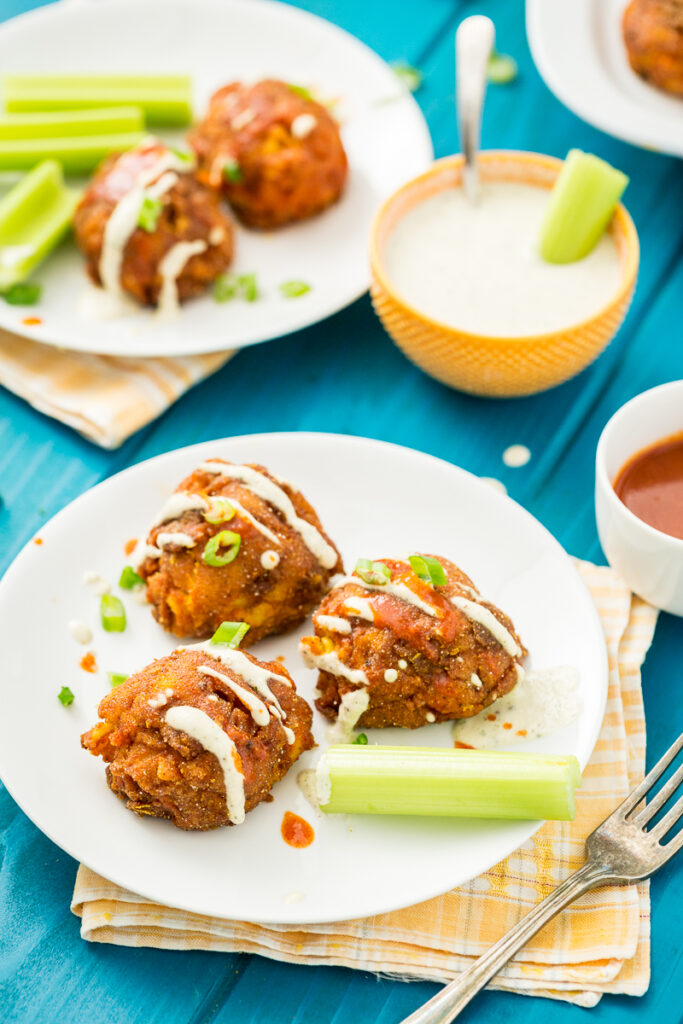 You need these Buffalo Mac n' Cheese Balls in your life. For reals.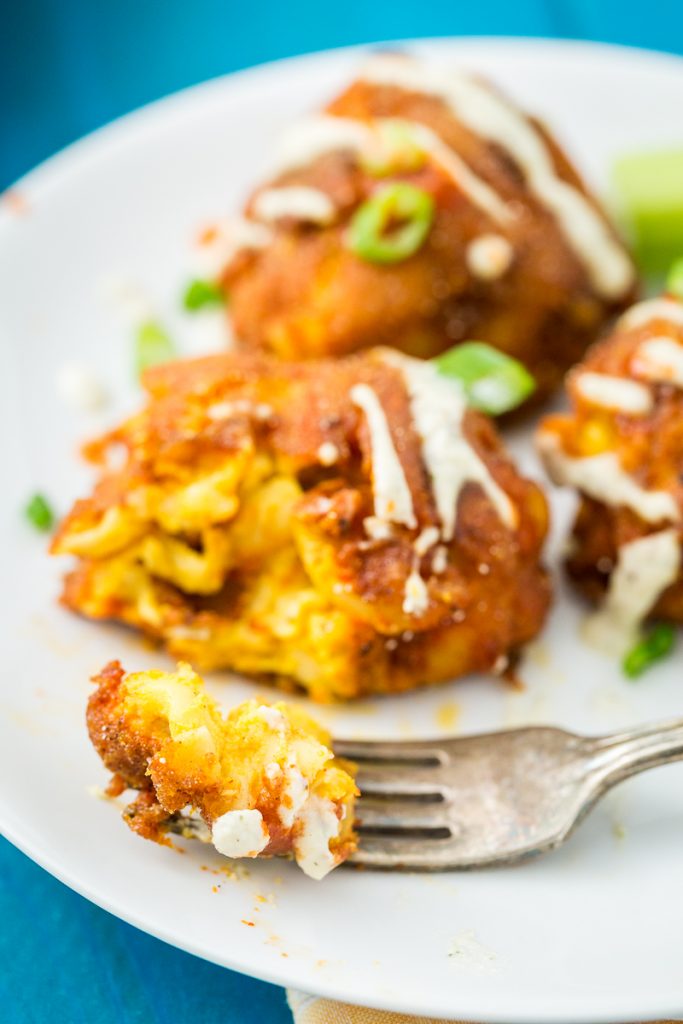 I'm going to get right down to brass tacks about this recipe. You make your favorite vegan mac n' cheese and chill it overnight. The next day, you form it in 1/4 cup sized balls and freeze for about 20 minutes.
It's while the balls are freezing that it gets interesting. You make a simple buffalo sauce from sriracha sauce, white wine vinegar, and a little melted vegan butter. You make a bread crumb coating consisting of bread crumbs and nutritional yeast. Take the balls out of the freezer. One by one, dip them in the buffalo sauce, then roll in the bread crumbs. Then you can either bake or fry them. And the the best part: you get to eat them.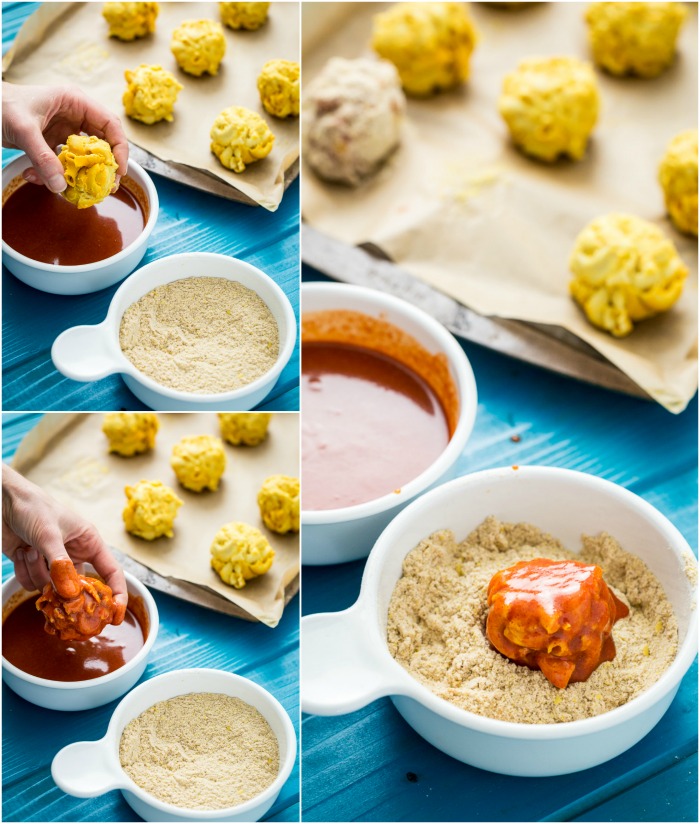 If you're not already excited about this, you totally should be. We're talking about balls of mac n' cheese, covered in a buffalo sauce coating and cooked so that the outside is crispy and the inside is gooey and cheesy. And then you drizzle them with ranch dressing and maybe a little more buffalo sauce because, hey, we're talking about sriracha buffalo sauce here! I'm trying to convey to you how important these balls are without USING ALL CAPS (because it's obnoxious). Are you getting it?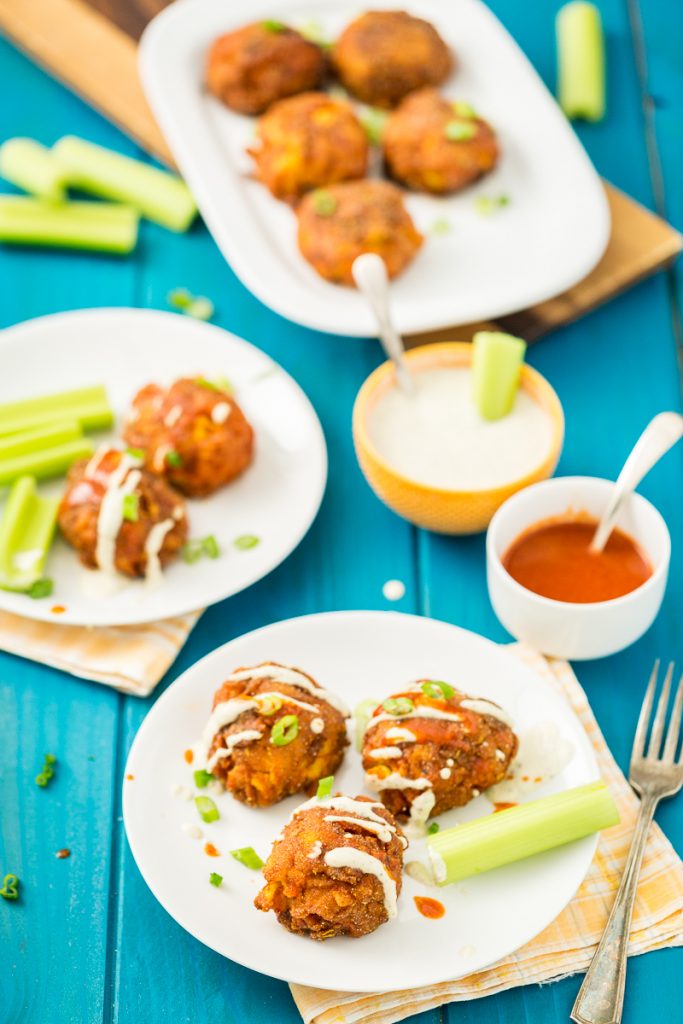 To provide further evidence of how good this recipe is, let me tell you about mine and Chris's reactions upon taking our first bites of these absolutely delicious buffalo mac n' cheese balls. I've explained before that Chris gets a serious case of potty-mouth when he eats something he really likes so I wasn't surprised when obscenities starting flying from his mouth like a flock of birds after a gunshot goes off. I was surprised when I had the same reaction. This recipe actually moved me to speak in sentences that were 90% composed of curse words.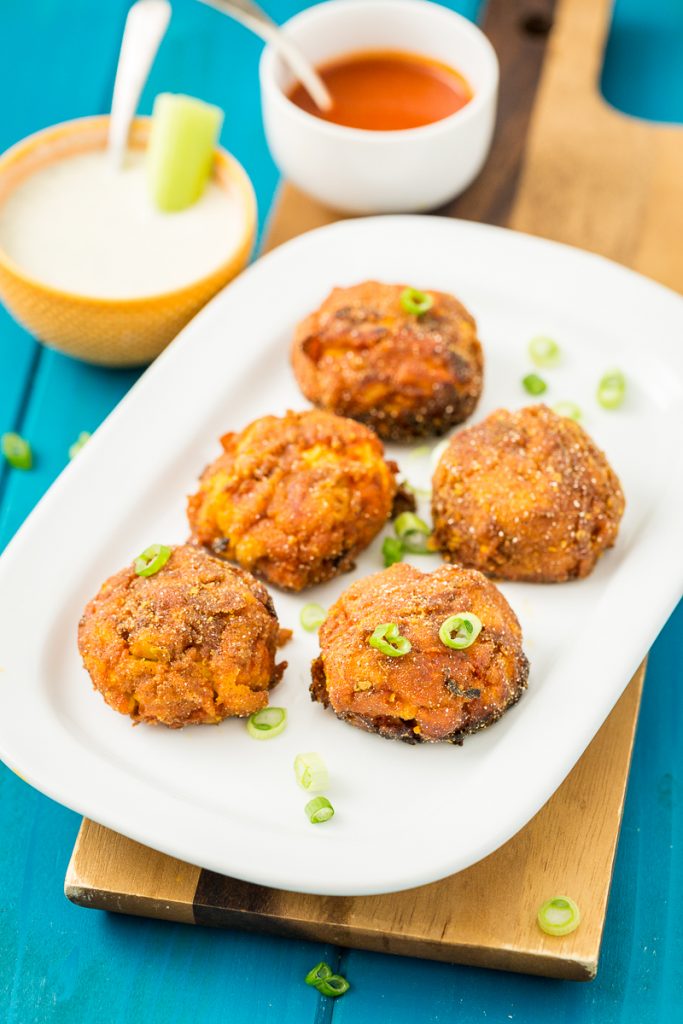 This recipe is pretty flexible. For these balls, I used half of a batch of my Tempeh Bacon Mac n' Cheese with Pecan Parmesan from "But I Could Never Go Vegan!" but I left out the tempeh bacon and pecan parmesan so it was just regular mac n' cheese. I love this recipe because the sauce is made thick and creamy with cauliflower and cashews and the cheese sauce alone packs a great, rich flavor. If you don't have the book or if you want to use another mac n' cheese recipe, that's fine as long as it's made with a 16-ounce package of pasta, so when you use half, it comes to roughly the same amount as my recipe. For the buffalo sauce, I used sriracha as the base but you could use your favorite hot sauce instead if you'd prefer, but the thickness of the sriracha will help coat the mac n' cheese balls better. To keep it gluten-free, use gluten-free pasta and gluten-free brown rice bread crumbs. I served the balls with the leftover buffalo sauce and my zesty ranch dressing (also in my book, if you have it), but any ol' vegan ranch dressing will do the trick.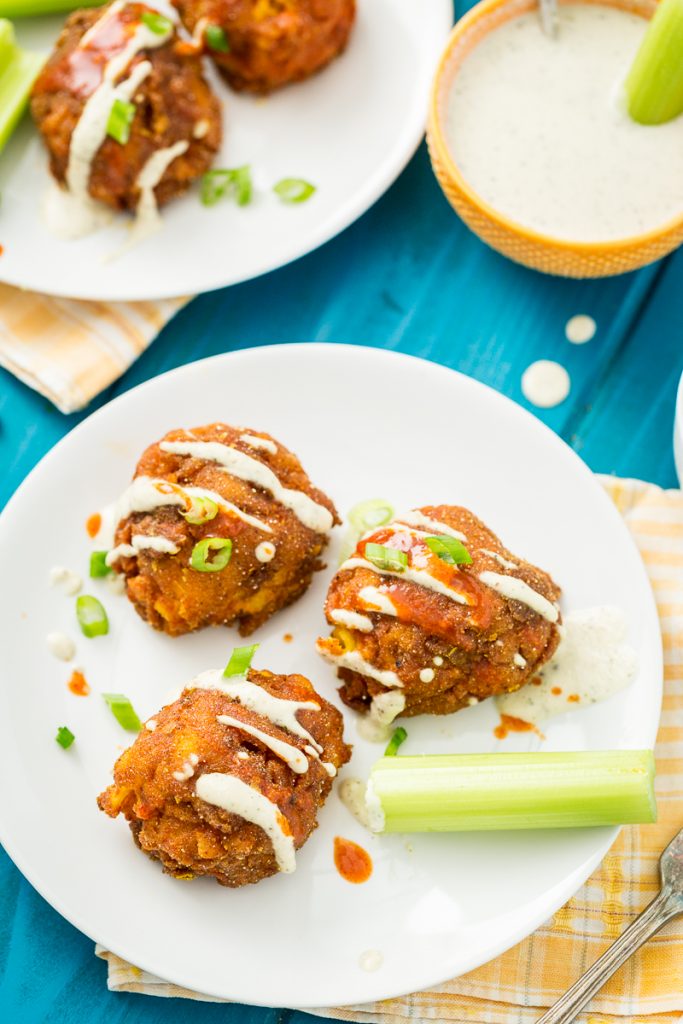 If you're looking for recipes for the play-offs this weekend or for the Super Bowl, you can put this recipe on your to-do list. It's sure to be a crowd-pleaser. Just be sure the children leave the room because there will be some foul language involved.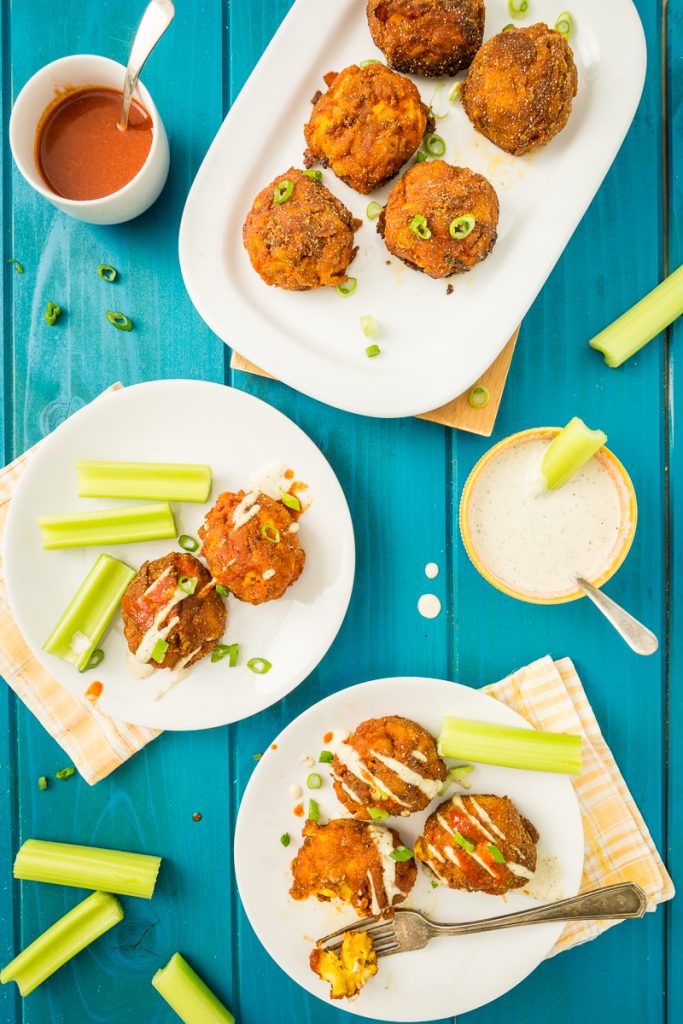 Gluten-Free, Vegan Buffalo Mac n' Cheese Balls
Ingredients
1/2 batch vegan mac n' cheese (made using 16-ounces pasta, gluten-free if necessary), refrigerated overnight. I used the mac n' cheese (plain ol' mac n' cheese variation) from "But I Could Never Go Vegan!"
3/4 cup sriracha or other hot sauce
1/4 cup white wine vinegar
2 tablespoons vegan butter, melted
1 1/2 cups bread crumbs (use gluten-free brown rice bread crumbs if necessary)
3 tablespoons nutritional yeast
3/4 teaspoon salt
Zesty Ranch Dressing or other vegan ranch dressing for dipping/topping, optional
chopped green onions for topping, optional
Instructions
Line a baking sheet with parchment paper. Remove the mac n' cheese from the refrigerator. Scoop 1/4 cup of mac n' cheese in to your hands and form into a ball. Place the ball on the baking sheet. Repeat until you've made about 15 balls or used half of the mac n' cheese. Place the baking sheet in the freezer and let them chill for 20-30 minutes.
While they are in the freezer, make the buffalo sauce. In a shallow bowl, combine the sriracha, vinegar, and melted butter and whisk together until combined. Set aside.
In another shallow bowl, combine the bread crumbs, nutritional yeast, and salt. Set aside.
Once the balls have chilled for 20-30 minutes, remove from the freezer. Preheat the oven to 425 F.
Use one hand to dip a ball in the buffalo sauce and then drop in the bread crumb bowl. Use a spoon to cover the ball with bread crumbs and gently move it around until fully coated. Spoon the ball out and gently shake off extra crumbs. Gently place the ball back on the baking sheet. Repeat with the remaining balls.
If you wish to only bake the balls, place in the oven and bake for 30 to 35 minutes or until firm and crisp on the outside. They will still be slightly soft to the touch
If you wish to bake the balls and then pan-fry them so they get extra-crispy, bake them for only 20 minutes. During the last 3 to 4 minutes of baking, fill the bottom of a large shallow sauce pan with about 1/4-inch of vegetable or sunflower oil and heat over medium heat. After the balls have baked for 20 minutes, remove from the oven. Use a spatula to gently scoop 3 to 4 balls into the pan and let them fry for about 30 to 60 seconds on each side. Use the spatula to transfer the balls to a plate lined with paper towels to absorb the extra oil. Repeat with the remaining balls.
Serve immediately with ranch dressing and remaining buffalo sauce. Leftovers will keep in the refrigerator for 3 to 4 days and can be reheated in the oven. Enjoy!
Notes
For best results, use a thick, sticky (possibly baked) mac n' cheese recipe. If it's too loose and saucy, you may not have great results.
To make a meal of it, try serving a couple of these balls in a bowl with some greens, chickpeas or black beans, and avocado, and topped with the ranch dressing.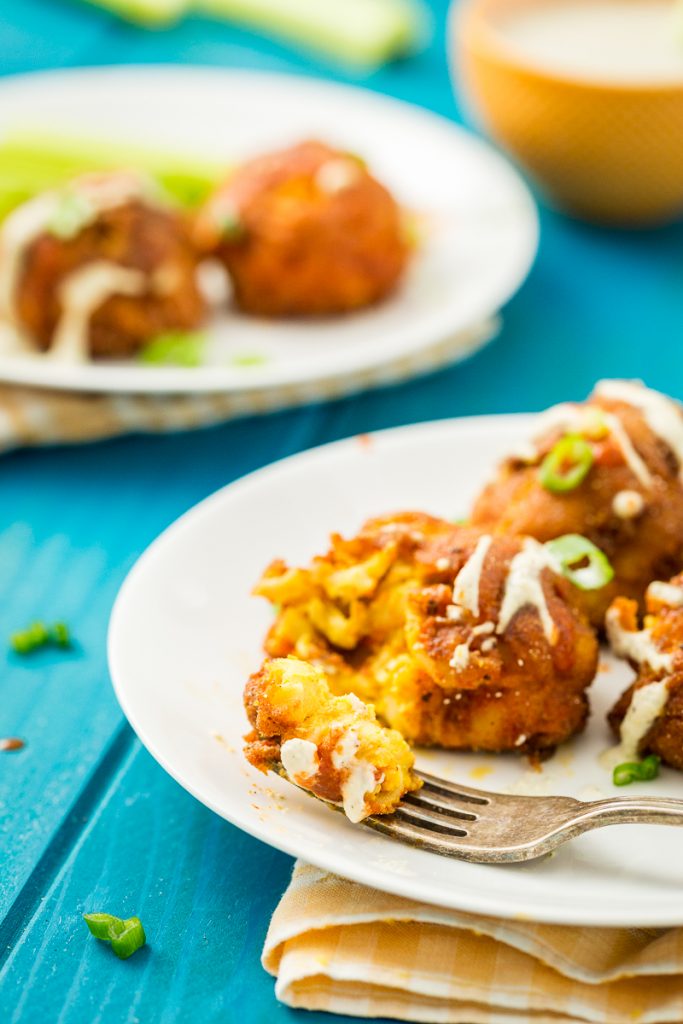 What's the best/your favorite response that you've received upon serving delicious vegan food?
photography by Chris Miller