I'm not going to lie. I'm trying to bombard you all with Super Bowl-friendly recipes right now. From the Portobello Chili with Shiitakes & Fennel to the Buffalo Mac n' Cheese Balls to the Jackfruit Nacho Supreme- I'm all about game day food.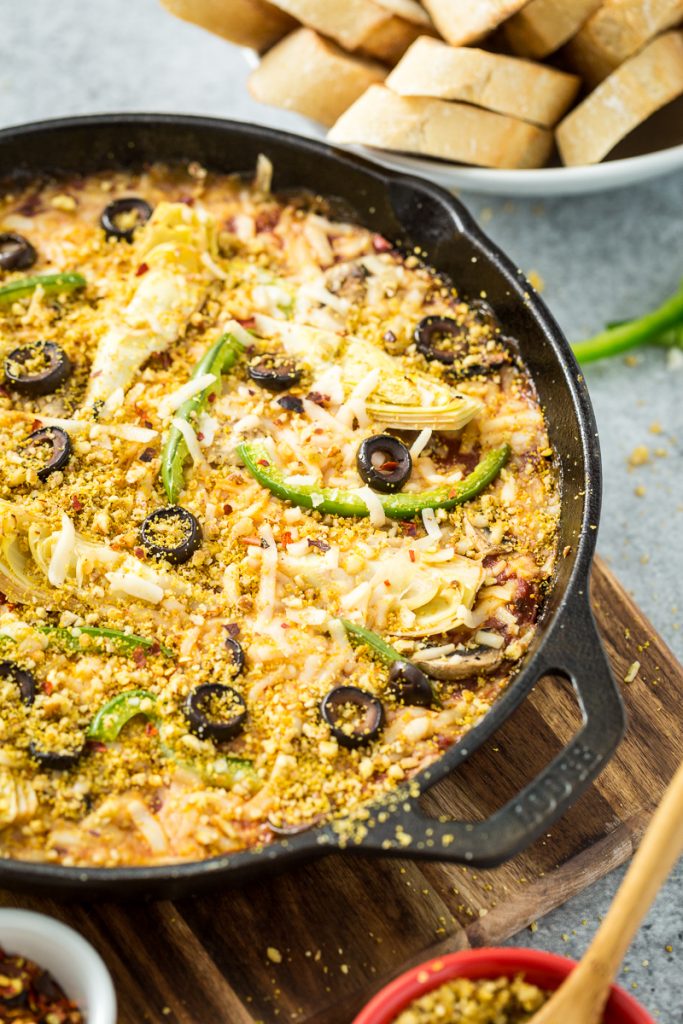 Let me set the record straight, though: I don't care about the game. There are some topics that you can talk to me about and my brain will not retain the information, mostly because I can't make myself care at all. These topics include: Geometry, Grey's Anatomy, and Football. I can't tell you how many times Chris has tried to explain to me what a "down" is but as far as I'm concerned, it simply means "the opposite of 'up.'"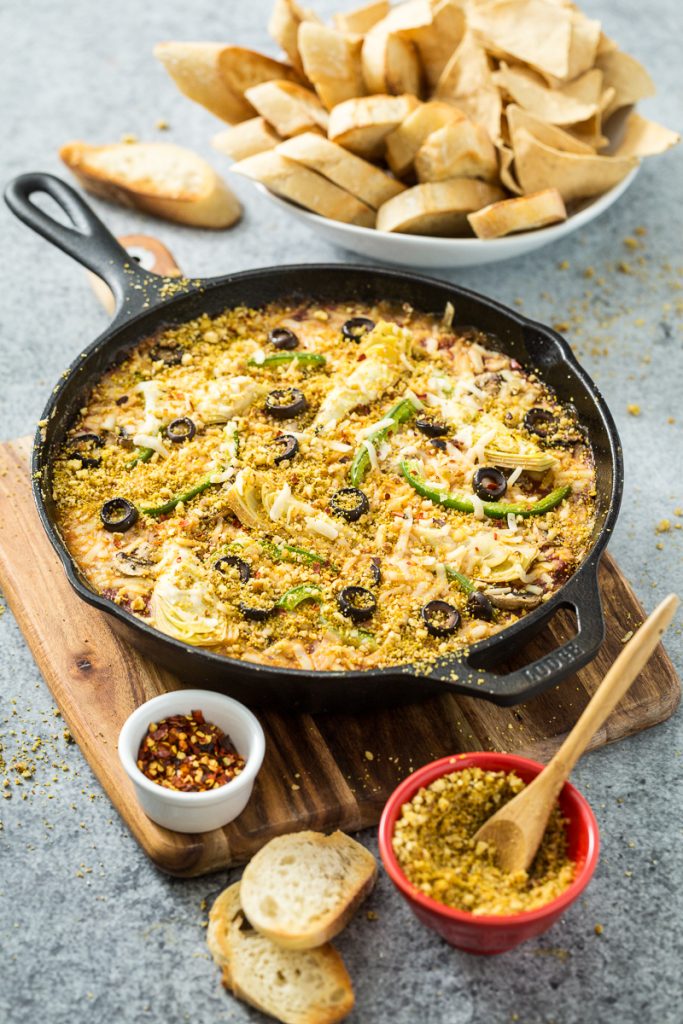 One thing I do know about Football is that people like to get together to watch it and this strenuous watching makes them hungry so they enjoy eating delicious, hearty, comforty style foods to keep them fueled for the duration of the game. The food part is what I'm on board with. Also the getting together with friends part, but more so the food.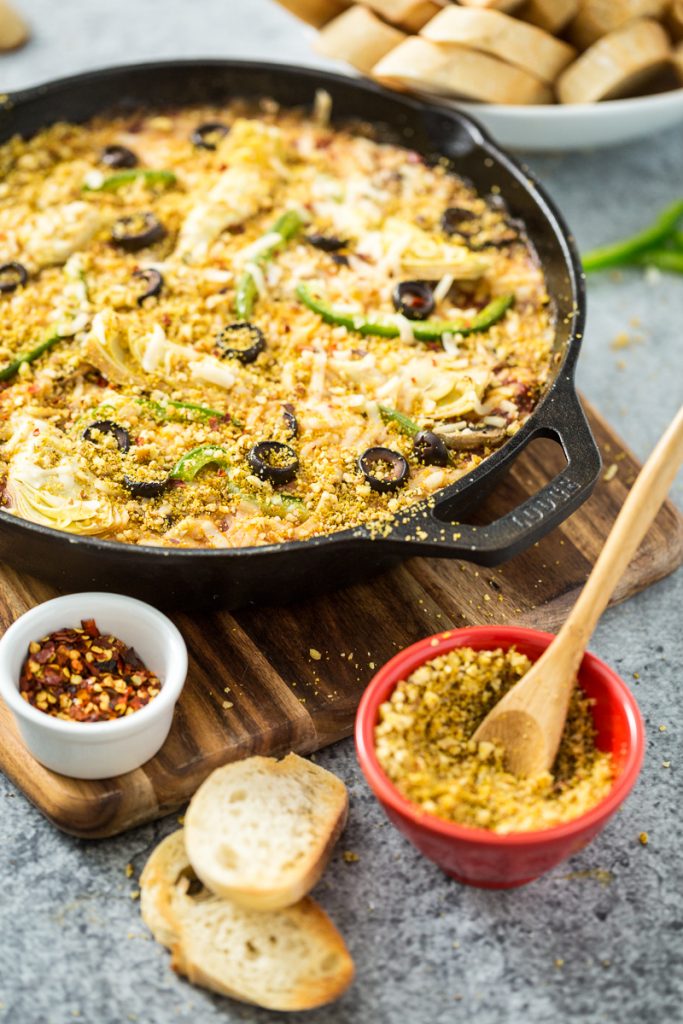 Two foods that are always crowd-pleasers during such events are tasty dips for chips and of course, pizza, because when is pizza not a good choice? Why not combine them into one ultimate party food: the Pizza Dip! My pizza dip includes a thick, creamy, savory almond-based spread, a luscious tomato pizza sauce, vegan mozzarella, and all my favorite pizza toppings: mushrooms, green bell pepper, artichoke hearts, and olives.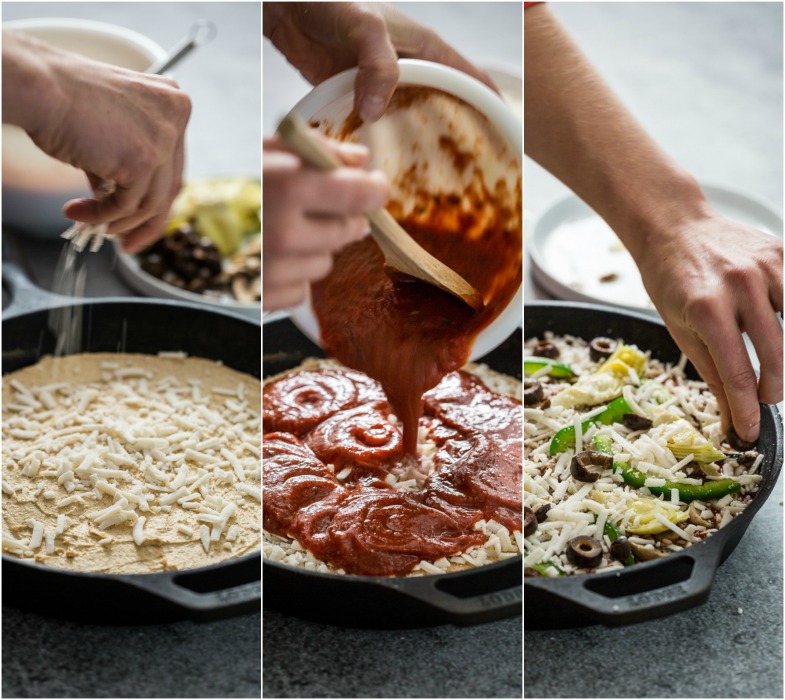 Then it's baked until the cheese is melted and the edges are bubbly and topped with pecan parmesan and red pepper flakes. Then you and your guests can use toasted baguette slices or crackers or chips to dip into the hot, gooey decadent dip.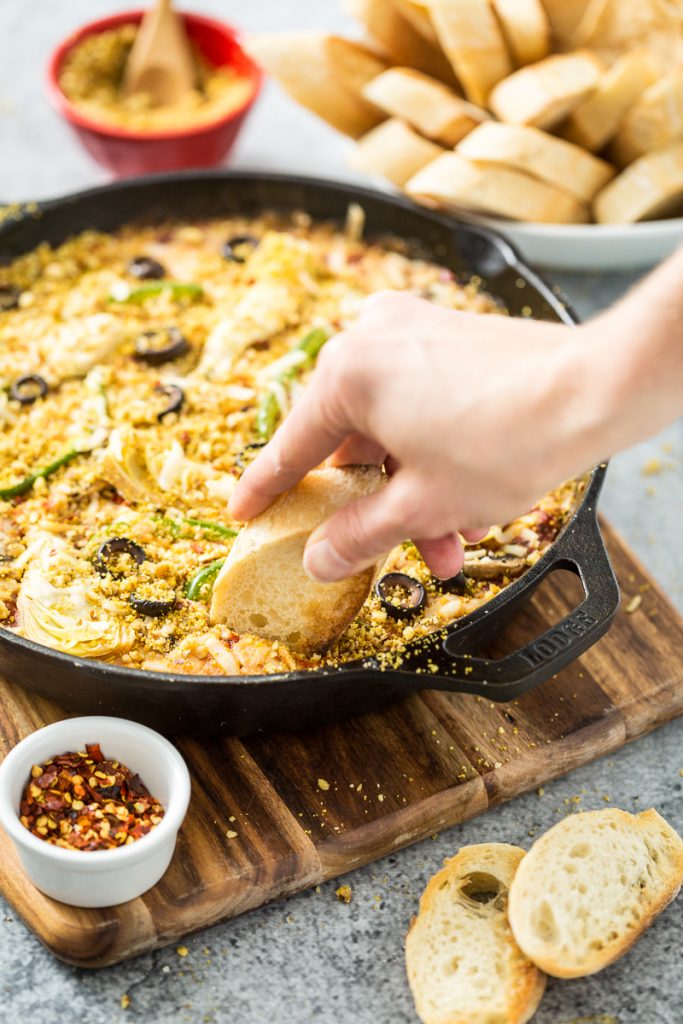 And then, nirvana.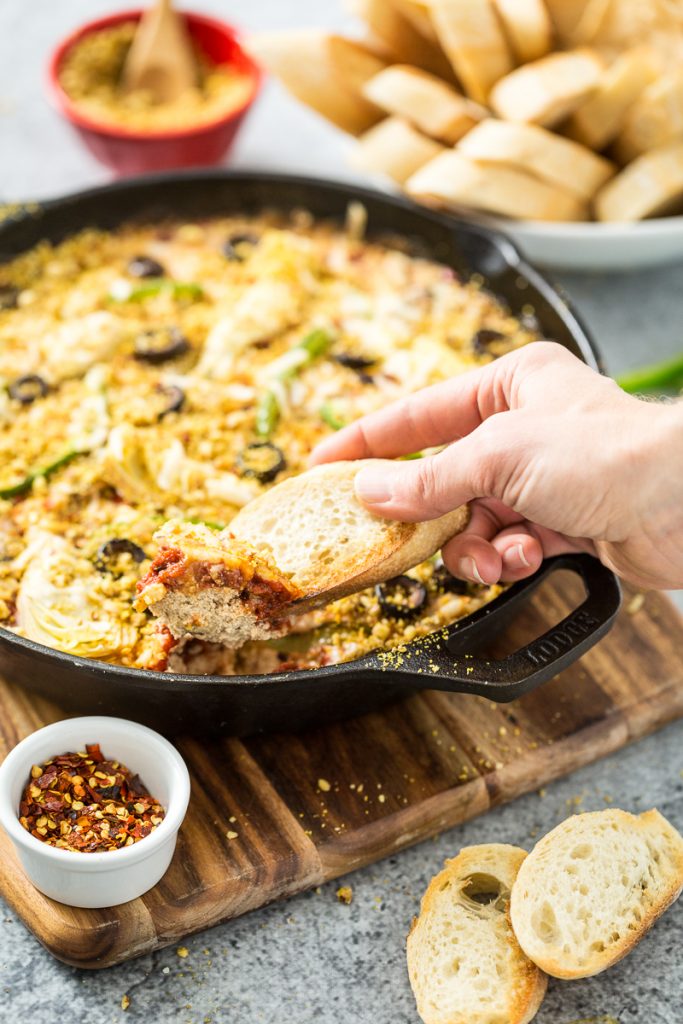 I believe there is a time and a place for store-bought vegan cheese shreds and that time and place is this dip. If you don't feel the same way, then this dip would be just fine without it. This pizza dip is also a great choice if you have a guest or two (or more) that can't eat gluten because while the gluten-loving beasts are chowing down with their fresh bread, your gluten-free guests can enjoy it with tortilla chips or gluten-free crackers. Everyone will be satisfied and also in awe of your kitchen prowess.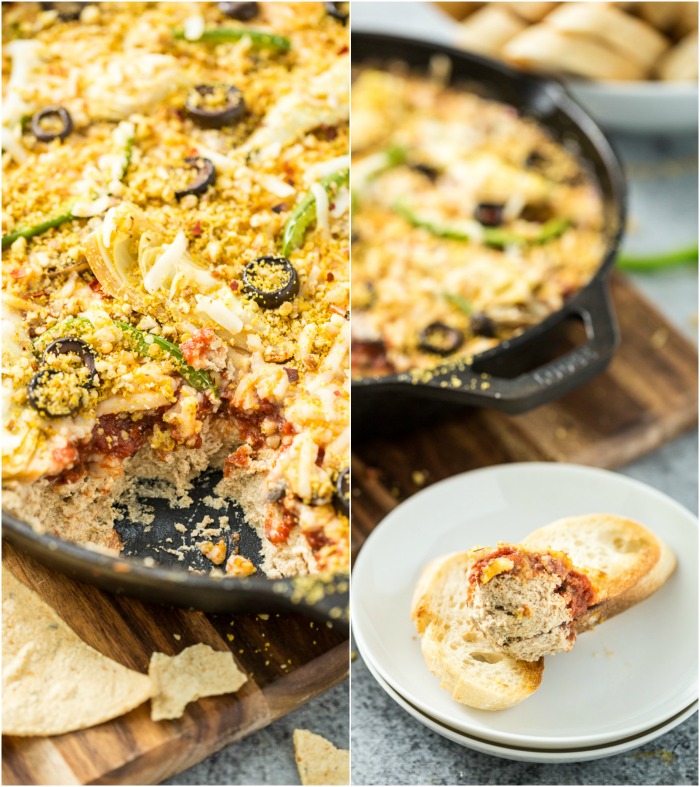 I say you make it this weekend so you can eat it all yourself as a practice run before the Super Bowl. And then you can make it again next week to share with all of your friends. Because that's what Super Bowl parties are all about, right? Making delicious food and impressing your friends. There's also some sort of game going on but nobody will be watching with food this good.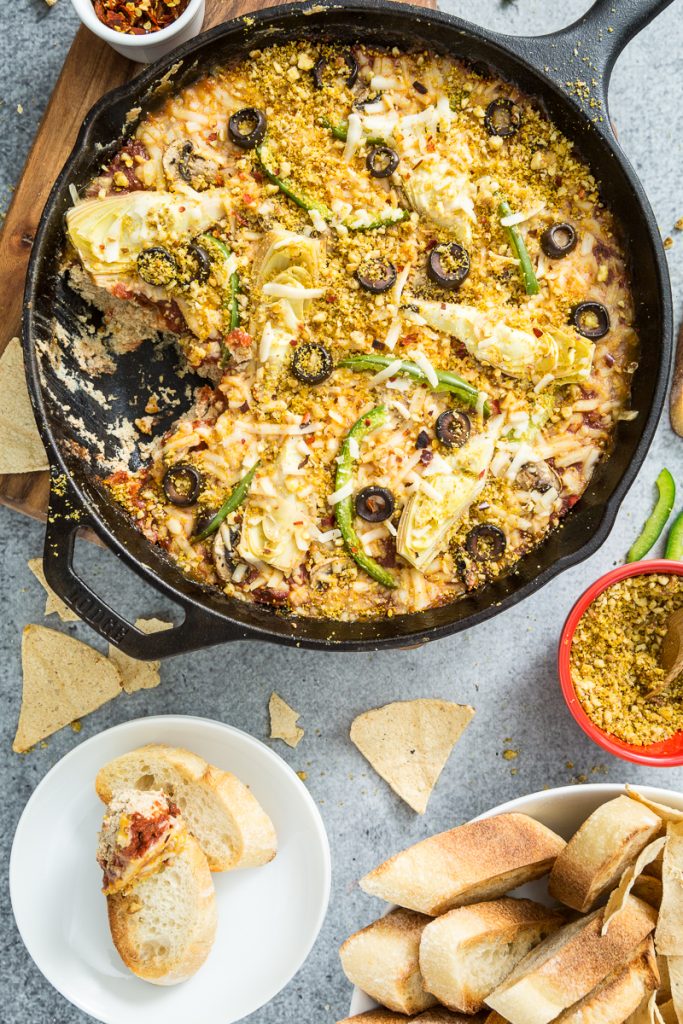 Ingredients
1 cup raw almonds (if not using a high-speed blender, soak in warm water for 2 hours prior)
1/2 cup water
3 tablespoons lemon juice
2 tablespoons chopped onion
4 teaspoons nutritional yeast
2 teaspoons minced garlic
one 15-ounce can unsalted tomato sauce
2 tablespoons tomato paste
1 teaspoon dried basil
1 teaspoon dried oregano
salt and pepper to taste
vegan mozzarella shreds (I used Follow Your Heart Gourmet Shreds), optional
your favorite pizza toppings (I used quartered artichoke hearts, sliced green bell pepper, olives, and mushrooms that I'd slightly browned/cooked in a pan over medium heat for a few minutes)
pecan parmesan, optional
red pepper flakes
Instructions
Preheat the oven to 400 F. Lightly spray the inside of a cast-iron pan or pie pan with olive oil spray.
In a blender, combine the almond dip ingredients and blend until smooth. Spread the dip evenly in the bottom of the prepared pan.
In a bowl, whisk the pizza sauce ingredients together.
If using, sprinkle some vegan mozzarella shreds over the almond dip. You can use as much or as little as you'd like. Top the cheese with the pizza sauce. Sprinkle a little more cheese over the sauce. Add the toppings (if you're using olives, save those for after the next layer of cheese). Sprinkle a little more cheese.
Bake in the oven for 20 to 25 minutes or until the cheese is fully melted and the edges of the dip are bubbling. Remove from the oven and let cool for about 5 minutes. Top with pecan parmesan and red pepper flakes. Serve immediately with bread, chips, and/or crackers of choice. Enjoy!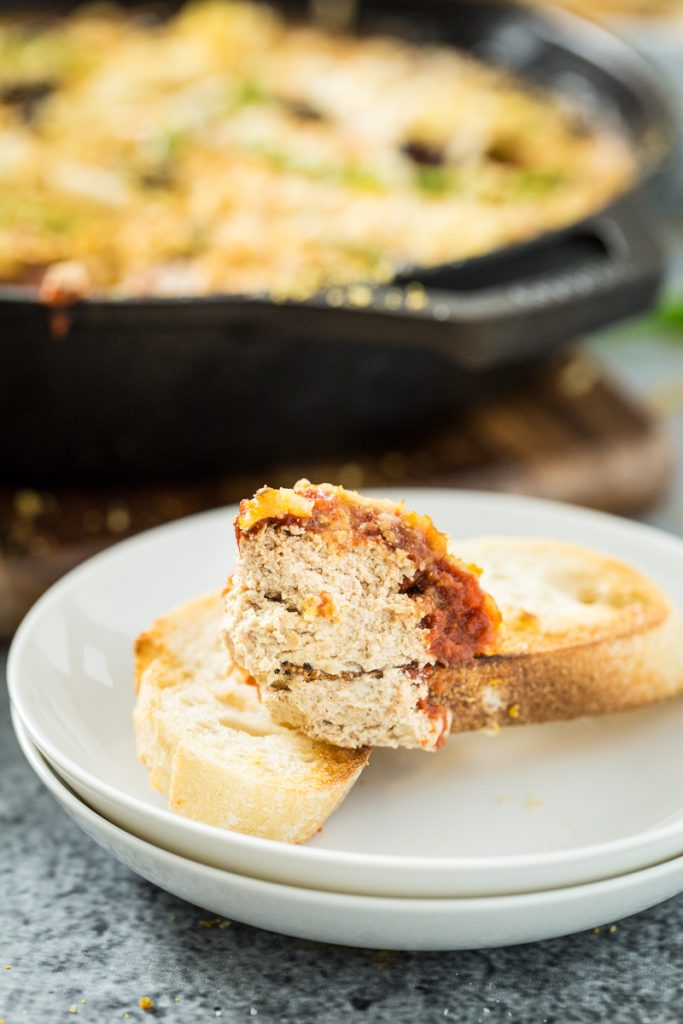 What's your go-to party dip?
Photography by Chris Miller