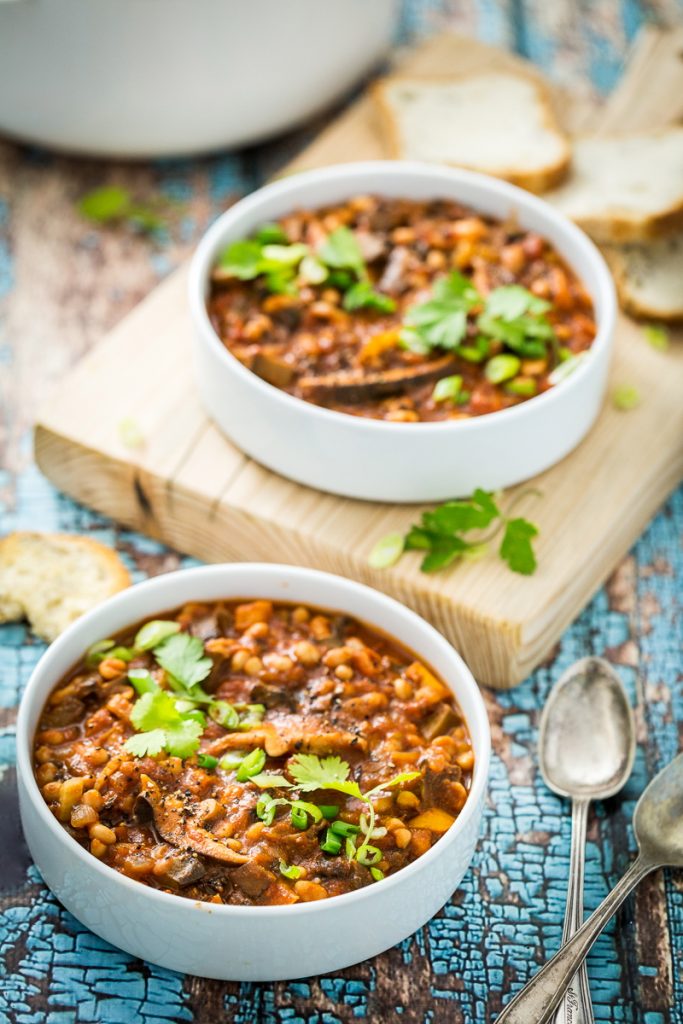 Do you look forward to each season because of the food that accompanies it?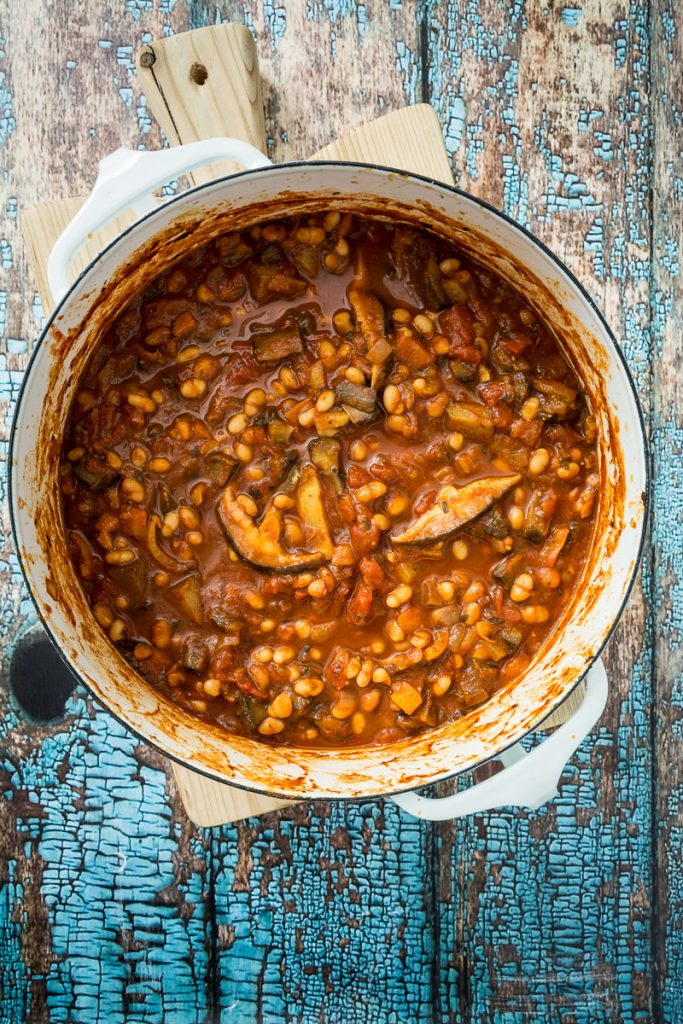 In the spring, I go crazy over everything green, and asparagus salads become the norm. Come summer, I soak up all the fresh berries and stone fruits and look forward to BBQ-everything. In the fall, I'm all about casseroles and  pumpkin. In the winter, in the first few couple chilly months of the year, I look forward to hearty, warm bowls of spoonable goodness, namely soups, stews, and chili.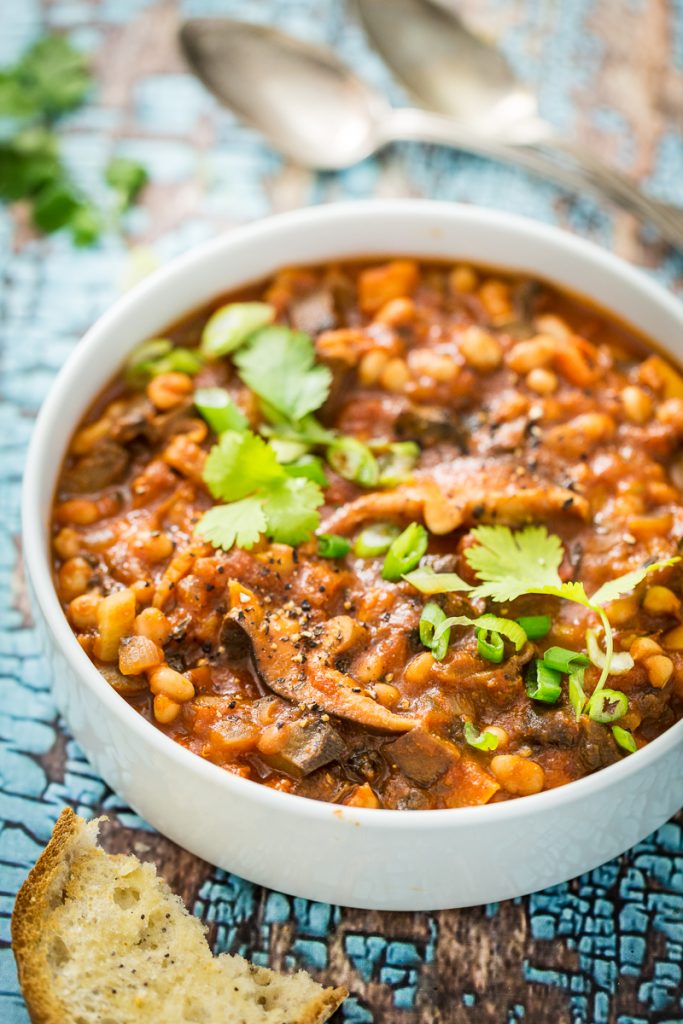 Ever since I developed it around this time last year, the recipe for my White Bean & Portobello Stew (in my book), has been on regular rotation in our house. It reminds me of the hearty, beefy stews my dad would make when I was a kid, except succulent portobellos take the place of steak, making it even more delicious. I crave it on the regular.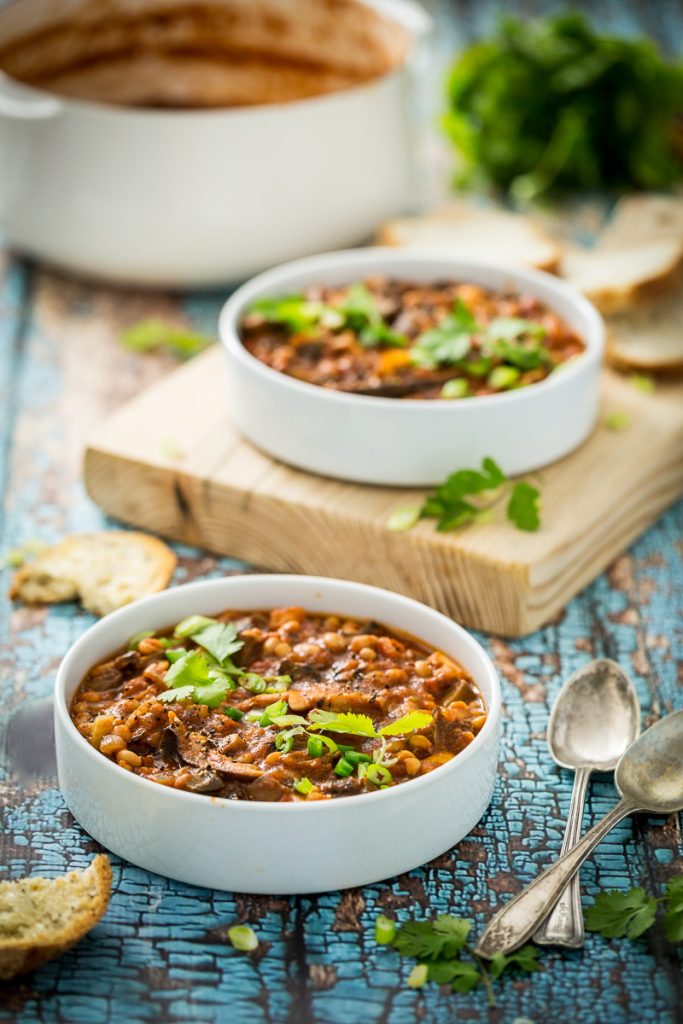 One day during our holiday staycation, I was all set to make a big ol' pot of my favorite stew except fate intervened. One of the recipes we were hired to photograph (confession time: there were two days during our vacation when we did some food photography work, but it hardly feels like work and I would have to cook anyway) was a cornbread recipe. KIK Devotees know that my favorite thing to do with cornbread is to dip it in chili. So as soon as I knew I was shooting cornbread, I wanted chili instead of stew. The only problem was that I had already bought the ingredients for the stew...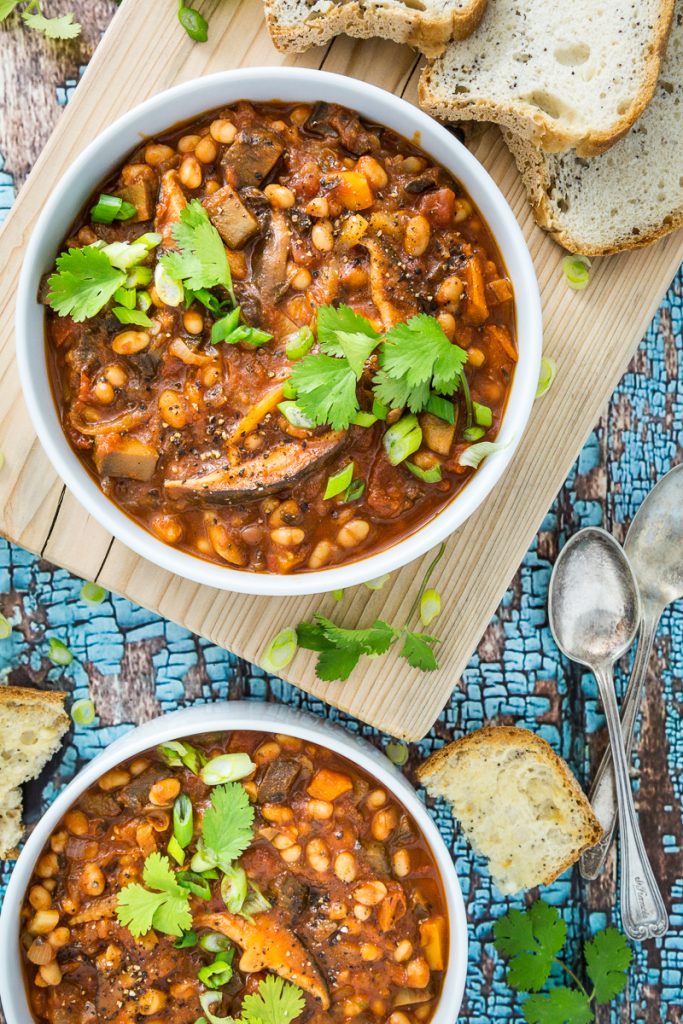 Whenever I'm craving two things at one time, I'm wont to combine the two dishes into one. This portobello chili is inspired by the White Bean & Portobello Stew from my book but also includes some other ingredients I had on hand at the time, like a handful of leftover shiitakes and a fennel bulb. The result was a robust, filling chili with portobello chunks and white beans with a slight "Italian" flare. I topped it with green onions and cilantro (again, another thing I had on hand), though parsley would work just as well. Or some vegan cheese if you have it.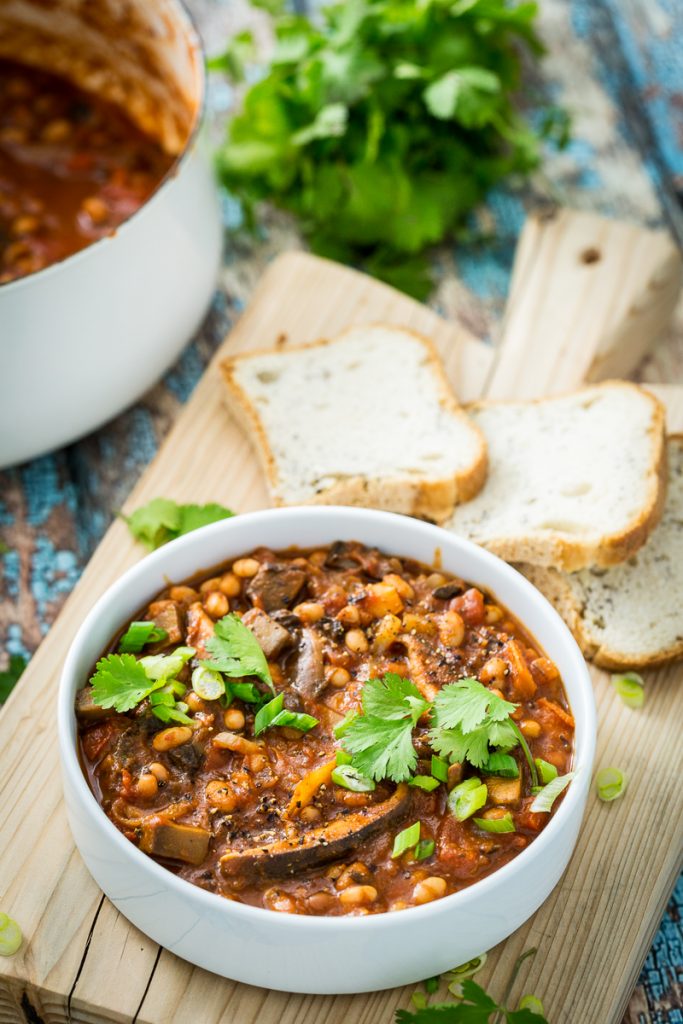 So, you may be wondering why, after I went through so much trouble (not much trouble, actually) to make chili for my cornbread, only to serve it with bread (as photographed). Well, a little thing called Ants happened. I blame myself for leaving the cornbread out on the cooling rack. But the toast was just as satisfying! No complaints here.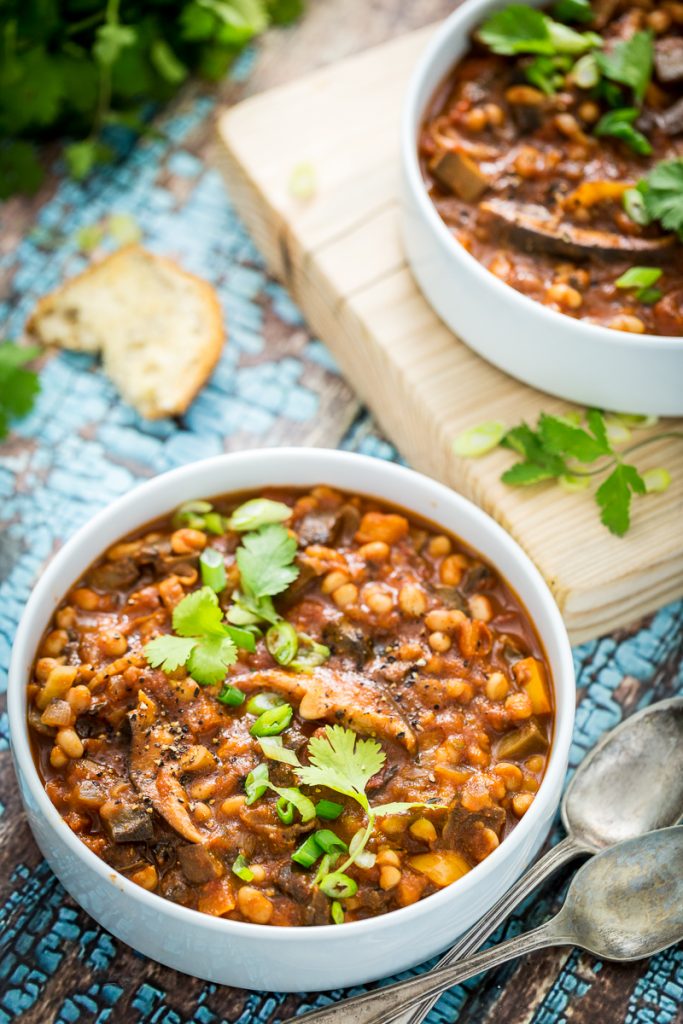 It's a pretty simple chili to pull together and you could have dinner on the table in under an hour, and as we all know, there's nothing like a warm bowl of chilly on a cold, winter evening after a long day of work. I also hear (from my husband. Every. Single. Day.) that it's football season and I've got to say, a big pot of chili is a big crowd-pleaser on game day. Just saying.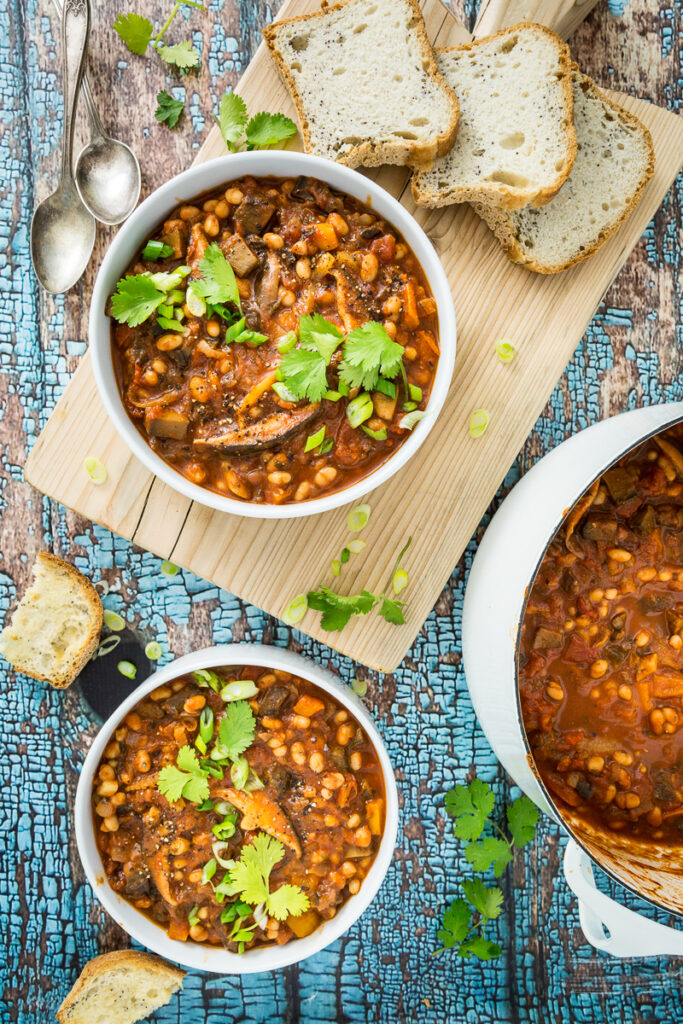 Portobello Chili with Shiitakes & Fennel
Ingredients
1 teaspoon olive oil
1 sweet onion, chopped
3 garlic cloves, minced
1 fennel bulb, fronds removed, halved, and sliced
1 red or orange bell pepper, chopped
4 large portobello mushrooms, chopped into 1-inch chunks
5 shiitake mushrooms, sliced
4 tablespoons liquid aminos
1 1/2 teaspoons ground cumin
1 teaspoon smoked paprika
1 teaspoon dried basil
1 teaspoon dried oregano
1 teaspoon dried parsley
2 cups vegetable broth
one 14-ounce can unsalted tomato sauce
one 15-ounce can unsalted diced, fire-roasted tomatoes
two 15-ounce cans navy beans, rinsed and drained
2 tablespoons maple syrup
2 tablespoons tomato paste
1 to 2 tablespoons sriracha sauce
1 tablespoon apple cider vinegar
1 teaspoon liquid smoke
juice of 1/2 a lemon
salt and pepper to taste
sliced green onions, for topping (optional)
fresh cilantro or parsley for topping (optional)
Instructions
Heat the oil in a large pot over medium heat. Add the onion and garlic and saute until the onion is almost translucent. Add the fennel, bell pepper, portobellos, shiitakes, liquid aminos, cumin, smoked paprika, basil, oregano, and parsley. Stir to combine and let cook, stirring occasionally until the mushrooms are tender, about 5 minutes.
Add the broth, tomato sauce, tomatoes, navy beans, maple syrup, tomato paste, sriracha sauce, and apple cider vinegar. Bring to a boil and then reduce to a simmer. Let simmer for about 20-30 minutes, or until thickened and heated through.
Add the liquid smoke, lemon juice, salt, and pepper. Serve immediately. Refrigerate leftovers in an airtight container for up to 5 days. Enjoy!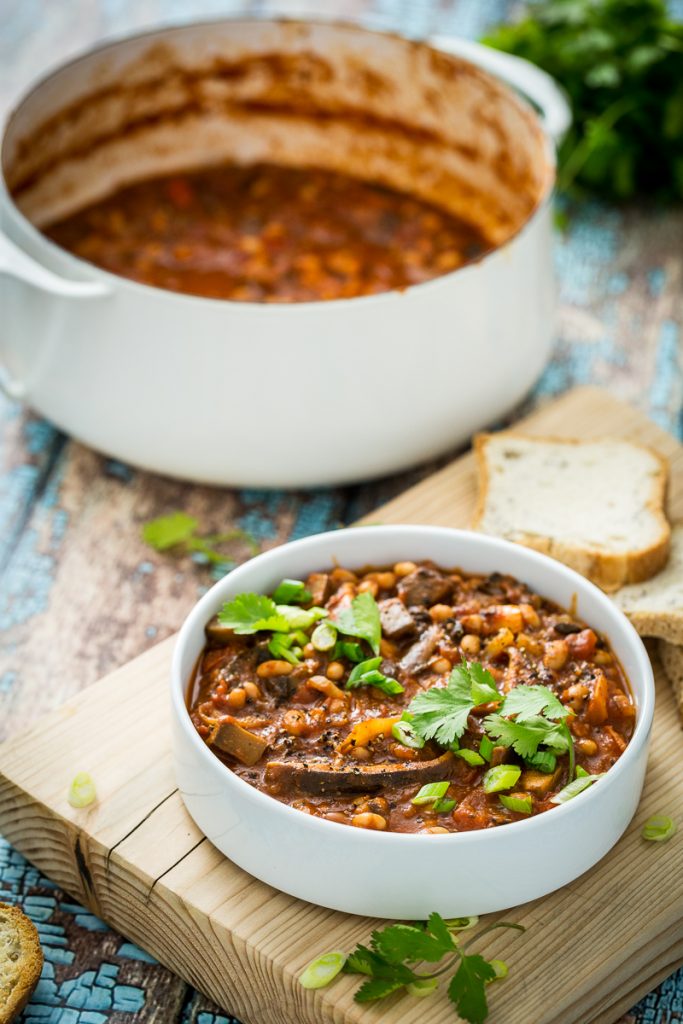 What are your favorite winter meals?