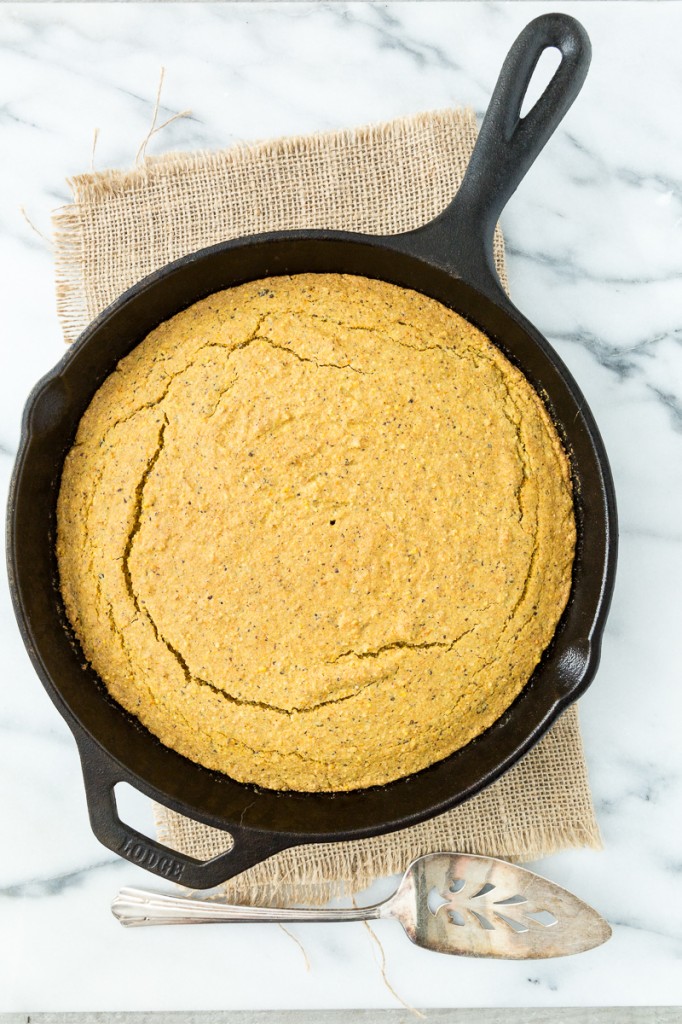 Growing up, cornbread was always a huge treat.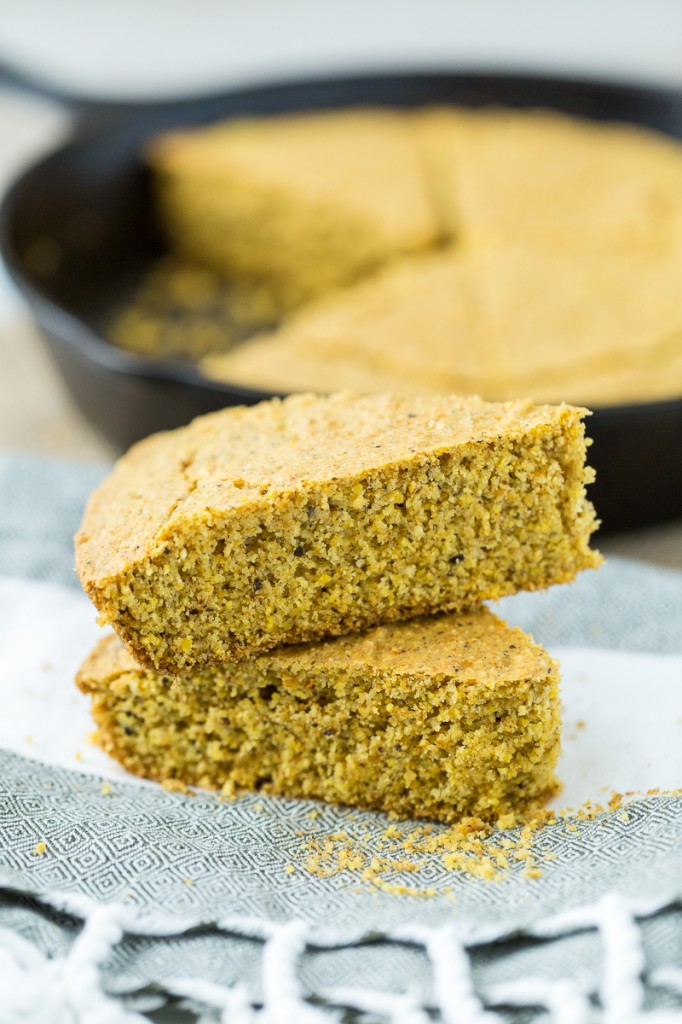 One of the dinners in my dad's weekly rotation was Dennison's chili served over buttered white rice. It was quick and easy and tasty. Seeing as how my dad worked all day, coming home to make something quick and easy was perfect. Because of this, I grew up thinking that 2 things were completely normal: 1. Chili being served on rice; and 2. That people actually buttered their rice. It wasn't until I grew up and mentioned this to someone (ok, several someones) that I found out that neither of these were even close to being normal (and don't worry- I haven't buttered my rice since probably college).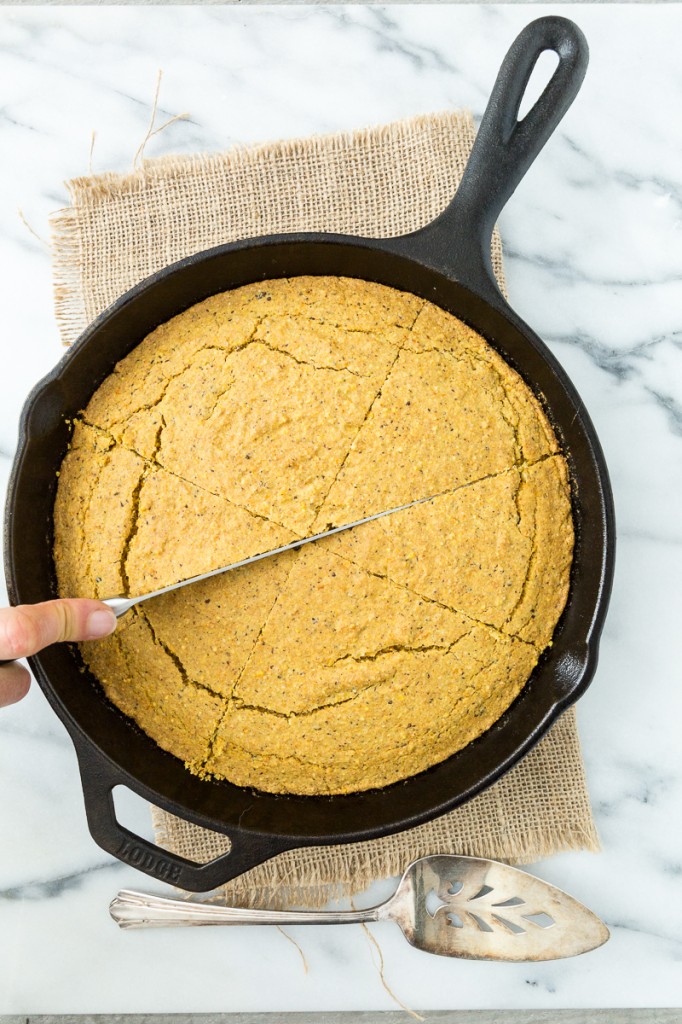 Every once in awhile, however, dad would break out the Marie Callendar's cornbread mix and whip up some cornbread to go along with the chili. I would wait, trying so hard to contain my excitement while the cornbread was baking, very similar to the way a child would wait for his or her birthday cake to come out of the oven.  In fact, to me, that cornbread was like cake. Cake that you got to eat with dinner. Every kid's dream, right?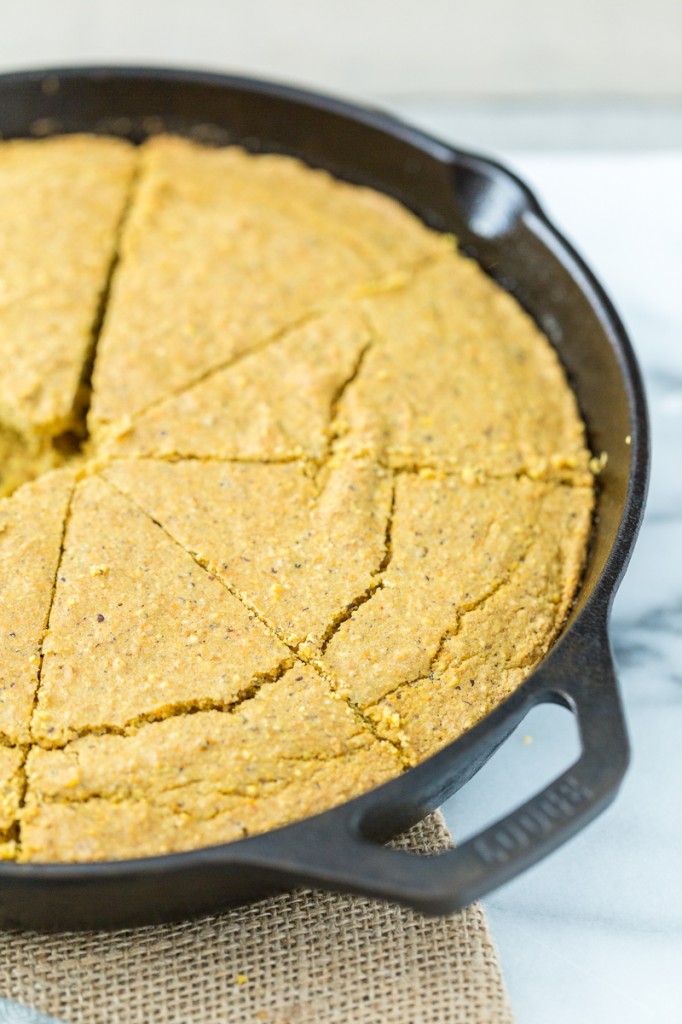 Even today, dinner cake, er, I mean cornbread is not an everyday occasion. It's a delicacy reserved for when there is a chill in the air and a pot of smoky chili simmering on the stove.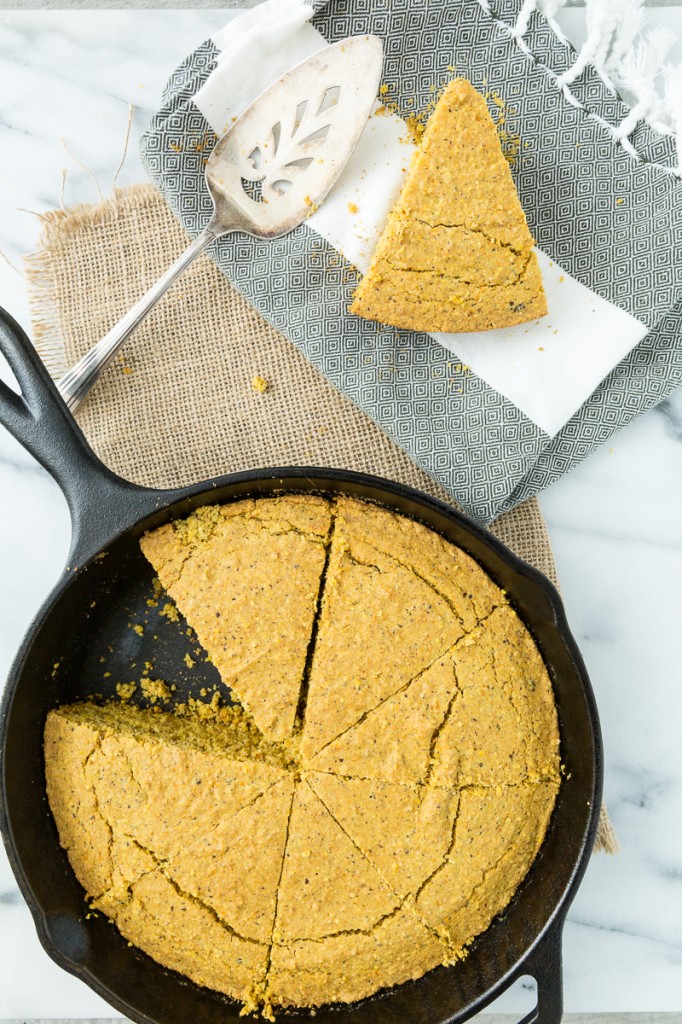 Recently, though, I've defied all rules of conduct in regards to cornbread. I've actually cooked this vegan, gluten-free skillet cornbread twice... in one week! I seriously can't get enough. Even Chris, who generally tends to shy away from cornbread, has been going a little crazy over it. It's just slightly sweet, it has just the right ratio of moist denseness and crumbliness. Plus, since it's cooked in a cast-iron skillet, the bottom and edges are a little crispier and it also has an overall more rustic flavor.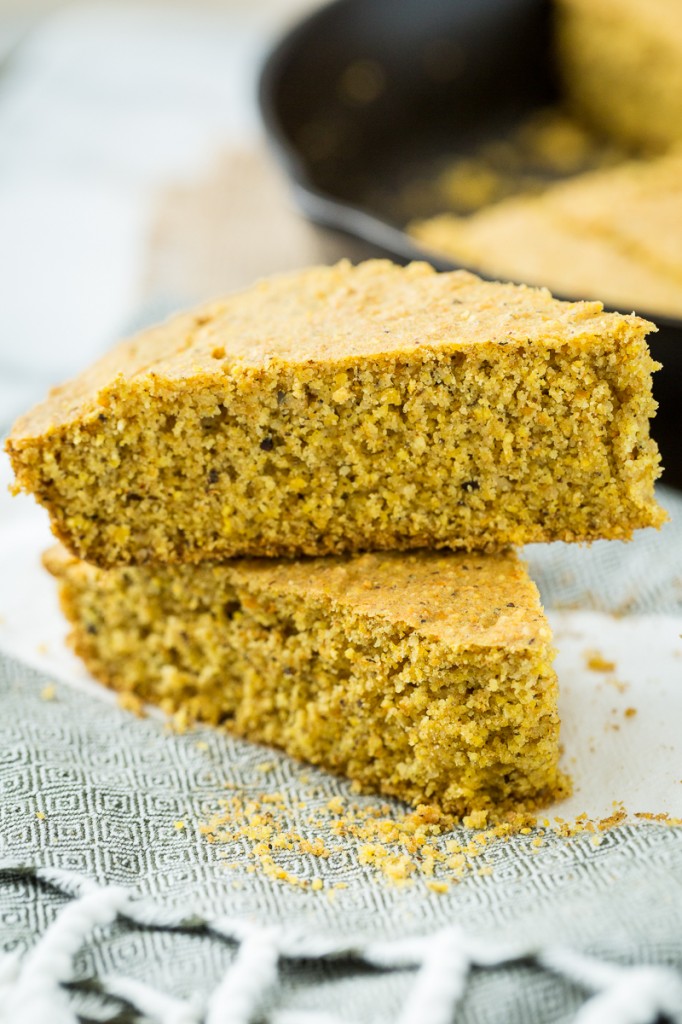 Now that there's starting to get a chill in the air (for some of you, or so I hear. It's actually 90° F in LA as a write this), you're going to want to get this skillet cornbread in the oven ASAP. And plan on making it frequently- this is an everyday (or almost everyday) sort of cornbread. And while you're at it, you're going to want some chili to go along with it so stay tuned...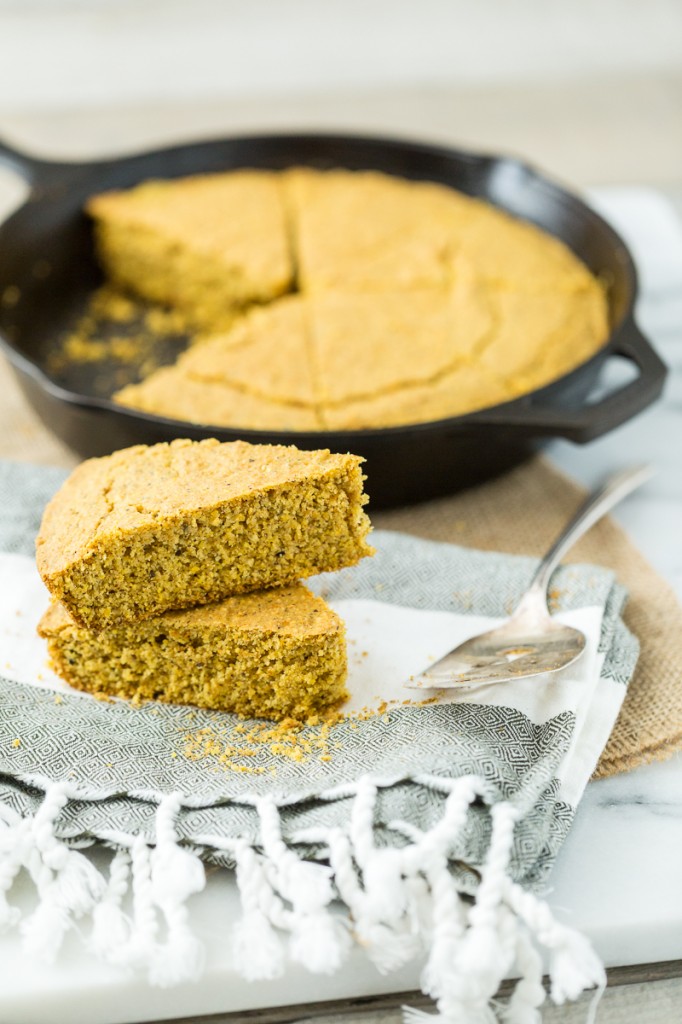 Vegan, Gluten-Free Skillet Cornbread
Ingredients
1 cup almond milk
1 teaspoon apple cider vinegar
6 tablespoons warm water
2 tablespoons flaxmeal
1 1/2 cups fine grain cornmeal
1 cup oat flour (use certified gluten-free, if necessary)
1/4 cup almond flour
1 tablespoon baking powder
1/2 teaspoon salt
1/2 teaspoon cumin
1/4 teaspoon smoked paprika
1/4 cup sunflower or grapeseed oil
1/4 cup maple syrup
Instructions
Preheat the oven to 400 F. Spray a 10-inch cast-iron pan with olive oil spray or cooking spray.
In a 2-cup measuring cup or medium bowl, combine the non-dairy milk with the apple cider vinegar. In a small cup, mix together the warm water and the flaxmeal. Let both rest while you prepare the rest of the ingredients (at least 3 to 4 minutes).
In a large bowl, whisk together the cornmeal, oat flour, almond flour, baking powder, salt, cumin, and paprika.
Once the milk and the flaxmeal mixtures have rested long enough, add the flaxmeal mixture to the milk. Add the oil and the maple syrup. Stir until fully combined.
Add the wet ingredients to the dry and stir until just combined. Pour into the prepared skillet.
Bake for 20 to 25 minutes or until a toothpick inserted into the center comes out clean. Serve warm. Leftovers can be chilled in an airtight container for 2 to 3 days. Enjoy!
Notes
This recipe can also be made in a round or square cake pan if you don't have a cast-iron skillet.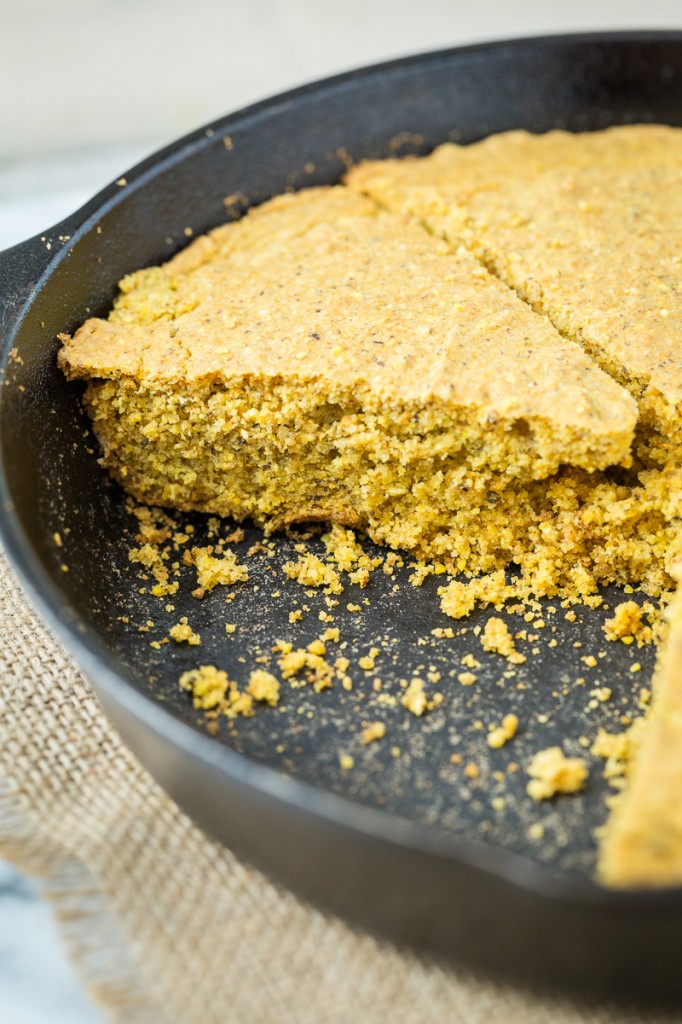 Cornbread: Is it bread or cake? Discuss.
Photography by Chris Miller