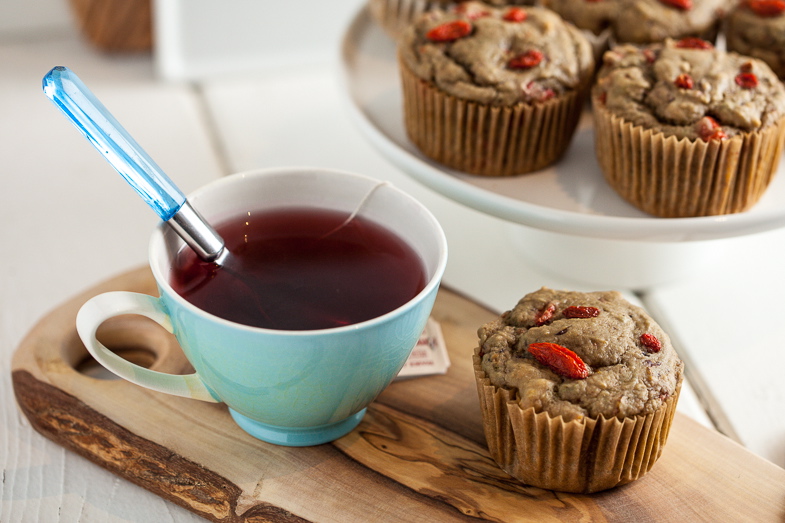 I've mentioned before that I'm typically more on the quiet side.  Small talk is something I've never been that good at.  My closest friends are the ones who don't get weirded out when I have nothing to say.  Writing, on the other hand, is a place where I can tend to get a little long-winded.  I'm hoping you all don't mind too much.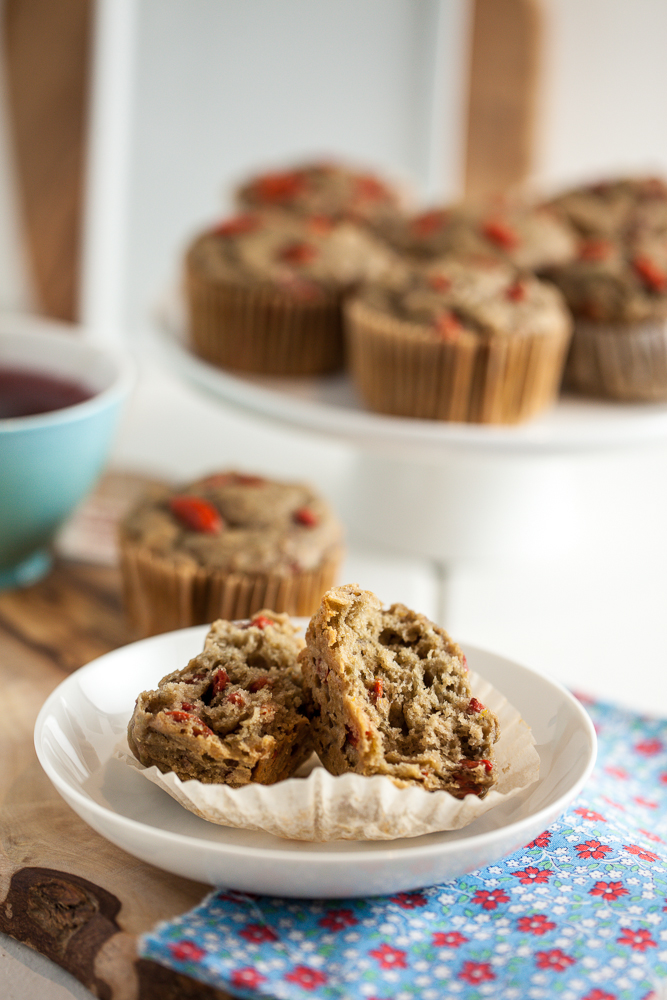 Recently, though, I've been pretty easily distracted.  Whenever I try to write a post, my mind wanders to everything else but the subject at hand.  I begin watching the birds bathing themselves in the canal outside our house.  I start wondering whatever happened to that one book I had meant to read.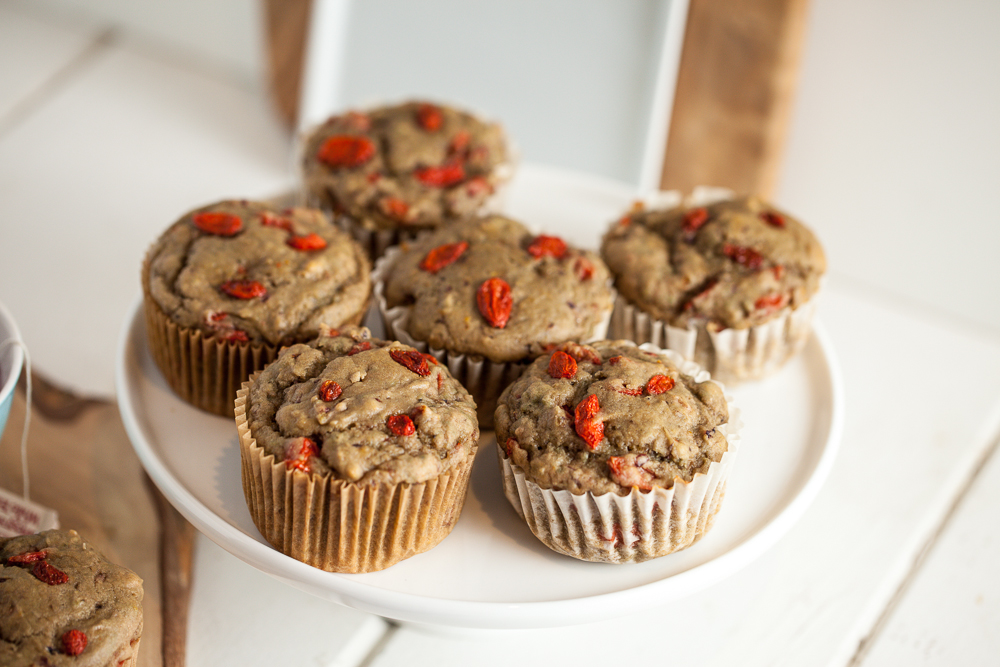 I begin brainstorming the best way to arrange cabinets in our kitchen to maximize storage space.  I spend an hour on Google Fonts, picking out fonts that I like.  I start checking prices on flights to, well, pretty much everywhere.
I decide to sit on the couch doing nothing but scratching Samantha's belly.  I respond to an email that I really should've responded to 2 days ago.  I get up to make myself a cup of tea, but get distracted and make muffins instead.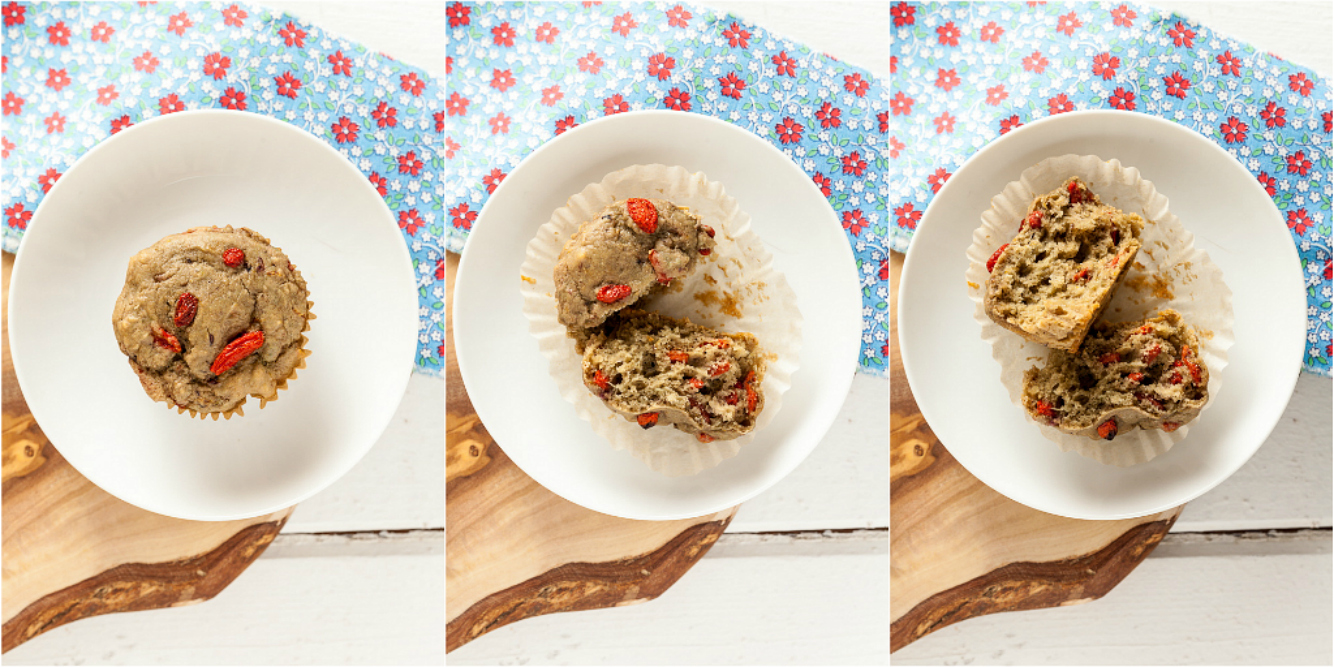 These muffins.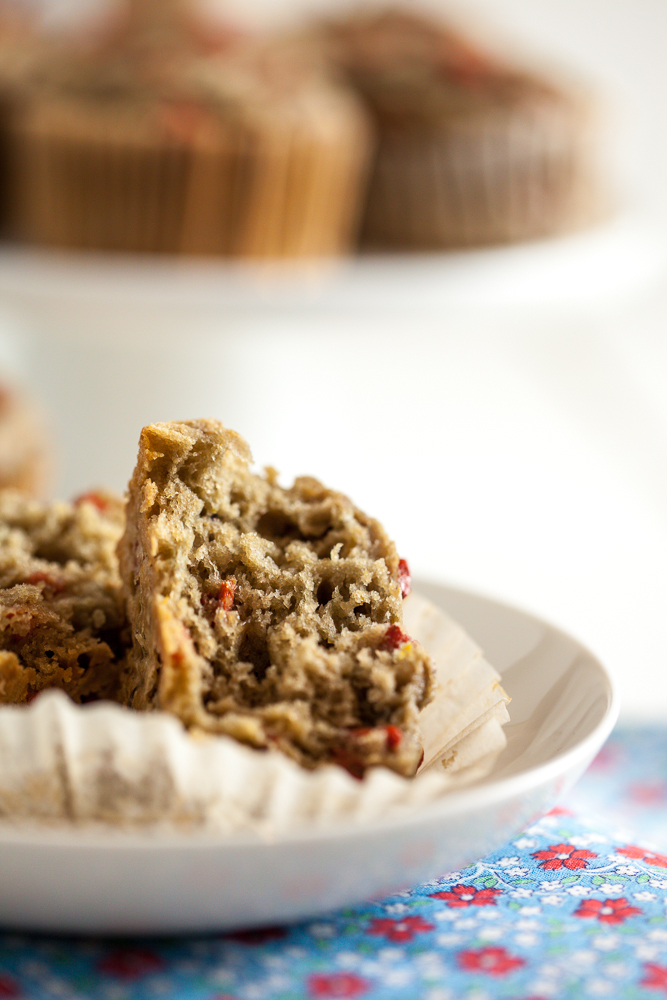 They are just too good.  Blood oranges offer a sweeter, more earthy citrus punch and when combined with vanilla coconut yogurt, they turn this muffin into one super moist and tasty treat.  The goji berries, after being soaked in warm water for an hour, become plump and juicy and bring a bright, tangy flavor burst to every bite.  Just plain delicious.  They were so good, I had to make another batch to send to our friend who just had back surgery.  She and her husband (and their pup, who managed to get ahold of one) enjoyed them as well.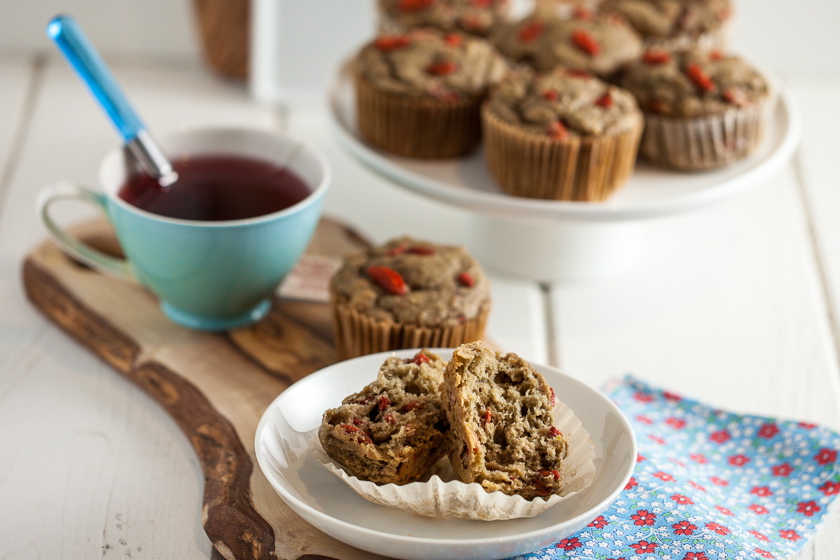 Now, if you'll excuse me, I'm going to go look for that one book I had wanted to read...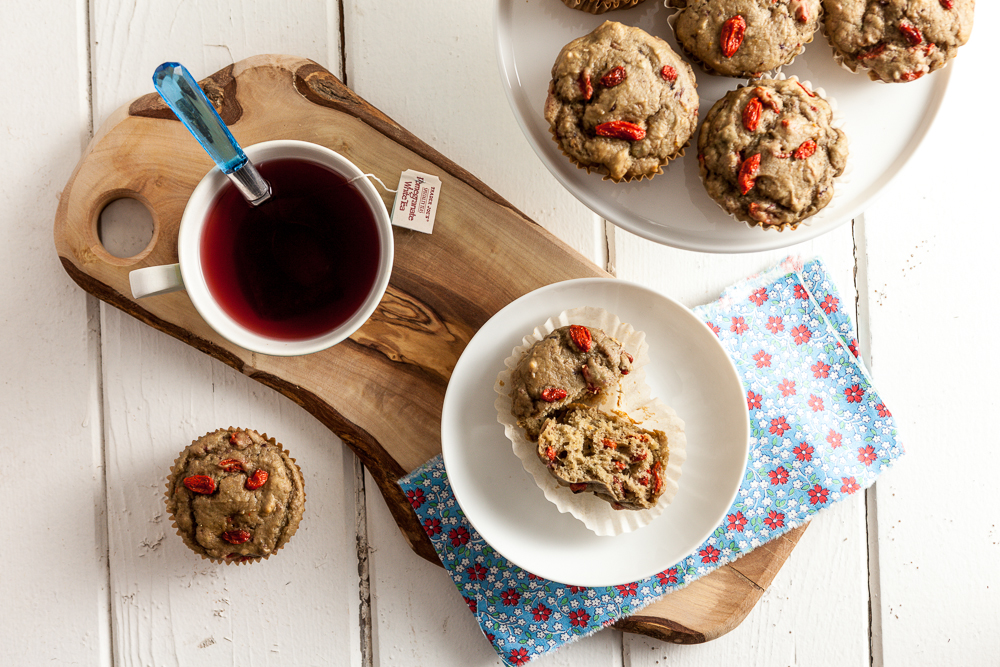 Goji Berry Blood Orange Muffins
Ingredients
1 cup whole wheat pastry flour
1 cup spelt flour
1 1/2 teaspoons baking powder
1/2 teaspoon baking soda
1/2 teaspoon ground ginger
1/2 teaspoon salt
1/4 cup vegan butter (I used Earth Balance coconut spread)
1/4 cup coconut nectar (or agave/maple syrup)
3/4 cup vegan coconut yogurt (or other vegan yogurt)
1/2 cup fresh blood orange juice, with pulp
1 tablespoon blood orange zest
1 teaspoon vanilla extract
3/4 cup goji berries, soaked in water for at least one hour
Instructions
Preheat oven to 350. Place baking cups in the wells of a 12-cup muffin tin. Set aside.
In a large bowl, whisk together the dry ingredients. Set aside.
In a medium bowl, cream together the butter and coconut nectar. Mix in the coconut yogurt, then the orange juice, zest, and vanilla extract. Add the wet ingredients to the dry and mix until just combined. Fold in the goji berries.
Fill each baking cup with batter until it's about 3/4 full. Lay 2 blood orange slices on top of each muffin.
Bake for 20-22 minutes, or until a toothpick inserted into the center comes out clean. Remove from oven. Let cool in the muffin tin for a few minutes before transferring the muffins to a cooling rack. Let cool completely before serving or storing in an airtight container. Enjoy!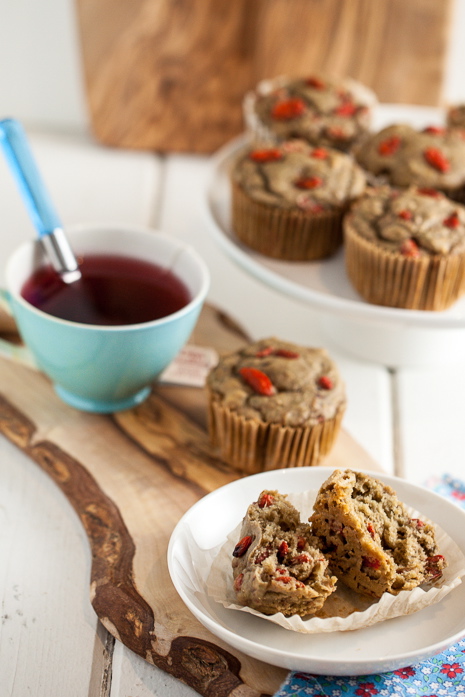 Do you ever find yourself being easily distracted?  What do you do about it?
This last week, as well as the next two weeks, I will be working on a project (Yay for temp jobs!).  Because of this project, I may end up slacking a little on the blog and with social media.  I may not be able to reply to all comments, but I will certainly try to answer all questions.  Trust me- I'm not ignoring you!  Every comment I get, every tweet and every note on Facebook is noted and puts a huge smile on my face.  Much love to you all.  🙂