Today is mine and Chris's last day of work on the project we've been working on for the last few months and I couldn't be more ready for a vacation.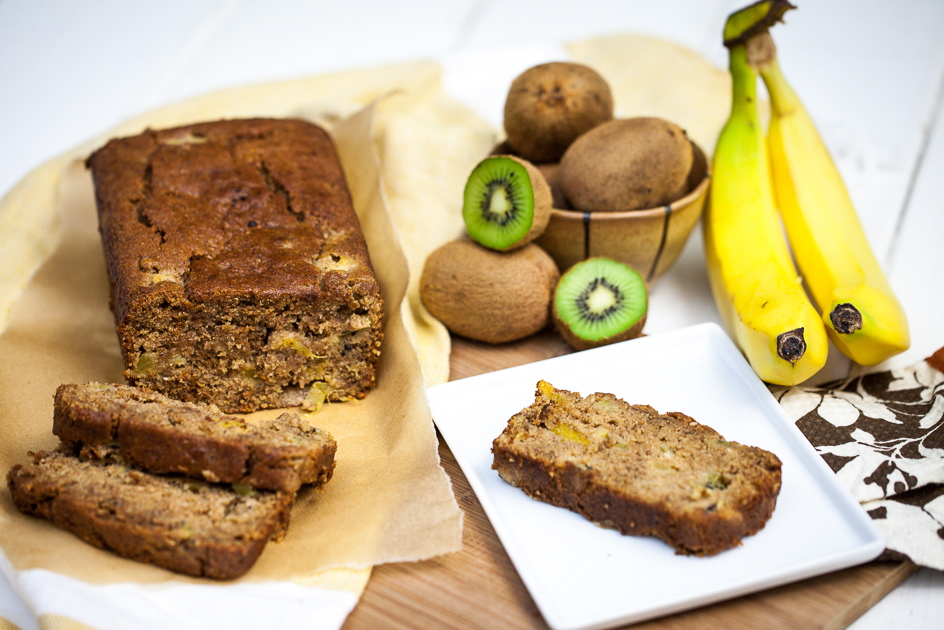 Chris and I always try to take a little trip after we finish a project, just because it can be very exhausting and it's a good way to reconnect and get out of coworker mode.  It's also just a good excuse for a vacation.  Even though I am LOVING the cooler weather and rain we've been having (Did I mention I've been LOVING IT?), and Christmas is just around the corner (a little too close around the corner, for my taste), my brain feels like it is time to go sit on a warm sunny beach and decompress, just as we did a few months ago.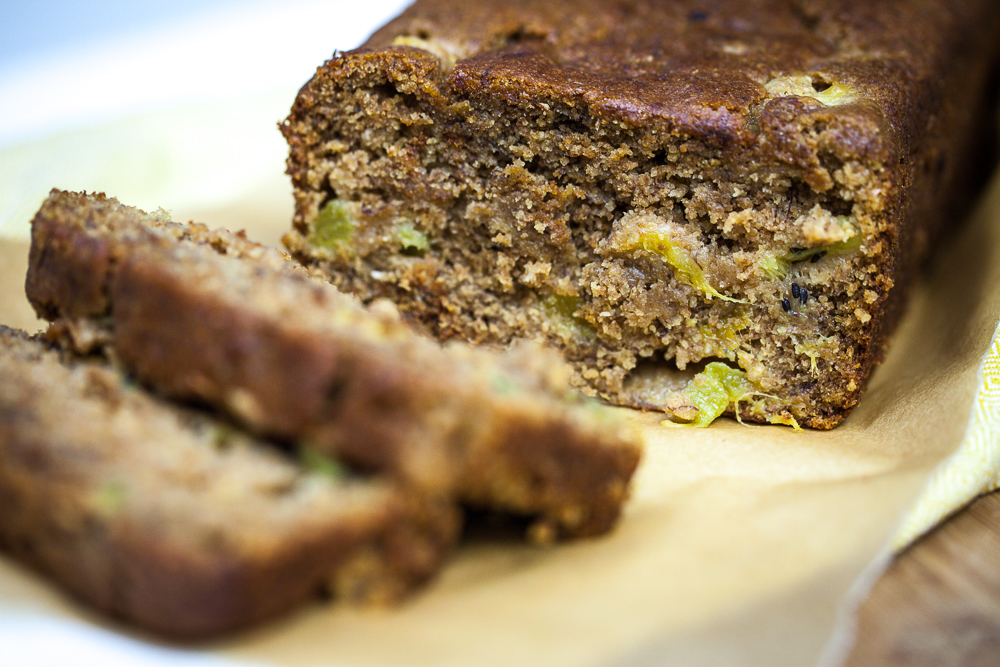 That is where the inspiration for this bread came from.  That, and the fact Chris has been walking around singing Mele Kalikimaka all day for the last few days (little fact:  Chris sings constantly.  It's one of my most favorite things about him).  Also, I had, seriously, tons of kiwi from our CSA building up in my fridge.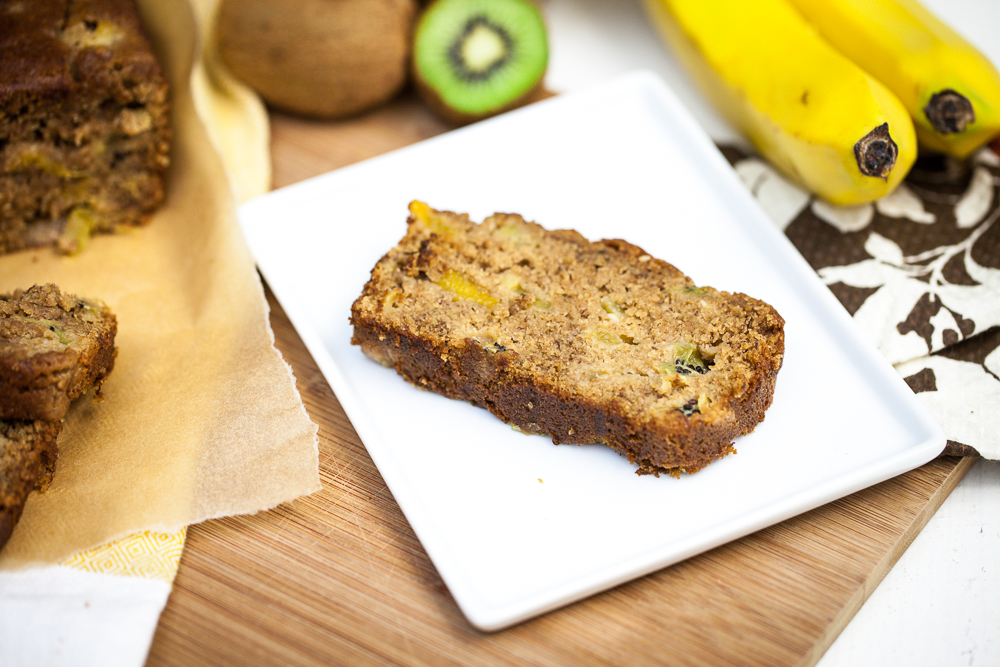 I know a lot of you, when doing your holiday baking this weekend, will likely choose a more traditional banana bread recipe, rather than a tropical-themed bread.  However, what makes this bread awesome, is that this is derived from my regular banana bread recipe.  If you leave out the coconut, mango, and kiwi, and double the cinnamon (and possibly add some nutmeg and cloves as well), you will have yourself one incredibly moist and delicious loaf of banana bread, perfectly fit for your holiday bread-eating needs.  If you're up for an untraditional twist, follow the recipe as it is.  The result is one flavor-packed banana loaf, with bursts of fruity flavor throughout.  It's incredibly addictive and hard to stop eating.  Case in point:  the loaf you see pictured here is actually the third loaf I've made... in three days (before you judge, I froze one for later!).
I'm celebrating being done with work (until the next project comes along) by baking all weekend, and it is likely that more loaves of Mele Kalikimaka Banana Bread will be made (I still have kiwi in my fridge).  I'm also planning on spending some time cuddling with my husband and dogs in front of a fire, while watching some Christmas movies.  We do have post-project trip planned for the first week of January (New York City, here we come!!! If you have any suggestions for while I'm there, please let me know!), but for time being, I'm going to be enjoying the holidays (read: blogging less), just as I hope all of you will.  The cookie swap party will continue for the next three days as well, so be sure to check back to see what other goodies are in store!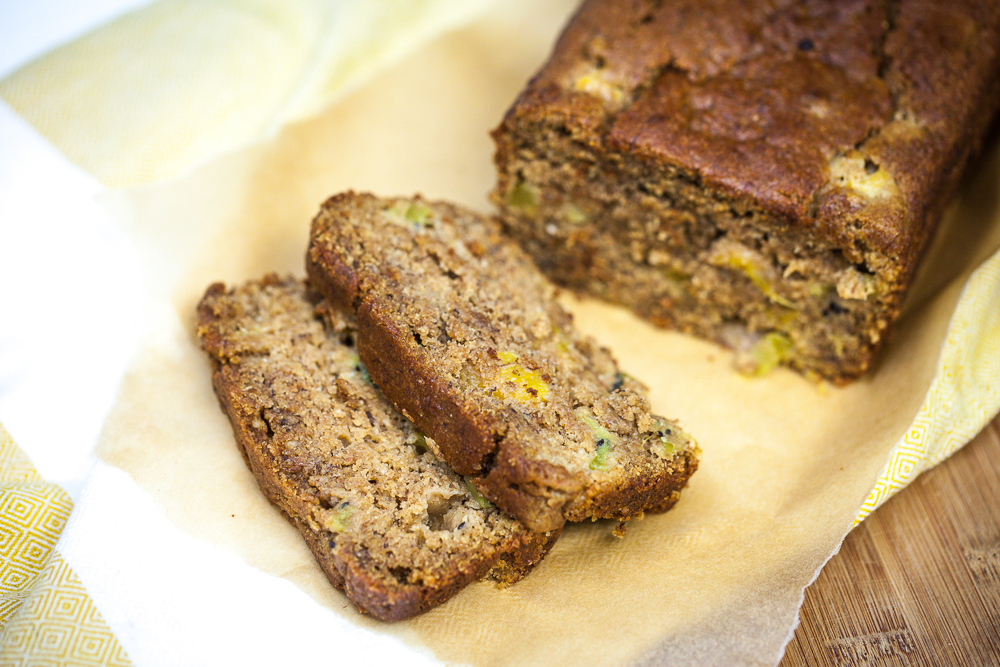 Mele Kalikimaka Banana Bread
Ingredients
2 very ripe bananas, mashed
1/2 cup almond milk, mixed with 2 teaspoons of apple cider vinegar
1/4 cup coconut oil
1/2 cup coconut sugar
1 teaspoon vanilla extract
1 1/2 cup whole wheat pastry flour
1/2 cup spelt flour
1 teaspoon baking soda
2 tablespoons dried coconut shreds
1 teaspoon ground ginger
1/2 teaspoon ground cinnamon
1/2 teaspoon salt
3/4 cup mango, peeled and diced
3/4 cup kiwi, peeled and diced
Instructions
Preheat oven to 350. Line a 9 x 5 loaf pan with a sheet of parchment paper, or lightly grease. Set aside.
IN a large bowl, mix your dry ingredients together. In a medium bowl, use an electric mixer to mix the coconut oil and sugar. Stir in the mashed bananas and finally the almond milk/vinegar mixture and vanilla extract. Mix well.
Add the wet ingredients to the dry ingredients and mix until just combined. Fold in the mango and kiwi. Pour into loaf pan. Bake in the oven for 1 hour or until a toothpick inserted into the center comes out clean. Remove from oven.
Let cool in the pan for about five minutes before transferring the loaf to a cooling rack. Let cool completely before slicing and serving. Enjoy!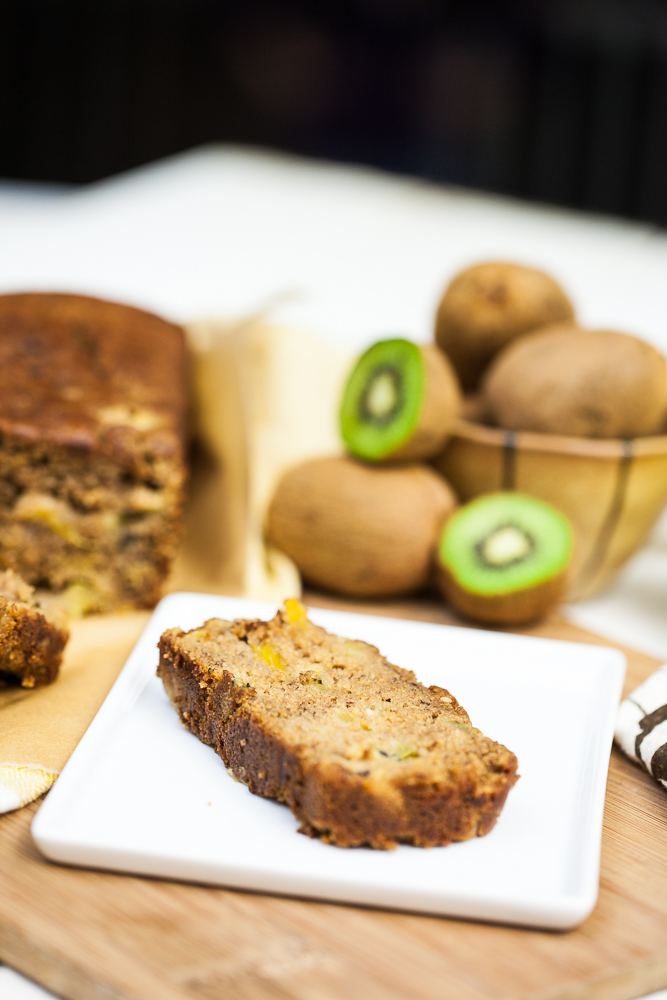 To all of my blogging friends: I know I have been pretty absent from all of your blogs recently because work has been pretty crazy.  Today, my bookmarked posts to read just tipped the scale at over 100!  I'm hoping to get caught up on these, but I will be back in full swing in mid-January.  Thank you all so much for continuing to check in here- whenever I get an email notification about one of your comments, it's like a little burst of positivity and support in the middle of a very frenzied, hectic time.  They always make me smile and warm my heart.  Looking forward to "spending more time" with each of you.  🙂
Photography by Chris Miller