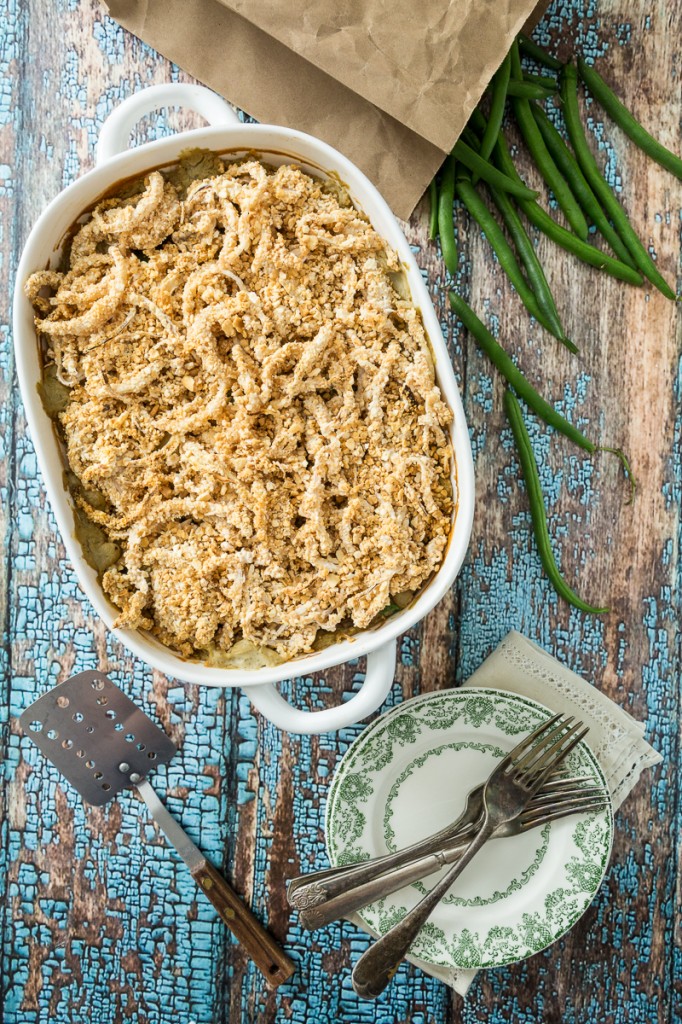 When I was in college, I always liked to bring the green bean casserole to family gatherings because I was cheap (I was working my way through college so I had an excuse) and this particular casserole only required 3 ingredients: Canned green beans, canned cream of mushroom soup, and that tin of fried onions.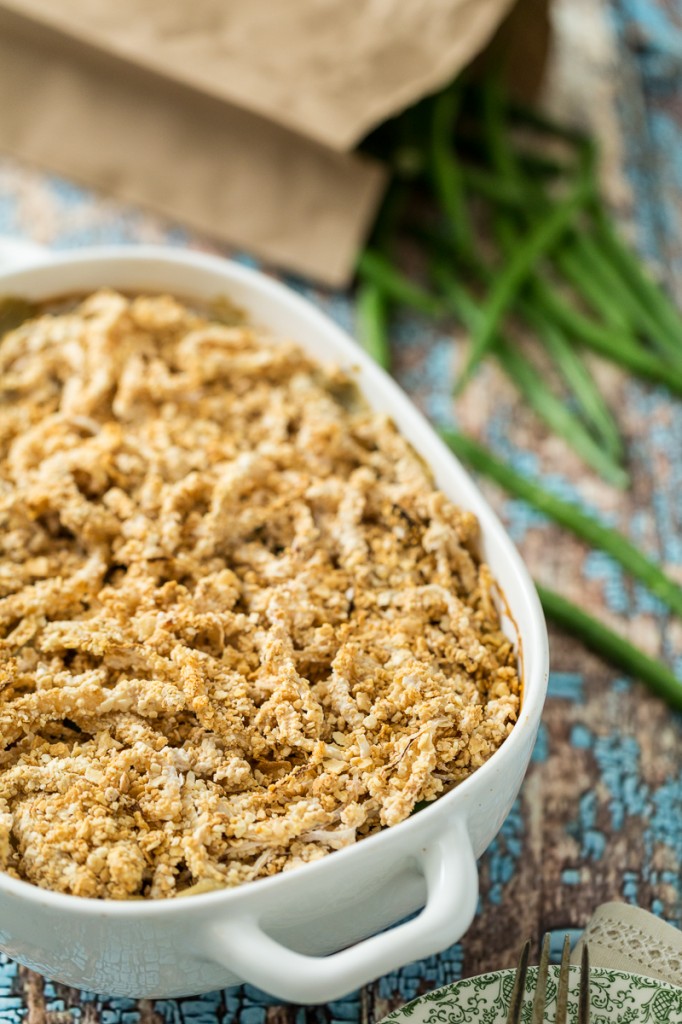 This green bean casserole is a whole other caliber than the casserole of my past. It can't even be compared. This casserole is the George Clooney of green bean casseroles.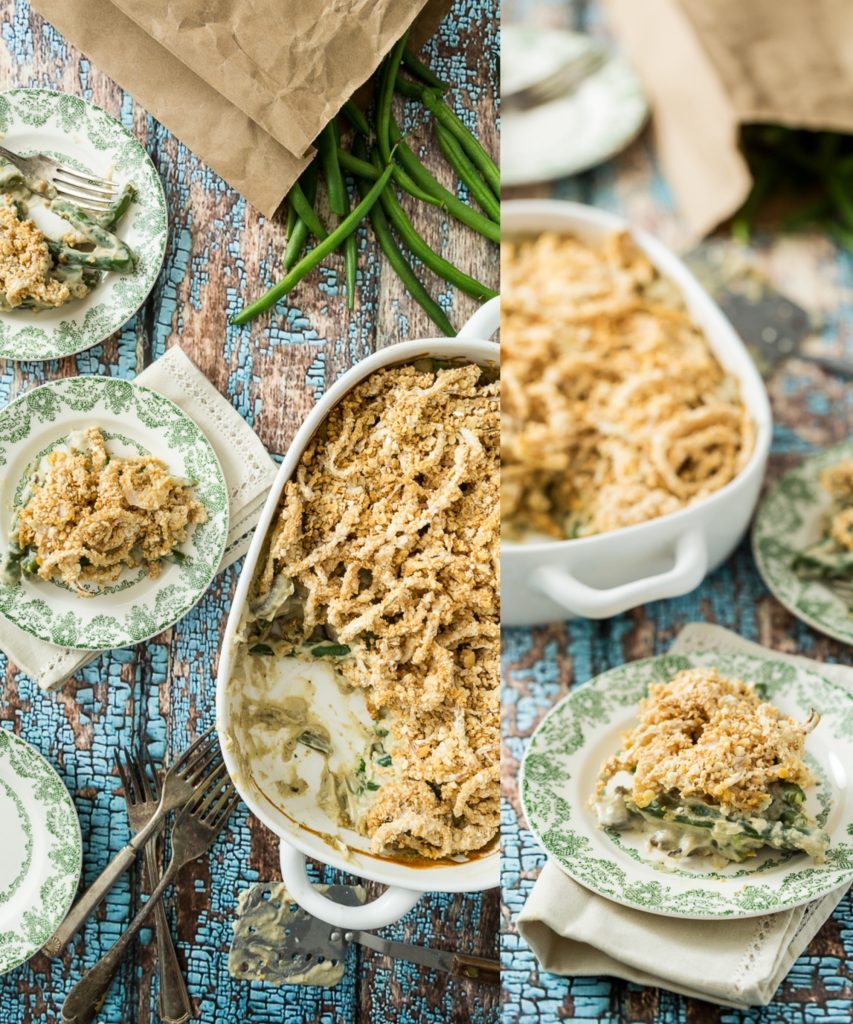 The base of the casserole is simple and healthy. The mushroom sauce is made from steamed cauliflower, cashews, and non-dairy milk and then cooked mushrooms are stirred in. Then some gently steamed green beans are tossed in the sauce and poured into the casserole dish. It doesn't sound too crazy but it's incredibly luscious, rich, and all-around delicious in a clean and simple way.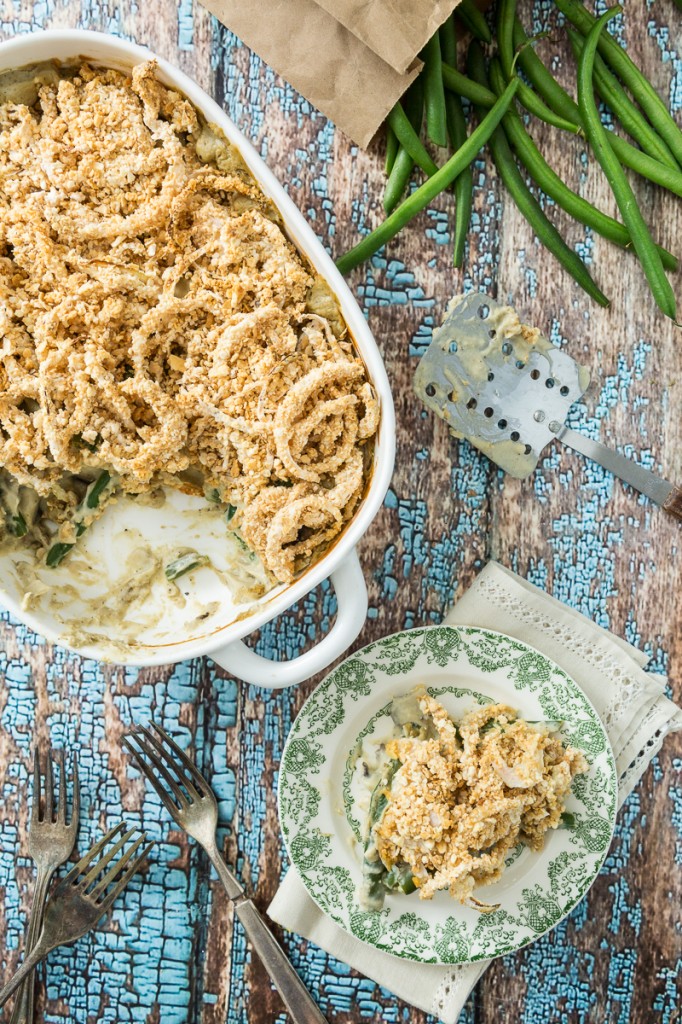 The topping is where it gets interesting. Sure, those tins of fried onions are vegan but they are covered in weird chemical crap and really, who wants that when you can have onion rings?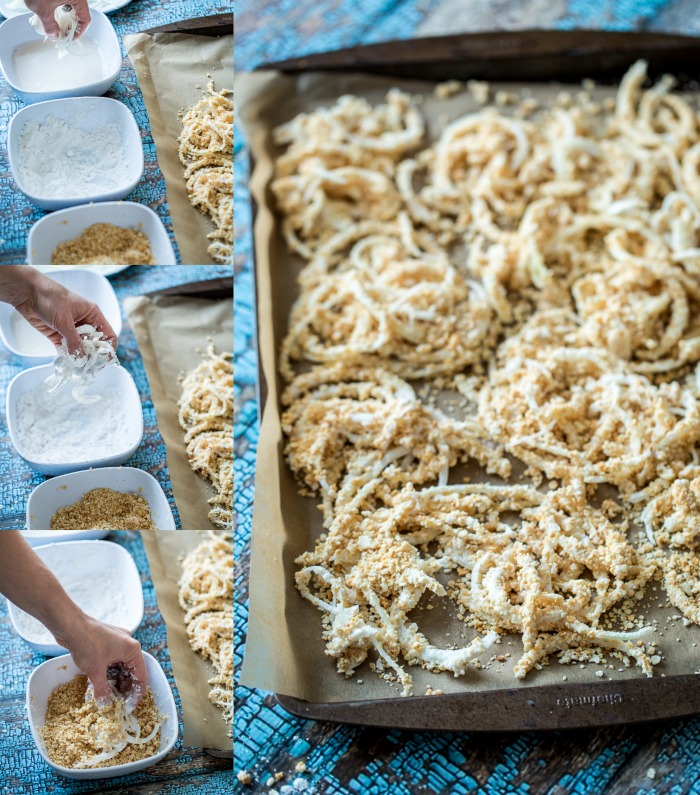 That's right. Onion Rings. Well, I guess Onion Strings would more accurately describe this topping. It's based on the onion ring recipe in my upcoming book, but basically, very thin onion slices are battered, coated in panko bread crumbs (I used gluten-free, holla!), and baked until mostly crisp, and then they are spread on top of the casserole for the last 10 minutes it's in the oven. I'll be honest with you- this casserole is best straight out of the oven but if you were to make this ahead of time, it reheats beautifully when you wrap the dish in foil and heat it up in the oven.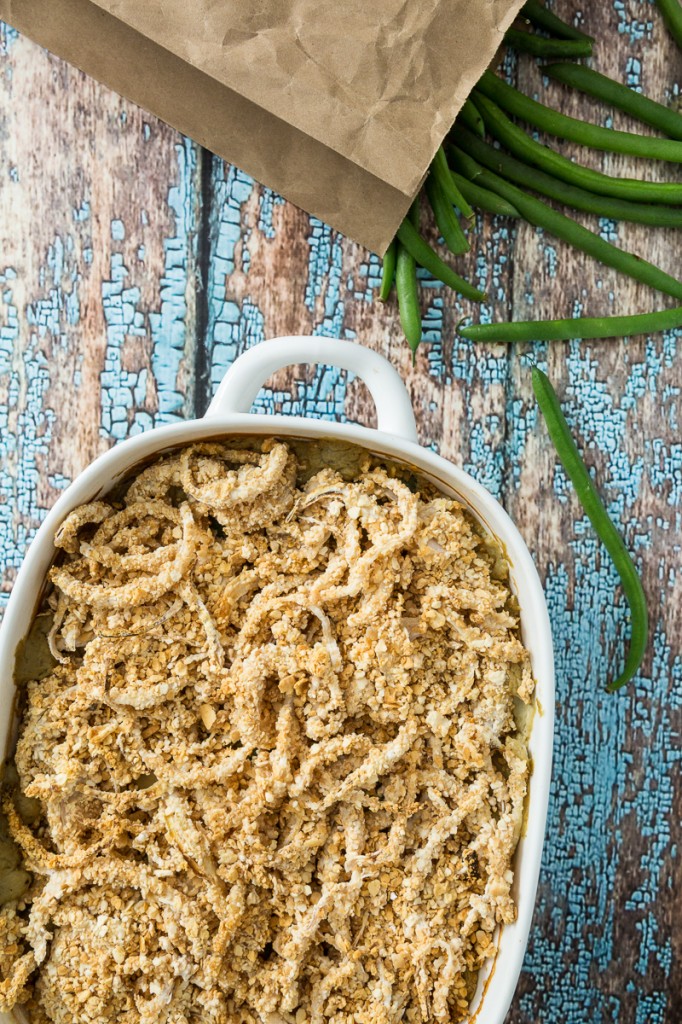 Sure, it takes a little bit longer to prepare than the 3-ingredient chemical casserole, but the pay-off is Onion Rings, guys. Onion Rings!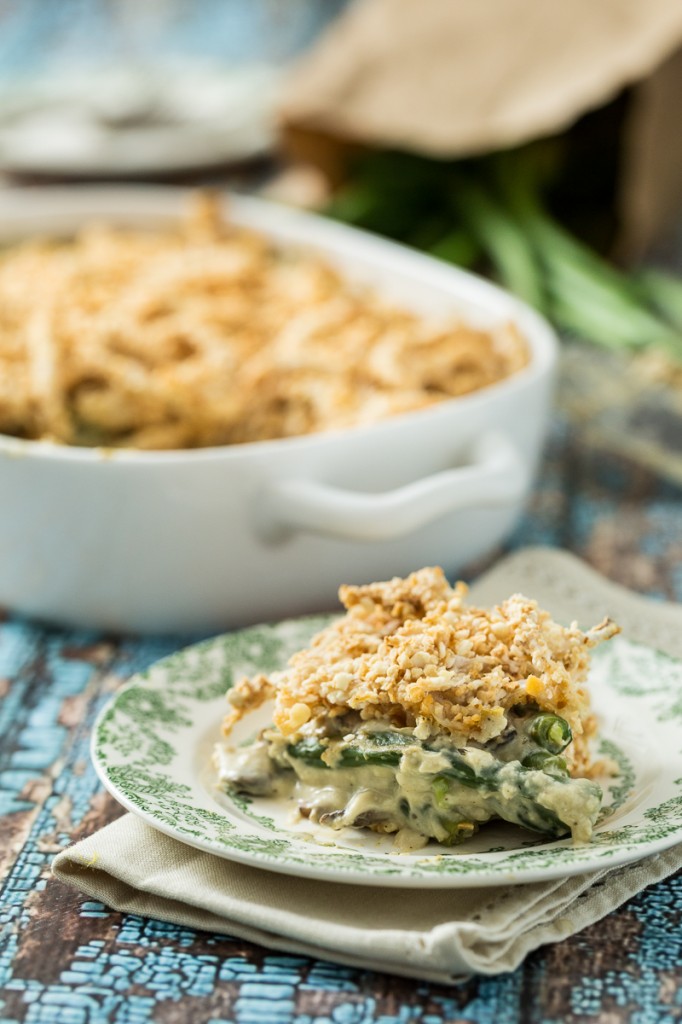 The green bean casserole typically gets overlooked for Thanksgiving's more popular side dishes like stuffing or mashed potatoes and gravy. But not this year. This year, George, er, I mean, this Green Bean Casserole is going to steal the show!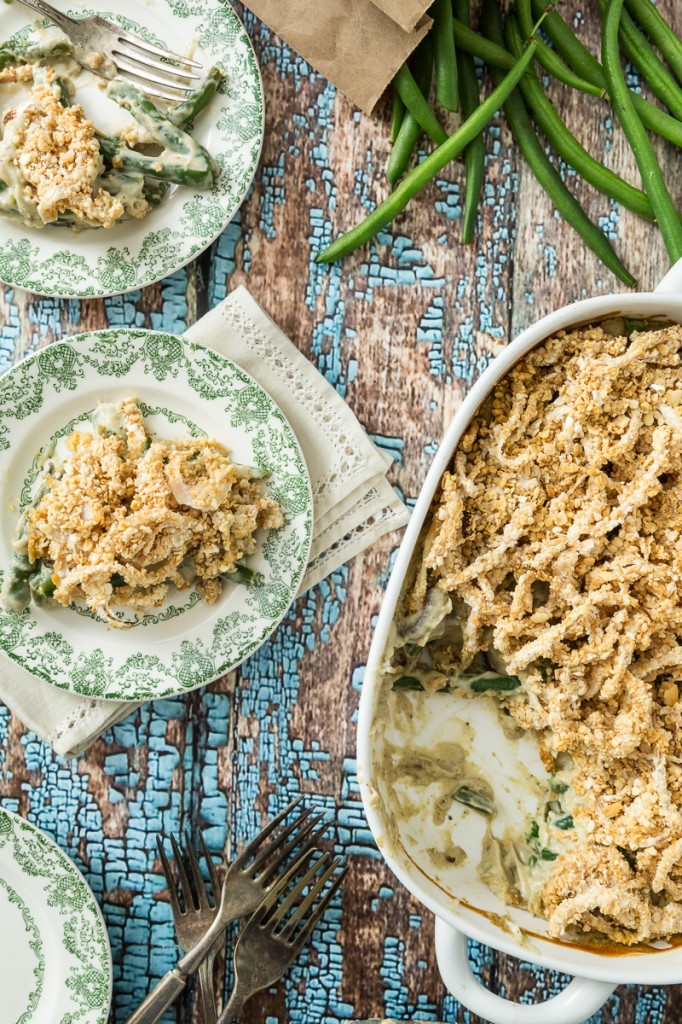 Green Bean Casserole with Onion Ring-Style Topping
Ingredients
1/2 head of cauliflower, broken into florets
1/2 cup raw cashews (if not using a high speed blender, soak them in water for a couple hours prior)
1 cup non-dairy milk
2 tablespoons nutritional yeast
1 tablespoon arrowroot powder or cornstarch
1 teaspoon dried thyme
3/4 teaspoon salt
1/2 teaspoon garlic powder
1-pound green beans, ends trimmed
1/2 tablespoon vegan butter
8-ounces sliced crimini mushrooms (about 2 1/2 cups)
2 teaspoons liquid aminos (or tamari/soy sauce)
1/2 large sweet onion, very thinly sliced into rings or strings (I didn't half the onion and I sliced it, trying to make circles, using a mandoline)
1 cup non-dairy milk
1 cup arrowroot powder or cornstarch
1 cup panko bread crumbs (use gluten-free if necessary)
1 teaspoon salt
1/2 teaspoon garlic powder
Instructions
Place the cauliflower in a steamer basket over a pot of boiling water and cover. Steam until tender, about 7-8 minutes. (Don't turn the burner off just yet).
While the cauliflower is steaming, lightly spray a 9x13 or slightly smaller (I used a 7x9-ish sized dish) dish with olive oil spray.
Transfer the cauliflower to a blender and add the rest of the sauce ingredients. Blend until completely smooth. Set aside.
Transfer the green beans to the steamer and steam for about 5 minutes. Remove from the heat. Set aside.
While the green beans are steaming, melt the butter in a large shallow sauce pan over medium heat. Add the mushrooms and liquid aminos and saute until tender, about 4 minutes. Stir in the sauce and heat, stirring occasionally for about 5 minutes. Stir in the green beans and transfer the casserole to the prepared baking dish. Set aside.
Preheat the oven to 400 F. Line a baking sheet with parchment paper.
Pour the milk into one small, shallow bowl, the arrowroot powder into another, and the panko bread crumbs into another. Add the salt and garlic powder to the bread crumbs and stir to combine.
Take a small "pinch" of onion slices and douse it in the milk, then toss in the arrowroot powder, gather, shake of the excess powder, and dunk in the milk again. Then transfer them to the bread crumbs and toss to coat (it's okay if the slices form clumps) before transferring to the prepared baking sheet. It's best to use one hand for the milk and arrowroot powder dunking and the other hand to toss them in the bread crumbs. Continue until all of the slices are coated. Place the casserole and the sheet of onion rings in the oven, on different racks, and bake for 15 minutes. After 15 minutes, spread the onion rings out on top of the casserole and bake for another 5 to 10 minutes, or until the casserole is bubbly and the onion rings are crisp. Serve immediately. Enjoy!
Notes
If making ahead of time, you can do 1 of 2 things:
1. Skip the onion ring topping and make the casserole base. Cover and refrigerate until ready to cook. About 45 minutes to an hour before you plan on serving the dish, make the onion ring topping, bake them and the casserole (separately but at the same time using different oven racks) for 15 minutes, and then transfer the onion rings to the top of the casserole and bake for another 5 to 10 minutes. Serve immediately.
2. Make the casserole exactly as the instructions show. Let it cool completely before covering and refrigerating. About 25 to 30 minutes before serving, cover the dish with foil and bake for 20 minutes. Remove the foil and bake for another 5 to 10. Serve immediately.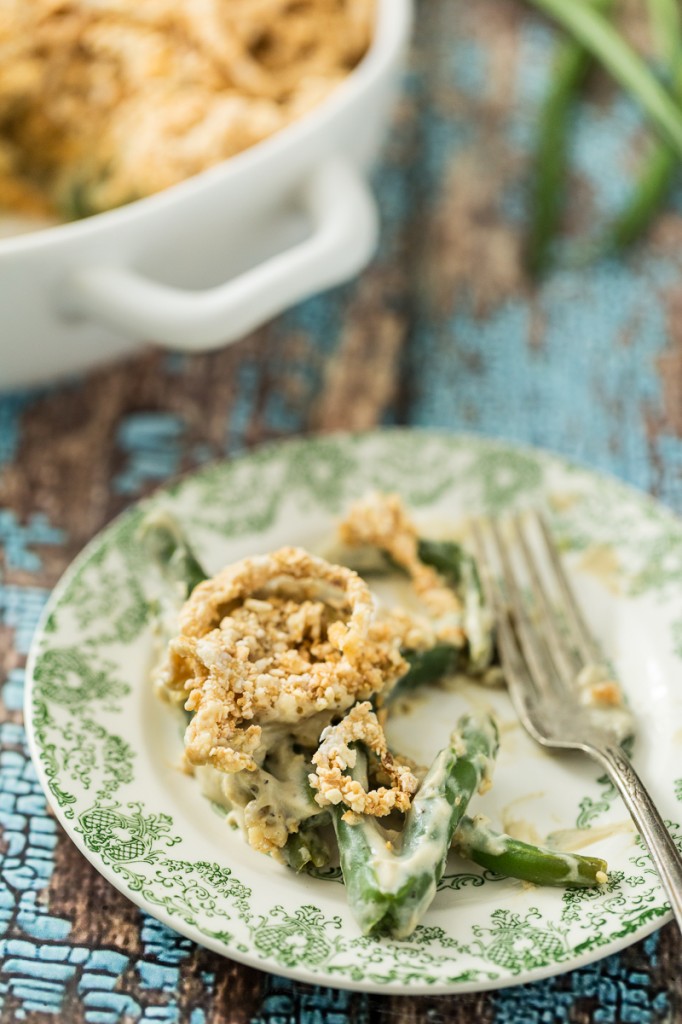 What's your favorite holiday side dish?
Photography by Chris Miller