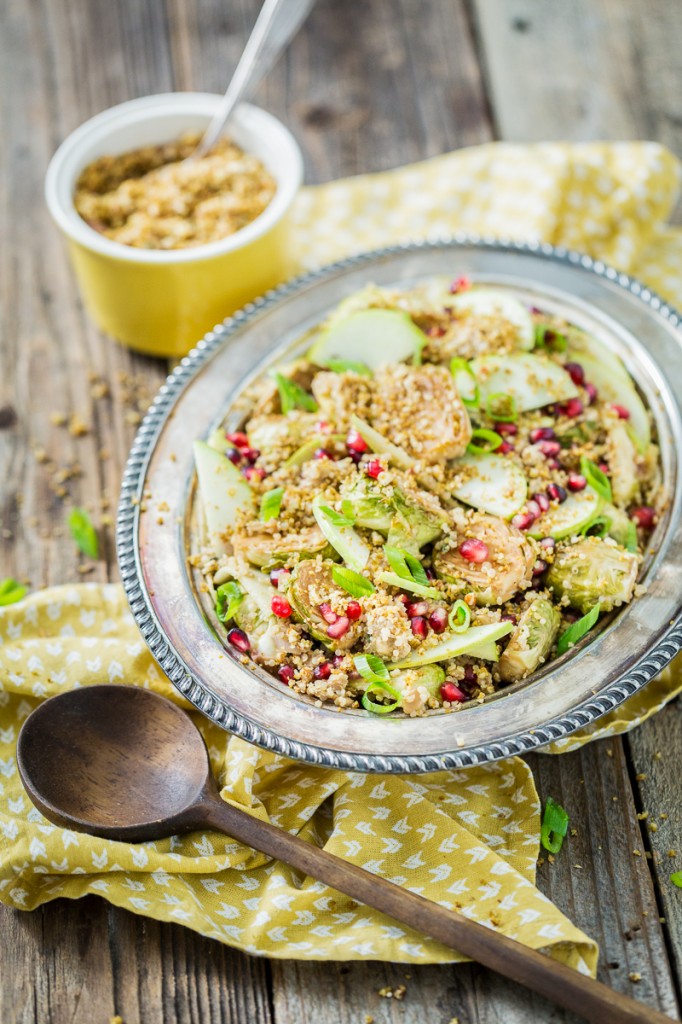 I sure do love me a tasty warm salad sometimes.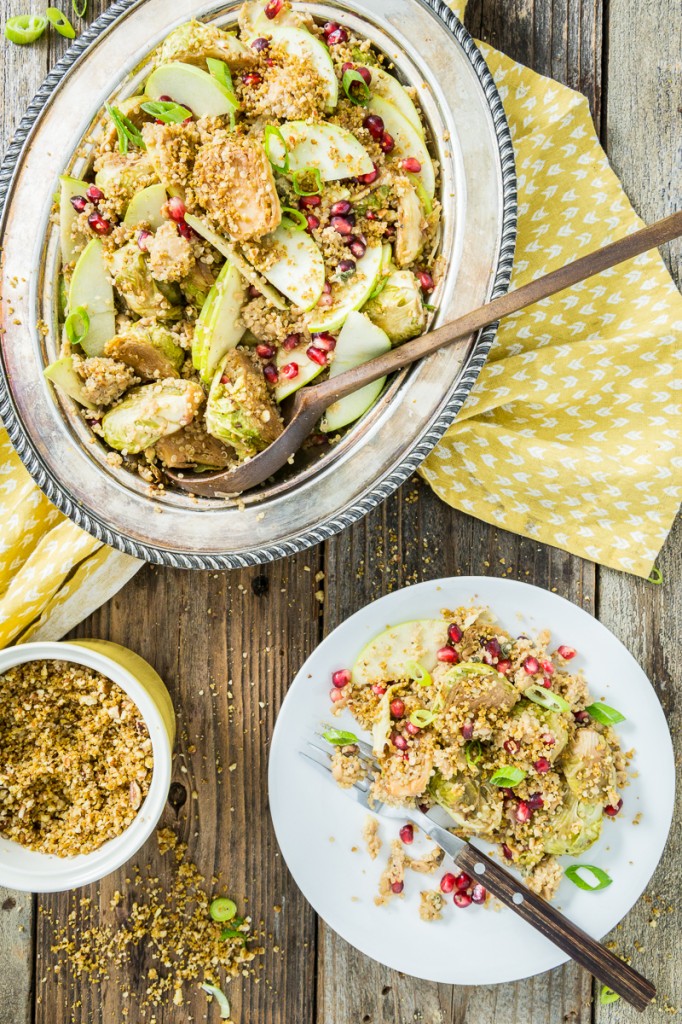 The kind with a roasted, caramelized veggie mixed with a few other ingredients of varying temperatures and textures and tossed in a creamy, tangy dressing. You know what I'm talking about.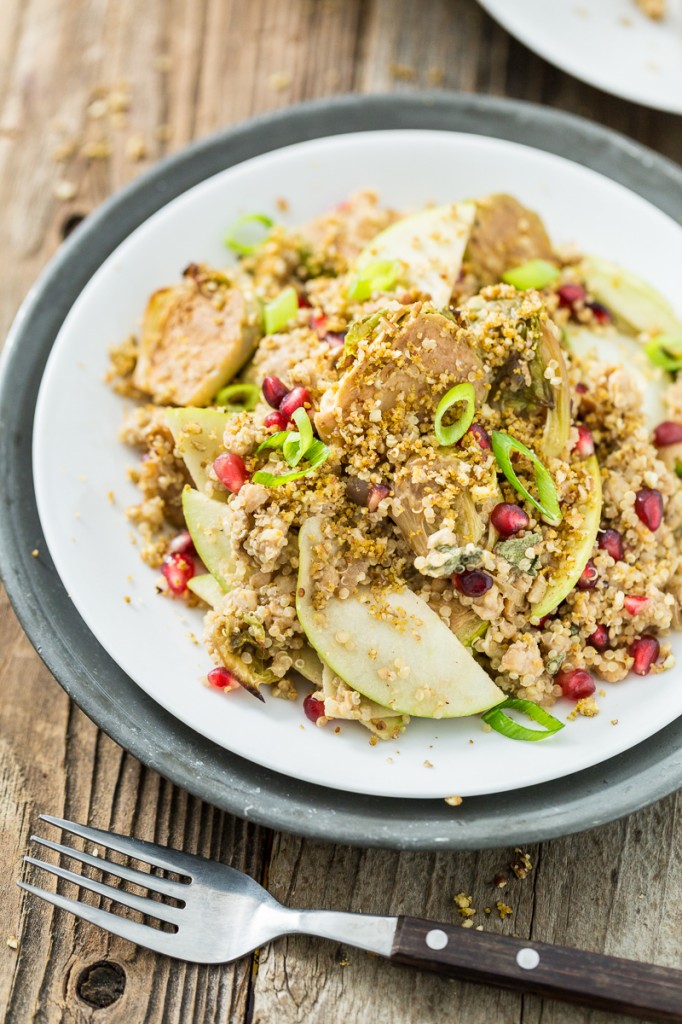 This salad is composed mainly of quinoa and warm, freshly roasted brussels sprouts.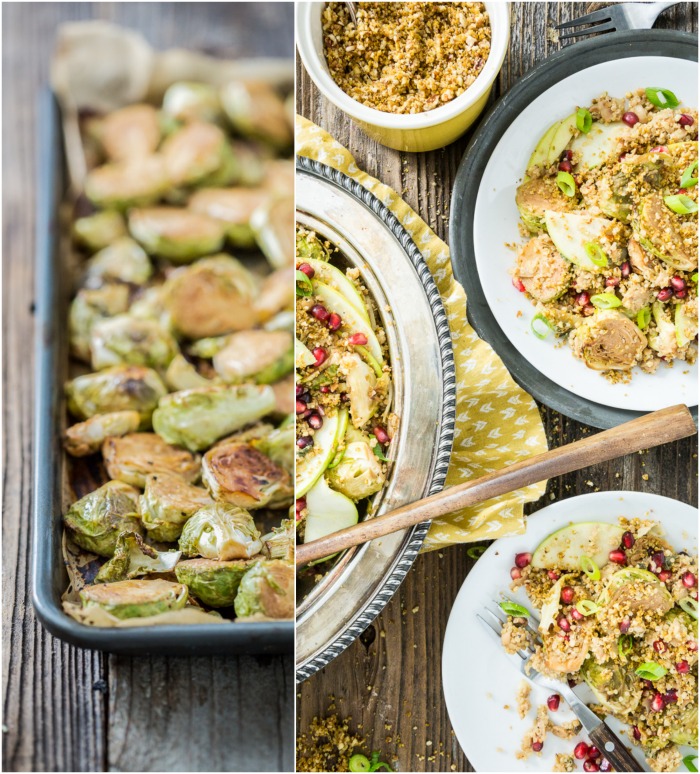 Then we get to add in tart apples slices, juicy pomegranate arils, and hearty bits of tempeh bacon.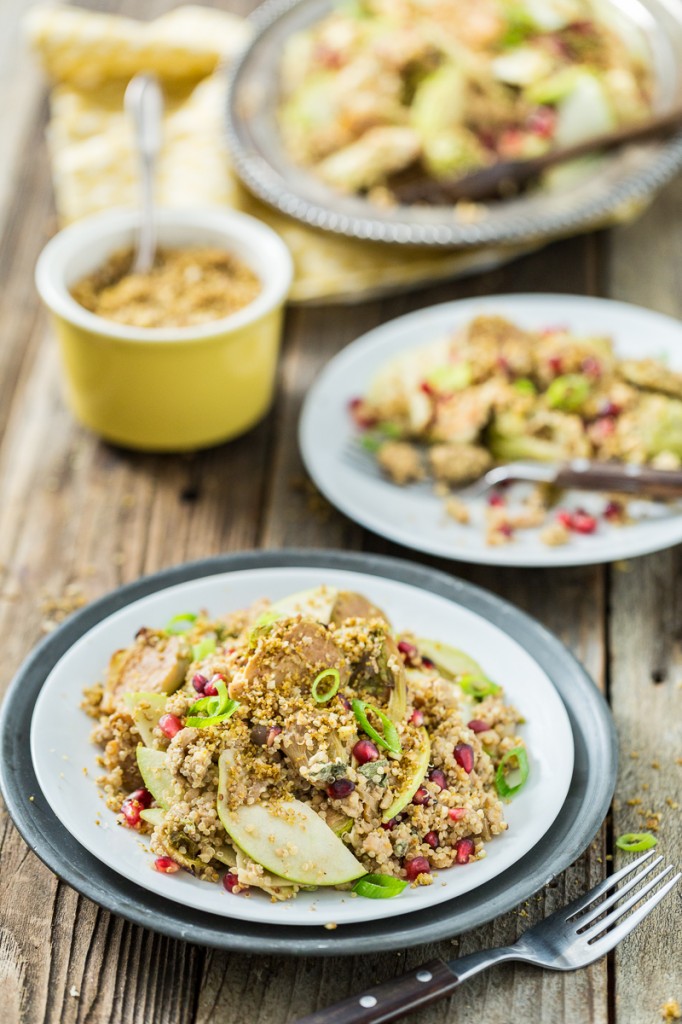 Aaaaand as if that wasn't enough, it's all tossed in a luscious tahini dressing.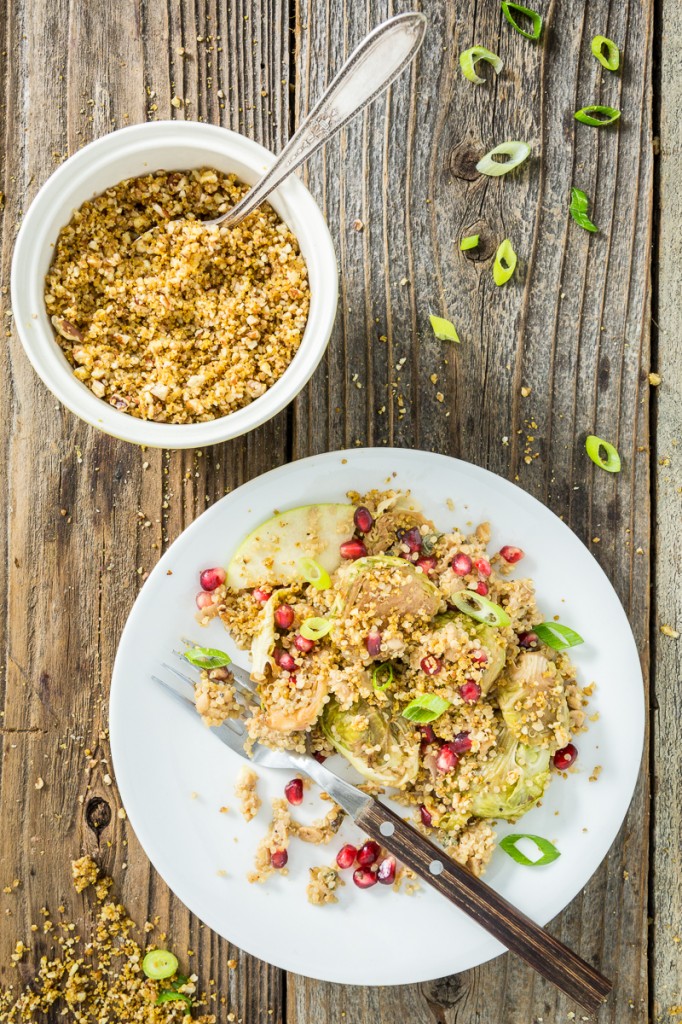 The maple-kissed brussels sprouts mixed with the smokey tempeh bacon and chewy quinoa form a heavenly trifecta of flavor and texture. The slices of apple and pomegranate arils add little chilled bursts of tangy, juicy flavor. The creamy dressing just accentuates all of these flavors. Plus some cheesy pecan parmesan?! My mouth is getting excited just thinking about it. Seriously.
This roasted brussels sprouts and quinoa salad would make a great addition to your holiday table either as a salad (duh) or perhaps as a replacement for the traditional stuffing. Either way, it's a super delectable crowd-pleaser.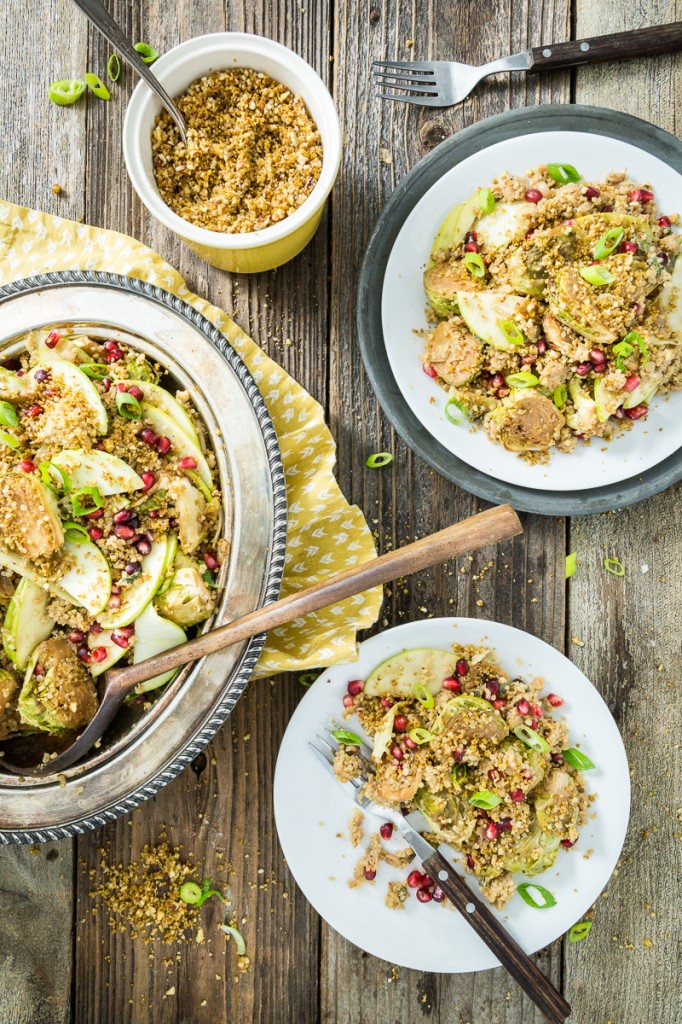 Warm Roasted Brussels Sprouts & Quinoa Salad with Tempeh Bacon Bits
Ingredients
3 tablespoons liquid aminos (or tamari/soy sauce)
1 tablespoon maple syrup
1 teaspoon liquid smoke
one 8-ounce package of tempeh
1 shallot, chopped
2 tablespoons chopped fresh sage
1 lb (about 20) brussels sprouts, outer leaves removed, stems trimmed, and halved
3 tablespoons liquid aminos (or tamari/soy sauce)
1 tablespoon maple syrup
1 tablespoon balsamic vinegar
1/2 teaspoon mustard powder
1/2 teaspoon dried sage
1 tablespoon nutritional yeast
2 cups cooked quinoa
1 tart apple (I used honeycrisp), thinly sliced (use a mandoline, if possible)
1 cup pomegranate arils
pecan parmesan, for sprinkling
1-2 green onions, sliced
1/4 cup tahini
1/4 cup apple juice
1/4 cup lemon juice
1 tablespoon liquid aminos
1/2 tablespoon maple syrup
1 teaspoon white miso
Instructions
In a shallow baking dish, combine the liquid aminos, maple syrup, and liquid smoke for the tempeh. Crumble the tempeh into the baking dish and toss to fully coat in the marinade. Let sit for 30-60 minutes.
Preheat the oven to 425 F. Line a baking sheet with parchment paper. Spread out the brussels sprouts. In a cup, mix together the liquid aminos, maple syrup, balsamic vinegar, liquid smoke, mustard powder, and sage. Pour over the brussels sprouts and toss to coat. Sprinkle the nutritional yeast over the sprouts and toss again. Bake in the oven for 25 minutes, flipping once halfway trough to ensure even cooking.
While the brussels sprouts are in the oven, cook the tempeh. Heat a large frying pan over medium heat. Pour the tempeh and marinade into the pan, along with the chopped shallots, and cook, stirring occasionally for about 7 minutes, or until the bits are browned and the liquid has been fully absorbed. Add the sage, cook for another minute, and then remove from the heat.
In a large bowl, combine the quinoa, apple slices, and pomegranate arils. In a small bowl or cup, mix together the dressing ingredients. Set aside.
Once the brussels sprouts are done cooking, add them, along with the tempeh, to the bowl with the quinoa and drizzle with about 1/2 of the dressing. Toss to fully coat/combine. Taste and add more dressing if necessary. Serve topped with pecan parmesan and green onions. Enjoy!
Notes
If you plan on making this and serving it later, let the brussels sprouts, tempeh, and quinoa cool before combining with the apples and pomegranate. Do not add dressing until ready to serve. Chill until ready to use.
If you want leftovers, do not add the dressing to the whole salad (once the dressing is added, it does not keep well). Add the dressing to the individual salads, as you serve it.
Have you started planning your holiday menu? What dishes are going to be making appearances?
Photography by Chris Miller