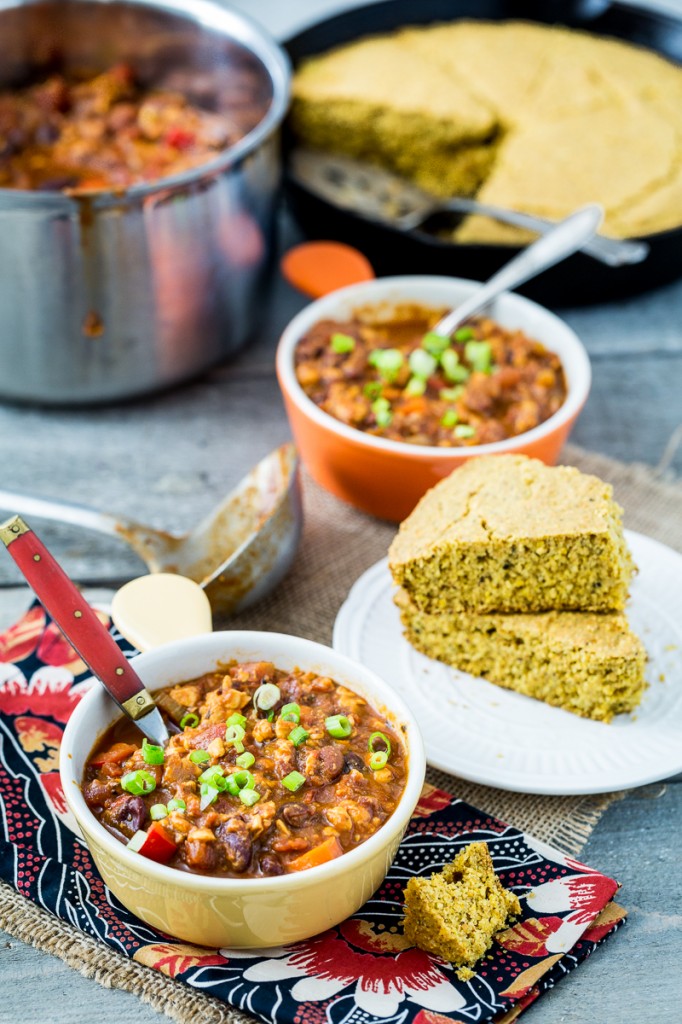 Wow! Thank you so much to all my fellow childhood rice-butterers that chimed in on Monday's post to let me know I'm not alone. It's so crazy- every person I've ever told that my family buttered their rice thought I was crazy (even Chris, my wonderful husband thought this habit odd). I'm so happy I'm not alone on these things!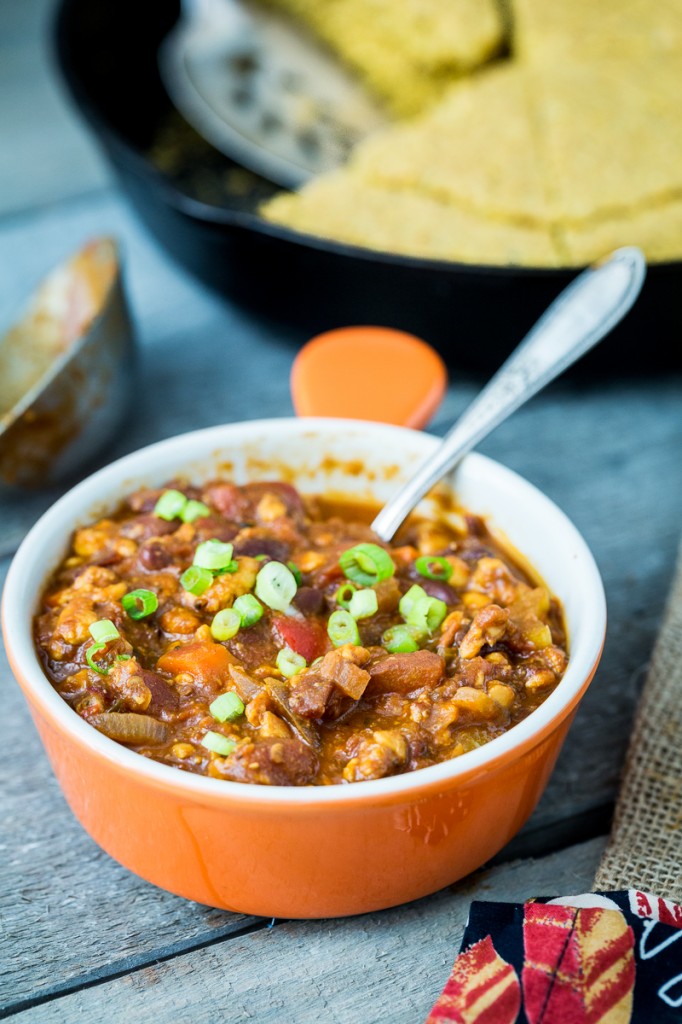 It was also good to hear that serving chili on rice isn't that weird either, though that's not what we're doing today. This spicy chili is best when soaked up with some warm, moist, slightly sweet cornbread.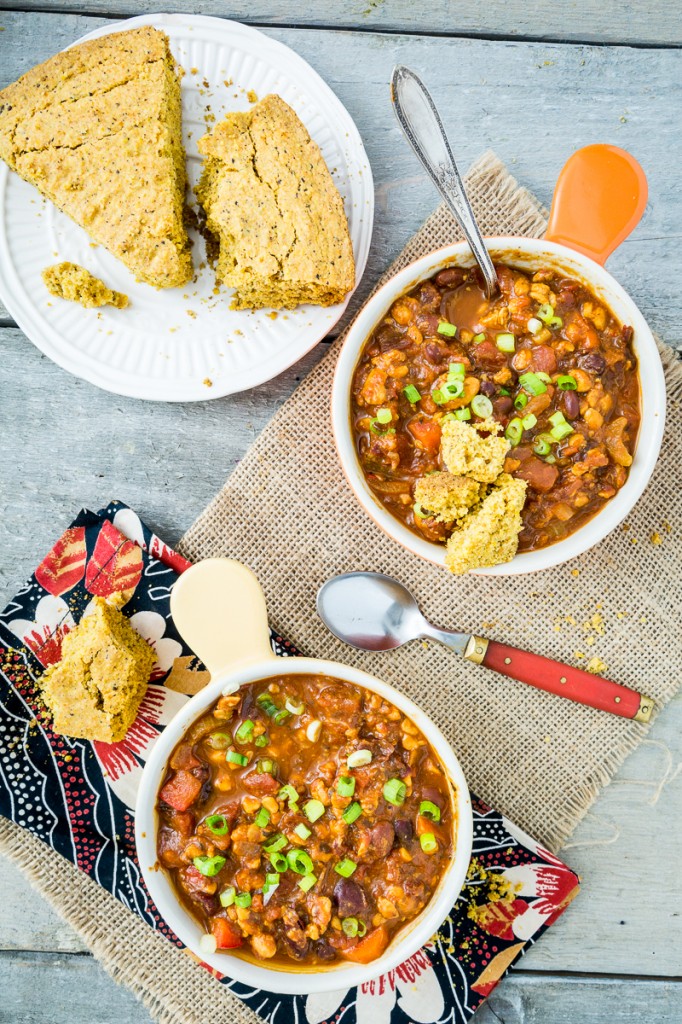 Whenever I have a recipe that calls for a can of chipotles in adobo sauce, I end up using just a small portion and the rest of the can hangs out in my fridge until it's gross and inedible. This chili will allow you to use up those leftover chipotles and give you reason to stock your shelves with more!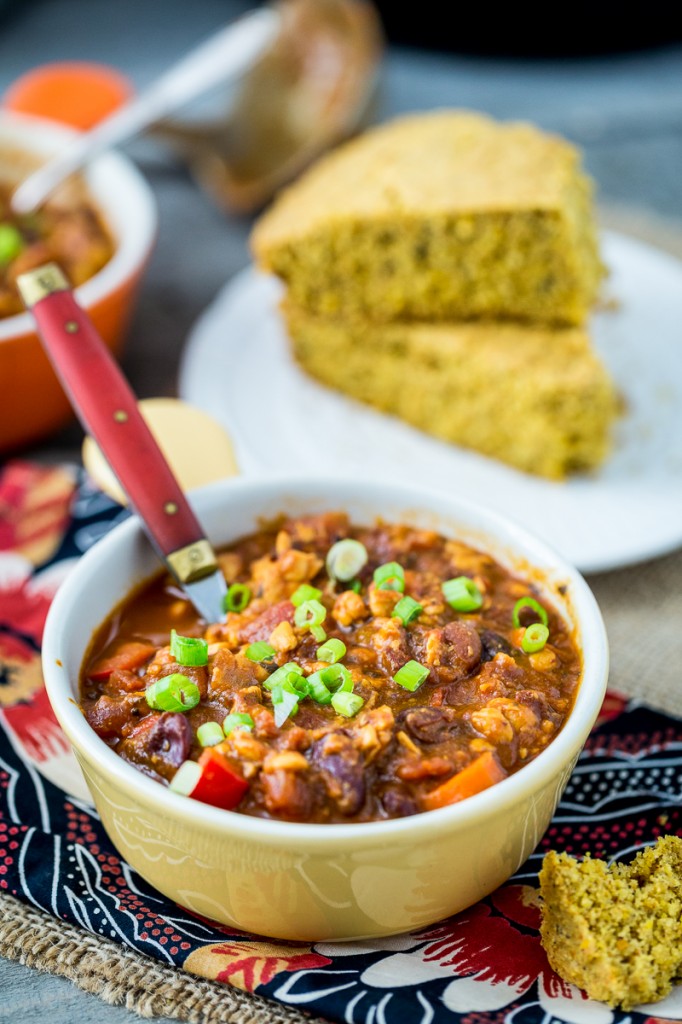 It's hard to say what the best part about this chili is, but my vote would be for the tempeh. I've been on a tempeh kick recently, as you may've noticed, and the tempeh in this chili really rocks my world. Before the rest of the stew gets started, the tempeh is sautéed with onions, garlic, liquid aminos, and chopped chipotle chiles. Once the tempeh is tender and has soaked up as much flavor as it possibly can, then the rest of the chili ingredients are added. Then it gets to simmer for awhile to let the flavors deepen. By the time you're ready to sit down with a bowl, this chili will be bold, zesty, and full of flavor.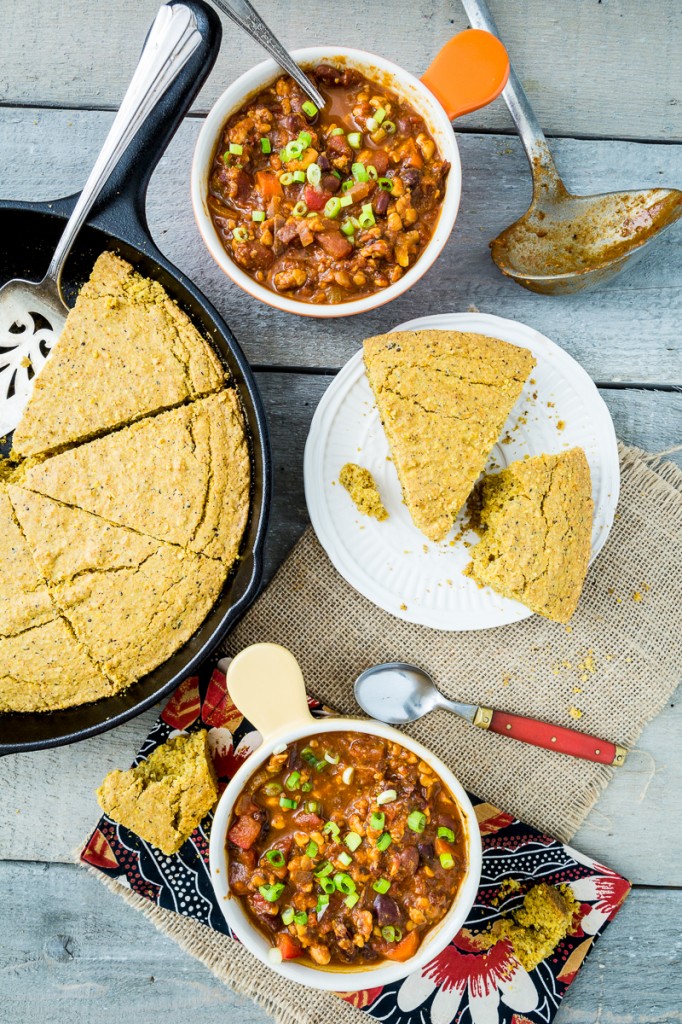 Even though it would seem that something this flavorful would need hours to cook, it actually comes together pretty quickly. Just last week, I came home from work with such a mad craving for this chipotle chili con tempeh that I got to cooking and had the chili and the cornbread on the table in 1 hour. While it was simmering, I even had time to wash my face and put my pj's on and in my book, that makes this recipe a winner.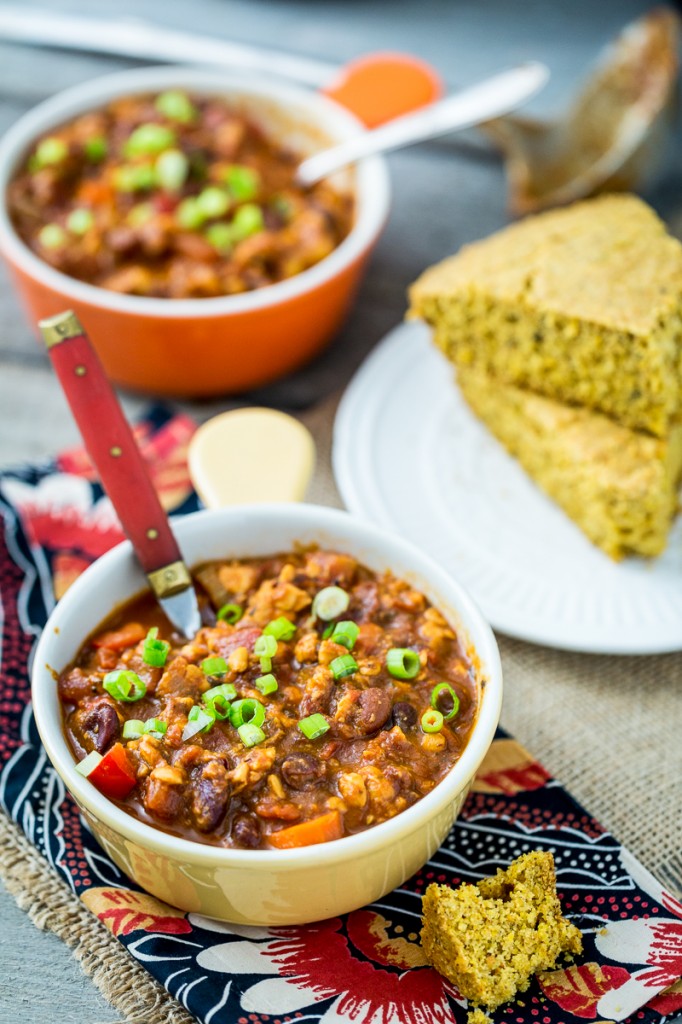 Chipotle Chili con Tempeh
Ingredients
1 teaspoon olive oil
1/2 red onion, chopped
2 to 3 garlic cloves, minced
two 8-ounce packages of tempeh, torn into small crumbles
5 chipotles in adobo (canned), diced
4 tablespoons liquid aminos, divided
2 cups vegetable broth
one 14-ounce can unsalted tomato sauce
one 15-ounce can unsalted diced, fire-roasted tomatoes
one 15-ounce can kidney beans, rinsed and drained
one 15-ounce can red beans, rinsed and drained
1 red bell pepper, diced
2 carrots, peeled and chopped
2 celery ribs, chopped
3 tablespoon maple syrup
2 tablespoons tomato paste
1 to 2 tablespoons sriracha sauce
1/2 tablespoon blackstrap molasses (optional)
1 1/2 teaspoons ground cumin
1 teaspoon smoked paprika
1/2 teaspoon ground coriander
1 teaspoon dried parsley
1/2 teaspoon dried thyme
1 teaspoon liquid smoke
juice of 1/2 a lemon
salt and pepper to taste
Instructions
Heat the olive oil in a large pot over medium heat. Add the onion and garlic and saute until onion is just beginning to become translucent. Add the tempeh, chipotles, 3 tablespoons liquid aminos, and 1/2 cup vegetable broth. Saute for about 5 minutes or until all the liquid has been absorbed.
Add the remaining broth, the remaining liquid aminos, tomato sauce, diced tomatoes, beans, veggies, maple syrup, tomato paste, sriracha sauce, blackstrap molasses (if using), cumin, paprika, coriander, parsley, and thyme. Bring to a boil and then reduce to a simmer. Let simmer for 20 to 25 minutes or until the vegetables are tender.
Add the liquid smoke, lemon juice, salt, and pepper and remove from the heat. Serve immediately. Leftovers can be chilled in an airtight container for up to a week.
Notes
This recipe is amazing served with cornbread. Obviously.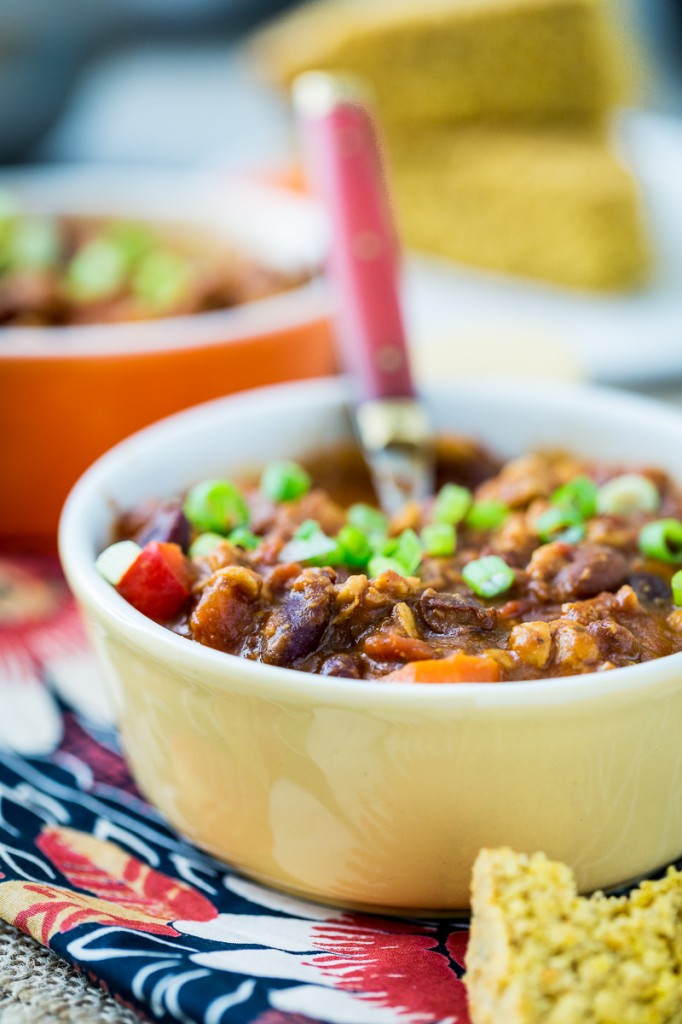 What goes into your favorite chili?
Photography by Chris Miller