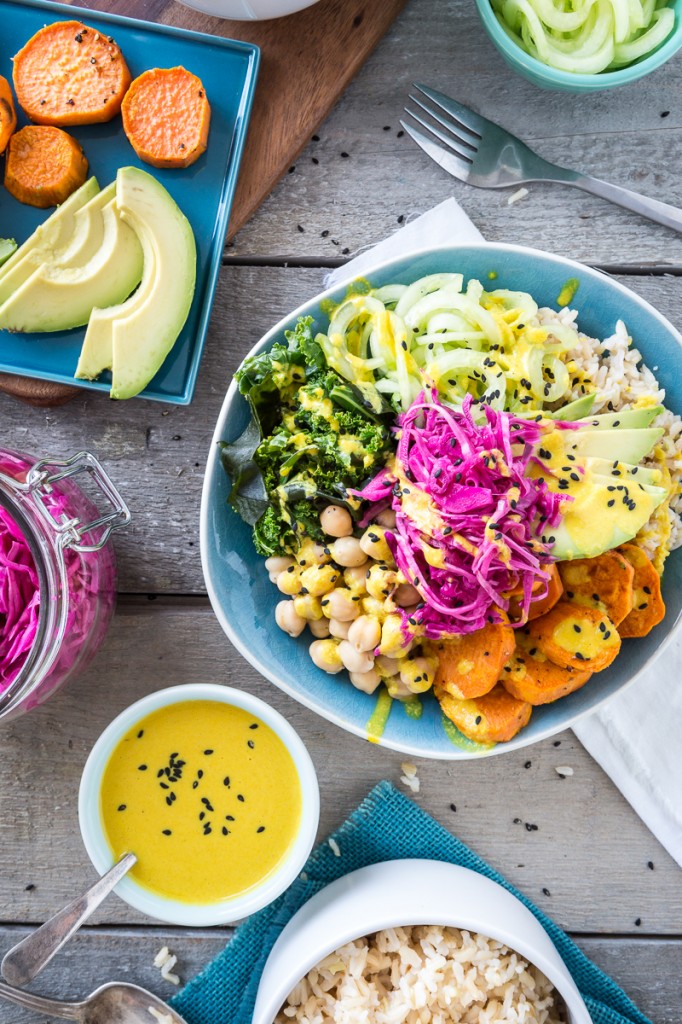 I recently started a new job.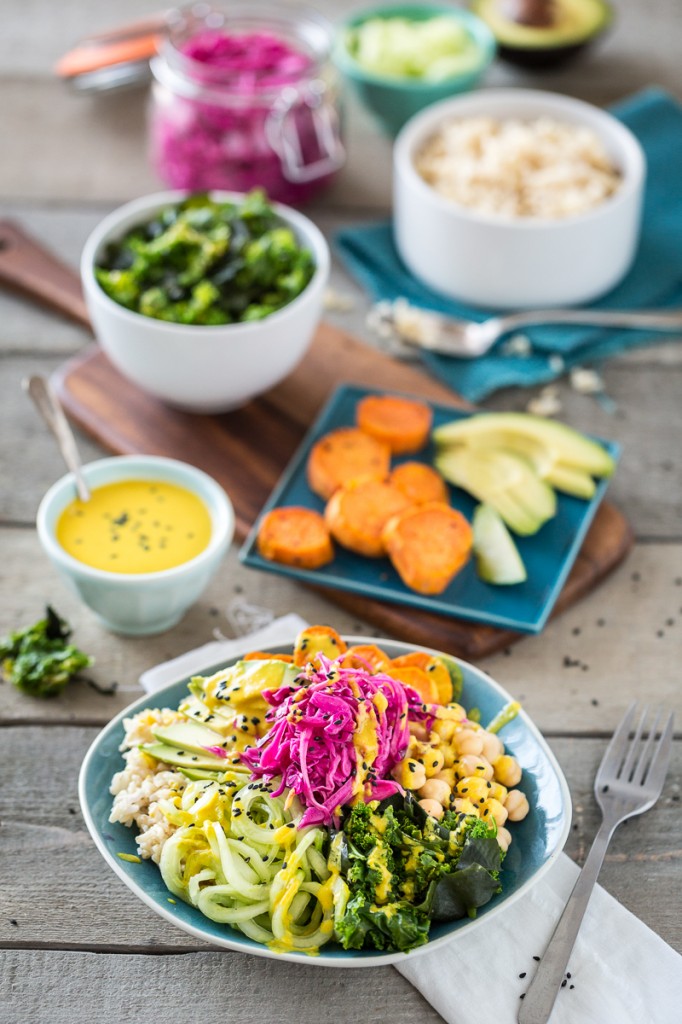 Now, I'm usually the type of chick who makes her own lunch every day to ensure that I have a healthy, vegan meal but these last couple of weeks, I've been "forgetting" to pack my lunch which means I have to go out. Oh yeah- did I mention that my new office is right across the street from a Native Foods?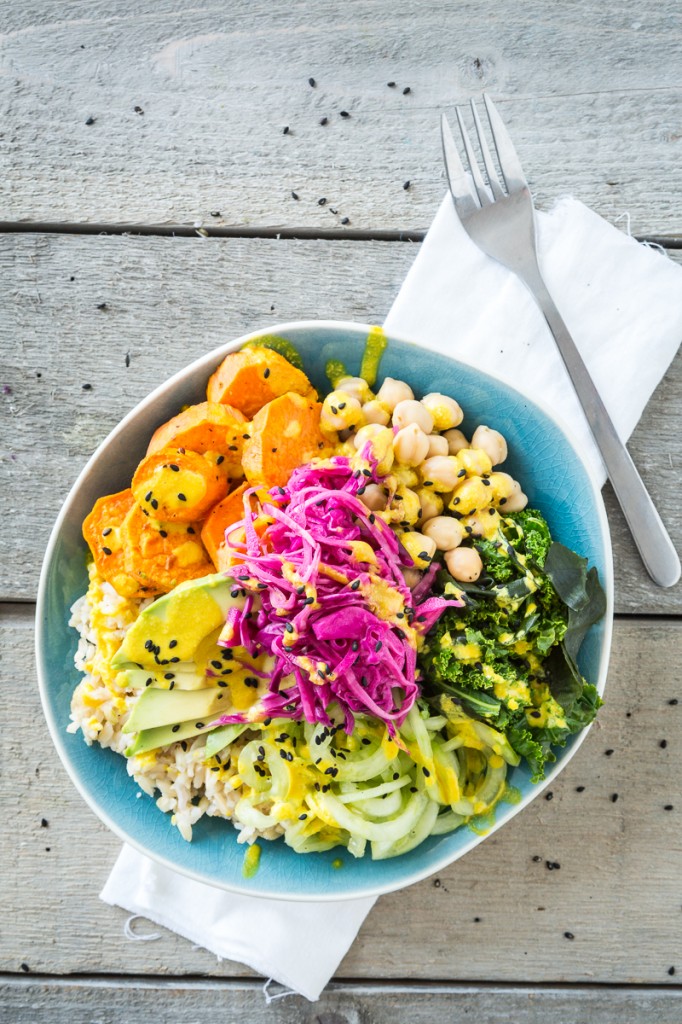 I would say the main reason for this "forgetfulness" has been the Sesame Kale Macro Bowl at Native Foods. It's one of my favorite items on the menu. Besides being super delicious, it's also very healthy and satisfying. It's a simple dish: Brown rice, steamed kale, savory tempeh, sauerkraut, drizzled with a creamy tahini dressing and served with a small cucumber seaweed salad. And it really rocks my world.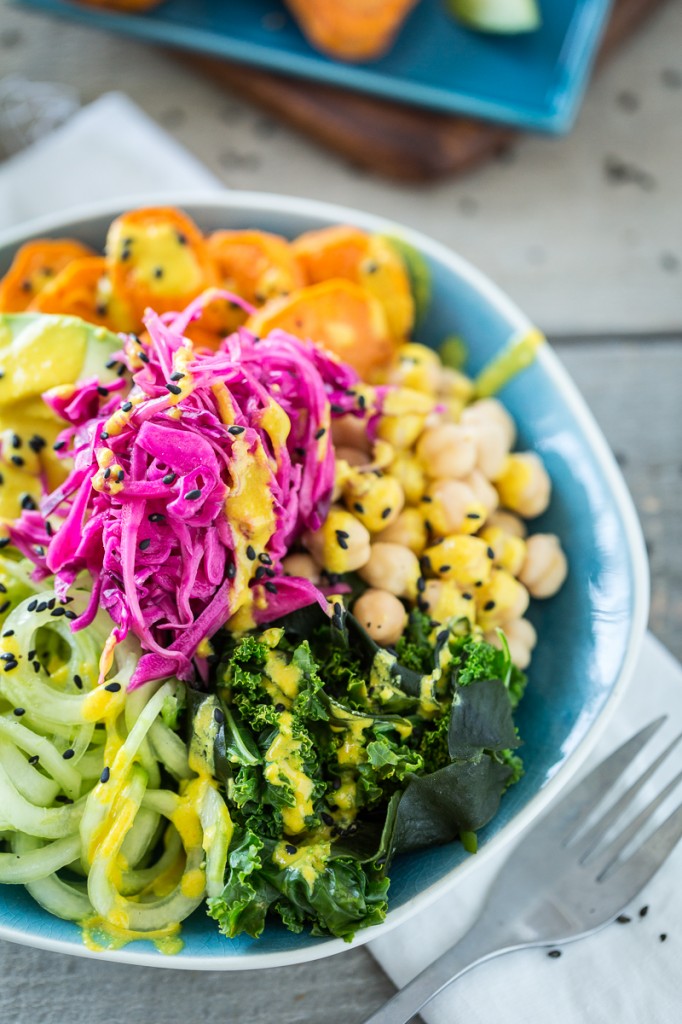 My recent "forgetfulness" and the resulting increased consumption of macro bowls has led me to crave macro bowls all the time. Or maybe I'm craving the balanced, healthy feeling I have when I eat them. Whatever the case, I decided to develop my own macro bowl recipe.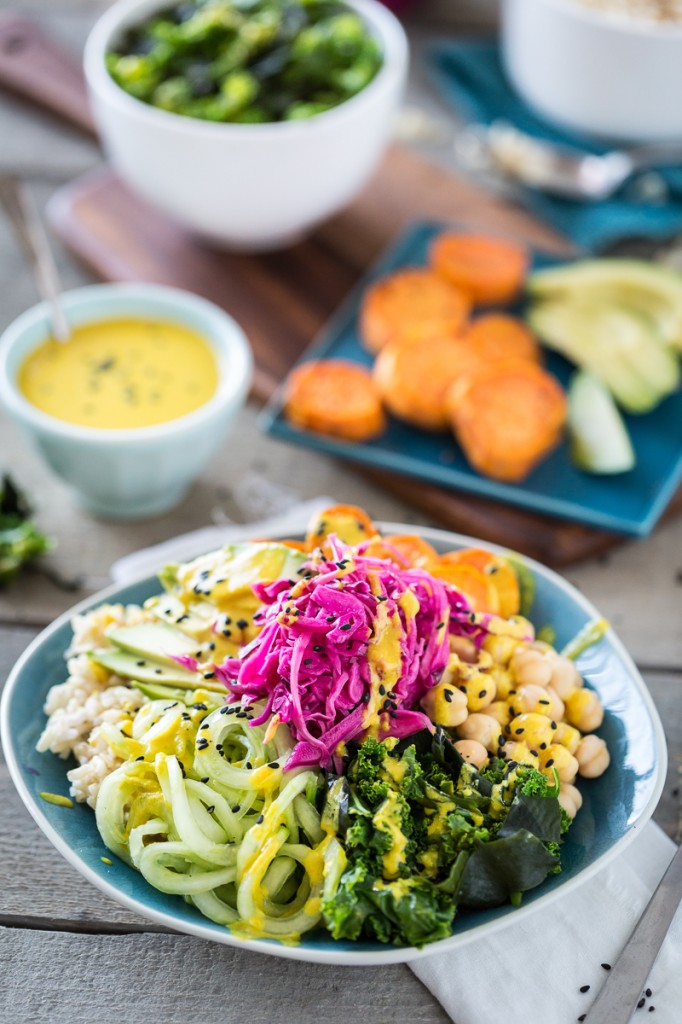 According to macrobiotic rules, a macro bowl (or meal) should consist of 50% grains (carbo-phobes don't be scared! Grains are good for us!), around 35% vegetables (bonus if that includes some leafy greens), roughly 10% legumes (beans of any sort will work but tofu and tempeh will also work because they are made from soy beans), some fermented vegetables, sea vegetables of some sort, and a creamy nut or seed-based dressing.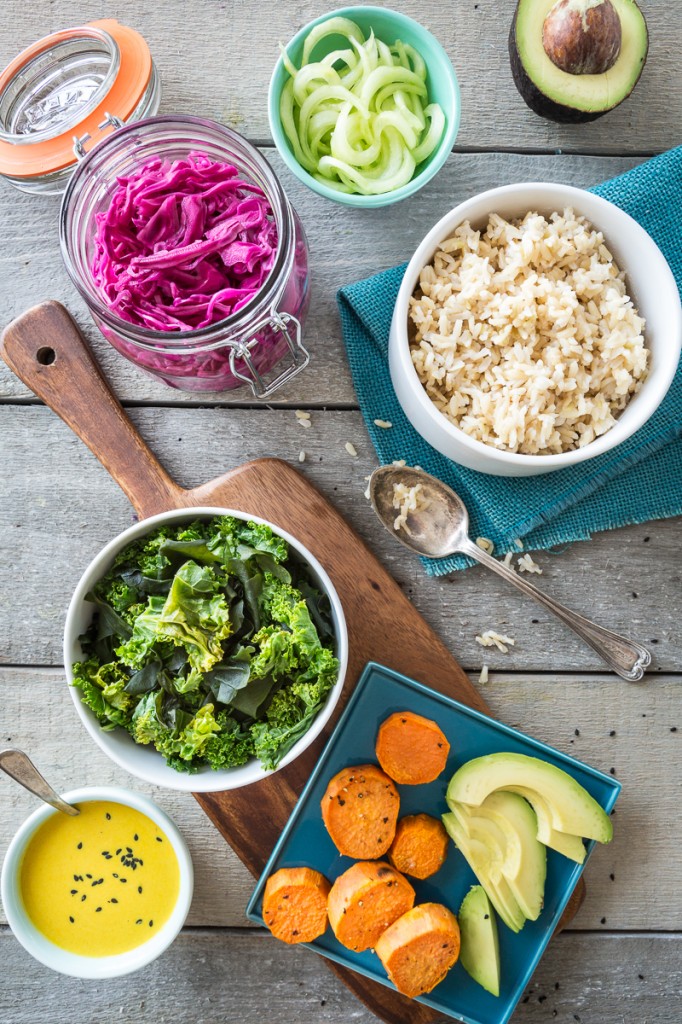 My bowl uses those guidelines but may not follow the ratios exactly to allow for a little more variety (that's a fancy way of saying I like lots o' stuff in my bowls). I start my macro bowl with some brown rice, and then add steamed kale and wakame (a type of seaweed), roasted sweet potatoes, cucumber "noodles" (though you can totally chop up your cucumber like a normal person if you want), chickpeas, avocado (because avocado belongs on everything), and pickled red cabbage. Over the top, I drizzled a bright, tangy turmeric-tahini dressing. Turmeric touts many health benefits (from anti-inflammatory to antioxidant and cancer prevention) so the dressing was just the icing on an already very healthy cake bowl.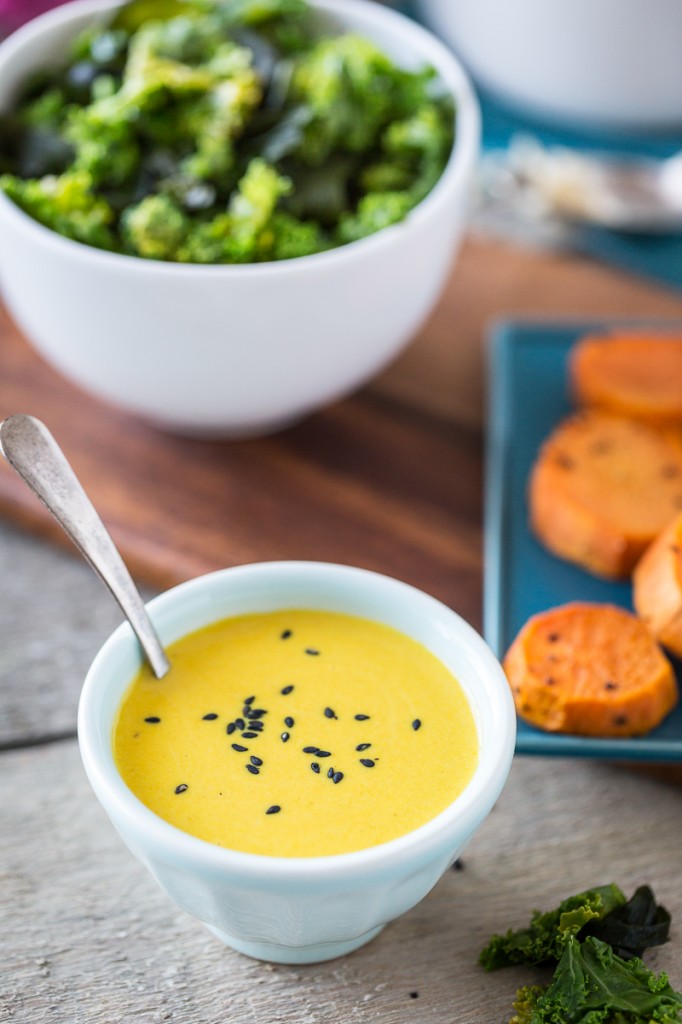 So now I'm eating macro bowls all. the. time. I would even go as far as to say that it's my current obsession (well, that and Sherlock). Judging by the huge response I got when I posted a picture of this bowl earlier this week, I think it would be fair to say that many of you are also in love with the macro bowl. Don't worry- it's okay if you want to "forget" your current lunch plans in favor of this delectable bowl.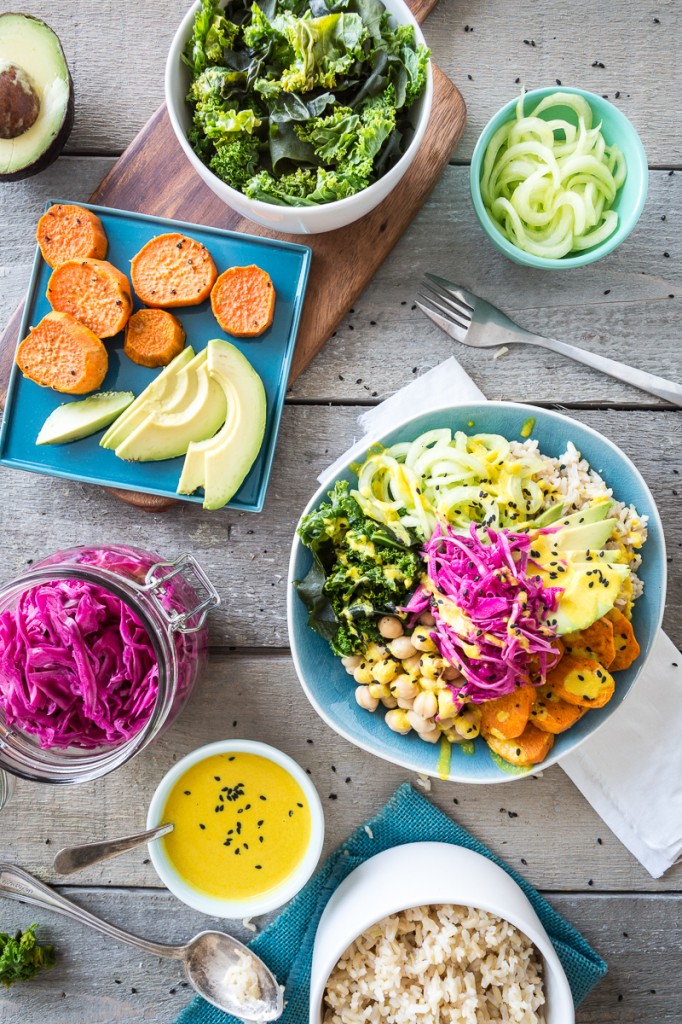 The Macro Bowl with Turmeric-Tahini Dressing

Ingredients

1/2 head red cabbage sliced very thinly (use a mandoline if you have one)
1 cup apple cider vinegar
1 cup water
1 tablespoon agave syrup
1 teaspoon salt
1/4 cup tahini
1/4 cup water
1/4 cup lemon juice
1 tablespoon maple syrup
1 1/2 teaspoons liquid aminos
1/2 teaspoon turmeric
1/4 teaspoon ground ginger
2 medium sweet potatoes, peeled and sliced into coins or cubed
olive oil spray
salt and pepper to taste
1 bunch of kale, de-stemmed and roughly chopped
1/2 cup dried wakame, soaked (rehydrated) in water for 5 minutes
2 cups cooked brown rice (or grain of choice)
2 cups (or one 15-ounce can, rinsed and drained) cooked chickpeas (or legume of choice)
1/2 English cucumber, spiralized into noodles or chopped
1/2 avocado, sliced
sesame seeds for sprinkling

Instructions

Make the pickled red cabbage at least 3 to 4 hours prior to serving the bowl (a day in advance would be preferable). Place the red cabbage in a large jar or airtight container. In a large measuring cup, combine the apple cider vinegar, water, agave syrup, and salt. Pour the liquid over the red cabbage and press the cabbage down so that it is fully covered. Cover the jar/container and place in the refrigerator until ready to serve (again- this should be at least 3 to 4 hours prior).
To make the turmeric-tahini dressing, combine the dressing ingredients in a cup or small bowl and whisk until combined. Chill until ready to use.
Preheat the oven to 425 F. Line a baking sheet with parchment paper. Spread the sweet potatoes out on the sheet. Spray with olive oil and sprinkle salt and pepper. Toss until fully coated. Roast in the oven for 20 to 25 minutes or until easily pierced with a fork, flipping once halfway through to ensure even cooking.
Fill a large shallow sauce pan or medium pot with about 1 to 2 inches of water. Place a steamer basket in the pot and fill the basket with the chopped kale. Cover the pot and turn the heat up to hi. Once the water begins to boil, or after about 4 to 5 minutes, remove the kale from the basket and combine in a bowl with the rehydrated wakame.
In 2 serving bowls, divide the cooked grains, legumes, cucumber, and sweet potato. Add a generous serving of the kale and wakame mixture and top with slices of avocado and a generous serving of pickled red cabbage. Drizzle the dressing over the top (and keep it handy in case you want to add more as you eat it) and then sprinkle the bowls with sesame seeds. Serve and enjoy!

Notes

Sauerkraut or any other pickled/fermented veggie can be used in place of the pickled red cabbage.

To make these bowls to go, prepare the bowls in airtight containers up until the point of adding the dressing (though you can add the sesame seeds). Pack the dressing separately. Chill both until ready to eat.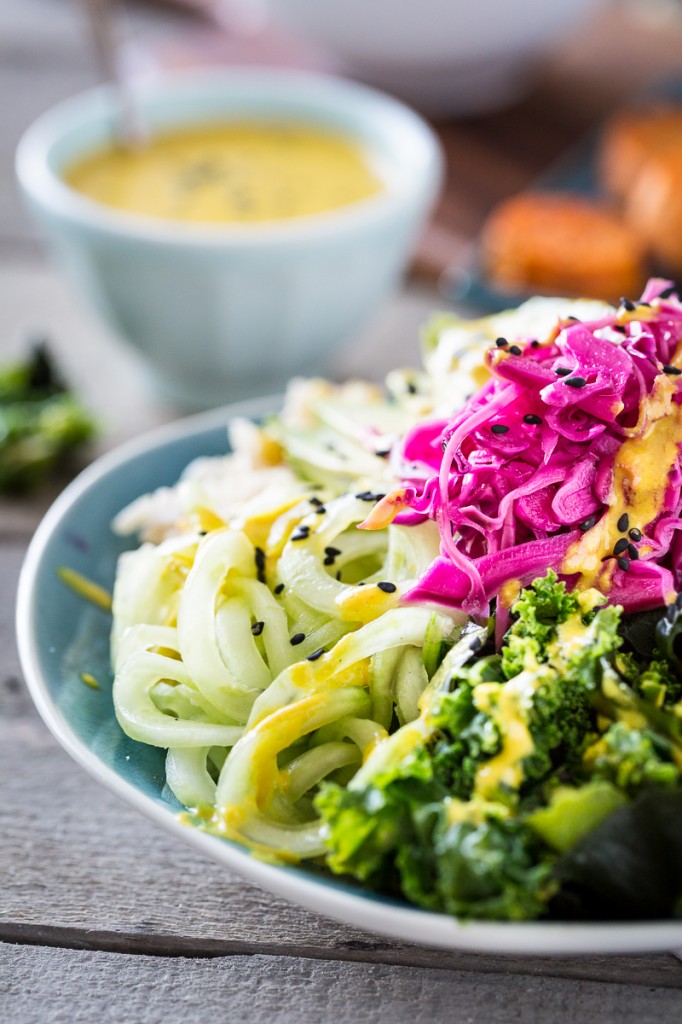 What's in your favorite Bowl?
Photography by Chris Miller