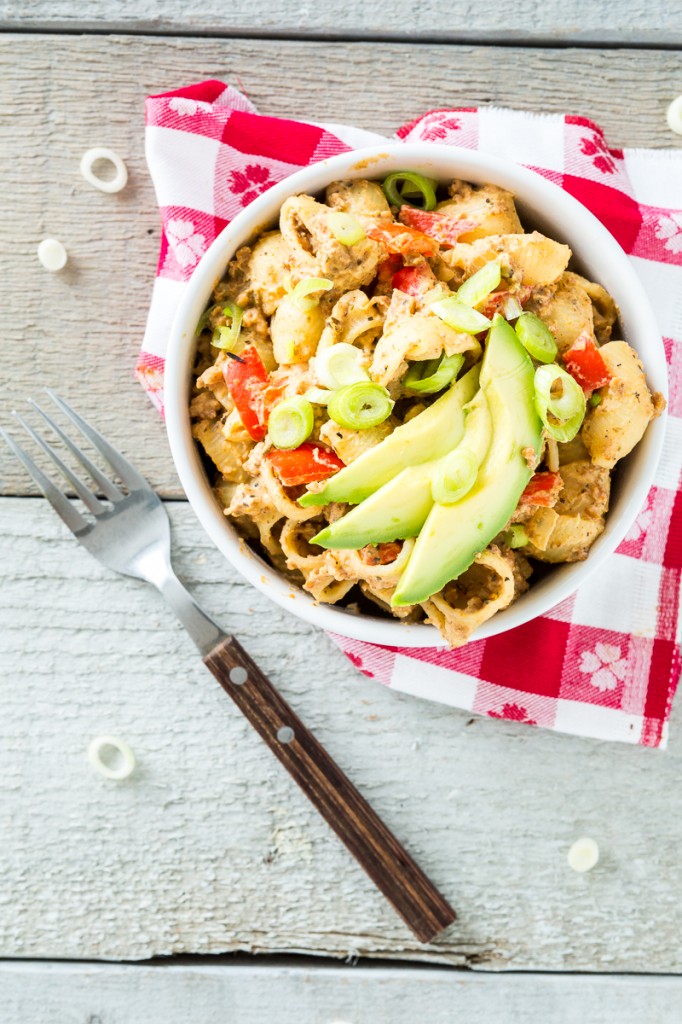 I've been job hunting recently. My work (I work with my husband in the locations department for films) outside of the blog has been a little on the slow side and it didn't help that I turned down a pretty big show in order to write the book. I mean, I've worked (in an office, doing my "normal day job"- i.e. not blogging/cookbook writing) 1 month out of the last year. Finances haven't gotten tight, but sometimes a girl likes to have a steady paycheck, you know?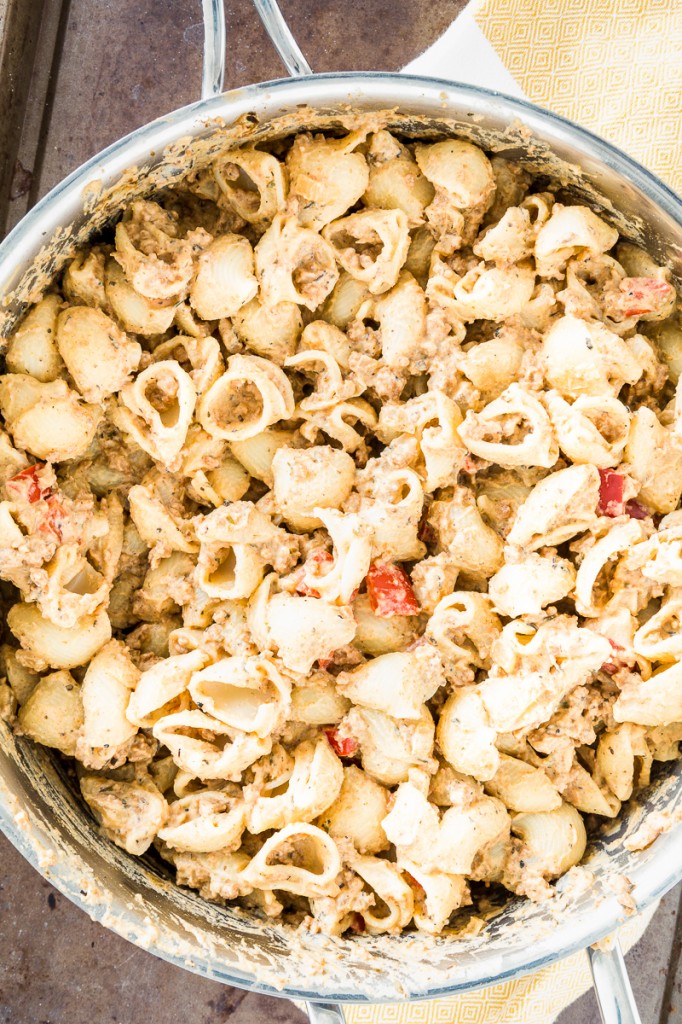 And I found an amazing job. I mean, this job couldn't have been more perfect for me. It was as a receptionist/client services person for a commercial editorial house in Venice, less than 10 minutes from my house. The office/compound was super hip and cool (and sooooooooo Venice). There was a huge, funky reception area with couches, a flat-screen TV, surfboards on the wall. Outside there was a big patio with a long table for entertaining clients, a ping-pong table, and a basketball court. There was a full kitchen where I would help prepare breakfast, lunch, and/or dinner for clients and staff. I would also be in charge of taking care of the clients and making sure they had everything they needed while they were there, as well as several other administrative duties. At any given time, there were 3 dogs and 1 cat running around the place (in fact, a dog sat in my lap through most of my interview). The schedule was split so that sometimes I would work from 8am to 4pm and some days I would work from noon to 6pm, leaving me plenty of down time for errand-running and blog-working. The pay was pretty good (not quite as good as I normally make in locations, but still pretty good) and came with medical, dental, and a pension plan. When I expressed concern over the food preparation and the fact that I was vegan, I was told the other receptionist I would work with was also vegan and vegan meals/options were definitely the norm. Sounds perfect, right?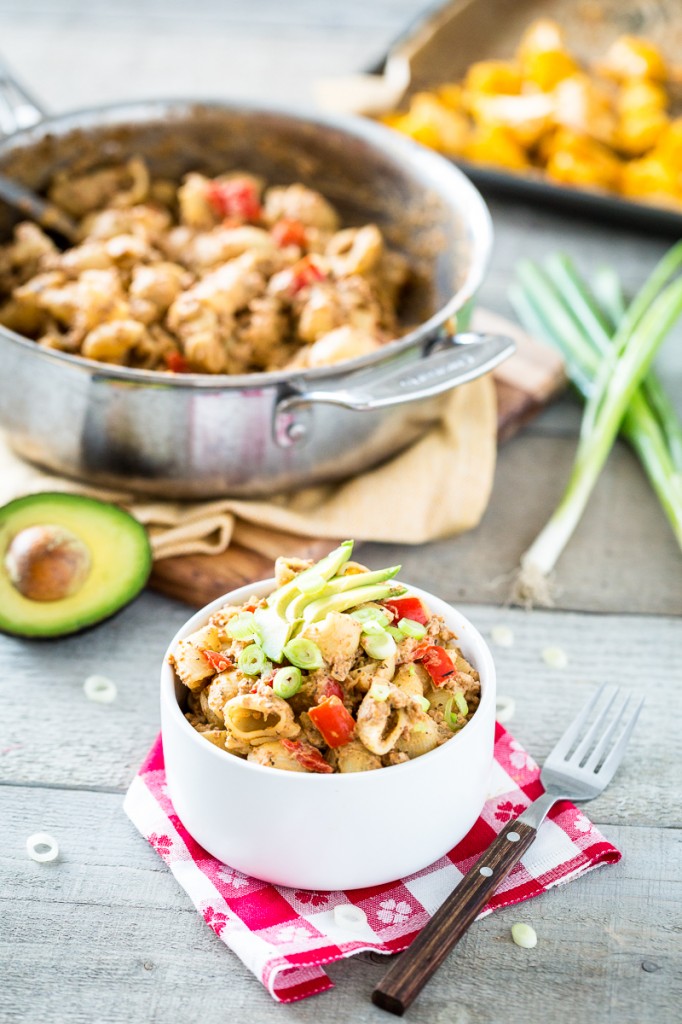 After the interview, I was asked to come back and shadow the other receptionist for a few hours to see if it was a good fit. I told them I wanted to think about it, talk it over with my husband, and get back with them to set up a time. I practically skipped out of the building, so excited about this opportunity and 99% sure that I was going to go for it. I mean, there were dogs, guys!
The only thing was that the more I thought about it, the more I felt a sense of dread. Dread over the fact that I might be making a mistake, and there might be another locations job around the corner. Dread that I might not have enough time for Keepin' It Kind. Dread that I may on occasion have to work on the weekends and I would miss my family. Dread that Chris and I would no longer have the same time off and even worse, he wouldn't be there in the office with me everyday. However, when I thought about not going for this amazing job, I felt dread that I might be passing up a really perfect opportunity with a lot of room for growth (some of the receptionists have gone on to become commercial producers!) and who knows- maybe it was time I got a stable job again.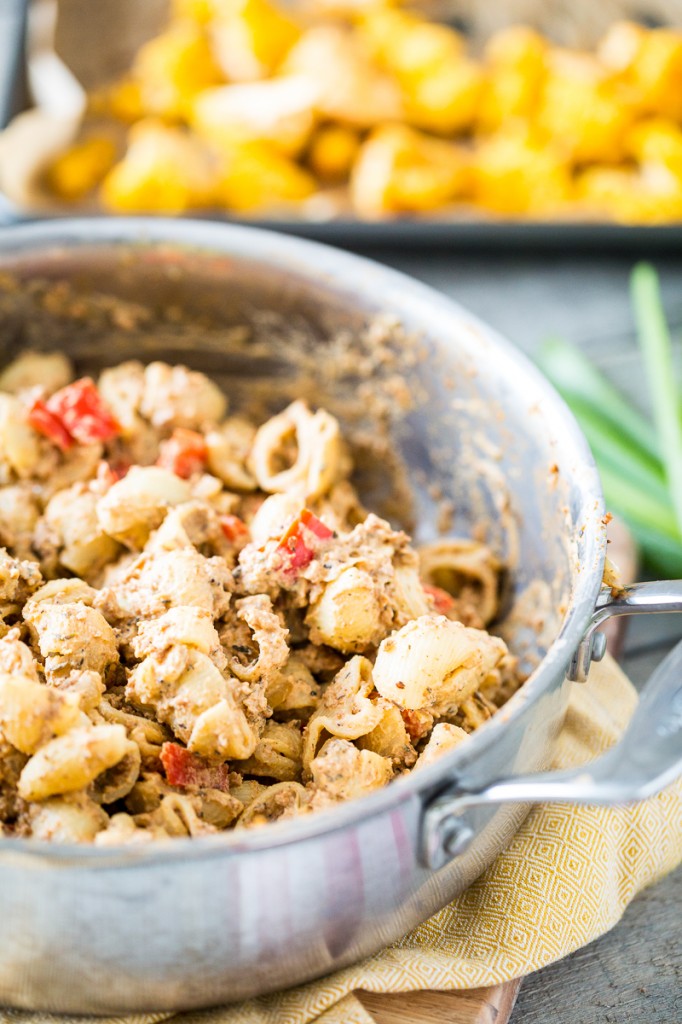 One day, as I was pondering all of this, it struck me: It's not my dream to be a receptionist or a commercial producer. It's not my dream to entertain clients all day. If I'm being honest with myself, I get terribly drained when I have to talk to people all day. But working locations isn't really my dream either. I don't even know what my dream is. All I know is that I want to be happy. Working alongside Chris, no matter what the project- be it on locations for a film or working on the blog or shooting a cookbook- makes me happy. Working in an office (my house) with my favorite dog, my Samantha, makes me happy. Keepin' It Kind makes me happy. You all make me happy.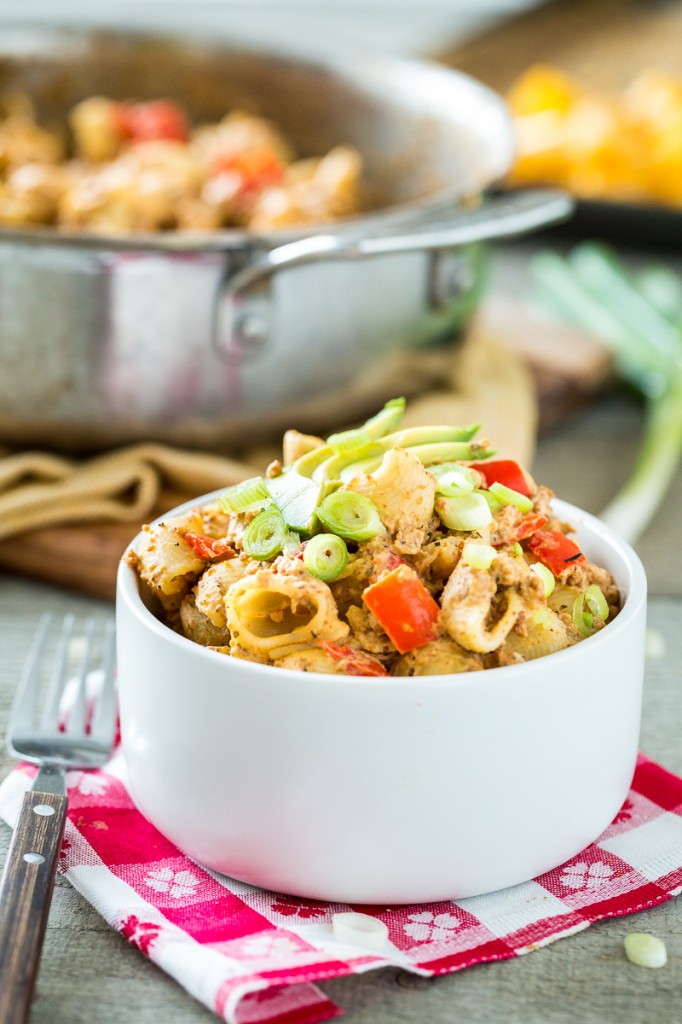 In the end, I had to follow my heart and turn down the commercial house job. Life is too short to not follow your dream. It's too short to not be happy.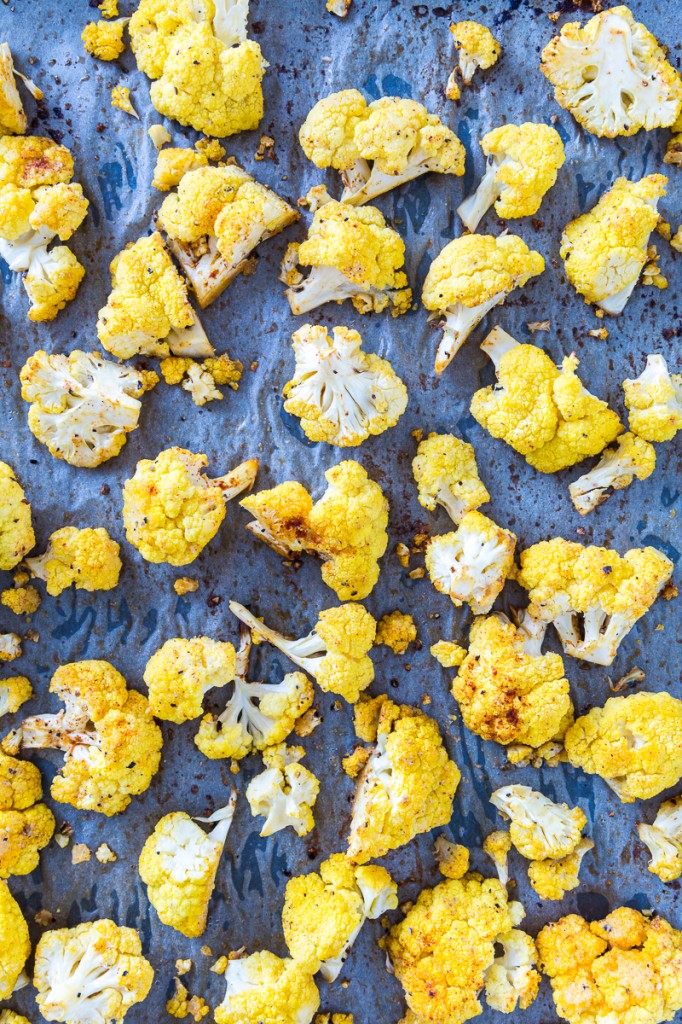 You know what else makes me happy? This hearty, cheesy bowl of pasta. Recently, I've had Hamburger Helper Cheeseburger Macaroni on my mind- the kind my dad used to make for dinner at least once a week when I was growing up. Sure, I could've stayed with my big-ass salad for dinner like I've been doing most nights, but one day while I was at the grocery store, I found myself in the pasta aisle, staring at the wall of various pastas. Pasta is something I rarely crave, but at that moment, I knew that only one thing was going to satisfy me for dinner that night. Only one thing was going to make me happy. Cheeseburger Macaroni it was. I grabbed a bag of Beyond Meat's Beefless Crumbles (from the freezer aisle) as well as some orange cauliflower to make a creamy, cheesy sauce (I chose orange because it looks "cheesier" but white would work just as well).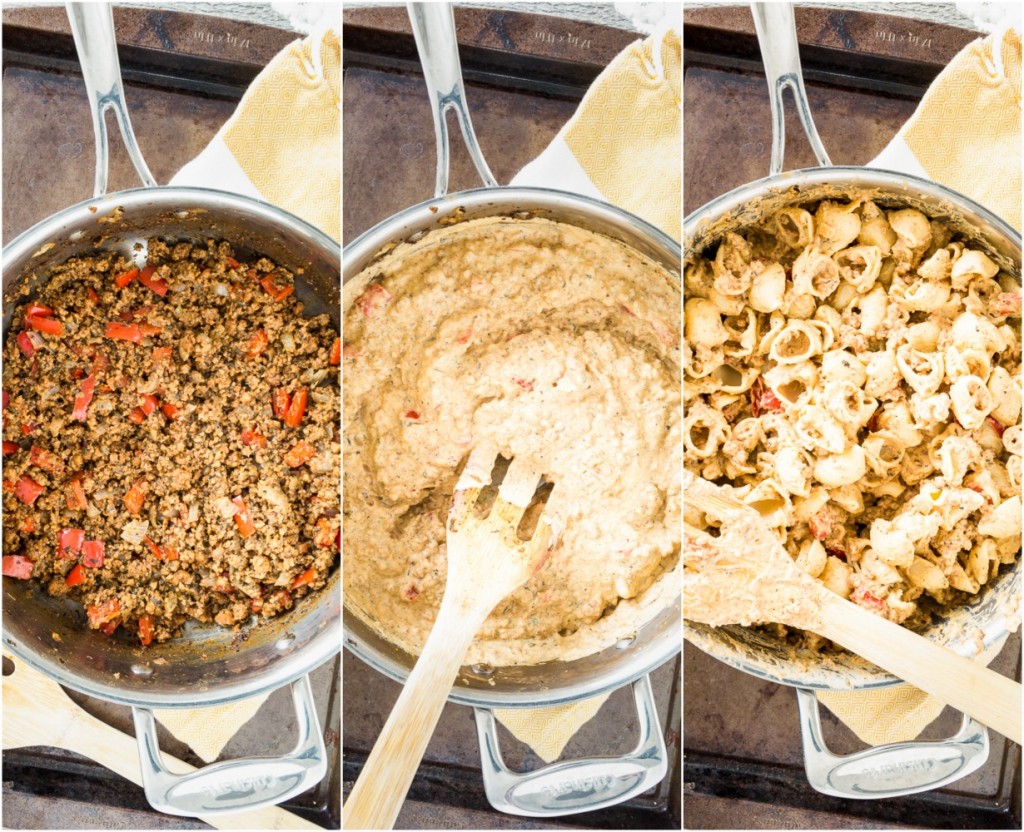 This dish came together in about 30 minutes and I couldn't have been more overjoyed with the result. It's creamier than the cheeseburger macaroni of my youth, but it tastes so much better than I ever remember it tasting. Smokey, savory, rich, and cheesy- it was definitely the best bowl of pasta I've had in ages. When I made this dish, it was also the first time in a long time that I got in the kitchen and started cooking without some sort of recipe jotted down beforehand. It felt so organic and natural and right. It felt good. Following your heart always leads to happiness. And good food.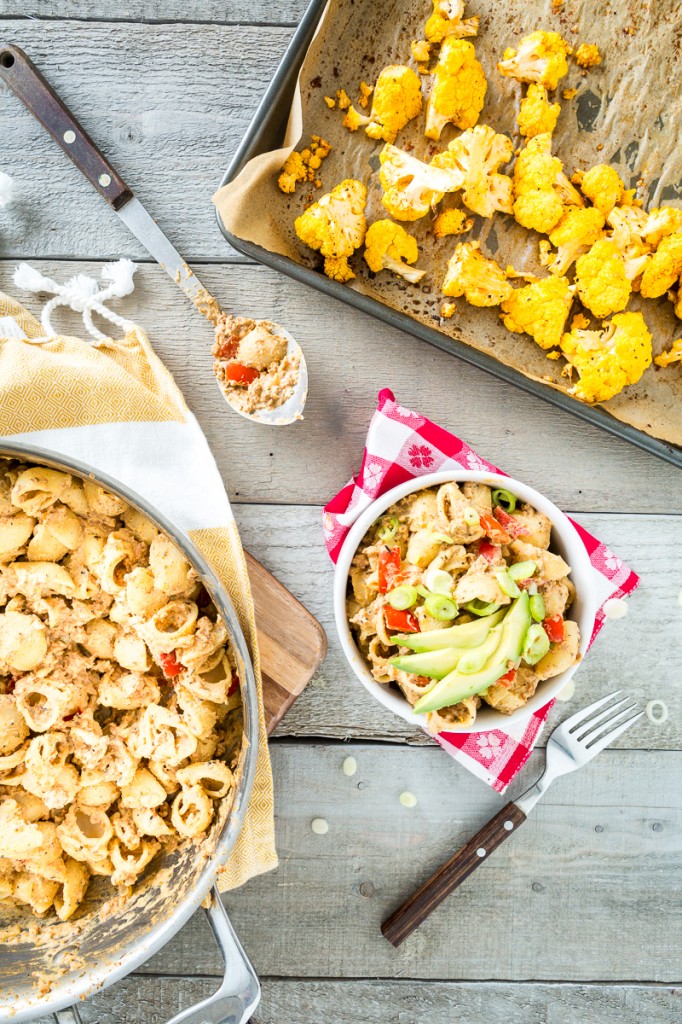 Ingredients
1/2 head of cauliflower (white or orange), broken into florets
olive oil spray
a few dashes of garlic powder
a few dashes of smoked paprika
salt and pepper to taste
1/2 cup macadamia nuts (if not using a high-speed blender, soak in water for 1 hour prior)
1 cup nondairy milk
1 cup vegetable broth
1/2 cup nutritional yeast
2 teaspoons stone ground or dijon mustard
1 tablespoon rice vinegar
1 tablespoon oil-packed sun-dried tomatoes
8-ounces of pasta of choice (use gluten-free if necessary)
1 teaspoon olive oil
1/2 yellow oinion, chopped
1 cup chopped red bell pepper
1 package Beyond Meat Beefless Crumbles
2 tablespoons liquid aminos
2 teaspoons vegan worcestershire sauce
1 teaspoon dried thyme
pepper to taste
chopped green onions for garnish (optional)
chopped avocado for garnish (optional)
Instructions
Preheat the oven to 425 F. Line a baking sheet with parchment paper. Spread the cauliflower florets out on the sheet. Spray with olive oil and sprinkle the garlic powder, paprika, salt, and pepper. Toss to fully coat. Roast for 20 minutes, flipping once halfway through to ensure even cooking. Remove from the oven and let cool for a couple minutes.
While the cauliflower is in the oven, add the rest of the sauce ingredients to a high-speed blender or food processor and blend/process until smooth. Leave in the blender.
Bring a medium pot of water to a boil. Once boiling, add the pasta and cook until al dente, about 7 to 8 minutes. Remove from heat, drain off the water, rinse with cold water, and drain again. Set aside until ready to use.
Once you've got the water boiling for the pasta, you can cook the beefless crumbles. Heat the olive oil in a large shallow sauce pan over medium heat. Add the onion and cook until almost translucent. Add the bell pepper and the crumbles and stir until combined and the frozen crumbles have broken up. Add the liquid aminos, vegan worcestershire sauce, and thyme. Cook, stirring occasionally, until the liquid has cooked away and the crumbles are heated through. Add pepper to taste. Remove from the heat.
Once the cauliflower has cooled for a couple minutes, add it to the sauce and blend/process until smooth. Pour about half of the sauce over the beefless crumbles and stir until combined. Add in the pasta and stir until combined. If you want it to be saucier, add more sauce until you have your desired consistency. I used just a tiny bit more than half. Any leftover sauce can be frozen or kept to add to more pasta (or maybe even to pour over some roasted veggies!!!) at a later time. Serve immediately. Leftovers can be chilled in an airtight container for 3 to 4 days. Enjoy!
Notes
I'm no stranger to Beyond Meat Beefless Crumbles but I'm always amazed not only their similarity to their non-vegan counterparts but how tasty they are and how easy they are to prepare. If you didn't want to use the Beefless Crumbles, though, you could use 2 cups of cooked lentils or mashed chickpeas (like the base for my Sloppy Chicks) and cook them up the way you would the crumbles in this recipe.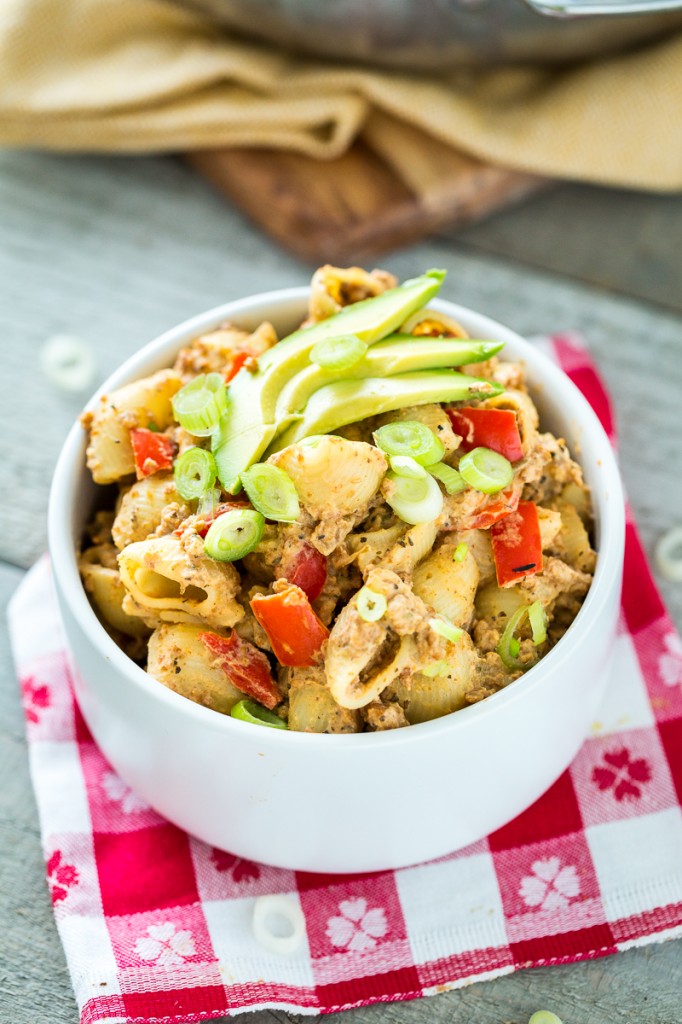 Do you follow your heart in the kitchen or are you a recipe follower through and through?
Photography by Chris Miller