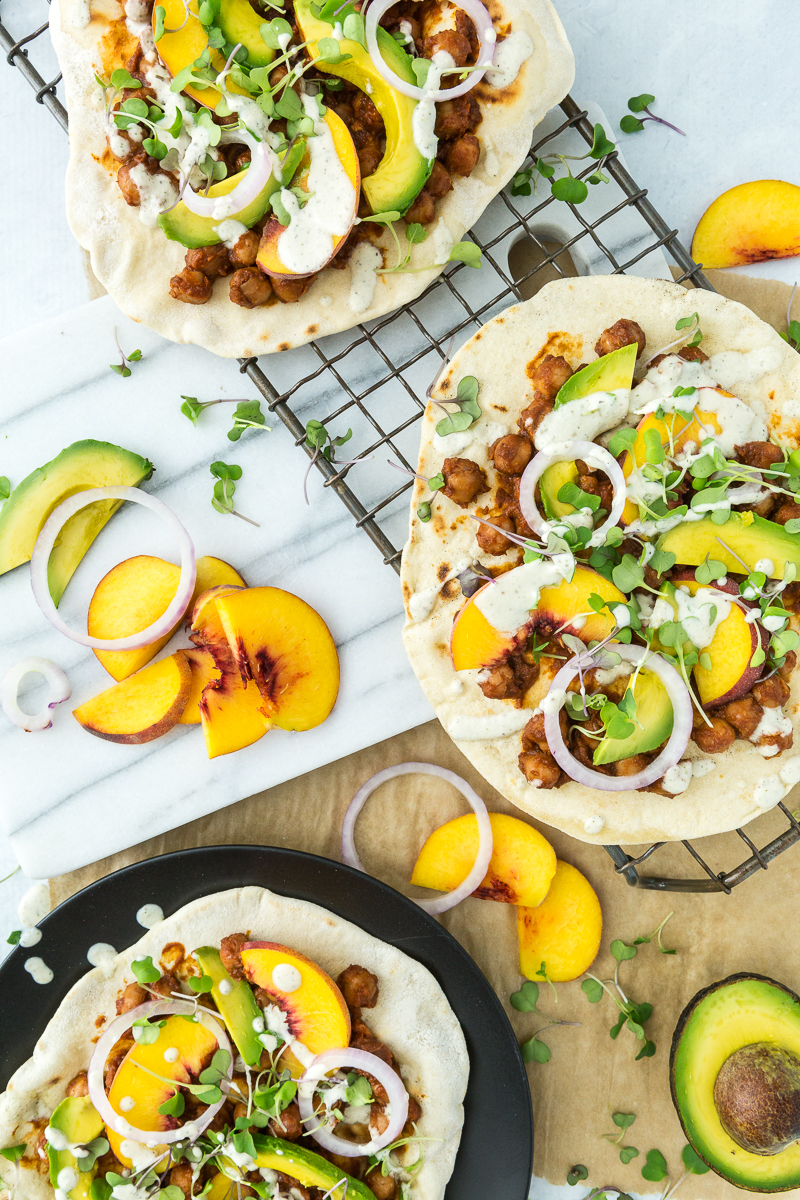 This summer, my CSA has been sending me a crap-load of plums and peaches and nectarines.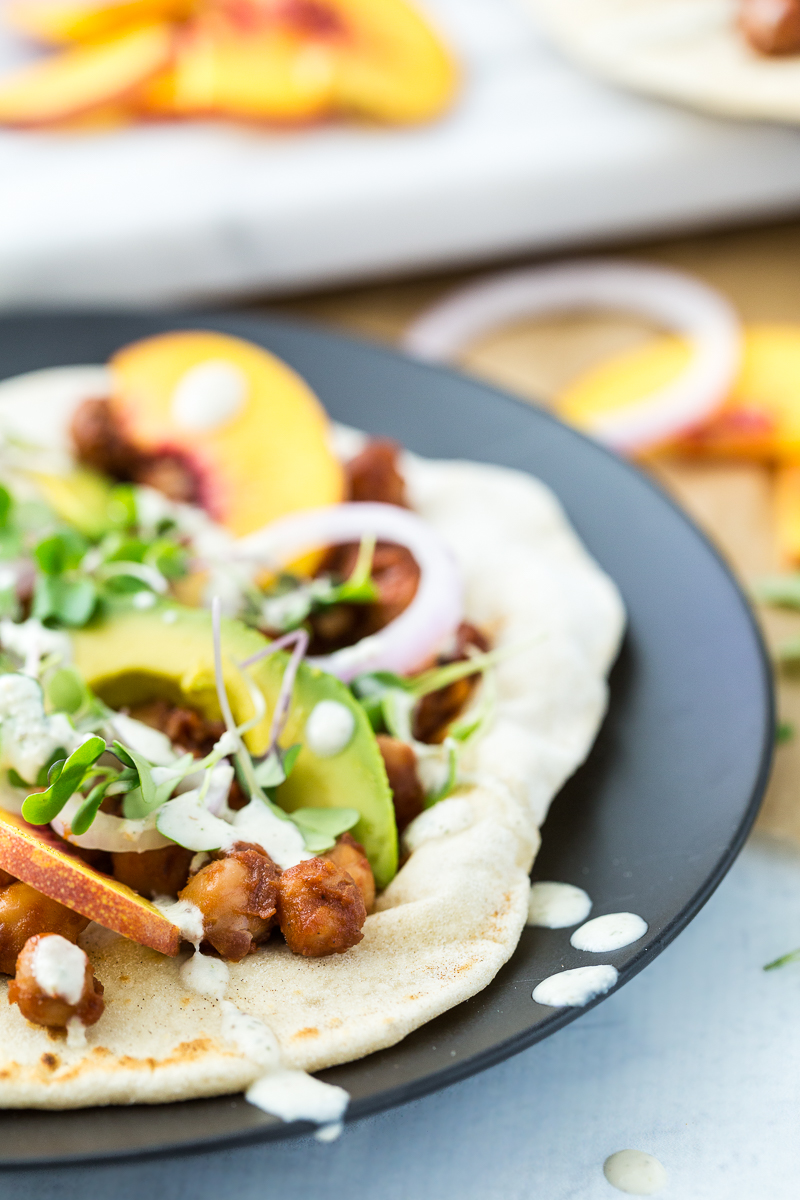 The peaches and nectarines I'll eat right up on their own. But for some reason, even though both Chris and I both love plums, they never get eaten. I don't know what gives. So I end up with a big bowl full of plums in my fridge just waiting to have a purpose. When my fridge's plum count got to be about 12, I knew I needed to start unloading them. A few ended up in salads. A bunch of green plums ended up in a wonderful salsa. Then I got another CSA delivery and sure enough, I fully restocked my plum supply.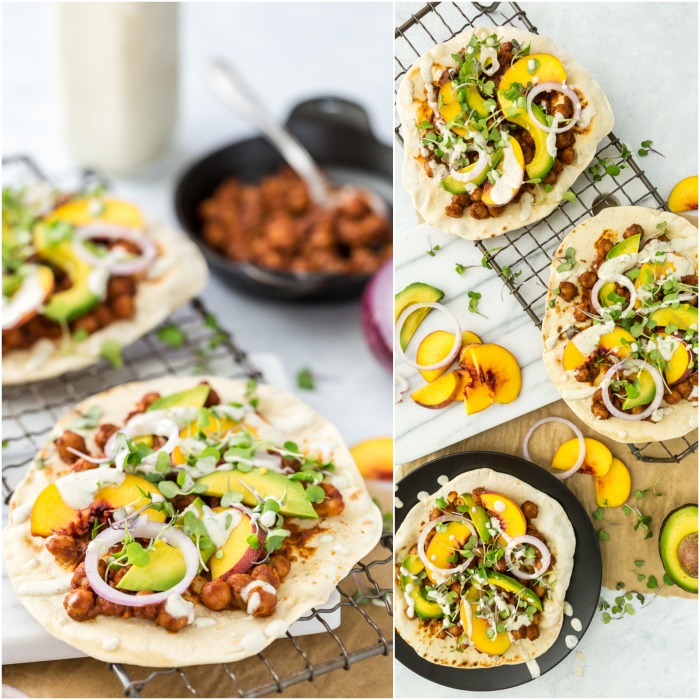 Now to ungracefully switch subjects, let me talk about BBQ sauce. BBQ sauce is a condiment that I need to have on hand all the time but it's also one of those condiments that taste best when they're homemade. Trust me- in my upcoming cookbook, I have a BBQ sauce that I would marry if I could. When I realized I was out of BBQ sauce and overstocked on plums, I knew what needed to happen.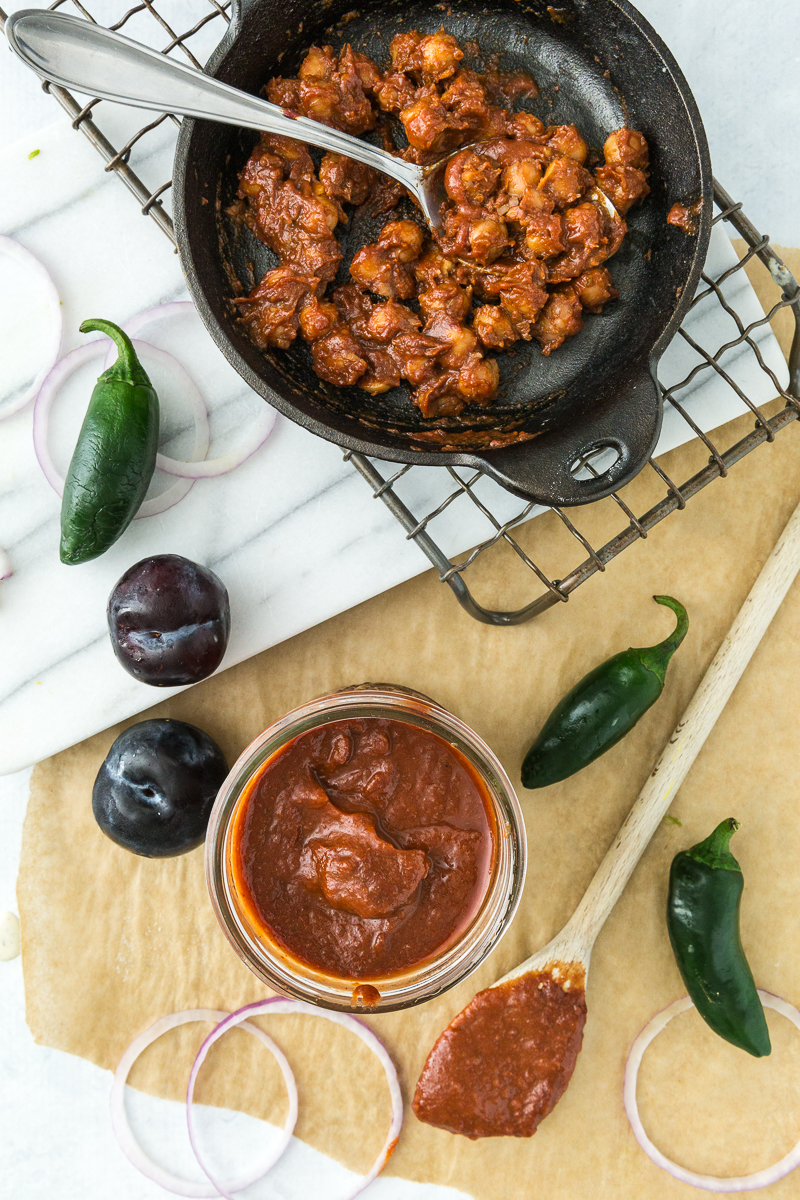 This jalapeño plum BBQ sauce turned out just like I like my BBQ sauces: robust and smoky and lightly sweet with a tiny bit of heat. The result was so great that, well, if I wanted to marry my staple BBQ sauce, I would like to have this BBQ sauce's babies.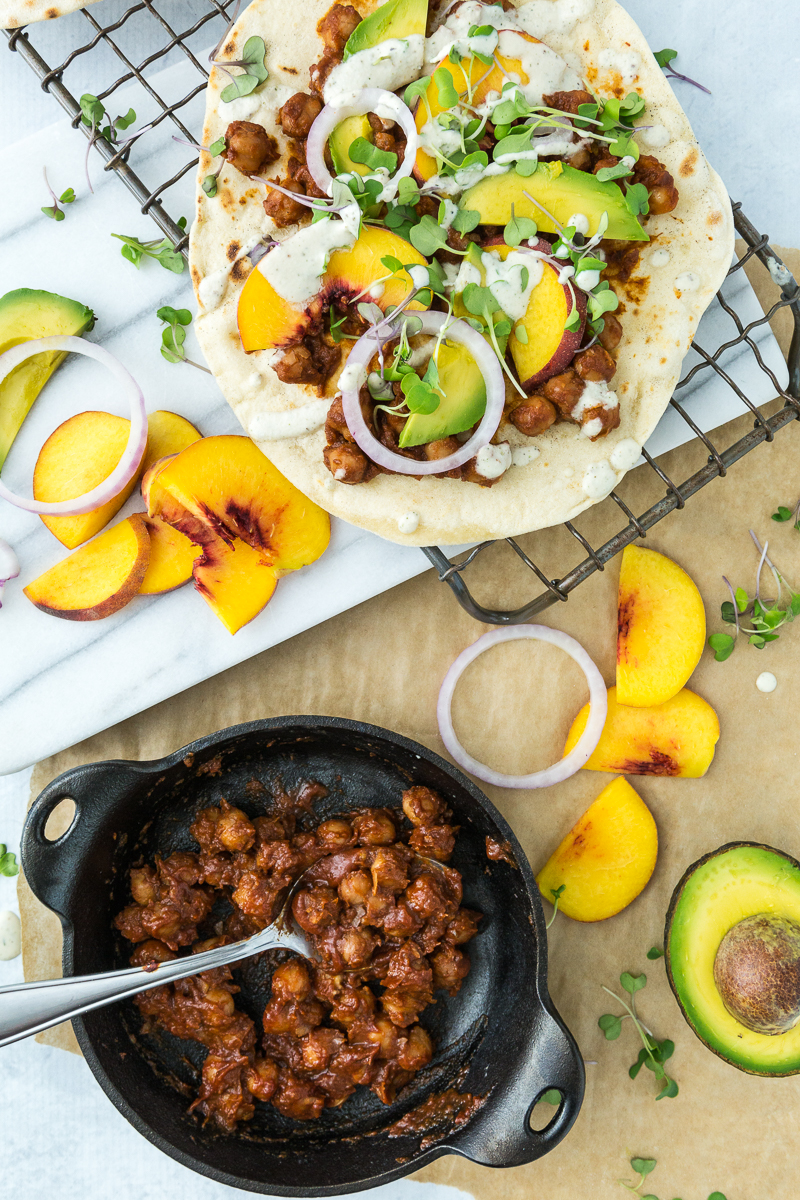 My first test for this sauce was for BBQ chickpeas, something I make very often, usually for tacos or to top a salad. This time, they were going on top of personal-sized flatbread pizzas because basically, lately, I'm a flatbread makin' fool. I prepped the flatbread dough first, and rolled out each one. Then I cooked each one as the chickpeas simmered in BBQ sauce. Once I started cooking, it took all of about 15 minutes.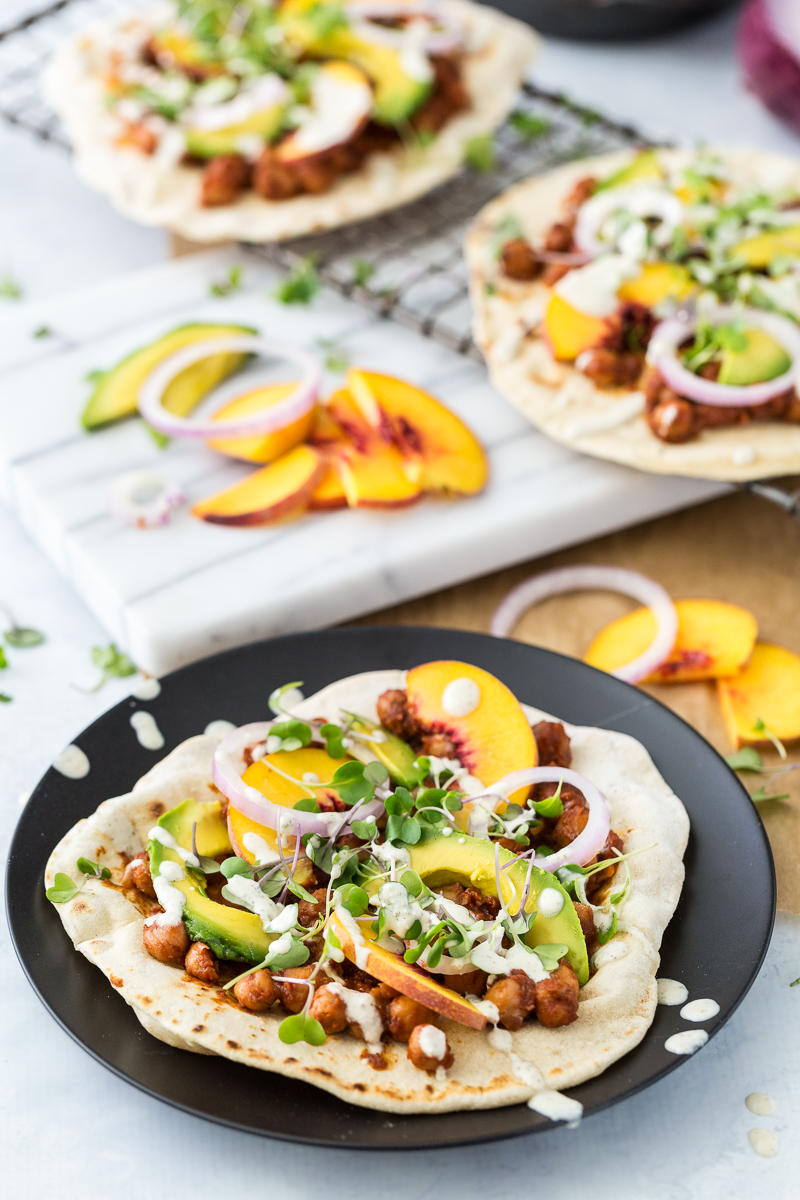 It's easy peasy from there- just scoop the chickpeas onto the flatbread, top with avocado, peach slices (or nectarine or plum), red onion, and micro greens (or regular greens or sprouts), drizzle with a bit of zesty ranch dressing and you're set!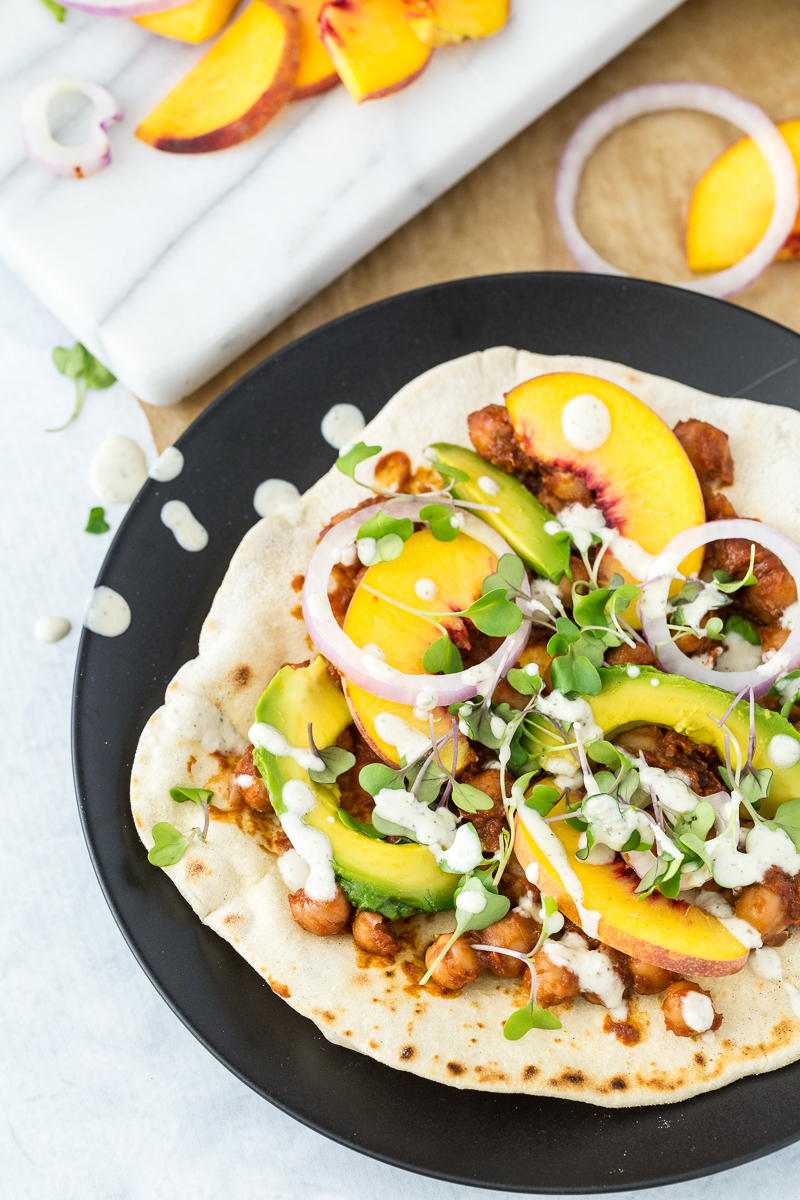 If you didn't want to do flatbread, these toppings would definitely work on a regular pizza crust. Or in a sandwich. Or in a bowl by themselves. BBQ chickpeas, avocado and peach make a pretty astounding combination, especially when topped with a bit of ranch dressing. The plums add sweetness to the barbecue sauce but I like to think the fruitiness of it also highlights the peach slices and pairs beautifully with the richness of the avocado. This meal is one delicious way to use up your CSA (or farmer's market) stockpile!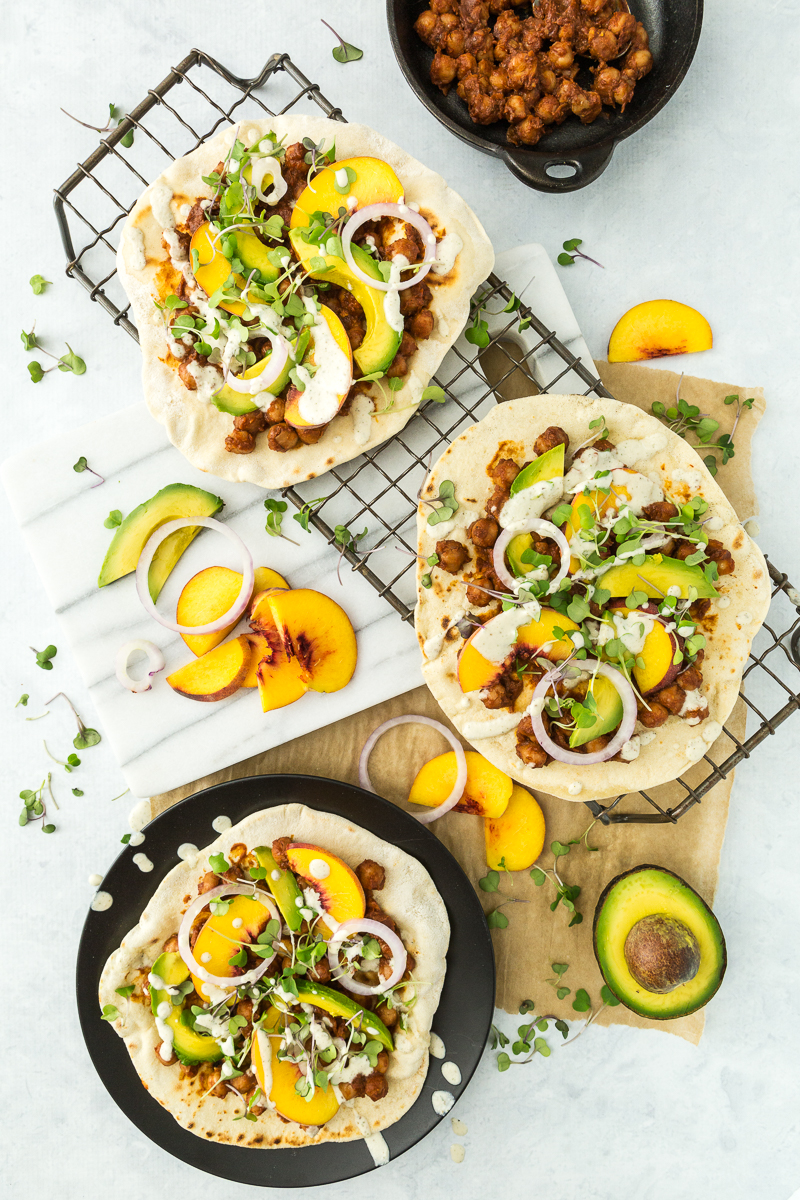 BBQ Chickpea Flatbread Pizzas with Jalapeño Plum BBQ Sauce
Ingredients
Jalapeño Plum Barbecue Sauce

1 teaspoon olive oil
1/2 red onion, chopped
2 garlic cloves, minced
1 jalapeño, de-seeded and sliced
1 pound red plums, pitted and sliced (about 7 to 8 plums)
30-ounces of canned tomato sauce (either 1 big can or 2 smaller 15-ounce cans)
1/3 cup apple cider vinegar
3 tablespoons coconut sugar
2 tablespoons liquid aminos
1 tablespoon blackstrap molasses
1 teaspoon ground cumin
1 teaspoon smoked paprika
1/2 teaspoon ground allspice
1/2 teaspoon ground ginger
2 teaspoons dijon mustard
1 teaspoon liquid smoke
pepper to taste
1 1/2 cups cooked chickpeas (or one 15-ounce can, rinsed and drained)
1/4 cup vegetable broth
4 flatbreads (1/2 a batch)
1 peach, pitted and thinly sliced
1 avocado, pitted and thinly sliced
several red onion slices
micro greens (or regular greens of choice or sprouts)
zesty ranch dressing (if made ahead of time and chilled, you may need to add a little water to thin it out for drizzling)
Instructions
Heat the olive oil in a large pot over medium heat. Add the onion and garlic and saute until the onion is translucent. Add the jalapeño and the plums and stir to combine. Let cook for about 3 minutes, stirring occasionally.
Add the tomato sauce, apple cider vinegar, coconut sugar, liquid aminos, blackstrap molasses, cumin, smoked paprika, allspice, and ginger. Stir until combined. Increase the heat and bring to a boil. Once boiling, reduce heat to a simmer and let it simmer, stirring occasionally to prevent food from sticking to the bottom, for about 30 minutes.
Once the sauce has thickened, add the mustard, liquid smoke, and pepper. Remove from the heat. Use an immersion blender to blend the sauce until smooth. Alternatively, you can transfer the sauce to a blender and blend until smooth (though you will need to let it cool for about 5 minutes first). Transfer to a sealable container and let cool completely before covering and transferring to the refrigerator. The sauce will keep for about 3 weeks so it can be made in advance if needed.
Place the chickpeas in a frying pan and heat over medium heat. After a couple minutes, add 1/4 cup of the barbecue sauce along with the vegetable broth and stir until well combined. Let cook, stirring occasionally, until the liquid has been absorbed and the beans are beginning to stick to the pan, about 5 to 7 minutes. Add 1/4 cup more of the barbecue sauce and let cook for about 2 minutes until thickened. Remove from the heat.
Spread 1/4 of the chickpeas out on each flatbread. Top with avocado slices, peach slices, onion slices, and greens. Drizzle with ranch dressing. Slice and serve immediately. Enjoy!
Notes
To manage your time efficiently, prep the flatbreads to the point of cooking them before you begin cooking your chickpeas. Prep all of your other toppings prior to starting the chickpeas as well. Once you're ready to cook the chickpeas, you can cook the flatbreads simultaneously.
Alternatively, you can make 1 big pizza using half of my pizza dough recipe.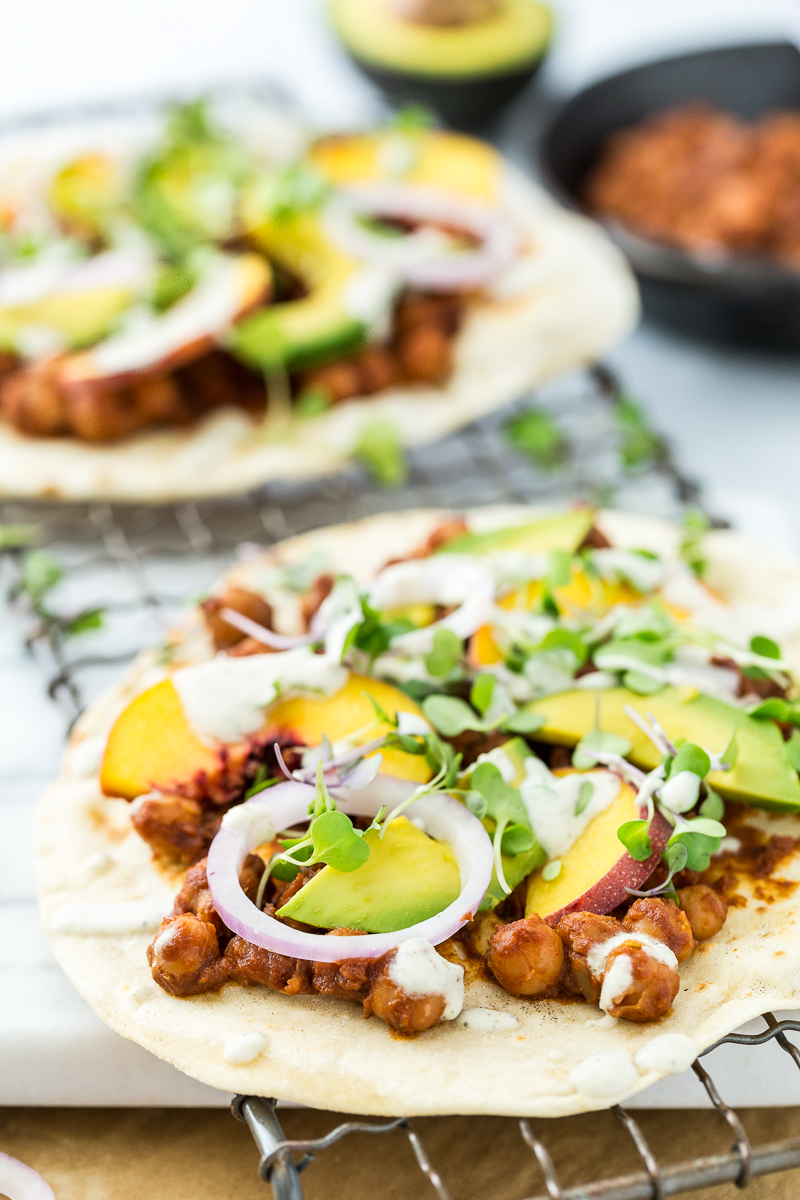 Do you have one fruit or vegetable that tends to stockpile in your house? How do you use it up?
Photography by Chris Miller