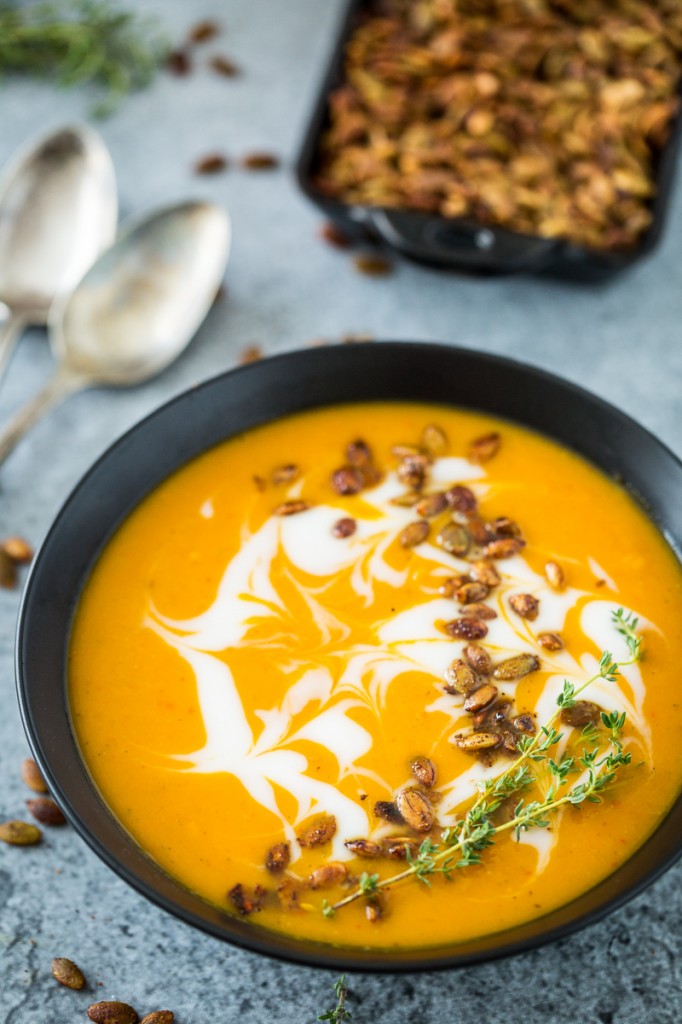 So, let's talk soup.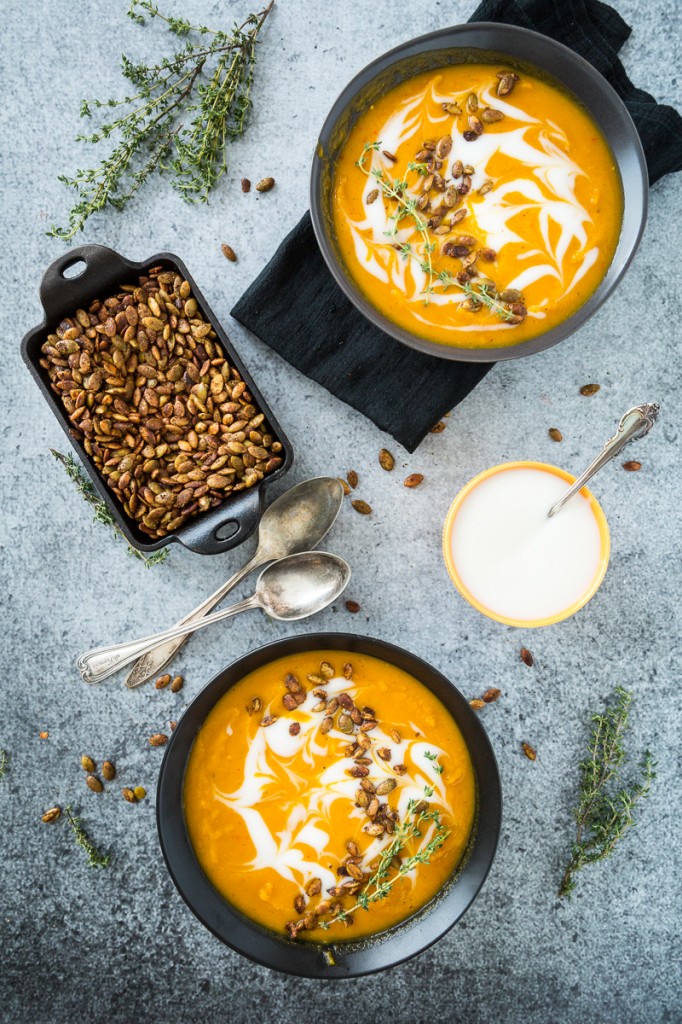 More specifically, this spicy, creamy butternut squash soup with swirls of yogurt sauce, topped with crunchy toasted pepitas. Yeah. Now we're talking.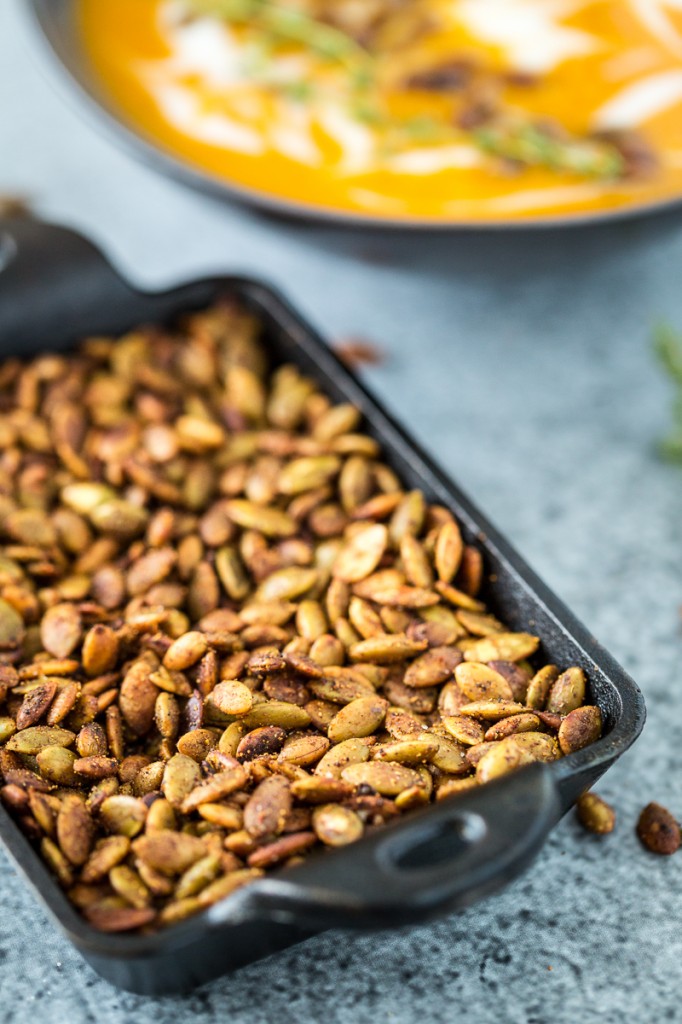 I'm actually surprised with myself that I haven't posted a butternut squash soup before now. Butternut squash soup was the first soup I ever just whipped up from scratch using ingredients I had on hand and has continued to be one of my favorite types of soup ever since.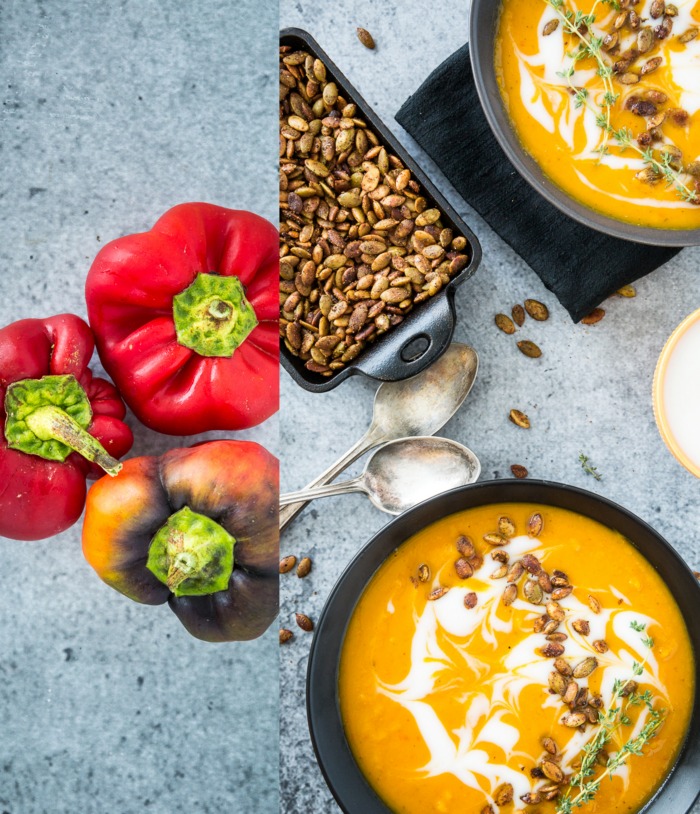 It makes me smile when I think of my 24 year-old self, standing in my apartment's kitchen that was terribly ugly and beige and looked just like the other 200 kitchens in that apartment complex. I'd had a butternut bisque at a friend's wedding a few weeks prior and couldn't get it out of my mind. I'd never made a creamy soup before but I watched a lot of Food Network back then so I felt fairly prepared to pull a soup together. I'd bought a butternut squash for the first time earlier that day and was enthusiastic about getting this soup going.
I laid out a bunch of ingredients on my beige speckled formica countertop. Things that were in my fridge that I could imagine Giada DeLaurentis using in similar soups: Carrots, an apple, store-bought vegetable broth, an onion, butter, and some non-fat milk (this was in my pre-vegan days). Cutting that butternut squash in half for the first time ever was maybe one of the scariest moments of my life. The whole time, I kept saying to myself "Don't cut your fingers off. Don't cut your fingers off." I came away with all my digits and a new respect for quality knives. I roasted the squash with some butter and brown sugar, cinnamon and a few other spices (just like I'd seen Ina Garten do once). Once the squash was roasted and the ingredients had simmered in broth for awhile, then came the time to add the milk and blend into a smooth concoction. I hadn't thought this step through and I soon realized that all I had was my mini food processor.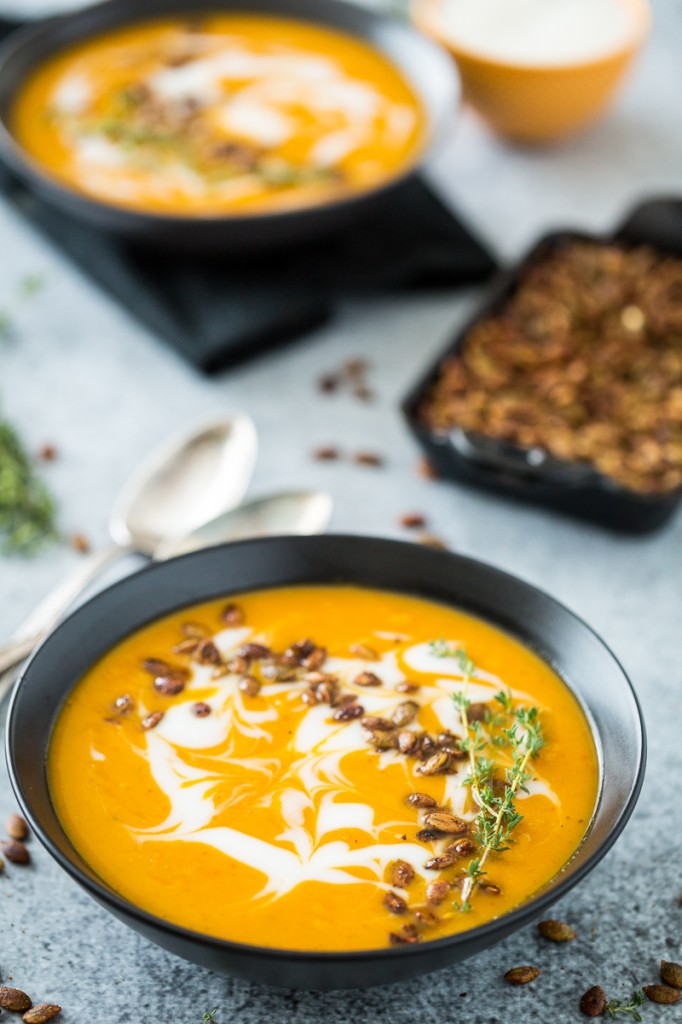 For the next 15 minutes, I would scoop 1 cup of soup out of the pot, pour it into the tiny little food processor, meant only for chopping veggies, and hold the pulse button down until the soup was smooth and creamy (ignoring the machine's inability to keep all liquid inside and that my kitchen walls were slowly being covered with orange splatter marks). Soon enough, though, the soup was finished. Sitting down to eat that soup was one of the most rewarding experiences in my young adult life (Now that I'm no longer in my 20's, 24 seems to be a "young adult" age). I had created and made a creamy soup all by myself. Little did I know that later in life, creamy soups would be a regular fall and winter staple in my house!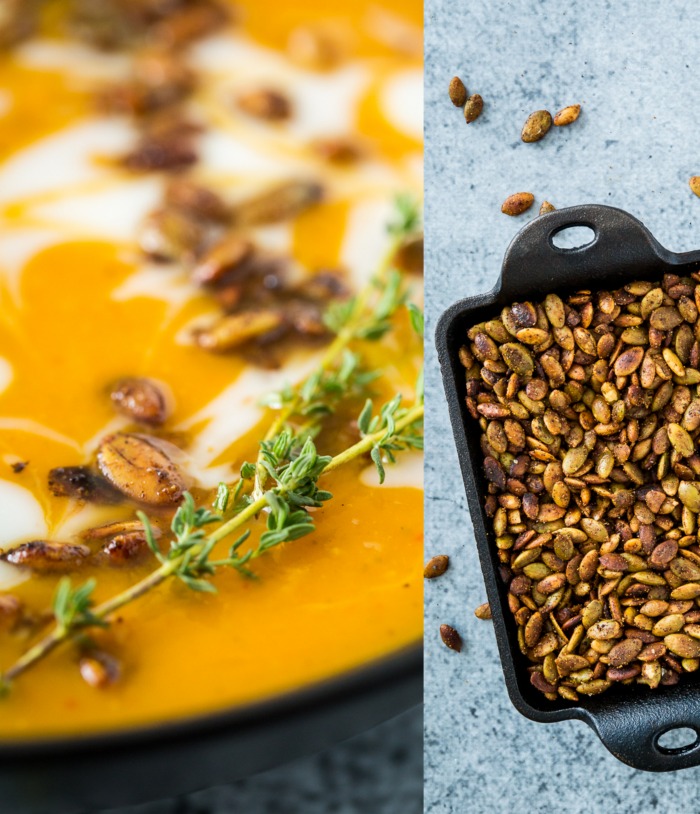 This butternut squash soup is quite different from my first. While it still has the sweetness from the squash, the fact that it's roasted in a harissa spice blend makes it nice and spicy. The swirl of yogurt sauce into the soup balance out the spiciness and lends that extra bit of creaminess you might be craving. And the pepitas toasted in garlic, cumin, and smoked paprika? Well, they add a bit of crunch to each bite and a salty, savory flavor to contrast. It just as decadent and luscious as it looks too. I can't get enough. If only my 24-year old self could see me (and my non-orange splattered walls) now.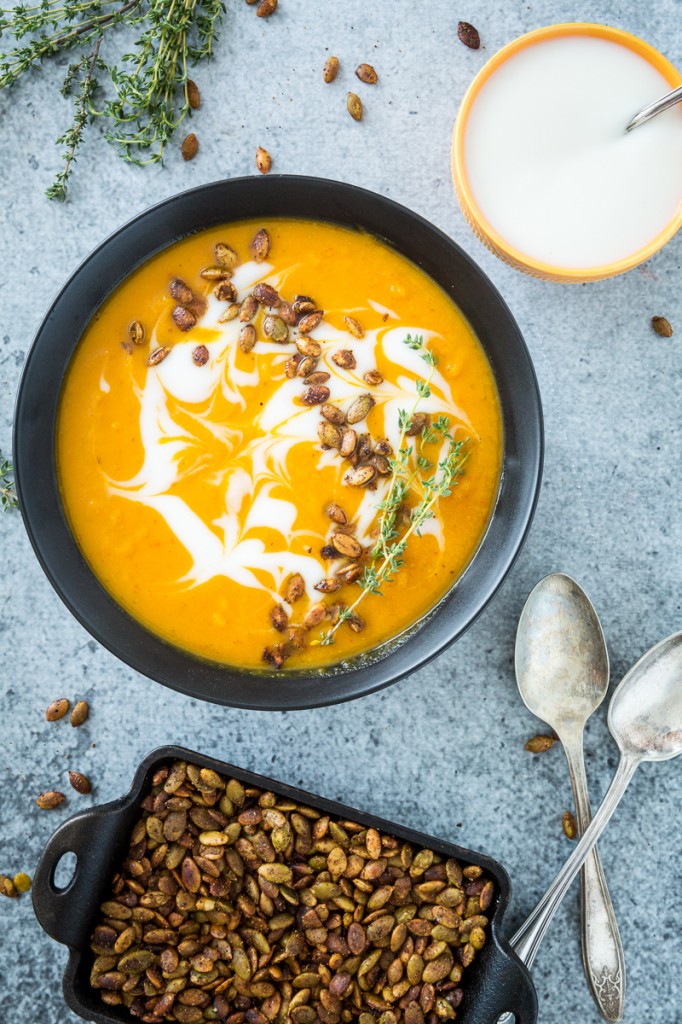 Harissa-Roasted Butternut Squash Soup with Spicy Toasted Pepitas
Ingredients
1 large butternut squash, seeded, peeled, and cubed
olive oil spray
1 generous tablespoon harissa spice blend
1 teaspoon olive oil
1/2 sweet onion, chopped
2 to 3 small pimento peppers (or 1/2 red bell pepper), seeded and chopped
1 cup diced apple (any variety will do)
1 tablespoon fresh thyme
3 cups vegetable broth
1 cup water
1 tablespoon liquid aminos (or tamari/soy sauce)
juice of 1 lime
salt and pepper to taste
1 cup unsweetened vegan yogurt
juice of 1/2 a lemon
1 teaspoon maple syrup
1 cup raw pumpkin seeds/pepitas
1 tablespoon olive oil
1 tablespoon liquid aminos (or tamari/soy sauce)
1 teaspoon cumin
1/2 teaspoon garlic powder
1/2 teaspoon smoked paprika
Instructions
Preheat the oven to 425 F. Line a baking sheet with parchment paper. Spread the cubed butternut squash out on the baking sheet and lightly spray with olive oil. Sprinkle the harissa over the cubes and then add salt and pepper to taste. Toss until all of the pieces are fully coated. Roast in the preheated oven for 20 minutes, tossing once halfway through to ensure even cooking.
After the squash has been cooking for about 15 minutes, heat the olive oil in a large pot over medium heat. Add the onion and cook, stirring occasionally, until the onion is just becoming translucent. Add the pimento peppers and apple and cook for a couple more minutes. Once the squash is out of the oven, add it to the pot along with the thyme, broth, water, and liquid aminos. Increase the heat and bring it to a boil and then reduce to a simmer. Let the soup simmer for about 20 minutes.
While the soup is simmering, make your yogurt sauce. In a cup or small bowl mix the sauce ingredients together until combined. Chill until ready to use.
While the soup is simmering, you can also toast your pepitas. In a large frying pan or cast-iron skillet, heat the olive oil over medium-low heat. Add the pepitas, liquid aminos, cumin, garlic powder, and smoked paprika. Stir until fully combined. Let cook, stirring every couple minutes, until the pepitas begin to crackle, snap, and pop. Stir them for a couple more minutes before removing from the heat. Set aside until ready to use.
Once the soup has simmered for 20 minutes, use an immersion blender to blend the soup until completely smooth. If you don't have an immersion blender, transfer the soup in batches to your blender and blend until smooth (but be careful as the heat from the soup can pressure the lid to pop off, making a huge mess).
Serve the soup in bowls, with the yogurt sauce drizzled on top (to make cool swirly designs, after you've drizzled it, run a toothpick or skewer through the drizzles a few times until you've achieved the desired effect). Sprinkle with pepitas and serve. Leftovers can be chilled in an airtight container for 3 to 4 days (the pepitas will last a couple weeks). Enjoy!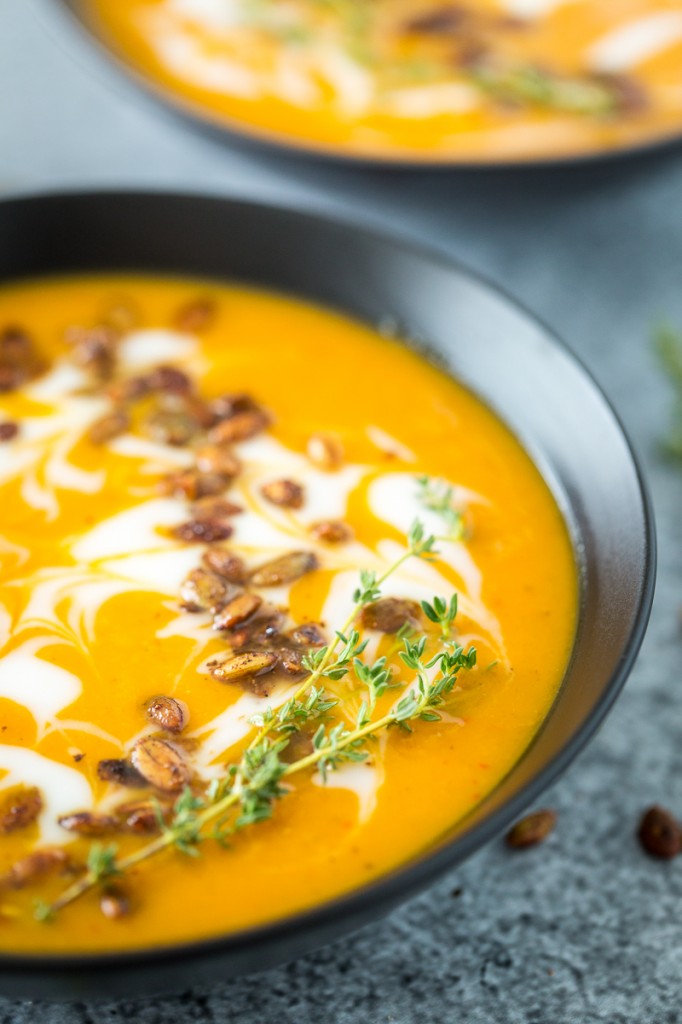 What is your favorite soup to cozy up to on a cool fall evening?
Photography by Chris Miller