Sometimes recipes don't need a lot of words preceding them.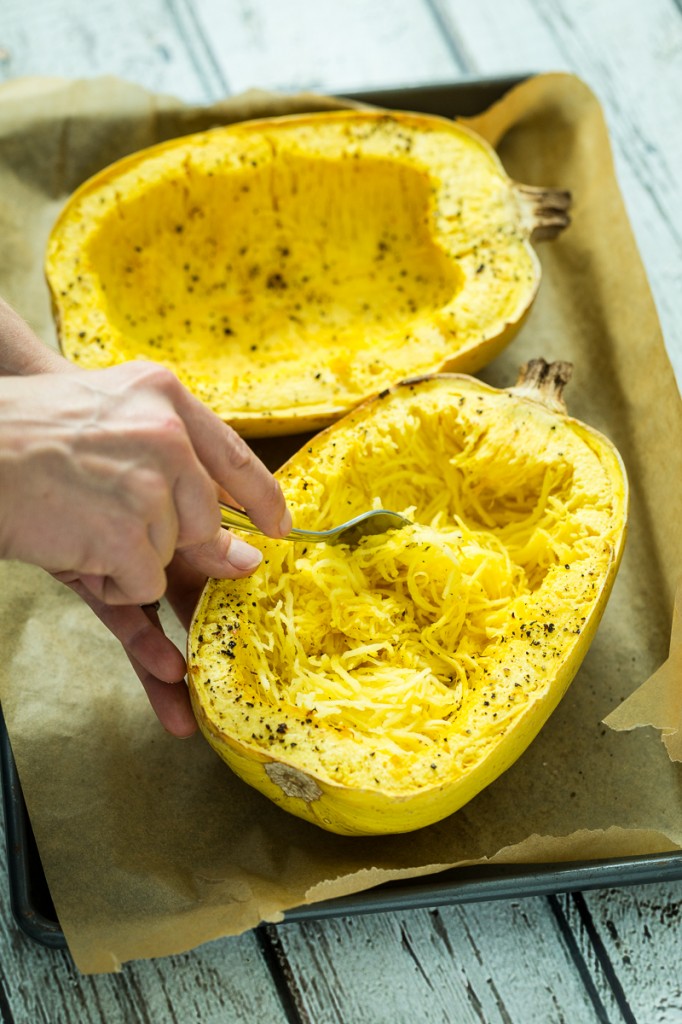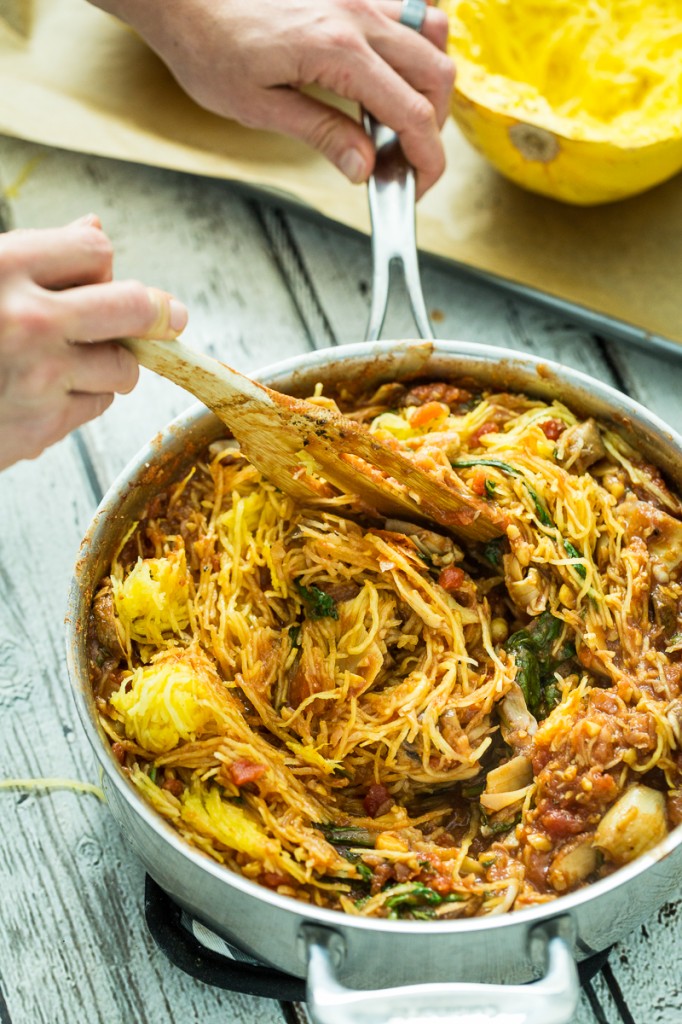 Sometimes they don't need a backstory.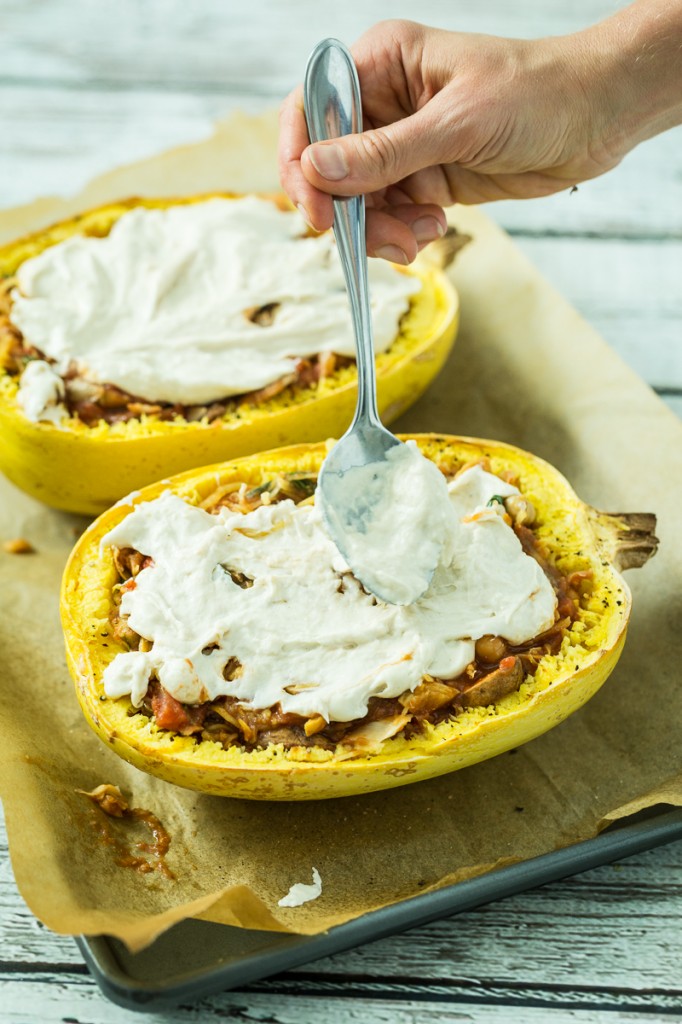 Sometimes said recipe is the most interesting/revolutionary thing to happen to this food blogger recently and she can't think of anything to talk about that would even compare in interestingness to said recipe.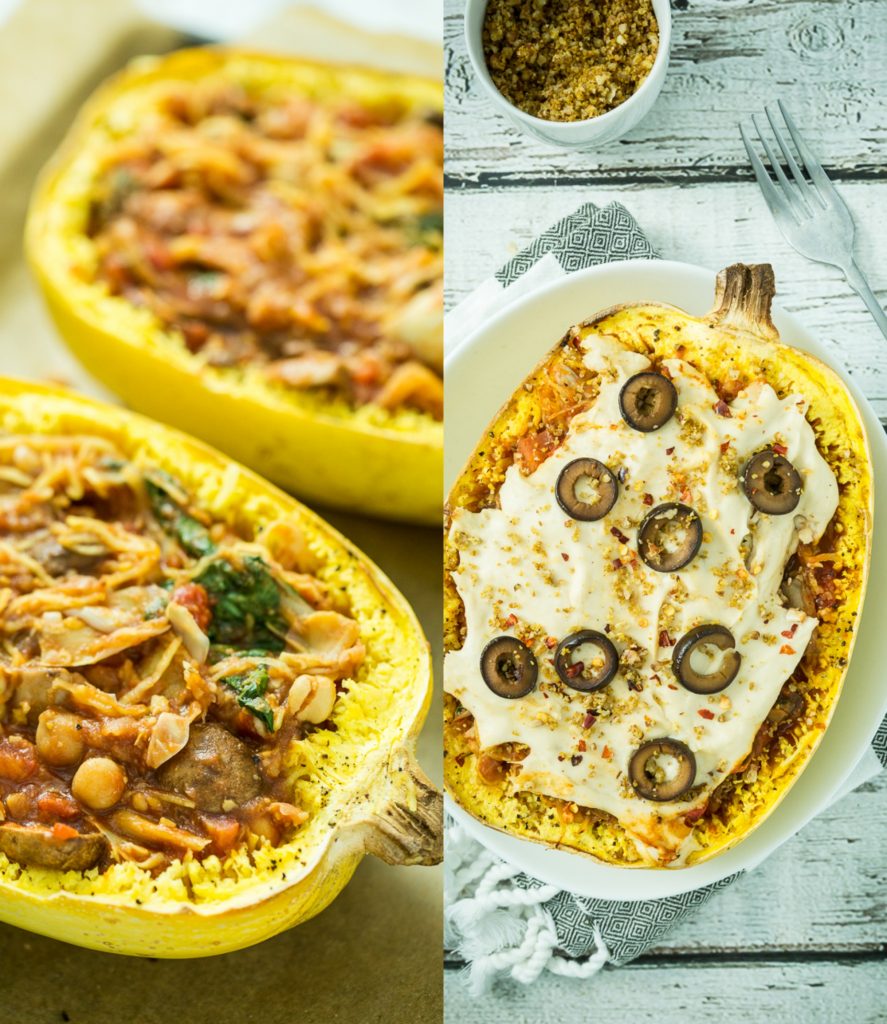 All that needs to be said is this: It's pizza. In a spaghetti squash.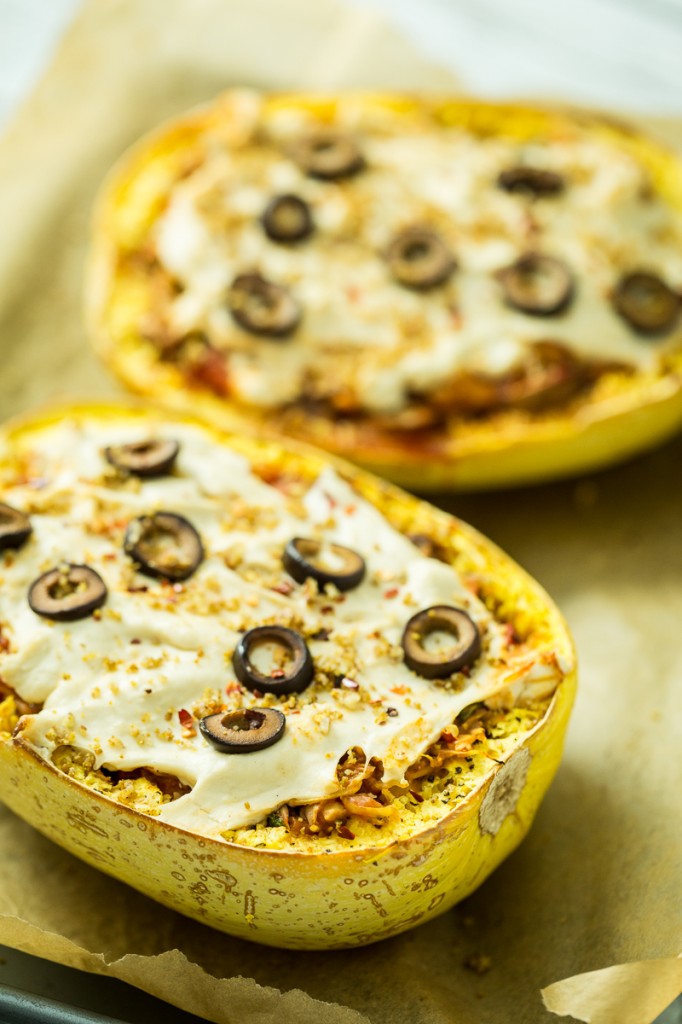 Pizza-Stuffed Spaghetti Squash, if you will.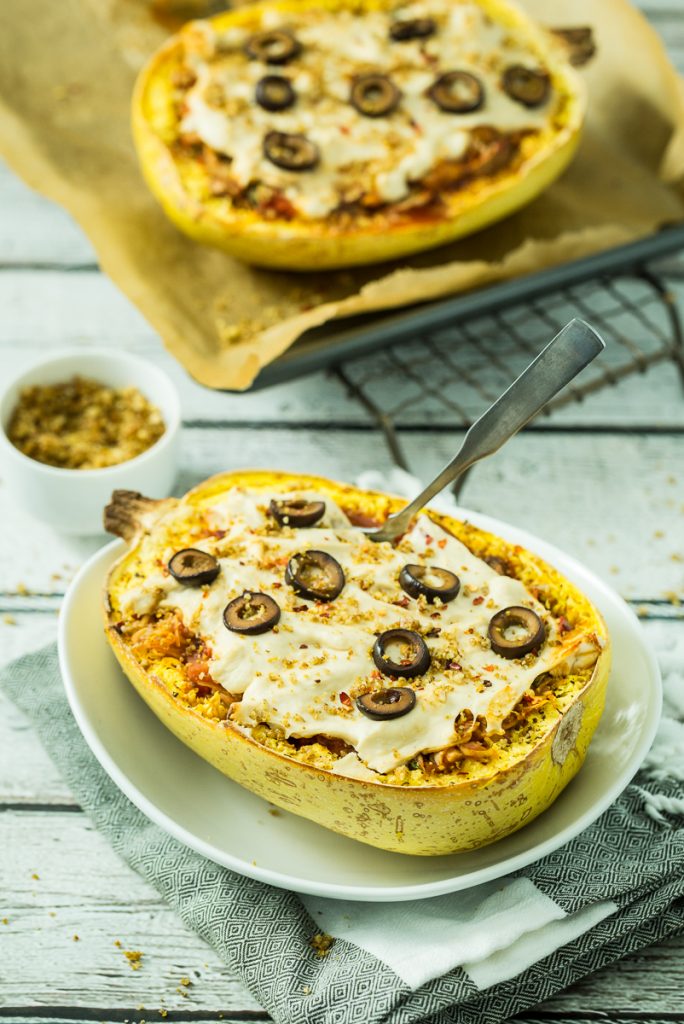 Ok, well maybe I could say a little more. How about this: All the pizza toppings you love and adore (tomato sauce, mushrooms, artichoke hearts, spinach, and even some smashed chickpea "meat") are mixed up with spaghetti squash strands and then stuffed back into the squash skins, topped with a simple, gooey cashew cheese and baked to perfection. Finish it off with some pecan parmesan and red pepper flakes and friends, dinner is on!
Pizza-Stuffed Spaghetti Squash
Ingredients
1 medium spaghetti squash
olive oil spray
1 1/2 cups cooked chickpeas (or one 14.5-ounce can, rinsed and drained)
2 tablespoon liquid aminos
2 shallots, diced
8-ounces crimini mushrooms, sliced
one 15-ounce can of artichoke hearts, quartered
1/4 cup chopped basil
one 15-ounce can low sodium tomato sauce
one 15-ounce can diced tomatoes
2 tablespoons tomato paste
1 teaspoon dried oregano
3 cups chopped spinach
salt and pepper to taste
sliced black olives, for topping (optional)
pecan parmesan, for topping (optional)
red pepper flakes, for topping (optional)
1/2 cup raw cashews, soaked in water for at least 2 hours
3/4 cup non-dairy milk
1 tablespoon lemon juice
2 teaspoons arrowroot powder
2 teaspoons nutritional yeast
1/4 teaspoon salt
1/2 teaspoon agar powder (not flakes)
Instructions
Preheat the oven to 425 F. Line a baking sheet with parchment paper.
Slice the spaghetti squash in half lengthwise and scoop out the seeds. Place both halves on the sheet, cut side up. Spray the tops with olive oil and add salt and pepper to taste. Bake in the oven for 25 minutes. Remove from the oven and let rest until cool enough to touch.
Once the spaghetti squash is in the oven, heat a large shallow saucepan over medium heat. Add the chickpeas and liquid aminos and cook, stirring occasionally until the liquid has been fully absorbed. Use a fork or pastry cutter to smash the chickpeas. Once all the beans have been broken down, add the shallots and cook until they're just becoming translucent. Add the mushrooms, artichoke hearts, and basil and cook until the mushroom are just becoming tender. Add the tomato sauce, diced tomatoes, tomato paste, and oregano. Bring to a boil and then reduce to a simmer. Let the sauce simmer for about 10 minutes. Add the spinach and add salt and pepper to taste (if needed). Remove from the heat.
By the time you finish the sauce, the spaghetti squash should've finished baking and cooled off a bit. Keeping the squash halves on the baking sheet, use a fork to scrape the inside strands out, leaving a bit around the edges and bottom (meaning, don't scrape the skin bare. You want to have a bit of squash left on the skin). Stir the strands into the tomato sauce mixture until full combined. Scoop the mixture back into the skins until they are packed full. Set aside. You will have some leftover but you won't mind because you now have your lunch for tomorrow made.
In a blender, combine the cashews, milk, lemon juice, arrowroot powder, nutritional yeast, and salt and blend until smooth. Pour into a small pot and stir in the agar powder. Turn the heat up to medium and use a whisk to stir until the mixture just starts to become thick and elastic. Remove from the heat and immediately pour/spread over the spaghetti squash halves. Top with olive slices and place the baking sheet in the oven. Bake for 15 to 20 minutes or until the cheese has solidified on top. Serve immediately, topped with pecan parmesan and red pepper flakes. Enjoy!
Notes
You can switch out the mushrooms and artichokes with pizza toppings of your choice.
Don't have agar powder? Leave it out and instead of heating the cheese, just pour the sauce over the squash. It won't solidify, but it will still be good.
Not in the mood for pizza? Just stop after adding the spaghetti squash to the sauce mixture and eat it as a pasta dish. It's just as fantastic.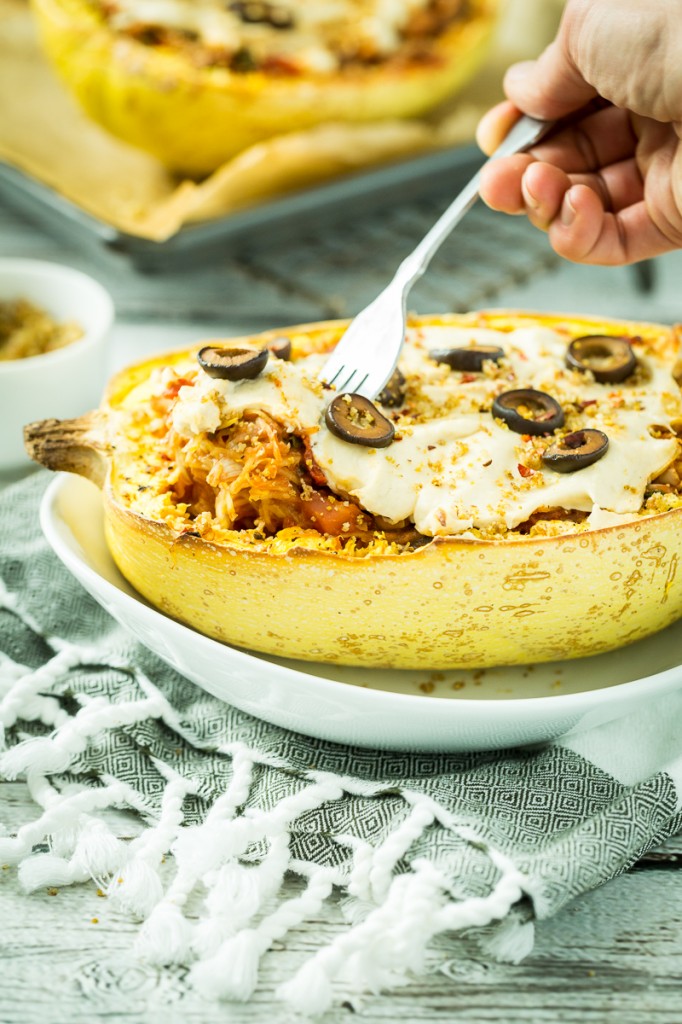 I want suggestions: What else should we bake in spaghetti squash? Lasagna? Enchiladas?
Photography by Chris Miller