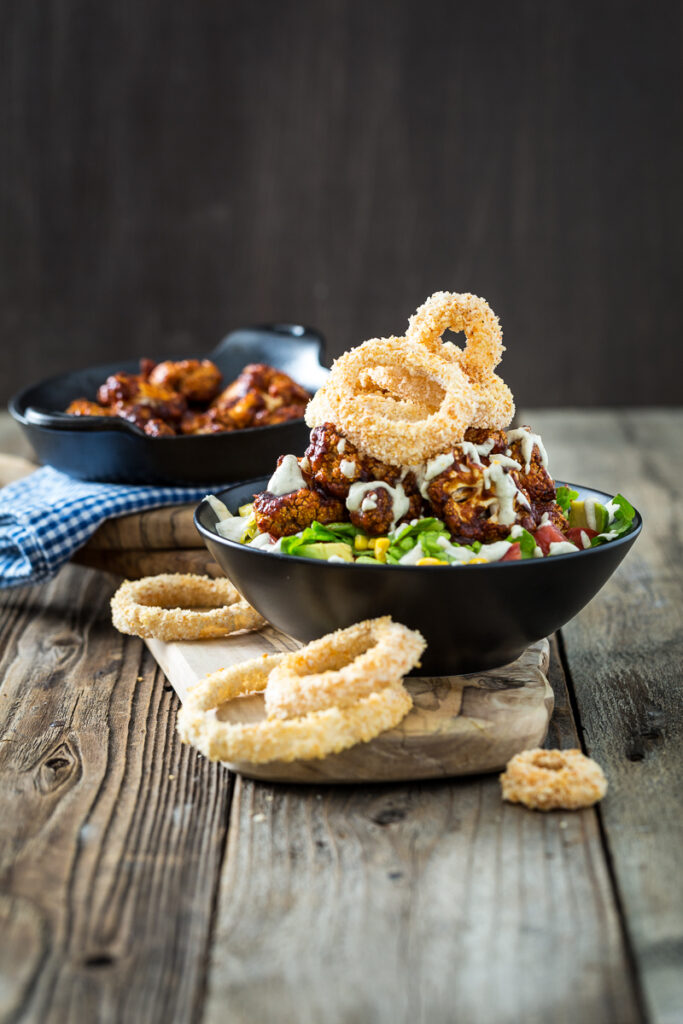 If you follow me on Instagram, you know that Keepin' It Kind HQ is undergoing some major changes. It's all good stuff, though! Pretty soon, I'm going to have a brand new kitchen to work in and I can't wait to get in there and create some new recipes for you!
What that also means is that right now, I don't have access to a kitchen to create in. I actually have one recipe in the drafts, however, on second thought, I'm still not totally happy with it. Once I get my kitchen back, I'll be able to test it for a third (and hopefully final) time. Until then, we're doing a lot of making smoothies and avocado toast in the living room, doing dishes in our bathroom, and going out to dinner.
In the meantime, I wanted to share a summery, BBQ salad recipe with you! This BBQ Cauliflower Salad is actually from my book, But I Could Never Go Vegan! and it's part of the chapter titled "Just thinking about salad makes me yawn." The chapter is full of exciting, delicious, and hearty salads that would be hard for anyone to be bored with. This salad is one of my favorite salads from the book because it's super hearty and filling, but doesn't feel too heavy. If you have the time, I recommend making the Crispy Onion Rings from the book to top the salad (they really take this salad up a couple notches), but if you don't, the salad is just as good with out them. If you don't want to do a salad, this BBQ Cauliflower is amazing in a sandwich or taco too. Enjoy!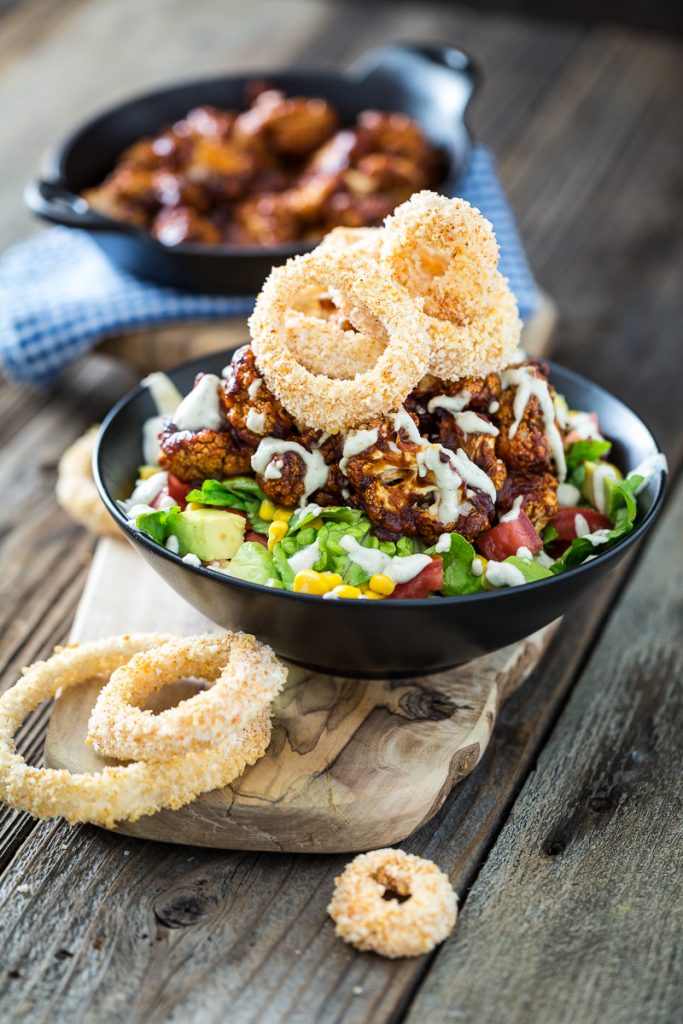 BBQ Cauliflower Salad with Zesty Ranch Dressing
You know those big BBQ sandwiches stuffed with onion rings? Imagine taking away the bread, dumping everything else into a bowl with some lettuce, and dousing it with ranch dressing. That's what this salad is all about. Roasted cauliflower coated in Barbecue Sauce makes an unforgettable replacement for meat and is an instant favorite of all who try it (even cauliflower-phobes). Topped with corn, tomatoes, and Crispy Baked Onion Rings this salad is for everyone who thinks a salad can't be hearty, satisfying, and downright mouthwatering. All that, and it's vegan!
Ingredients
1 head cauliflower, broken into small florets
Olive oil spray
1 tablespoon liquid aminos
½ teaspoon liquid smoke
½ teaspoon cumin
½ teaspoon garlic powder
½ teaspoon onion powder
½ teaspoon smoked paprika
Salt and black pepper to taste
Juice of ½ lemon
1 cup (250 ml) Barbecue Sauce (there's a great recipe in my book, or you could use my Jalapeño Plum BBQ Sauce or store-bought)
1 tablespoon cornstarch
4 cups (120 g) mixed greens or lettuce
1½ cups (210 g) corn kernels
1½ cups (240 g) diced tomatoes
1 avocado, pitted, peeled, and chopped into chunks
Crispy Baked Onion Rings (recipe in book)
Instructions
Preheat the oven to 400°F (200°C). Line a baking sheet with parchment paper or a silicone baking mat.
Spread the cauliflower florets on the sheet. Lightly spray with olive oil. Drizzle with the liquid aminos and liquid smoke and sprinkle with the cumin, garlic powder, onion powder, paprika, salt, and pepper. Squeeze the lemon juice over them. Toss to fully coat each piece. Roast for 20 minutes, tossing once halfway through to ensure even cooking.
Mix the Barbecue Sauce and cornstarch in a cup. After 20 minutes, remove the cauliflower from the oven, add the sauce, and toss. Bake 5 to 10 minutes more, until most of the BBQ sauce has dried.
Toss together the greens, corn, tomatoes, and avocado in a bowl. Divide the salad among four bowls, top with the BBQ cauliflower, drizzle with the dressing, and top with the onion rings. Serve immediately.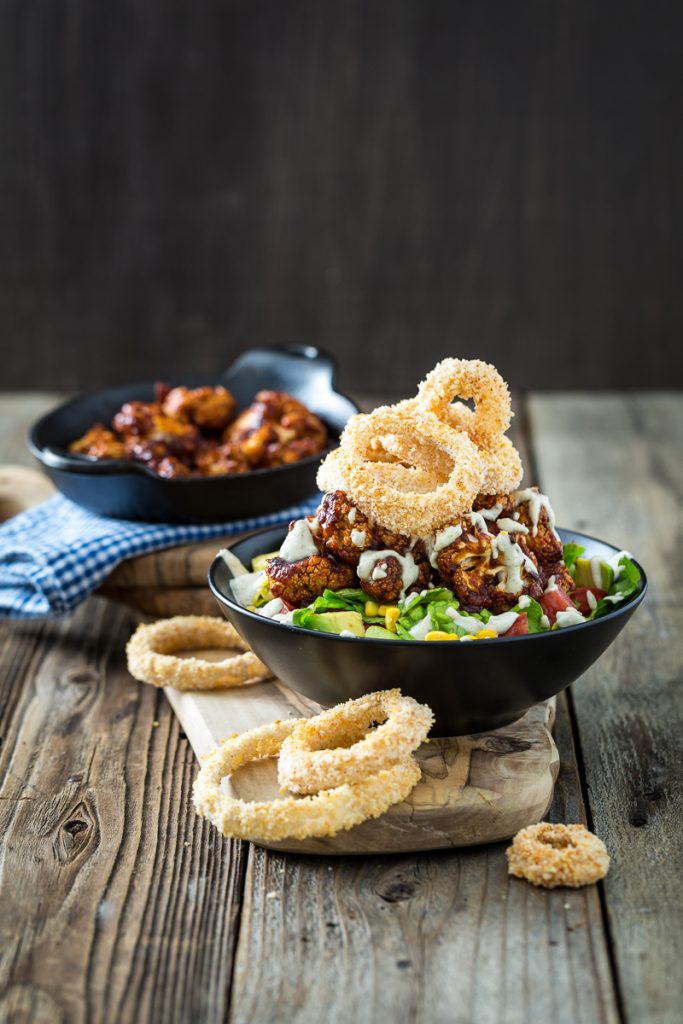 Have you bought my book? I hope you're enjoying it as much as we do! If you love it, would you mind taking a moment to leave a review on Amazon? I would be so grateful! If you've already left a review- thank you so much!!!
Photography by Chris Miller