As I mentioned on Tuesday, life got carried away recently and this incredible recipe has been sitting in the drafts for weeks, just waiting to be published. Now the time has come and I'm so excited to finally be sharing these Buffalo Falafel with you!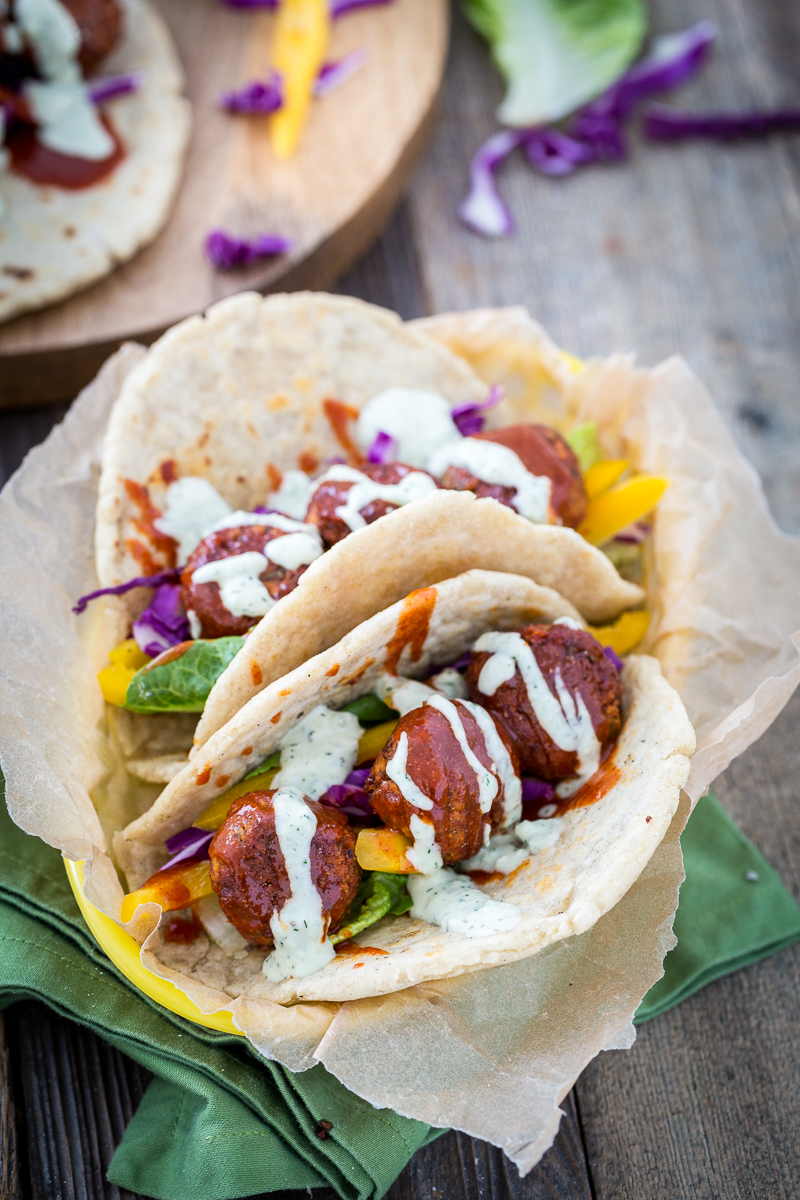 Falafel are kind of my jam. Being from San Jose, CA, one of my favorite restaurants, back in the day, was Falafel Drive-In. I went through a phase where I think I went there for dinner every Friday, for at least a couple of months (Sundays were for burritos from Iguana's Taqueria). When they opened a Pita Pit in downtown, close to where I lived, amidst all of the bars and clubs I would frequent (I was in college, so that's what we did), that just so happened to be open until like, 2am or some ridiculous hour, you can bet I stumbled in there for drunken eats many a night. I think I even left half of one of their delicious falafel wraps in the backseat of a very generous designated driver and he didn't find it until the next day, making his car smell like, to put it mildly, a trashcan (Sorry, Binh!).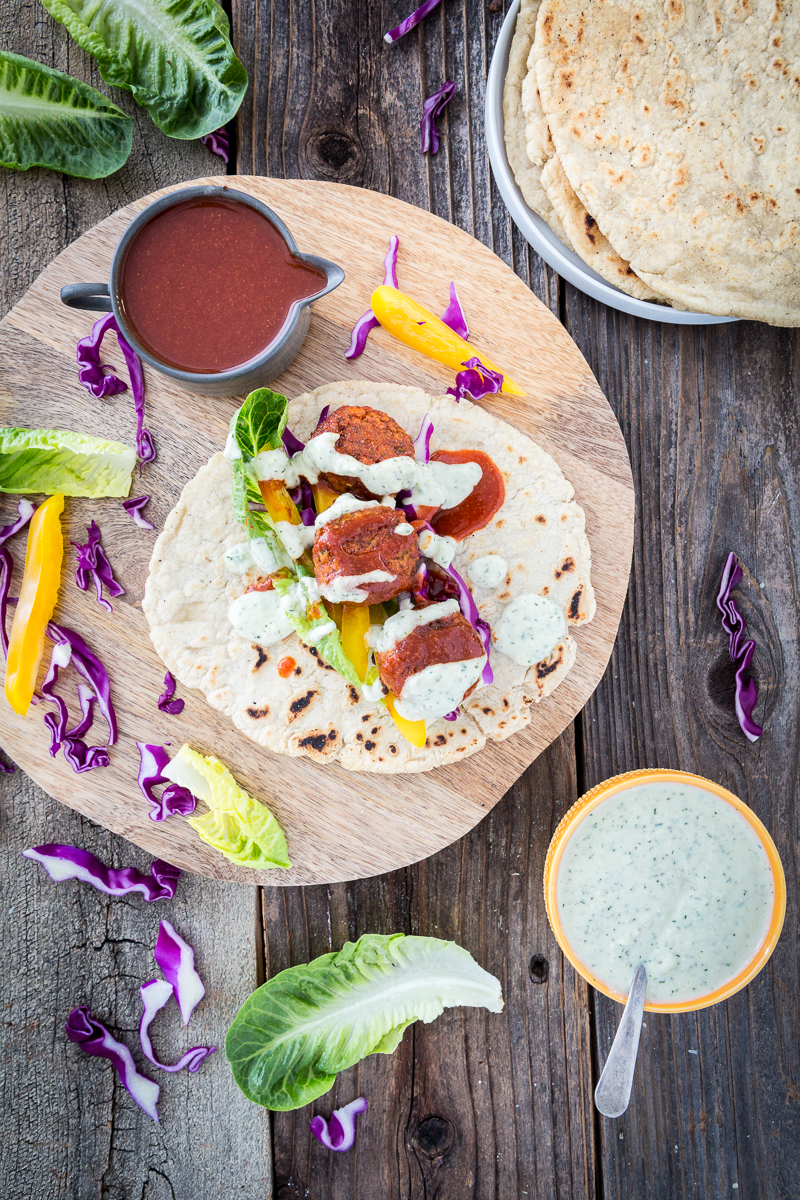 In my travels, the one vegetarian meal I could always find, wherever I went, was a falafel. From a back alley in the old Jewish Quarter of Grenada to Hummus Bar in Budapest to that one shop just down the road from my favorite gelateria in Florence- the falafel has always been there for me. In fact, that one in Grenada was so dang good, I had to go back for seconds. It was the best meal I had on that whole trip.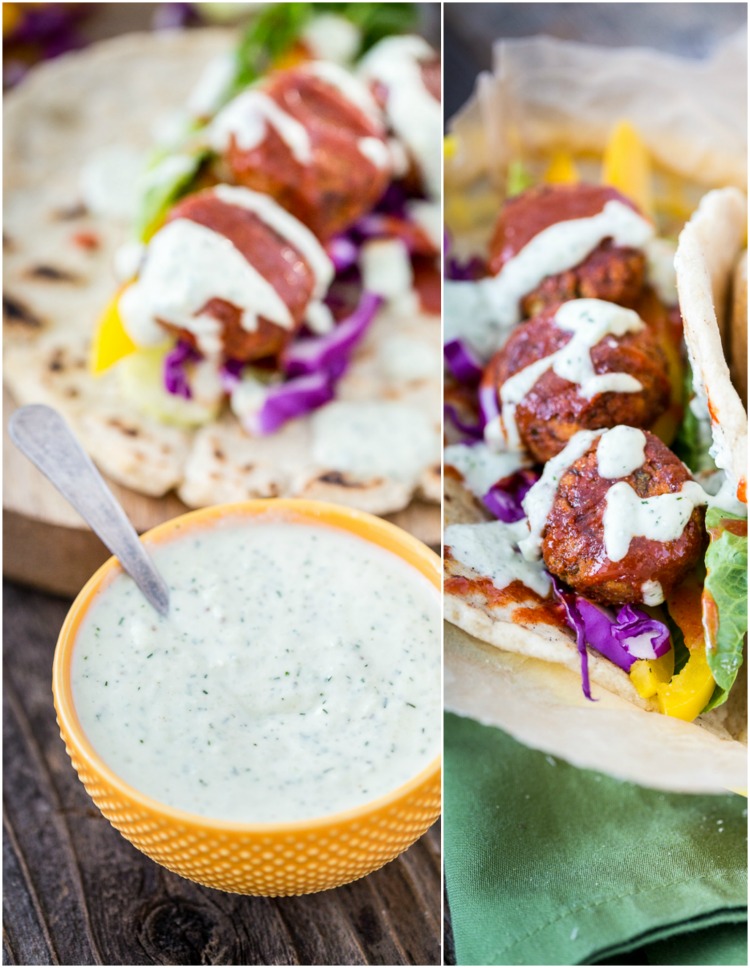 For as much as I love falafel, though, I don't make them nearly enough. It's stupid because they're so ridiculously easy. I can count on one hand the number of times I've made falafel in the last year and every time, it was my Falafel Taco recipe (also in my book), that I made. I love that recipe. That srircaha tahini sauce... But I digress.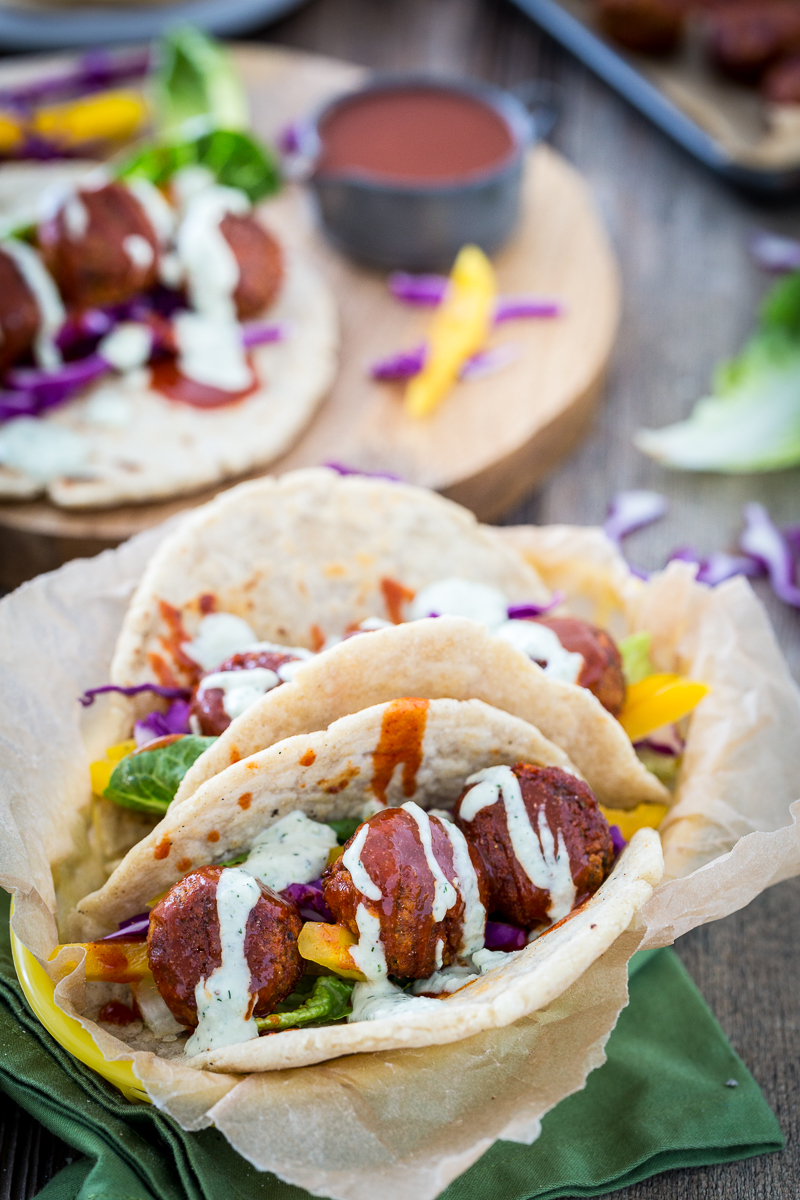 During all of my gluten-free flatbread trials, one thing I thought about was what I was going to use them for once I perfected the recipe. Briefly, I considered folding my buffalo cauliflower inside them, and though I may actually do that in the future (because daaaaaaaaaamn, that would be hella good), what my heart kept calling out for was falafel. Naturally, several minutes later, the idea of buffalo falafel came to me and that was that. Buffalo falafel became my driving force behind perfecting my gluten-free flatbread.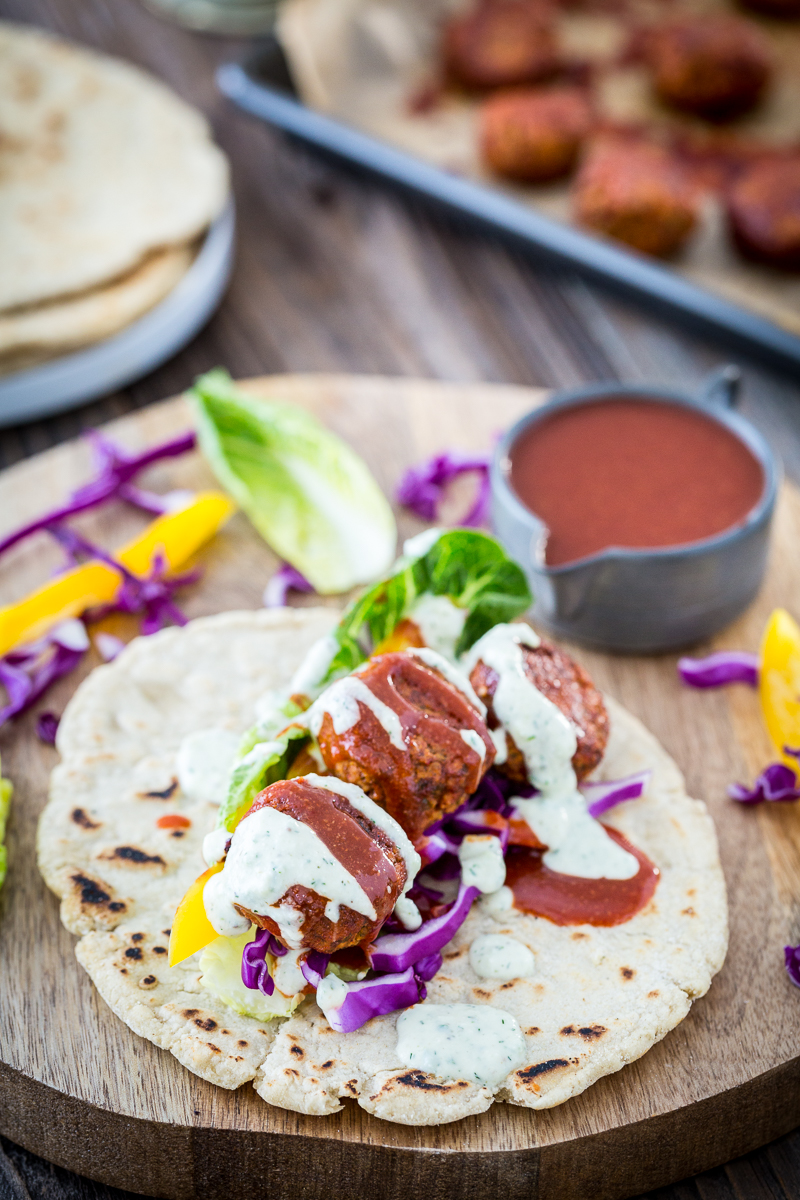 So this is how simple this is- you make the falafel dough, roll it into balls and bake them. While they're baking, make your buffalo sauce and your tzatziki ranch sauce. When they're done baking, toss them in some of the buffalo sauce and bake for 5 more minutes. Throw them in your flatbread (gluten-free or full of gluten) or whatever bready vehicle you choose to use to transport these wondrous falafel balls to your mouth along with some falafel wrap fillings (I chose red cabbage and yellow bell pepper, but cucumber slices, or tomato, would also be good. As an afterthought, I wish I'd remembered that I had celery because I would've thrown some of that in there too), and drizzle with more buffalo sauce and some of that tzatziki ranch. Heck, you could throw them in a bowl with some salad fixings and be just as happy. Then you eat. Easy as that.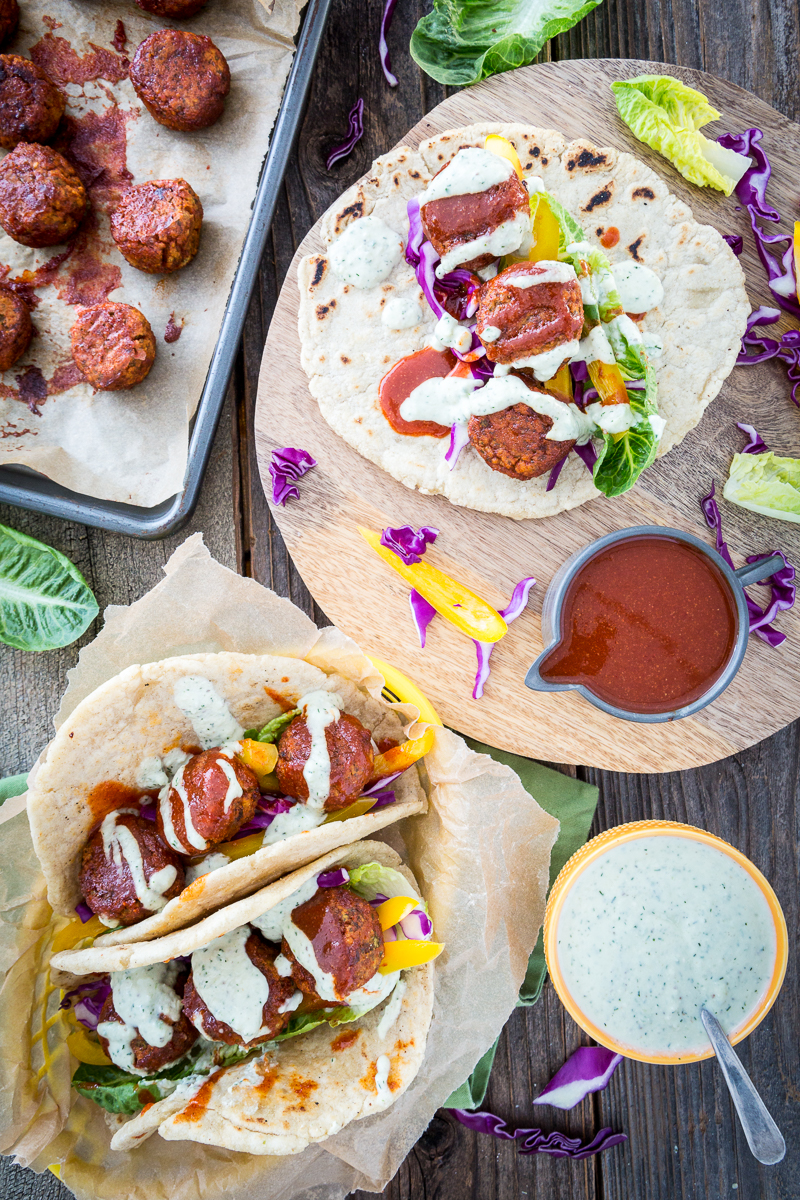 Buffalo Falafel with Vegan Tzatziki Ranch Sauce
Ingredients
one 15-ounce can of chickpeas, rinsed and drained
1/3 cup chopped fresh parsley
1/3 cup chopped fresh cilantro
1/4 red onion, choped
2 to 3 garlic cloves
3 tablespoons chickpea flour
3 tablespoons almond flour
juice of 1/2 a lemon
3/4 teaspoon salt
1/2 teaspoon dried oregano
a couple dashes of cayenne pepper
black pepper to taste
1 cup hot sauce of choice
1 tablespoon tomato paste
2 tablespoons apple cider vinegar
1 tablespoon maple syrup
1/2 cup unsweetened, plain vegan yogurt
1/2 cup raw cashews, soaked in water for 1 hour
5 tablespoons reserved soaking water
2 tablespoons apple cider vinegar
juice of 1/2 a lemon
1 teaspoon agave or maple syrup
1/2 teaspoon garlic powder
1/2 teaspoon onion powder
1/2 teaspoon dried oregano
1/2 teaspoon celery seed
1/2 teaspoon salt
1/2 cup chopped cucumber
2 tablespoons fresh dill
wrap fixings like cabbage or lettuce, bell pepper, celery, cucumber, jicama, tomato, and/or avocado
Yeast-Free, Gluten-Free Flatbread, Yeast-Free Flatbread, pita bread, tortilla, or wrap of your choice
Instructions
Preheat the oven to 350 F. Line a baking sheet with parchment paper.
Combine the falafel ingredients in a food processor and process until fully combined and will hold together when squeezed. Use a tablespoon to scoop out slightly heaping spoonfuls and use your hands to roll the dough into balls. Place the dough on the prepared baking sheet. Continue until all the dough has been used and you have about 18 falafel. Bake the falafel for about 15 minutes, flip them and bake for another 10 minutes.
While the falafel are baking, make your buffalo sauce. Combine the buffalo sauce ingredients in a cup and use a small whisk or fork to stir until combined. Set aside.
Also while the falafel are baking, make your tzatziki ranch sauce. Combine all of the ranch sauce ingredients, EXCEPT the cucumber and dill, in a food processor and process until smooth, pausing to scrape the sides as necessary. Once smooth, add the cucumber and dill and process until you have a slightly chunky sauce. Set aside.
Once the falafel are done baking, push them all to the center of the pan. Pour two-thirds of the buffalo sauce over the falafel and toss until fully coated. Return to the oven and let bake for 5 to 7 minutes.
To assemble, place your fillings on your flatbread or whatever bread you're using, top with falafel, and drizzle with a little more buffalo sauce (totally optional) and the tzatziki ranch sauce. Fold/wrap and eat. Enjoy!
Notes
Instead of serving as a wrap, create a salad with lettuce and veggies. Top each bowl with falafel balls and drizzle with the sauces. Now you have a falafel salad. Enjoy.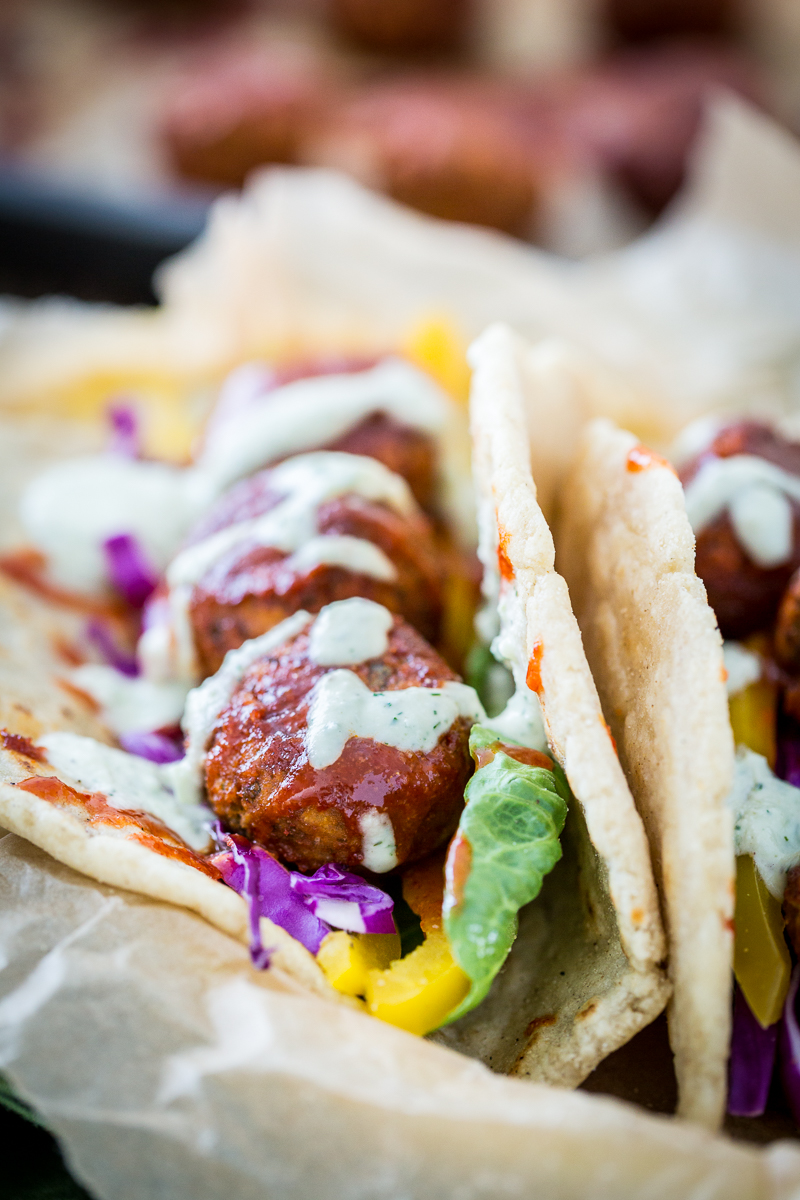 Are you a falafel fan? How do you like to prepare your falafel?
Photography by Chris Miller