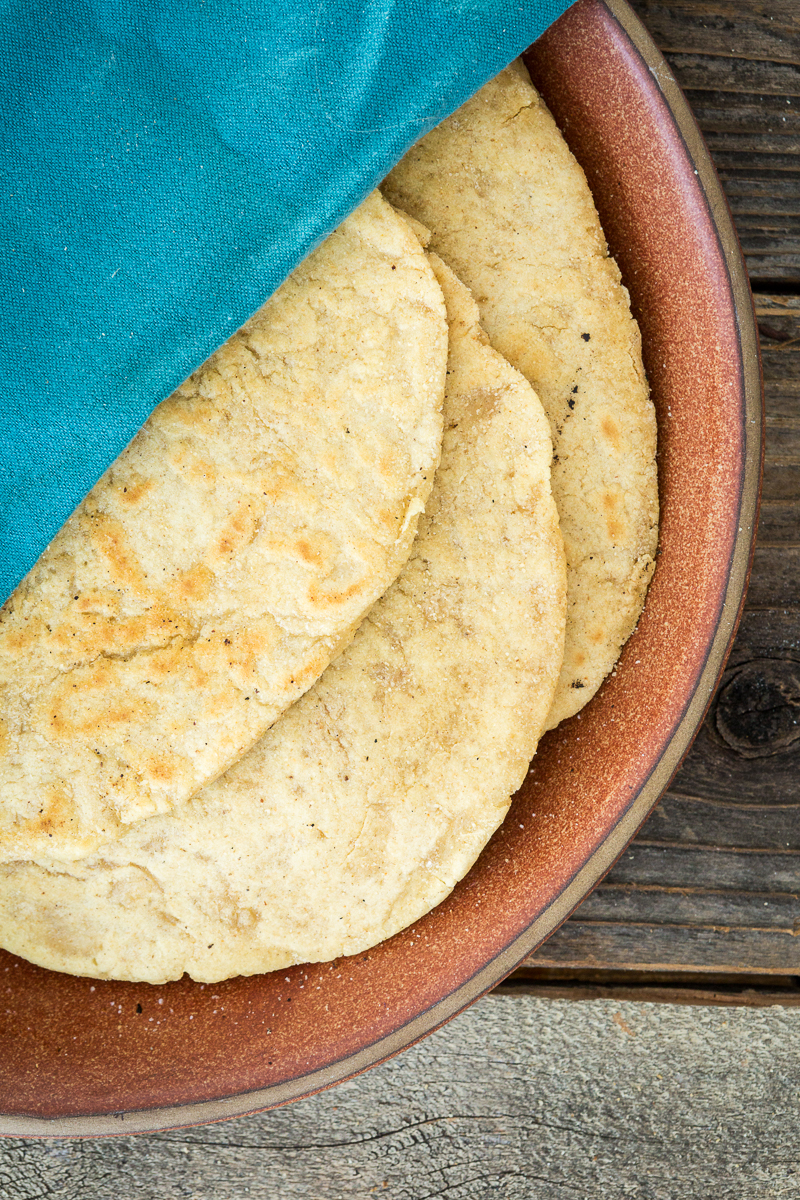 I've been wanting to share these with you for about a month, but due to crazy life stuff and some unfortunate family stuff, I've been away from my computer and from home for awhile now. It's been a rough, emotional couple of weeks (I may tell you about it once I've had some distance from it) but I'm so thankful for that time because it's greatly put things into perspective for me. When we had to unexpectedly leave town, I was stressing about when I was going to post this recipe along with all the other stupid little things on my to-do list. It was one big whopping reminder to not stress about the small stuff and to tend to the big things that really, truly matter. Now, I'm just thankful to be home and to have this blog and all of you wonderful people to return to once I was ready. I'm so, so, so thankful.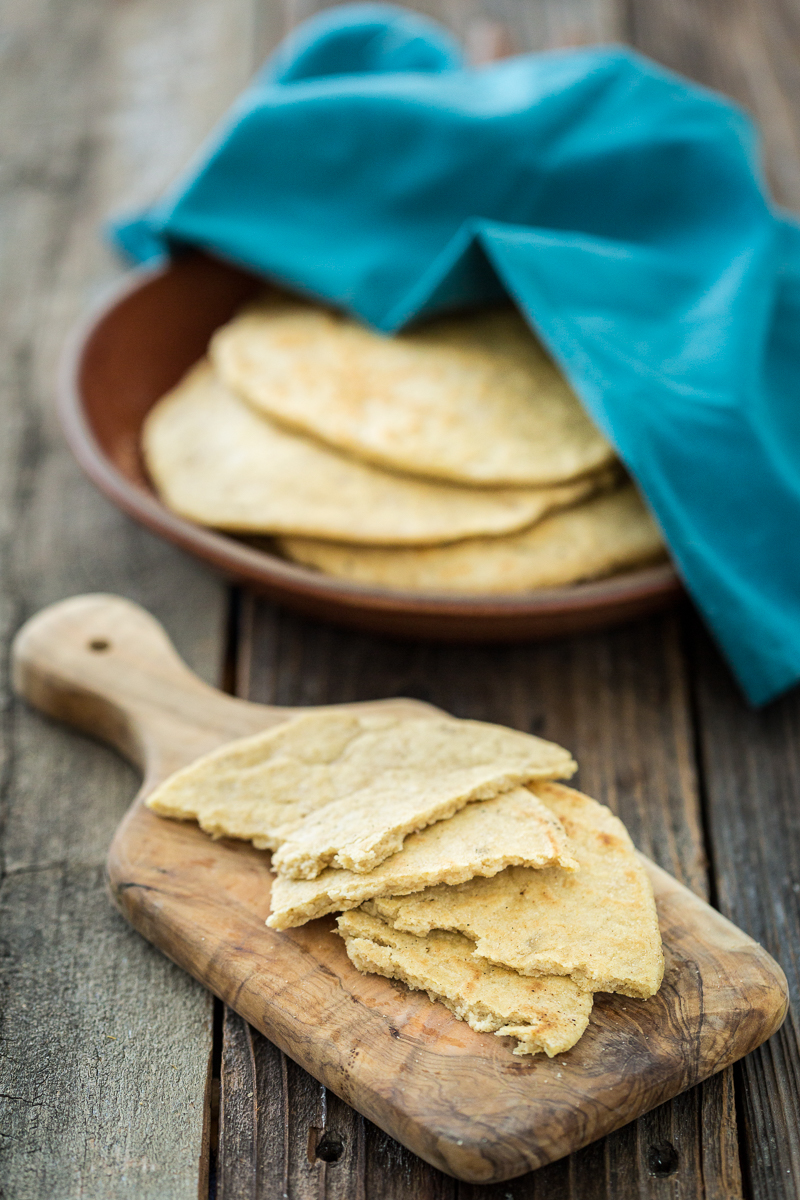 Now, for these gluten-free flatbreads! My regular, non-GF flatbreads are easily one of the most popular recipes on this site. I completely did not expect it, but for some reason, every single day, that's the post that gets the most hits. But I get it- it's a simple, easy recipe that always yields terrific results. I loved those flatbreads and when I had to give up gluten, I damn near cried about not having those beauties again.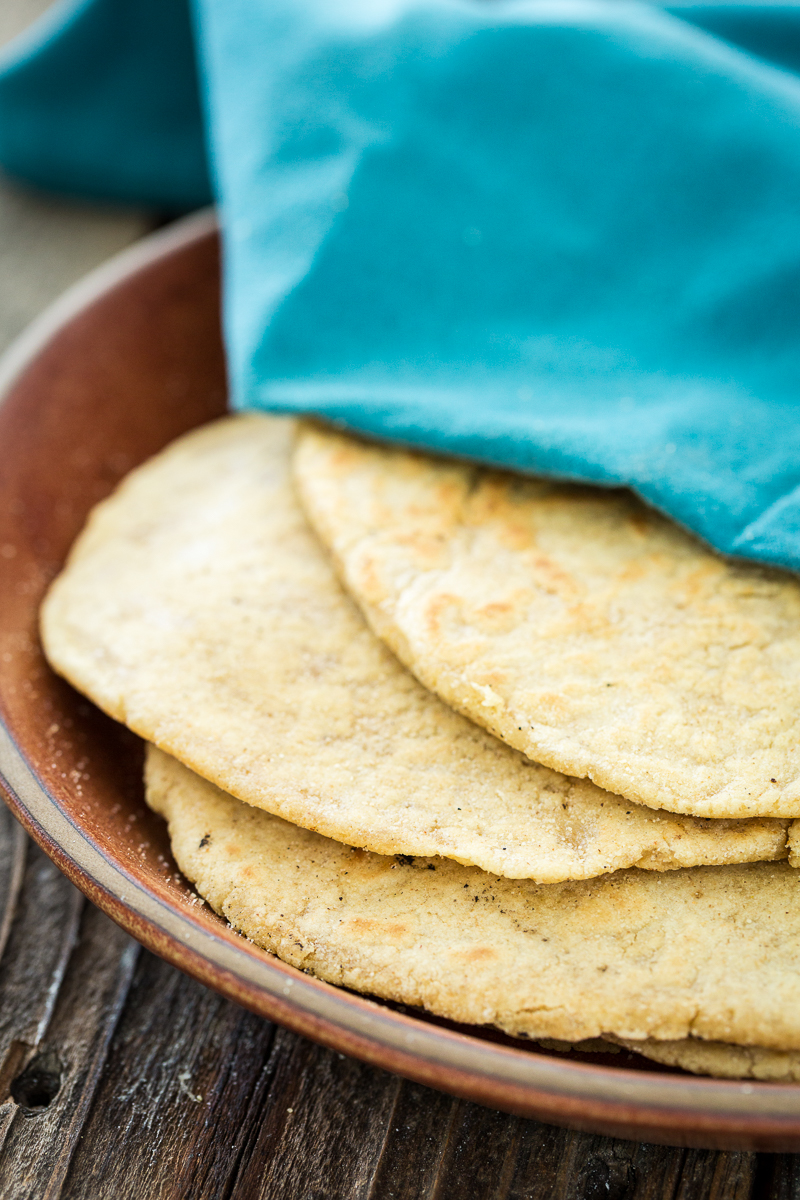 I know I wasn't alone in this grief either, because there were several comments on that post about making them gluten-free. Once I started getting my gluten-free footing in the kitchen when it comes to breads and baked goods ("footing" being a bit of an overstatement because I feel like if I told you I was barely comfortable/scared to death with this endeavor, it might be a little disconcerting for you, the person about to try this recipe), I decided to tackle this old favorite. One of the commentors on that post mentioned that they used coconut flour and to that person, I would like to say "Darling, I would love for you to share your recipe" because I'll be damned if I didn't try 7 different coconut flour combinations trying to make this work. Then I tried a couple regular, non-coconut flour gluten-free flour mixtures, none of which I was happy with. At this point, I may or may not have sworn to never step foot in my kitchen again (Oh, the dramatics I'm capable of!).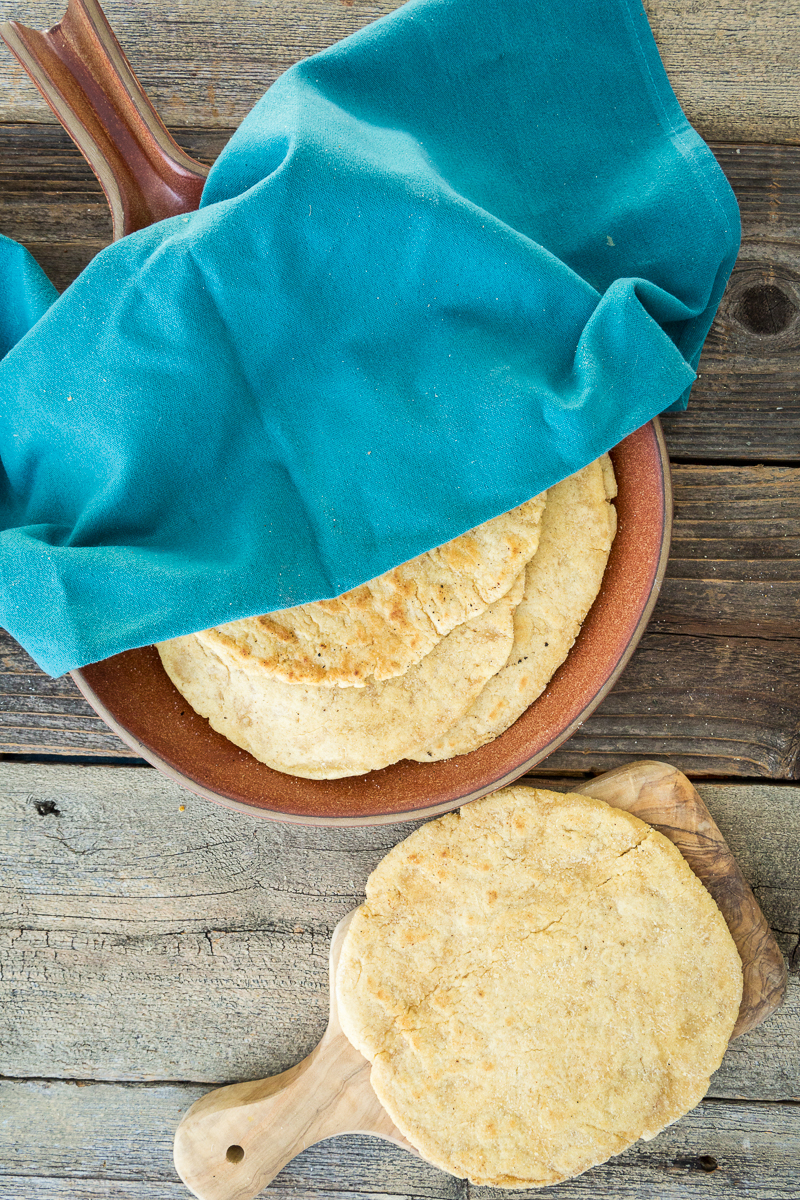 After some meditation, I realized that I don't have to come up with some winning gluten-free flour combination. It doesn't make me any less of a cook if I use a gluten-free flour combo I purchased at the store over a selection of flours I put together at home. Not only does it not make me any less of a cook, it also makes my life easier and in turn, your lives easier. I decided to try the recipe using Bob's Red Mill Gluten-Free 1 to 1 Baking Flour Blend since I already had it in my cupboard and had had good luck with it in the past (the 1 to 1 flour is much different than the regular all-purpose gluten-free blend and tends to yield much better results). I'm not being paid to say this at all- I just really like this product.
Once I plugged this flour into the recipe I'd been developing, it worked like a dream, though there are a couple tricks to learn and understand:
1. First of all, this recipe differs from my original, non-GF flatbread recipe, in that it uses an egg substitute- aquafaba (the brine from a can of chickpeas). I know it sounds weird because you wouldn't normally put egg in flatbread, but by using aquafaba in place of some of the water, it helps keep the flatbread from being dry and crumbly and makes for light, soft, and chewy flatbread.

2. Secondly, there is a trick to working with this dough. I've made this recipe over 5 times and have learned that it does require a little more care than non-GF dough. When you first combine the wet ingredients with the dry, you want the ball of dough to be soft, and just barely sticky. It shouldn't stick all over your fingers but it should be just barely holding together in a ball. If you add too much flour, it will get heavy and dense. Let it be soft and sticky.
3. Your work surface needs to be well-floured and you will likely have to add more flour throughout the process.

4. This dough will become dry, but you don't need to be concerned about this. Once you've divided the dough into 8 separate balls, each ball will require some kneading to make it moist, soft, and pliable again. When you first pick up the ball, it will likely crack and tear easily, but with a little work, they build up a toughness so that it holds together.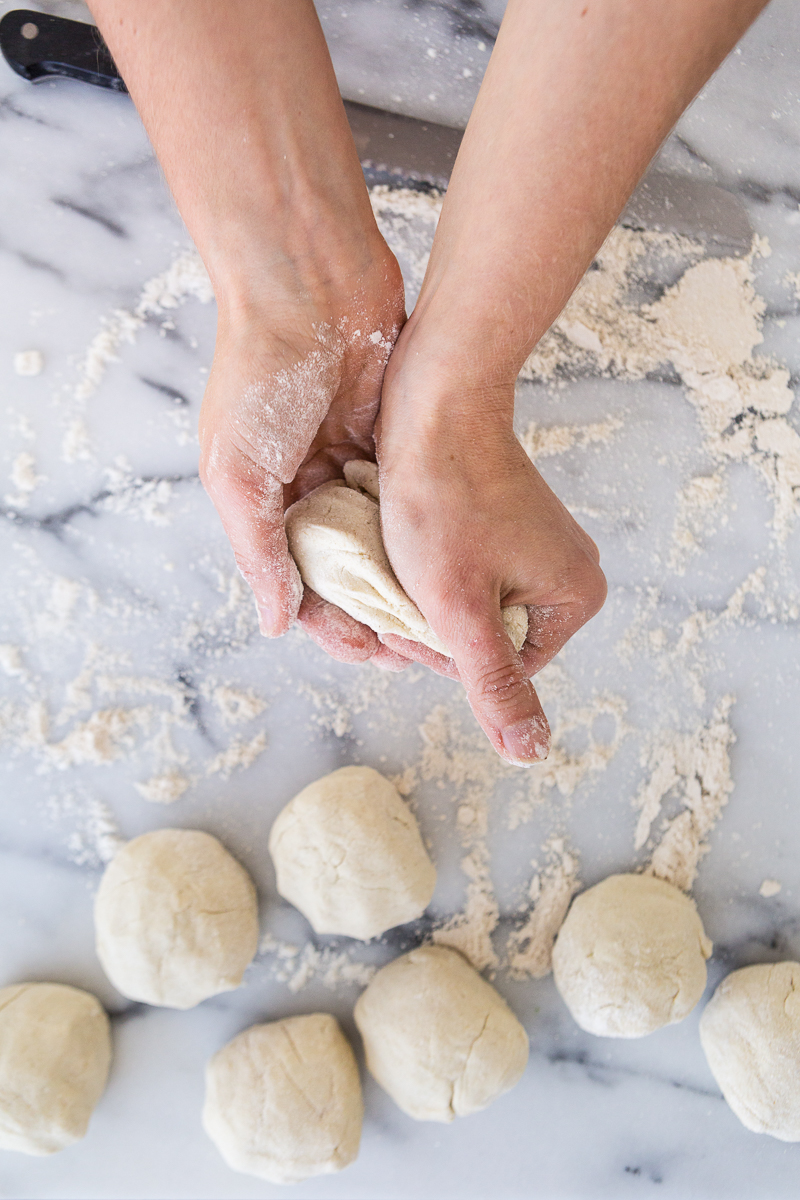 5. Because of this ability to dry out, it's best to work with one to two flatbreads at a time. Knead one ball of dough, pat it into a flatbread, set aside and repeat with another ball. Cook one of the flatbreads, and then cook the other. Then do one or two more. If you get all of your flatbread dough balls ready at once, and then try to cook them, the ones that you prepared/flattened first will have dried out and may tear when you pick them up to cook.

6. This flatbread won't get huge bubbles like regular dough will. It will get teeny tiny bubbles or just begin to look puffier overall before you need to flip them. It doesn't change the way they taste, though- they're still going to be soft and doughy.

7. You can definitely eat these straight out of the pan, and in fact, I encourage you to eat at least one while it's hot and steamy so you can feel each doughy bite melt in your mouth. However, if you keep them on a plate, covered with a clean dish towel for at least 5 to 10 minutes (or longer), they get even softer and more pliable. If you plan on using them for folding around some kind of food, I suggest letting them rest for a bit.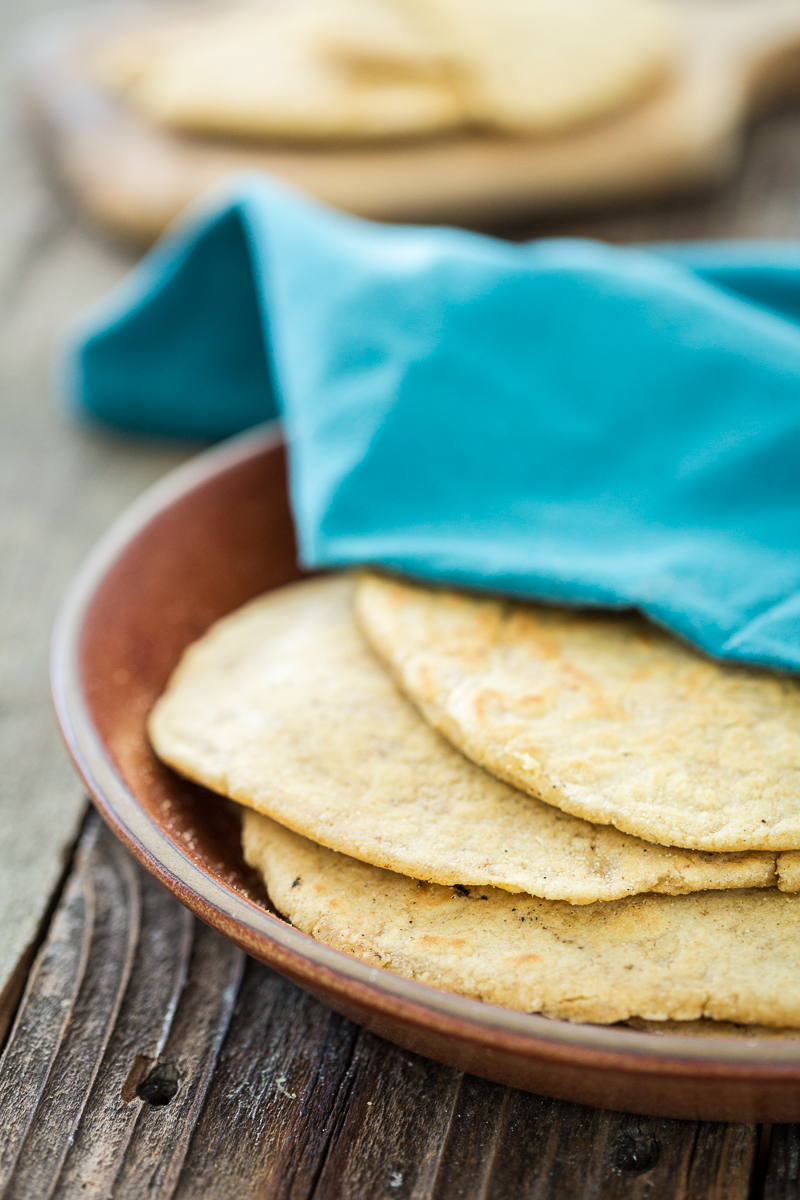 Don't let these tips intimidate you- these are still pretty easy and totally worth the effort. Plus, they'll be done in about 30 minutes so get on with stuffing your sweet, little, gluten-free mouth with as much flatbread as you can handle. If you have no need for gluten-free flatbread, by all means, try my regular, vegan, yeast-free flatbread. Either way, let the face-stuffing begin!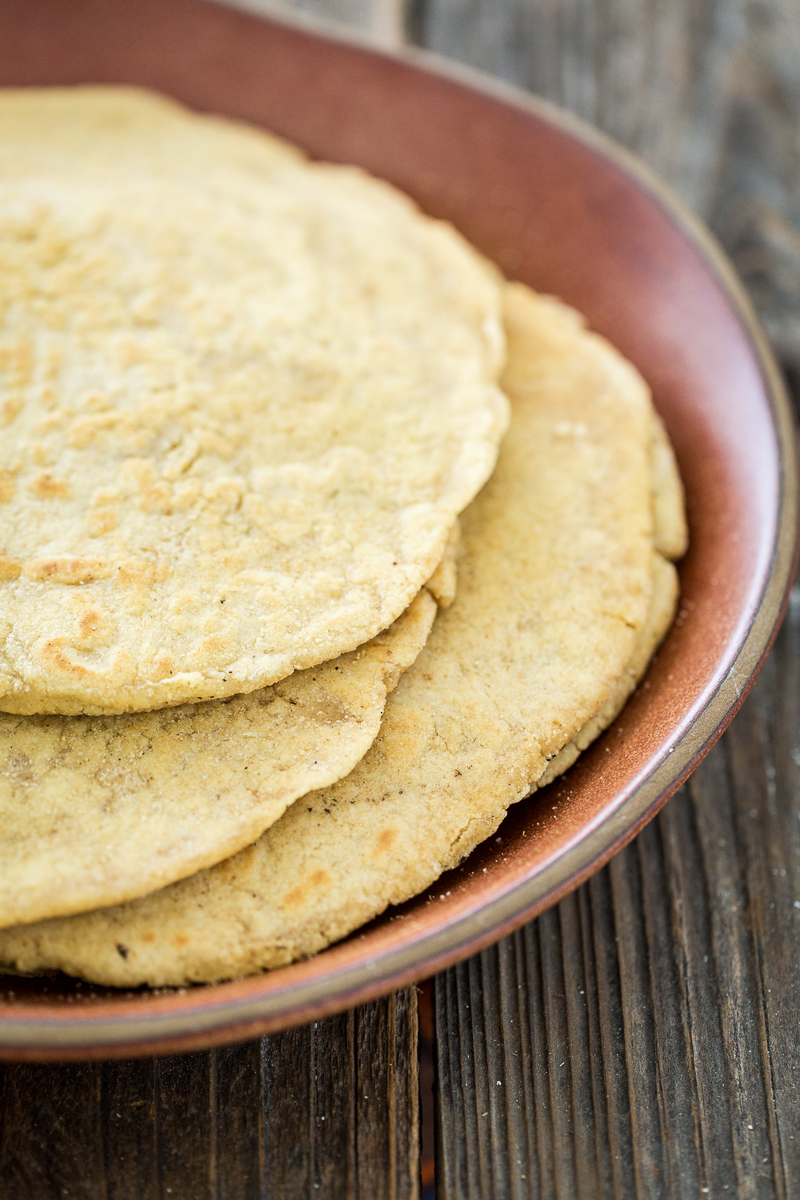 Easy, Homemade, Yeast-Free, Vegan & Gluten-Free Flatbread
Ingredients
3 1/2 cups Bob's Red Mill Gluten-Free 1-to-1 Baking Blend Flour (or gluten-free flour blend of your choice)
1 1/2 tablespoons baking powder
1 teaspoon salt
3/4 cup water
1/2 cup aquafaba (brine from a can of chickpeas)
1/2 cup unsweetened non-dairy milk
3 tablespoons olive oil
extra flour for dusting the work surface (any gluten-free flour will do- I use oat flour)
olive oil spray
Instructions
Combine the flour, baking powder, and salt in a large bowl and whisk together until combined.
Combine the water, aquafaba, milk, and oil in a medium bowl and whisk together. Add the wet ingredients to the dry and stir until the mixture becomes unstirrable. Use your hands to work the dough until fully combined. You should have a soft, slightly sticky ball of dough. If it is too dry (flaky and not forming a ball), add water by the tablespoon full until the ball comes together. If it is too sticky (dough sticking to your fingers), add 1/4 cup of flour and work until combined.
Heat a large frying pan, preferable a cast-iron pan, over medium heat. Line a baking sheet with parchment paper.
Turn the ball of dough out onto a generously floured surface. Lightly roll the ball in the flour and then use a bread knife to cut the ball in half. Roll one half into a ball and then cut it in half as well. Cut the two halves into halves and roll all four pieces into balls. Repeat with the remaining half so that there are a total of 8 balls.
Take one ball and squeeze and kneed it with your hands until it is soft, tough, and pliable. If you fold the ball in half, it should not tear easily. Place the ball on the floured surface and pat into a disc. Flip the disc and pat until flattened a little more. Flip and pat some more. Keep flipping and patting/flattening until you have a 6 to 7-inch round. Pick up the round and gently brush off the flour. Transfer to the prepared baking sheet and lightly spray each side with olive oil (or lightly brush with olive oil). Gently place in the heated pan and let it cook until slightly puffy, about 30 to 60 seconds. Use a spatula to flip the flatbread over and cook for another 30 to 45 seconds. Transfer to a plate and cover with a clean kitchen towel. Repeat with the remaining balls of dough. Serve immediately (or let rest for about 5 to 10 minutes for more pliable flatbreads). Enjoy!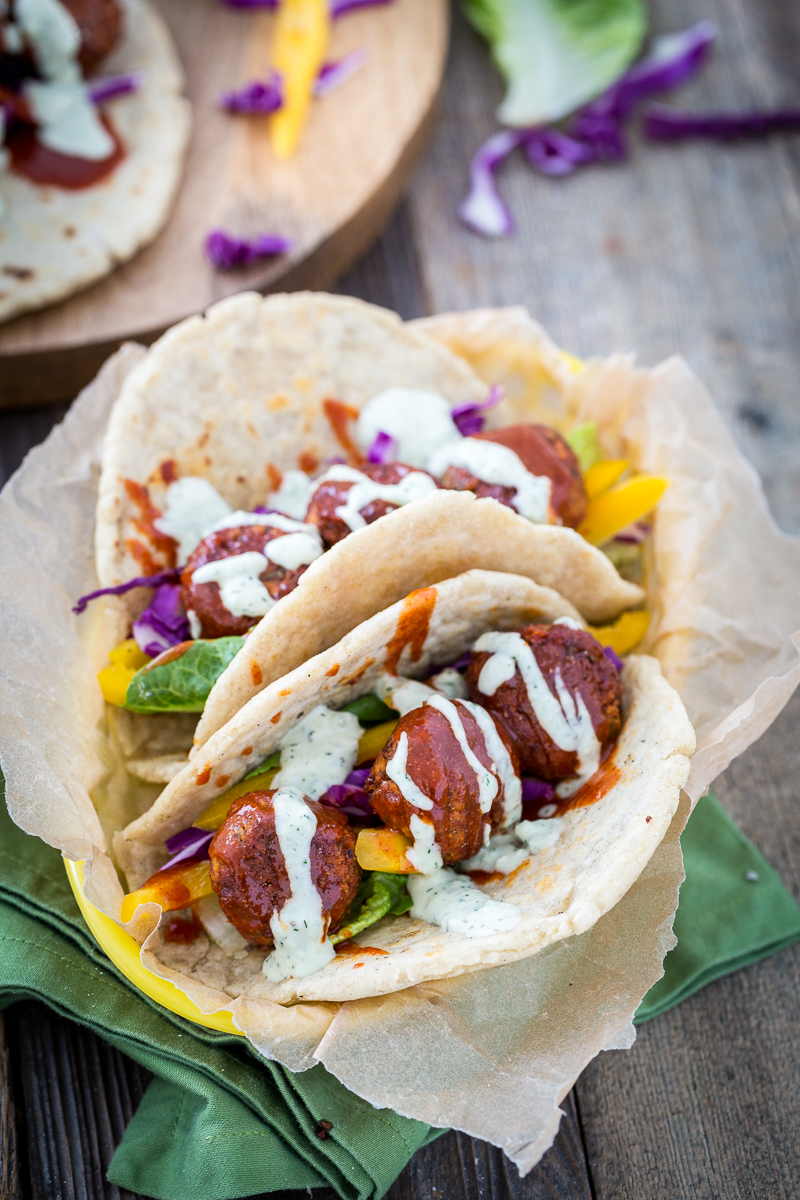 Stay tuned for a delicious way to use these flatbreads + another GF delight I have up my sleeves!
Photography by Chris Miller