I know that right now, it's expected of me, as a food blogger, to share recipes that are super green and springy and use terms like "Rejuvenating," "Purifying," and "Goddess." Bonus points if it involves asparagus.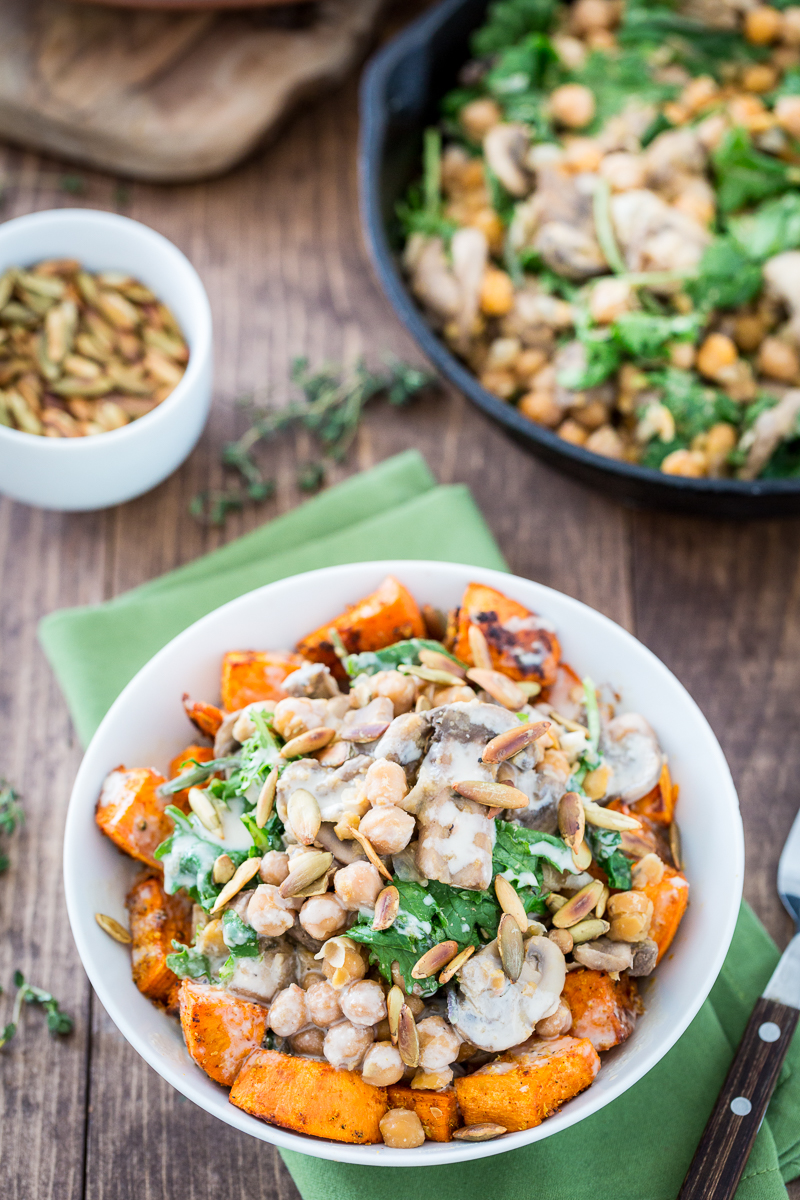 But I can't quit this sweet potato & chickpea bowl. I can't and I won't.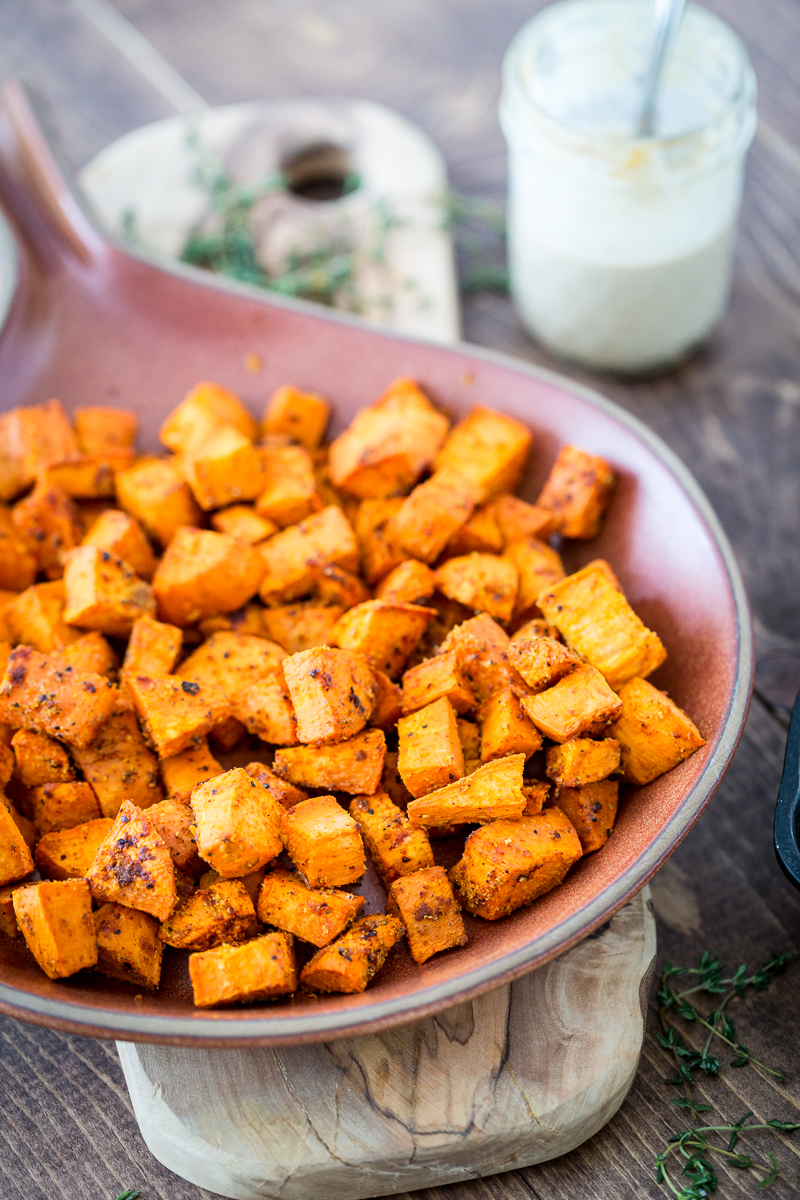 I've talked before about not wanting to do a lot of cooking when I get home from the office. With this recipe, I can pop the nooch (nutritional yeast)-coated sweet potatoes (aka The Best Damn Roasted Sweet Potatoes Ever) in the oven for half an hour and cook up the chickpeas in the last 5-10 minutes that they're in the oven. During all of this extra baking time, I can put my pajamas on, roll around on the floor with my dog, and look at the CB2 catalogue that just came in the mail. All I have to do with the chickpeas is throw them in a pan with some sliced mushrooms, liquid aminos, and a couple herbs. Once the mushrooms are tender, I add the greens and season with lemon juice, salt and pepper. And that's it.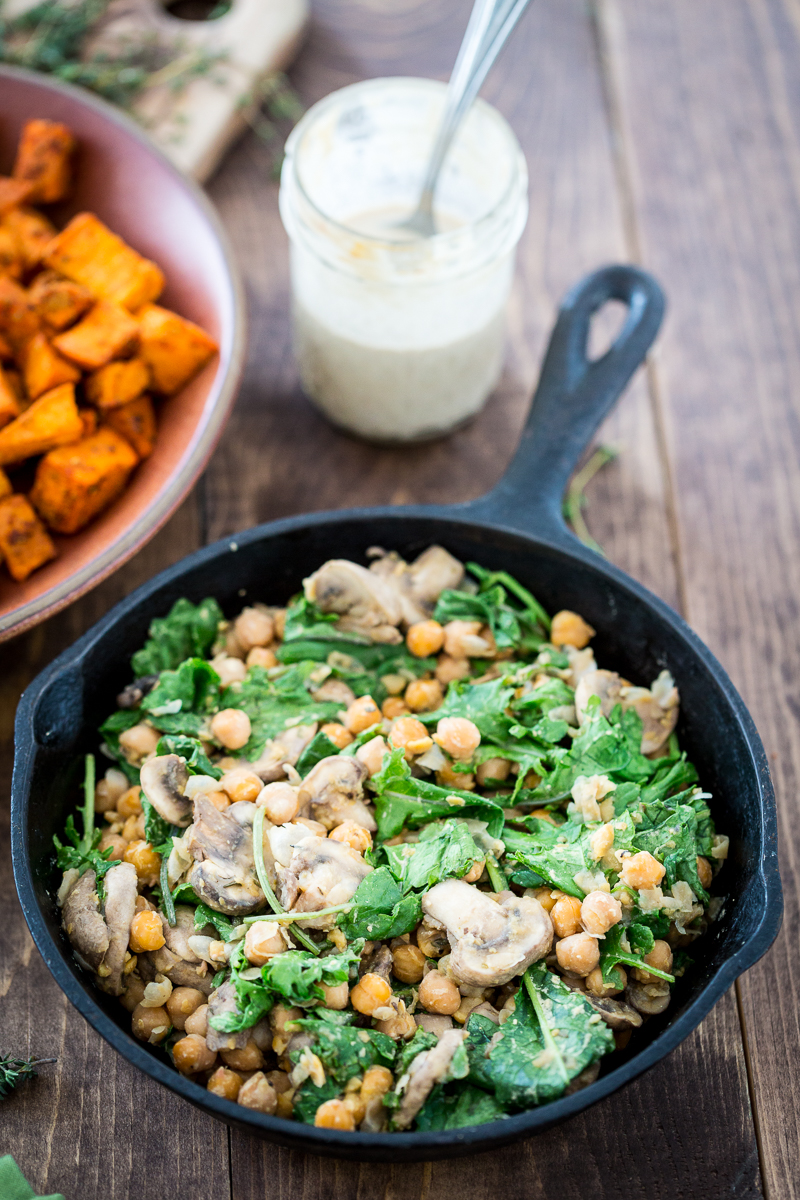 Except for the sauce. But I'm going to admit something here: I've taken to making Lemon Tahini Sauce in bulk. Like, it's ridiculous for me to make a small batch of this stuff because I dip everything in it and I want to drizzle it on top of everything. Basically, it goes with everything and that's what I use it for so making large batches just makes sense for me (Also, having pre-prepared meal elements at the ready for a typical week night meal cuts down on time in the kitchen, so bonus!)(Tip: the sauce does thicken when refrigerated, so you may have to thin it out with a little water before using again). On a typical night, when we're having this for dinner, I already have some sauce in the fridge so I don't really factor that in to my time schedule, but if you don't have any, factor in a couple extra minutes for making the sauce.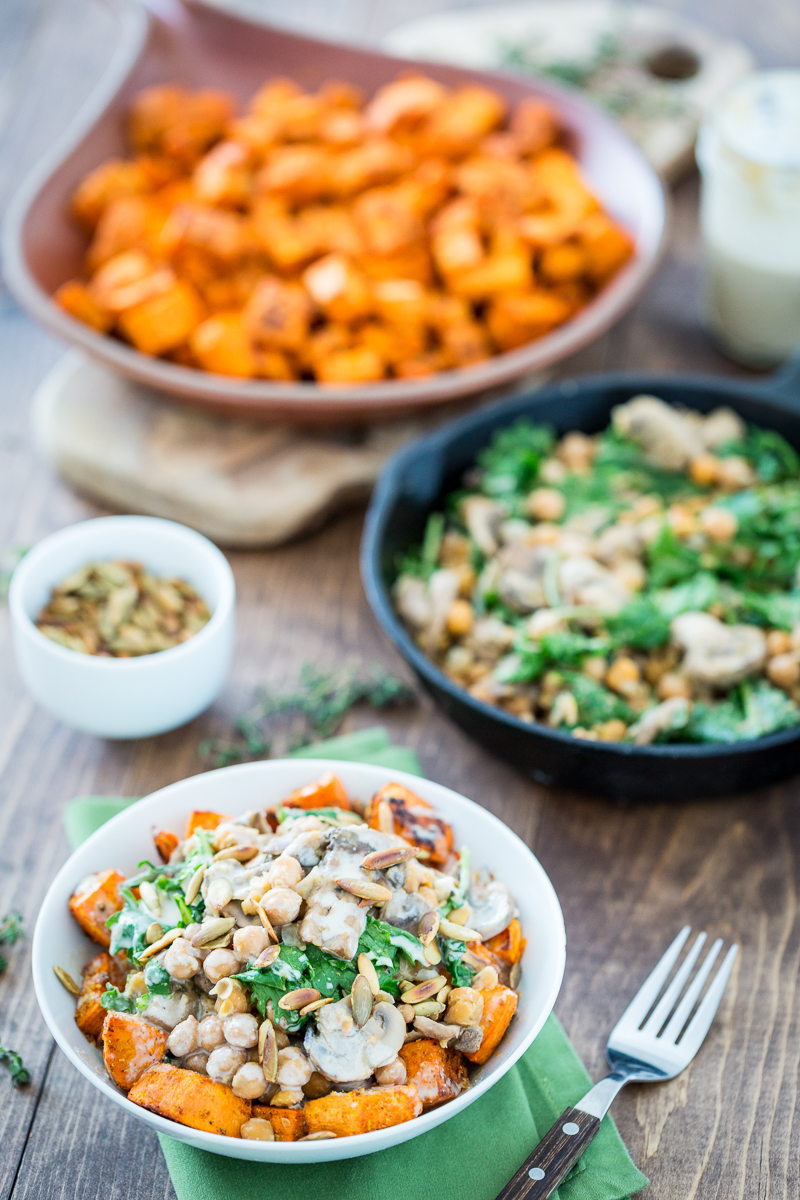 Also, if you want to add a little crunch to your bowl, toasted pepitas do the trick. If you were feeling extra fancy, you could make my Spicy Toasted Pepitas, but simply toasting up some pepitas in a frying pan for a few minutes also does the trick (or you could just buy already toasted pepitas and do away with this whole paragraph altogether).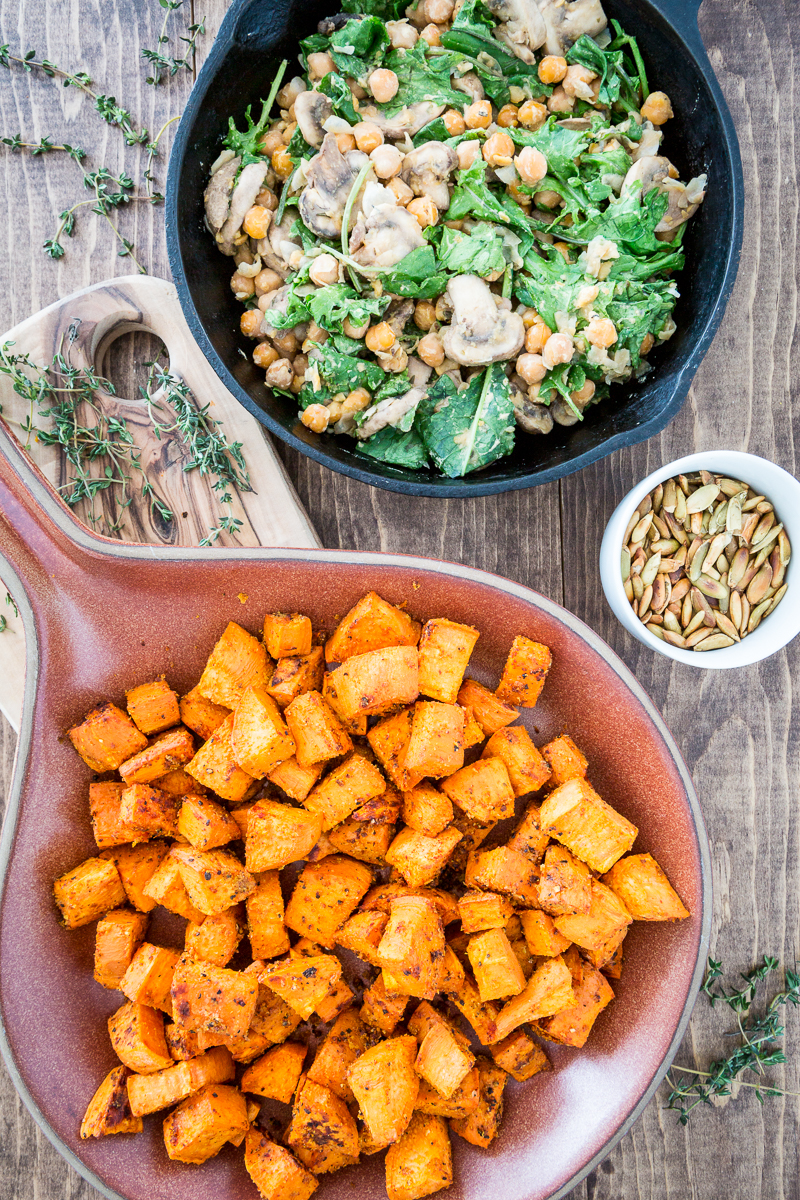 So forgive me that this bowl doesn't have "Spring" written all over it. If you're looking for Spring recipes, I got 75 of 'em that will be sure fit the bill. But in the meantime, there's a reason sweet potatoes, chickpeas, and mushrooms are available all year round (for most of us). It's so you can make this any time you want and as often as you want. You better get to preparing a big batch of tahini sauce now.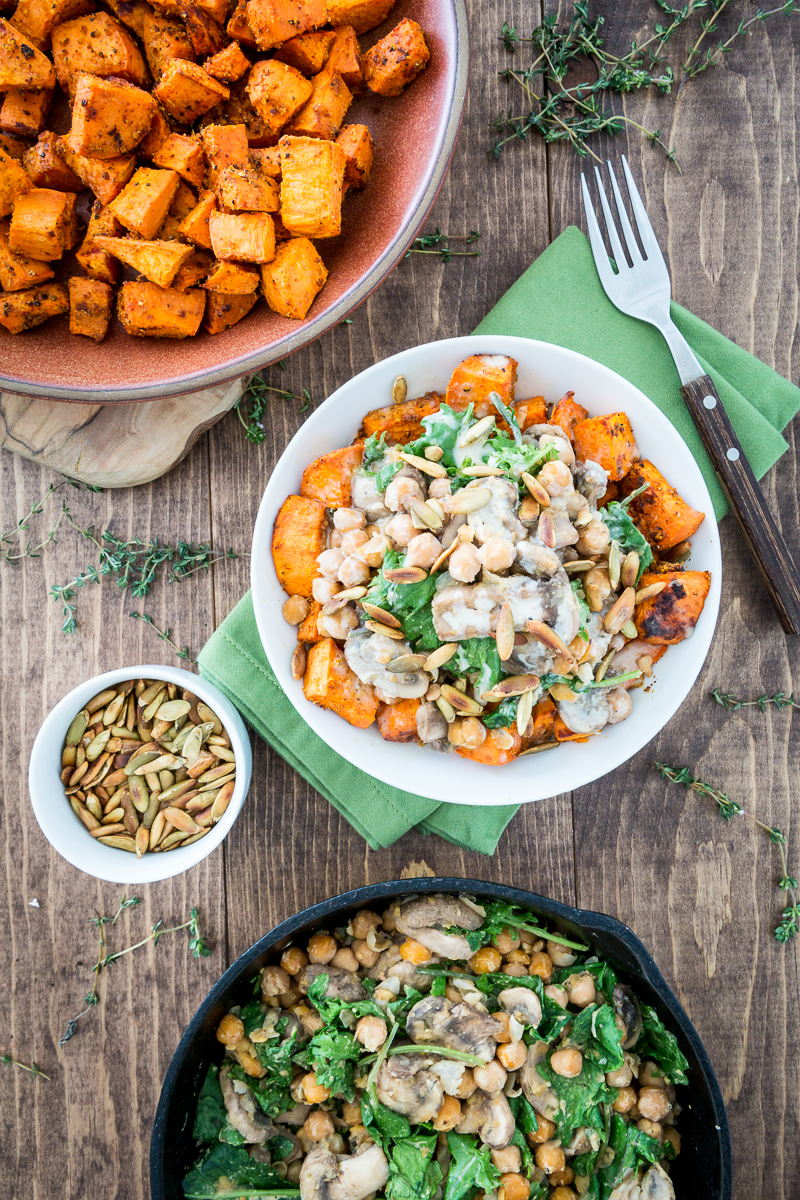 Cheesy Sweet Potato & Chickpea Bowl with Lemon Tahini Sauce
Ingredients
2 large sweet potatoes (or about 3 small ones), peeled and cubed
olive oil spray
2 to 3 tablespoons nutritional yeast
a few dashes of garlic powder
a few dashes of smoked paprika
salt and pepper to taste
2 cups cooked chickpeas (or one 15-ounce can, rinsed and drained)
8-ounces of crimini or button mushrooms, sliced
2 tablespoons liquid aminos (or tamari/soy sauce)
2 tablespoons fresh or 2 teaspoons dried herbs of choice (thyme, basil, parsley, oregano, whatever)
1 bunch of greens of choice (spinach, kale, chard, collards, whatever), chopped (thick stems removed)
1 to 2 tablespoons of lemon juice
toasted pepitas, optional
Instructions
Preheat the oven to 425 F. Line a baking sheet with parchment paper. Spread the sweet potatoes out on the sheet and spray with olive oil. Sprinkle the nutritional yeast, garlic powder, paprika, salt, and pepper over the them and toss to coat. Bake in the oven for 30 to 35 minutes or until easily pierced with a fork. Toss them once halfway through to ensure even cooking.
Once the potatoes have been in the oven for about 20 minutes, combine the chickpeas and mushrooms in a large frying pan over medium heat. Add the liquid aminos and herbs of your choice and let cook, stirring occasionally, until mushrooms are tender. Stir in the greens and cook until just beginning to wilt. Add the lemon juice, salt, and pepper and remove from the heat.
Divide the sweet potatoes between two bowls. Top with the chickpea/mushroom mixture. Drizzle with lemon tahini sauce and sprinkle with toasted pepitas, if using. Enjoy!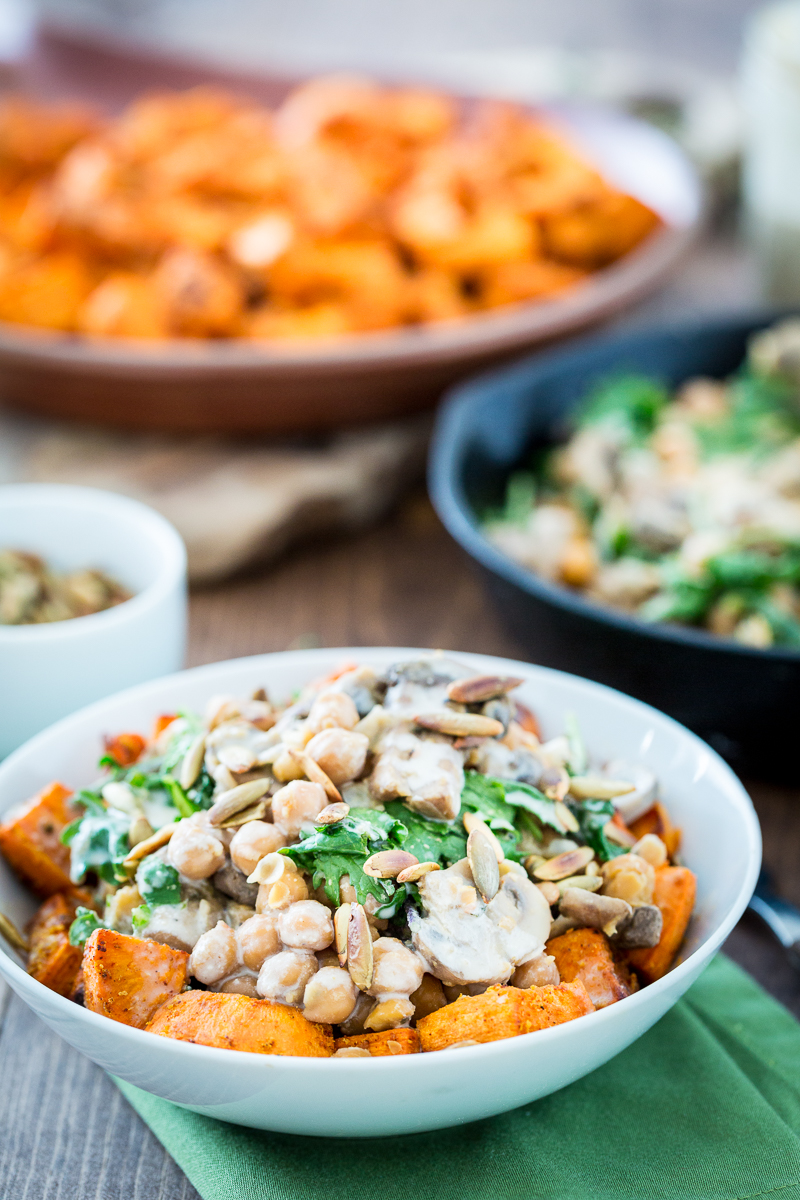 Do you have foods that you refuse to give up come Spring?
photography by Chris Miller