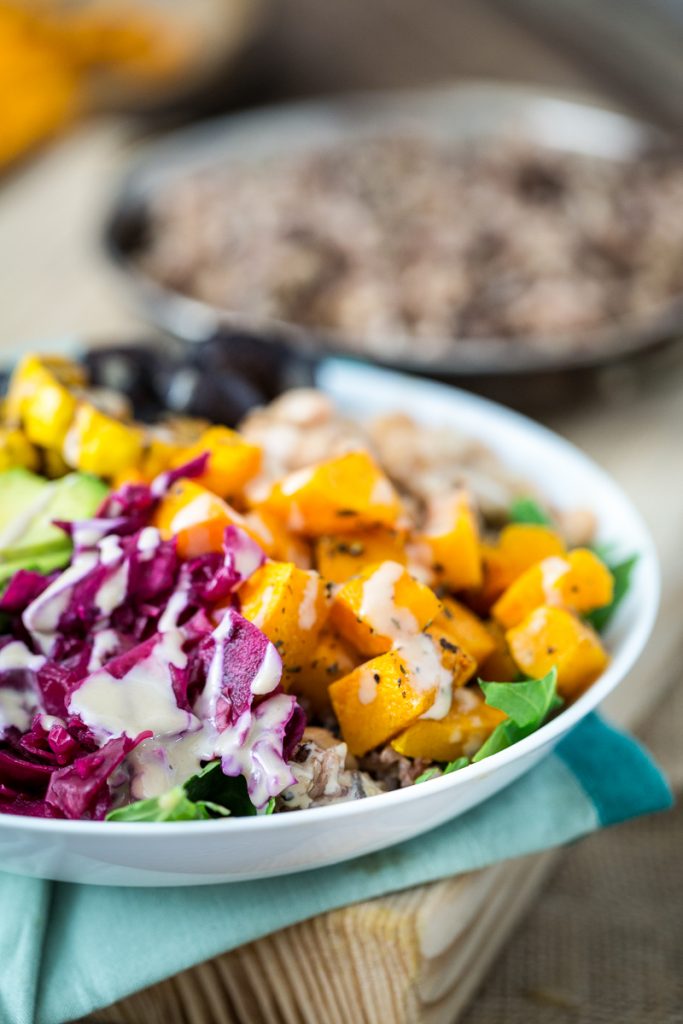 Before I get to this totally delectable winter bowl, I need to talk about something totally unimportant and mostly unrelated so if you just want the recipe, scroll on down. Anyway, I'm hard-core nesting right now. I'm nesting like it's my job.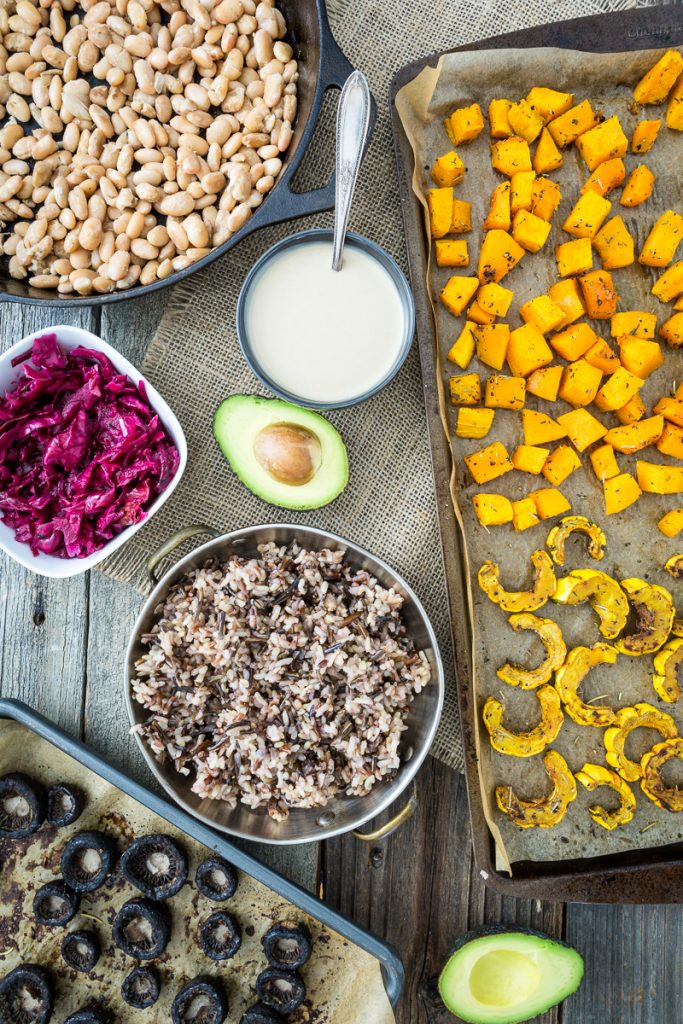 Like, it's suddenly ridiculously important to me that my home be our sanctuary and reflective of who we are rather than just a place where we keep the furniture that we've accumulated (some mine, some Chris's, some we purchased together). Luckily, Chris and I have very similar tastes when it comes to decor so there's some sort of flow going on, but after almost five years of living in our home, I'm finally putting it all together.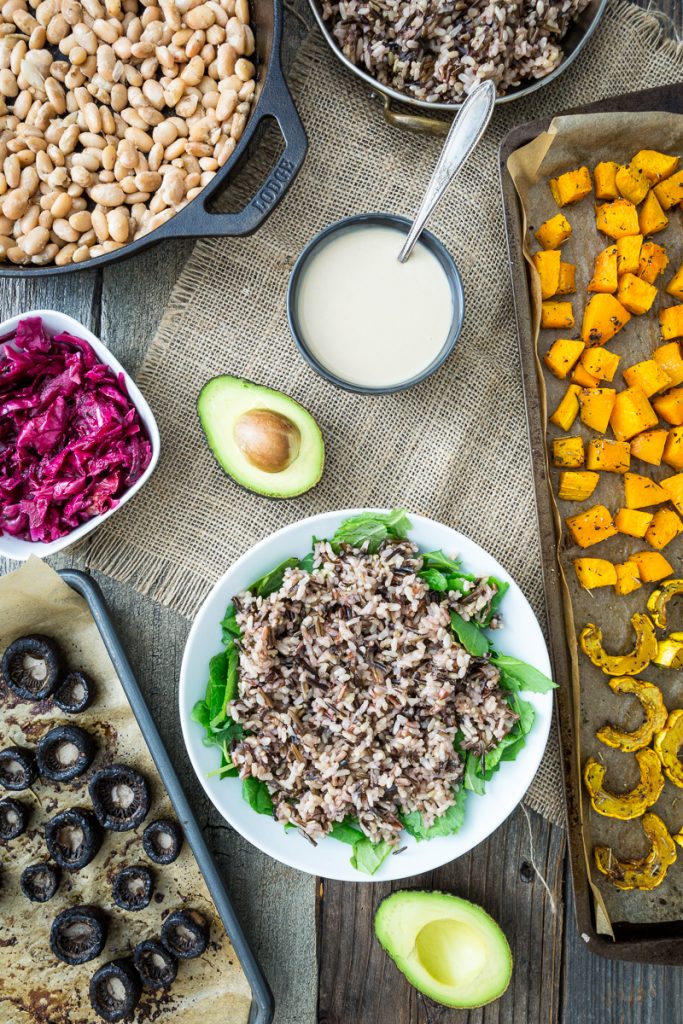 It all started last summer when I decided to reupholster this chair that Chris and I bought shortly after moving in together. It was white vinyl and after years of sitting in the sun, the vinyl had completely disintegrated. We retired it to the garage for awhile and then suddenly, I felt it needed to be brought back in a whole new way. So I had it reupholstered (in this gorgeous peacock-teal color) but it looked kind of lonely all by itself so I brought out the console table we had in our bedroom, put a plant on it, hung some pictures and now I have a little reading nook. But the moving of the console table left a huge empty spot in our bedroom which I decided to fill with a cool, vintage dresser found on Craigslist and got rid of the million year old IKEA dresser that was falling apart in my closet. Once I had places in my house I really, really loved, I couldn't help but feel I needed to make the whole home somewhere I really, really loved. So the nesting fever began.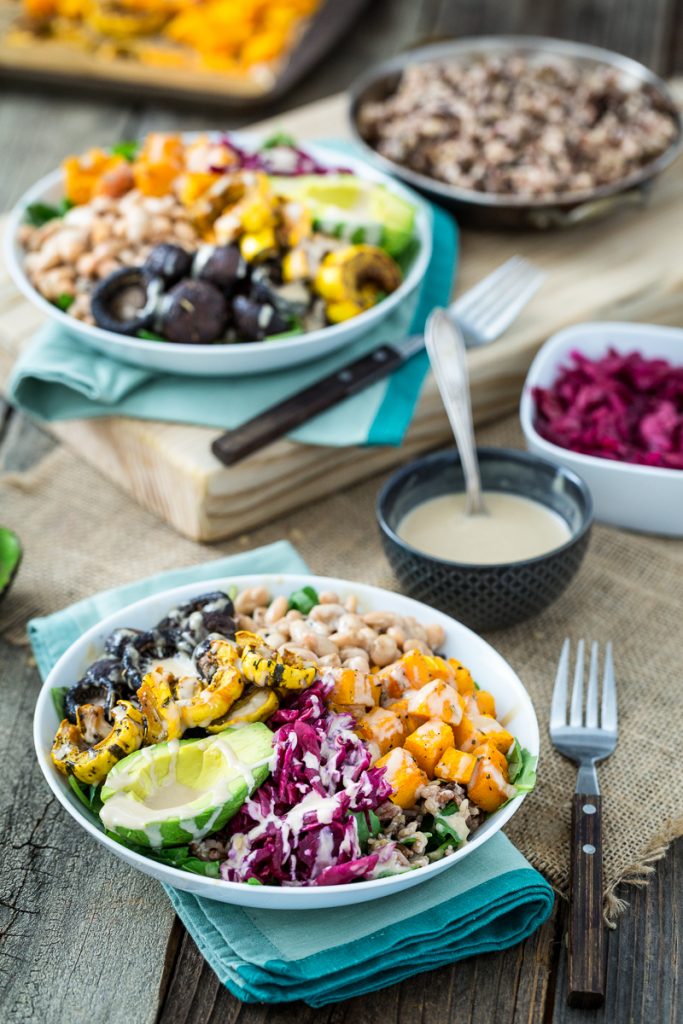 First, I had to make our living room as cool as our little reading nook. Our old sofa was a sofa bed and after six years, it had seen better days and also, sitting on it for too long made my back ache. So we got a new sectional sofa last year but our old coffee table wouldn't fit with it so we found an adorable, locally made coffee table on Etsy. We also needed a rug that "really ties the room together," so after much, much searching, we settled on FLOR rug tiles and they are amazing and eco-friendly and less than half the price of a regular rug that size. Now we're just putting the finishing touches on the living room.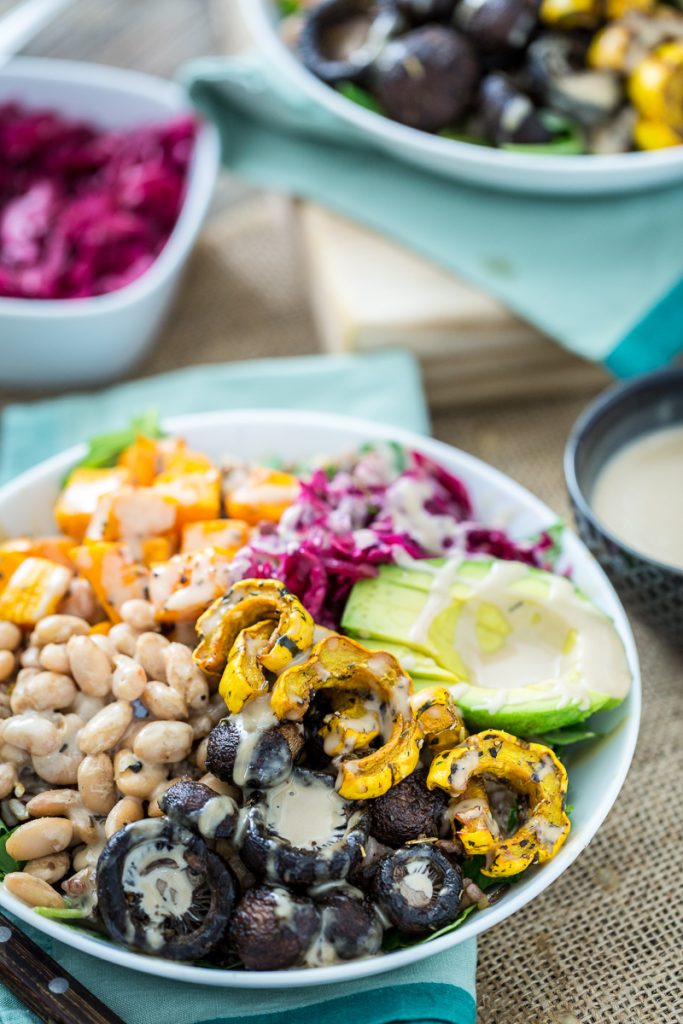 Next up: The Bedroom. I've always wanted to have a bedroom that was hotel-like and not just the place where we sleep. I want to love being in my bedroom. So I'm working on that. A friend is building our nightstands and I found someone on Craigslist that can make my dream bed for thousands less than it would cost from the store. If you've ever wondered how many hours I can spend searching "Mid Century Modern" on Craigslist, the answer is: "too many to count." I've spent an exorbitant amount of hours looking online for cool brass sconces that don't make Chris cringe (he has this weird thing against brass and/or sconces) to go on either side of our bed and for a comfy chair that can fit in the new empty corner of our bedroom (because we rearranged everything and now we have an empty corner).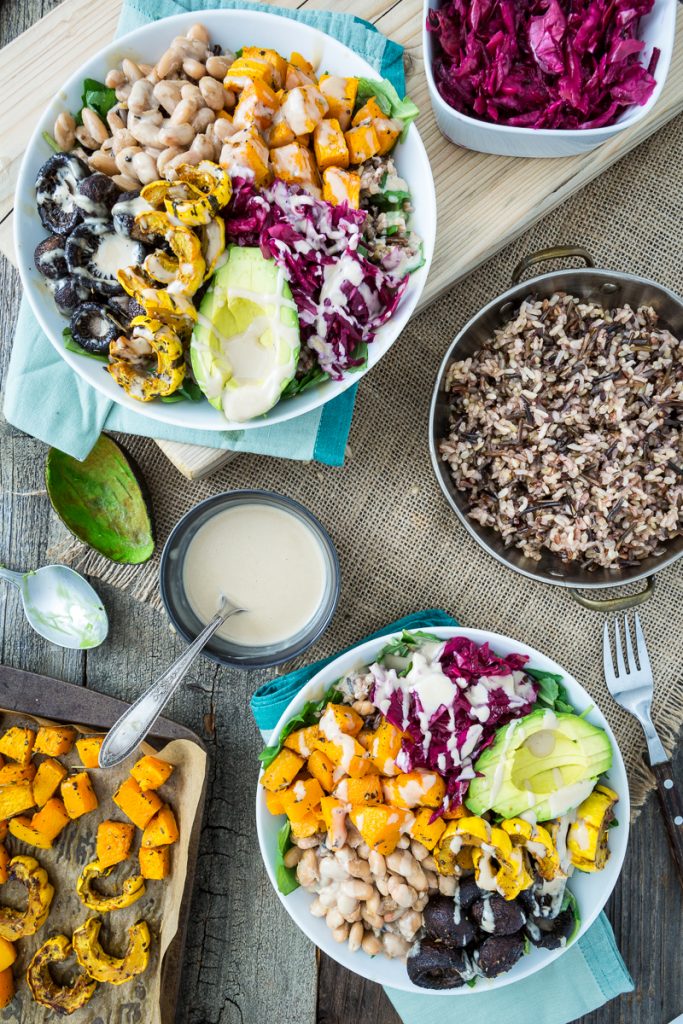 So my home is finally coming together. I've been loving the process of looking (I've always had a passion for furniture and in all honesty, it's felt really good to pour some energy into non-food blog related things) but I'm also enjoying the part where I get to be in my home and enjoy the homey-ness of it. I'm a cancer and being a homebody is definitely my gig so when I can cozy up and read a book in my little nook or curl up on the comfiest couch ever with my husband and a bowl of pure deliciousness for dinner and watch reruns of Parks And Recreation, I am completely and totally in homebody heaven. All of it makes me so damn grateful to be alive and so blessed to be able to have food in my bowl and a roof over my head, let alone be able to make that space a home. I am ridiculously privileged and I am absolutely not taking that for granted.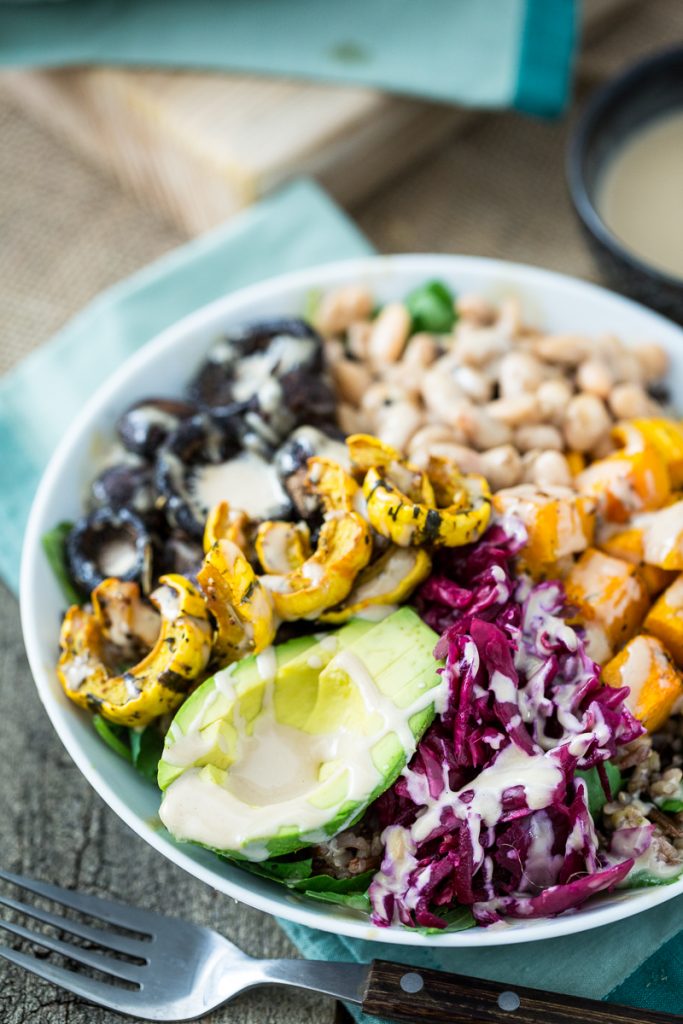 Most recently, this homebody-approved bowl was composed of my favorite things: roasted mushrooms, roasted butternut squash, roasted delicata squash, white beans, wild rice, avocado, pickled red cabbage, and a lemon tahini sauce. First of all, roasting veggies is my favorite way to enjoy them so having a bowl full of roasted veggies is basically, my idea of perfection. Add in avocado (because I honestly can't think of a meal that can't be made better with avocado) and my favorite pickled red cabbage and we have a deal. I'm also kind of obsessed with this lemon tahini sauce (it's very similar to my coconut lime tahini sauce) and its lightly citrusy, lightly sweet flavor with a hint of umami and oh my god, the creaminess! I want to put it on all of my food. All the time. Forever. Plus, you can never go wrong with beans and rice so this roasted winter bowl is pretty much a guaranteed win all the way around. And by eating such a variety of colors, you're doing your body good. Please, for me, make some and eat it in a cozy spot in your home (I give you permission to wrap a blanket around you while you eat, even if it's kind of impractical. Coziness is more important than practicality here) and enjoy being where you are. Enjoy the simple pleasures of eating a delicious meal in your home and feel the warm, happy satisfaction that comes with it. And be sure to take note of how blessed we are to be able to do so.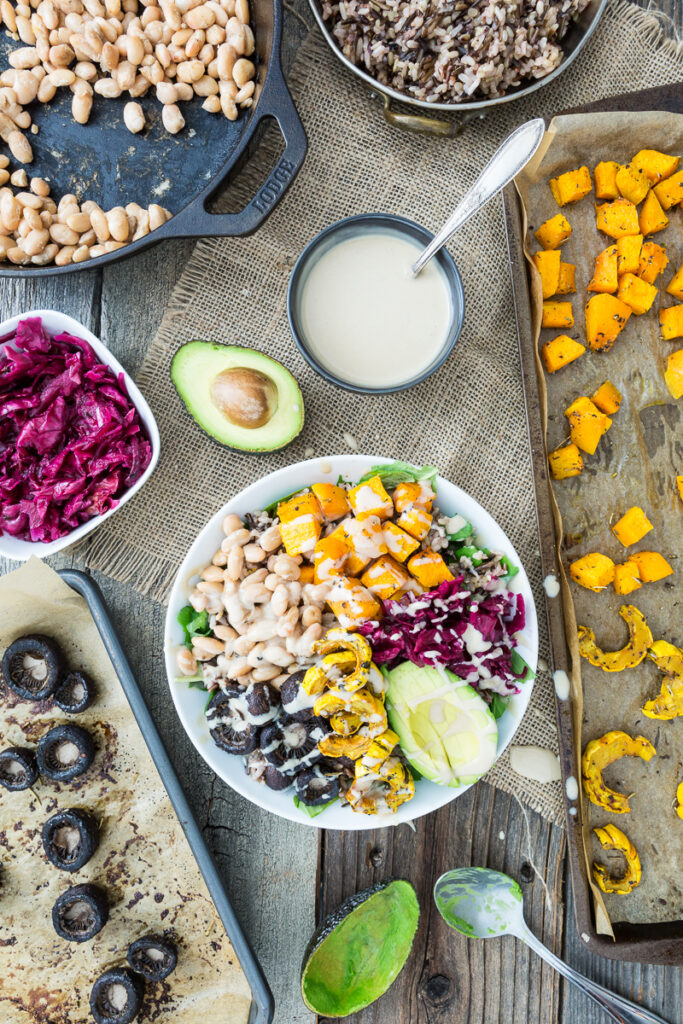 Roasted Rainbow Winter Bowl
Ingredients
1 small/medium butternut squash, peeled, seeded, and cubed
1 large delicata squash, halved, seeded, seeded, and sliced (the skin is okay to eat)
8-ounces of crimini or button mushrooms, stems removed
olive oil spray
1 tablespoon liquid aminos
several dashes of dried thyme
several dashes of dried rosemary
salt and pepper to taste
2 cups (or one 15-ounce can, rinsed and drained) cooked great northern white beans
1 tablespoon liquid aminos
pepper to taste
1/2 cup tahini
1/4 cup non-dairy milk
3 tablespoons lemon juice
2 tablespoons maple syrup
1 tablespoon liquid aminos
1/2 teaspoon ground ginger
1/4 teaspoon garlic powder
cooked wild rice
greens of choice
avocado, diced
Instructions
Preheat the oven to 425 F. Line 2 baking sheets with parchment paper. Spread the butternut squash and delicata squash out on one sheet and the mushrooms on the other. Spray both with olive oil spray. Drizzle the liquid aminos over the mushrooms ONLY. Add the thyme, rosemary, salt, and pepper to both. Roast for 20 to 25 minutes or until the the squash is tender, tossing once halfway through to ensure even cooking. Check the mushrooms after 15 minutes and remove if they are tender and juicy. You want them to be tender but not mushy.
While the veggies are roasting, you can heat up the beans. Heat the beans in a pan over medium heat. Add the liquid aminos and cook, stirring occasionally until the beans are fully heated and the liquid has been absorbed. Remove from heat and add pepper. Cover the pan until ready to serve.
You can also prepare the tahini sauce. Combine all the sauce ingredients in a large cup or mug and use a fork or mini-whisk to stir untill fully blended. Set aside.
To serve, fill your bowls with your greens and top with a bed of rice. Add a serving of butternut squash, delicata squash, and mushrooms to each bowl. Add a serving of beans to each bowl. Top each with pickled cabbage and avocado. Drizzle the tahini sauce over it all and serve immediately. Enjoy!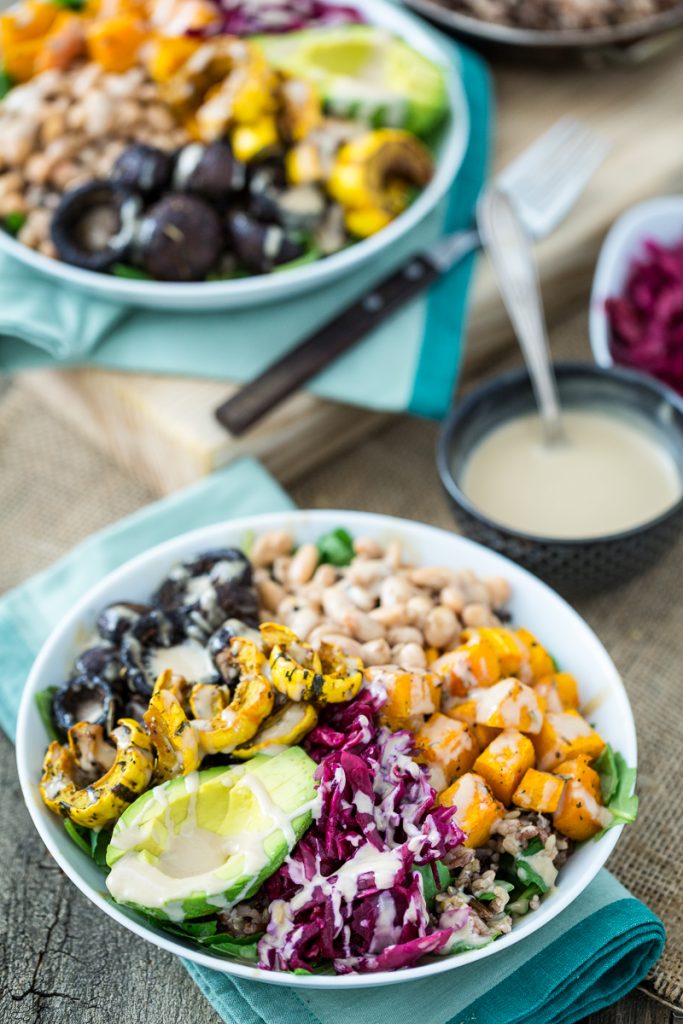 Tell me about your favorite cozy spot in your home. I want to hear all about it.
Photography by Chris Miller