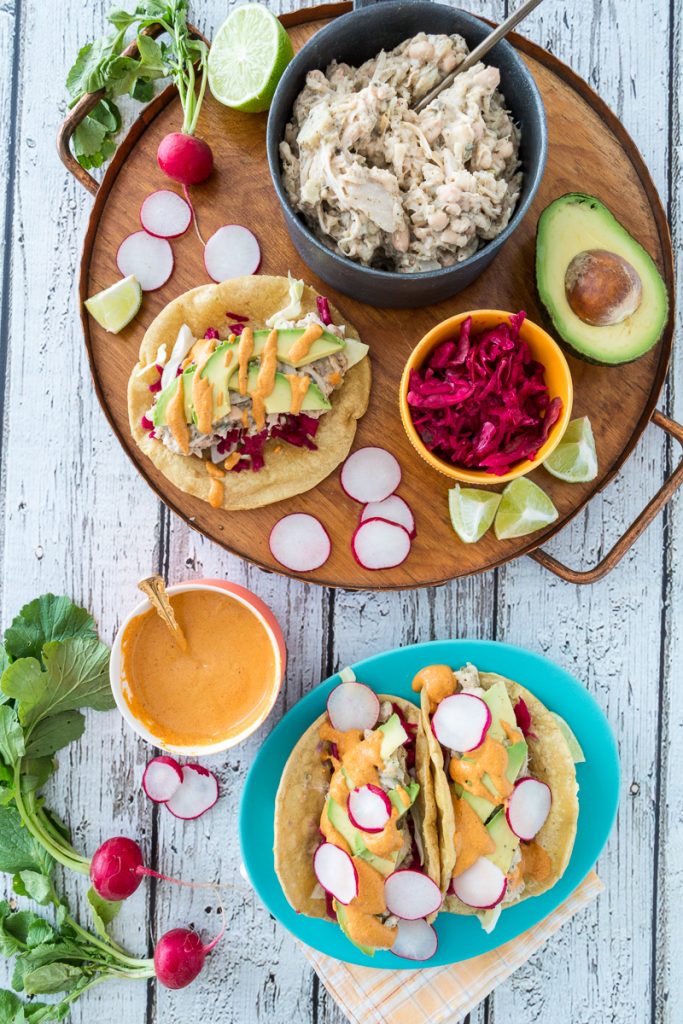 A couple weeks a ago, I had tacos for dinner five nights in a row. And it was glorious.
Granted, they weren't the same tacos every night, but a couple of those nights, we had these Jackfruit Fish-Free Tacos. And I repeat: Glorious.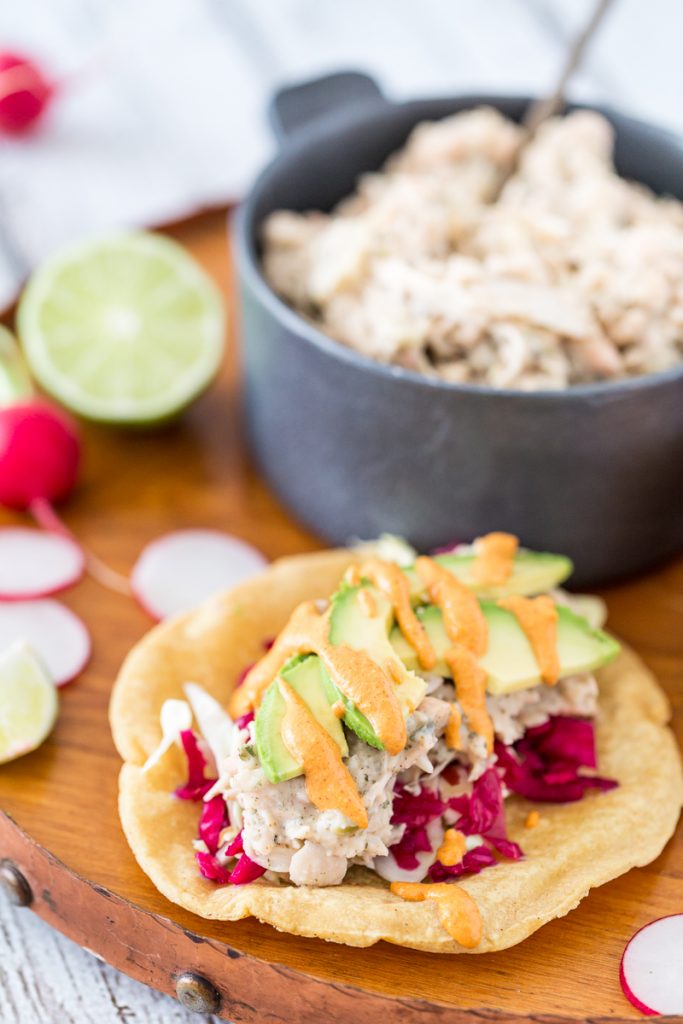 Lately, I've not been in the mood to cook anything to elaborate. In fact, if it requires me to spend more than 27 minutes in the kitchen and/or dirty more than 1 bowl and/or pot/pan, I'm not interested. This means that many of my meals recently are just stirring some stuff together and calling it a day. If I can throw that stuff in a taco shell, even better.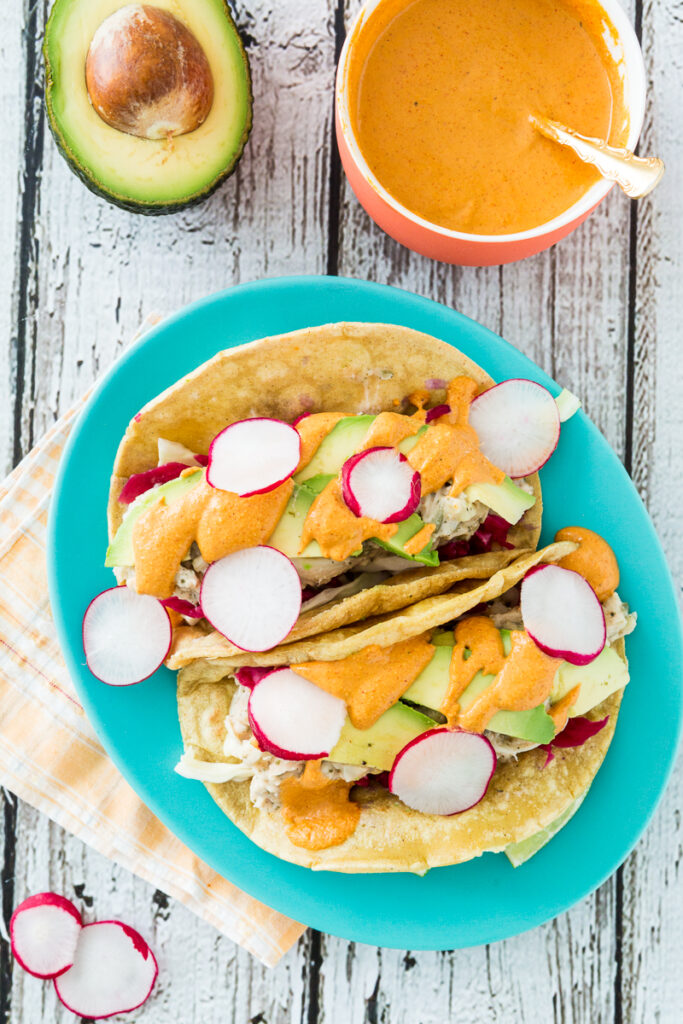 Y'all know how much I love jackfruit. I use it all the time. And just because I know some of you will ask, I use canned jackfruit (packed in brine or water, not syrup) that I find in Asian/Ethnic markets or the canned fruit section of Whole Foods. It should always be rinsed thoroughly before using. You can use a fork or your hands to shred it so that it takes on a pulled meat sort of look. It has a wonderful texture and it's very flavor absorbant. This fish-free salad is very similar to that of my Jackfruit "Tuna" Melt and almost identical to the Jackfruit Tuna Salad Sandwich recipe from my book. The difference between the two is that you skip the step of cooking the jackfruit with onions and garlic and instead just throw the jackfruit in the bowl with everything else. For this recipe, I used the book recipe (the no-cook recipe) and added a teaspoon of Old Bay seasoning. Another tip: I always double this recipe because the leftover jackfruit salad is amazing in sandwiches or in salads or in tacos for the next night's dinner.
Now that you've spent 5 minutes pulling this salad together, you can make the cheese sauce. You can use any old vegan cashew cheese recipe you like, but I particularly like my Ancho Chili Cashew Cheese. To make it more sauce-like, I added some lime juice and thinned it out with a little water. The spicy, creaminess of this sauce makes the perfect contrast for the seafoodiness (courtesy of the kelp granules and old bay seasoning) of the fish-free salad and the tanginess of the pickled red cabbage. This takes another 5 minutes and all you have to do now is chop your avocado, slice up a few radishes, and heat up your corn tortillas. Ten minutes later, you're stuffing your face with some of the best damn fish-free tacos you've ever had.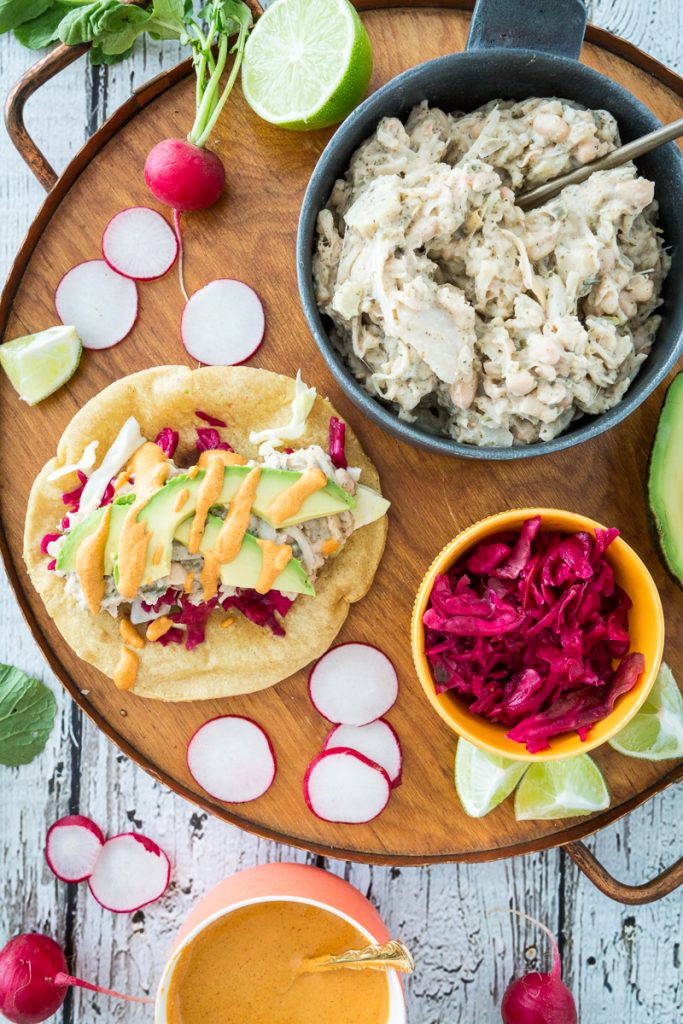 Some of you may argue that for these tacos to be similar to real fish tacos, there would have to be a filet of some sort rather than this (wonderfully tasty) jackfruit fish-free salad. To that I say: If that's the sort of thing you're looking for, then you'll find that the Baja Delish Tacos in my book will totally satisfy your craving. If you like the idea of a big payoff for very little work, then these are your tacos. And also, it's my recipe and I'll do what I want. Now excuse me- there's some tacos calling my name.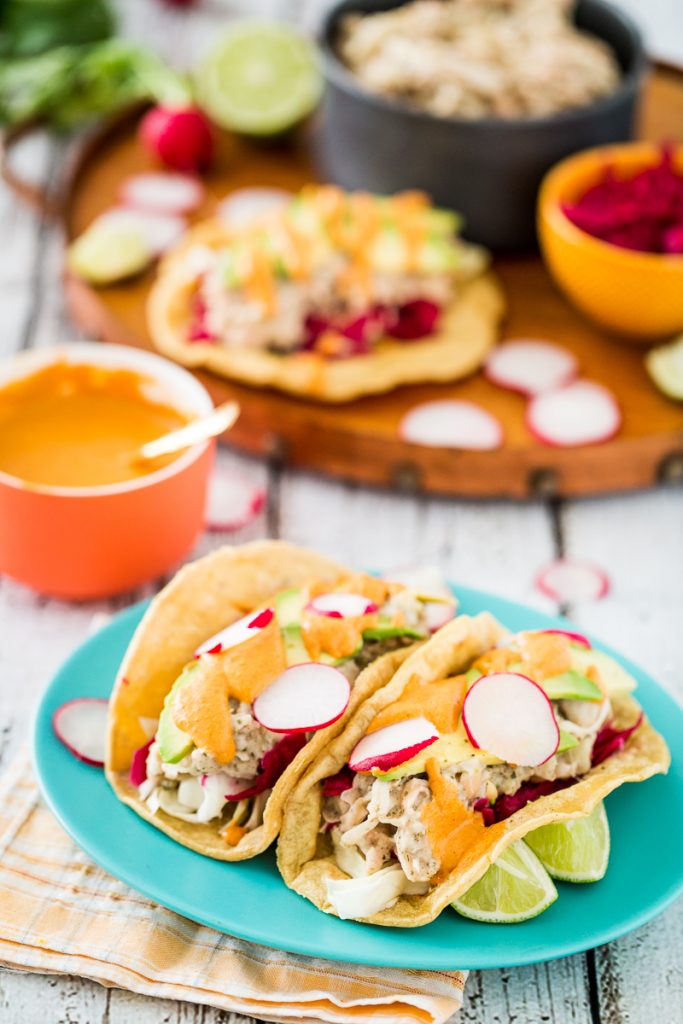 Jackfruit Fish-Free Tacos
Ingredients
Jackfruit "Tuna" Salad (to make it easier/no-cook, skip the onion and garlic, and don't cook the jackfruit. Just mix it all together in a bowl) mixed with 1 teaspoon of Old Bay Seasoning
Use the Jackfruit Tuna Salad from But I Could Never Go Vegan!, mixed with 1 teaspoon of Old Bay Seasoning
pickled red cabbage (make a day or more in advance)
chopped green cabbage
sliced avocado
sliced radishes
8 corn tortillas

Ancho Chili Cashew Cheese Sauce

1/2 cup raw cashews, soaked for 1-2 hours (or overnight), reserve the water
8 tablespoons of reserved soaking water
juice of 1 lime
2 tablespoons nutritional yeast
1 teaspoon white miso
1 1/2 teaspoons ancho chili powder
1 teaspoon smoked paprika
1/2 teaspoon ground cumin
1/2 teaspoon garlic powder
Instructions
Prepare the Jackfruit Fish-Free Salad.
Combine the Ancho Chili Cashew Cheese Sauce ingredients in a food processor and process until completely smooth.
Heat the corn tortillas one at a time in a skillet over medium heat, cooking for 30 seconds on each side. Wrap in aluminum foil until ready to use in order to keep them warm.
To assemble the tacos, start with a layer of chopped green cabbage and pickled red cabbage. Scoop a couple spoonfuls of the fish-free salad on top of the cabbage. Top with avocado slices, drizzle with cheese sauce, and sprinkle a few radish slices. Serve immediately. Enjoy!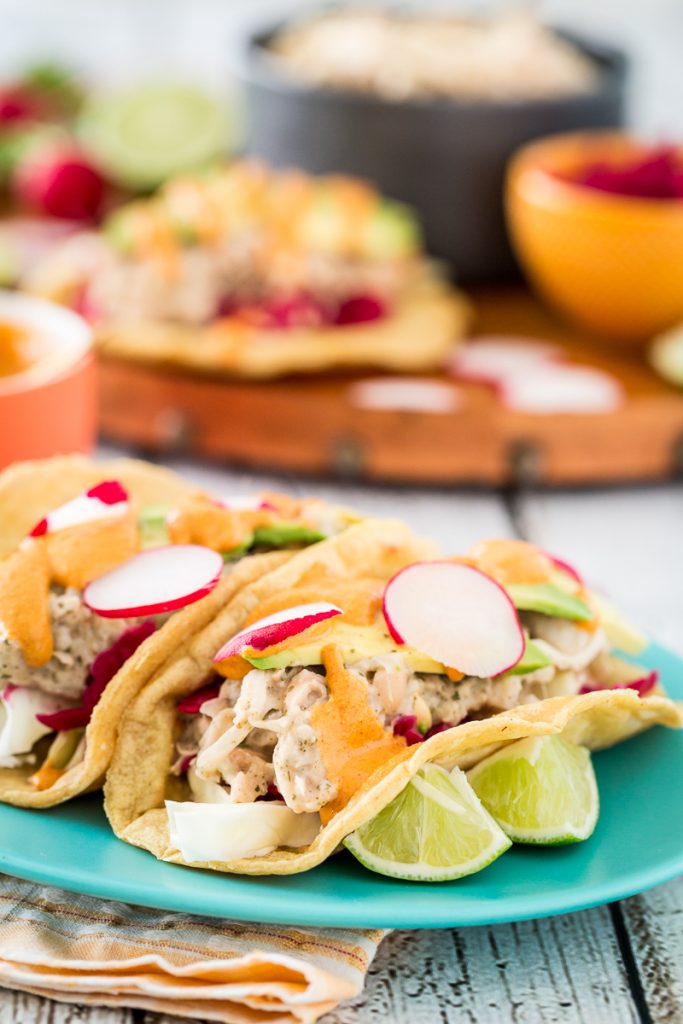 What are the fillings for your favorite tacos?
Photography by Chris Miller