There are very few things in life that are a "guaranteed win." You know- those things that, no matter what the circumstances, will always be wonderful.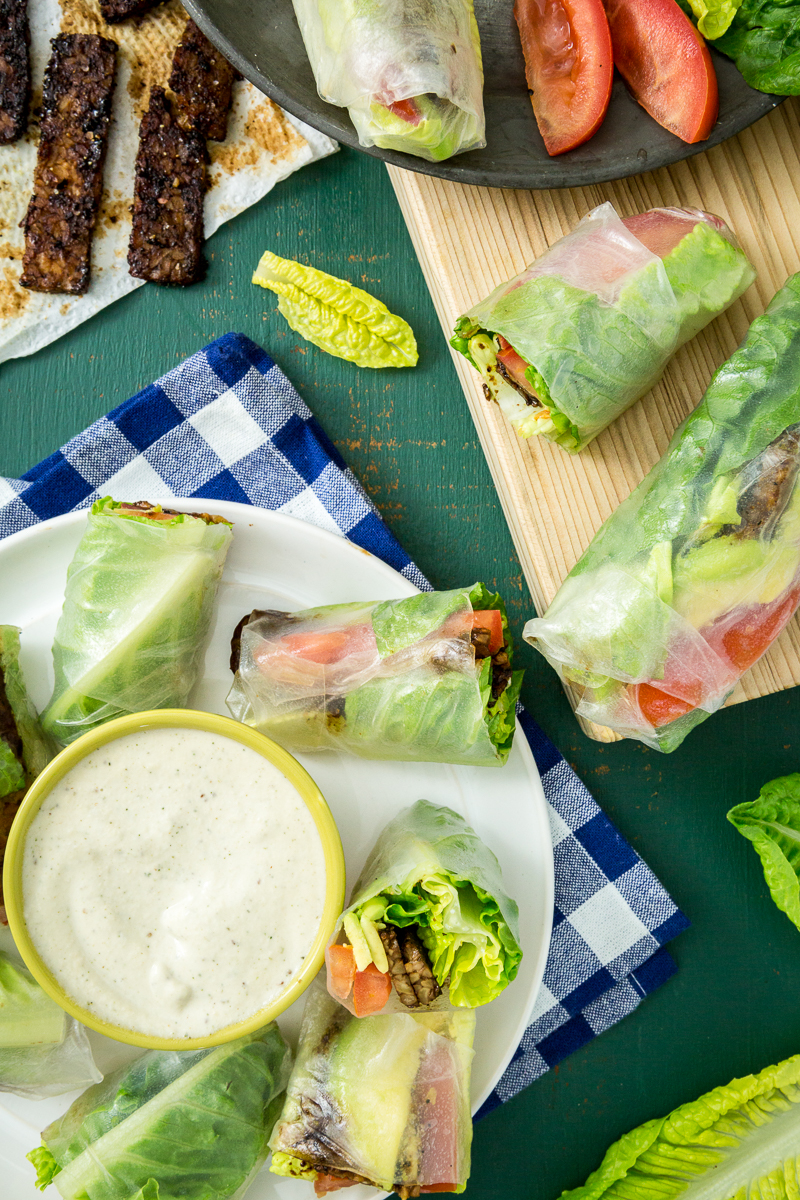 For example, combining chocolate and peanut butter is always a win. Plain and simple. There's no point in arguing that.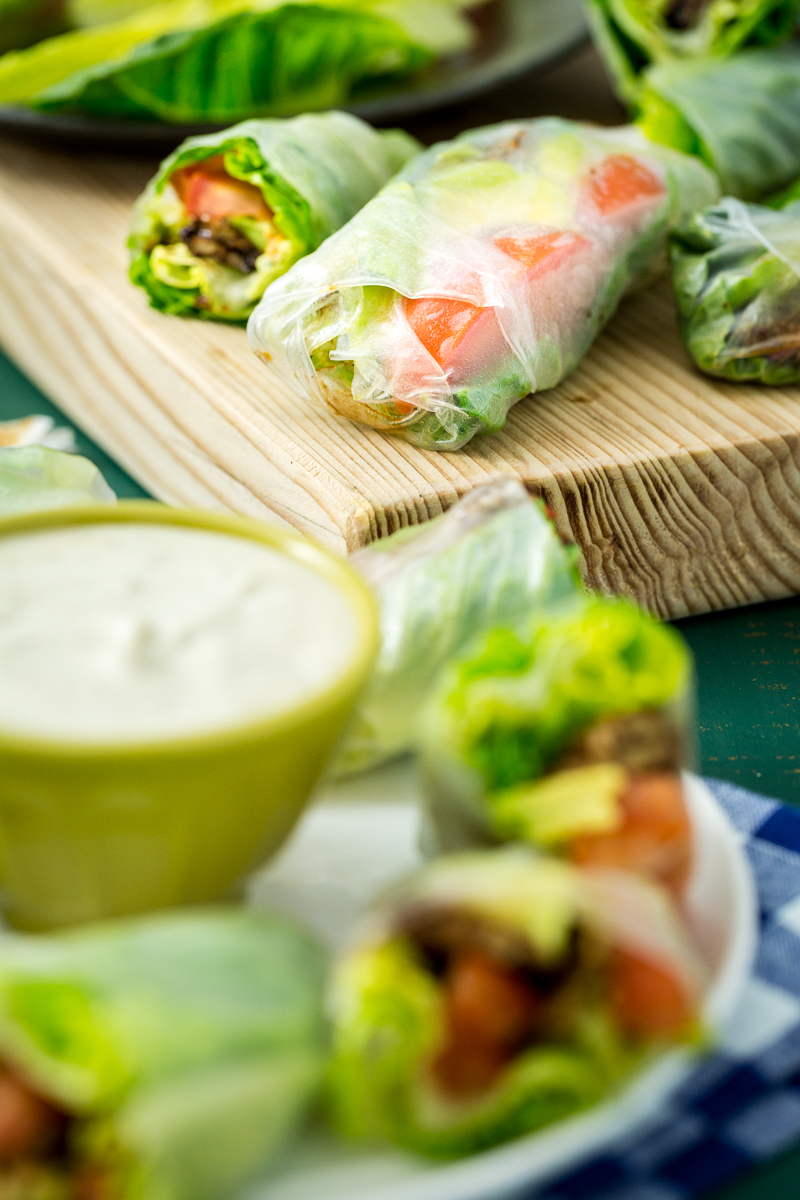 Another one: Dave Sedaris books. It doesn't matter which one. Anything he writes is sure to both entertain and inspire.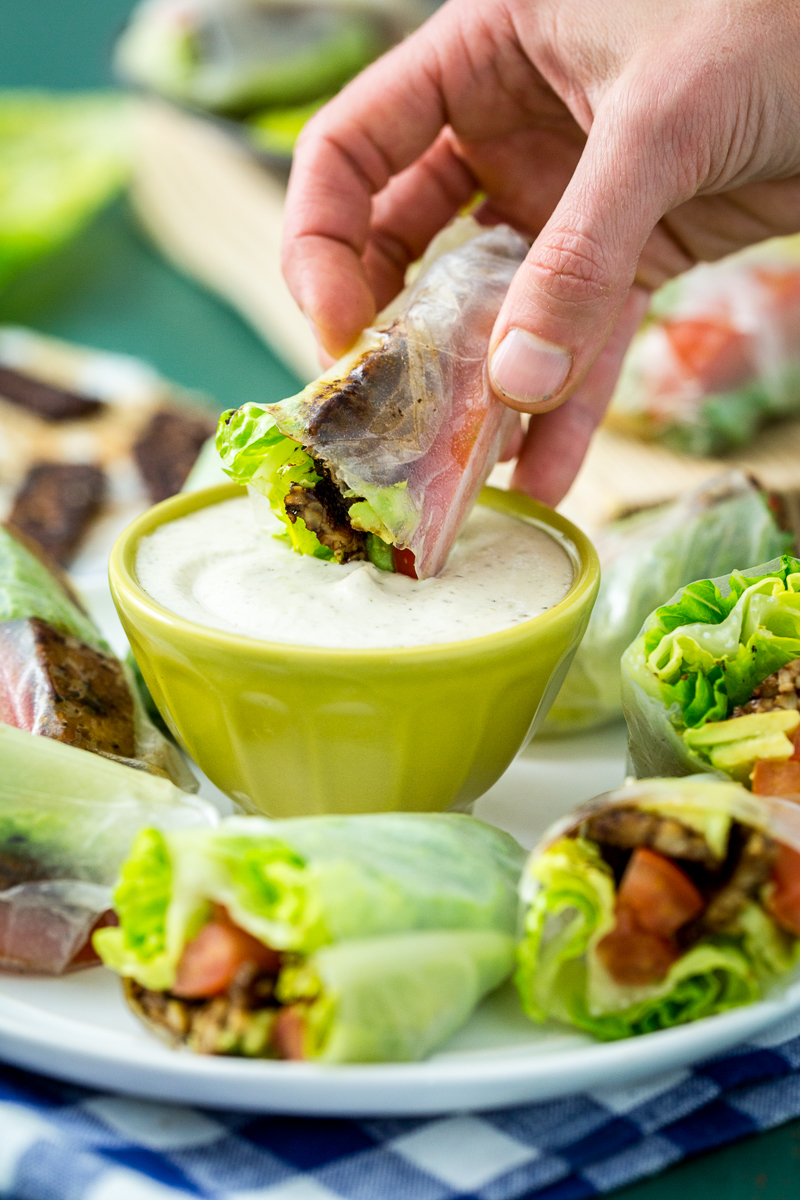 Puppies are always a win. It doesn't even matter what the situation is- puppies will make it way better. Like, a couple weeks ago, one of my co-workers brought their new rescue puppy to the office and I got to hold him (the puppy, not my co-worker) and it was officially the best day of work ever. Even a couple weeks later, one of my other co-workers said "Remember that day that Chase brought his puppy to the office? That was the best day." So see, I'm not the only one.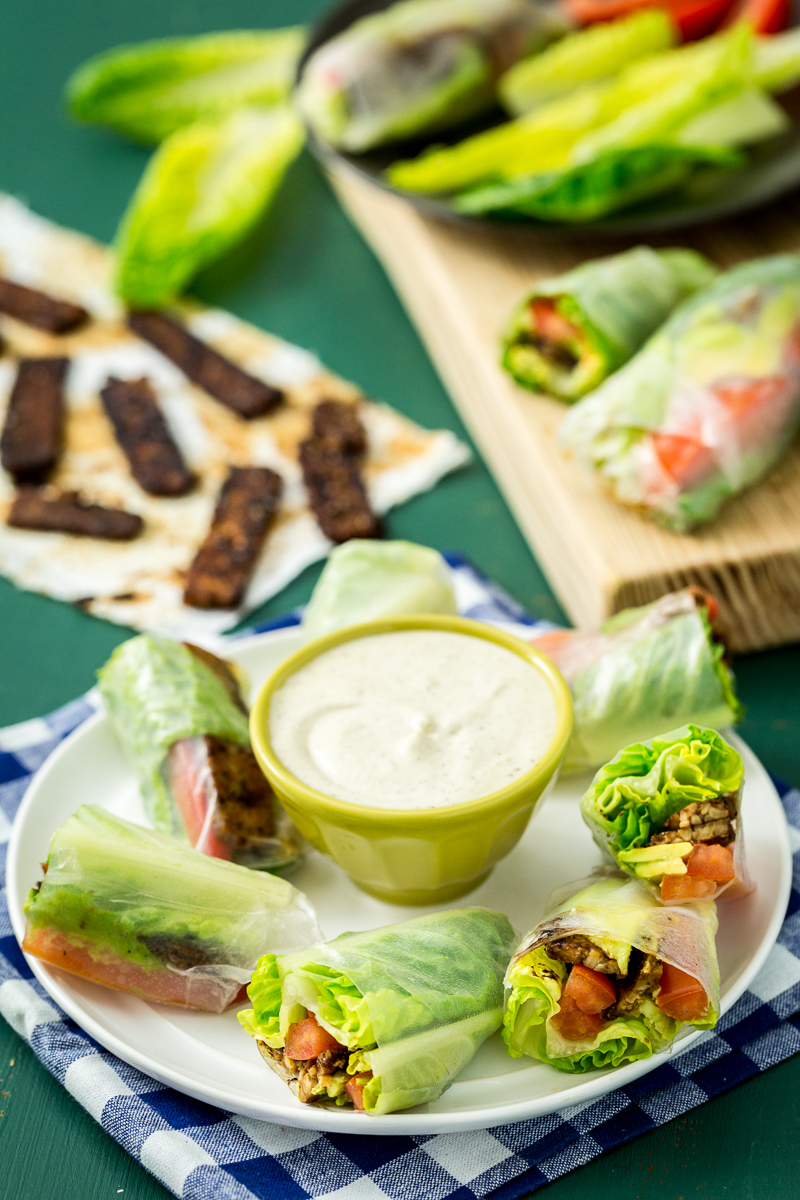 And then there's the combination of vegan bacon, lettuce, and tomato. Regardless of where you combine these three ingredients, be it in a sandwich, a wrap, on a pizza, or in a salad this trio of flavors will always, always be good. I even have a BLT soft taco recipe in my cookbook and it's wonderful. Some purists may not agree with this, but I believe throwing in some avocado takes the whole thing up a notch, but to each his own.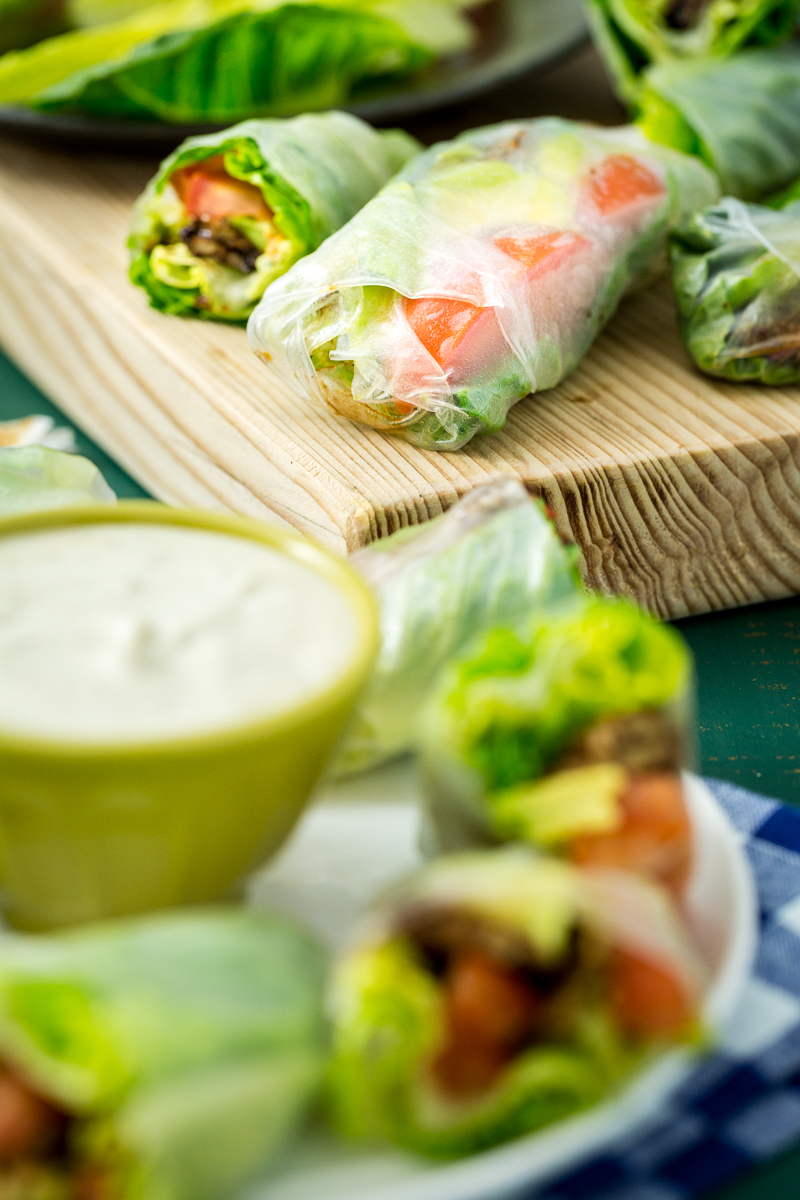 My most recent BLT creation were spring rolls. The came about because I was craving some sort of BLT something but I didn't feel like having a sandwich and I didn't have any gluten-free tortillas and I didn't feel like attempting gluten-free pizza dough. The only other vehicle with which to deliver the BLT to my mouth was rice paper. So BLT Spring Rolls it was!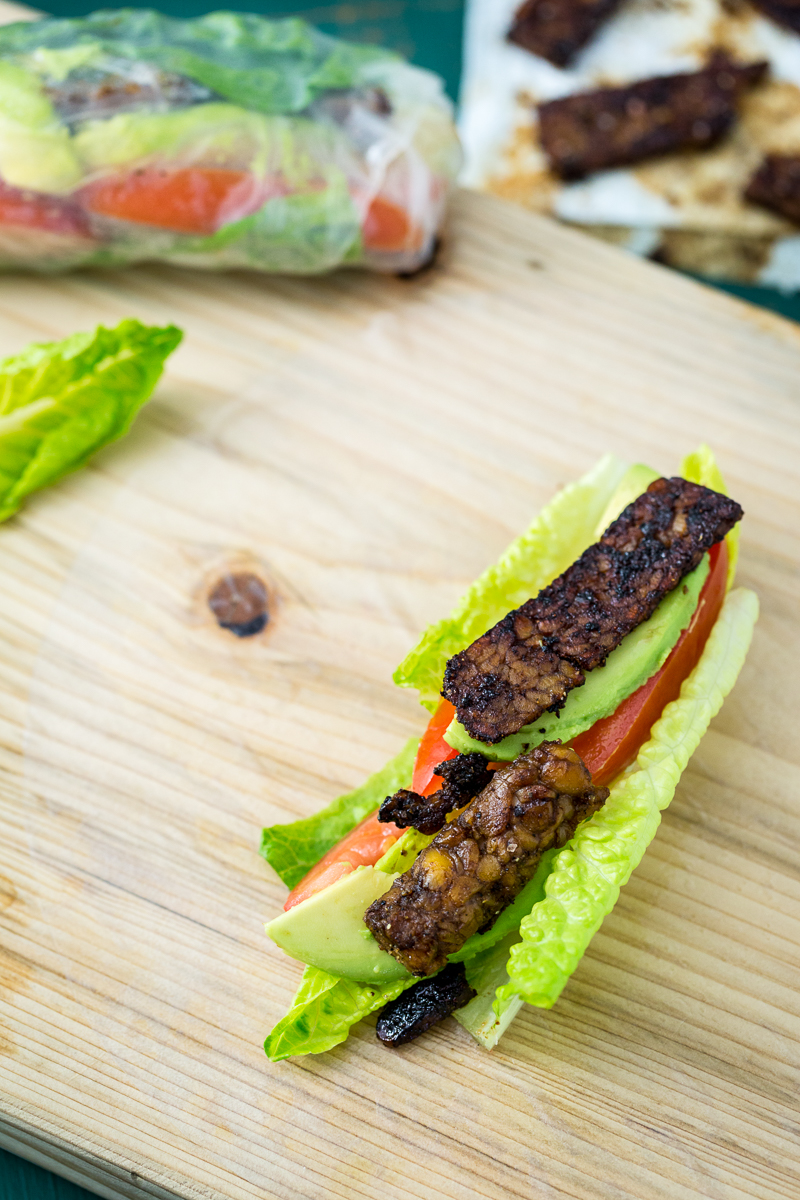 They're stupidly simple. You just cook up your favorite vegan bacon recipe (I used the Tempeh Bacon recipe from my book) or just use a storebought vegan bacon, chop up some lettuce, tomatoes, and if you're so inclined, some avocado (and boy, was I inclined!). If you've never made spring rolls before, the process of getting the paper wet and rolling it properly may take a few attempts to get the hang of, but once you do, it couldn't be easier. Just a load up a couple pieces of lettuce, a couple tomato slices, a couple avocado slices, and a couple vegan bacon slices, fold the edges of the rice paper over, and roll it up. Easy peasy.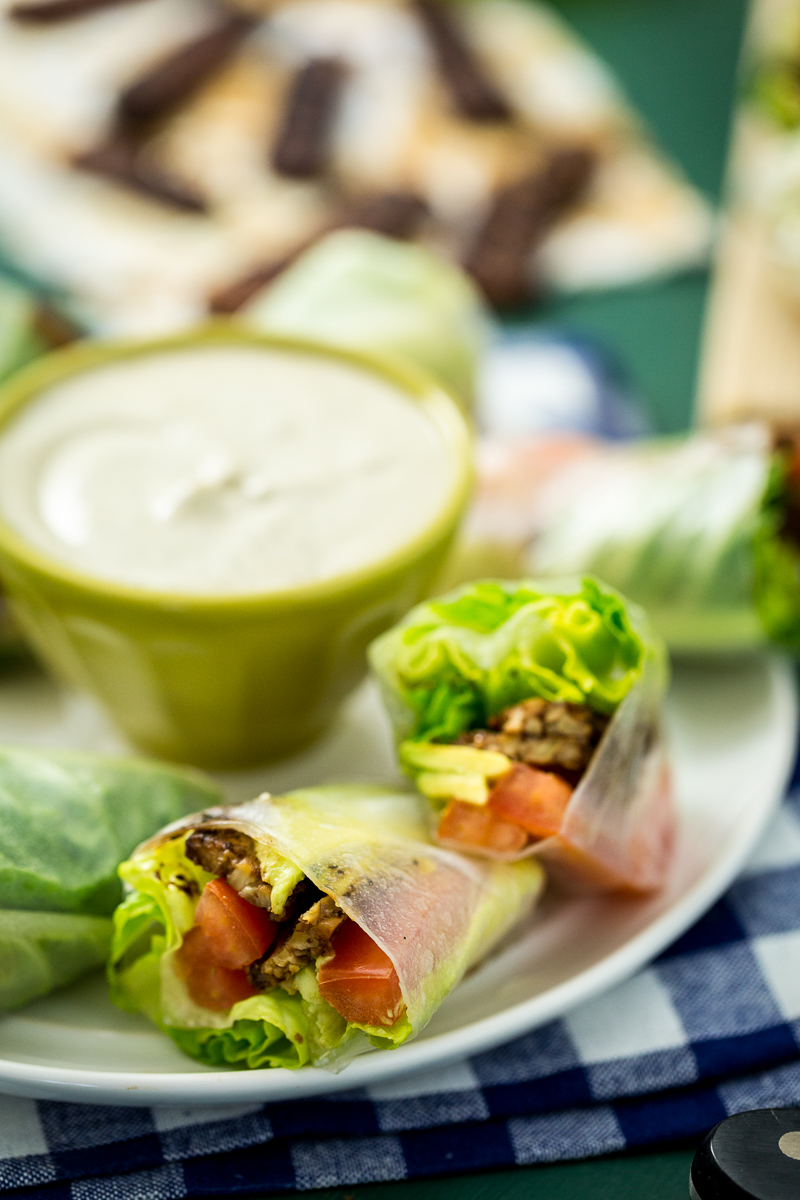 I made 8 rolls, thinking that would be good enough for both Chris and I for dinner, but as I was rolling up the 8th one, Chris said "I hope you're planning on making some for yourself." So I had to make a few more. Luckily, I'd made a double batch of tempeh bacon and had extra lettuce and tomato. I served it up with my Zesty Ranch Dressing (made with a heaping tablespoon of vegenaise to thicken it up into more of a dip), but whatever vegan ranch dressing you prefer should work. Or if you had a vegan blue cheese or thousand island dressing- both of those would probably be awesome too. I don't think I need to tell you how amazing these were! So tasty and so light, yet so filling! Since it's a guaranteed win, you have no reason not to give it a shot.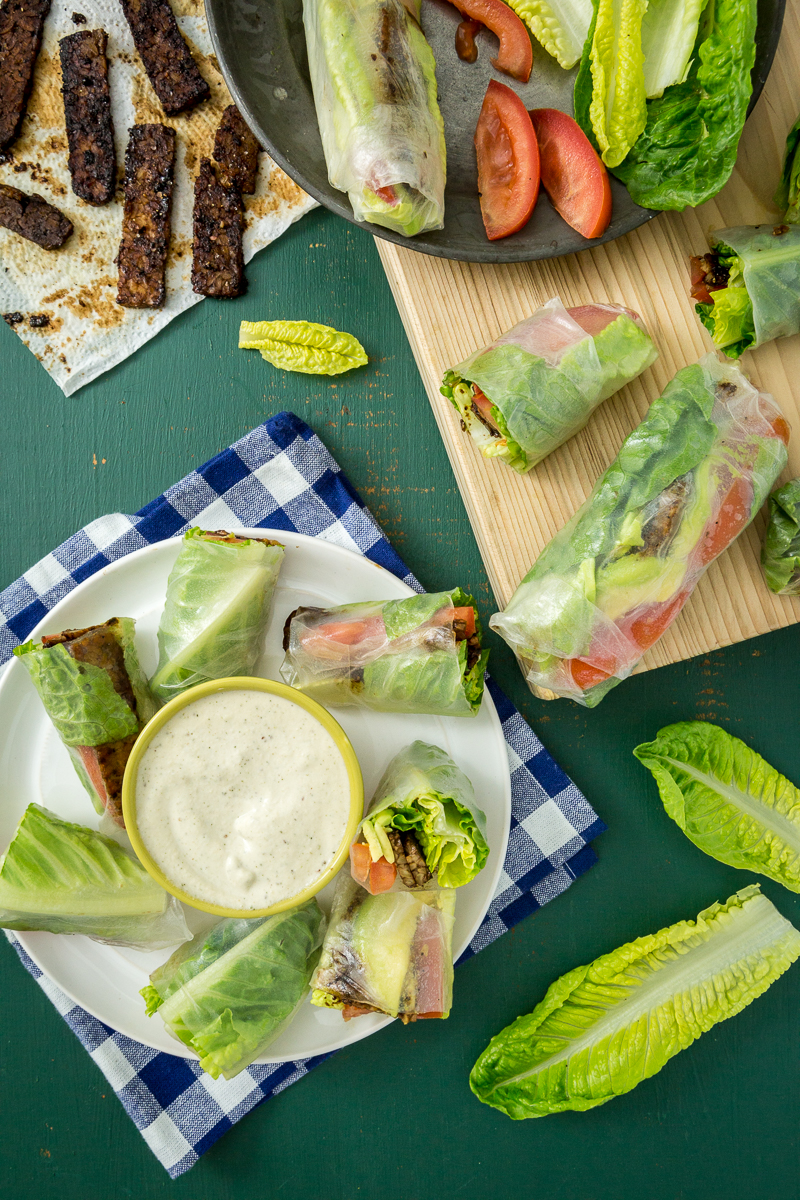 Vegan BLT Spring Rolls with Avocado
Ingredients
your preferred Vegan Bacon (be it your favorite recipe or store-bought. I used the Tempeh Bacon recipe from my cookbook), about 8 to 16 slices (depending on how much you want to put in each roll
1 small head of romaine lettuce, each leaf chopped in half
2 to 3 roma tomatoes, sliced lengthwise and de-seeded
1 avocado, pitted, peeled, and sliced, optional
8 8-inch sheets of rice paper (the 6-inch sheets will be too small)
Zesty Ranch Dressing (prepared with the addition of a heaping tablespoon of vegan mayonnaise) or other dipping sauce/dressing, optional
Instructions
Prepare your vegan bacon according to instructions.
Fill a large bowl with warm water. Make sure you have a clean surface to prepare the rolls on.
Dip one sheet of rice paper into the warm water, making sure to get it completely wet but removing it before it gets too soft. Lay the paper on the prepared surface. Lay a couple pieces of lettuce on the center of the paper, going from side to side (left to right), leaving about an inch of space on each side of the paper. Add a couple slices of tomato, a couple slices of avocado, and 1 to 2 slices of bacon (depending on the length of your bacon. If it's short, you'll need 2).
Fold the left and right sides of the paper over the filling. Take the edge of the paper closest to you and fold it completely over the fillings while using your fingers to tuck the filling in. Continue to roll the paper/filling until the roll is sealed. Repeat with the remaining ingredients. Serve immediately. Enjoy!
Notes
It is important to de-seed each slice of tomato because the seed/liquid will water down the roll.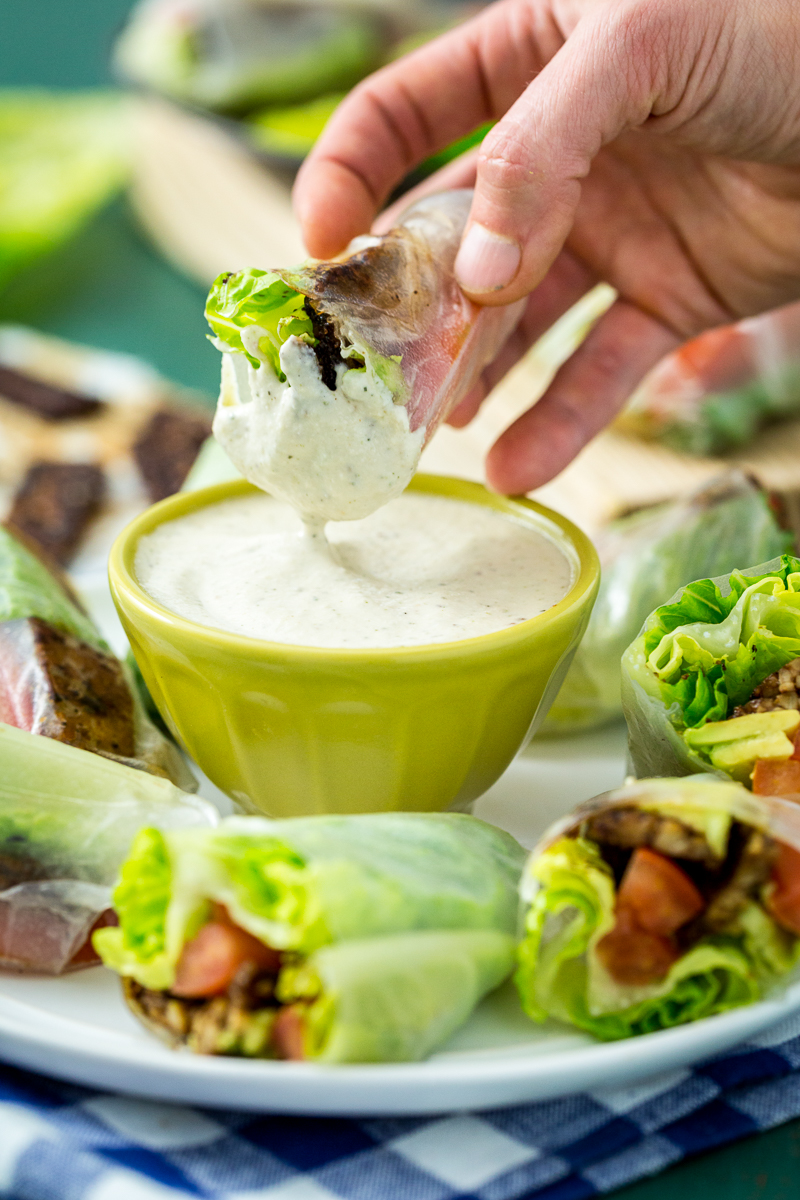 I have two winners to announce! One for the Aloha Superfood Chocolate Giveaway and one for the Healthy Happy Vegan Kitchen Giveaway. The winner of the Aloha Giveaway is Jacky de la Torre and the winner of the HHVK Giveaway is Sarah Leary! Congrats to both of the lucky winners and thank you to all of you who entered! If you're interested in winning a sampler pack of incredible seasoning salts, you still have one more day to enter my Borsari Foods Seasoned Salt Giveaway!
What are some of your "Guaranteed Wins?"
Photography by Chris Miller