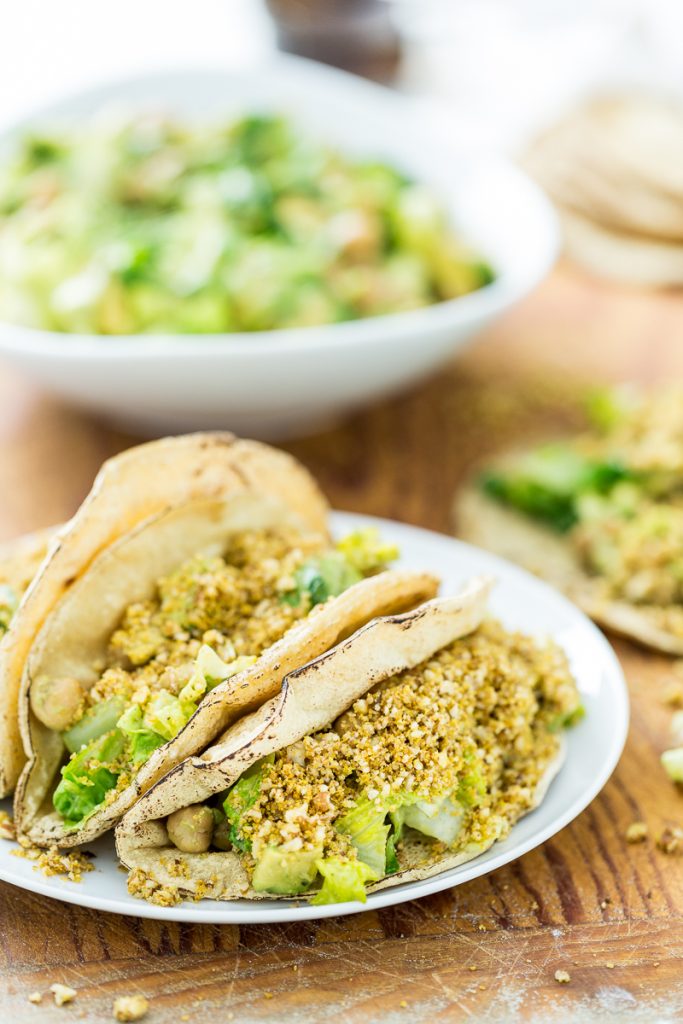 There's a number of foods that I didn't like until I went vegan. Sushi, donuts (I know. Crazy, right?), and cereal (I actually didn't like the milk in my cereal. Once I replaced it with a plant-based alternative, I was good to go) all top that list. Caesar salad is also one of those meals I couldn't stomach before going vegan.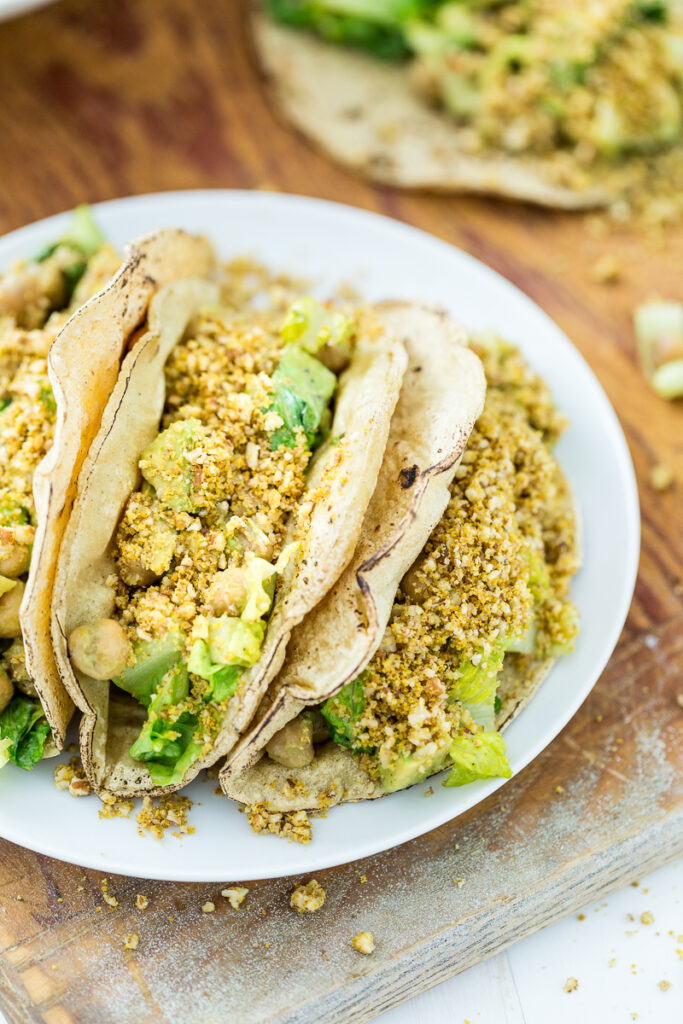 I'm pretty sure it had to do with the dressing. I didn't care for the taste at all and I was also grossed out by the idea of anchovies in anything, let alone blended up in a dressing. Not. Appetizing. At. All. When I went vegan, it was awhile before I decided to see if my new vegan palate had a taste for the salad, but when I did, I was pleasantly surprised by it! The crunchy romaine, the tangy dressing, the hint of vegan parmesan- it was a lovely combination. Pretty soon, I went from hating the salad to craving it regularly.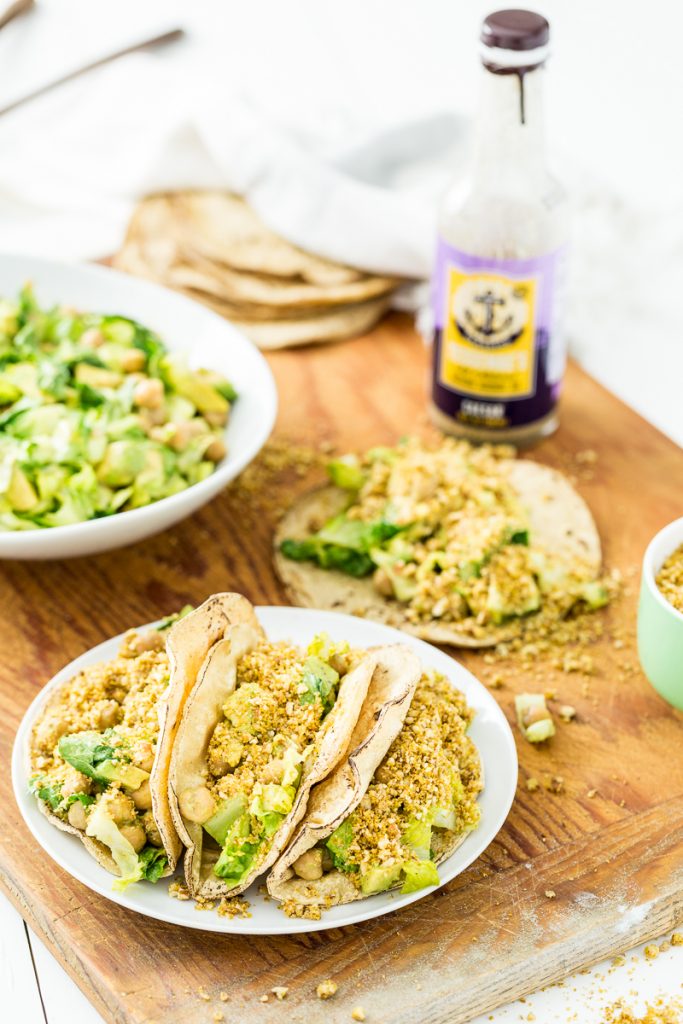 I've actually been dreaming of these tacos for awhile. I've had the title of the recipe scribbled down in my notebook reserved for random thoughts, ideas, lists, and recipes for a few months now, I'd say. When Tessemae's All Natural contacted me about reviewing their new Ranch and Caesar dressings my first thought was "No. I make my own dressings, thank you." I like to know what's going into my dressings and be able to make as much or as little as I need so I don't have a bunch leftover that ends up going bad in the back of the fridge. But I decided to check out their products anyway. Of course, the first thing I looked for was to see if they were vegan (they are), and then I took a second look at the ingredients to see exactly what was in them. I was surprised at the short ingredient lists but kind of elated to see that I actually had every single one of the ingredients in my kitchen. No crazy stuff. No preservatives. Nice and simple. So I decided to give them a try, thinking that the Caesar dressing might be a great fit for these caesar salad tacos I'd been craving.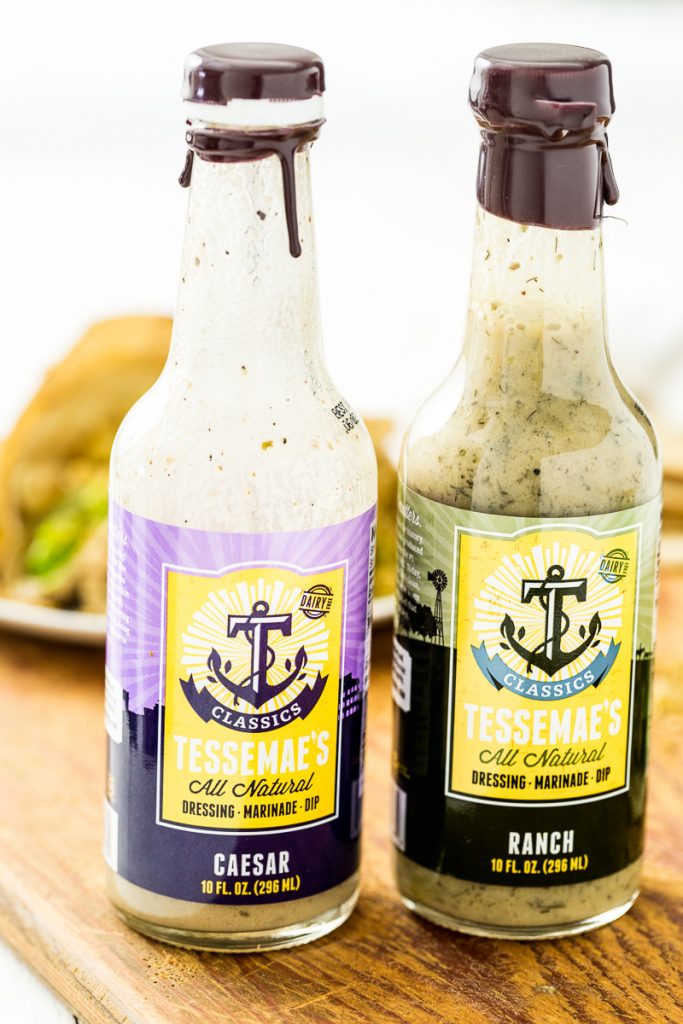 One thing to keep in mind when using this dressing (and any oil-based dressing, really) is that it separates and congeals. This is normal. It's actually a good thing because it means that there aren't a bunch of stabilizer ingredients trying to keep it from separating. All you have to do is shake the bottle before you pour. It's that simple. No need to get your panties in a bunch. Just shake before you pour. If it congeals when chilled, you can just place the bottle in a cup of warm water for a few minutes to make it easier to pour.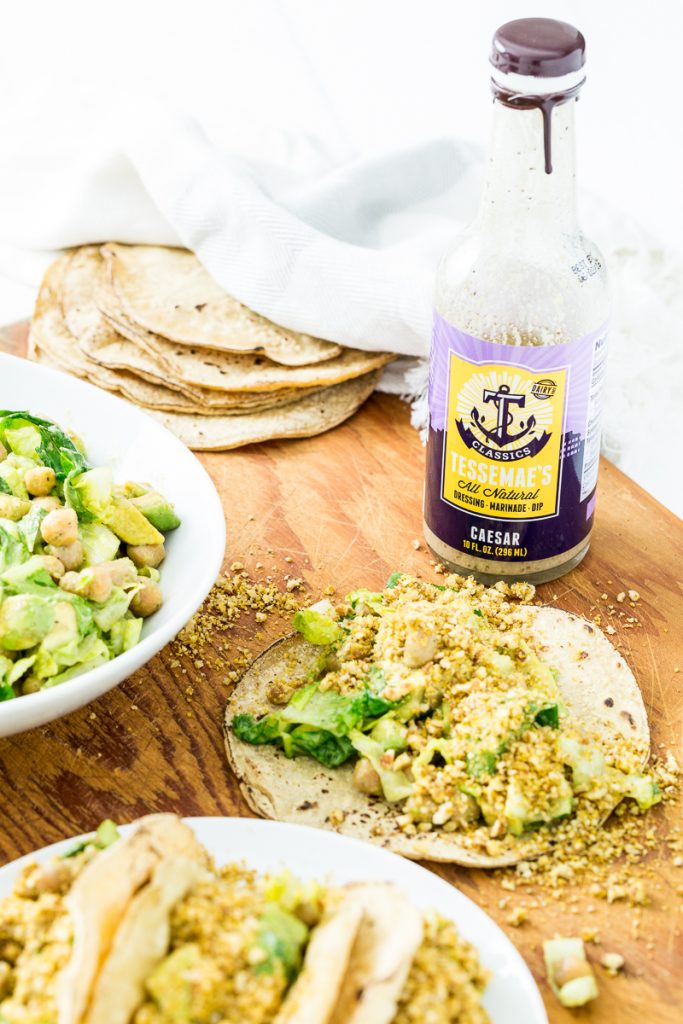 Now before I tell you how this dressing exceeded my expectations ten-fold, let me tell you about how simple this recipe is. First, you cook up the chickpeas with some liquid aminos and finish them off with a squeeze of lemon juice. Then you add it to a bowl of thinly chopped romaine lettuce and avocado chunks and then add the dressing. Then you stuff the salad into corn tortillas and sprinkle pecan parmesan on them. Boom. Done. Insert into mouth. Be amazed.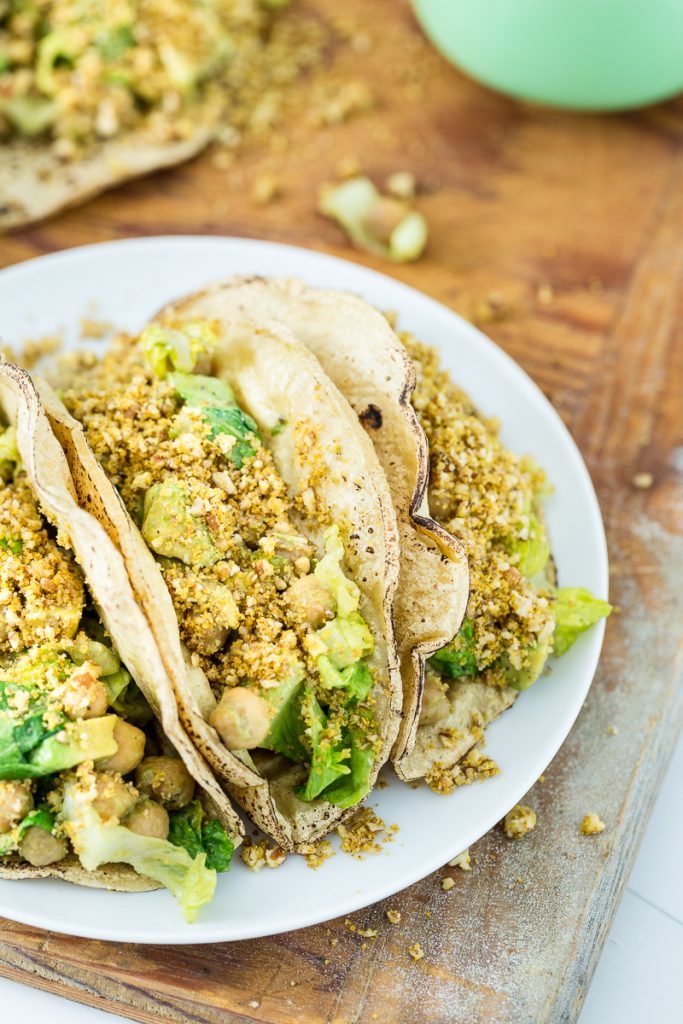 After I added the dressing to the salad, I needed to taste it, of course, and then I quickly had to take a second, and then a third, and let's be honest, a fourth and fifth bite. It was so good I could barely contain myself. In fact, I probably snuck about 10 more bites while I cooked the tortillas. I couldn't get enough. During the photo shoot, I was like, "Okay. Okay. Let's wrap it up, Chris." Because I couldn't wait to shovel the salad into my mouth via taco. I'm an animal.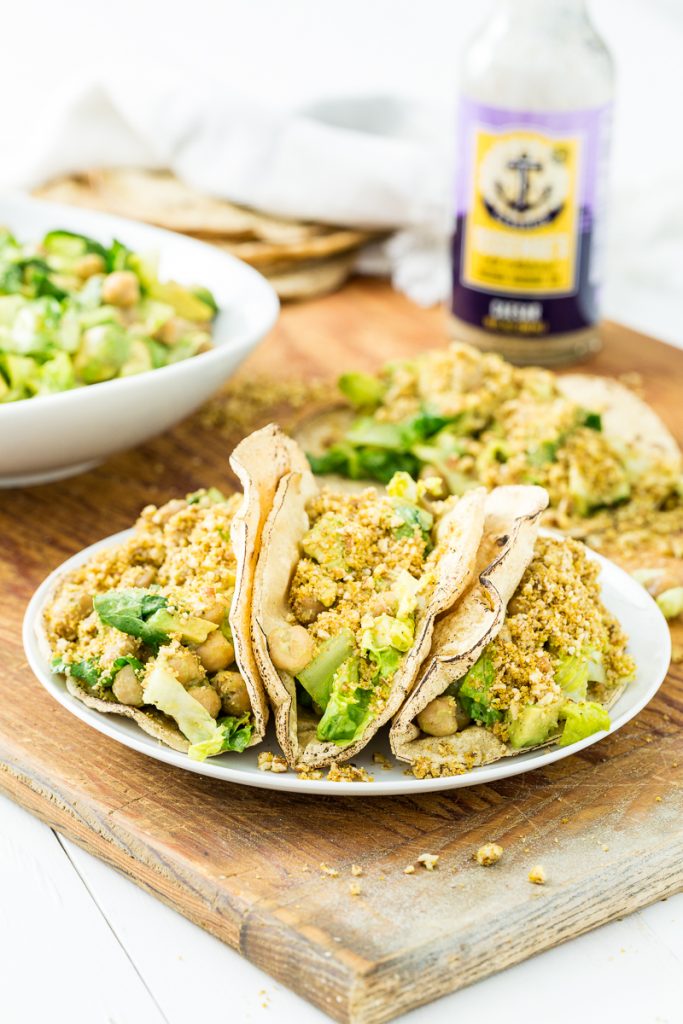 So, should you make these tacos? Absolutely. Should you try Tessemae's All Natural Dressings? Definitely. Should you use the promo code Keepin'ItKind to get 10% off your order when you shop online (through 12/31/15)? I think it'd be silly not to. Are you ready for the simplest, most tasty dish you'll try this summer? You bet your pants I am you are!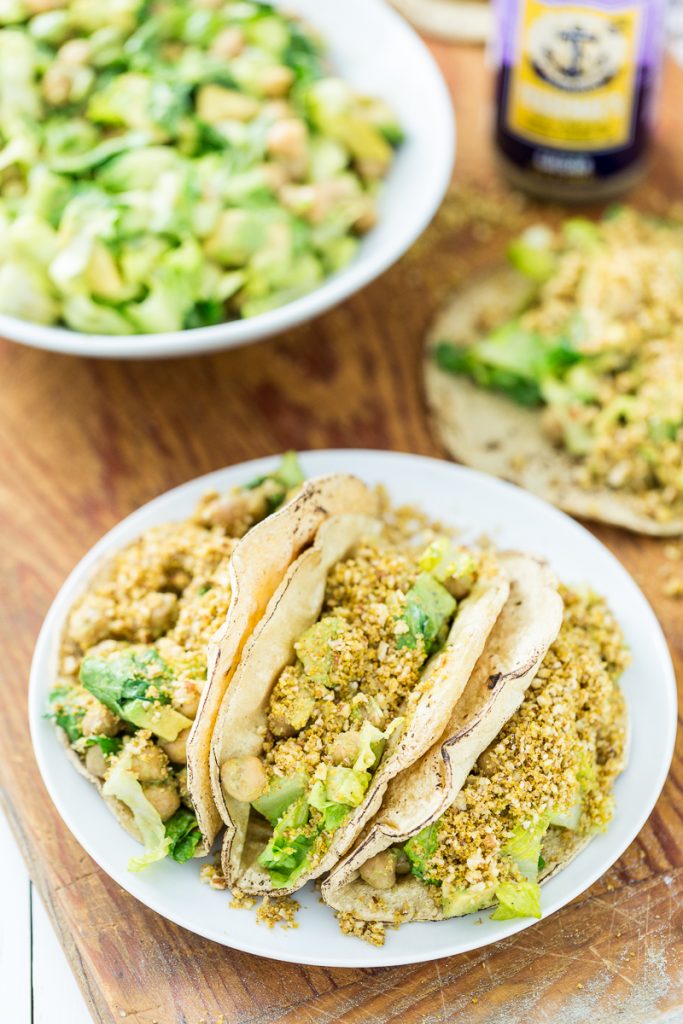 Chickpea Caesar Salad Tacos
Ingredients
3 cups cooked chickpeas or two 15-ounce cans, rinsed and drained
3 tablespoons liquid aminos
1 tablespoon lemon juice
black pepper to taste
1 head of large romaine lettuce, chopped very thin
2 avocados, chopped
Cooked or heated corn tortillas
1 cup Pecan Parmesan
Instructions
Heat a large frying pan over medium heat. Add the chickpeas and liquid aminos. Cook, stirring occasionally, until the liquid has been absorbed. Add the lemon juice and pepper and remove from the heat. Let the chickpeas cool for about 5 minutes (while you chop your lettuce and avocado).
Combine the lettuce, avocado, and chickpeas in a large bowl. Add the dressing and toss to coat.
Fill the corn tortillas with the salad and sprinkle with pecan parmesan. Serve immediately. Enjoy!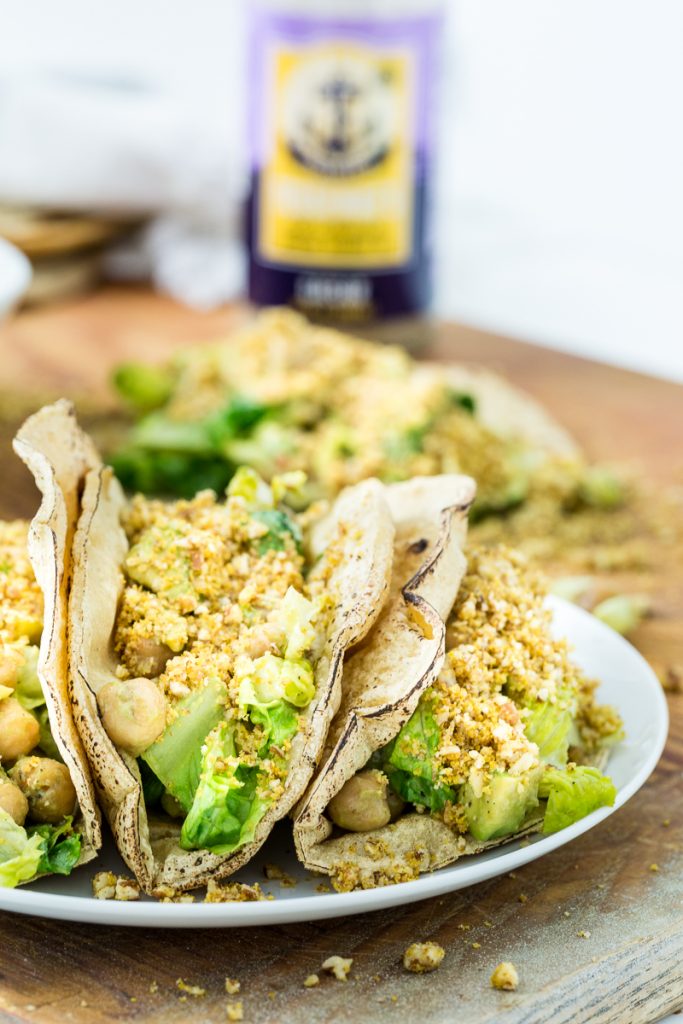 Follow Tessamae's!
Tessemae's: http://www.tessemaes.com/
Facebook: https://www.facebook.com/TessemaesAllNatural
Twitter: https://twitter.com/Tessemaes
Instagram: https://instagram.com/tessemaes
Disclaimer: I was compensated for this post by Tessemae's All Natural, but the thoughts and opinions expressed here are my own.
Photography by Chris Miller