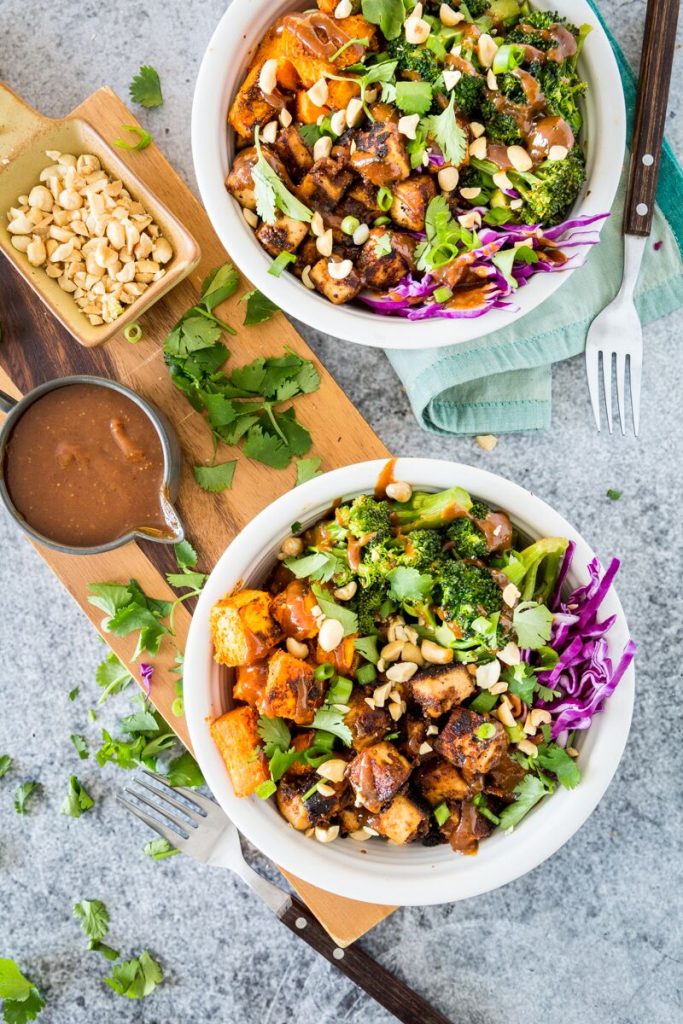 Cravings have a funny way of taking over your life. Or maybe that's just me. Once I start craving something, I have a hard time thinking about anything else. And that's how this Thai Peanut Tofu and Sweet Potato Bowl began- as a craving.
It first hit me while I was at work. Peanut sauce. Mmmmmm. I stopped what I was doing and opened up a new page in my browser. As the image search results for "peanut sauce bowl" appeared on my screen, I slowly stopped listening to the podcast that was blaring in my earbuds. And then I lost half an hour of my day to perusing food porn (let me clarify- that's pictures of food. Not anything else.). #storyofmylife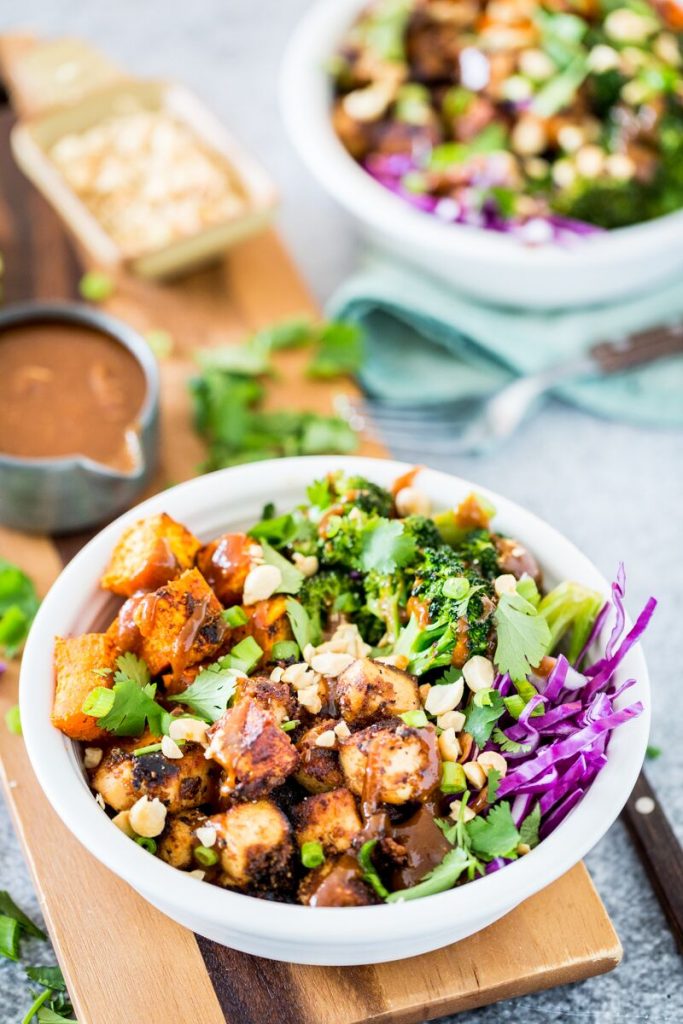 The next day, right around the same time (around 10:30am, over an hour after I've finished my breakfast and more that two hours before I have lunch, to be exact. Not that I'm tracking this stuff), the craving came back. But I was like, "Peanut sauce....... on sweet potatoes? Whaaaaaaaaat?!" Seconds later, I'm looking at some gorgeous creations on the interwebs and before I know it, I realize an hour has past and I've got 23 emails that all need tending to ASAP. So I said "until next time" to my craving and got back to work.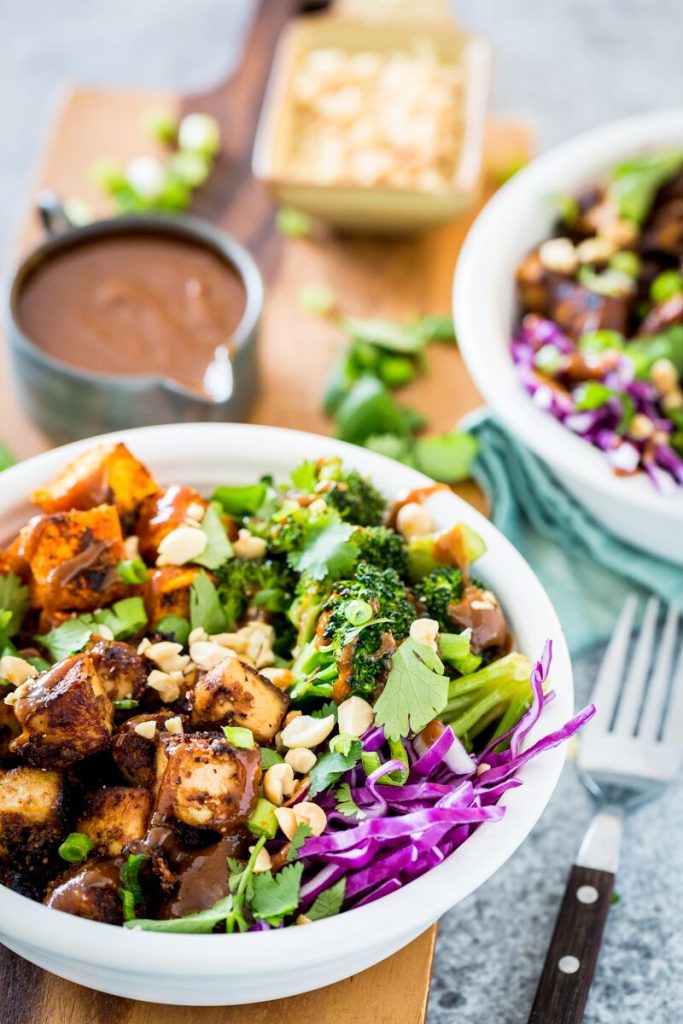 I think you know the story by now. Of course the next day, when I was bored of doing work, I told myself I would take a little break so I could indulge my craving. Just get it out of my mind so I could focus on work. But things got a little carried away. Peanut sauce and sweet potatoes weren't enough. Pretty soon, I was like "We gotta add some tofu... And cook that tofu IN the peanut sauce. Oh yeah. Maybe let it marinate in that sauce a bit, first. Oooh girl. And there's gotta be something green. Like, brussels sprouts. Wait, no BROCCOLI! Yes, roasted broccoli! And we'll drown it all in peanut sauce... but wait, there's gotta be something crunchy. Let's do some red cabbage and, uh, CHOPPED PEANUTS! YES!" But I tried googling that whole concept and there was nothing matching what was happening in my imagination. So I eagerly waited until I could duck out of work early and get myself to a grocery store to gather the things I needed to make this bowl happen that weekend.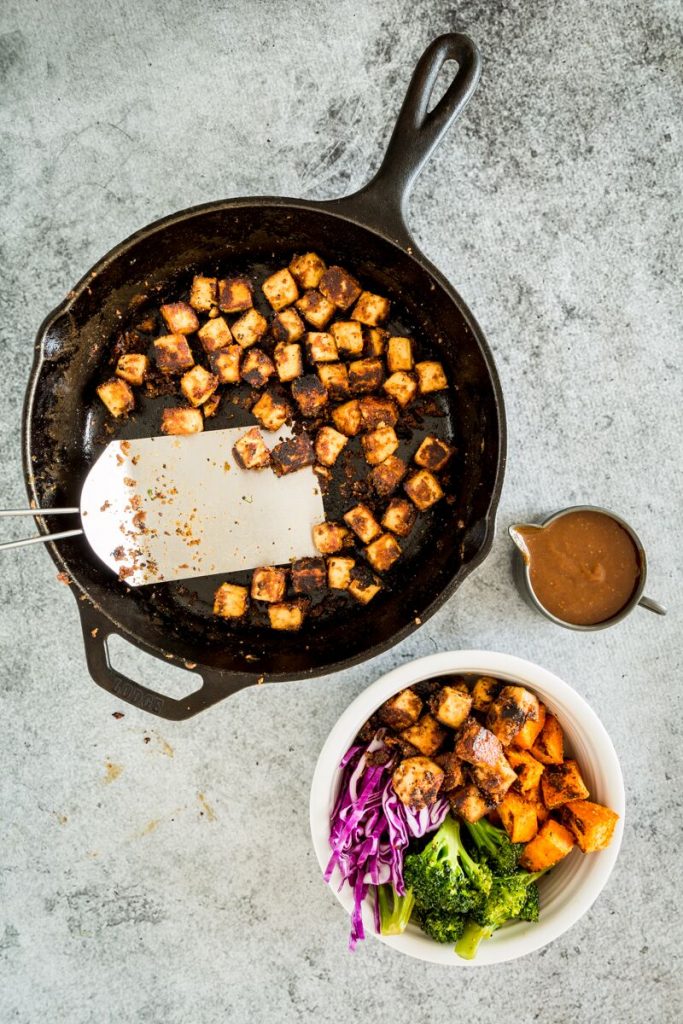 I don't prepare full meals for dinner during the week because I don't have the energy. I'm also not hungry since I usually have a larger lunch. So the most I'll do is maybe toast a couple pieces of GF bread or roast a head of cauliflower to share with Chris. Sometimes it's just a big handful of cashews. I keep it simple. I imagine that's why I have all this pent-up cooking mojo and I'm hard-core obsessing over my most recent craving come the weekend. So Saturday morning, while I'm drinking my breakfast smoothie, the plans for how I'm going to put this meal together is flashing before my eyes, A Beautiful Mind style. Then Chris says "Have you been listening to anything I've been saying?" And I admit that I have not, but tell him he's going to love this Thai Peanut Tofu Bowl I'm going to make for dinner. Spoiler alert: He did.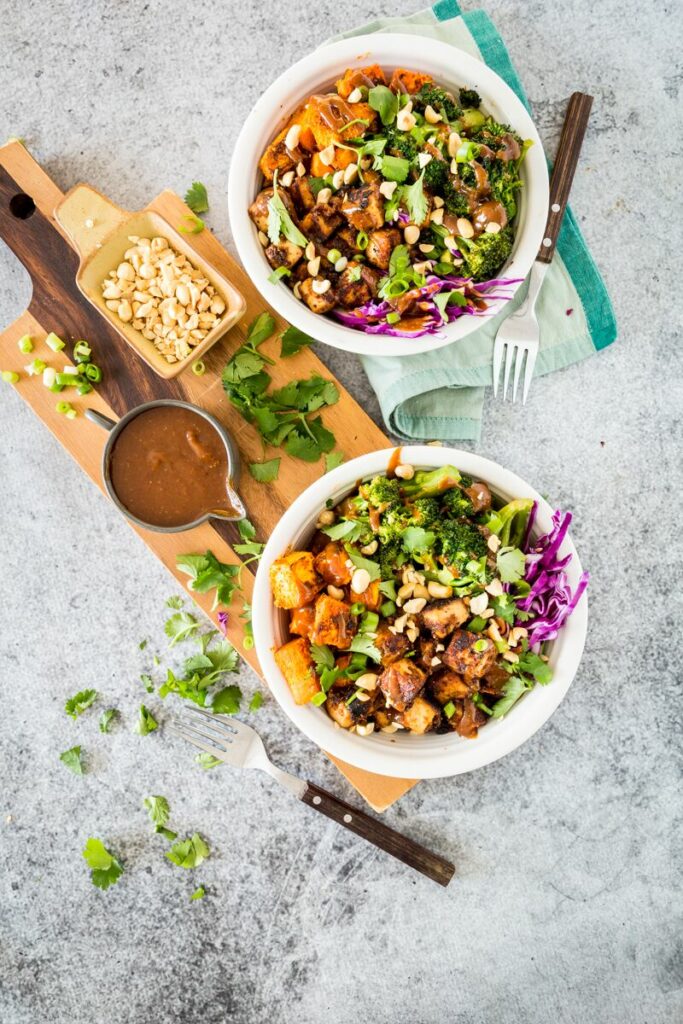 Thai Peanut Tofu & Sweet Potato Bowl
Ingredients
½ cup unsalted, unsweetened peanut butter
¼ cup low-sodium tamari or liquid aminos
¼ cup maple syrup
2 tablespoons sriracha
1 tablespoon lime juice
1 tablespoon toasted sesame oil,

optional

1 teaspoon fresh grated ginger
1 12-ounce block extra-firm tofu, pressed for 1 hour
1 bundle of broccoli, broken into florets and stems sliced
2 tablespoons low-sodium tamari or liquid aminos
1 tablespoon maple syrup
1 tablespoon toasted sesame oil
1 recipe cheesy sweet potatoes
1 tablespoon sesame oil
black pepper to taste
2 cups very thinly sliced red cabbage
1/2 cup chopped peanuts
2 to 3 green onions, chopped
1/4 cup chopped cilantro
Instructions
Preheat the oven to 425. Line a baking sheet with parchment paper and set aside.
In a small bowl, combine the ingredients for the Thai Peanut Sauce and whisk until thoroughly combined and smooth.
Slice your block of tofu in half, then slice each of those halves in half again, so you have 4 rectangles that are the same size as the original 2 rectangles, just thinner. Then slice each of those rectangles into about 15 cubes, for a total of 60 cubes. Place the tofu cubes in a medium shallow bowl and top with 1/3 cup of the peanut sauce. Stir until combined. Let the tofu marinate for about 15 minutes.
While the tofu is marinating, prepare the broccoli by spreading the broccoli florets and stems on the prepared baking sheet. In a small cup, stir together the tamari/liquid aminos, maple syrup, and toasted sesame oil. Pour it over the broccoli and toss until coated. Roast in the oven for 20 minutes, tossing once after 10 minutes. You can also be roasting your cheesy roasted sweet potatoes while the broccoli is cooking as well.
While the veggies are roasting, cook your tofu. Heat the sesame oil in a frying pan, preferably cast-iron, over medium heat. Add the tofu, with the sauce, to the pan and cook, stirring occasionally (gently scraping the pan as necessary), until the sauce has cooked away and the tofu is browned and slightly crispy. Remove from the heat. Add pepper to taste.
To assemble the bowls, divide the sweet potatoes, broccoli, red cabbage, and tofu amongst the bowls. Drizzle generously with the remainder of the peanut sauce. Sprinkle with green onions, cilantro, and chopped peanuts. Serve immediately. Enjoy!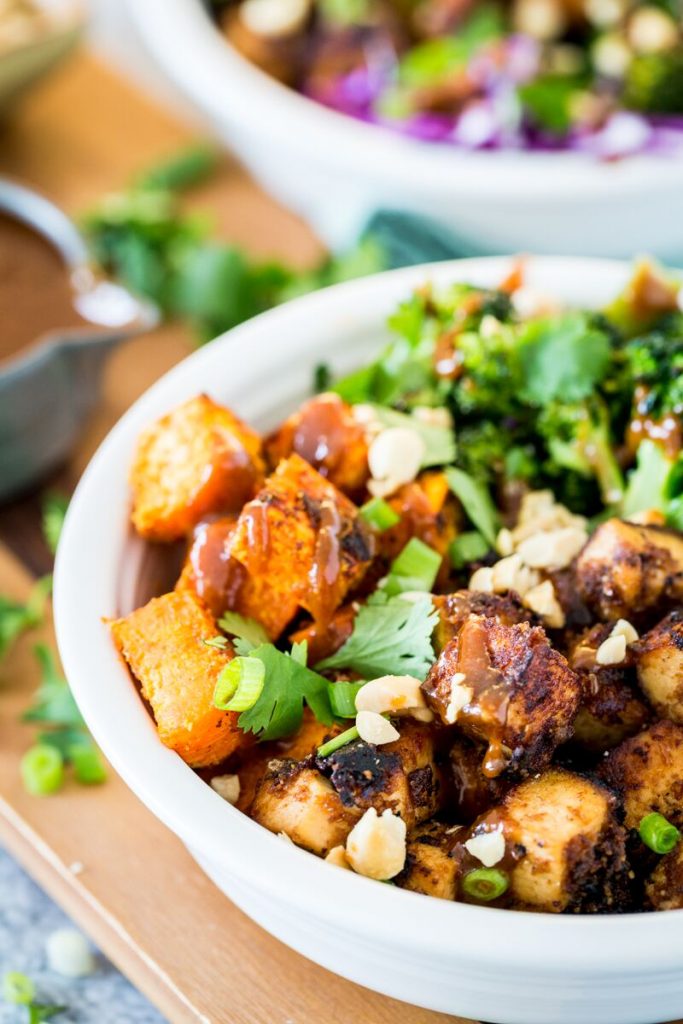 How do you cope with cravings?
Photography by Chris Miller