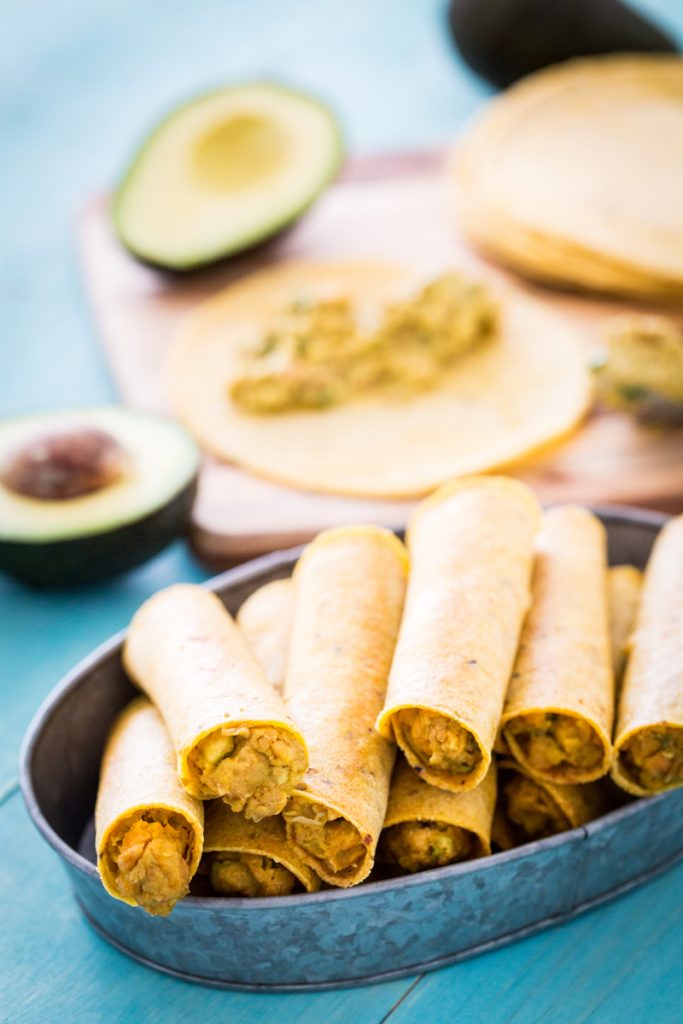 I grew up in a fast food family. Getting dinner from a drive-thru was a regular occurrence. One of my family's regular go-to's was Foster's Freeze (we had one a few minutes from our house), where my mother would always get a large order of taquitos. Of course, these taquitos were completely not vegan, being made with beef and deep-fried. I always looked forward to the one taquito that she would share with me. While they're not my favorite food, taquitos have long since held a special place in my heart, right along with the soft-serve ice cream cones I would always get from FF, and I have a hard time turning them down. Though now, I only eat vegan taquitos (and vegan soft-serve ice cream).
My newest book, But My Family Would Never Eat Vegan!, addresses family-related excuses to not eating vegan and has several chapter dedicated to various family get-togethers that often involve food. One of the chapters is dedicated to Game Day eats, filled with vegan recipes that will satisfy both omnivores and vegans, letting them enjoy the game without stressing about what foods to eat while you watch.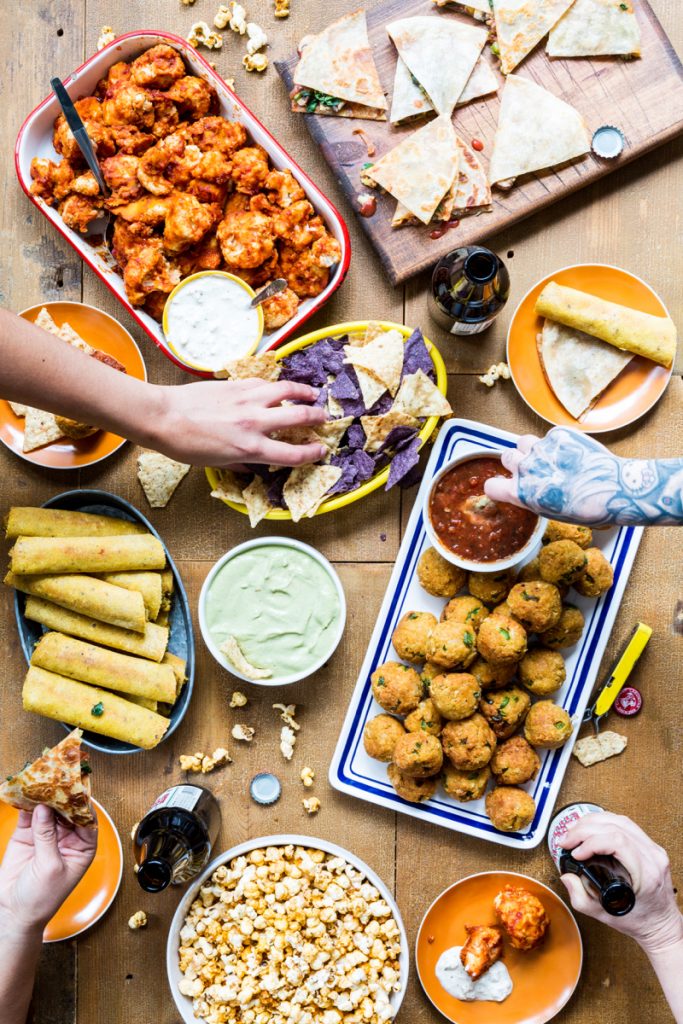 Thank you to my hand models: Elana Lavine, Janette Fernandez, Michelle Heminger Micci, and Angie Corrasco 
When choosing recipes for this chapter, taquitos seemed like a logical choice, since they're great finger foods, fun to dip, and universally liked. For these taquitos, I chose to go with one of my all-time favorite things- mashed chickpeas and avocado- for the stuffing. I also wanted to steer-clear of deep-frying (though you could totes deep-fry these, or maybe even air-fry them in an air-fryer like all the kids seem to love doing these days) so these taquitos are baked. By spraying them with oil before baking, they get that nice, crisp crunch with every bite, without all the grease. Bonus: these chickpea and avocado taquitos are quick and easy to whip together!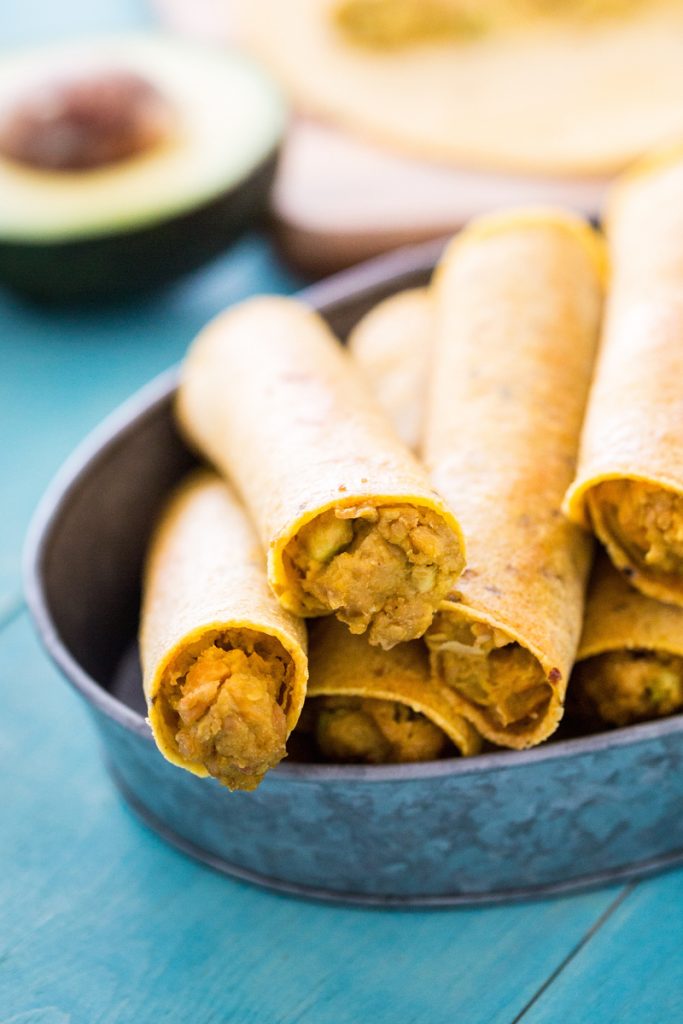 If you're looking for a simple, delicious, and healthy addition to your Super Bowl menu, look no further than these taquitos. I know they'll be making an appearance on mine- I can never say no to these guys!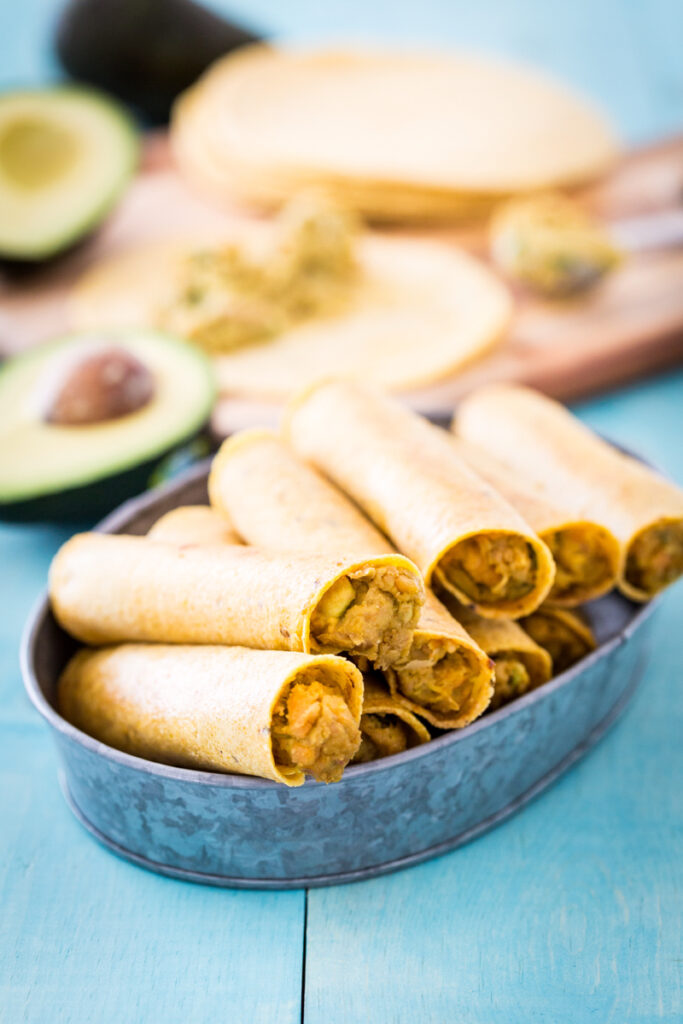 Chickpea Avocado Taquitos
Ingredients
1½ cups (255 g) cooked chickpeas (or one 15-ounce/425 g can, rinsed and drained)
2 tablespoons liquid aminos (or gluten-free tamari; use coconut aminos to be soy-free)
1 avocado, pitted
2½ tablespoons lime juice
2 green onions, chopped (green and white parts)
1½ tablespoons plain vegan yogurt (or mayonnaise; soy-free if necessary), optional, to add creaminess
½ teaspoon ancho chile powder
½ teaspoon garlic powder
Salt and black pepper to taste
8 corn tortillas (see Tip)
Olive oil spray
Salsa or dip of your choice
Instructions
Preheat the oven to 350°F (180°C). Line a baking sheet with parchment paper or a silicone baking mat.
Heat a large frying pan, preferably cast iron, over medium heat. Add the chickpeas and liquid aminos and cook, stirring occasionally, until all the liquid has been absorbed. Remove from the heat and let cool for 2 to 3 minutes. Use a potato masher or pastry cutter to mash the chickpeas into small pieces.
Scoop the avocado flesh into a large bowl and mash until smooth but slightly chunky. Add the chickpeas, lime juice, green onions, yogurt (if using), ancho chile powder, garlic powder, salt, and pepper. Stir until combined.
Heat a frying pan over medium heat and heat the tortillas, one at a time, for 30 seconds on each side, until soft and pliable. Stack them on a plate and cover with aluminum foil while you cook the rest.
Lay out 1 tortilla and spread about 3 tablespoons of the avocado mixture down the center. Roll into a tube and place it seam side down on the prepared baking sheet. Repeat with the remaining tortillas and filling.
Spray the taquitos with olive oil and bake for 10 minutes. Flip the taquitos, spray them with olive oil again, and bake for another 10 minutes, or until crispy. Serve immediately with your choice of dip or salsa.
Notes
Tip: Thin corn tortillas work best for these taquitos. Steer away from ones that say "handmade," as those are generally thicker and more likely to crack when you roll them up.
Recipe from But My Family Would Never Eat Vegan!: 125 Recipes to Win Everyone Over © Kristy Turner, 2016. Reprinted by permission of the publisher, The Experiment. Available wherever books are sold.
On another note: Do you love your copy of But My Family Would Never Eat Vegan! ? If you do, would you mind leaving a review on Amazon? I would sooooooo appreciate it! Thanks so much!
What's going on your Super Bowl menu?
Photography by Chris Miller