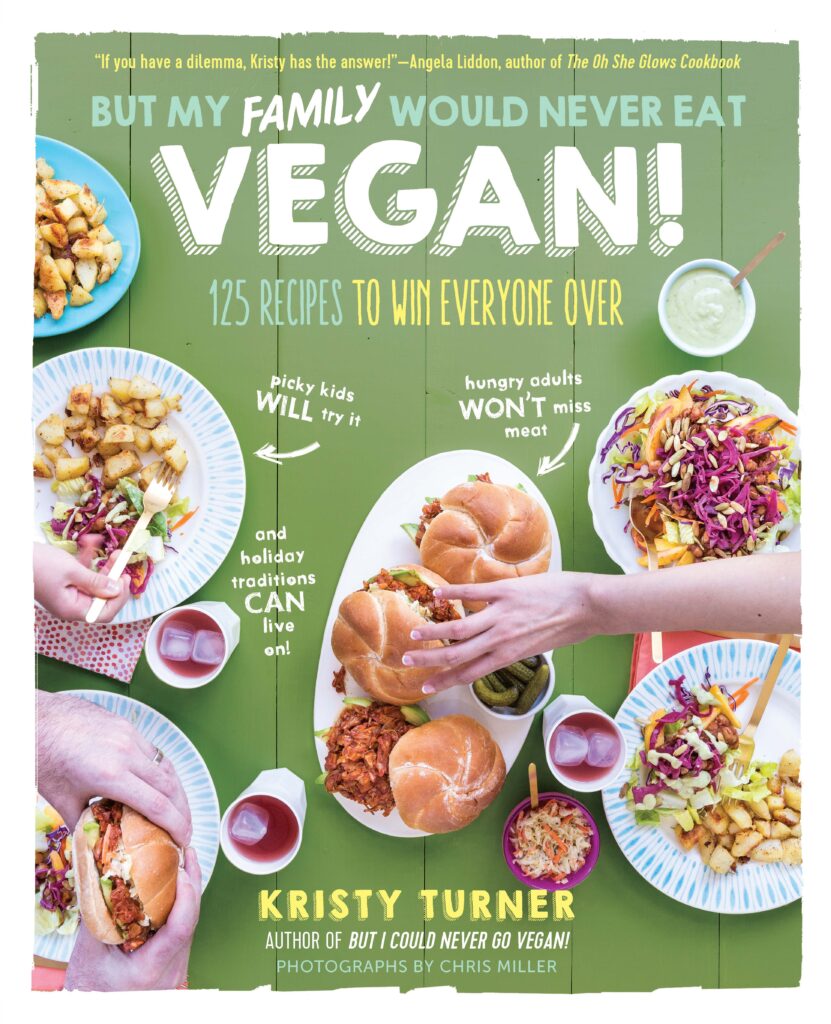 Yay! Today is the day! My second book, But My Family Would Never Eat Vegan!, is officially released. Many of you who pre-ordered it may've already received it so I hope you've been enjoying it. If you didn't pre-order it, it is available to purchase wherever you purchase your books.
When I released my first book, But I Could Never Go Vegan!, I asked all of you what your biggest reason for not going vegan (or what excuse you had before you went vegan), and a large percentage of you mentioned family-related excuses. You didn't think your spouse would be on  board, you were afraid of being ostracized by your family, or reluctant to give up your family's food-related traditions. Your words really resonated with me because I had many of the same concerns when I went vegan. And navigating my vegan journey in regards to my family definitely had its obstacles at times. This was when the idea for But My Family Would Never Eat Vegan! was born.
While my first book addresses personal excuses as to why one wouldn't want to go vegan, But My Family Would Never Eat Vegan! addresses many of the concerns some people have regarding eating vegan food with their family. And just like the first book, each chapter addresses a different excuse. For example:
Don't have time to cook elaborate dinners? How about this weeknight solution: Quick Cauliflower Curry.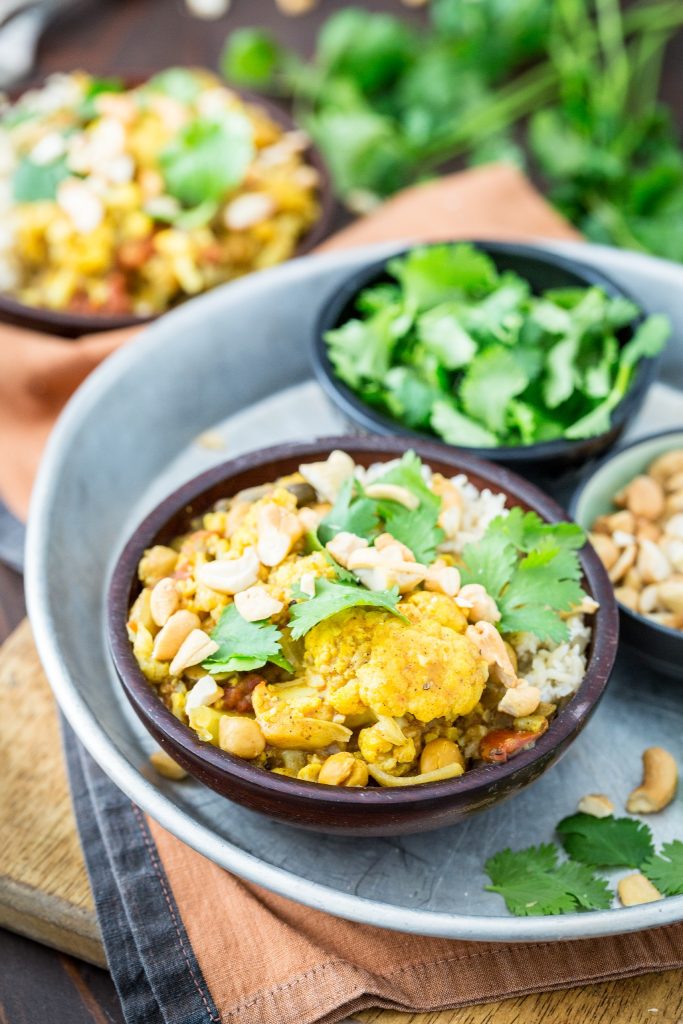 Worried about satisfying the "meat and potatoes" eaters? Try Beer-Marinated Portobello Tacos with Avocado Corn Salsa.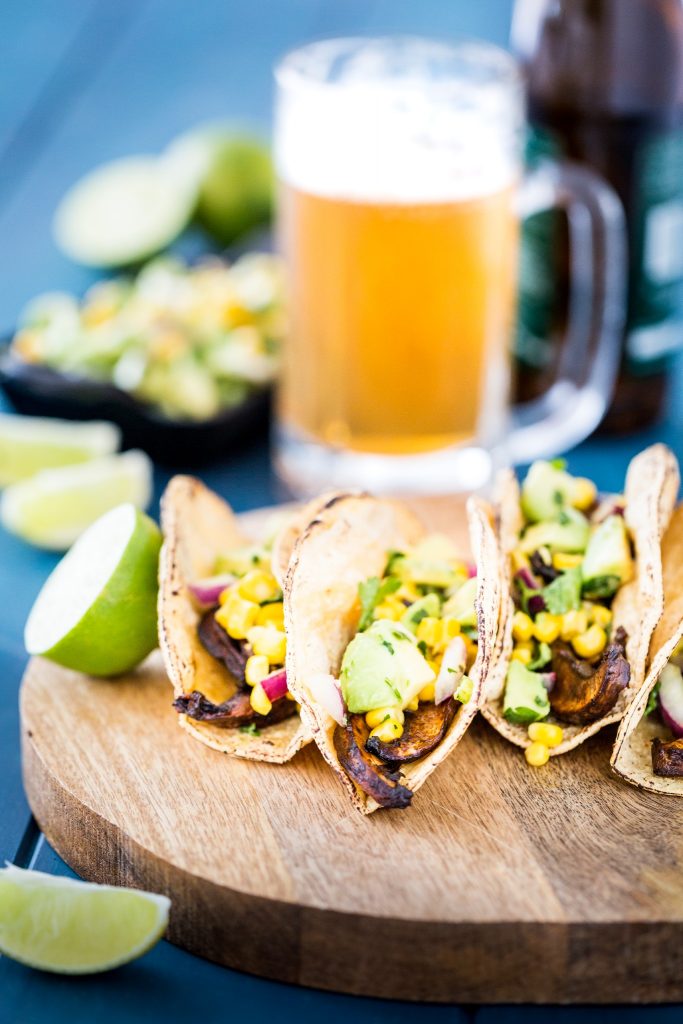 Wondering what will happen to your weekend brunch? Maple Peanut Butter Pancakes to the rescue!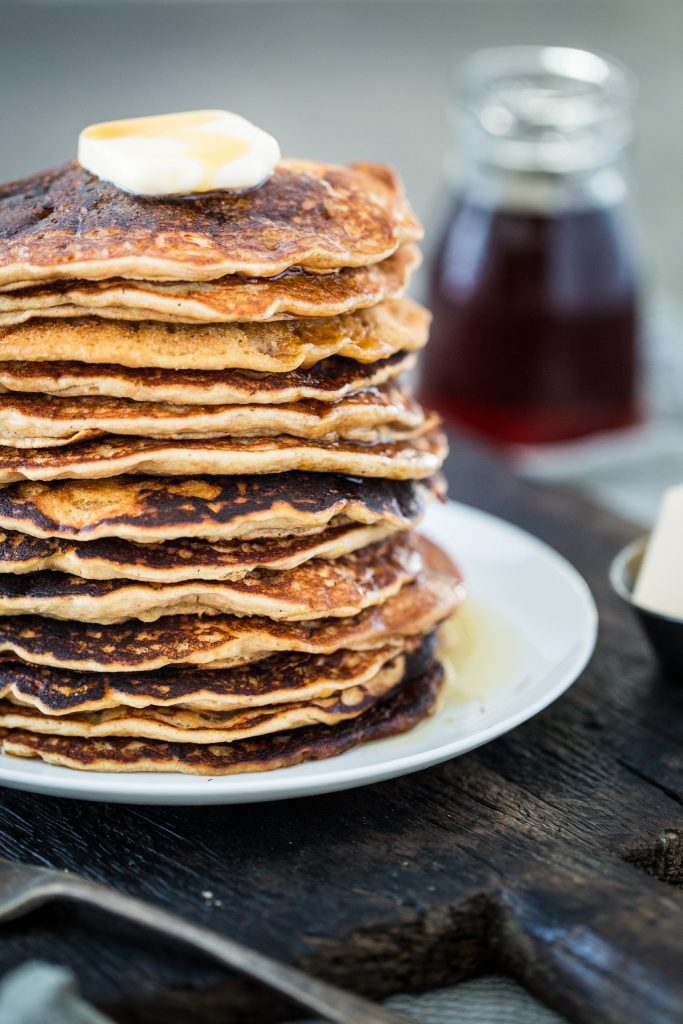 Cooking for picky eaters? Try the Creamy Roasted Garlic Tomato Soup with Grilled Cheese Croutons.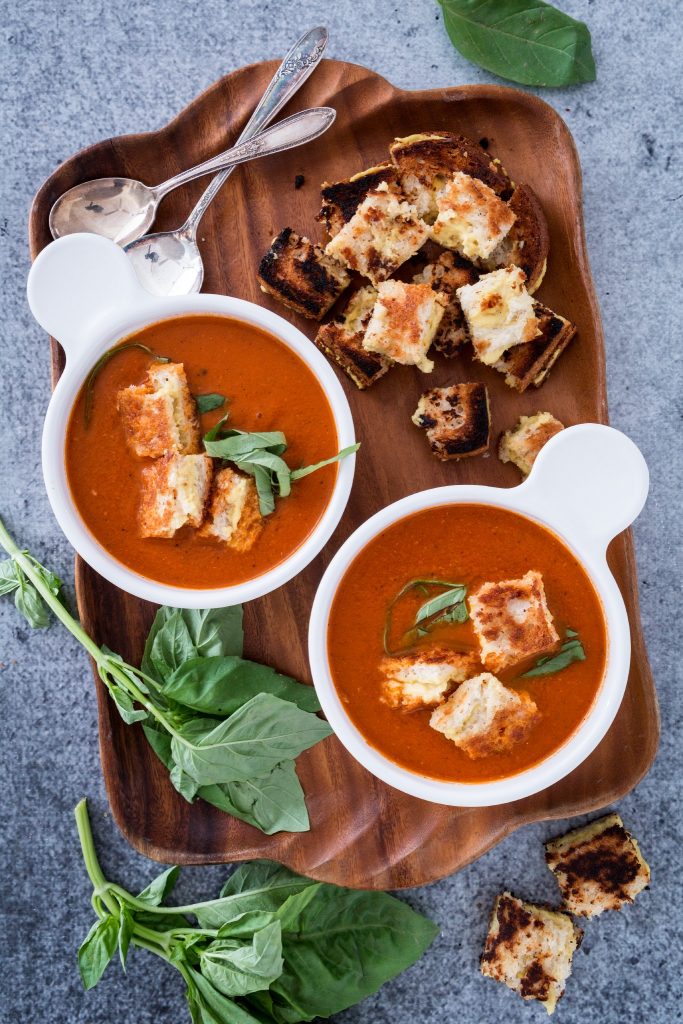 Do your teens turn their noses to vegan food? Tempeh Sloppy Joe Sliders may change their minds.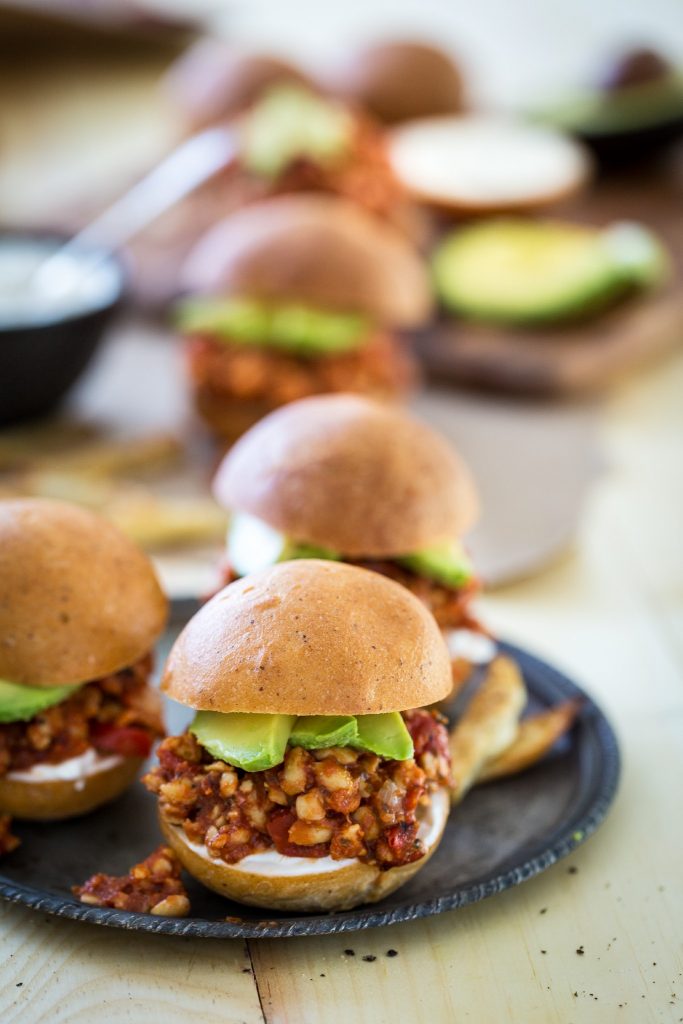 Is your family worried that you'll no longer be able to have dessert? Wait 'till they taste the Chocolate Layer Cake!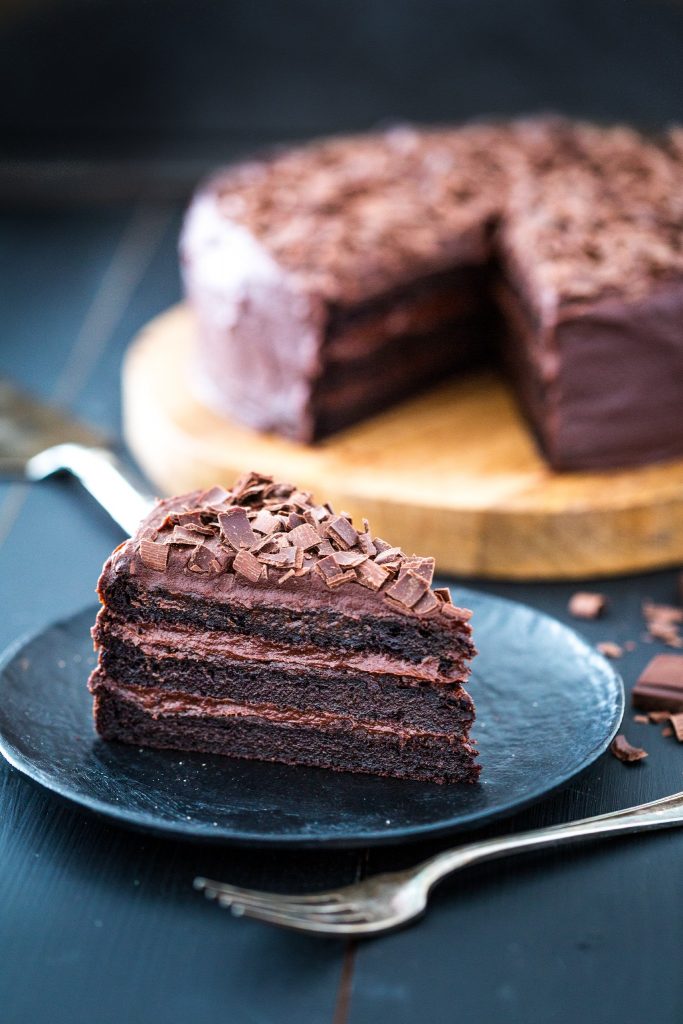 Stressed about the holidays? Worry no more with this Green Bean Casserole with Easy Crispy Onion Topping.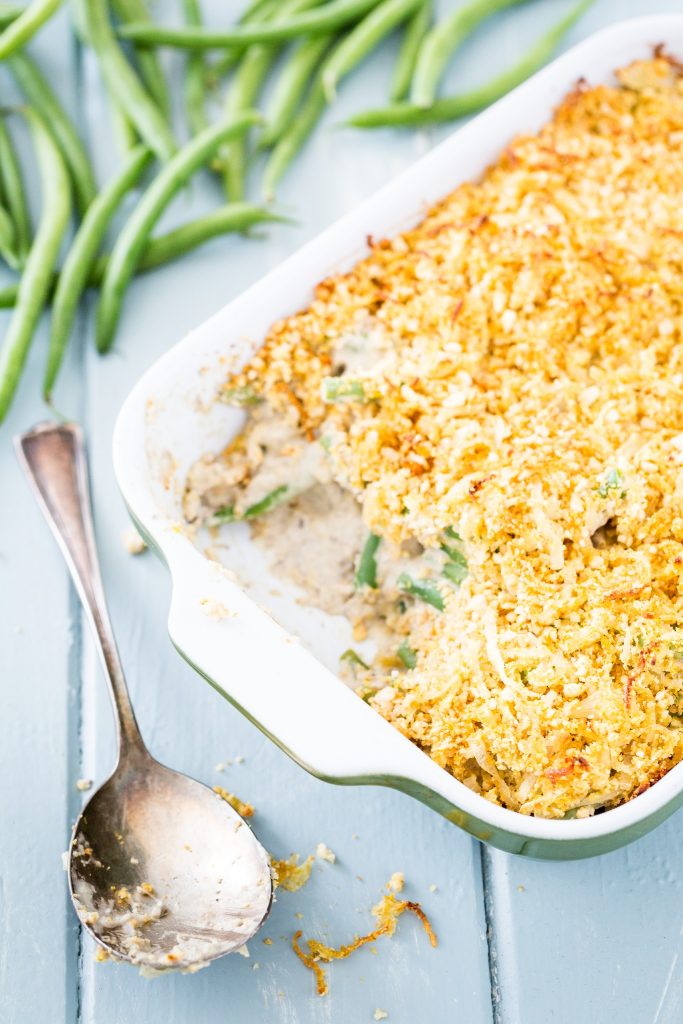 I'm very, very proud of this new book because it was written during a very turbulent time in my life. At times, writing it was my therapy, my escape, and I poured so much of myself into it. I'm also very proud of it because every recipe is not only vegan, but is also gluten-free or has a gluten-free option, and many have nut-free and soy-free options as well. There is also a picture for all 125 recipes and I have to say- Chris, my photographer/husband, did a spectacular job on the photography.
There's already been some great press for the book! Here are some awesome things for you to check out (I'll update it whenever more are published). Thank you to everyone mentioned below!
Today, I'm sharing one of my favorite recipes from the Holiday season chapter: Marbled Pumpkin Cheesecake. It's so luscious and silky and delicious. And I might be biased but I think it looks way more beautiful than pumpkin pie so there's that.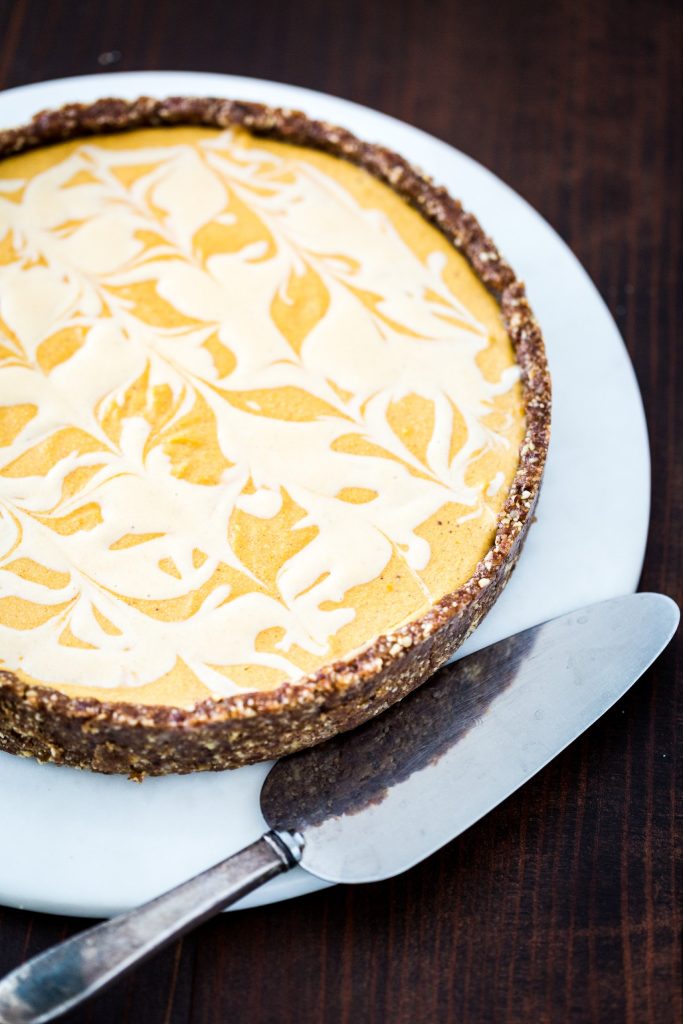 But My Family Would Never Eat Vegan!, Marbled Pumpkin Cheesecake, & A GIVEAWAY!
My aunt always makes the best pumpkin pie. The whole family loves it and looks forward to it every Thanksgiving. If I were to bring a vegan pumpkin pie to share with my family, everyone would compare it to my aunt's and since that's already the frontrunner and a beloved family recipe, not only would my vegan pie be the loser, it would be a loss for vegan food in general. That's why I bring a dish that's a little different. This cheesecake is as delicious as it is beautiful. It doesn't have to compete with pumpkin pie—it can stand on its own, and if the family wants to try the cheesecake without giving up their beloved pie, they don't have to.
Ingredients
1 cup (165 g) Medjool dates, pitted
1½ cups (190 g) pecan pieces
½ cup (50 g) almond flour
½ teaspoon ground cinnamon
½ teaspoon ground ginger
½ teaspoon salt
2 tablespoons maple syrup
1 tablespoon coconut oil, melted
Vegan cooking spray (soy-free if necessary)
1½ cups (225 g) raw cashews, soaked in warm water for at least 4 hours and drained, water discarded (if you're using a high-speed blender, you can skip the soaking)
6 tablespoons (85 g) chilled, hardened canned coconut cream (see Tip)
½ cup (120 ml) maple syrup
3 tablespoons lemon juice
1 1/3 cups (320 g) pureed pumpkin (not pumpkin pie filling)
1 teaspoon vanilla extract
1 teaspoon ground cinnamon
1 teaspoon ground ginger
½ teaspoon ground nutmeg
¼ teaspoon ground cloves
¼ teaspoon salt
Instructions
To make the crust: Place the dates in a food processor and process until they're in small pieces. Add the pecans and process until crumbly. Add the almond flour, cinnamon, ginger, salt, maple syrup, and coconut oil and process until incorporated and the mixture holds together when squeezed.
Line the bottom of a 9-inch (23 cm) springform pan with parchment paper and lightly spray the inside of the pan with cooking spray. Transfer the crust mixture to the pan and spread it evenly along the bottom and about 1 inch (2.5 cm) up the sides. Place the pan
in the freezer.
To make the filling: In a blender, combine the cashews, coconut cream, maple syrup, and lemon juice. Blend until smooth, then transfer ¼ cup (60 ml) of the mixture to a small bowl and set aside. Add the pumpkin, vanilla, cinnamon, ginger, nutmeg, cloves, and salt to the processor. Blend until smooth. Pour on top of the crust and spread it evenly.
Drizzle the reserved cashew cream over the top. Carefully drag a toothpick or skewer through the coconut cream and pumpkin mixtures, making a marbleized pattern. Cover the pan, return to the freezer, and freeze for 2 hours. Transfer to the refrigerator until ready to serve. Remove the sides of the springform pan, slice, and serve. Leftovers will keep in the fridge for 3 to 4 days.
Notes
TIP: Refrigerate a can of coconut cream or full-fat coconut milk overnight. The cream will harden and separate from the water. Use a can opener to open the can and lift off the lid. Carefully spoon out the solid coconut cream. Discard the water (or save it for later use). If you can find a 5.4-ounce (150 g) can coconut cream, it will provide you with all the cream you need for this recipe.
Recipe from But My Family Would Never Eat Vegan!: 125 Recipes to Win Everyone Over © Kristy Turner, 2016. Reprinted by permission of the publisher, The Experiment. Available wherever books are sold. theexperimentpublishing.com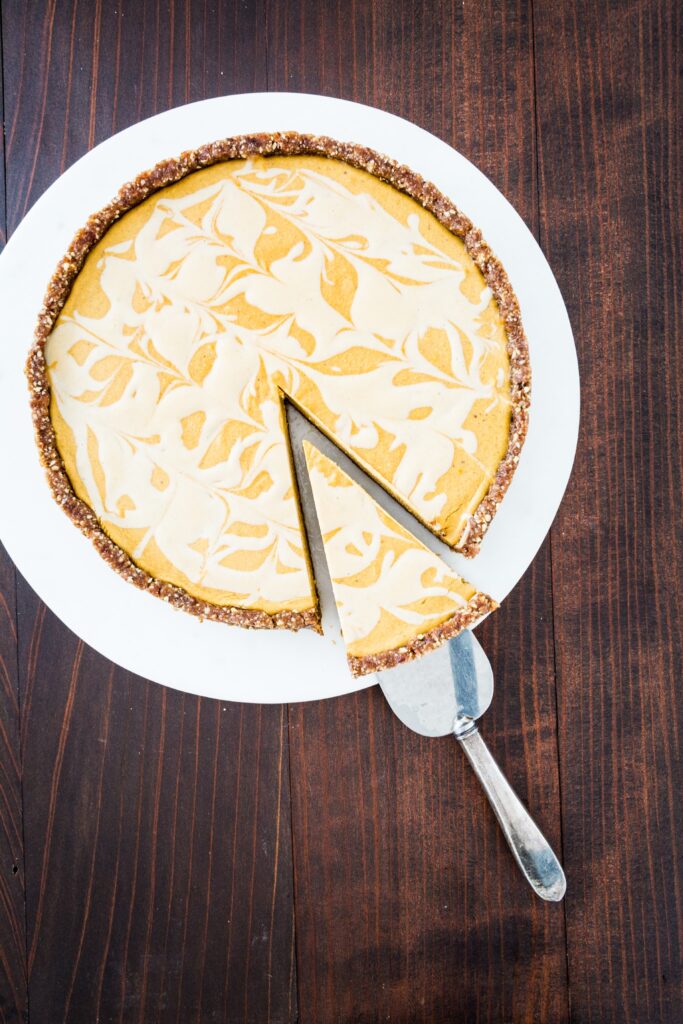 AND NOW FOR THE GIVEAWAY! I'm giving away three copies of my book! To enter, all you have to do is leave a comment below telling me about the family member you're going to share a recipe from this book with. Three (YES, THREE!!!) lucky people will be picked at random. The giveaway will run through 11:59pm on November 21st, 2016 and is open to US and Canadian residents only (sorry, my overseas friends. 🙁 ). UPDATE 11/22/16: The Giveaway is over! Congrats to the winners, Cheri, Michelle, and Tricia (they've been contacted via email) and thank you to all who entered!
If you've already purchased the book, Thank You!!!! X A Billion. If you haven't yet, get on it! Let's get some vegan meals on the table with our families!