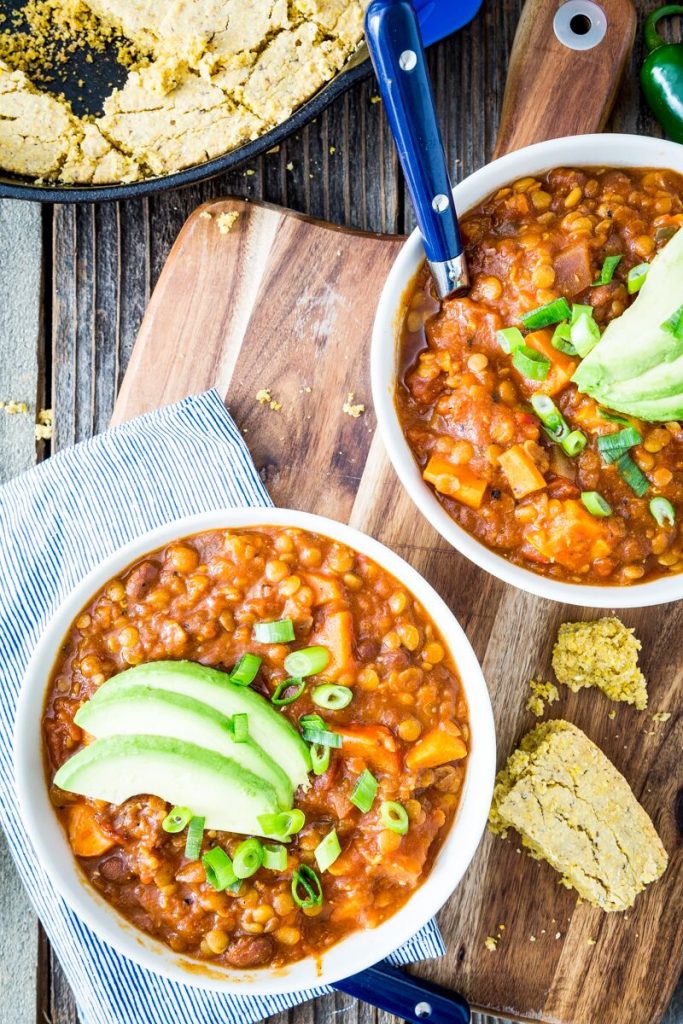 I don't know about you, but I'm all about big, warm bowls of comfort-goodness these days. I could be wrong (*enter sarcasm here), but I think it has to do with the current climate- weather and political. Anyway, our dinners recently have been a constant rotation of creamy soups, chunky stews, and this spicy lentil chili.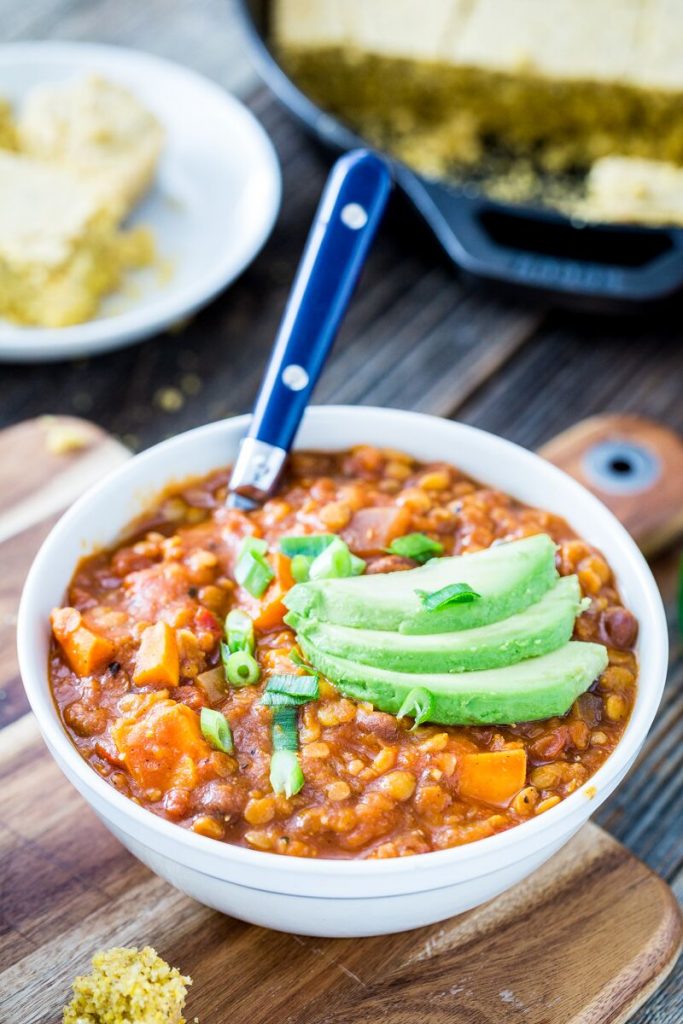 I recently picked up a jar of harissa paste from Trader Joe's without a clear plan for how to use it. It sat on my kitchen counter for a couple of weeks while I toyed with harissa recipe ideas, but none really stuck. One day, I started hard-core craving cornbread. So I had to figure out what to eat with the cornbread and of course, the logical answer was chili. And then I knew what the destiny of this jar of harissa paste would be.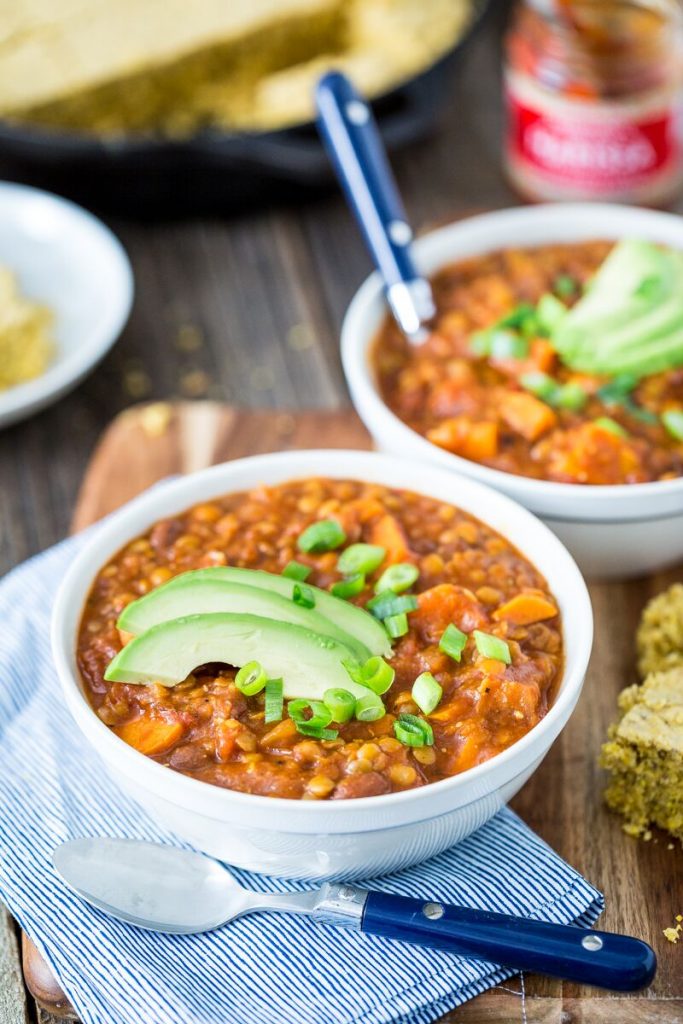 Lentils are a current favorite of mine for stews because they're inexpensive and they add such a wonderful texture to basically everything they're added to. Cooked in this chili, it almost has the texture of ground beef. Almost. But it does makes the chili seem meatier than it is (which is not at all, because it's vegan. Duh.).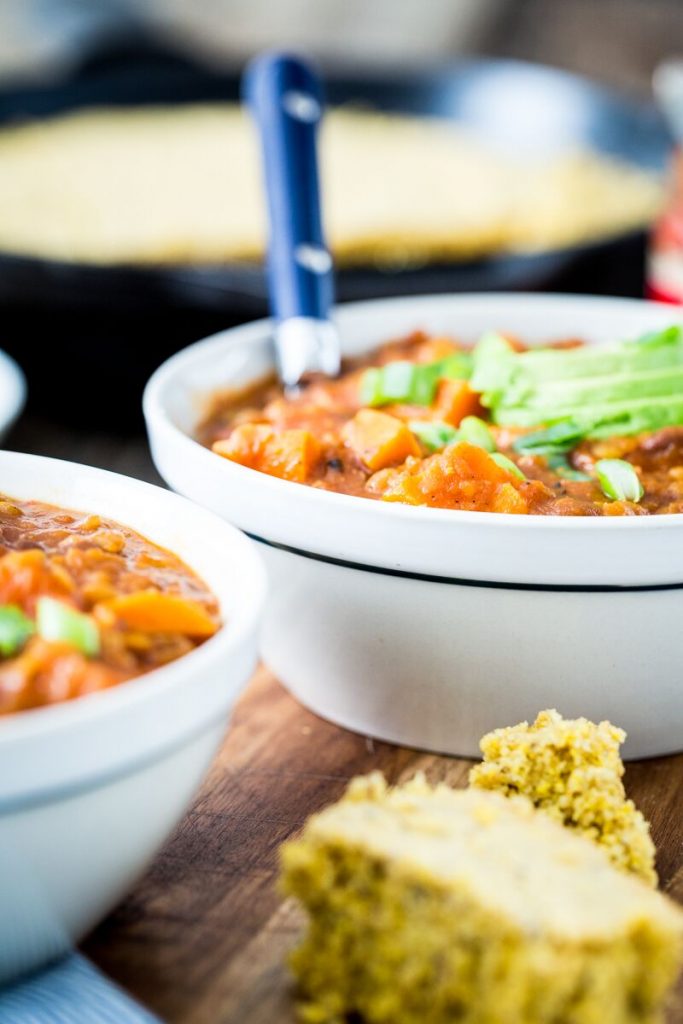 Over the winter break, I'd made a basic black bean chili with sweet potatoes and butternut squash and fell in love with the pairing of sweet and spicy. So for this lentil chili, I decided to add sweet potatoes again to balance out the spice of the harissa. And it worked perfectly.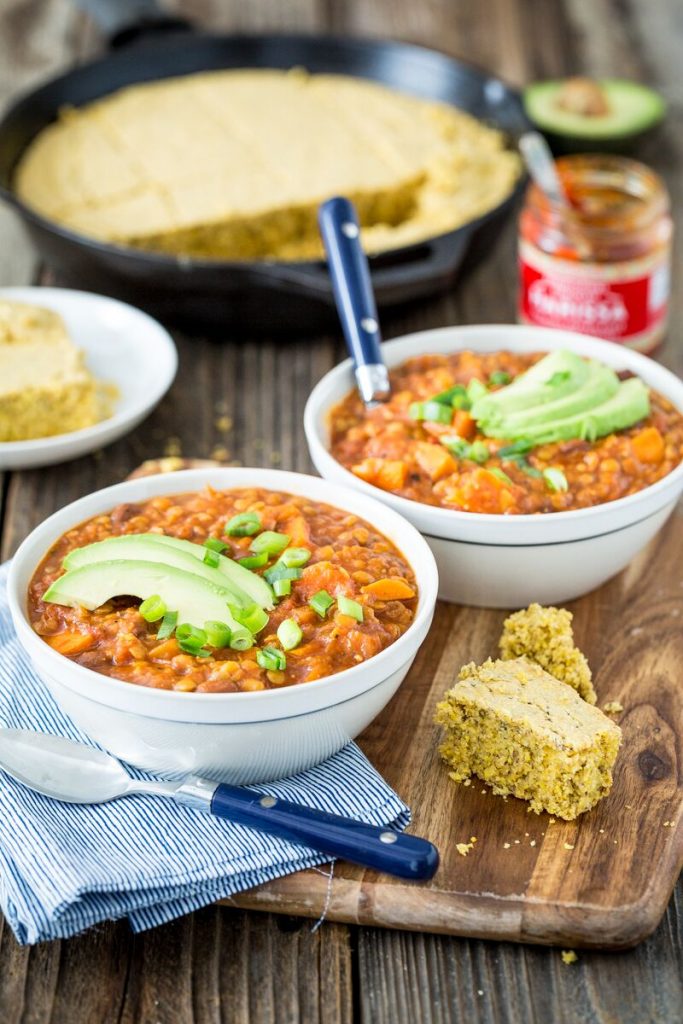 Sweet potatoes + Harissa + Lentils = Chili Perfection. You need to get on this.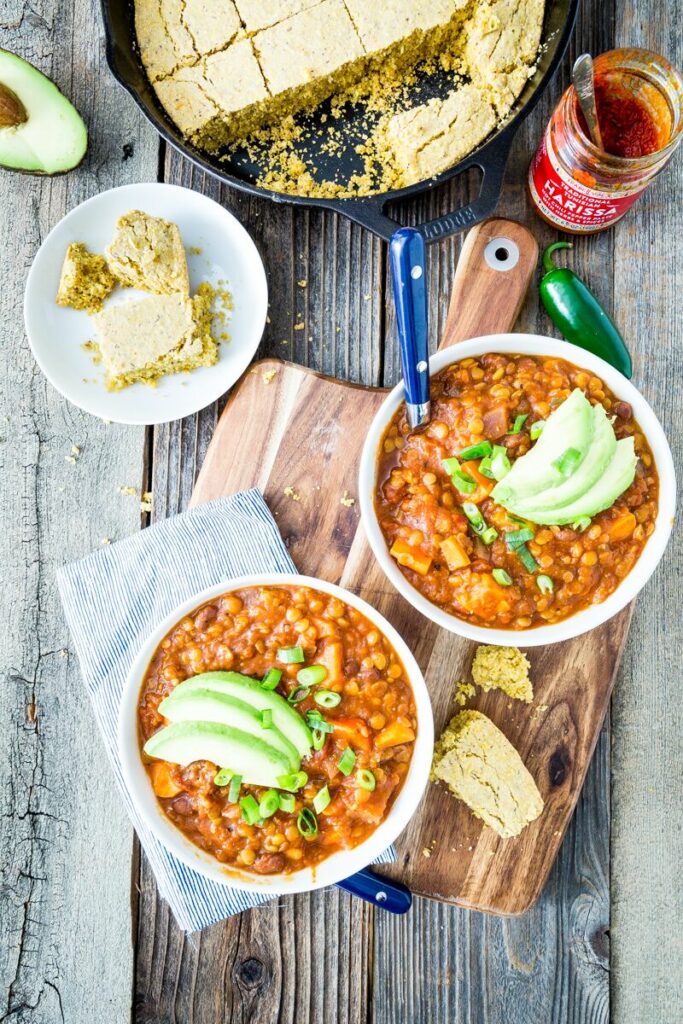 Harissa Sweet Potato & Lentil Chili
Ingredients
1 teaspoon olive oil
1 red onion, diced
3 garlic cloves, minced
1 jalapeno, de-seeded and chopped
1 red bell pepper, chopped
5 cups 1-inch cubes of sweet potato (about 2 large sweet potatoes)
4 cups vegetable broth
2 cups water
2 cans fire-roasted diced tomatoes (no salt added)
1 15-ounce can tomato sauce (no salt added)
1 15-ounce can red beans, rinsed and drained
1 cup green lentils
1 cup red lentils
4 tablespoons harissa paste
3 tablespoons liquid aminos (or tamari/soy sauce)
2 tablespoons maple syrup
2 tablespoons tomato paste
2 tablespoons canned diced green chiles
2 teaspoons chili powder
2 teaspoons cumin
1 ½ teaspoon dried oregano
1 teaspoon smoked paprika
salt and black pepper to taste
Sliced avocado,

optional

Chopped green onions,

optional
Instructions
Heat the olive oil in a large pot over medium heat. Add the onion and garlic and cook, stirring occasionally until the onion is translucent. Add the jalapeno and bell pepper and cook for about 3 minutes more. Add the sweet potato and cook, stirring occasionally, for 5 minutes.
Add the broth, water, diced tomatoes, tomato sauce, red beans, green lentils, red lentils, harissa paste, liquid aminos, maple syrup, tomato paste, green chiles, chili powder, cumin, oregano, and paprika. Bring to a boil and then reduce the heat to a simmer. Cover the pot, leaving it cracked just a bit, and let it simmer for about 20 minutes, stirring occasionally, or until the lentils are tender. Add salt and black pepper to taste. Remove from the heat and serve immediately. Top with sliced avocado and chopped green onions, or your topping of choice. Enjoy!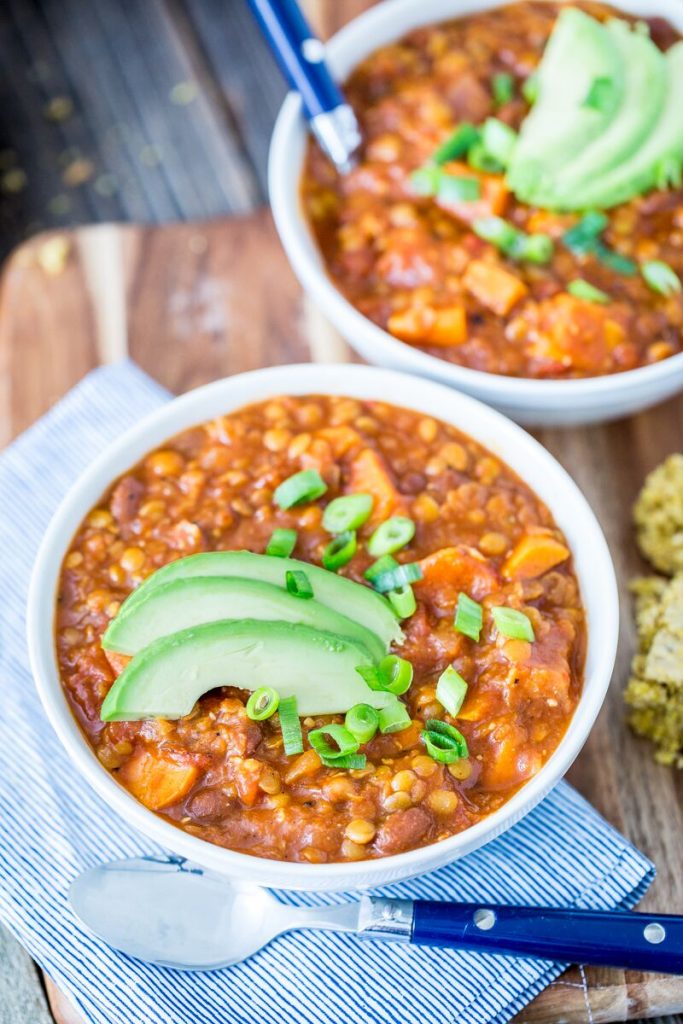 What sort of foods are you craving right now?
Photography by Chris Miller