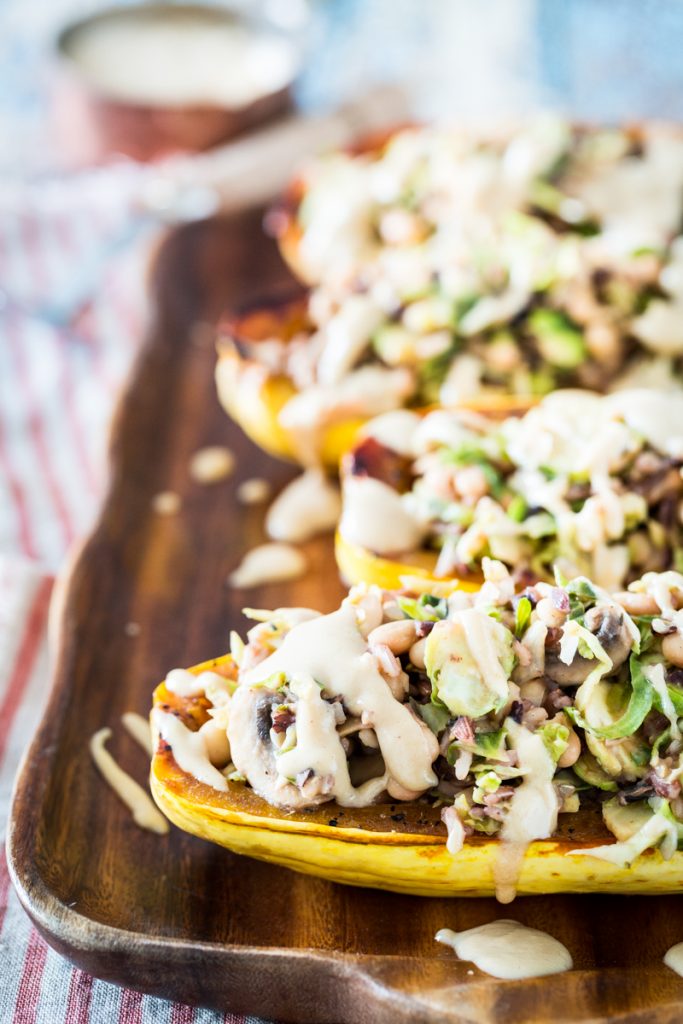 Before I start talking about this crazy-good stuffed squash, I have an announcement! As many of you may know, my new book, But My Family Would Never Eat Vegan! is coming out in less than 2 weeks on November 15th (***SO EXCITED***), but if you live in Southern California, you have a chance to get your copy early! On November 13th, from 3-6pm, I'll be at an event for the new Land Rover Discovery* in Venice, CA, hanging out and signing copies. I'll have more details for you as we get closer, but if you're around, put the date on your calendar! I'd love to see you there!
Want to hear more about But My Family Would Never Eat Vegan!? Check out this new page here at Keepin' It Kind!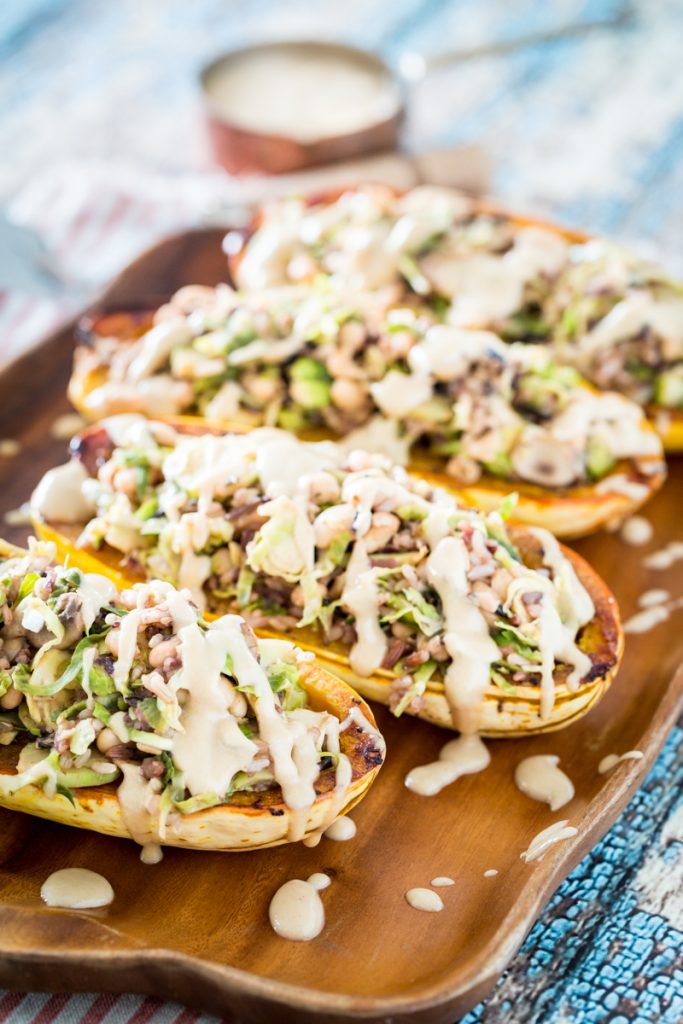 Now, onto more important things. Like this White Bean and Brussels Sprouts Stuffed Delicata Squash.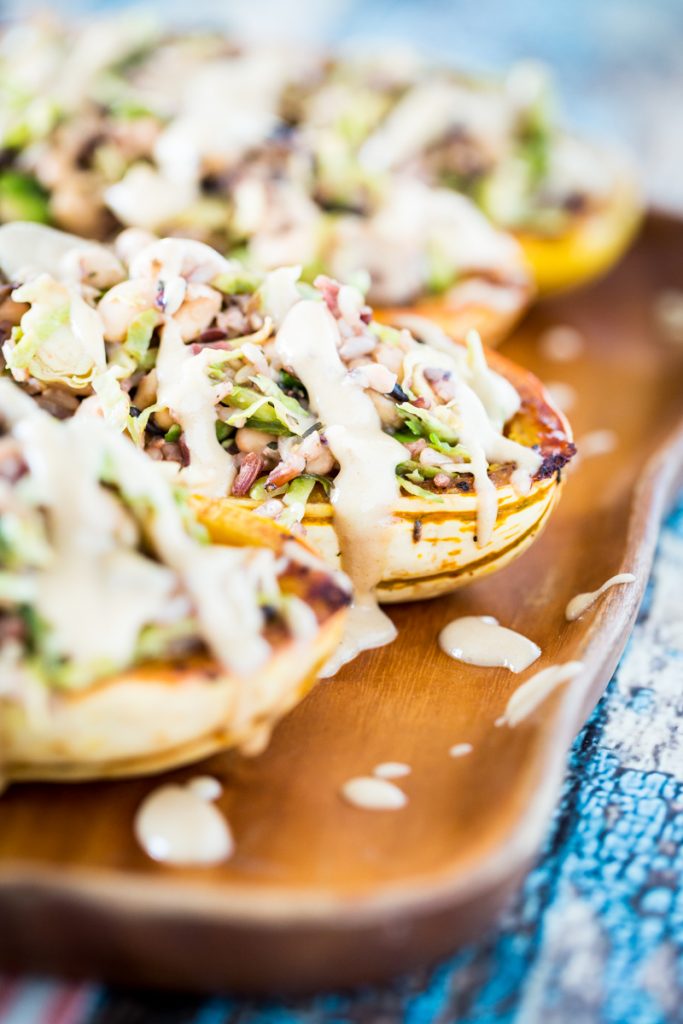 I know 'tis the season to be gaga over all things pumpkin but this year, all my love is in the winter squash camp. And there's one squash in particular that I've been in a frenzy for: Delicata Squash.
Maybe it's Delicata's slightly sweet taste or maybe it's the fact that the skin is thin and edible. Or maybe it's the fact that this little guy cooks up so quickly. Whatever the reason, I've eaten more Delicata squash this season than any other squash and it's only the first week of November!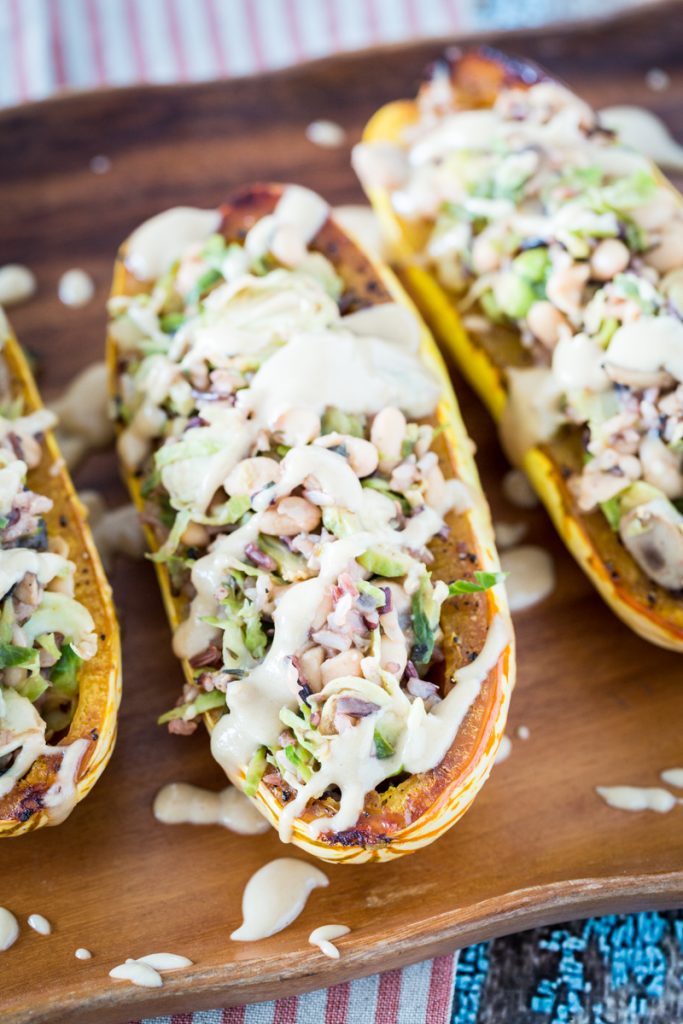 And because I'm all about simplicity in my meal preparation these days, the way I usually prepare the squash is by slicing it into strips, roasting it, and serving it up on top of a pile of rice, beans, and greens and topped with Lemon Tahini Sauce. I'm so madly in love with this sauce that I make double or triple batches of it and put it on EVERYTHING so it's not uncommon for me to have some chilling in the fridge, at the ready for this hearty bowl of goodness.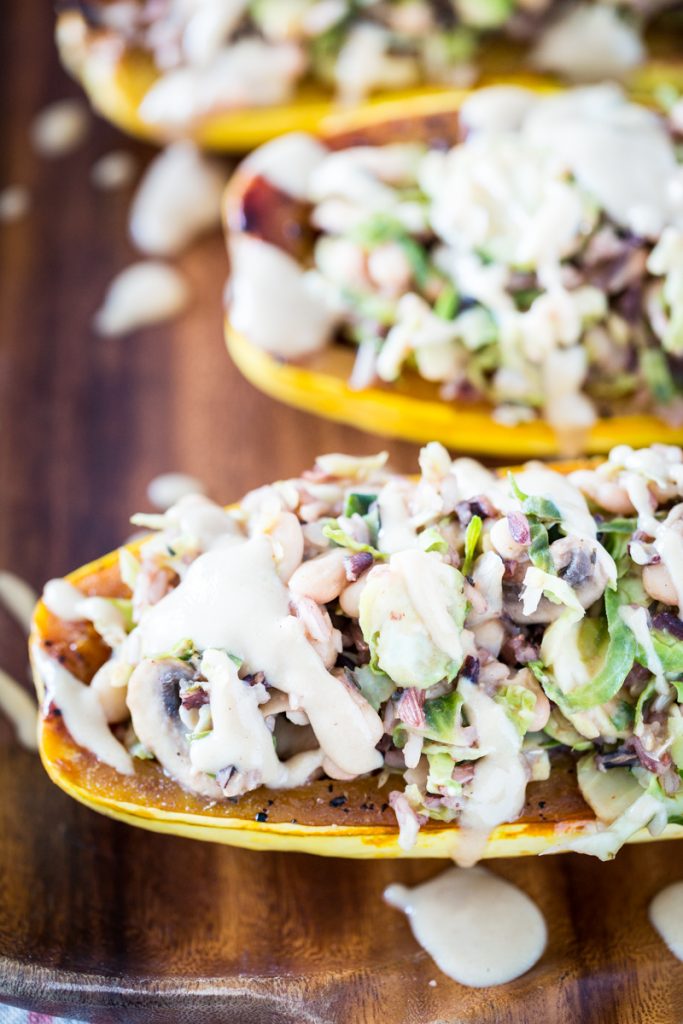 So usually I make my bowls for dinner but one night I decided to fancy it up a bit and roast the Delicata squash halves instead of slicing them up and then mix my rice, beans, and veggies together and stuff it into the squash. I wish I could take credit for this idea but people have been stuffing things in roasted squash halves for ages. It's old news. But it's delicious old news, nonetheless, and I'll never turn down the opportunity to stuff something really awesome into a squash (take my Pizza-Stuffed Spaghetti Squash and/or Pomegranate & Chickpea Quinoa Stuffed Acorn Squash, for examples).
I'm a big fan of how my newest stuffed squash turned out too. With white beans, mushrooms, brussels sprouts, and wild rice mixed together, it makes a great savory filling to pair with the sweetness of the squash. Plus, it's simple enough to pull together on a busy weeknight but classy enough to serve at a holiday dinner. Your choice.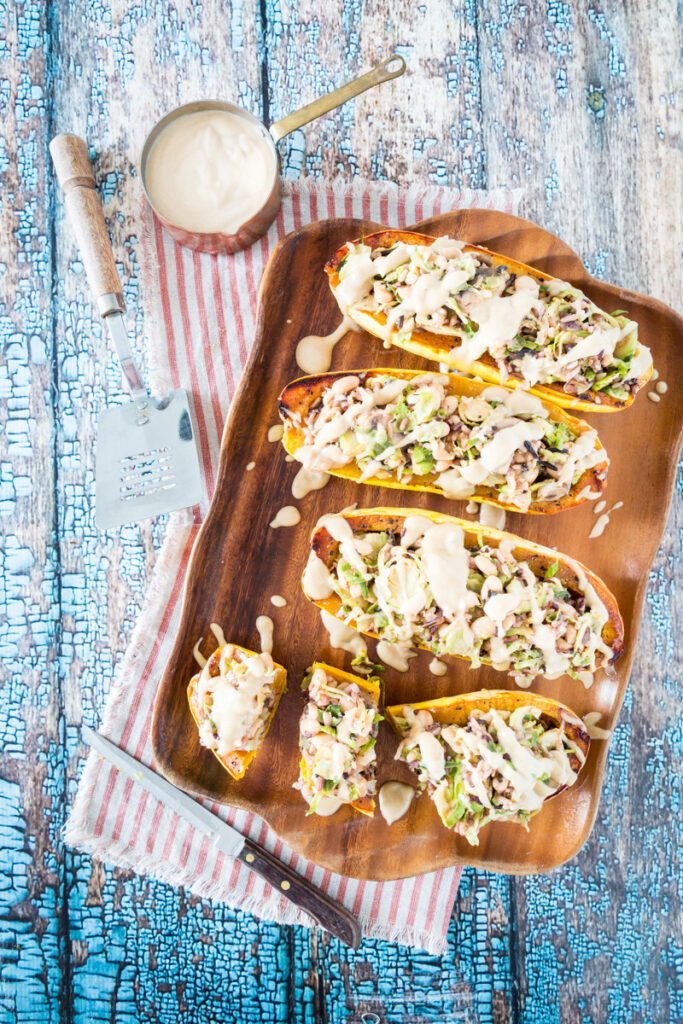 White Bean & Brussels Sprout Stuffed Delicata Squash with Lemon Tahini Sauce
Ingredients
4 medium delicata squash, cleaned
olive oil spray
salt and black pepper to taste
1 teaspoon olive oil
8 ounces button or crimini mushrooms, sliced
4 cups sliced/shredded brussels sprouts (I used the 12 ounce bag of pre-sliced sprouts from Trader Joes)
3 cups cooked Great Northern White Beans (or two 15-ounce cans, rinsed and drained)
2 tablespoons liquid aminos
1 1/2 teaspoons dried thyme
1 1/2 teaspoons dried parsley
1/2 teaspoon paprika
3 cups cooked wild rice
3 tablespoons lemon juice
1 1/2 tablespoons maple syrup
Instructions
Preheat the oven to 375. Line two baking sheets with parchment paper. Slice the squash in half, lengthwise and scoop out all the seeds. Spray the cut-side of each squash half with olive oil spray and sprinkle with salt and pepper. Place each squash half on the prepared baking sheets, cut-side down. Roast in the oven for 30 minutes, or until easily pierced with a fork.
While the squash is roasting, heat the olive oil in a large shallow saucepan over medium heat. Add the mushrooms and cook until just barely tender, 4 to 5 minutes. Add the brussels sprouts, white beans, liquid aminos, thyme, parsley, and paprika and stir until combined. Cook, stirring occasionally, until the brussels sprouts and mushrooms are tender, about 5 to 7 minutes.
Add the rice and stir until combined. Let it cook for a couple of minutes or until heated through. Stir in the lemon juice and maple syrup. Add salt and pepper to taste. Remove from the heat.
Once the squash has finished cooking, remove the baking sheets from the oven and turn each squash half over so that the cut side is facing up. Use a spoon to scoop the bean and rice mixture into each squash half, until each half is stuffed with filling. I like to add enough so that about 1 inch of stuffing is piled on top. Drizzle each half with Lemon Tahini Sauce and serve immediately. Leftovers will keep, stored in an airtight container, for 2 to 3 days.
Notes
Try to choose medium-large squash for this dish. With 4 delicata squash, you can feed about 8 people, with each person getting a half. If you don't have 8 people, you can cook up fewer squash and store the leftover stuffing for another meal.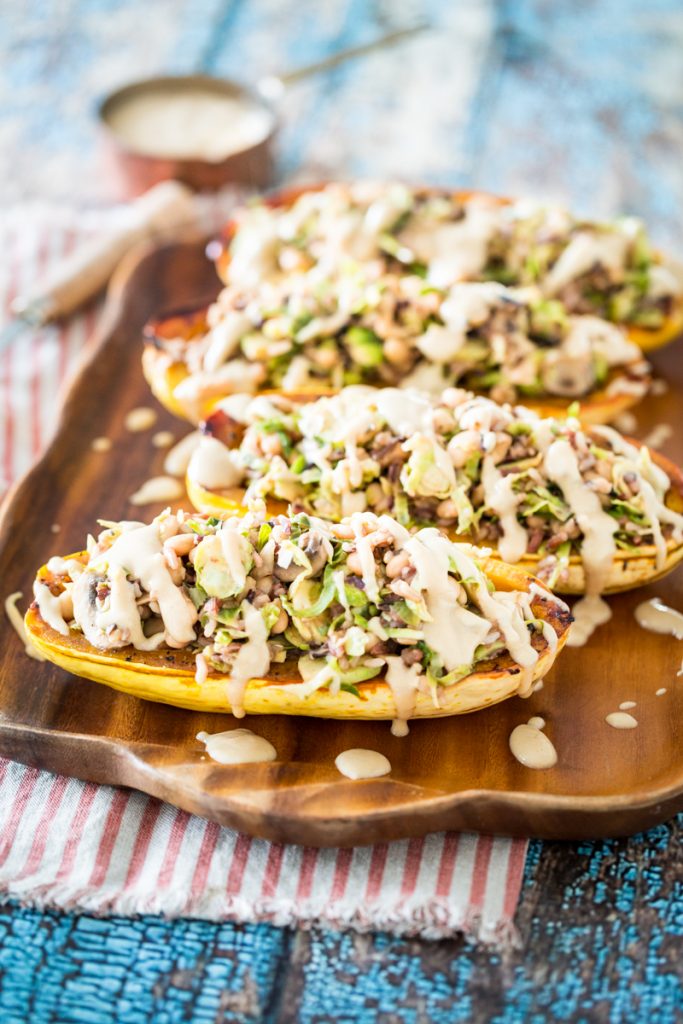 Photography by Chris Miller
*Calm down, Vegan Police. Before I agreed to do this, the company assured me that they use synthetic leather in this car.