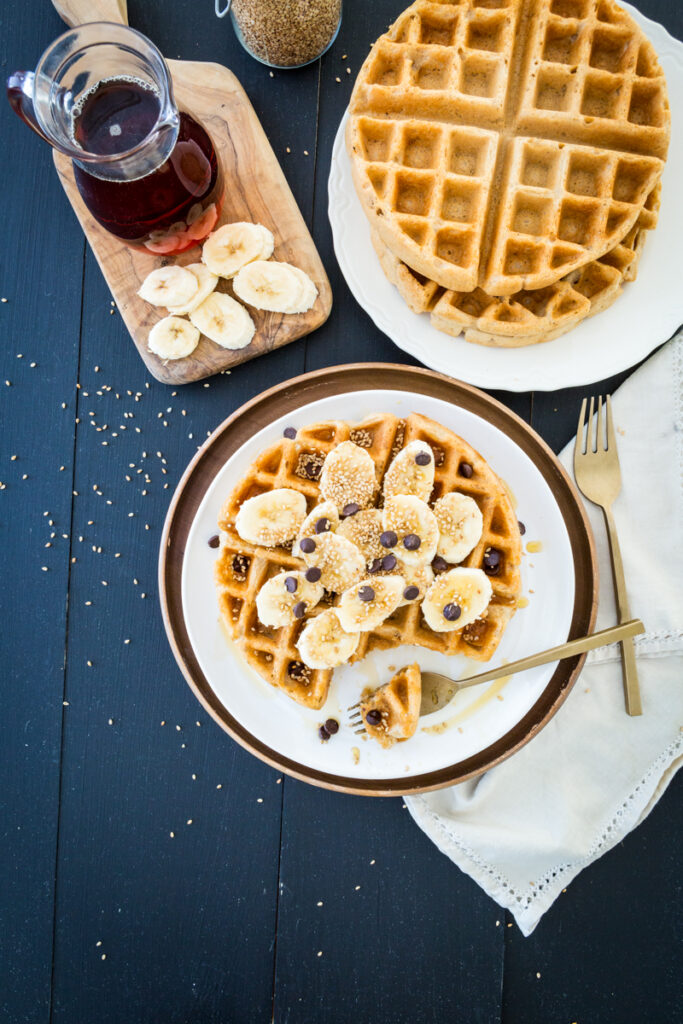 First of all, I wanted to thank all of you who read my recent Not About Food post. If you enjoyed it, yay! I'll continue to post them from time to time. If you didn't like it, I apologize, but there's good news: They'll only appear occasionally and reading them isn't mandatory. 😉 But truly, thank you for all of your support- I really enjoy sharing some of the non-food-related things I write sometimes. Now on to the recipe at hand...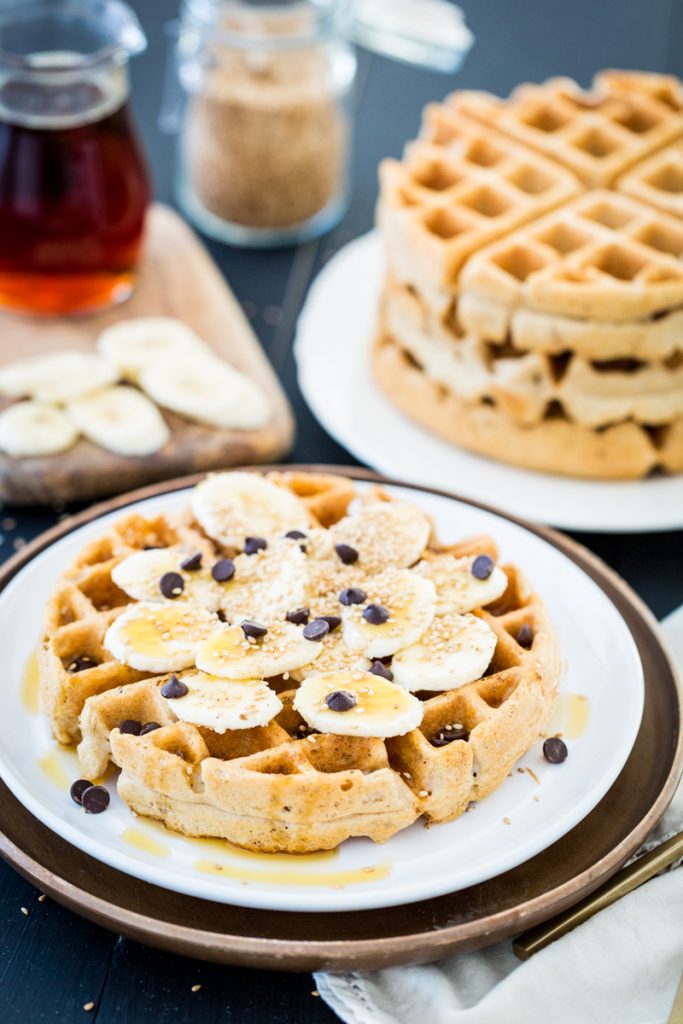 Recently, I've been hard-core craving waffles. I'm not sure why, but right now, waffles are my ultimate comfort food. For me, at least. And these miso-tahini waffles are definitely a delicious way to cure what ails me.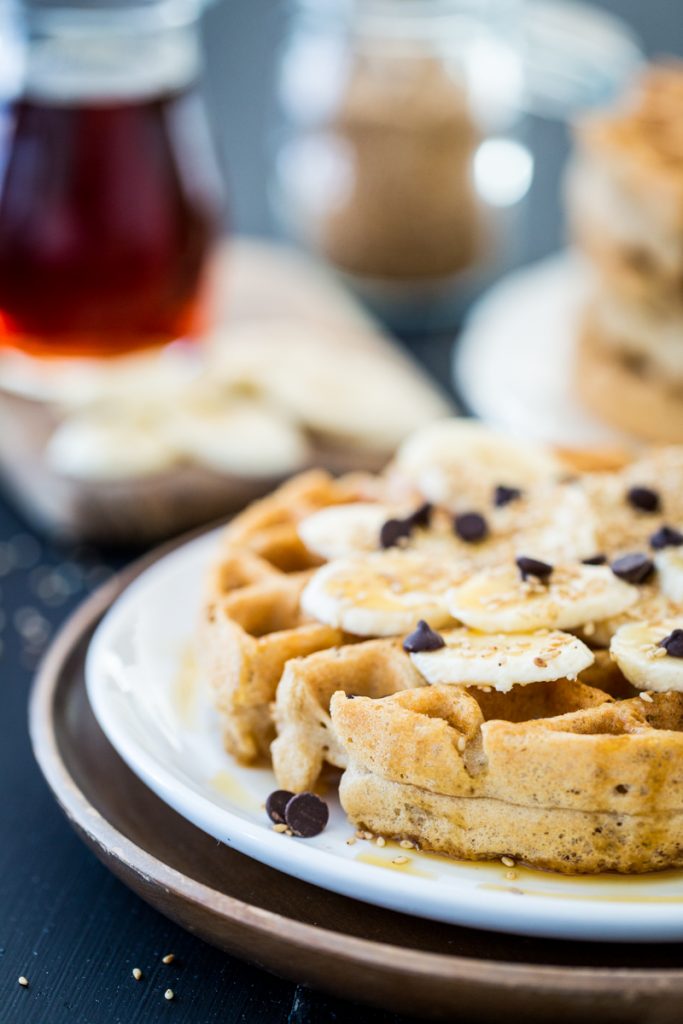 I actually stumbled upon these waffles by a weird twist of fate. I like putting peanut butter in my waffles, but one day I was out of peanut butter. Next to the empty space in my cabinet where my peanut butter would normally be, sat my jar of tahini. I just threw some of the tahini in the batter instead and viola! Something new and wonderful and even better than the peanut butter waffles I've been cooking up.
The tahini works instead of using oil or melted butter (or peanut butter, in my case) in the batter while also adding a faint nutty, creamy flavor. And in the spirit of trying new things, I threw in a tiny bit of miso just to add some oomph and it totally worked. Once cooked, the waffles taste almost like buttermilk waffles. The flavor is just subtle enough to be able to pair well with a multitude of toppings.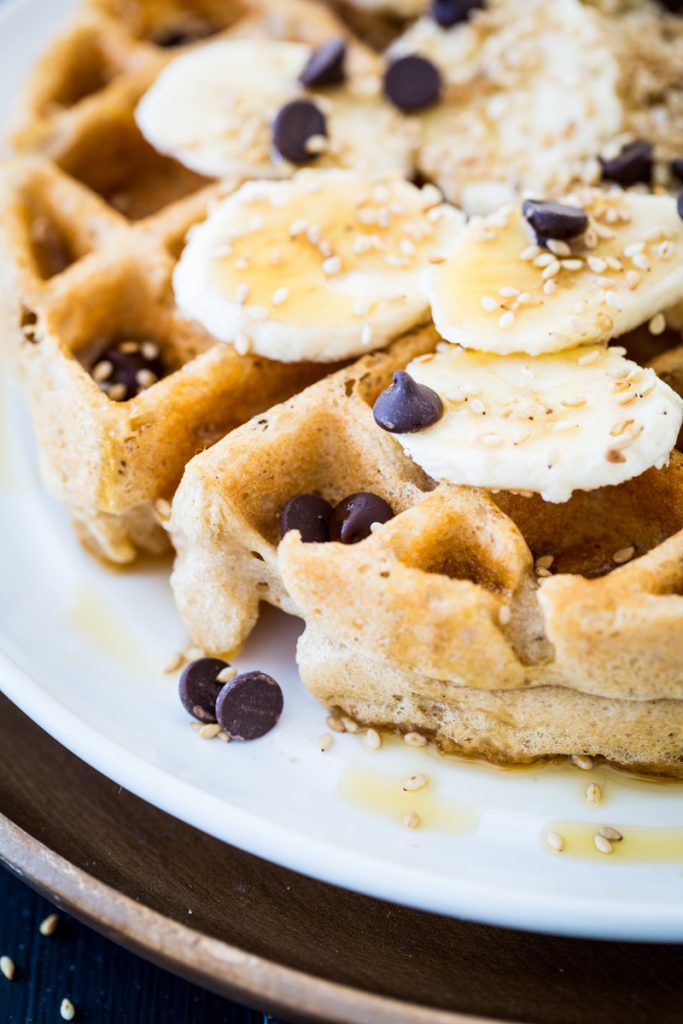 The other thing that makes these waffles special is their crispness. I tend to like waffles to have a slightly crisp exterior while being warm and soft on the inside, though I'll never turn down a soft waffle either. But the reason these waffles are so crisp is the addition of aquafaba (starchy bean liquid). While also working as an egg replacer, the starchiness helps the nooks and crannies of these waffles to soak up melted butter and syrup without getting soggy. They don't crumble under toppings.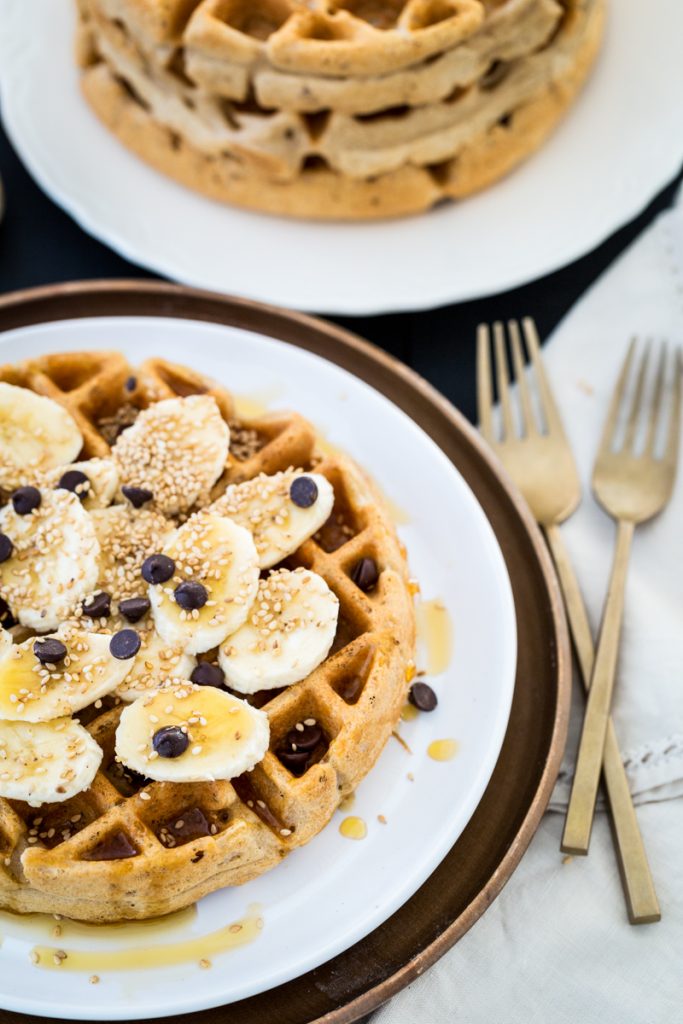 Did you notice how the title of this post mentioned that this waffle recipe can be used two ways? Well, these waffles, just with the simple addition of coconut sugar and vanilla extract, turn these waffles from perfect waffles for savory applications to sweet waffles suitable for drenching in syrup. Today, I'm sharing the latter. Stay tuned for the savory version!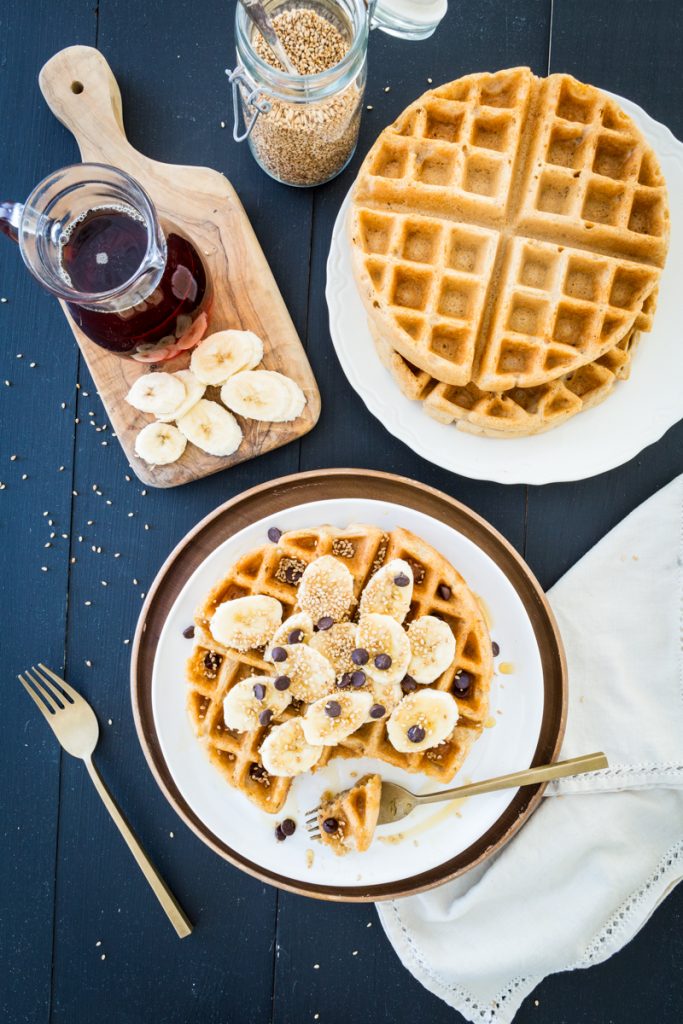 Today, however, I'm serving up the sweet version and I've topped this baby with sliced bananas, chocolate chips, maple syrup, and a light sprinkling of sesame seeds. It was delectable and absolutely chock-full of comfort.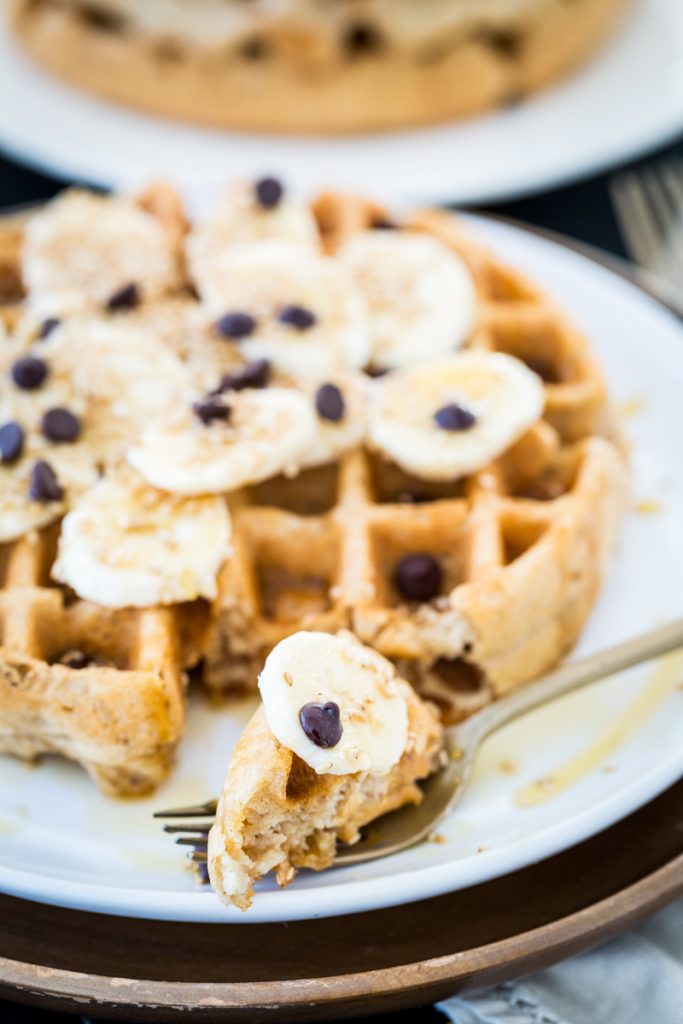 Crisp Miso-Tahini Waffles, Two- Ways
Ingredients
1 cup oat flour
1 cup gluten-free flour blend (or regular all-purpose flour)
1 1/2 tablespoons arrowroot powder
1 1/2 tablespoons baking powder
3/4 teaspoon salt
1 1/2 cups non-dairy milk
1/2 cup aquafaba
1/3 cup tahini
1 teaspoon white or chickpea miso,

optional

1/4 cup coconut sugar
1 1/2 teaspoons vanilla extract
Instructions
In a large bowl, whisk together the oat flour, gluten-free flour, arrowroot powder, baking powder, and salt.
In a medium bowl, combine the milk, aquafaba, tahini, and miso. IF MAKING THE SWEET VERSION, also add the coconut sugar and vanilla extract. Whisk together until fully incorporated. Pour the wet ingredients into the large bowl with the dry and whisk until combined.
Heat up your waffle iron and give one last stir before scooping up your batter. Cook in your waffle maker according to machine instructions. For reference, I have a Belgian waffle maker and can make 4 waffles using 1 cup scoops of batter.
To keep the waffles warm until serving, preheat the oven at it's lowest heat setting. Place a cooling rack on top of a baking sheet and place in the oven. Once done cooking, transfer the waffle to the cooling rack in the oven. Don't keep them there longer than 30 minutes or you'll risk drying them out. Leftovers will keep, refrigerated in an airtight container for 2 to 3 days. Enjoy!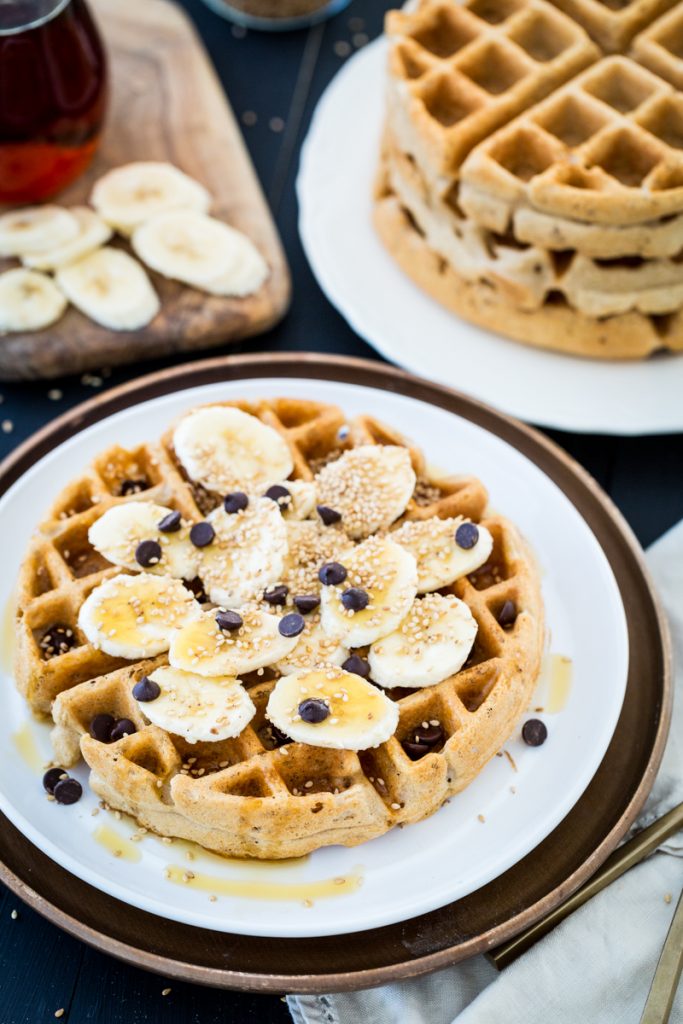 What's your current go-to comfort food?
Photography by Chris Miller