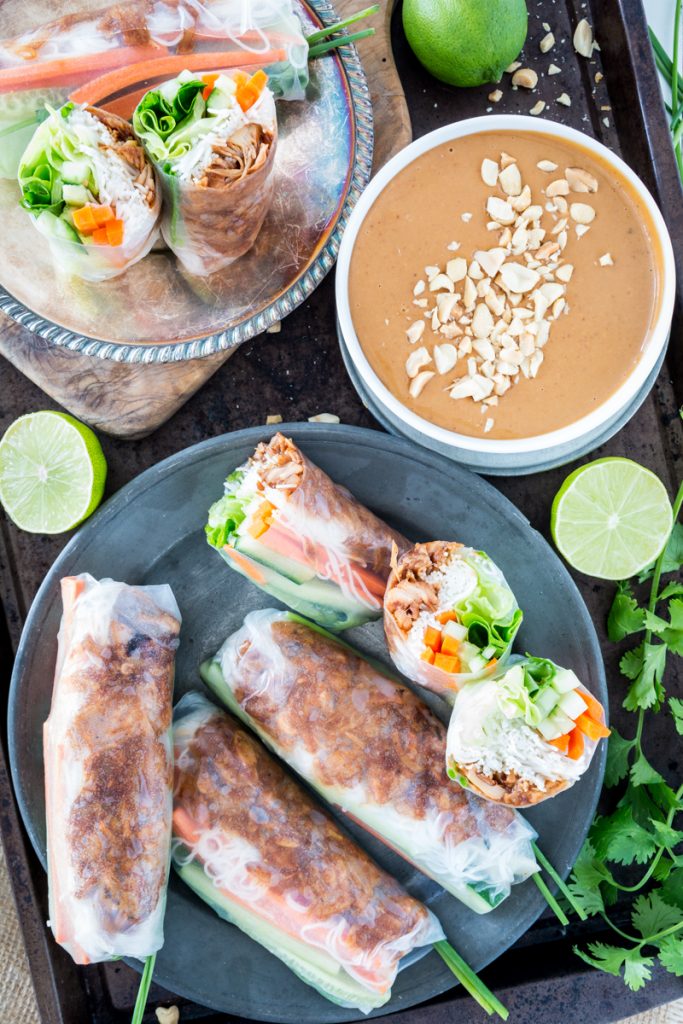 I recently drove to four different grocery stores on a Saturday in Los Angeles, looking for rice paper. If you're not familiar with weekend traffic in LA, be thankful. It's far from fun. But I had been to Whole Foods a day earlier and discovered that they did not have any rice paper in stock. I was seriously jonesing for some Vietnamese summer rolls and decided that I was indeed desperate enough to spend an afternoon in traffic to satisfy my cravings. It was also the seven month anniversary of my mother's death and I was feeling emotionally unraveled so I suppose I wasn't in the right frame of mind to be making logical decisions.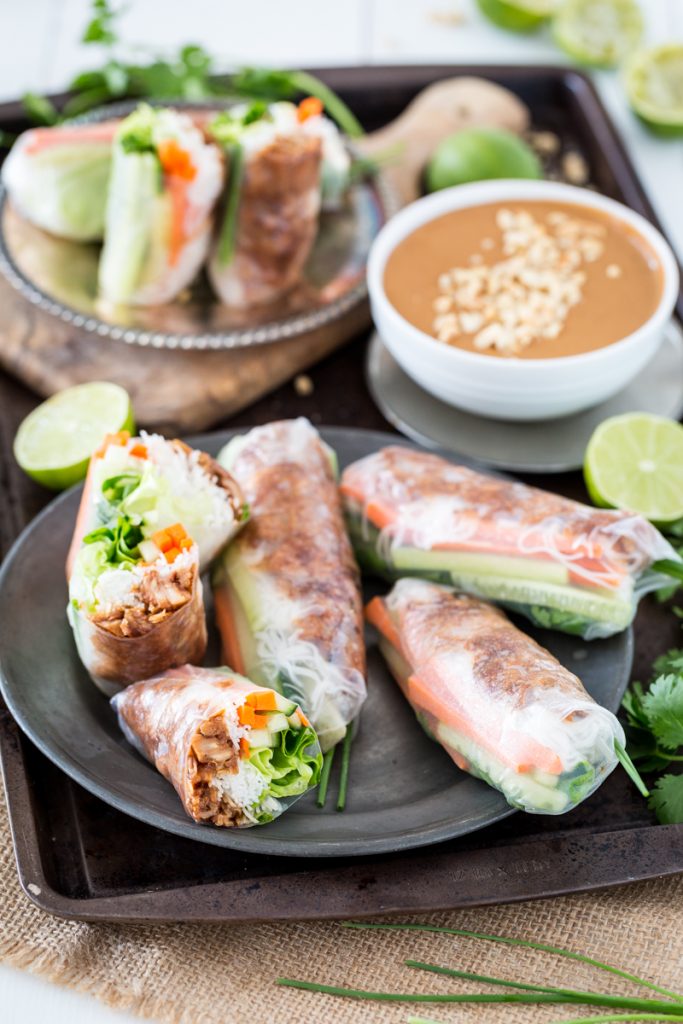 So I drove to one store after the other, looking for white rice paper. I found a couple stores that carried brown rice paper, but I'm sorry- I've used that stuff and when it's not cracking and breaking before you can use it, it ends up making your rolls look like weird little turds. I bought something at every store I went to so I wouldn't feel like my voyage had been made in vain, but after four stores, my search remained fruitless.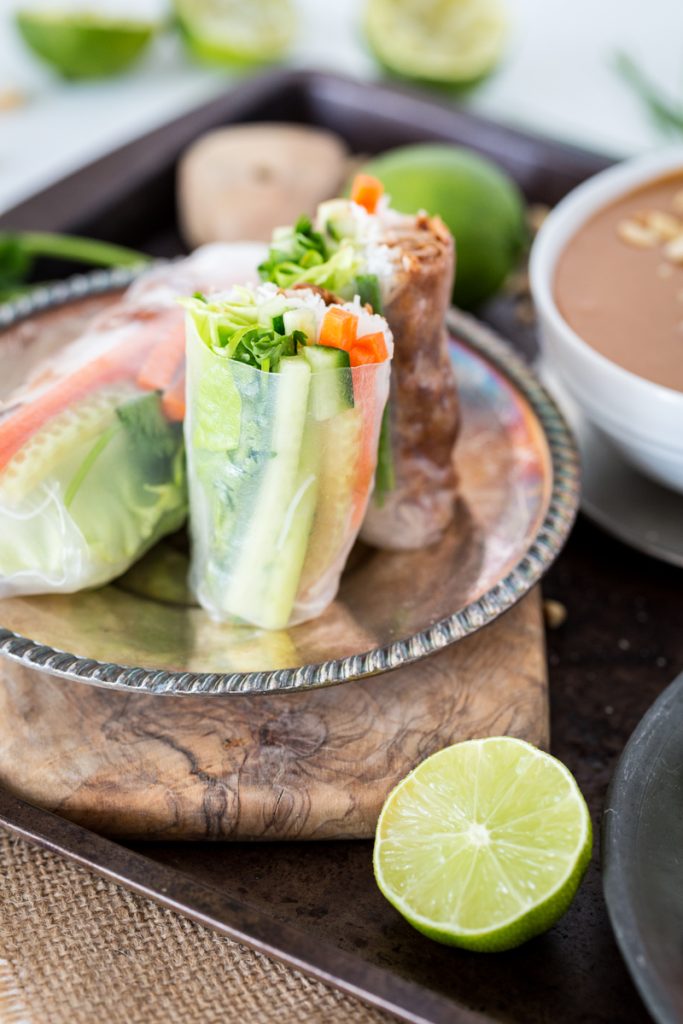 So I went home, ordered some rice paper from Amazon, took a nap, and then had waffles and wine for dinner. Don't judge. Waffles are good for your soul. #truth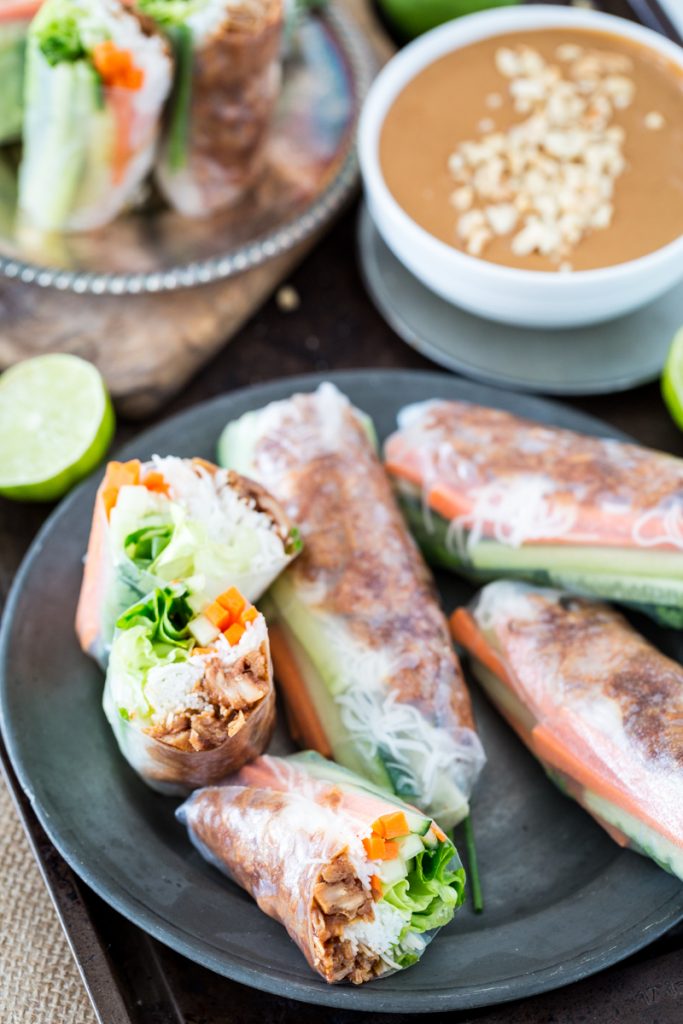 Anyway, there's a jackfruit sandwich recipe that I love in my upcoming book, But My Family Would Never Eat Vegan! (it's actually on the cover of the book!) and it requires cooking jackfruit in a thick BBQ sauce and baking until it gets sticky and a little caramelized. It's heavenly.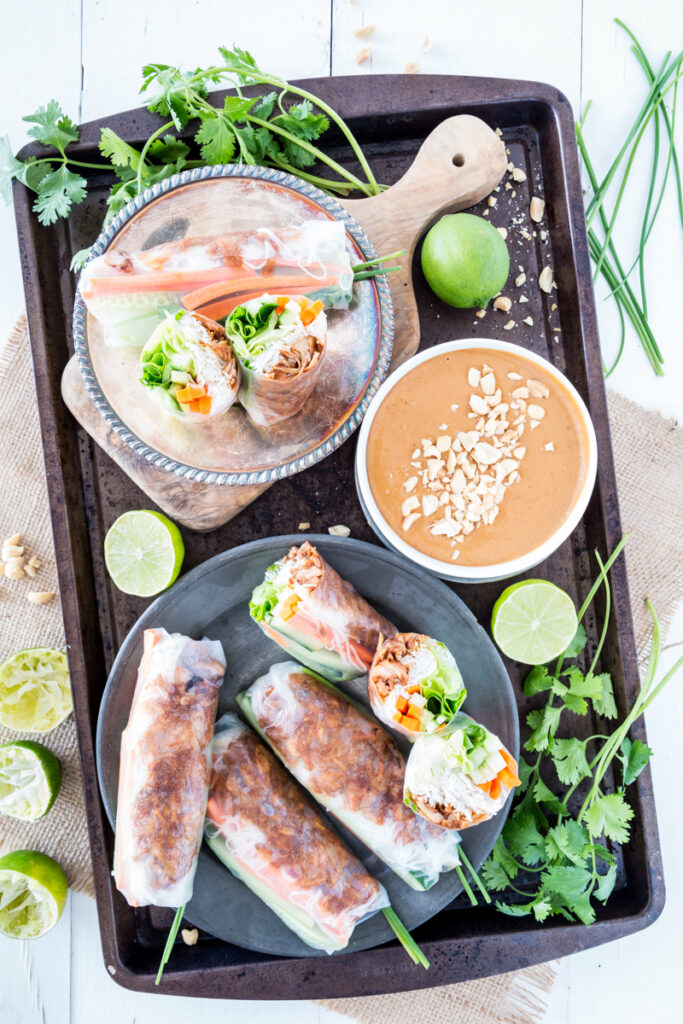 Recently, I made the BBQ jackfruit for tacos and it got me to thinking- I bet I could cook the jackfruit in another sauce of similar texture and have similar results. A little more thinking and I came up with the idea to make Vietnamese-style caramelized jackfruit. It's cooked in a hoisin-based sauce, and baked until it's ooey gooey (not drippy-saucy) and it has a taste similar to that of caramelized pork. But it's a plant. Amazing, right?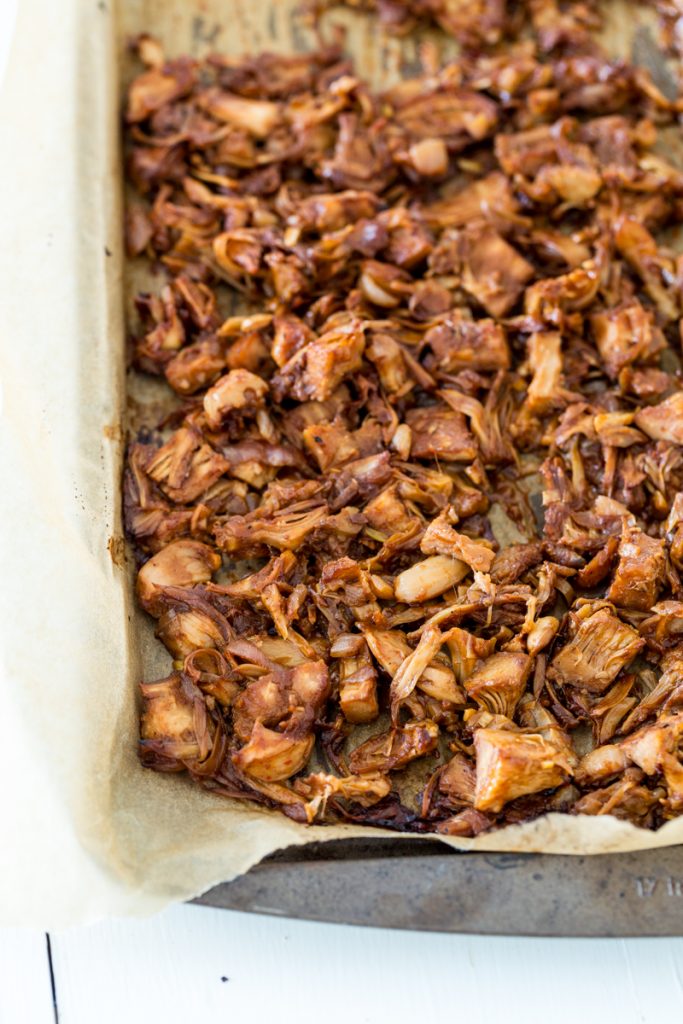 So of course this wonderful new jackfruit creation ended up in my Vietnamese summer rolls along with some super thin rice noodles, carrot and cucumber matchsticks (or just "sticks" because I'm not sure they were skinny enough to merit the title of matchsticks), butter lettuce, fresh cilantro, and chives.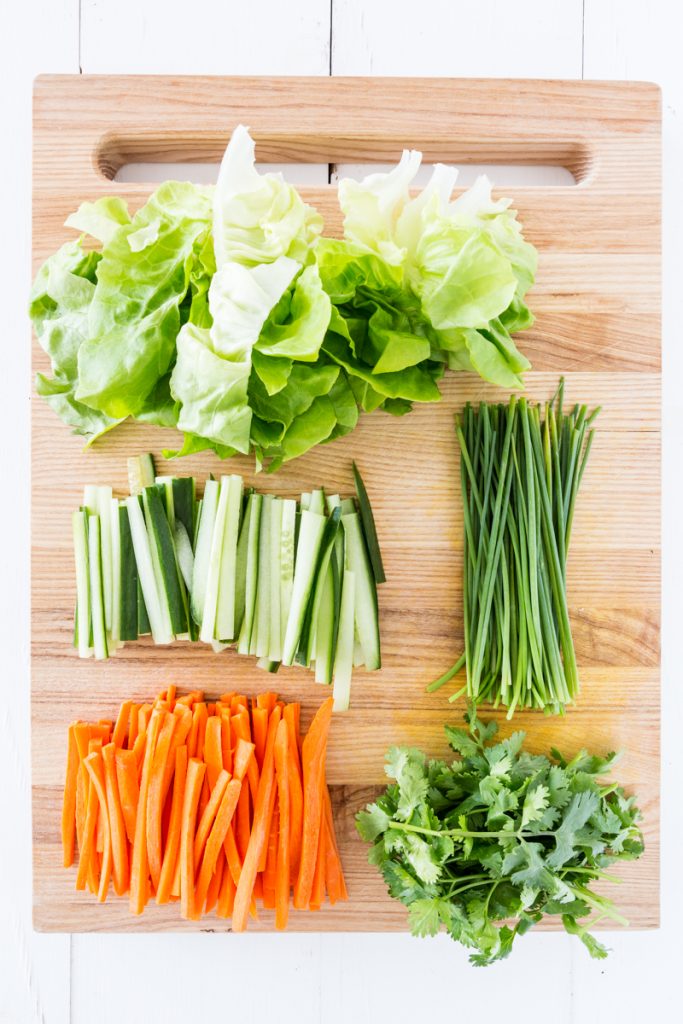 Then I made a hoisin-based peanut sauce to dip those suckers in. I know what you're thinking and yes, the experience of eating one of these summer rolls dipped in that sauce is nothing short of magical. I mean, they're not waffles, but still- they're pretty amazing.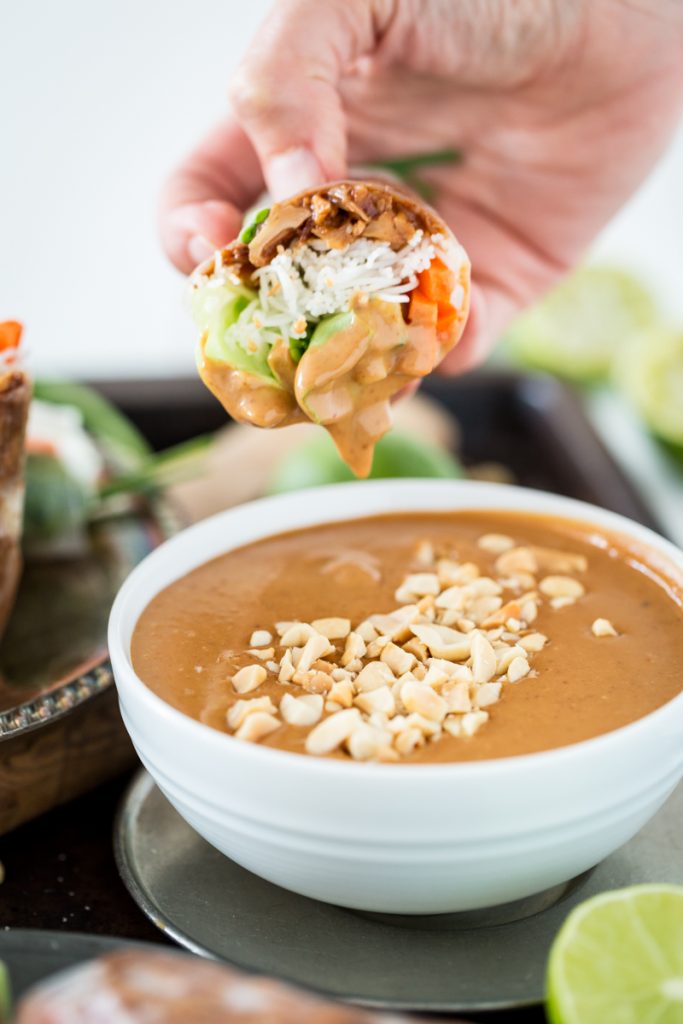 Jackfruit Vietnamese Summer Rolls with Hoisin Peanut Sauce
Ingredients
Two 20-ounce cans jackfruit (in brine or water), rinsed and drained
1/2 cup hoisin sauce (use gluten-free if necessary)
1/4 cup + 1 tablespoon low-sodium tamari sauce
1/4 cup rice vinegar
3 tablespoons maple syrup
2 tablespoons tomato paste
1 tablespoon sriracha sauce
1 tablespoon ume plum vinegar,

optional

2 teaspoons arrowroot powder
2 tablespoons sesame oil
5 shallots, diced
2 garlic cloves, minced
1 tablespoon minced lemongrass,

optional

1 teaspoon Chinese 5 spice
14 sheets of rice paper, preferarbly white
4-ounces rice vermicelli or maifun (very thin rice noodles), cooked according to package instructions and rinsed in cold water
2 medium carrots, peeled and sliced into thin sticks
1/2 English cucumber, sliced into thin sticks
1 head of butter lettuce, leaves chopped into 1-inch strips
Roughly 1/2 cup cilantro
whole chives
1/2 cup smooth, unsalted, unsweetened peanut butter
3 1/2 tablespoons lime juice
3 tablespoons water
2 tablespoons hoisin sauce (use gluten-free if necessary)
2 tablespoons low-sodium tamari sauce
1-2 teaspoons sriracha sauce
1 teaspoon minced fresh ginger
Instructions
After rinsing and draining the jackfruit, use your fingers to tear it into small chunks. Set aside.
Preheat the oven to 400 F and line a baking sheet with parchment paper.
In a small bowl, whisk together the hoisin sauce, tamari, rice vinegar, maple syrup, tomato paste, sriracha, and ume plum vinegar until smooth. Whisk in the arrowroot powder until fully incorporated. Set aside.
Heat the sesame oil in a large, shallow saucepan over medium heat. Add the shallots and cook, stirring occasionally, until the shallots begin to turn translucent. Add the garlic and lemongrass and cook for a couple more minutes. And the Chinese 5 spice and stir until incorporated.
Add the jackfruit and let cook for about five minutes, stirring occasionally. Once softened a bit, use two forks to tear the jackfruit into smaller, more shredded pieces. Add the reserved hoisin sauce (you may have to give it a quick stir before pouring) and stir until combined. Let cook for a couple minutes before transferring to the prepared baking sheet.
Spread the jackfruit out into an even layer. Place the baking sheet in the oven and bake for about 25 minutes, stirring it and spreading it out again once halfway through. Once done, remove from teh oven and let cool, without stirring, for about 10 minutes.
While the jackfruit is baking, prepare your peanut sauce. In a medium bowl, whisk together the sauce ingredients until completely smooth. If you desire a thinner sauce, you can add more water a tablespoon at a time until you reach your desired consistency. Chill until ready to use.
To assemble: fill a wide bowl full of warm water. Dip one of the sheets of rice paper into the water and lay it out on a clean surface. Lay out about 1/4 cup of the jackfruit mixture into a small strip on the half of the rice paper closest to you. Top with a small handful of the rice pasta (about a scant 1/2 cup). Lay out several carrot and cucumber sticks next to the pile of pasta, top with a couple strips of lettuce, and then add a sprig of cilantro.
Fold the edge of rice paper closest to you over the pile. Fold the two side edges towards the center, and then roll the pile over once. Before you've rolled it all the way, add a couple chives, letting them stick out of one end, and then continue rolling until it is completely sealed. Please see this post for similar how-to photos.
Repeat with the remaining rice paper sheets and ingredients until all are completed. If necessary, you can make fewer rolls and refrigerate the rest of the ingredients for a day or two to make the rest of the rolls. If you make all the rolls at once, you can refrigerate the completed rolls overnight and eat it the next day, if you'd like. You should be able to make about 14 rolls total. Enjoy!
Notes
Jackfruit can typically be found in Asian markets but you can also order it online if necessary. Be sure to choose young jackfruit packed in brine or water, not syrup.
Photography by Chris Miller