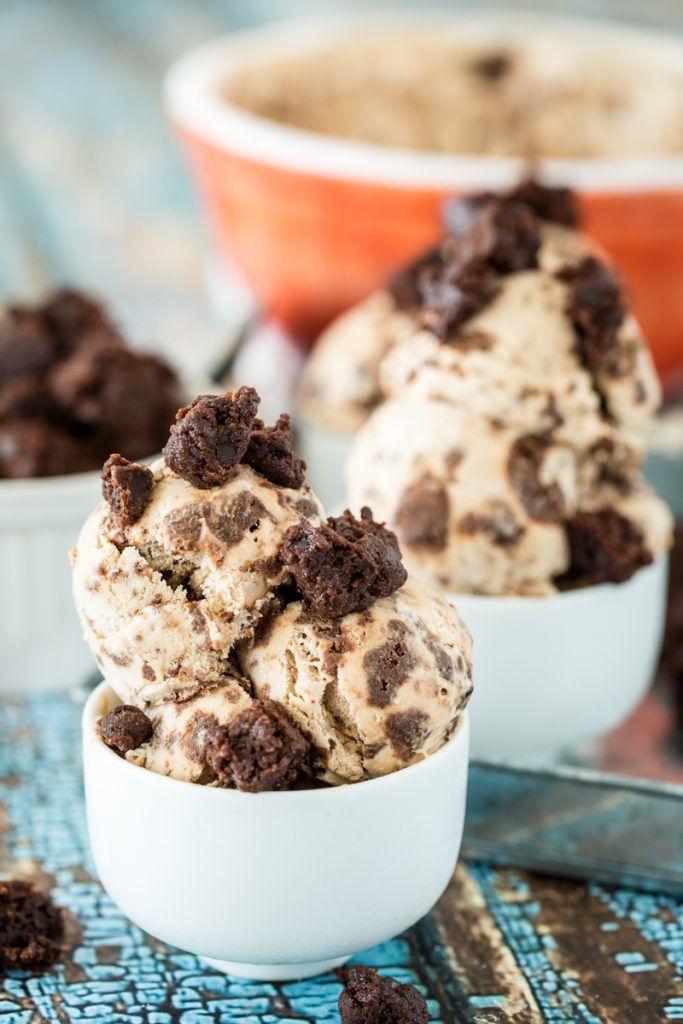 I had intended to share a recipe for gluten-free brownies with you today.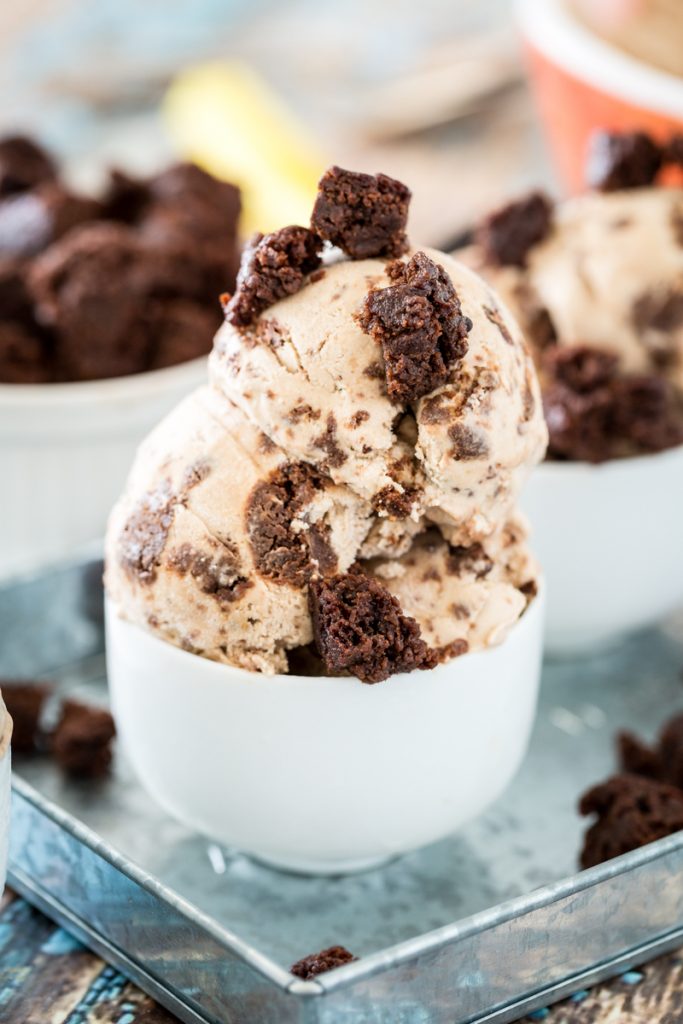 Sometimes, when I'm testing a recipe over and over again, trying to make it perfect, I get a little cocky. You see, the majority of the ingredients stay the same, test after test, and after making it time and time again, I start to memorize the ingredients. I get to a point where I'm like "I don't need to look at the recipe! I know this shit!"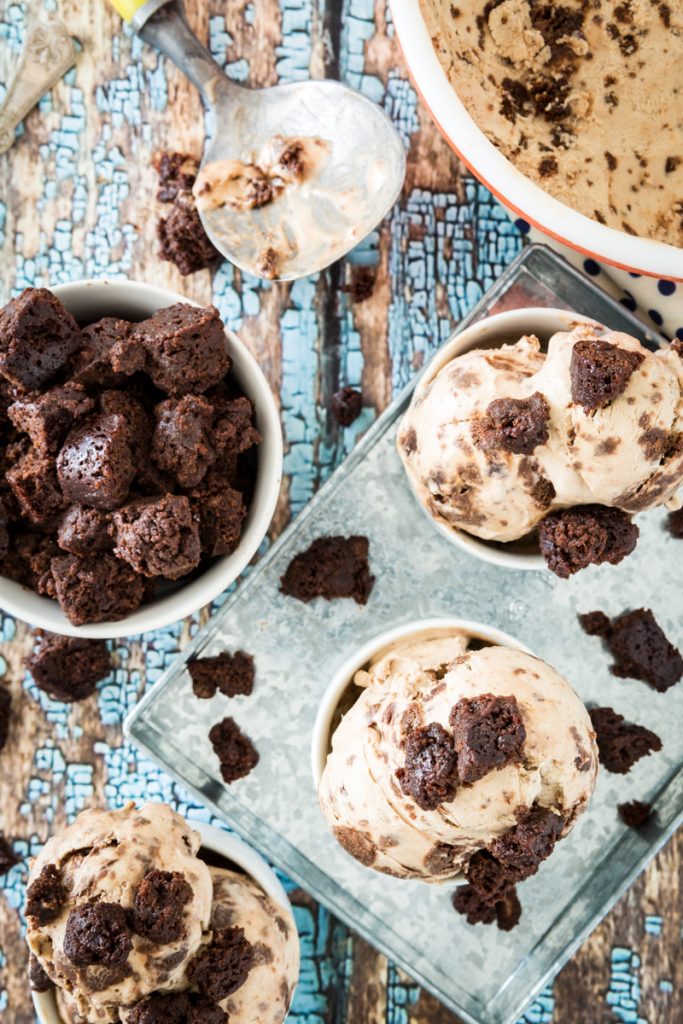 Well, I perfected the brownie recipe. I made a batch last week that was absolutely perfect. I made another batch on Friday so we would have a fresh batch to shoot on Saturday (with Chris's current work schedule, we only shoot on weekends during daylight hours so it limits things a bit). But I got cocky.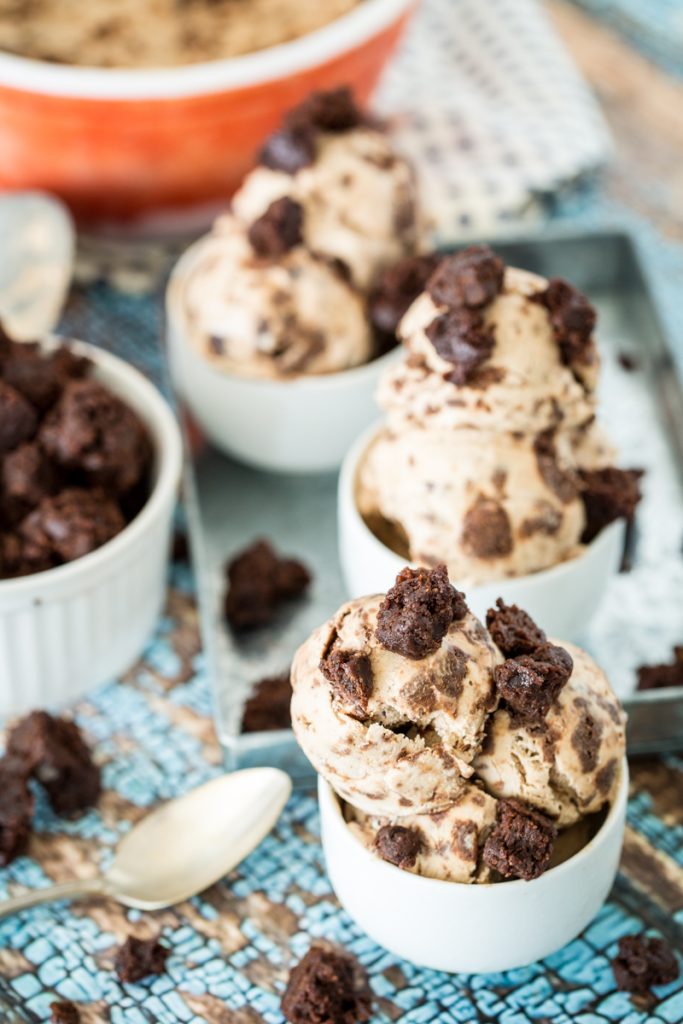 Everything was going so well. So well, in fact, that the batter was behaving even better than the last time. I was excited. I poured the batter into the prepared dish, popped it in the oven and then remembered that I forgot one whole ingredient. A pretty damn important ingredient, as it turns out.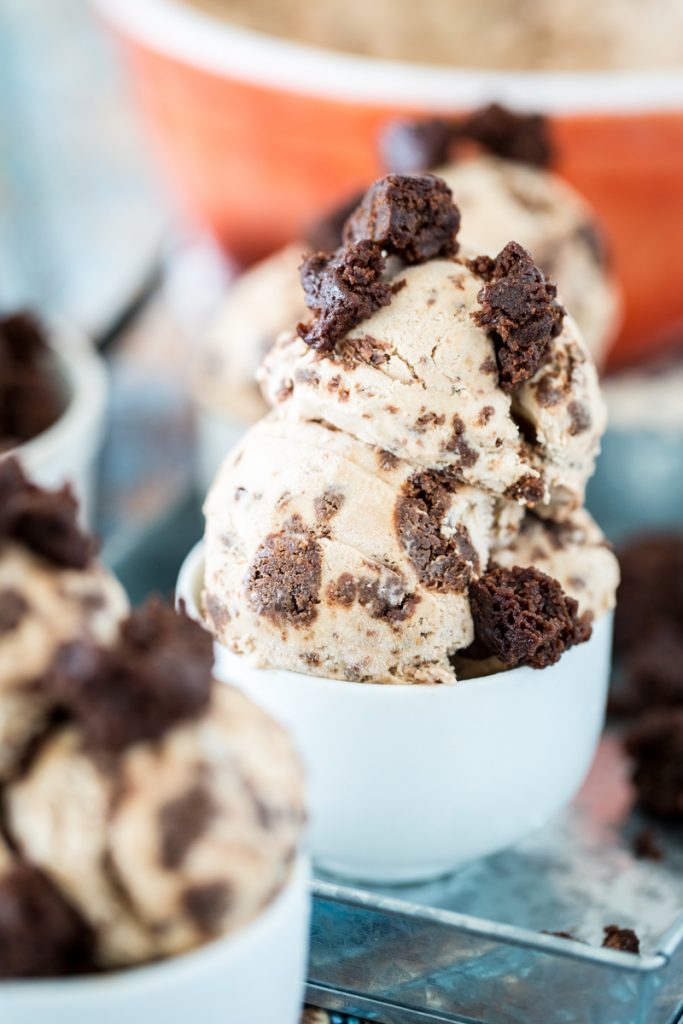 And of course the brownies didn't turn out the same. They were too soft, a little too crumbly, but still delicious. So now I had one and half batches of brownies on my hands and not nearly enough people to eat them. And also, I've been eating brownies for dessert for, like, 4 weeks straight (except for 3 days I was in Portland) and as much as I love brownies, it was beginning to wear on me. First world problems, I know.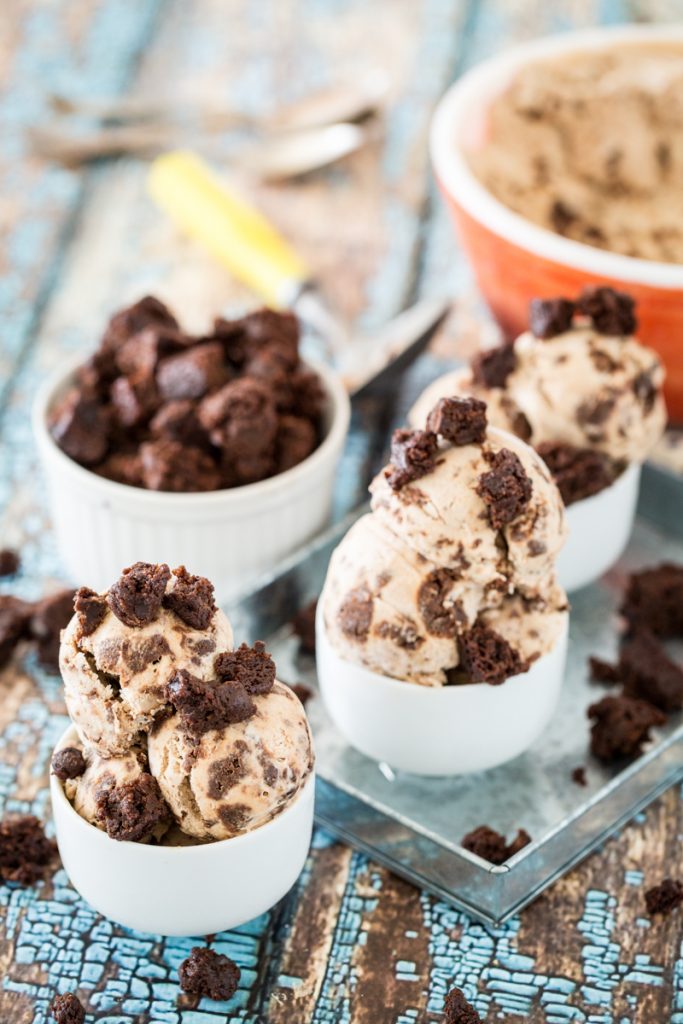 So what do you do when life gives you too many brownies? You make vegan, gluten-free peanut butter, caramel, brownie chunk ice cream. For reals, yo.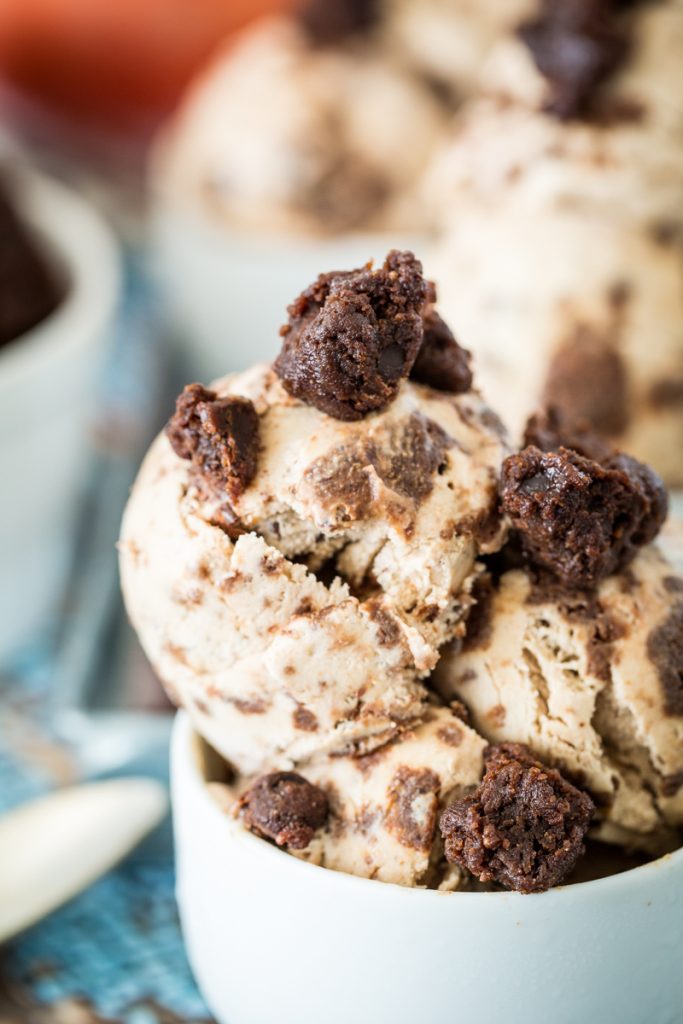 The ice cream base is adapted from my Sugar-Free Snickers Ice Cream recipe, mostly because I was too lazy to invent a whole new recipe and plus, I didn't have time for multiple trials to get the recipe right. I needed something I knew was tried and true. So the base of this ice cream is full of peanut buttery good ness and the addition of medjool dates and a bit of salt packs a salted caramel punch. All in all, it's a fabulous ice cream. Then you throw chunks of brownies into the mix and you've got yourself a winner, my friend! And I'm not being cocky here- it's the truth!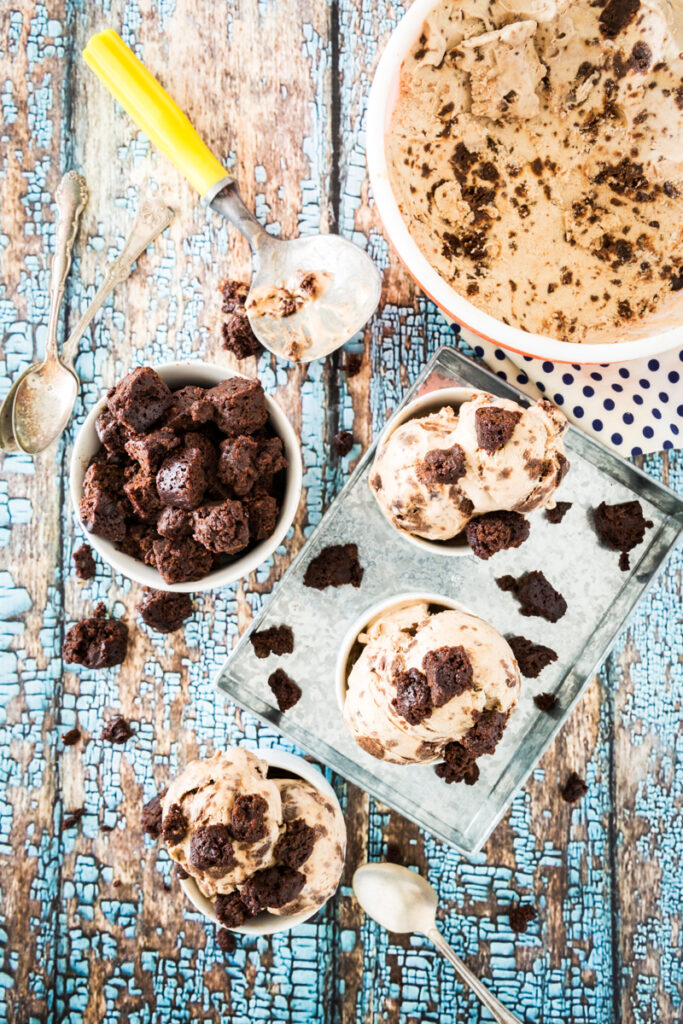 Peanut Butter-Caramel-Brownie Chunk Ice Cream
Ingredients
8 to 9 medjool dates, pitted
One 13.5-ounce can + 1 1/4 cup canned coconut milk (full-fat)
1/2 cup creamy, unsalted peanut butter
2 tablespoons arrowroot powder
2 tablespoons maple syrup
2 tablespoon non-dairy milk
1 tablespoon melted coconut oil
1 teaspoon vanilla extract
1/4 teaspoon salt
2 heaping cups brownie chunks (about 1/2-inch cubes), see note
Instructions
Combine the dates, coconut milk, peanut butter, arrowroot powder, maple syrup, non-dairy milk, coconut oil, vanilla extract, and salt in a high-speed blender and blend until completely smooth. Chill the mixture for at least one hour or until cold.
Once cold, pour the mixture into your ice cream maker, according to machine instructions. Once the mixture is thick and creamy, add the brownie chunks to the mixture in the machine, a few at a time, until all are incorporated. Transfer the ice cream to a glass or metal bowl/container and chill for at least 3 hours. You may need to let the ice cream thaw for about 5 minutes before serving. It will keep, frozen, for up to a month. Enjoy!
Notes
For the brownies, you can use whatever brownie recipe you like that yields a moister brownie. If the brownies are too dry, the chunks will get hard and a little hard to chew when frozen.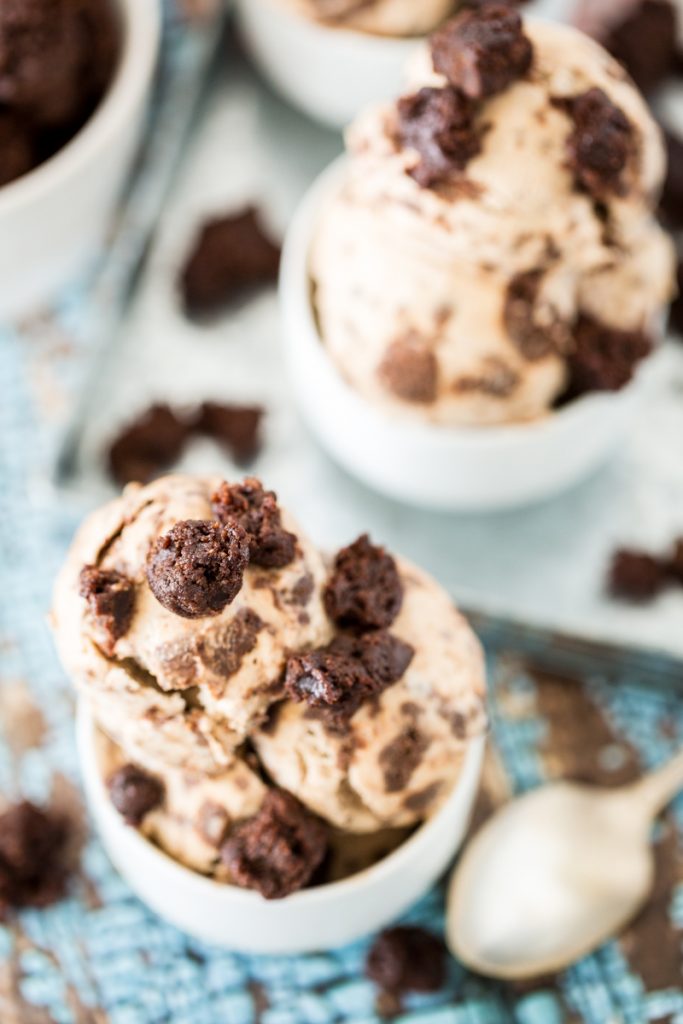 P.S. If you have any leftover effed-up brownies, crumble those up too - they make a great topping!
Photography by Chris Miller