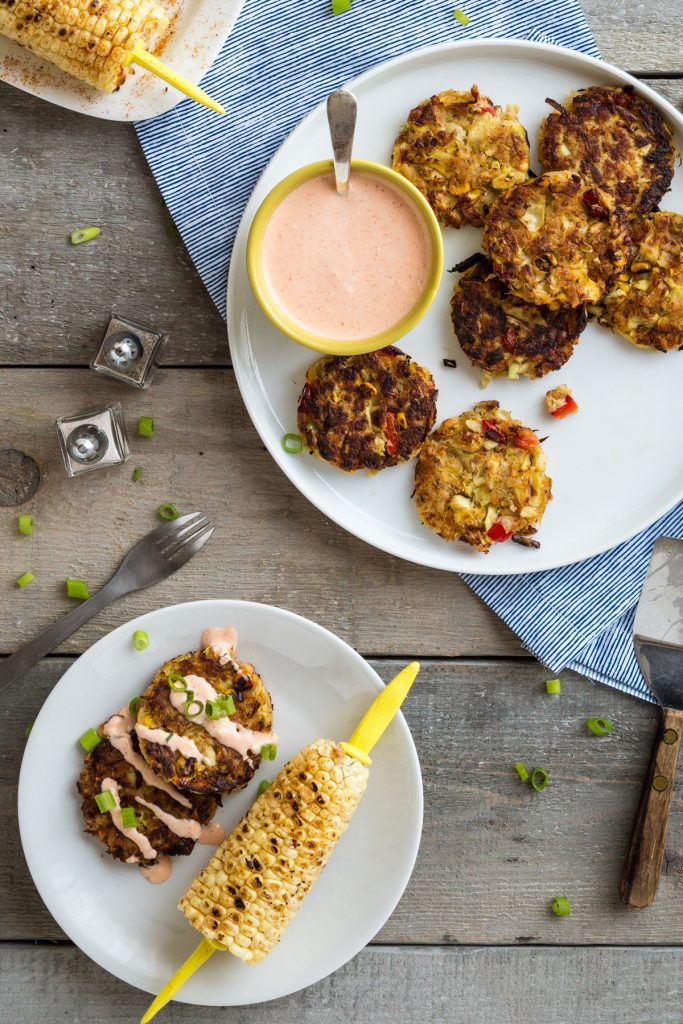 What's summer without some crab cakes, amiright? Actually, I've never had actual crab cakes but my husband used to love them in his pre-vegan days. So to satisfy his annual craving, I started making artichoke crab cakes. You can easily make these vegan crab cakes, without sacrificing the taste, by replacing the crab with flaky, briny artichoke hearts. It's one of my most favorite (if not my absolute favorite) recipe from my first cookbook, But I Could Never Go Vegan!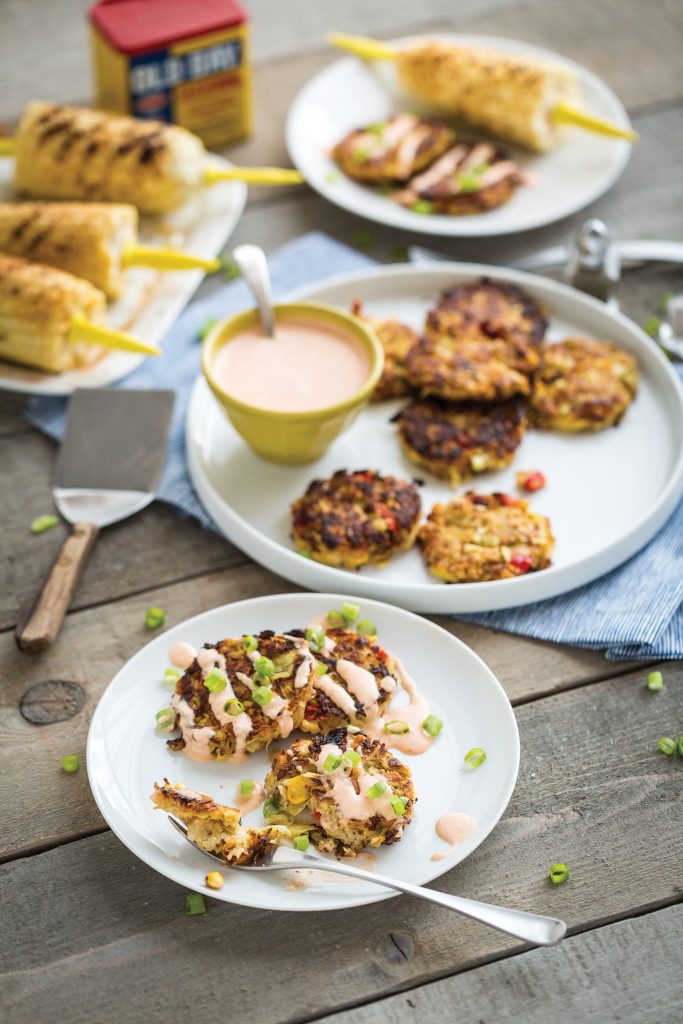 Speaking of summer, I'm doing my best to have a super kick-ass summer this year. I've been pretty open about how shitty our summer was last year, what with our landlords using a wannabe contractor from hell to remodel or kitchen and several deaths amongst our friends and family (including our dog, Samantha), all while working tirelessly on the cookbook. I don't think I went to the beach once (and I live right next to the beach). Not one relaxed backyard BBQ was had. There were no water balloon fights. It was grim. So this summer, I've been making it my job to have a good, relaxing time.
It started with our awesome vacation in Portugal (so far, I've written about Porto and Lisbon, and you can expect a post on the Algarve Coast soon), and we've been trying to stay in vacation mode ever since. I've been letting myself sleep in and taking my time to get to the gym. I've been reading a lot of non-educational/self-help type books (which is code for "mostly books authored by Chelsea Handler"). I take naps as needed. I write blog posts occasionally, but I've been doing non-food-related writing for the first time in a long while and that feels good. I've also taken up a new hobby: day drinking. There's nothing like a glass of chilled white wine on a warm afternoon (Pro tip: refrigerate your glass first). It's not something I practice everyday, but it's definitely a treat when I do.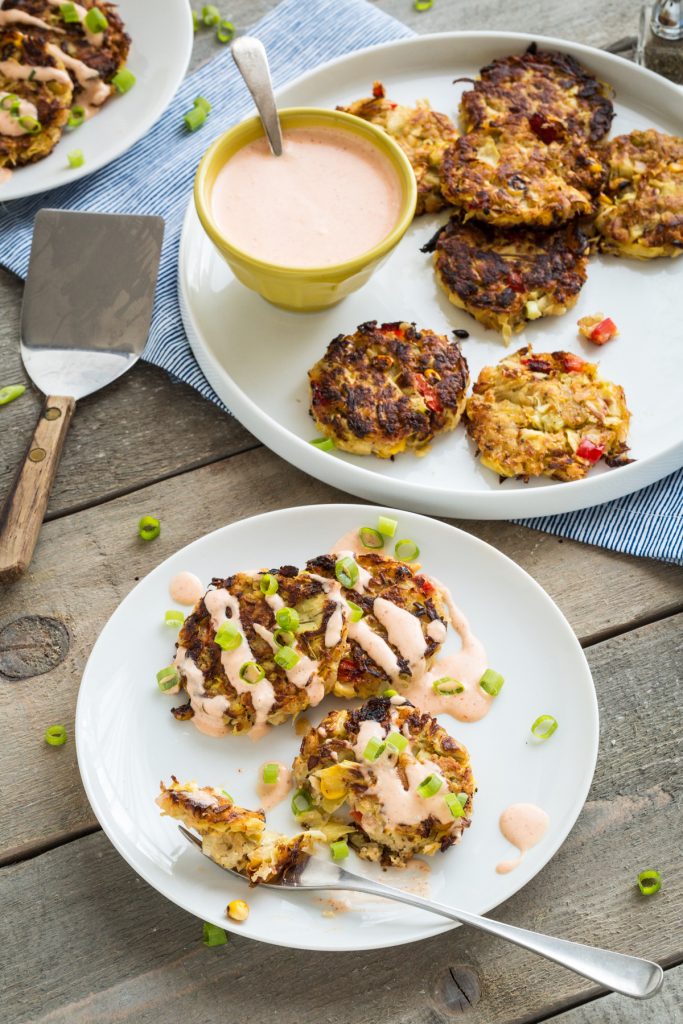 My biggest accomplishment this summer has been not beating myself up when I don't meet my own self-imposed expectations of productivity, which is usually a huge issue for me. Instead of being frustrated when I have writer's block or feel like napping rather than writing, I've just been accepting it and moving on. It feels real good. And it's all a direct effect from my focus on having an awesome summer. So I'm just going to keep on doing that while I chow down on these artichoke crab cakes.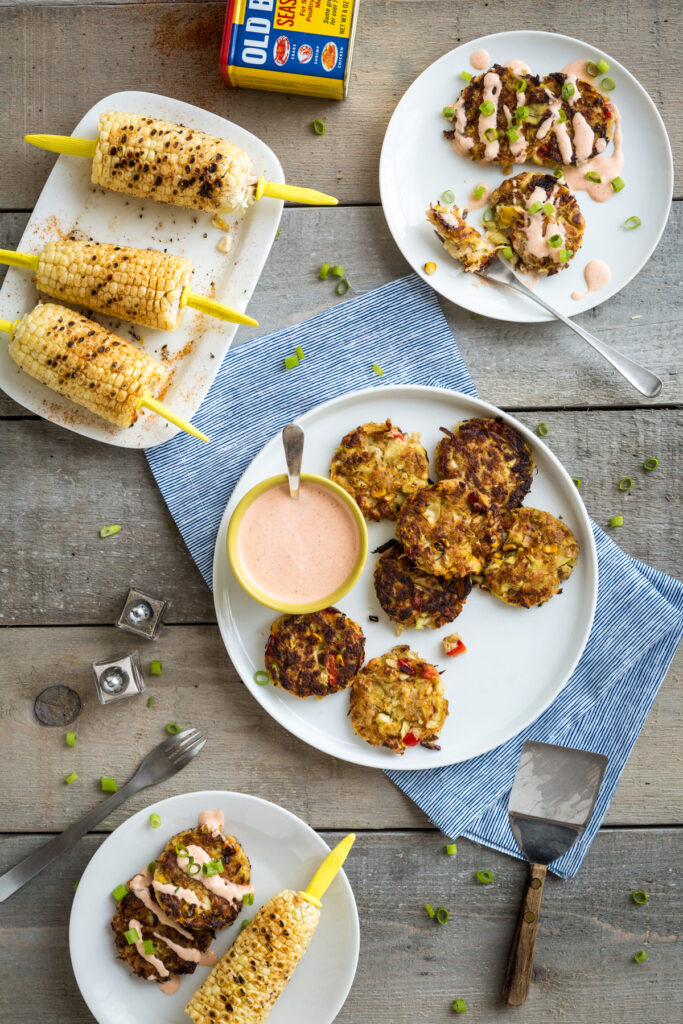 Artichoke Crab Cakes with Sriracha Tartar Sauce
Flaky, soft, briny. No, I'm not talking about crab; I'm talking about artichoke hearts, silly! Those three traits were the main reason I decided to use artichoke hearts as the base for recreating vegan crab cakes. Old Bay Seasoning brings that classic Chesapeake Bay flavor (always a great ingredient for seafood-inspired dishes), and vegan mayonnaise works as a binder so you don't need eggs. They're quickly pan-fried and served with a hot and tangy sriracha tartar sauce for a quick, unforgettable meal that will make you happy to leave the crabs under the sea.
Recipe from But I Could Never Go Vegan!: 125 Recipes That Prove You Can Live Without Cheese, It's Not All Rabbit Food, and Your Friends Will Still Come Over Dinner, copyright © Kristy Turner, 2014. Reprinted by permission of the publisher, The Experiment. Available wherever books are sold. theexperimentpublishing.com
Ingredients
½ cup (110 g) vegan mayonnaise
1 to 2 tablespoons sriracha
1 tablespoon juice from a jar of capers
1 tablespoon lemon juice
1 cup (53 g) oyster crackers or crushed saltine crackers
Two 15-ounce (425 g) cans artichoke hearts, rinsed and drained well
3 to 4 scallions, finely chopped, plus more for garnish
¼ cup (35 g) finely diced red bell pepper
¼ cup (35 g) corn kernels (fresh or defrosted if frozen)
2 teaspoons Old Bay Seasoning
½ teaspoon kelp granules, optional
½ teaspoon garlic powder
½ teaspoon dried parsley
¼ cup (55 g) vegan mayonnaise
Salt and black pepper to taste
Canola oil for frying
Instructions
In a small bowl, whisk together the Sriracha Tartar Sauce ingredients. Chill until ready to use.
Place the oyster crackers in a food processor and process into the consistency of coarse flour with small chunks. Set aside in a small bowl.
Place the artichoke hearts in a food processor and pulse 6 to 7 times, until broken up but still chunky. Transfer to a large bowl. Add the scallions, red bell pepper, corn kernels, Old Bay, kelp granules, garlic powder, dried parsley, mayonnaise, and salt and pepper. Stir in the oyster cracker "flour."
Use a ¼-cup (60 ml) measuring cup to scoop out the artichoke mixture. Using your hands, shape patties and place on a plate.
Set a large frying pan, preferably cast iron, over medium heat. Pour in enough oil to coat the bottom and heat for 2 to 3 minutes. Line a plate with paper towels.
Place 3 to 4 patties in the pan and cook for 3 to 4 minutes on each side, until crisp and browned all over. Place on the plate with more paper towels on top to absorb the excess oil. Repeat with the remaining patties, adding more oil as necessary, until all are cooked. Serve topped with the Sriracha Tartar Sauce and remaining scallions.
Notes
If you do not wish to fry the fritters, preheat the oven to 400°F (200°C), line a baking sheet with parchment paper or a silicone baking mat, and lightly spray with olive oil. Spread the patties on the prepared sheet and lightly spray with olive oil. Bake for 20 to 25 minutes, until firm and golden, flipping once halfway through to ensure even cooking.
What are you doing to make sure you have an amazing summer?
Photography by Chris Miller