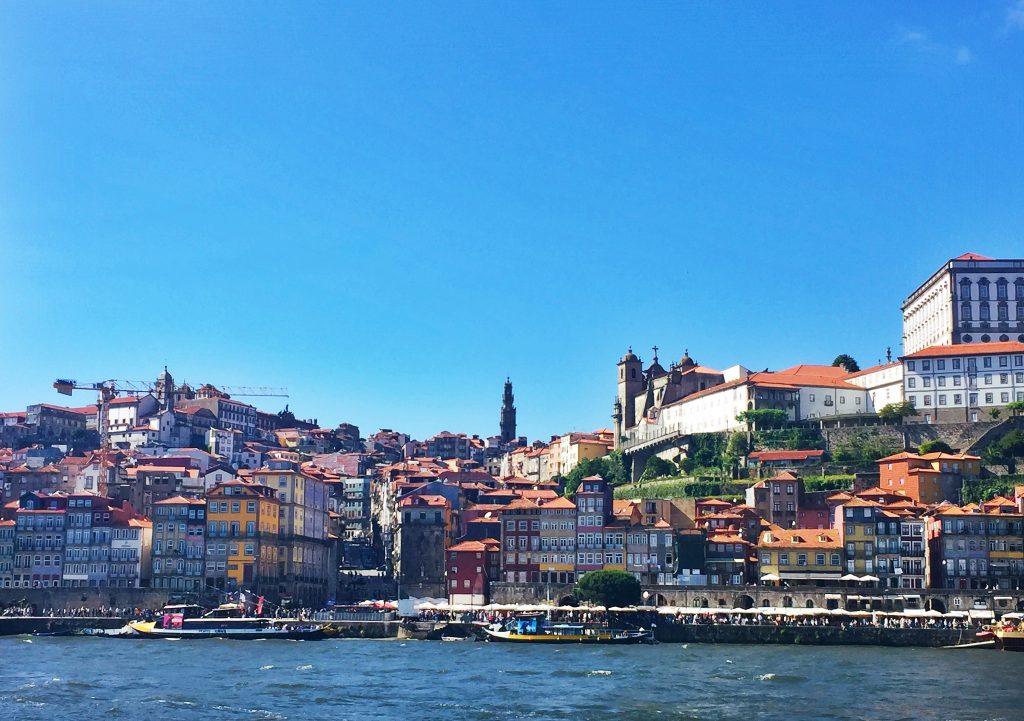 When Chris and I travel, we prefer to do one of two things: Walk around and explore new cities (not exactly sight-seeing, per say) or relax by a pool or ocean in a warm location, preferably with a drink in hand. When we were planning our next vacation we wanted to do both so we had a hard time deciding on a place. I created itineraries for about 4 different vacations, but we couldn't make up our minds. At the suggestion of a friendly Uber driver, I began to investigate the Dominican Republic as a possible destination. As I scrolled through pictures of gorgeous DR beaches on Pinterest, one beach in particular caught my eye. A gorgeous sandy beach with bright blue water and enormous, jagged ochre rocks and cliffs creating intimate coves and caves and immediately I knew I wanted to go there. When I looked at the caption, however, it stated that this beautiful section of the planet was located on the southern coast of Portugal. My brain flashed back to a few days I spent in Lagos and the 24 hours I spent in Lisbon nearly ten years earlier and how taken I was with the beautiful, charming cities and the one beautiful beach I'd visited. It suddenly occurred to me that we could do both of the things we love - exploring and relaxing in the sun- in the same country. And lo and behold, the prices were less expensive than the other itineraries I'd put together. We were sold.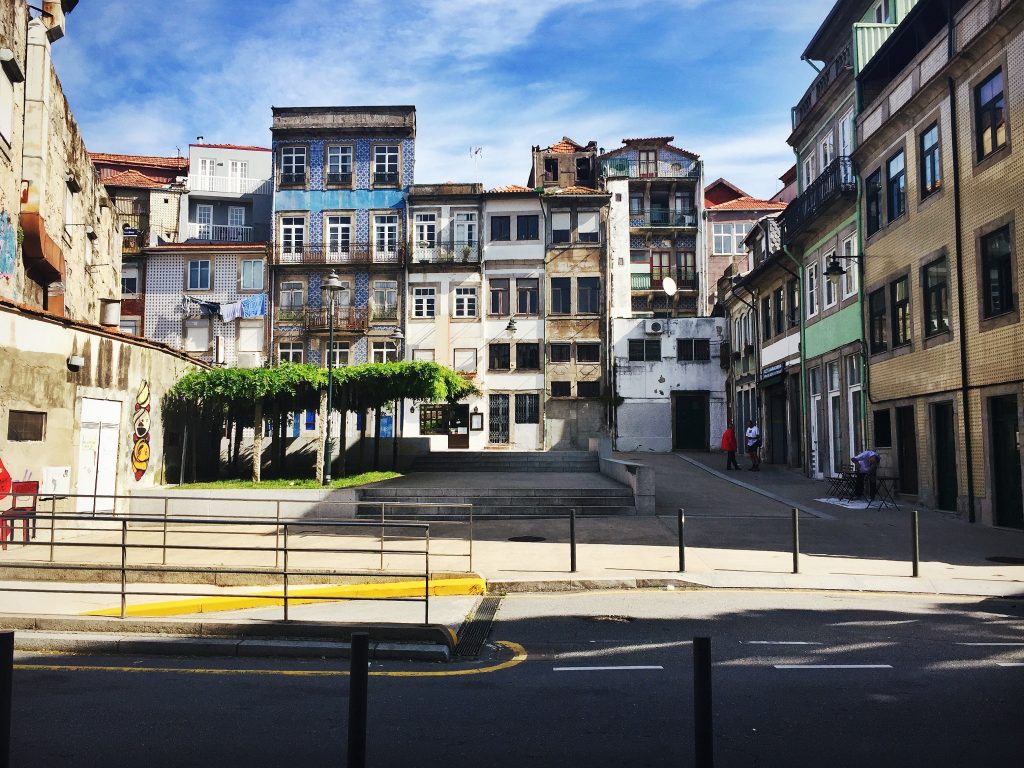 We landed in Porto, a town near the coast of northern Portugal, at about 7:30am. The place we were staying, a charming apartment building located just east of the city center and close to the River Douro, was run by a small company and their office did not open until 10am. They were nice enough, though, to arrange a pick-up for us and recommended a small cafe, Molete Bread & Breakfast down the street where we could have breakfast while we waited. I was doubtful that this cafe would have anything for us, but I was happy to learn that they had soy (soya) milk and could make use soy cappuccinos and most of their bread was vegan as well. Molete (sorry, I don't have any pictures) was very friendly and accommodating. Since they were packed, we took our vegan cappuccinos and rolls to the park across the street and relaxed until it was time for us to check-in.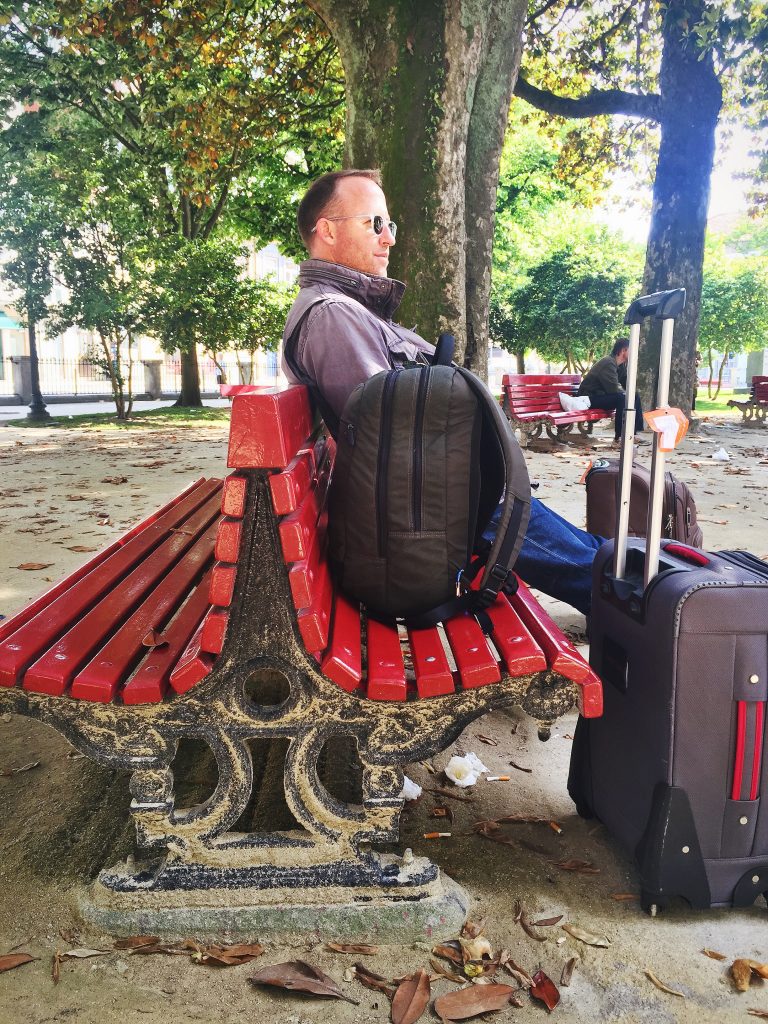 Rua das Fontainhas, Porto  •  +351 911 130 200
When we arrived at our home for the next few days, we'd expected to just drop our bags off and then come back at 3pm when we could officially check-in. However, we were happy to learn that our apartment was already ready and we could check-in right away (music to our exhausted, jet-lagged ears). The young man working that day (I think his name was Jose, but I may be wrong) was so incredibly helpful and informative. Before taking us to our room, he gave us a map of Porto but he didn't stop there. He opened it and made note of everything we should see during our stay, where the "restaurant and dance club" area of town was, where the buses ran, and even outlined a couple walking tours for us. He gave us historical details and information about several buildings in town. We carried that map with us through our entire time there and referred to it often.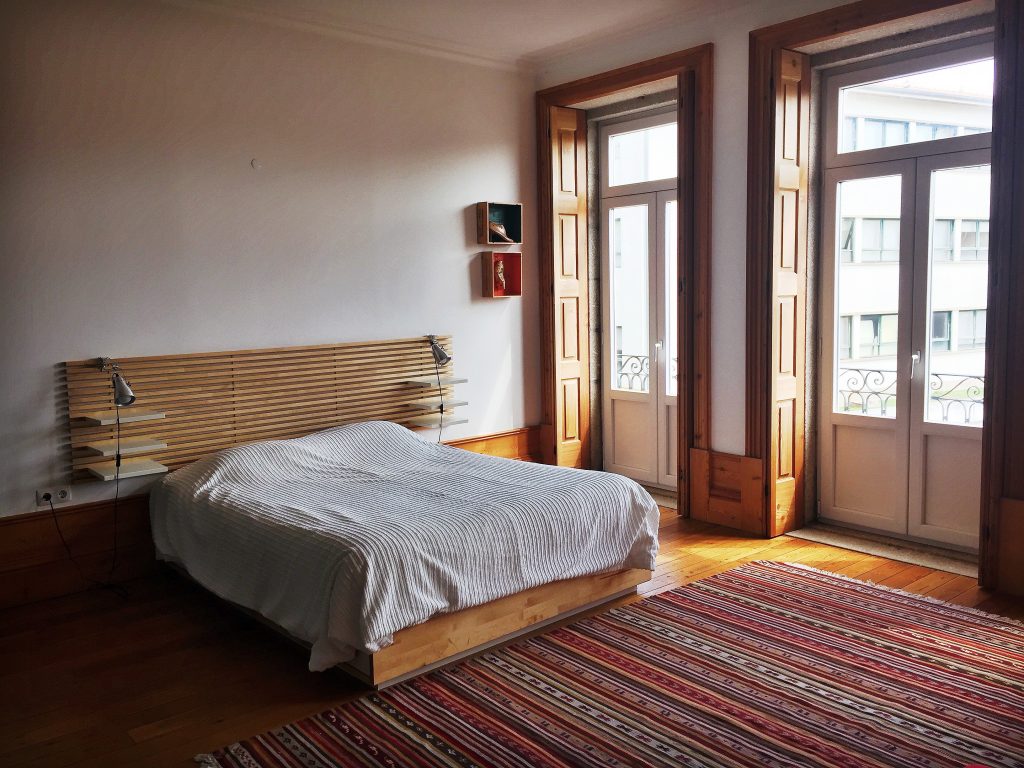 Then he took us to our room. Jose showed us where everything was in the apartment, right down to showing us how to open the windows and use the dishwasher. I'm sure he's used to getting calls asking him how to use certain things so by being incredibly informative up front, a lot of that is probably eliminated.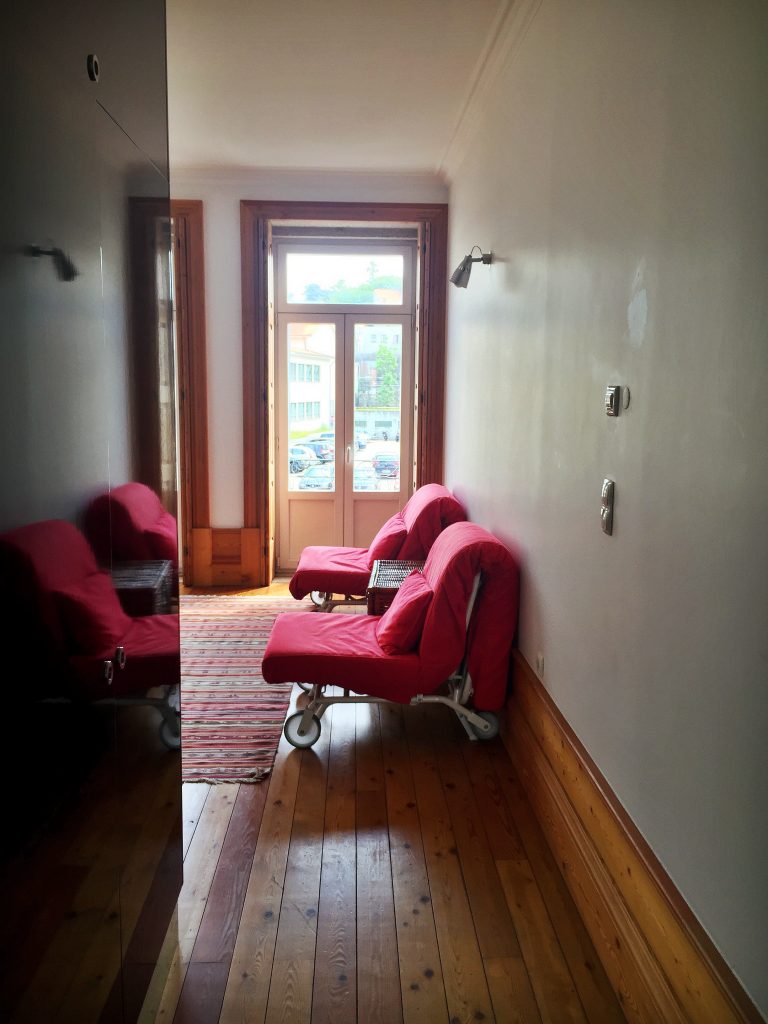 The apartment was amazing and wonderful. The only thing that I hadn't noticed in the pictures prior to booking was a cow-skin rug in the living room. We couldn't stand to look at it or walk on it so we gently folded it up and pushed it underneath the couch. Otherwise, the place was perfect.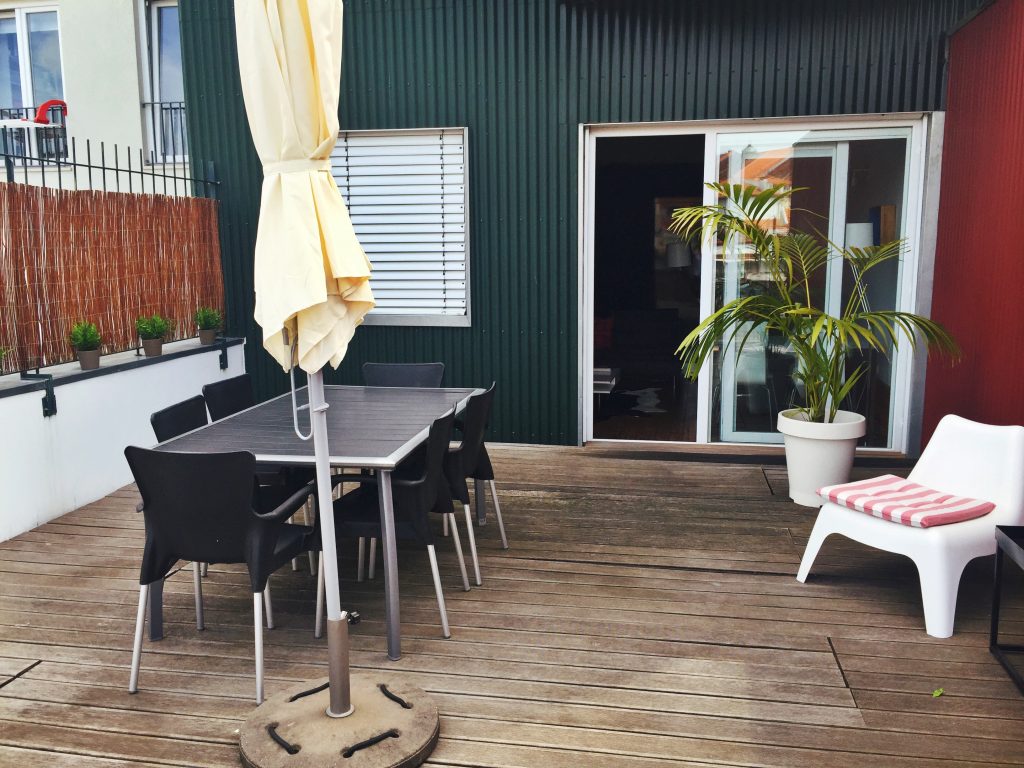 In the mornings, we made coffee and toast (bread fresh from the bakery up the street) and sat on the terrace and watched a family of seagulls that had made their home on one of the neighboring roofs. We didn't know (we had to research once we began watching the birds) that seagulls mate for life and that the mother will stay with her babies all day while the father searches for and brings back food. One morning, we watched him bring a small fish for the babies to eat. He had to tear it apart for them. The mother stood back and waited until the babies had enough to eat before she went and had a few bites for herself. It was a beautiful thing to be able to witness and Chris and I both agreed that the seagulls got bigger each day.
The location was also very centrally located, making it easy to walk pretty much everywhere, which we did. After we freshened up at our apartment, we headed out to eat a real meal (our airline "forgot" our vegan meals even though I'd reminded them of them just days before we left but luckily, we'd picked up snacks in Chicago before we got on the plane. But still, snacking can only get you so far. We were famished and exhausted). We got on Happy Cow, which guided us to the one 100% vegan restaurant in the city.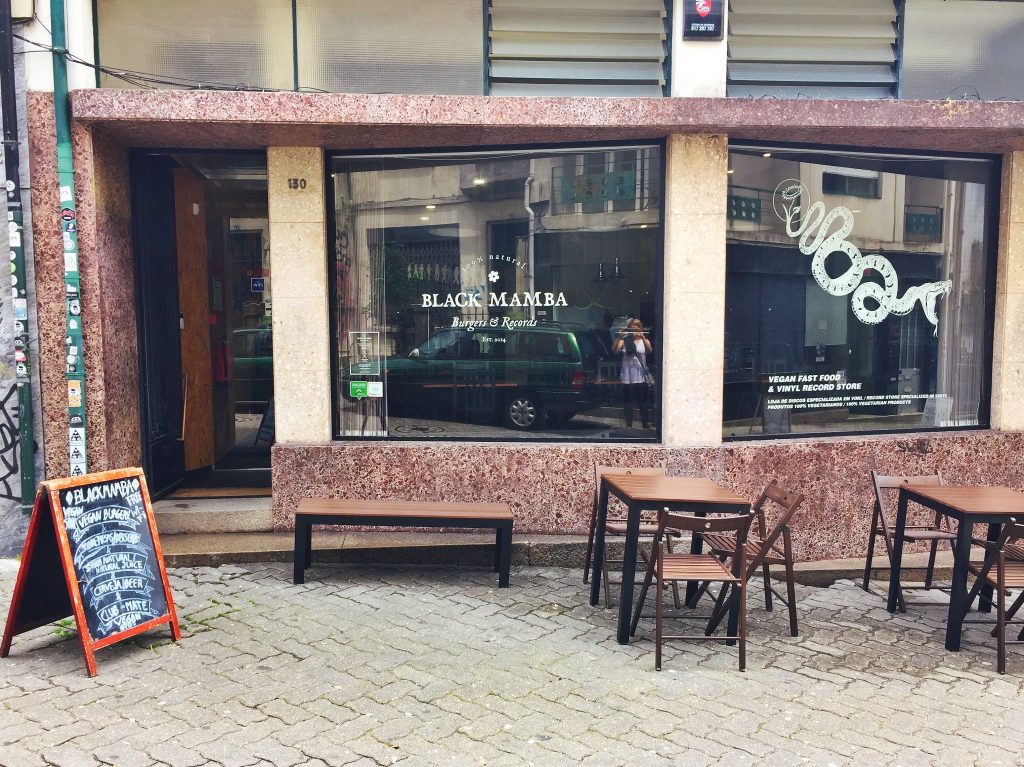 Rua Mártires da Liberdade, 130 Porto  •  +351 22 326 6620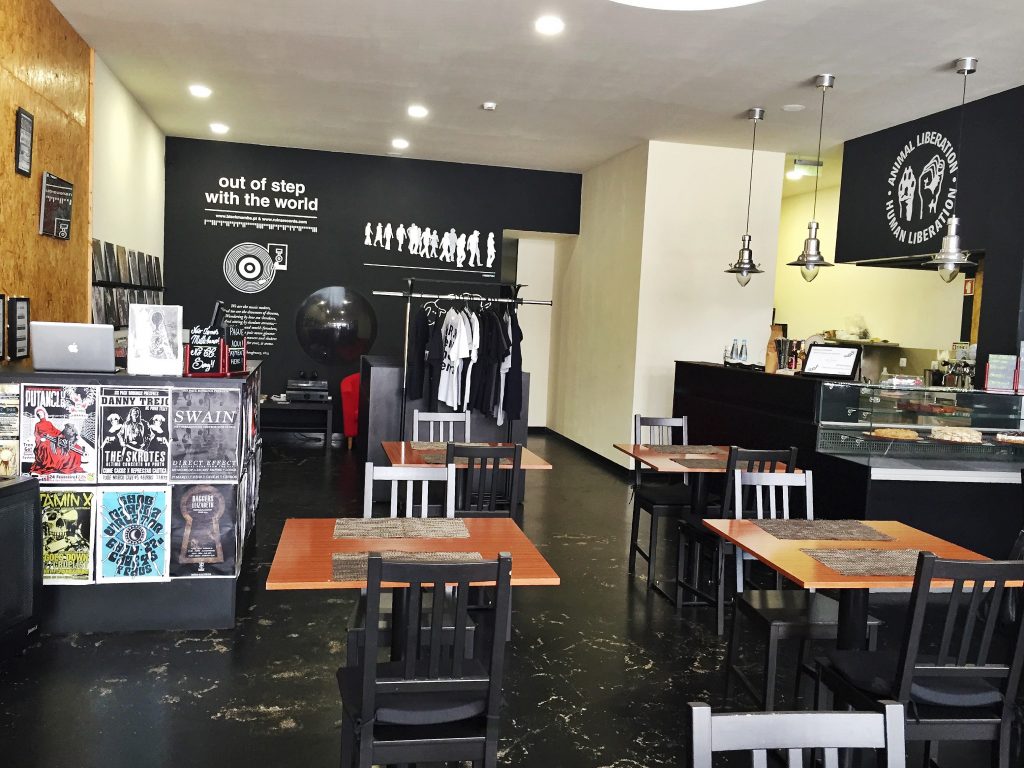 After a 10 to 15 minute walk, we arrived at our destination. Black Mamba is a all vegan burger joint that also sells punk records, t-shirts, and other items. Their menu is listed on the chalkboard wall and they offer other items like salad, fries, vegan "chicken" strips, and a variety of desserts.
We both ordered the 666 Burger, a leek & potato based burger, with fries. They offer a gluten-free bun but I didn't notice this until after and since I'd already thrown caution to the wind with the bread* earlier that morning, I didn't care too much. After placing our order, we sat outside and tried to stay awake while we waited for our meals.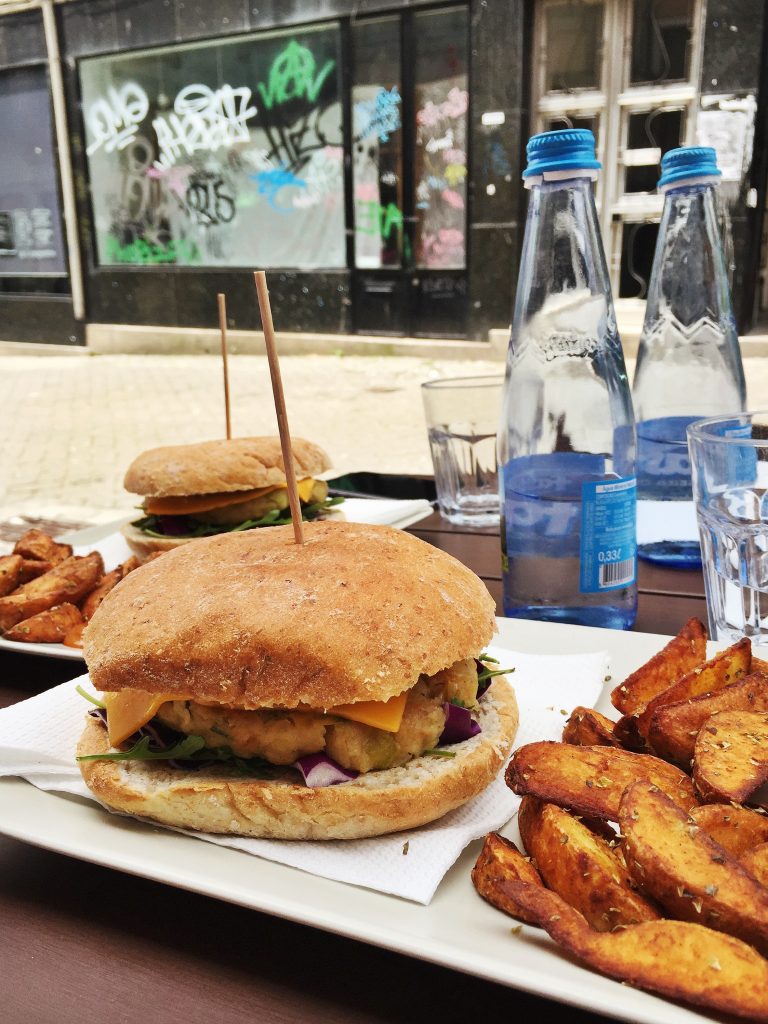 The burgers were on the softer side, but tasted amazing. I mean, these were seriously tasty burgers. And the fries were pretty wonderful as well. The sauce they gave us for the fries was a mixture of ketchup and mustard and was surprisingly good.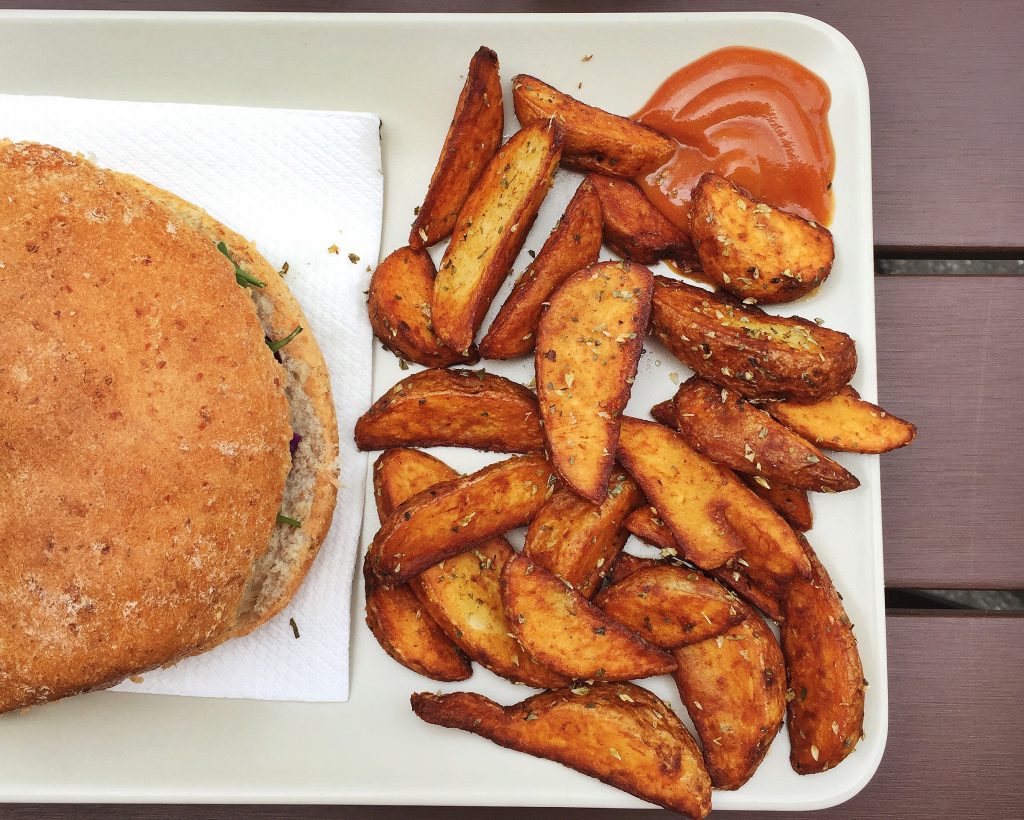 After our meals, we both felt like we needed more caffeine to help us not pass out until the evening so Chris ordered a cappuccino and I ordered a Meia de Leite (which is basically half coffee, half milk, with some foam on top), both with vegan milk (I was too tired to remember what kind). We also got a chocolate cream cake to go with it. I don't like pudding of any sort (I don't like the texture) but the chocolate pudding base in this pie was wonderful.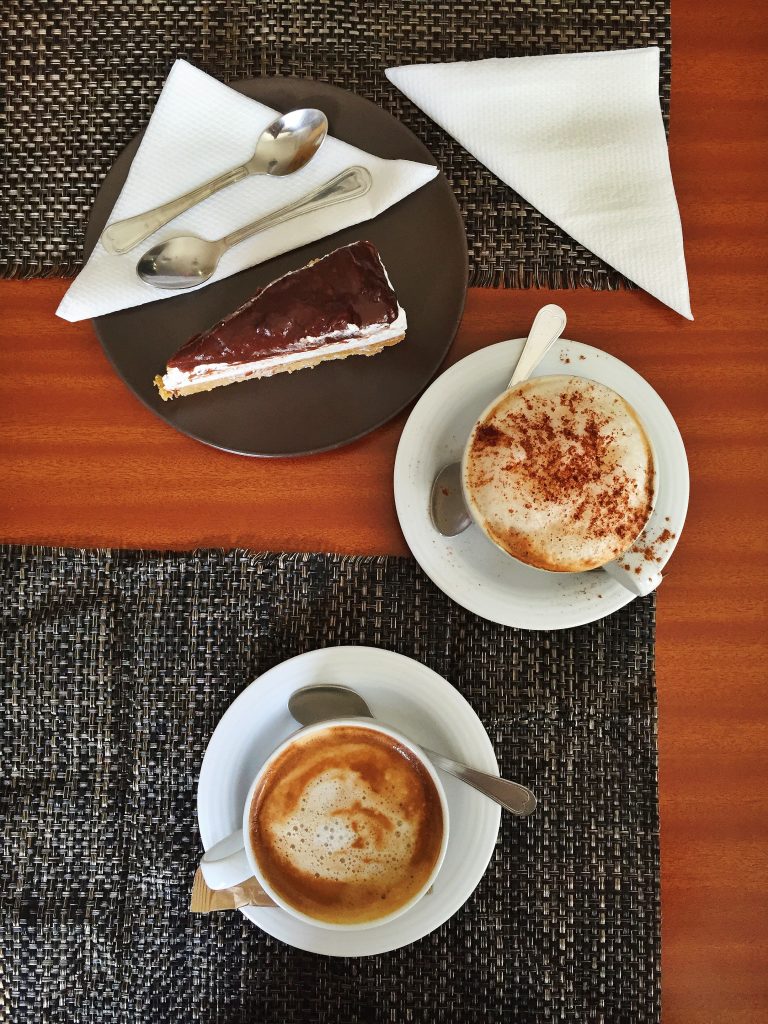 We came back to Black Mamba on our last night in town. The pictures turned out pretty badly but Chris got the Stoner burger (seitan and mushrooms) and I got the Crusty burger (tofu with spinach). These burgers were also really great. I can't recommend this place enough. Go here.
After our caffeinated beverages, we set out to go for a little walk and stop at the nearest location of a natural health food grocery chain and pick up a couple things for our flat.
multiple locations
The Celeiro location closest to Black Mamba was in a mall so it was on the smaller side. We later visited one in Lisbon that was probably three times the size and had much more variety. With that said, we were still impressed with the selection in this store.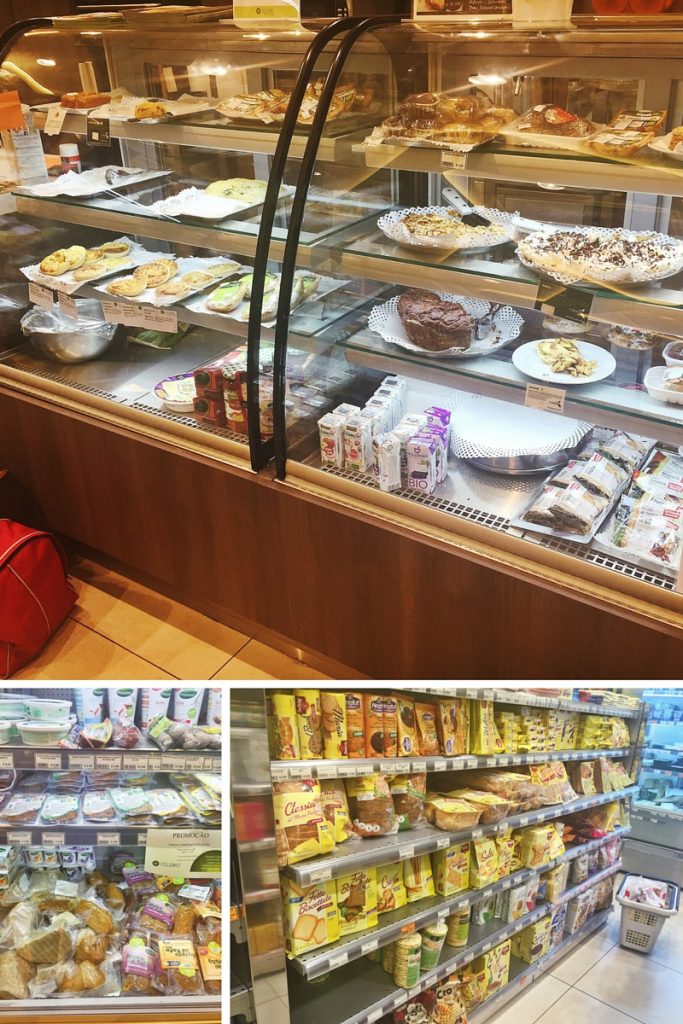 There were plenty of tofu, seitan, meat substitutes, and non-dairy milks, yogurts, and cheese. They also had a good selection of gluten-free items, many of which were also vegan. In addition, there was an entire health supplement section and a small deli that offered various vegan treats and small meals. Since we'd just ate, we only got some almond milk and some stevia tablets for our coffee (I'd brought a number of packets in my purse but since we had greatly increased our daily caffeine intake, I figured our rations would be low soon).
After the market, we slowly made our way back to our apartment, stopping to explore here and there as we went. A common theme for homes, buildings, and churches in Portugal is to have beautiful tiled exterior walls, sometimes painted with a mural. With every building having a different pattern, we were constantly "ooohing" and "Aaahing" every few minutes. Porto is such a stunning city.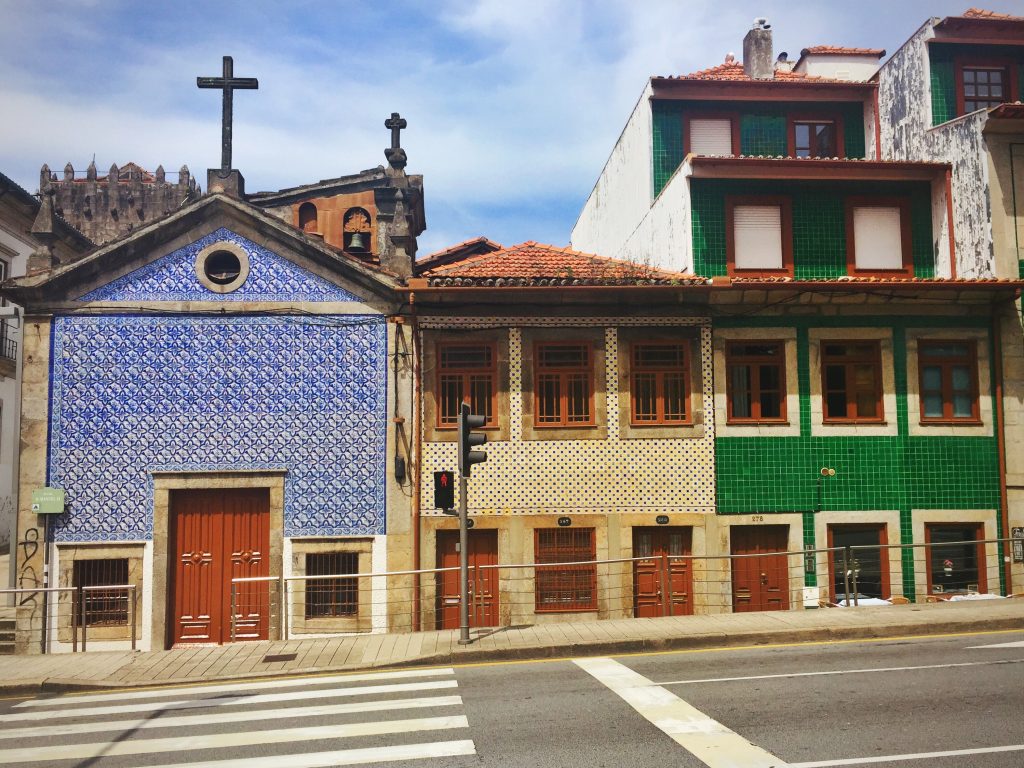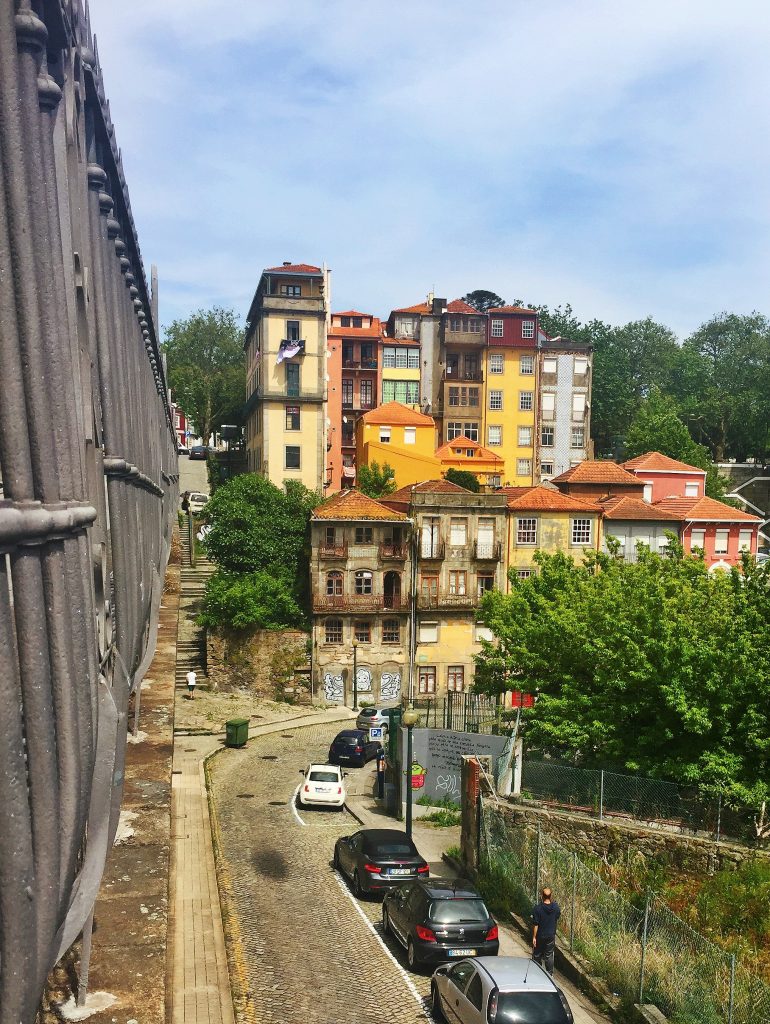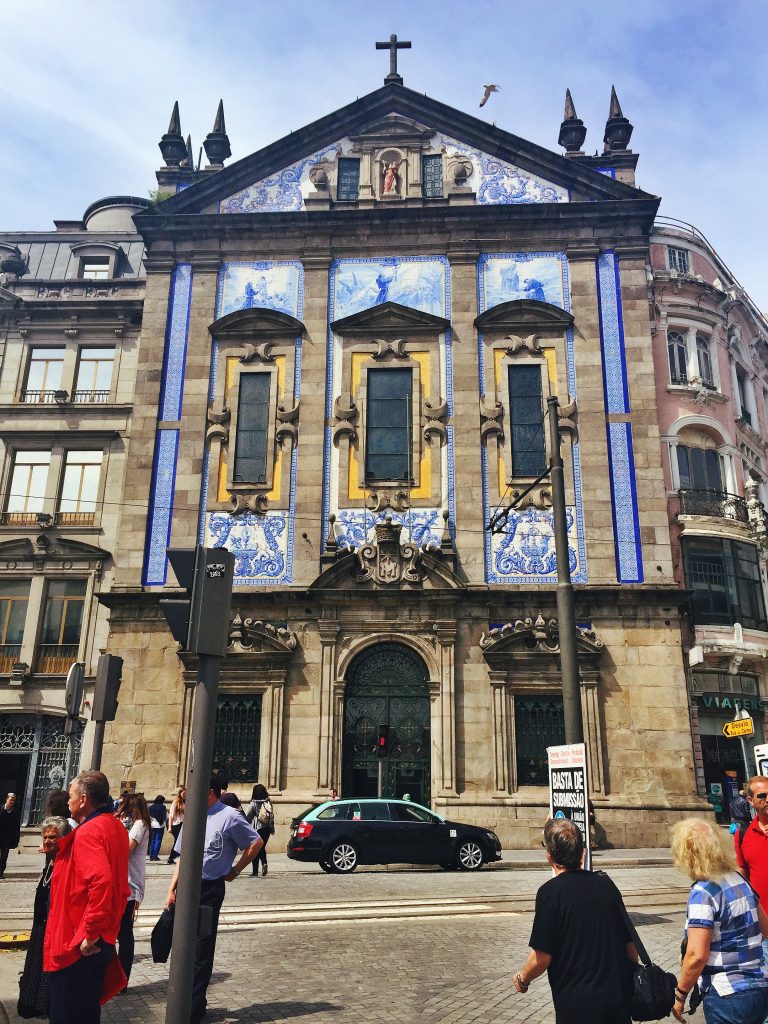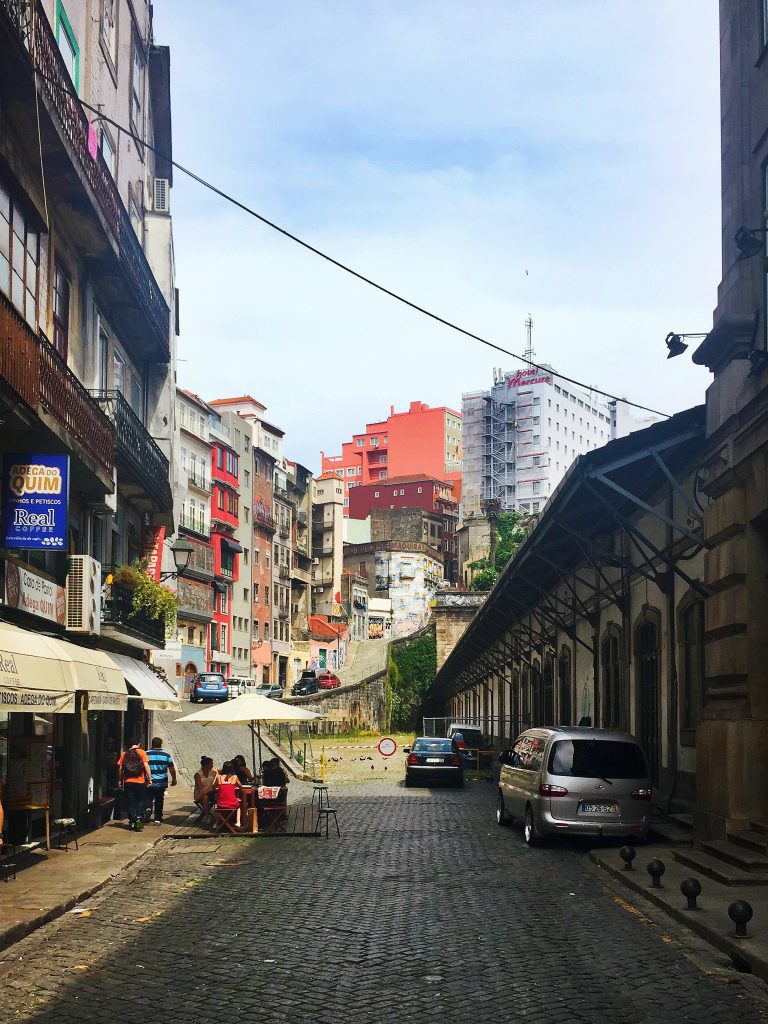 Once we got back to the apartment, I convinced Chris that we should take short naps so we could go out later for dinner. Chris took a short nap. I took a long one, but even after he woke me up, I was still exhausted. We opted to just go to the local Pingo Doce (a grocery chain) and pick up some snacks for dinner and supplies for breakfast the next morning. I was surprised to find a pretty decent vegan selection of yogurt, butter, and even one type of tofu. We picked up some butter along with a couple other things and went back to our apartment. We nibbled for a bit but exhaustion soon got the best of us and we went to bed and got a good night's sleep.
The next morning we were well-rested and after our coffee and toast breakfast, we were ready to hit the town. We walked up the touristy street of Rua de Santa Catarina, stopping to marvel at one of the many beautiful tiled churches, the Capela Das Almas (Nearby, on the same street, stands Cafe Majestic which is a very posh (over-priced) cafe, packed with tourists, whose claim to fame is that J.K. Rowling wrote some of her Harry Potter books there).
The plan was to stop at EOS for lunch but once we got there, we discovered that they were in between breakfast and lunch and lunch wouldn't be ready for another 20 to 30 minutes. We considered waiting but the menu, especially the vegan menu, was very minimal and not very enticing so we decided to keep walking. As usual, we relied on Happy Cow to point us in the right direction.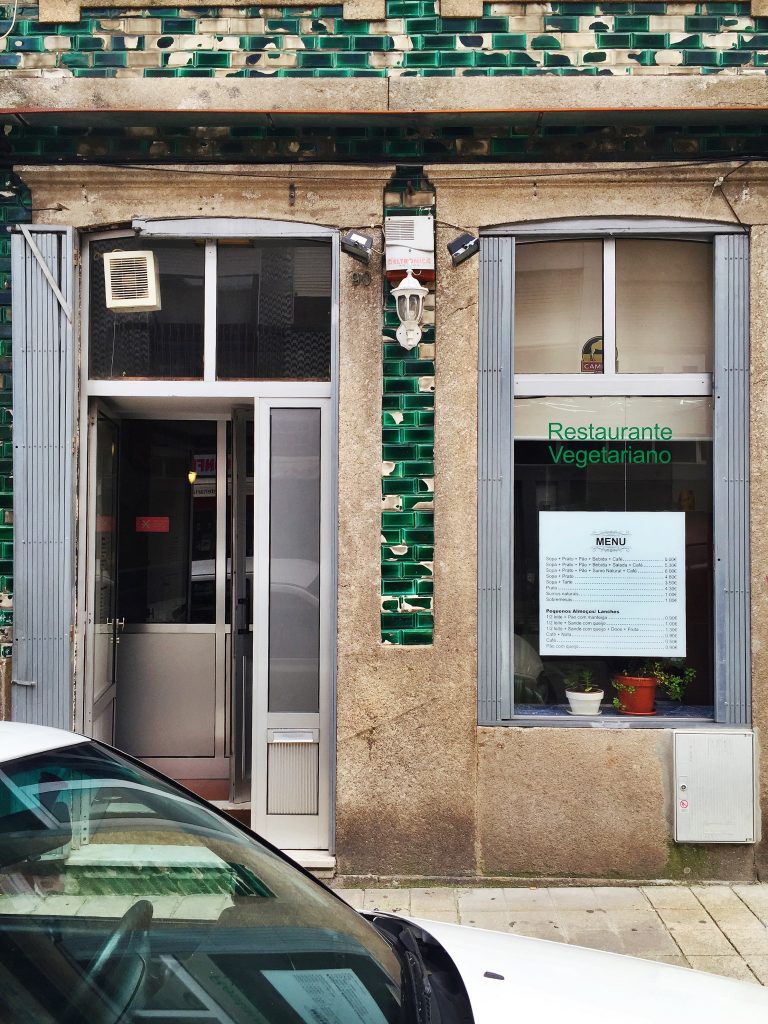 Rua Alvaro Casteloes 90, Porto  •  +351 93 448 9521
Salpicos Verdes is definitely off the beaten path and in more of a residential area of town, but if you're in the area or are looking for a tasty, inexpensive vegan or vegetarian meal, it's worth your time. It's also a good sign that the restaurant was soon packed (we arrived first) with locals and regulars.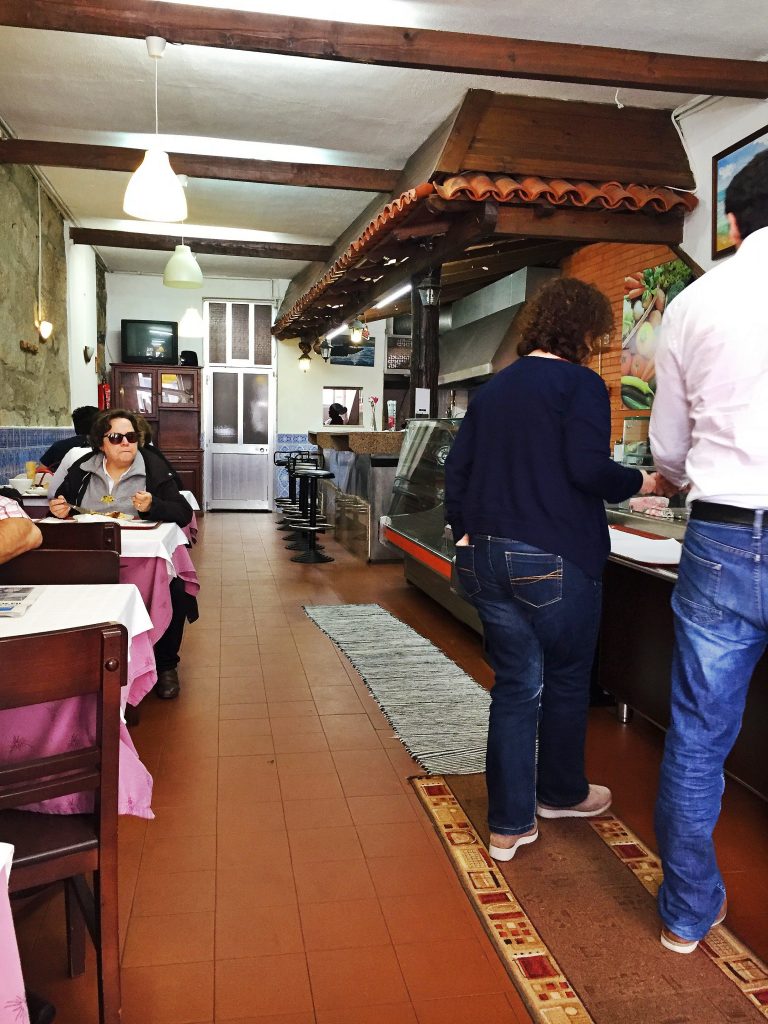 The restaurant works cafeteria style and they have a different variety of foods each day. On the day we went, all of the selections, aside for a quiche, were vegan. The staff, though they speak little to no english, couldn't be friendlier. The two women working there were so sweet and did their best to communicate with us. The menu is priced so that you can get a plate of food, soup, salad, and espresso after your meal for a very minimal price. You can add fresh juices or desserts as well. We piled up our plates with food and then went to the salad bar and filled up a second plate. And then they brought a bowl of hot soup to our table. I was too full to finish my plate, let alone attempt to eat any of the soup.
After lunch we walked. A lot. We went to a large farmer's market but after I waited in line to use the ladies room and saw many employees leaving without washing their hands, we opted to not purchase anything there. We walked to Livraria Lello, a bookstore that, with its ornate details and gorgeous staircase, Lonely Planet claims is the third most beautiful bookstore in the world. It's rumored that a staircase in the Harry Potter books (I don't know which one because I haven't read any of them) is inspired by the staircase at Lello. It costs 3 euro to enter, but that can be deducted from the cost of any purchase. It's definitely worth having a peek.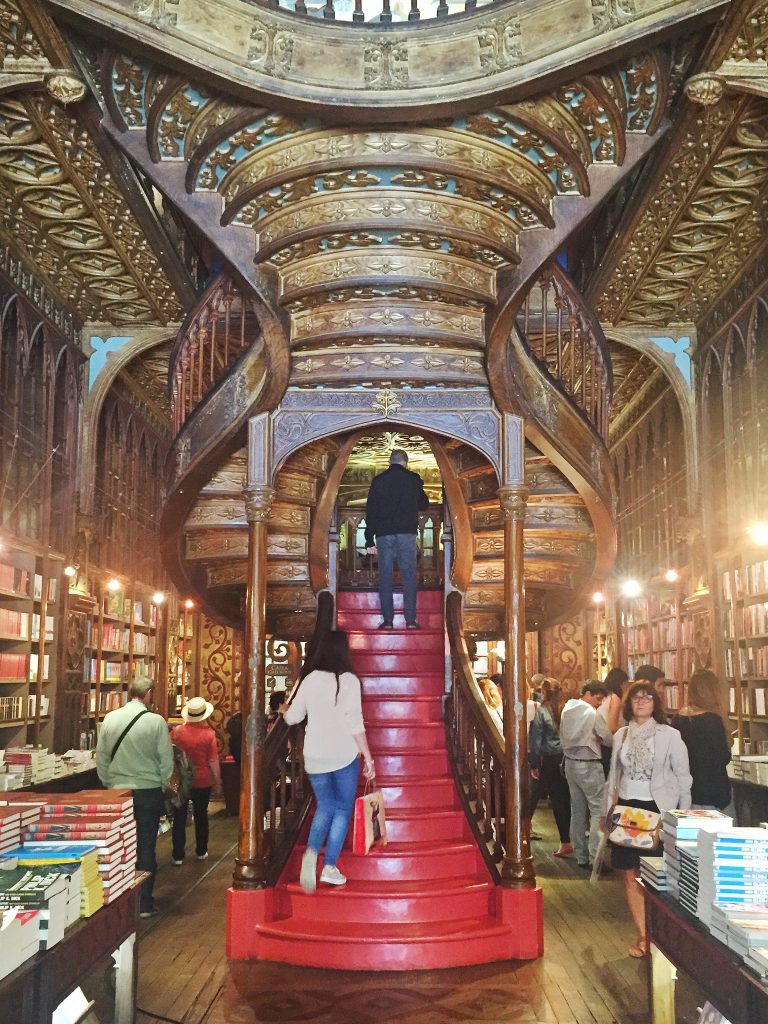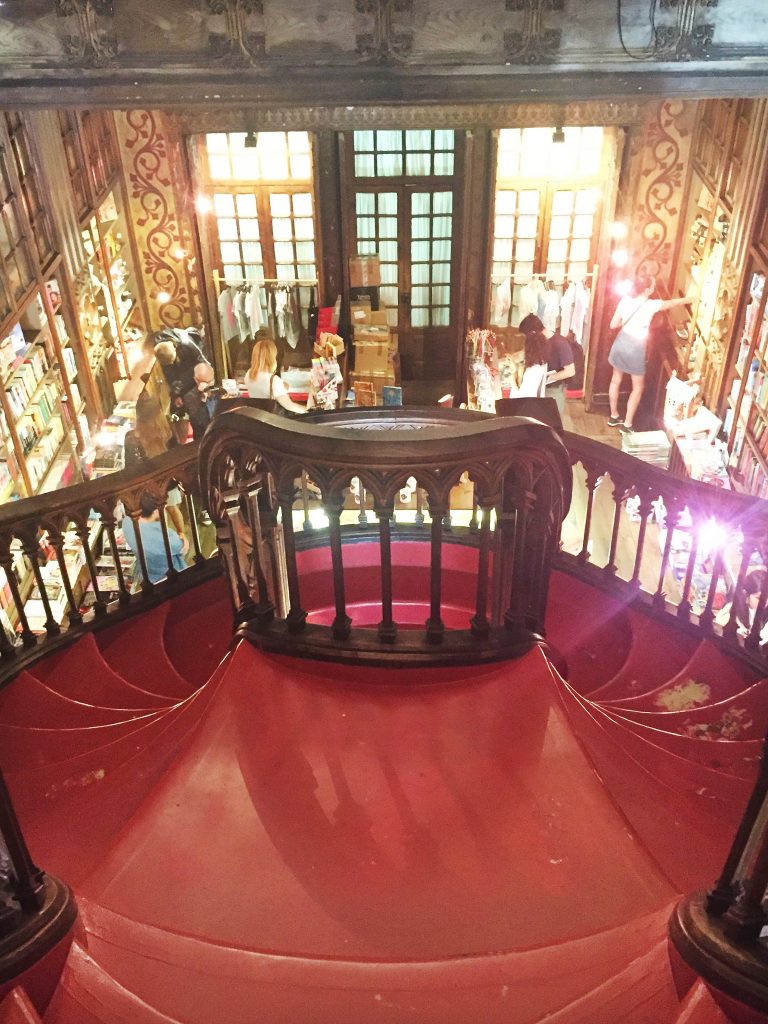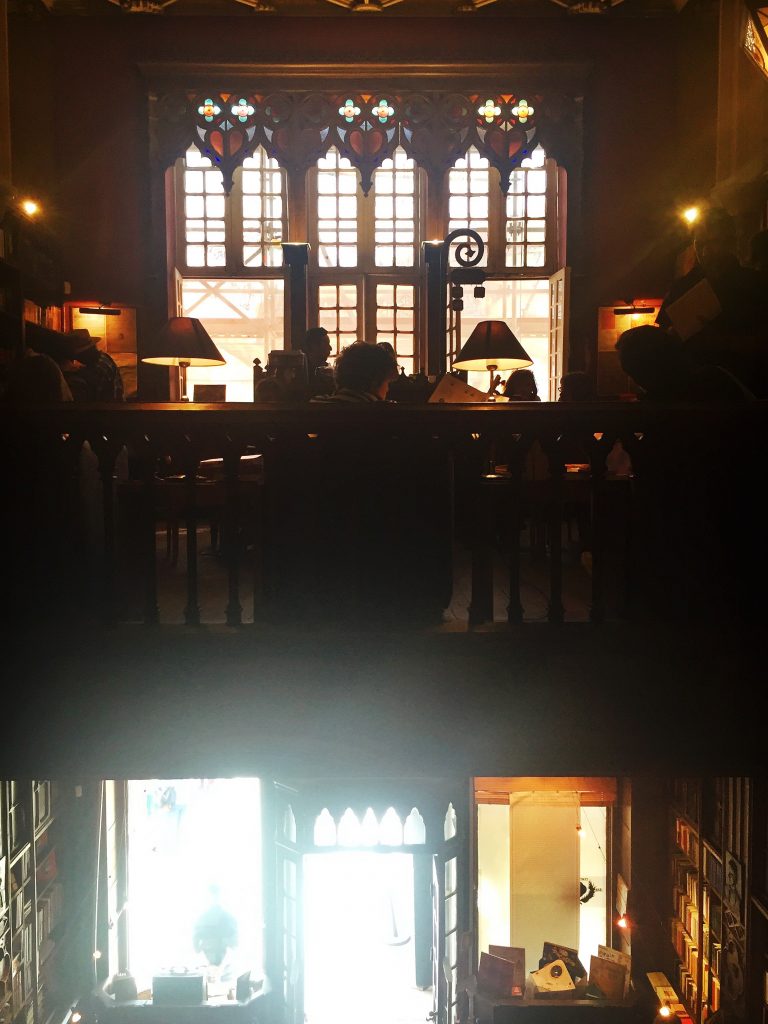 Afterwards, we climbed to the top of the Clerigos Tower. The staircase is very steep but the view at the top is breathtaking.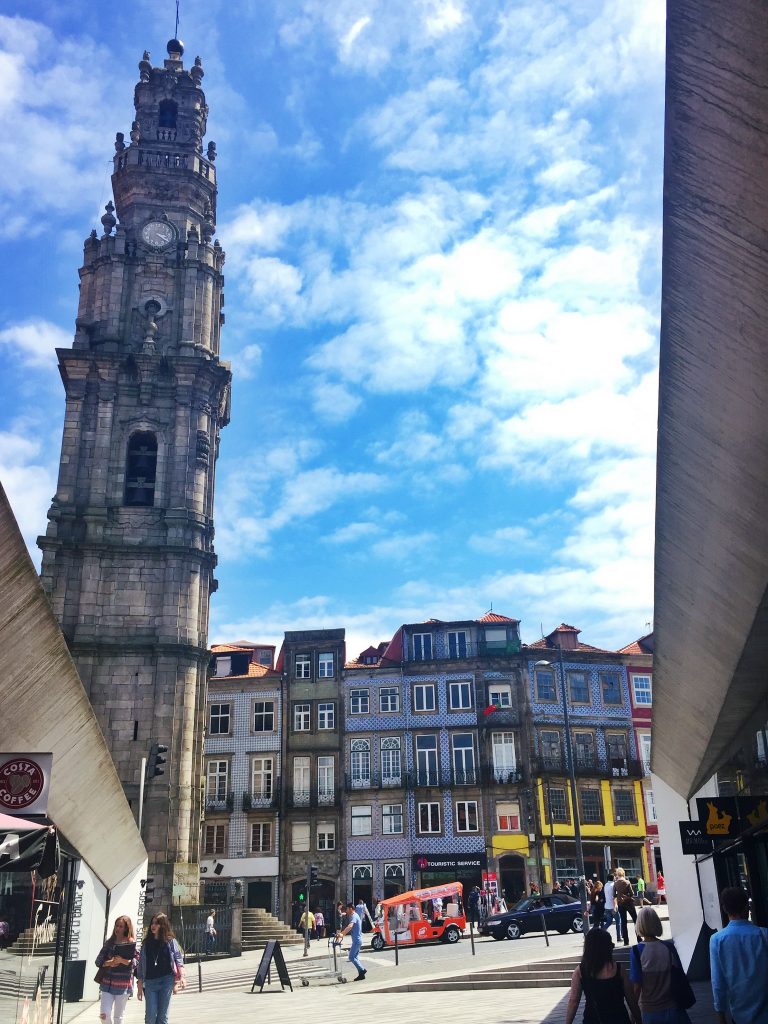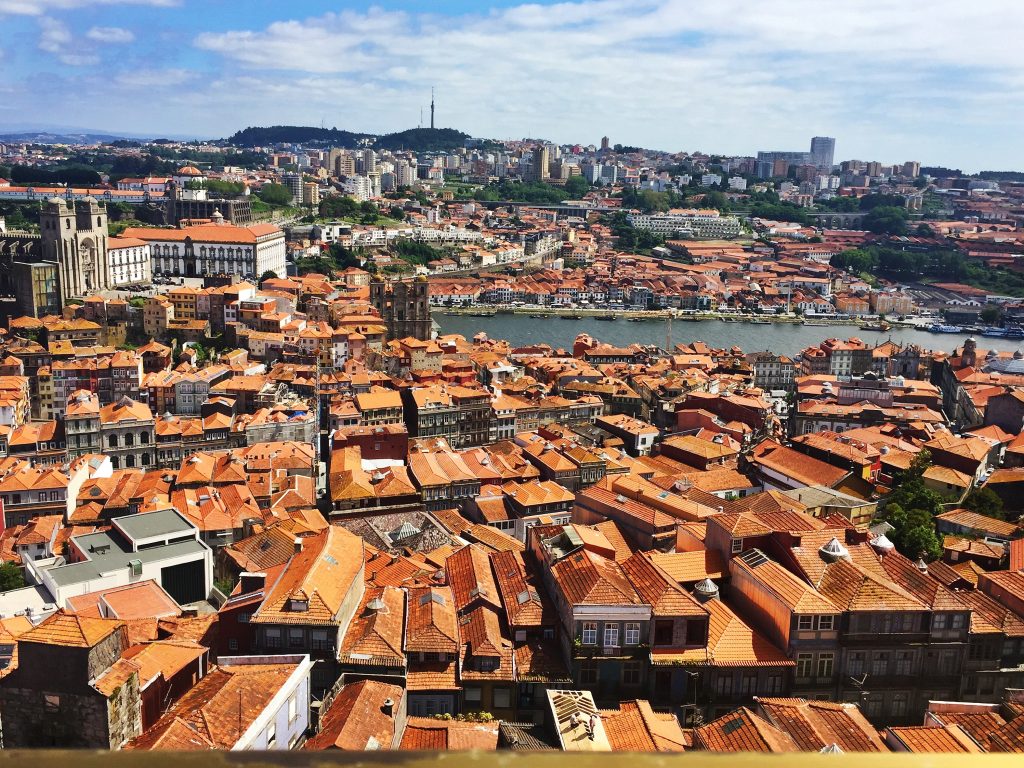 After all of this walking and climbing we felt we could use a little coffee. There was a vegetarian/vegan store that I'd heard about that also had a cafe so we decided to walk over there.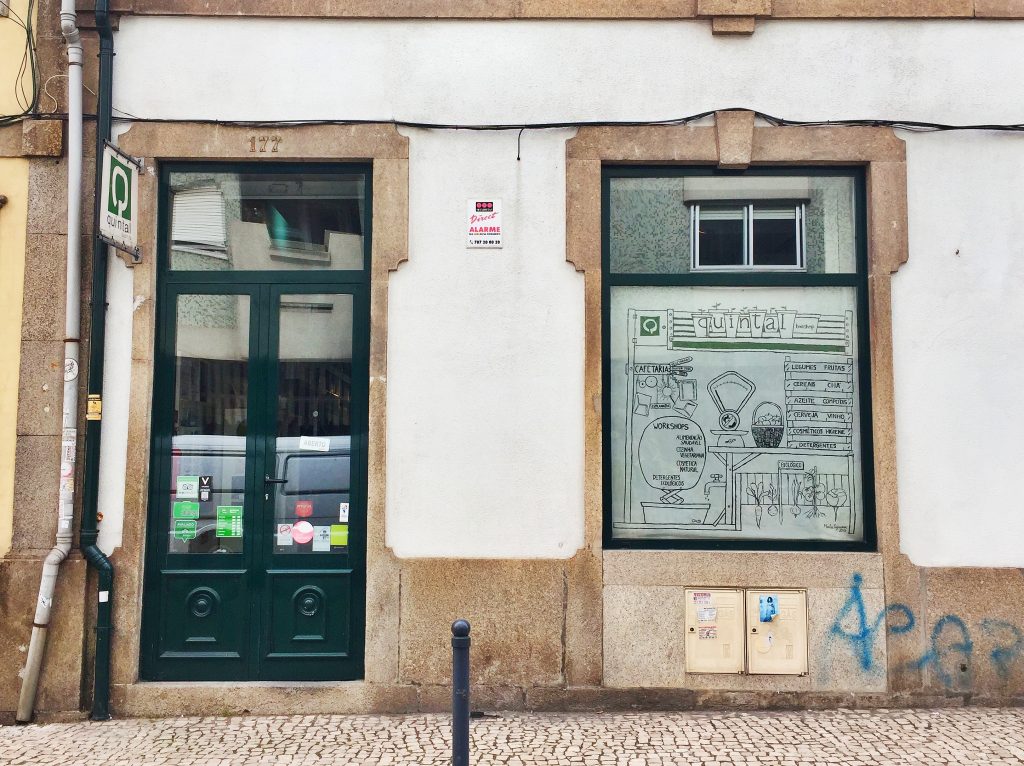 Rua do Rosário 177, Porto  •  +351 22 201 0008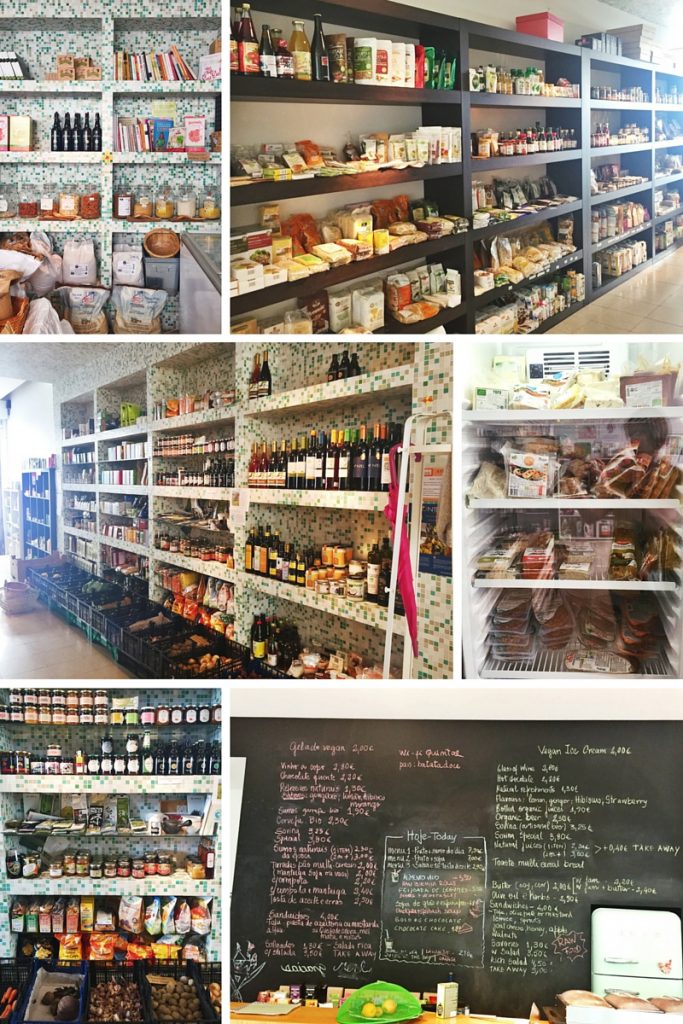 Quintal Bioshop is located in the most beautiful, quiet, and peaceful neighborhood so we took our time wandering through it to get there. There are plenty of cute little shops nearby to check out. The shop itself is beautiful and well-stocked with plenty of vegan staples. We spent several minutes browsing before making our way to the cafe in the back.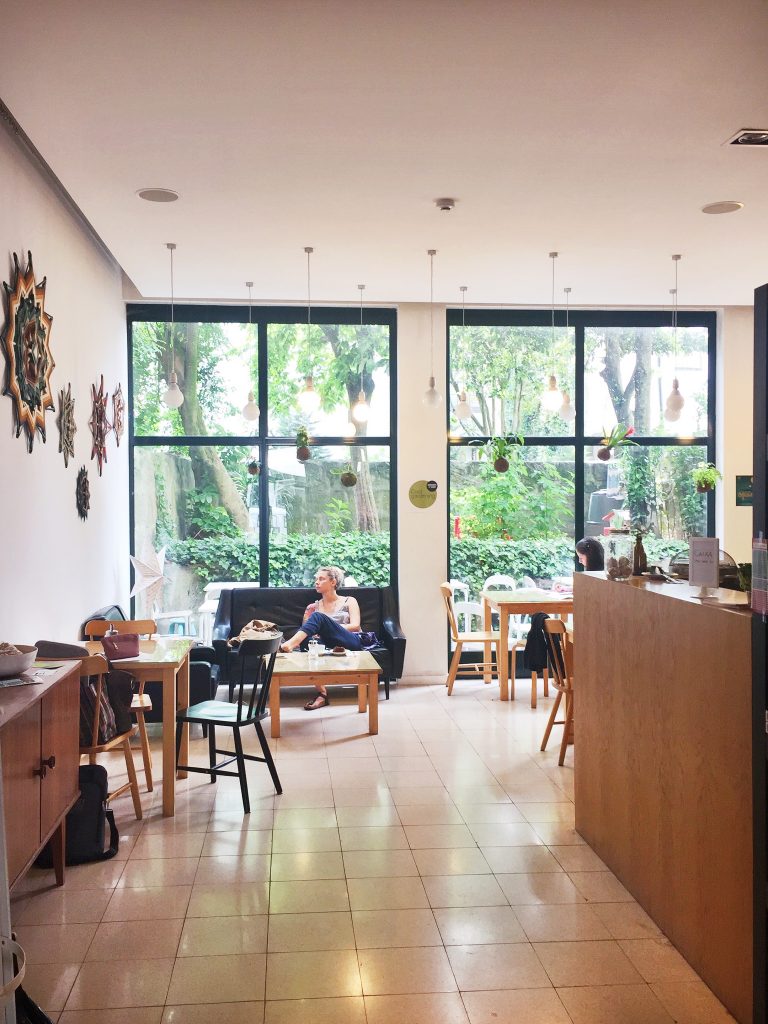 There's also an outdoor seating area (complete with cats!!!).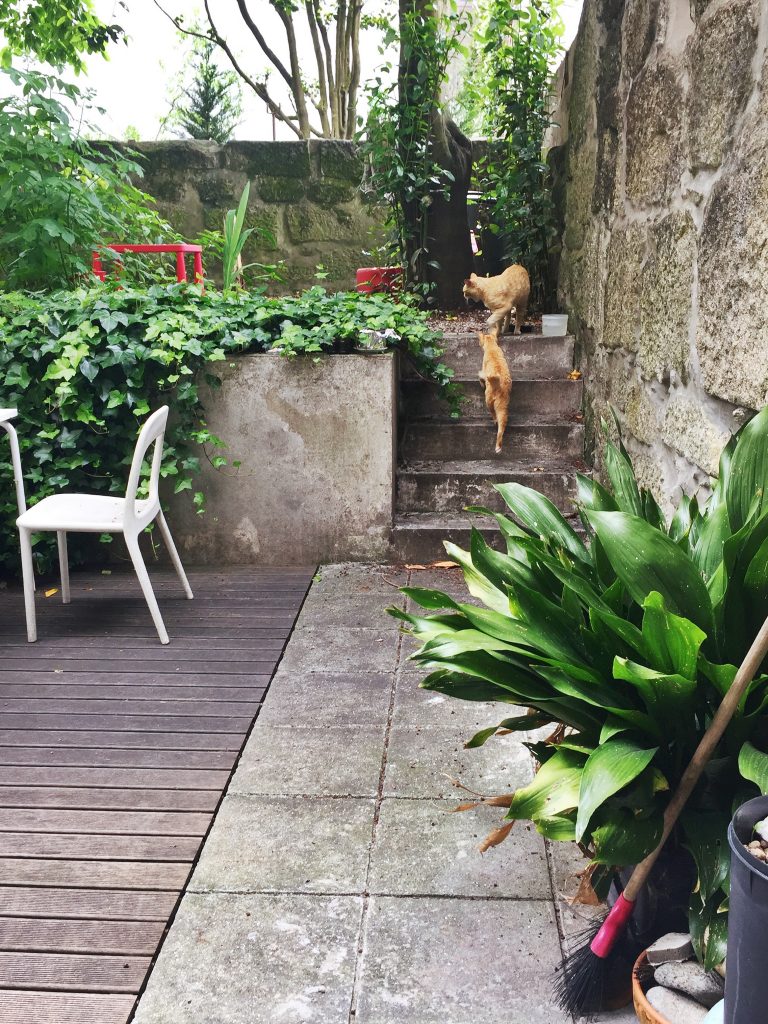 The woman working there was very friendly and helpful in answering questions about her menu. Immediately the "Vegan Ice Cream" at the top of the menu caught our eye but she informed us that they were actually frozen chocolate-covered ice cream bars on a stick because the freezer she has makes regular ice cream too hard to scoop. We were still interested so we opted for those and almond milk cappuccinos. The cappuccinos were room temp but tasted great, especially with our frozen treats. It seems like an odd pairing, but it was delightful.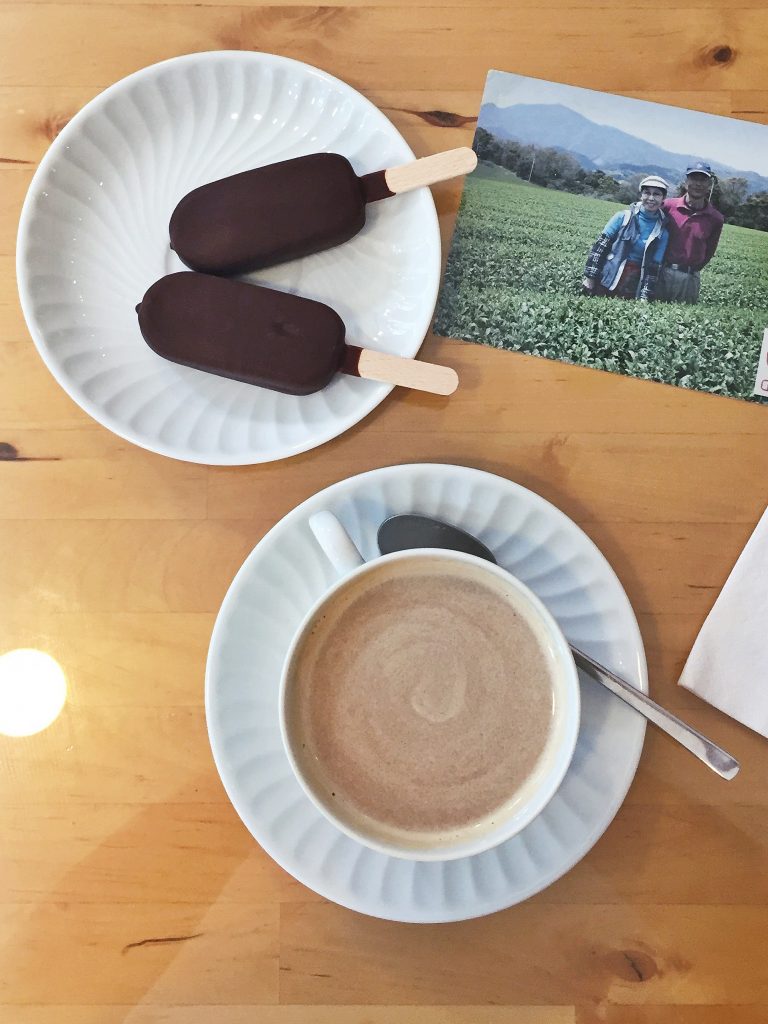 On our way out, we bought a jar of locally-made jam for our morning toast and some VEGAN CHOCOLATE BEARS. They tasted like those large milk chocolate rabbits I ate on Easter when I was a kid. So, in other words, they were awesome.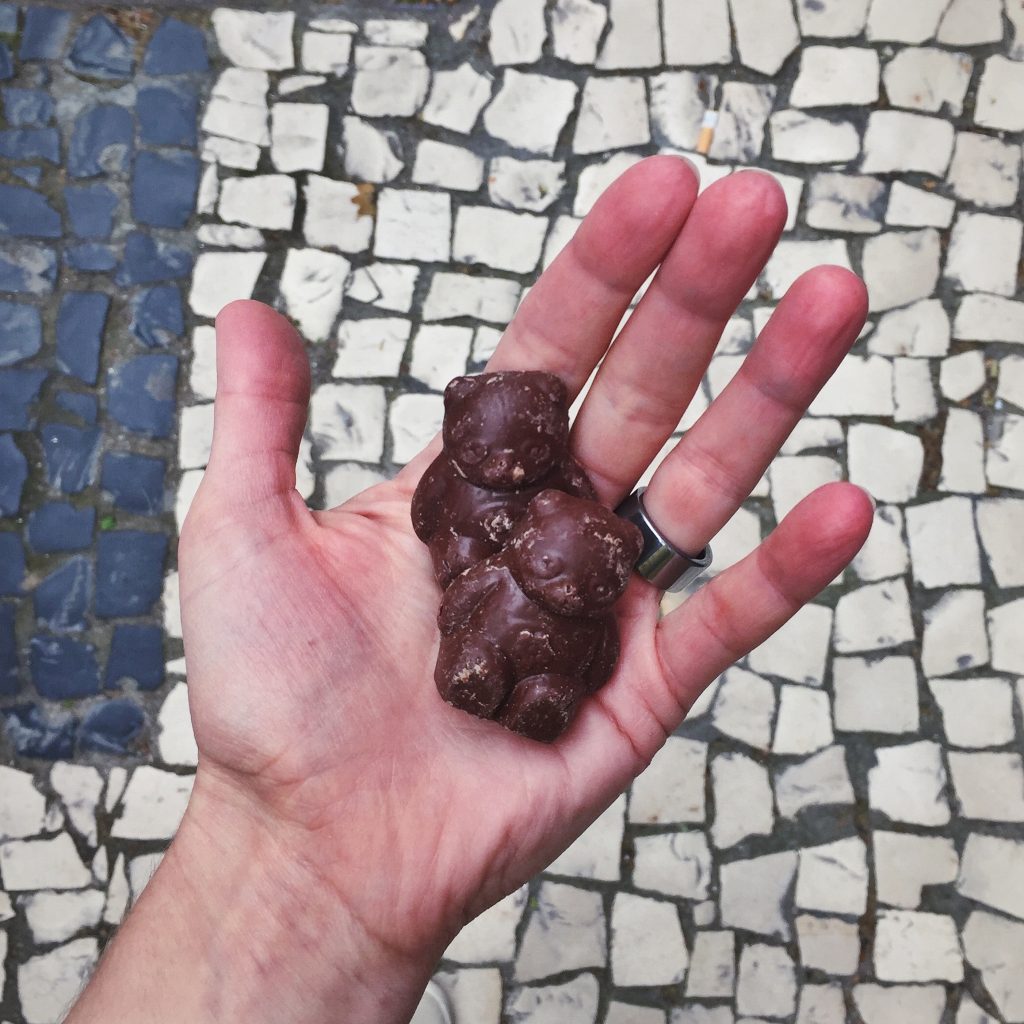 After that, we decided to make our way down to the river and check that out. Once we got there, we came upon a nice little restaurant overlooking the water and the people that were sitting there, enjoying glasses of wine looked so happy so we decided to join in. This is where we discovered that most restaurants in Portugal offer plain bread (pão), which is usually vegan (make sure it doesn't have butter/"manteiga" on it), and olives (azeitonas) as appetizers. This is where we also discovered Vino Verde** (or green wine) which basically translates to "young wine" or wine that hasn't aged long. Depending on the region, it is slightly lower in alcohol content and has an almost effervescent, refreshing quality.
There was a music festival happening in Porto while we were there, with free concerts popping up everywhere. While we were dining, a band appeared in the balcony of the old Swedish consulate building directly across from us. We joked that it was the mayor and his friends playing some tunes for the crowds but it was very cool. At one point, as we were leaving the restaurant, a crowd had gathered in the plaza and everyone was singing and clapping with the music. We stopped and joined in with the clapping and enjoyed being in that present moment. It was really beautiful.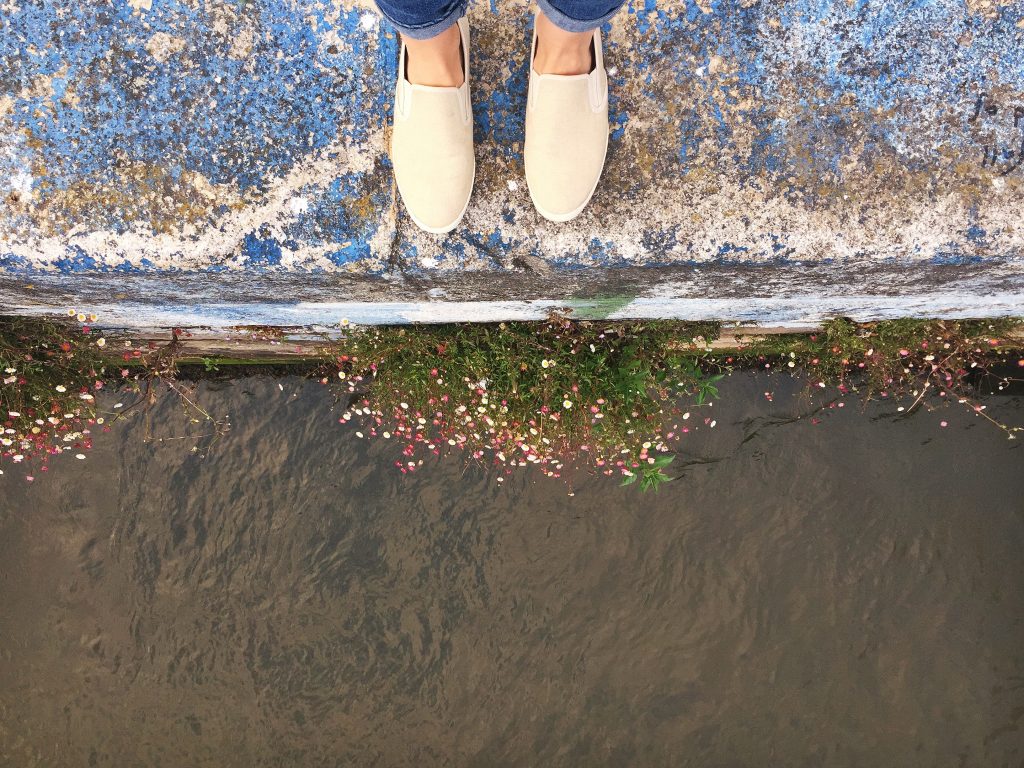 We walked down by the river for awhile and then back up to our apartment to freshen up for dinner.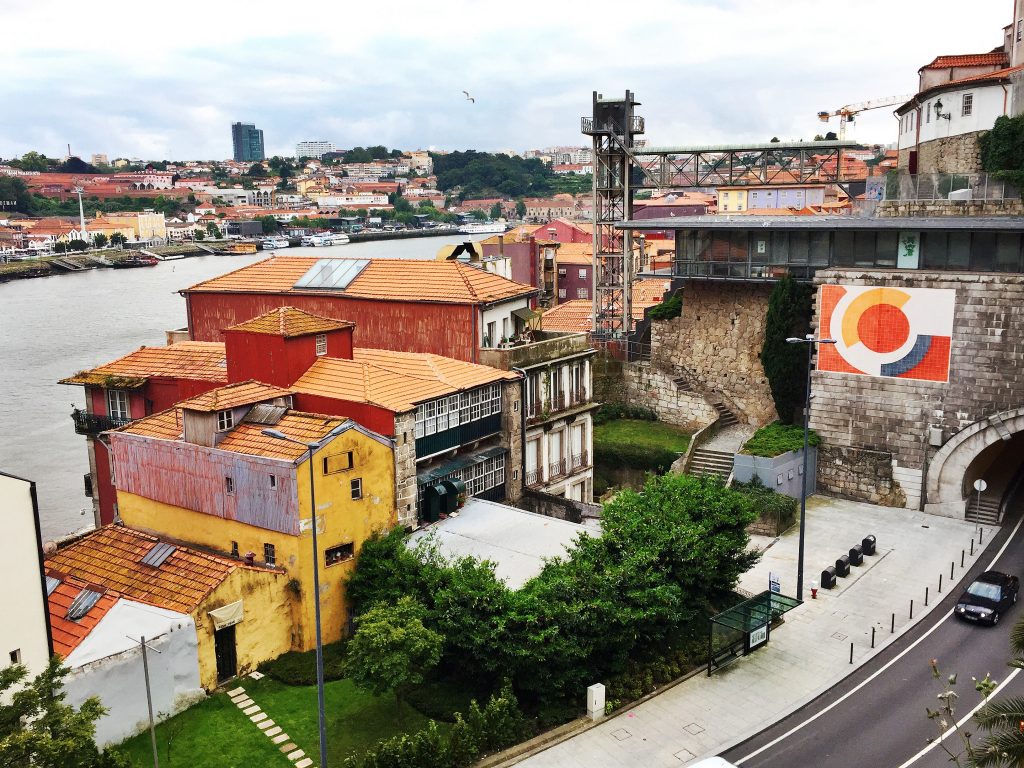 Rua de Trás 101, Porto  •  +351 22 325 2112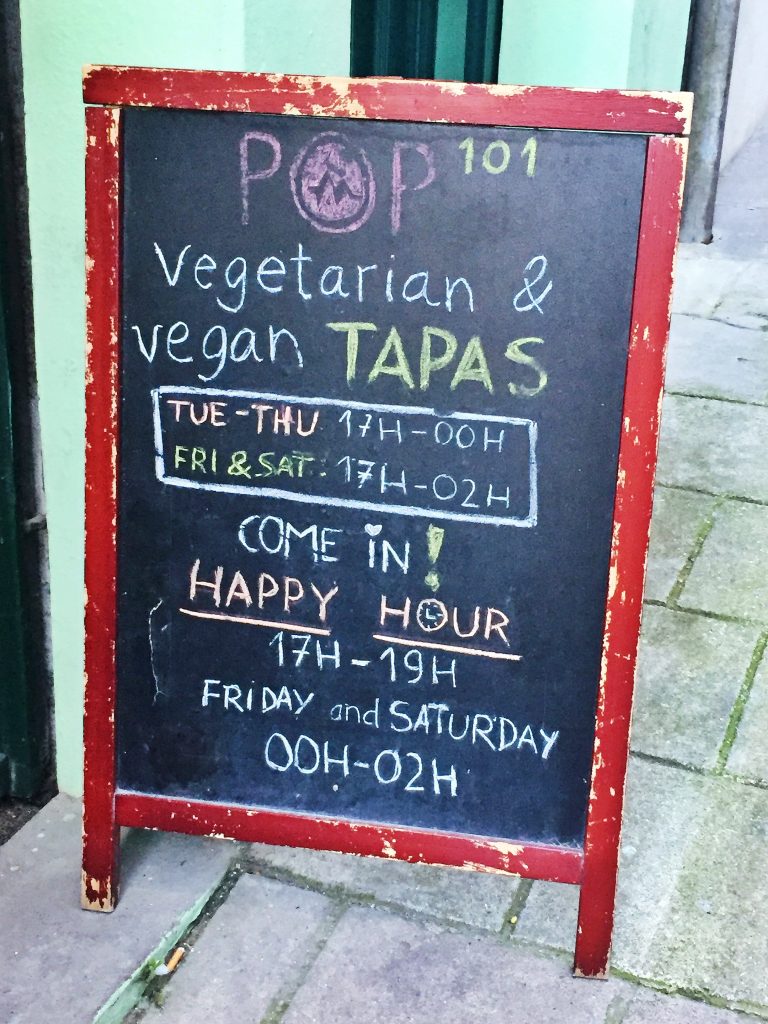 By the time we had walked to POP 101, it was dark (forgive the awful pictures below). We weren't terribly hungry (see above, re: bread and olives) but we were able to find some great vegan food to nosh on while listening to great music (think of your favorite selection of 80's and early 90's hits. That's what was playing) and watching a slide show of old pictures of Porto (it was on repeat the entire time we were there, but it was still neat to see).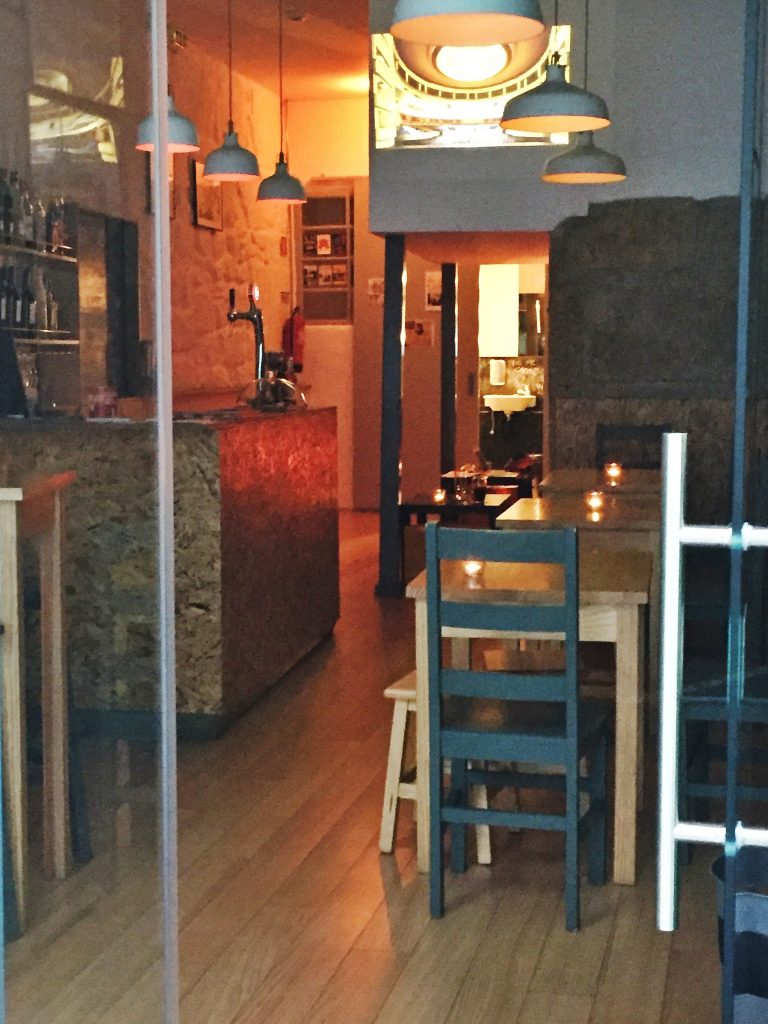 This restaurant is also known for it's vegan version of the city's beloved Francesinha sandwich, but they only serve it on Wednesday nights so we were out of luck. All of the vegan options on the menu were clearly marked, which made things easy. We started with hummus and it was remarkably smooth and creamy.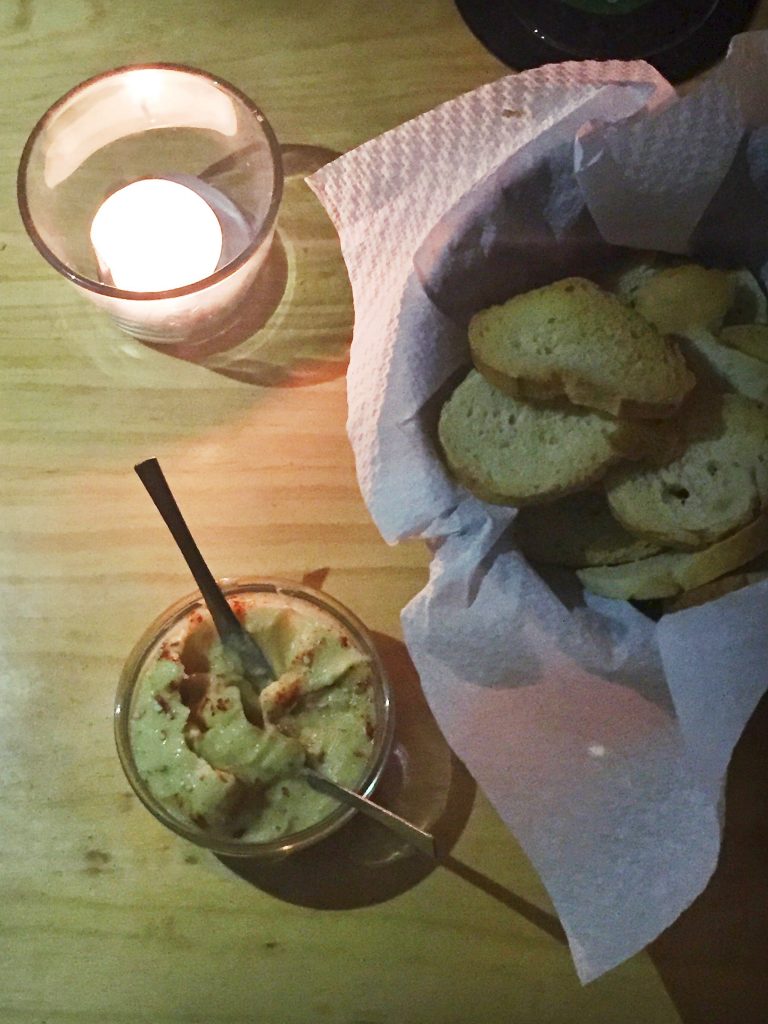 I ordered batatas bravas (my most favorite spanish tapa, but in all seriousness, I love potatoes with a fiery passion and this was the first of a few times on this trip that I just ordered potatoes for a meal) and Chris ordered a vegan sausage, which came with fries and a salad. We both enjoyed our meals but I think we loved the ambiance of the restaurant more than the food.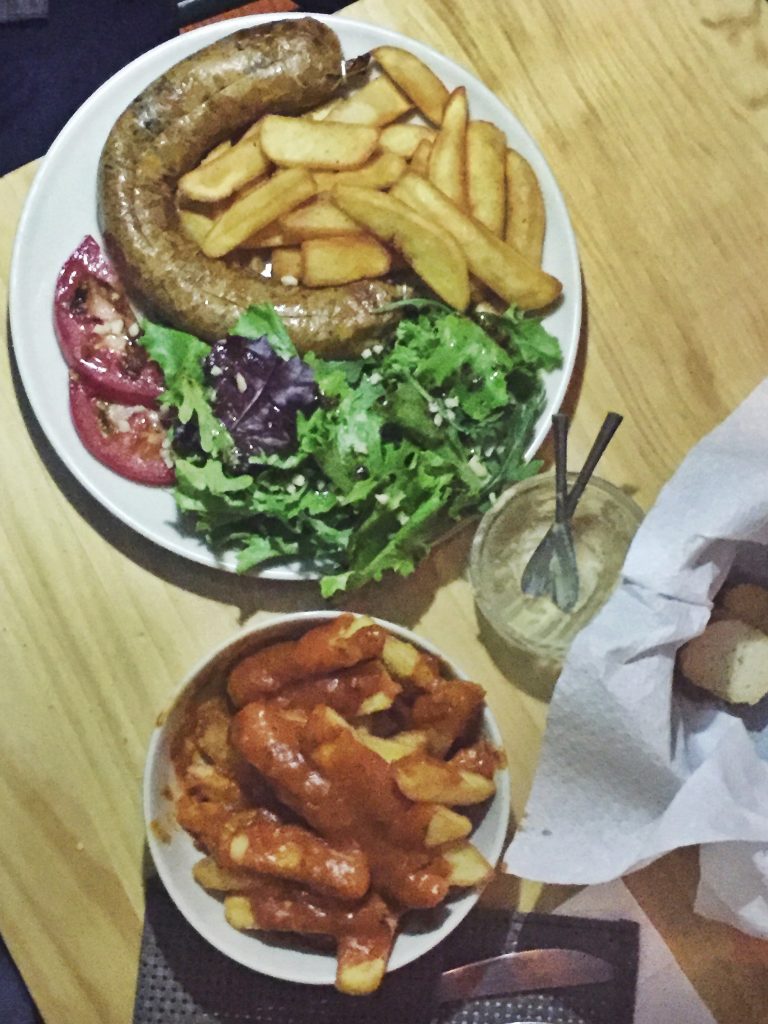 We did, however, get to try a vegan version of one of Portugal's beloved desserts, the Pastel de Nata. Unfortunately, there are no pics because we scarfed that sucker down crazy-fast. It was pretty good, though. Definitely worth a try. After dessert, we wandered home and passed out.
The next morning, after our beloved toast, coffee, and seagull watching routine, we headed out for another day of exploring. We first stopped by the São Bento train station and had a little look around. I love European train stations- they have such a strong vibe of romance and adventure. This one is no exception and is also considered one of the most beautiful train stations in Europe.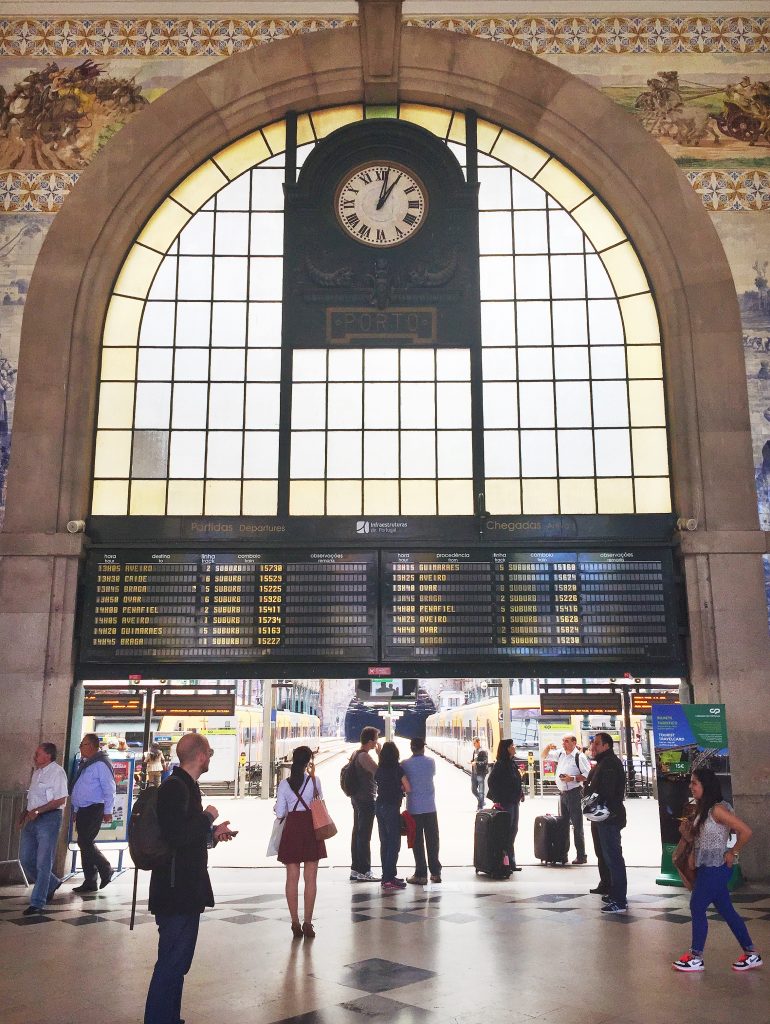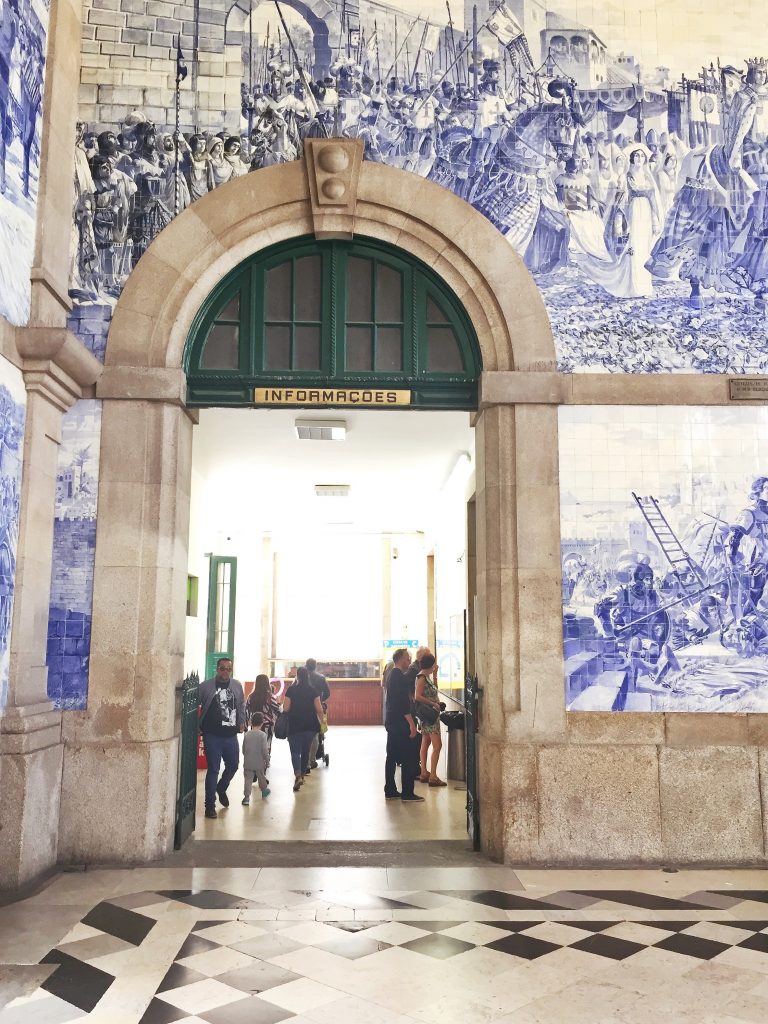 We walked around a little more before deciding to stop for lunch.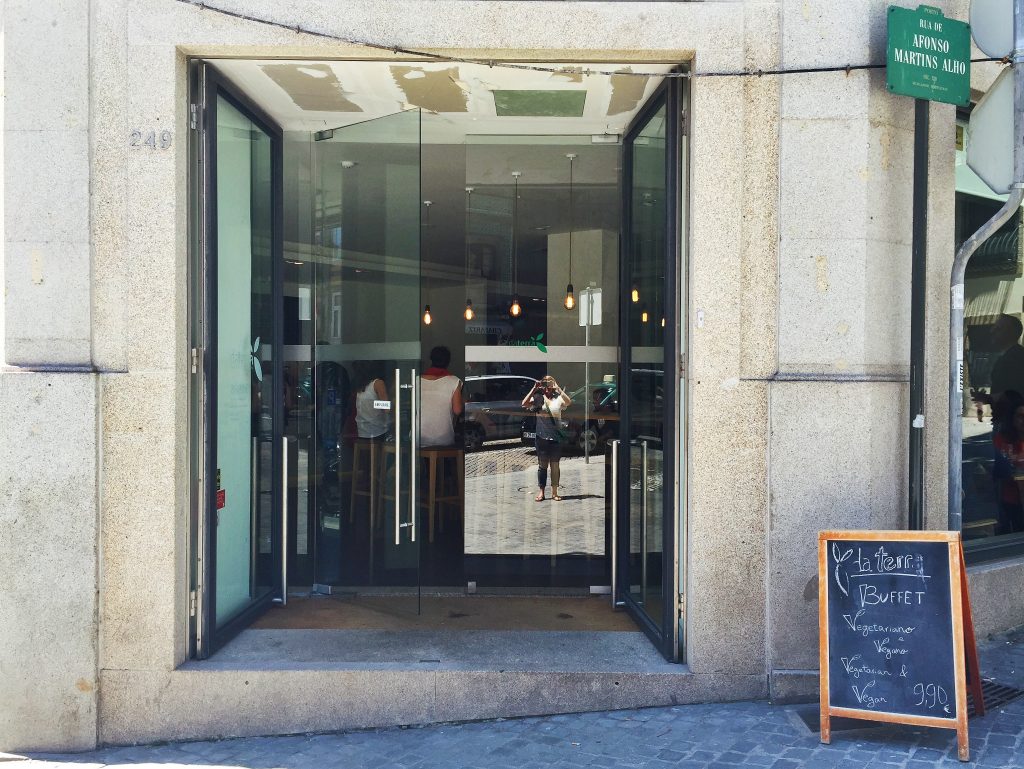 Rua de Mouzinho da Silveira 249, Porto  •  +351 96 662 0076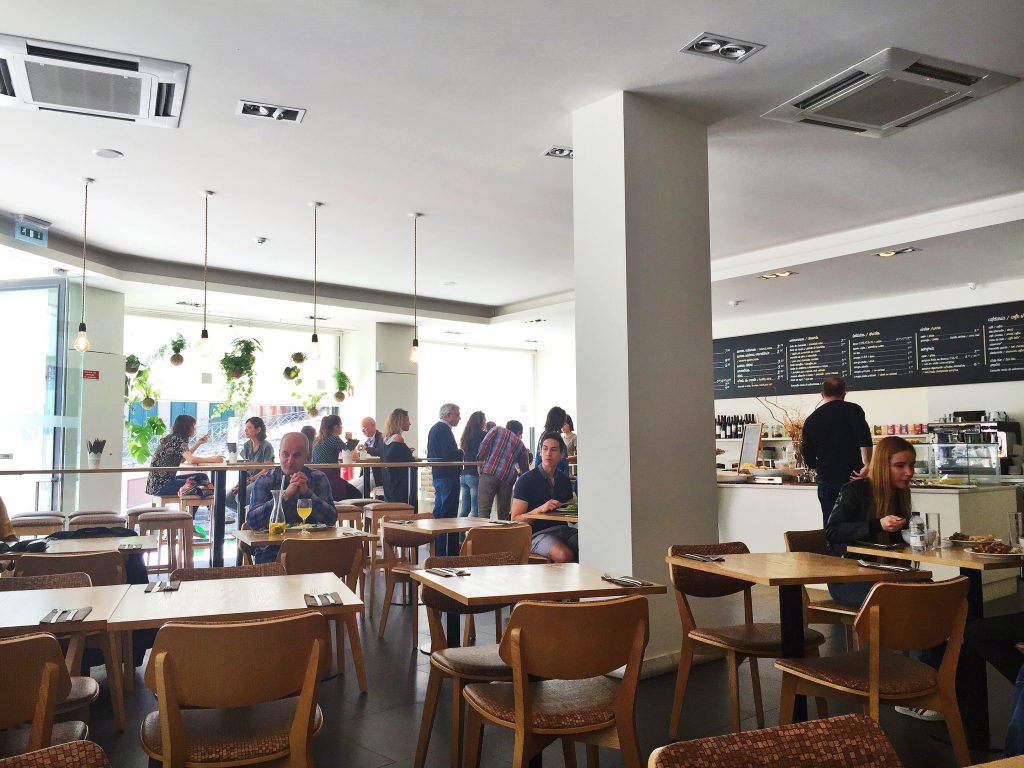 We decided to eat at daTerra, a beautiful, modern buffet-style vegetarian restaurant right in the city center. The buffet was gorgeous and, luckily for us, everything (except for a quiche) was vegan!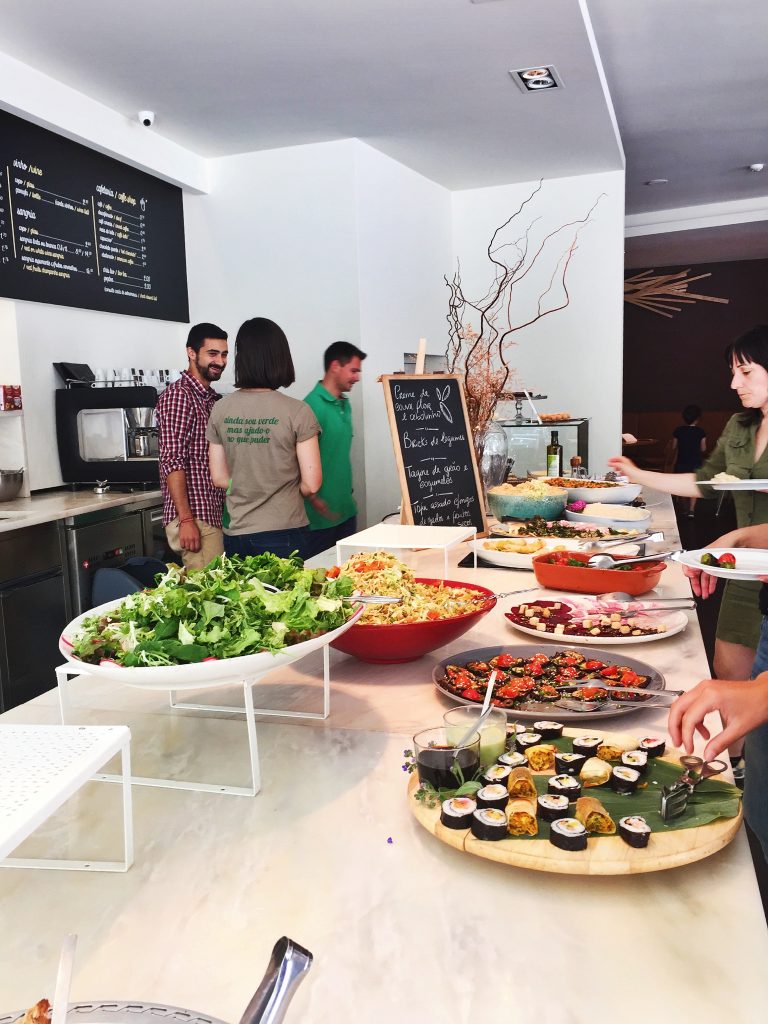 We went to town filling up our plates. And everything was sooooo good.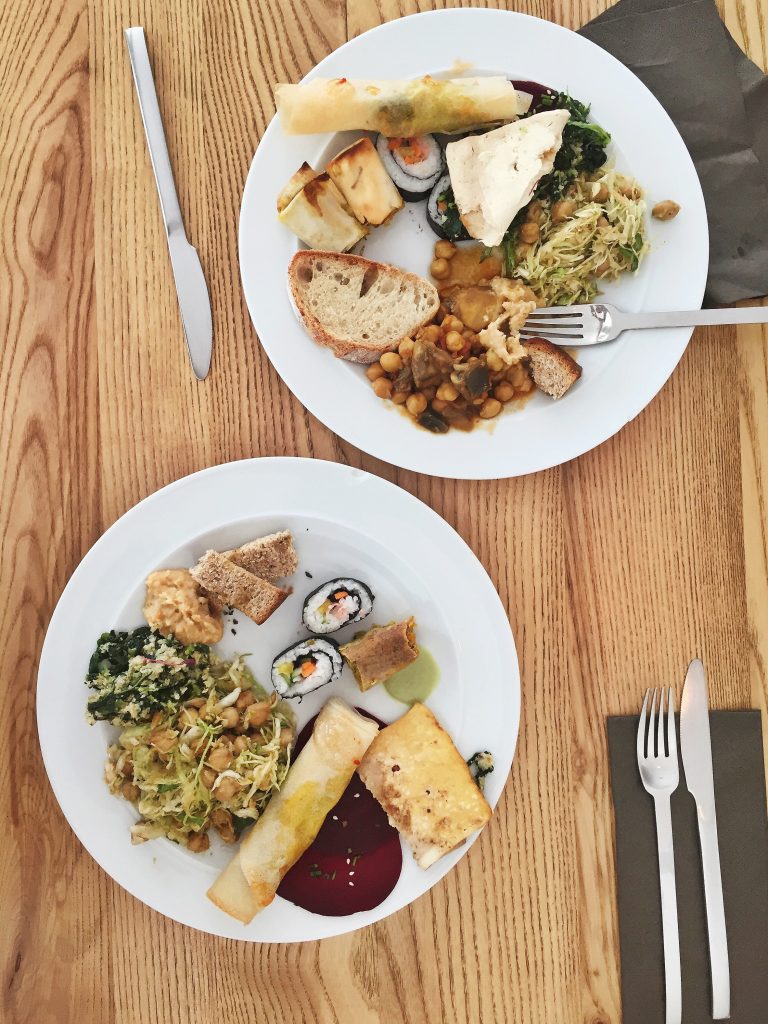 Afterwards, we wanted to dessert so I asked one of the servers which desserts were vegan. She showed me to an entire vegan dessert display in the window (separate from the vegetarian desserts).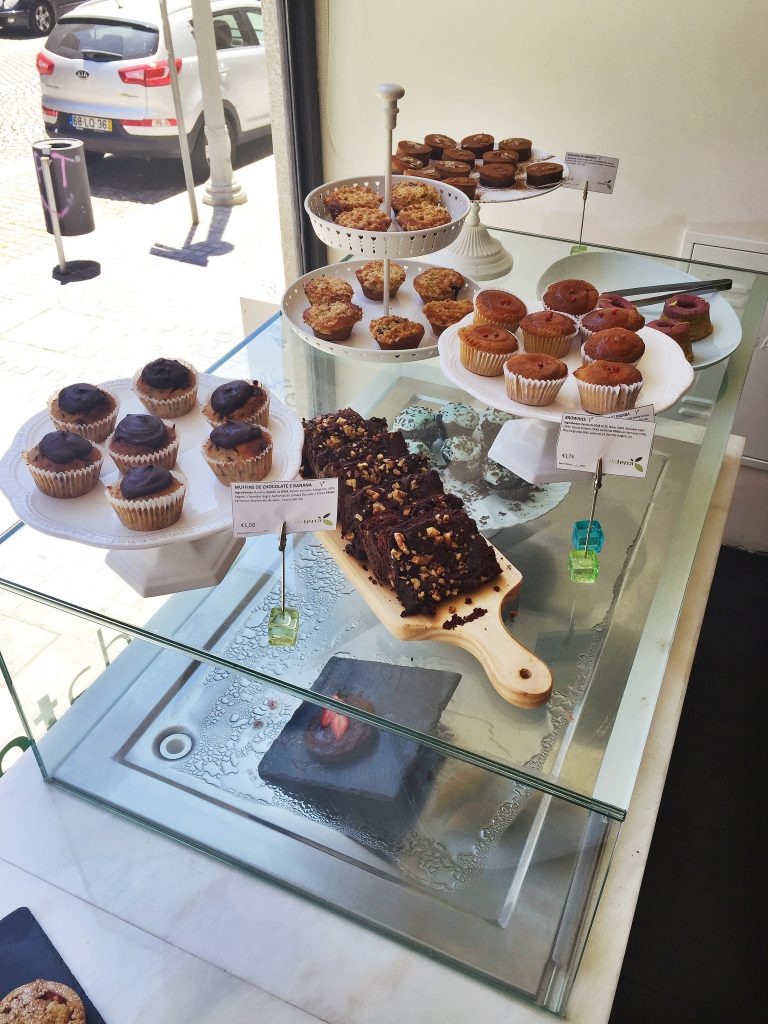 I couldn't make up my mind so I chose a brownie and a mint chocolate cupcake. We got vegan cappuccinos to accompany them. Again, all of it was dynamite!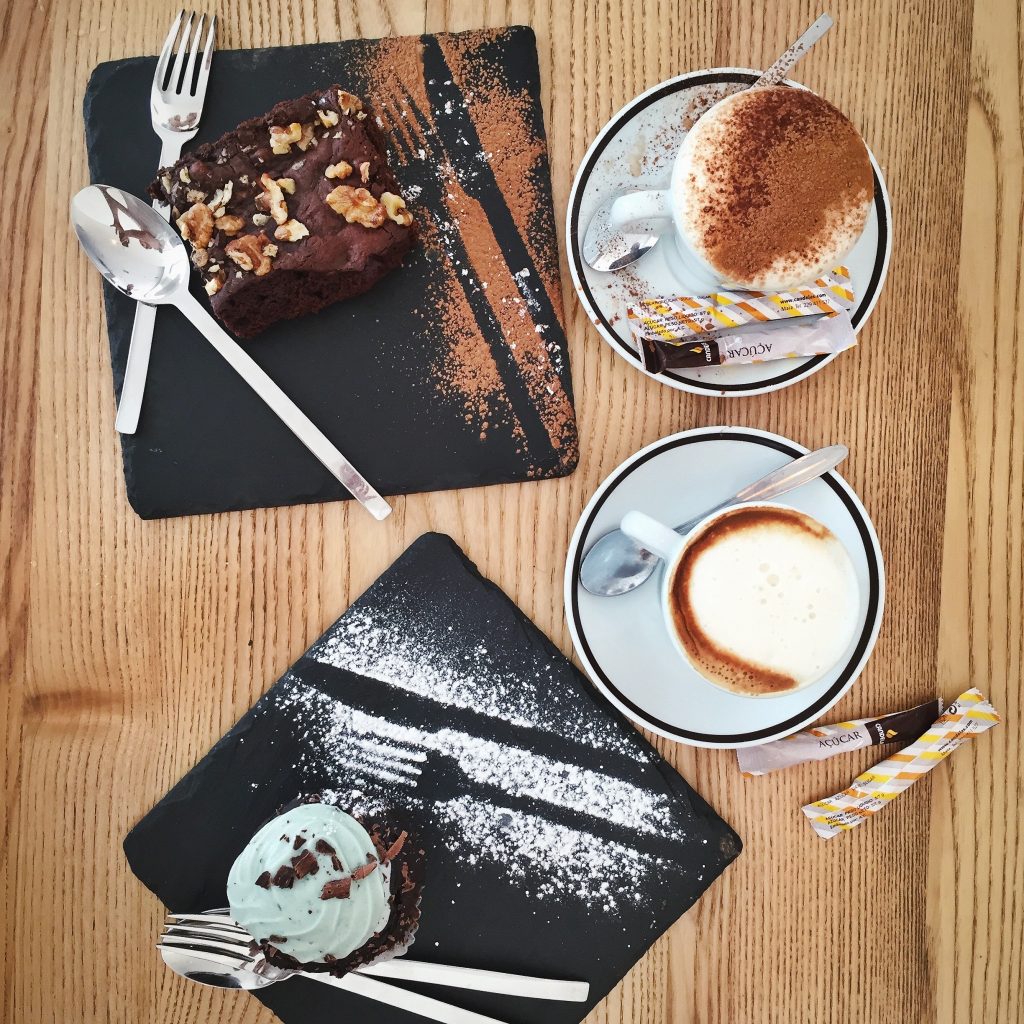 After lunch, we spent an hour or so wandering around the Church of São Lourenço and the neighboring old village. Then we made our way over the top of the Dom Luis bridge. I didn't take any pictures while I was up there because I was scared to death. It was so high and it was so windy! I was afraid a strong breeze might just throw me over the side, because there was barely anything there as a side rail. I took some nice pics once my feet were firmly planted in the town of Gaia.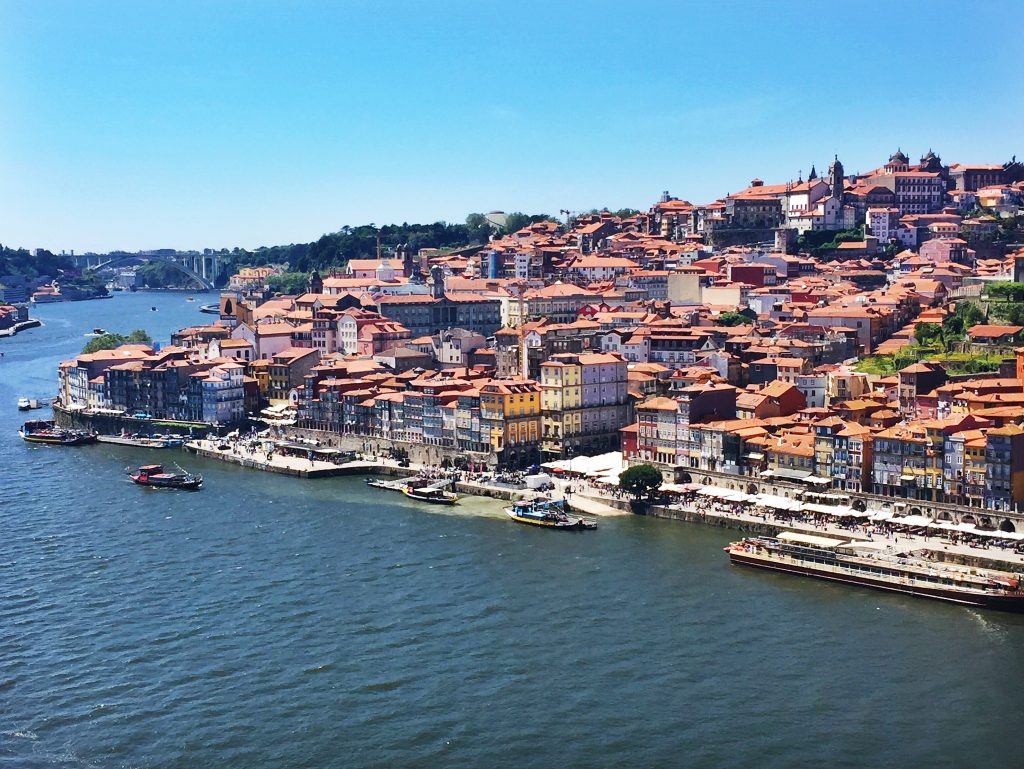 Port, the very strong, fortified wine, was invented in Porto, and most of the port wineries are across the River Douro in the small town of Gaia. In fact, many of the wineries have shops right along the river so that you can go port tasting at your leisure. Even though I've learned the hard way that port is my kryptonite (that's a story for another day), we decided to do a tiny bit of port tasting because, as they say, "When in Porto..." We made it to one shop, we each drank half of a glass, and decided that this really isn't our deal. So we left, wandered along the river, explored a couple of side streets, and then relaxed at a small restaurant with our vino verde, bread, and olives, and people watched for a good long while.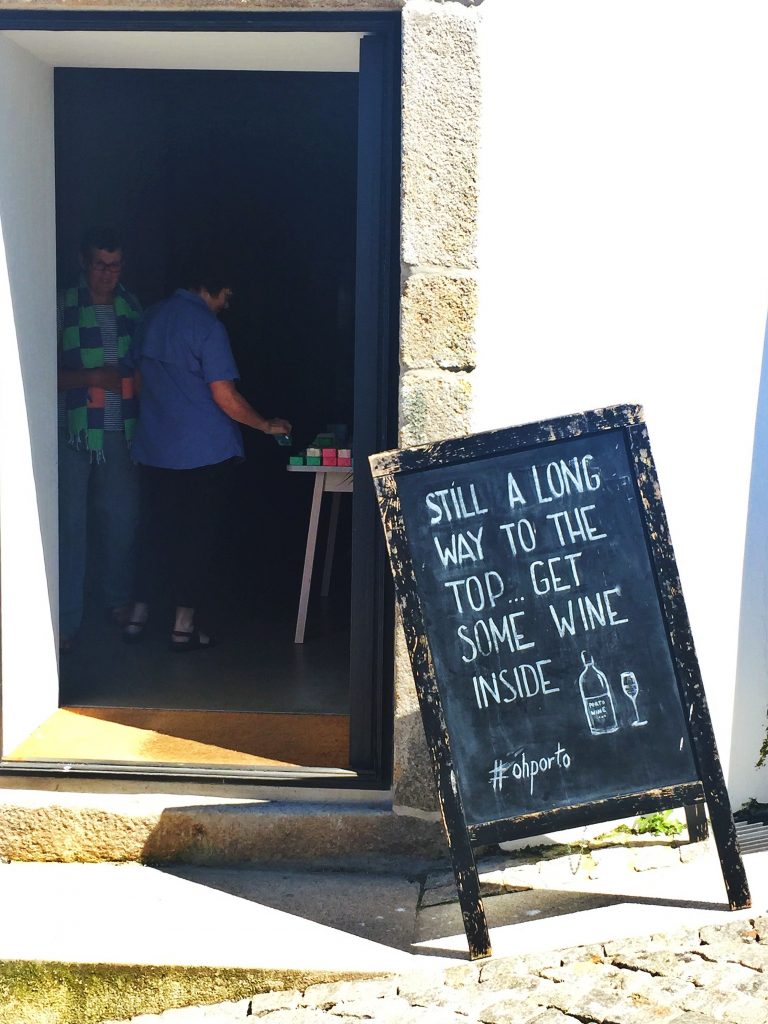 We made our way back to Porto (on the bottom part of the bridge this time) and went back to our hotel for a nap. After our nap, we headed out to Black Mamba for our last dinner in Porto. The next morning, we made our way to the train station to make our way to Lisbon.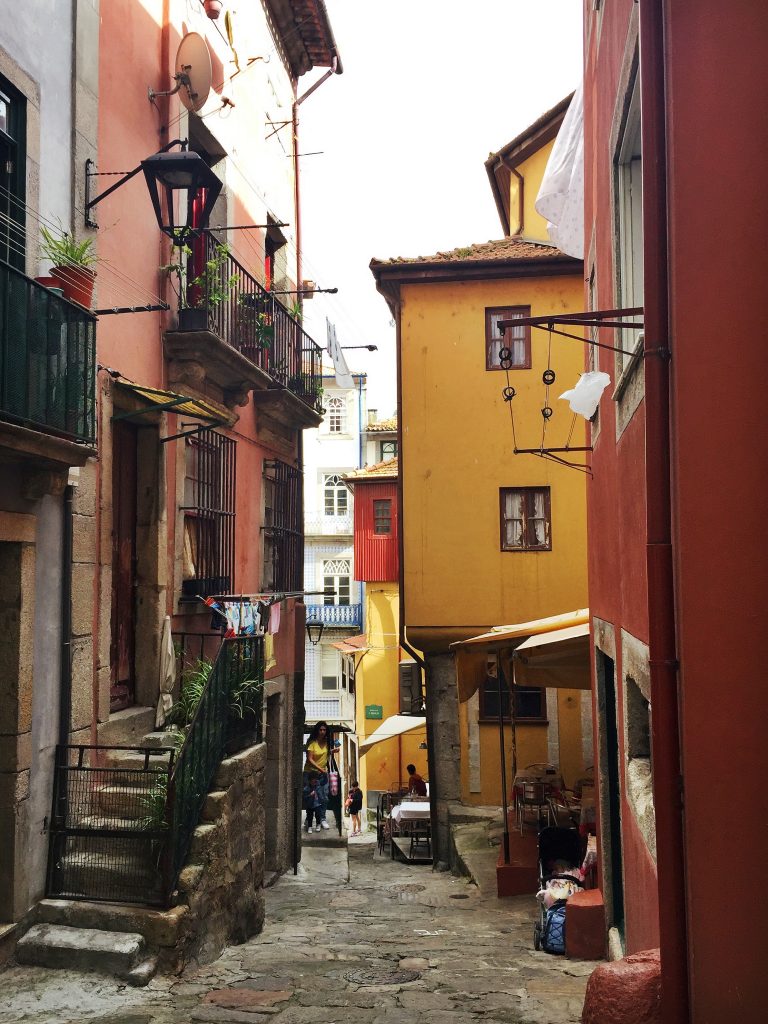 Porto, by far, was my most favorite city that we visited in Portugal, and that's saying a lot because I'm really quite taken with Portugal. The weather was perfect (low 70's and sunny but with a breeze), the people were incredibly friendly (though, I could say this about every city we visited), and it was so unbelievably charming. The vegan food we got to try was all pretty good and we were impressed by all of the options. It had touristy areas but even their touristy areas were nothing compared to touristy areas of other European cities. The city as a whole seemed to know what a great place it was but totally wasn't stuck up about it. It was peaceful, unassuming, and completely, stunningly beautiful. Everywhere we went on the rest of our trip, we would say "I really love it here, but it's definitely not Porto."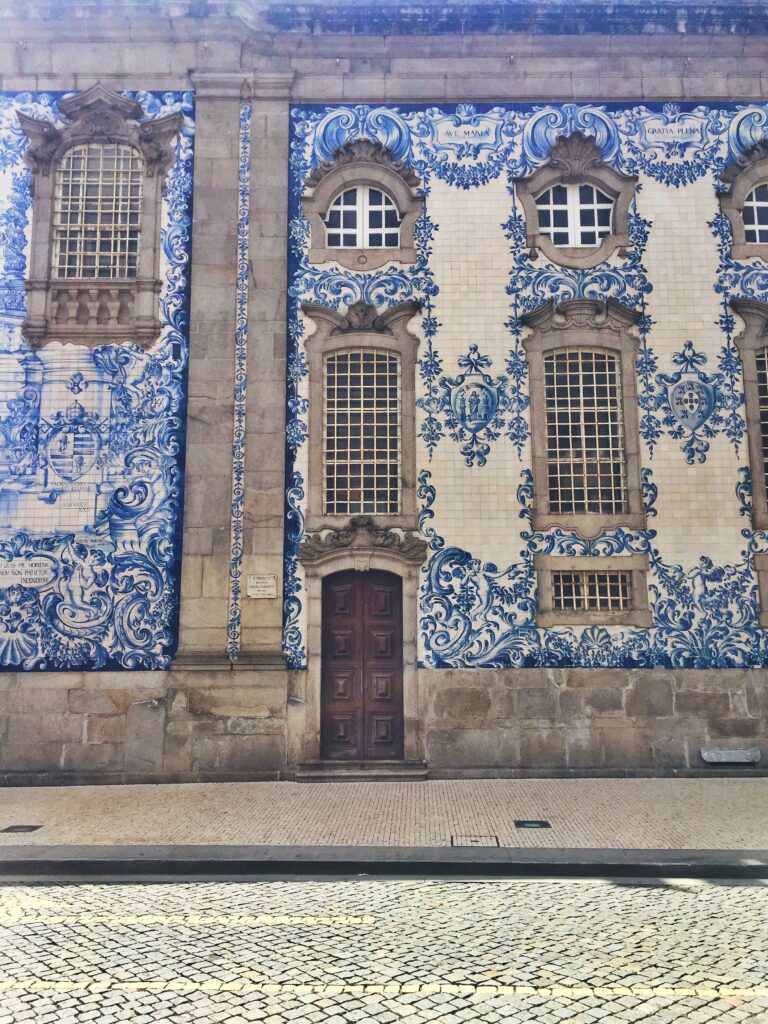 Stay tuned to hear about our adventures in

Lisbon

, and the Algarve Coast!
*I don't usually eat gluten due to my Hashimoto's, however, I'd been wondering if I needed to continue to avoid it since having my thyroid removed. I had no more thyroid for the antibodies to attack so what was the worst that could happen? I'm happy to report that I ate gluten for two weeks without any problem at all. I had been concerned about the stomach pains, gas, and fatigue I'd experienced in the past when I'd tried gluten, but I didn't experience an of that. This could be due to the fact that I no longer have a thyroid, but it could also be due to the fact that Europe has fewer problems with GMOs and perhaps the way they process the wheat results in a cleaner flour. These are just theories and I don't know what the real reason is, but the bottom line is that I seem to do fine with gluten in Europe. I haven't tested this theory while back at home yet.
**When we're at home and purchasing our own wine, we take extra care to make sure that we're buying vegan wine. However, when we're traveling, we focus on doing what we can. If we can find a vegan wine, great. But if not, we're still going to have a glass and enjoy the moment.