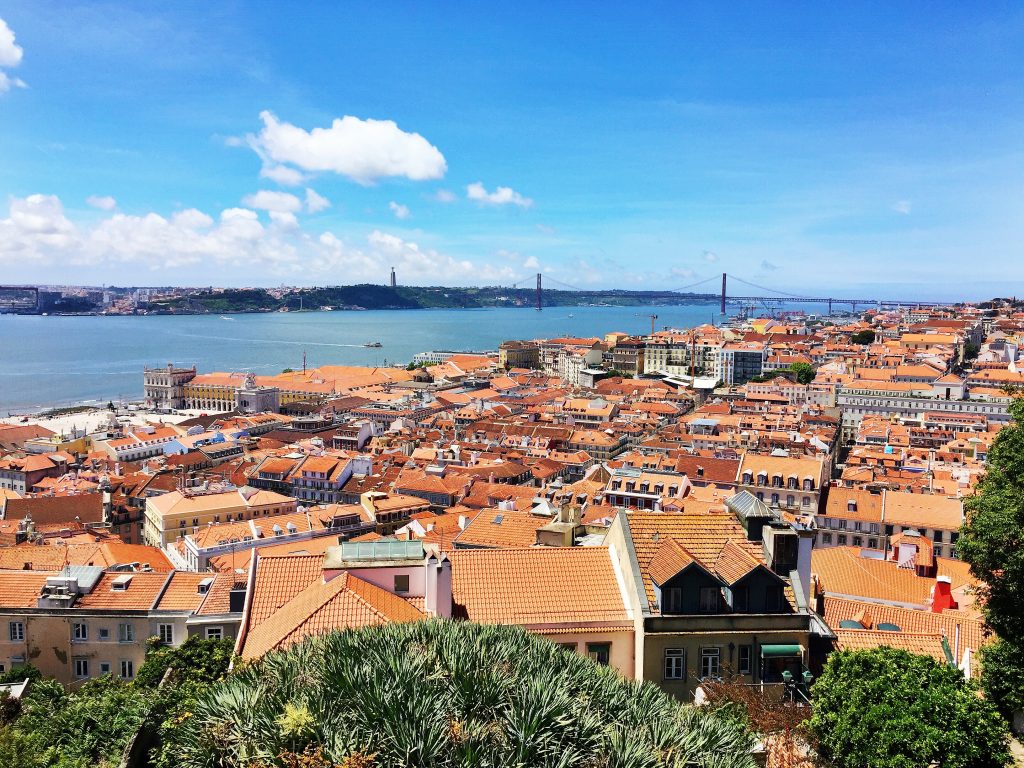 This was not my first trip to Lisbon, though it may as well been. Let me explain. The first time I went to Portugal, nine years ago, I spent a few lovely days on the coast and then decided to make a quick stop in Lisbon before heading back to Barcelona to meet a friend. I arrived by train one evening and went to bed at my hostel. I woke up, refreshed and ready to spend a day exploring the city. While walking around that day, I walked by a charming little cafe, advertising port on it's little chalkboard display outside. I figured, "Well, you can't go to Portugal without trying the port. Who knows if I'll ever be back?" So I stopped inside for a glass of port and the next thing I remember is waking up around midnight, in my bunk at the hostel. I have no recollection of how I spent the rest of that day or even how I got back to the hostel, but I learned my lesson: Port is definitely not my drink. I left the next morning with a massive hangover and got on a train to Barcelona.
So this was basically my first trip to Lisbon because everything was still new to me. We got off the train and made our way to the taxis lined up outside the station. You could take a bus into town but our hotel was in the oldest part of Lisbon, and we didn't have time to figure out the bus line that would take us closest to our hotel. So a taxi it was. We walked up to the cab at the front of the line and showed him, on my phone, the address of our hotel. He looked confused, got out of the car and walked to the cab behind us to get directions. Our situation looked even bleaker when he had to continue a few cars down the line to get the correct directions. So he gets back in the car and I should explain here that this man did not speak any English. We didn't mind- we didn't speak any Portuguese (aside from how to say Thank You. "Obrigada" to women, "Obrigado" to men) so we couldn't hold it against him. This was the first time in our trip (and one of the only times) we came across someone we couldn't communicate with. That didn't stop him from talking our ears off the whole way to the hotel. He spoke passionately, with wild hand gestures, and sound effects (like sticking his tongue out to make farting noises). We tried to contain our laughter, but when he found something that made us laugh, he started to do it more, looking in the rear view mirror to watch our reactions. It was the most fun I've ever had in a cab that wasn't in Las Vegas.
Travessa das Merceeiras 27, Santa Maria Maior, Lisbon  •  +351 21 049 5660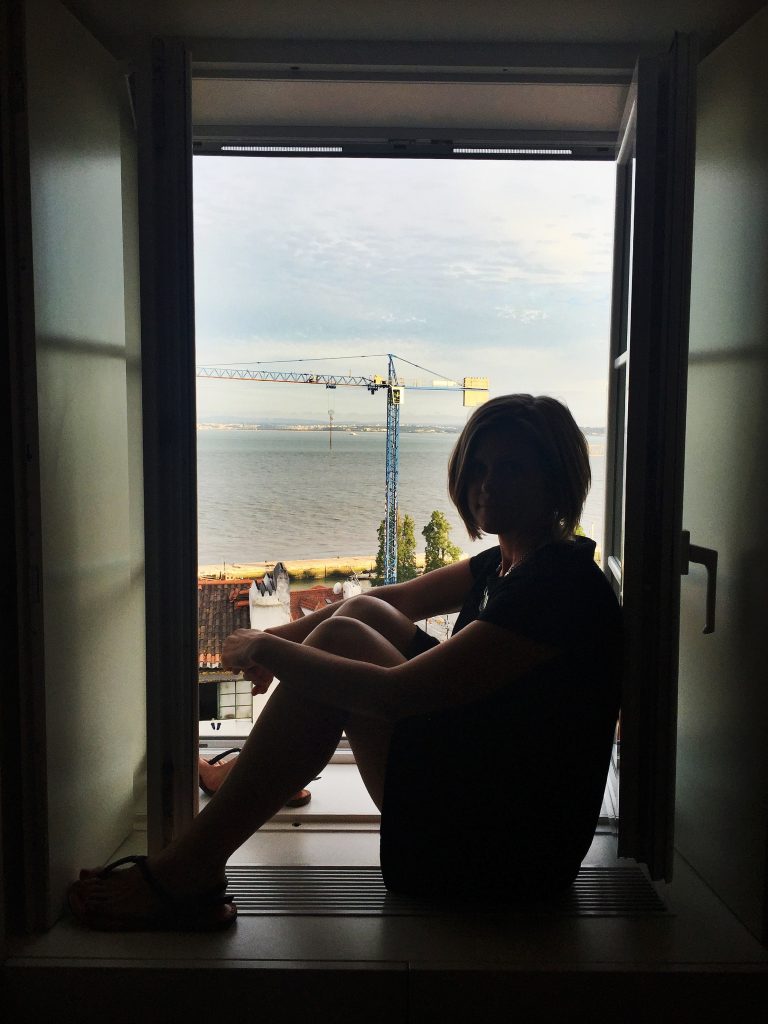 We arrived safely at our hotel and for some reason took no pictures, aside from the one above, of our room. It was small, but elegantly modern. It was a tight space and definitely meant for people who know each other very well. One of the shower walls was glass and looked out into the main bedroom area. All that separated the toilet from the rest of the room was a sliding glass door (though you could pull a curtain in front of all of this glass, if needed, though it doesn't do much to block out the sound if you know what I mean. It did have room for me to sit in the window which is something I've yearned for my entire life. A window seat. Also worth noting: one evening I turned the TV on while my husband was using the lavatory and found a channel that was playing a British show (or at least the narrator had a British accent) titled "The 20 Cutest Puppies." Seriously. It did a countdown of the 20 cutest dog breeds and I got in right at number 18. So I got to watch nearly an hour of adorable puppies. I realize this is more likely due to excellent Portuguese television programming, but still- bonus points for the hotel!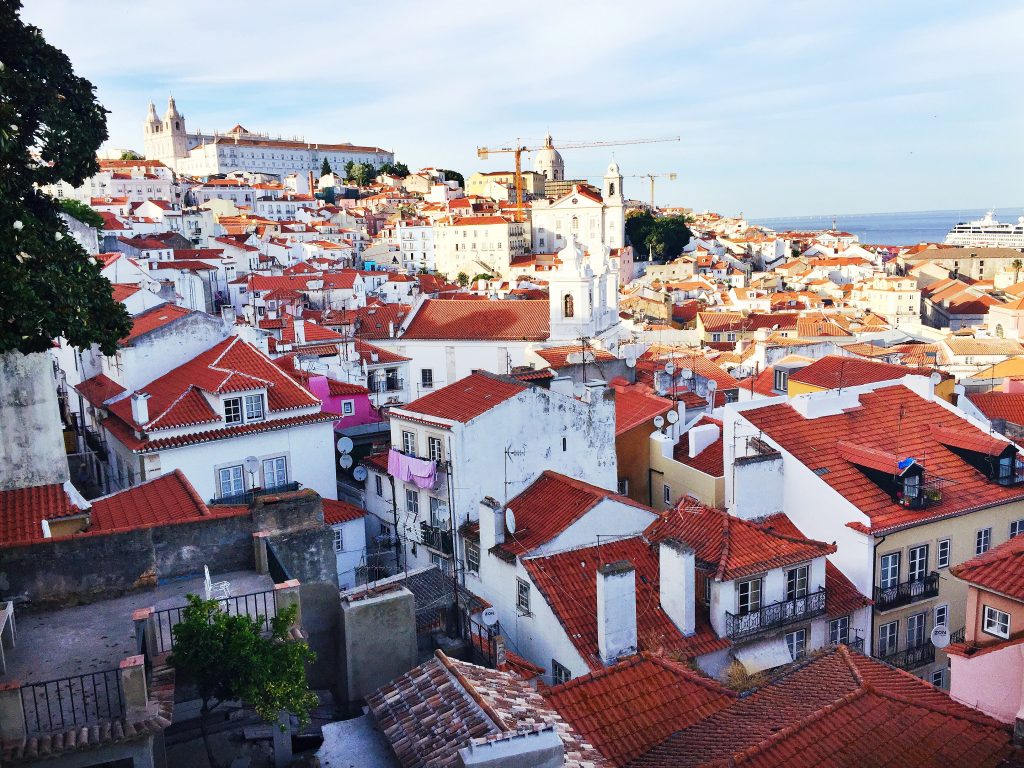 The best thing about this hotel is the deck/bar/pool area. There is a gorgeous deck overlooking the ocean and the Alfama (the oldest hood in Lisbon), complete with wading pool, and bar. We ate breakfast there every morning. They made excellent soy cappuccinos and along with toast and jam and a gorgeous view, it made for a perfect start to our days. Unfortunately, I have no pictures of the food- just the vegan butter I carried in my purse for the toast. Carrying your own vegan butter = Level 12 Vegan.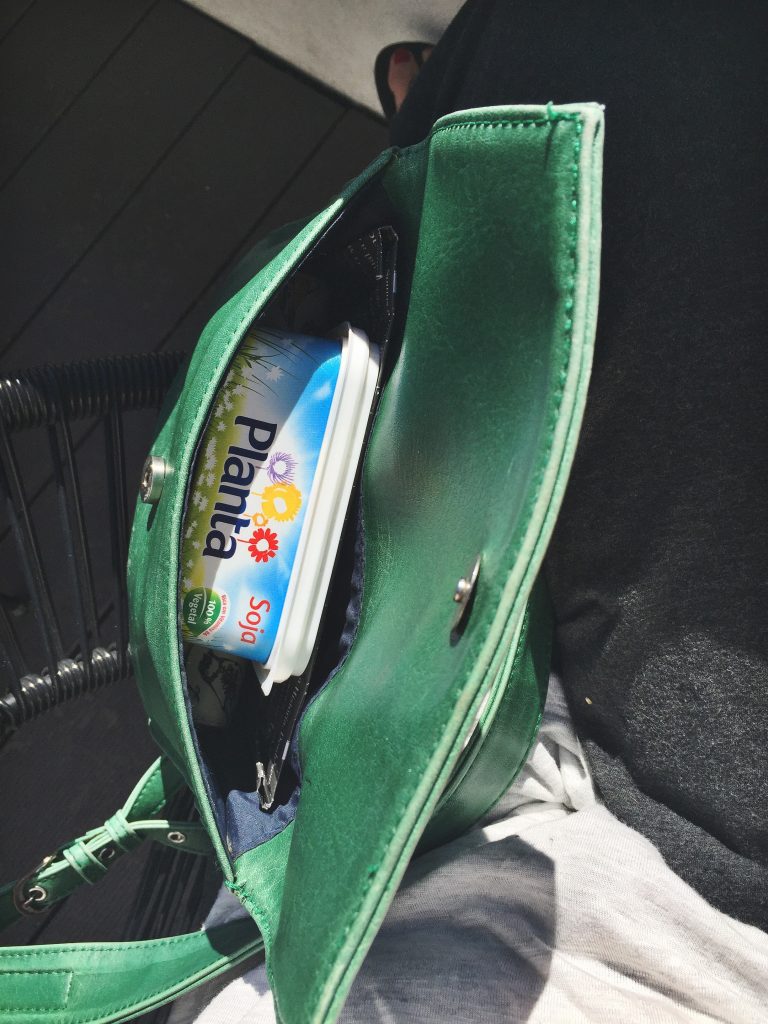 Every evening, we would do our wine, olives, and bread routine (which we picked up in Porto). The food, drinks, and service was wonderful. One night, one of the waitresses brought us blankets because we looked cold!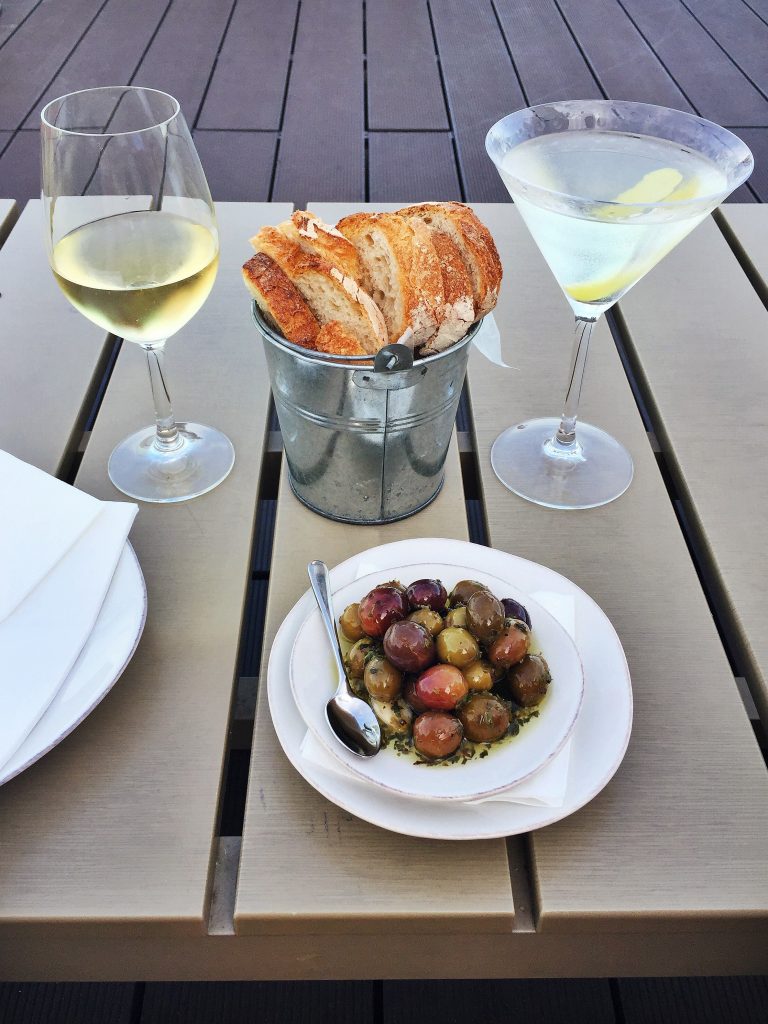 And there was a seagull who came by every evening to take a bath in the pool.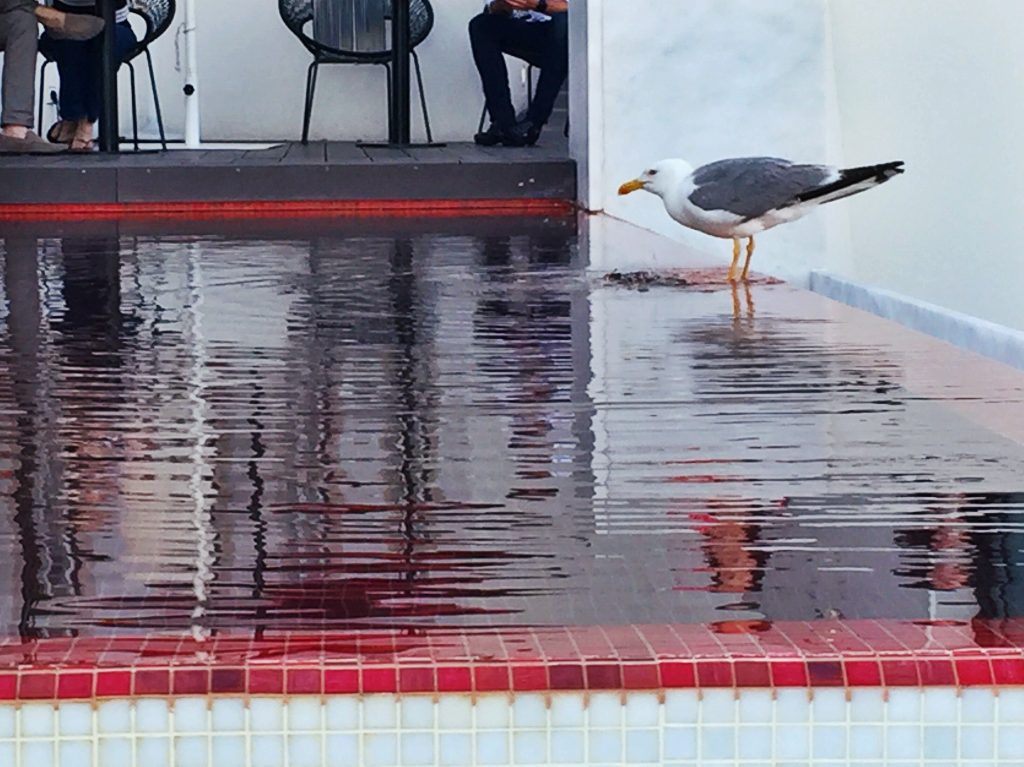 One evening, after a couple glasses of wine, we attempted to take a selfie. Which, for us, never ends well (the selfies, not the wine).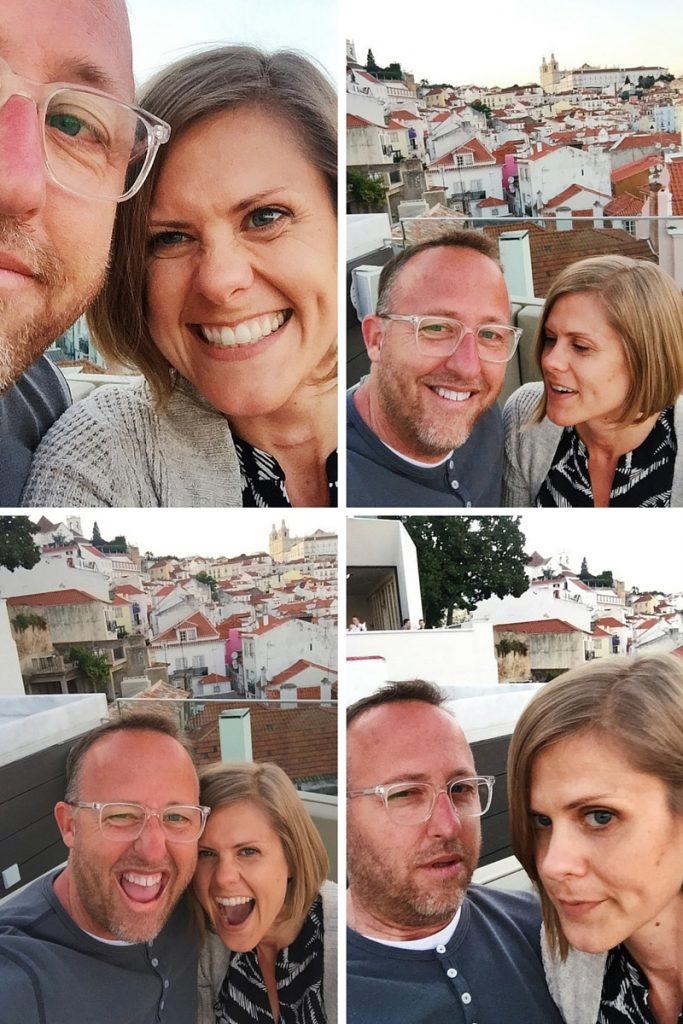 All in all, we loved our stay here and wouldn't hesitate to stay here again.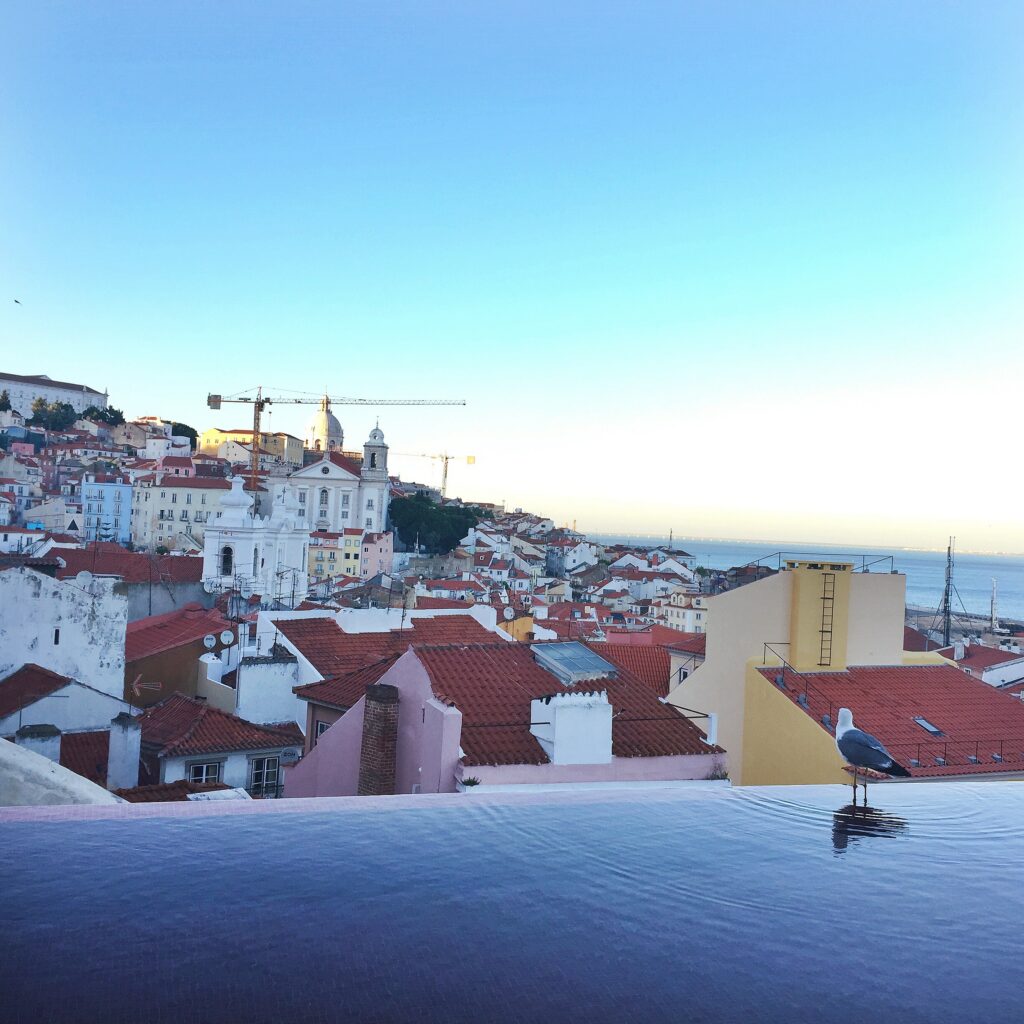 Rua do Salvador 64A, Lisbon  •  +351 21 887 1263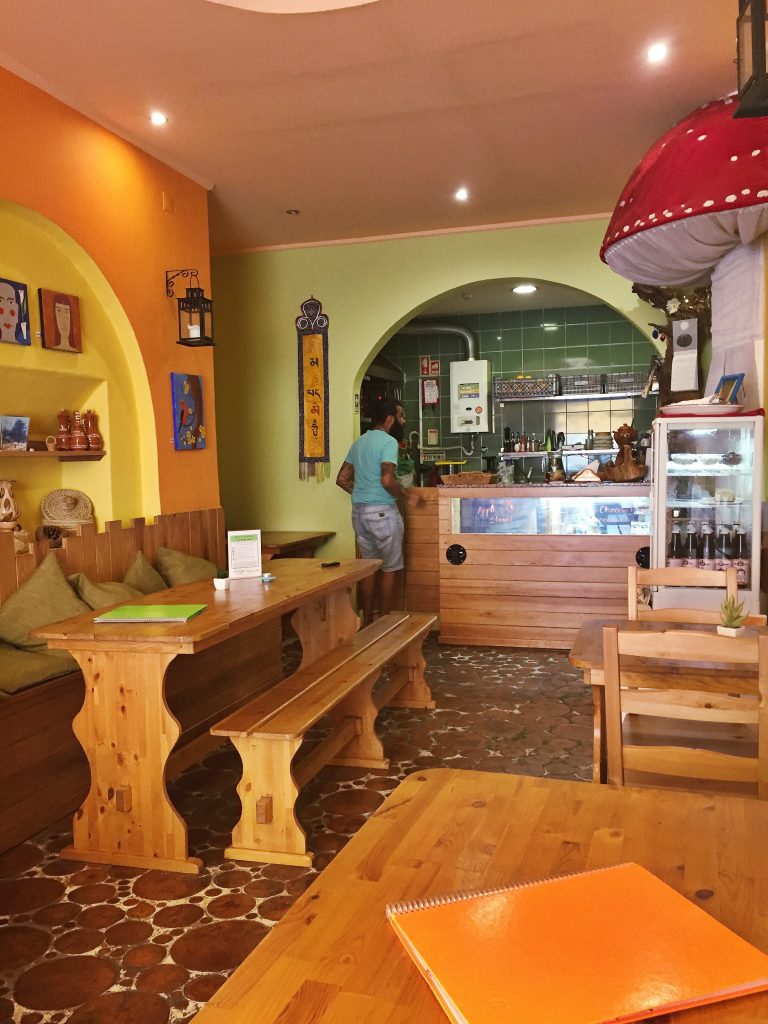 After we checked into our hotel, we checked Happy Cow and immediately headed for the closest vegan restaurant (it was only .30 miles away!), which happened to be Princesa do Castelo. The menu looked good but it was terribly hot outside and we couldn't fathom eating a heavy cooked meal. So we opted for cooler things. First up- build your own smoothies.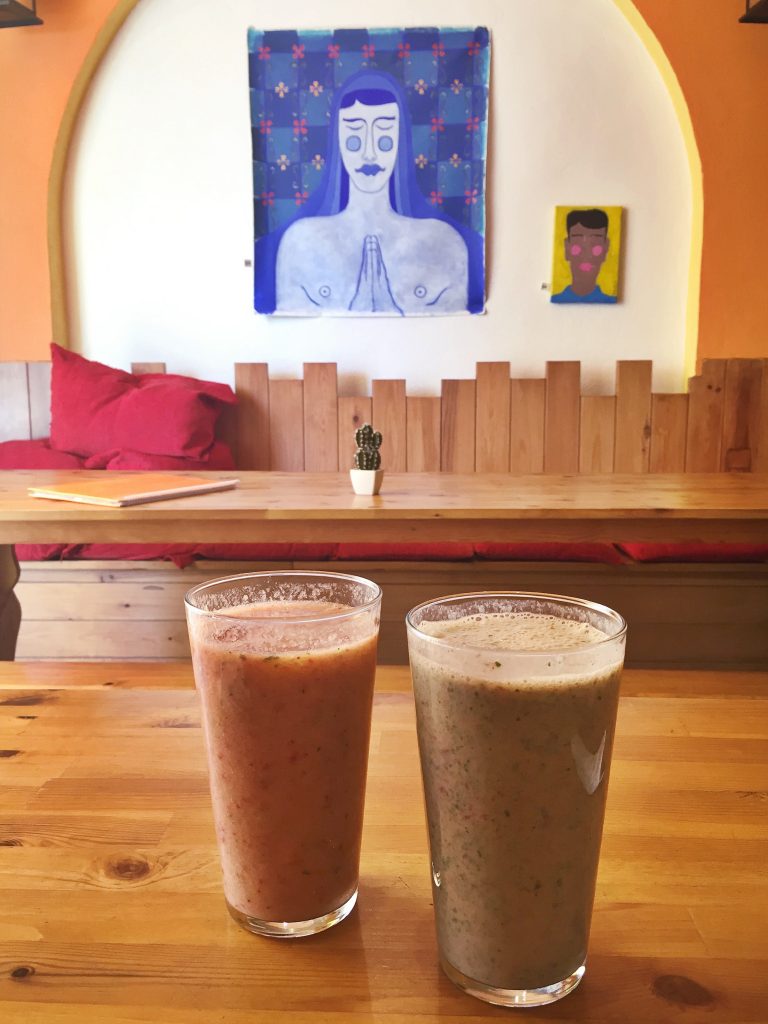 I did not like these smoothies at all. There was nothing smooth about them and since I got spinach and kale in my smoothie (along with mango, strawberries, and non-dairy milk), it meant I was slurping up chunks of greens. And it wasn't even that cold. In conclusion, don't order the smoothies. The rest of the meal was good, though. We shared a salad and what they called "nachos and hummus," which is just chips and hummus. Both were tasty and enjoyable.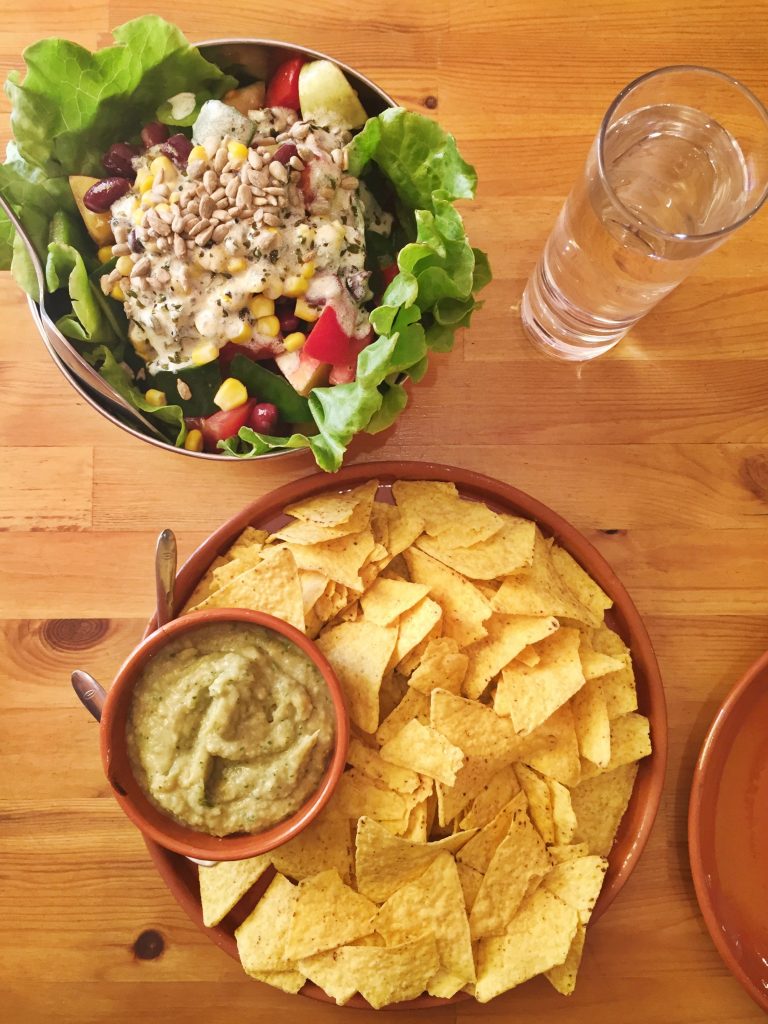 After that, we wandered through the Alfama district for awhile.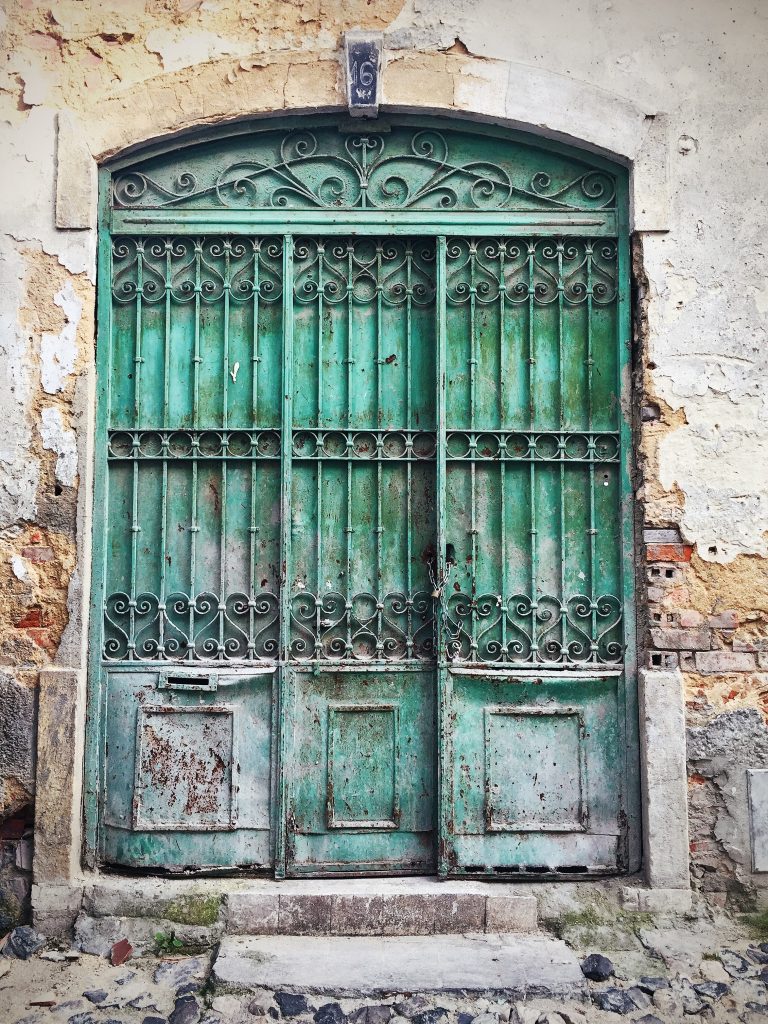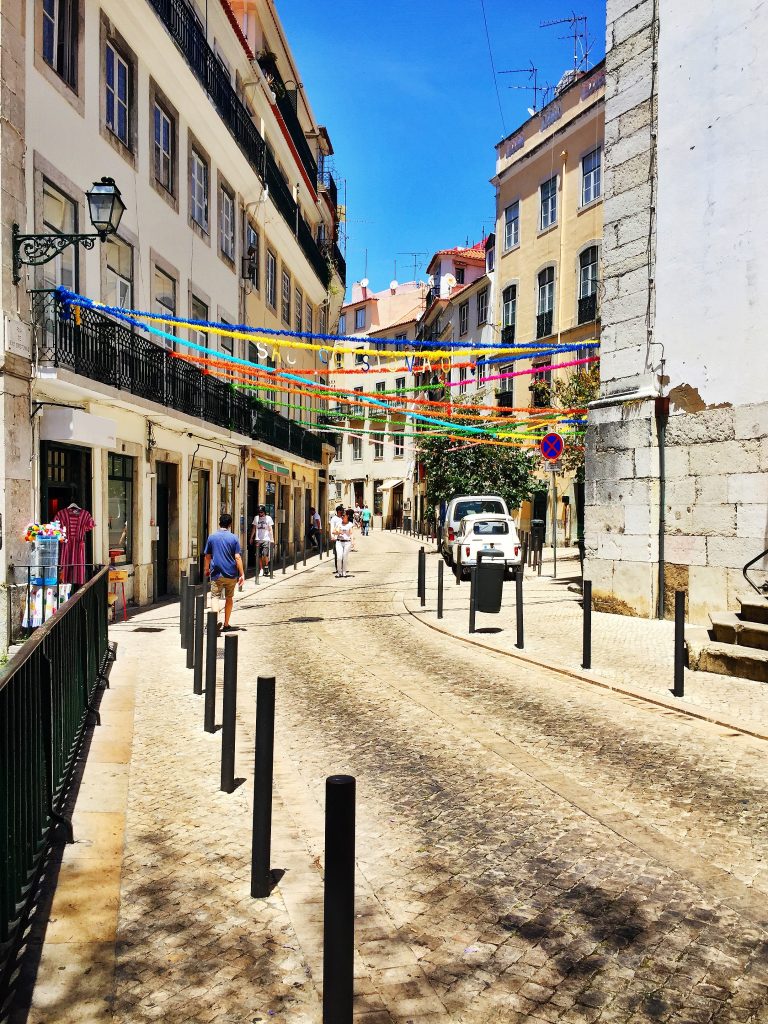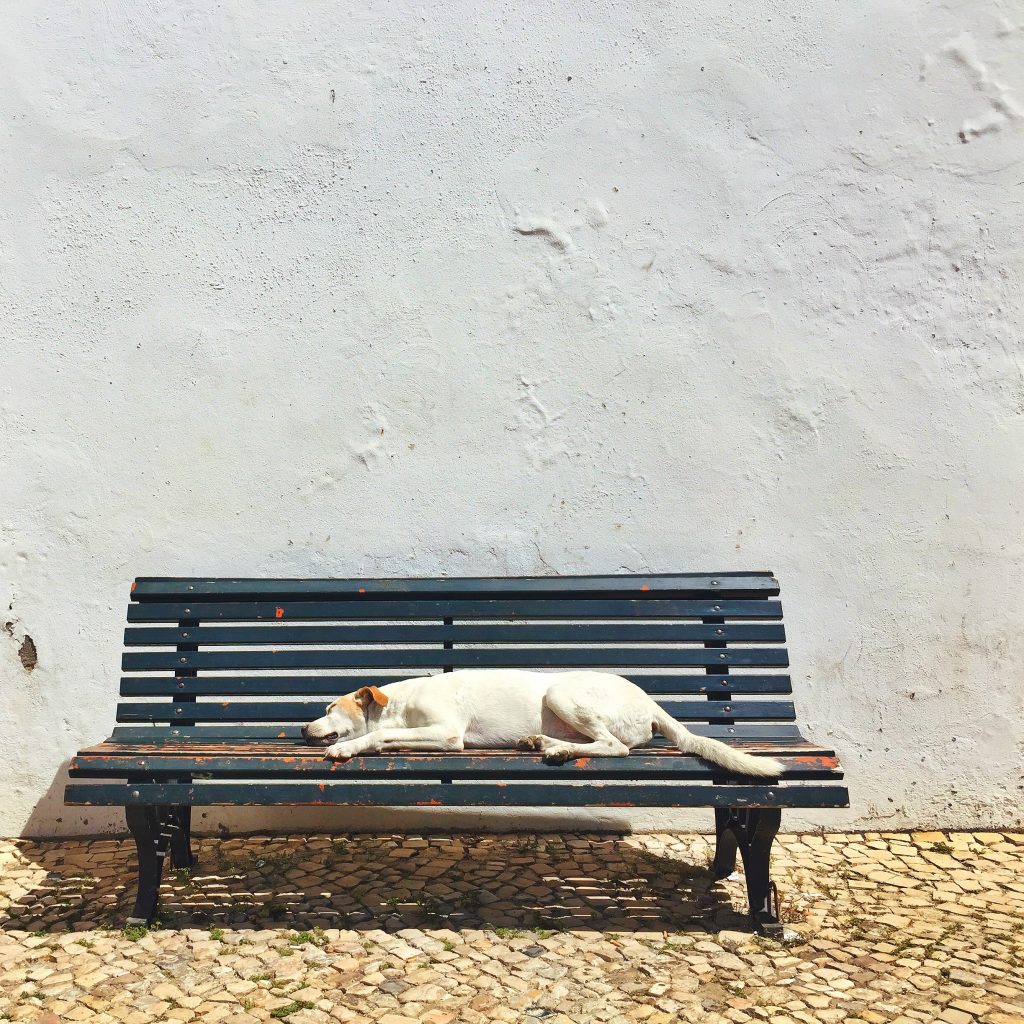 Having noticed earlier on Happy Cow that there was a gelato shop offering up vegan flavors, we decided up make that our next stop.
Rua da Prata, 61, Lisbon  •  +351 93 615 2487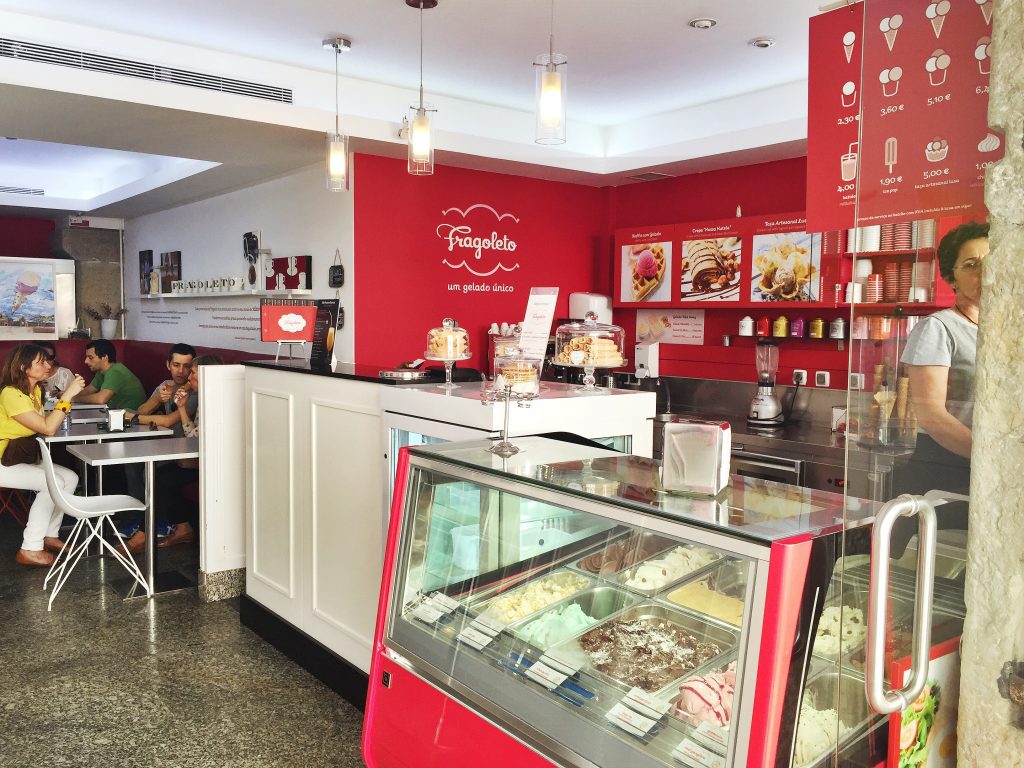 Upon first glance in the frozen case, it would seem that the only vegan flavors Fragoleto offers are sorbets which are clearly marked with a green 'V' to indicate that they are indeed vegan. This is nice and all, but almost every ice cream shop offers vegan sorbets. To the lady behind the counter, I said "I was lead to believe you had vegan gelato flavors that are not sorbets." Bitchy much? Yes, I was, but I can't be held accountable for my actions when I was practically promised by Happy Cow that there would be glorious vegan gelato in my future and now I'm seeing my dream falling down all around me.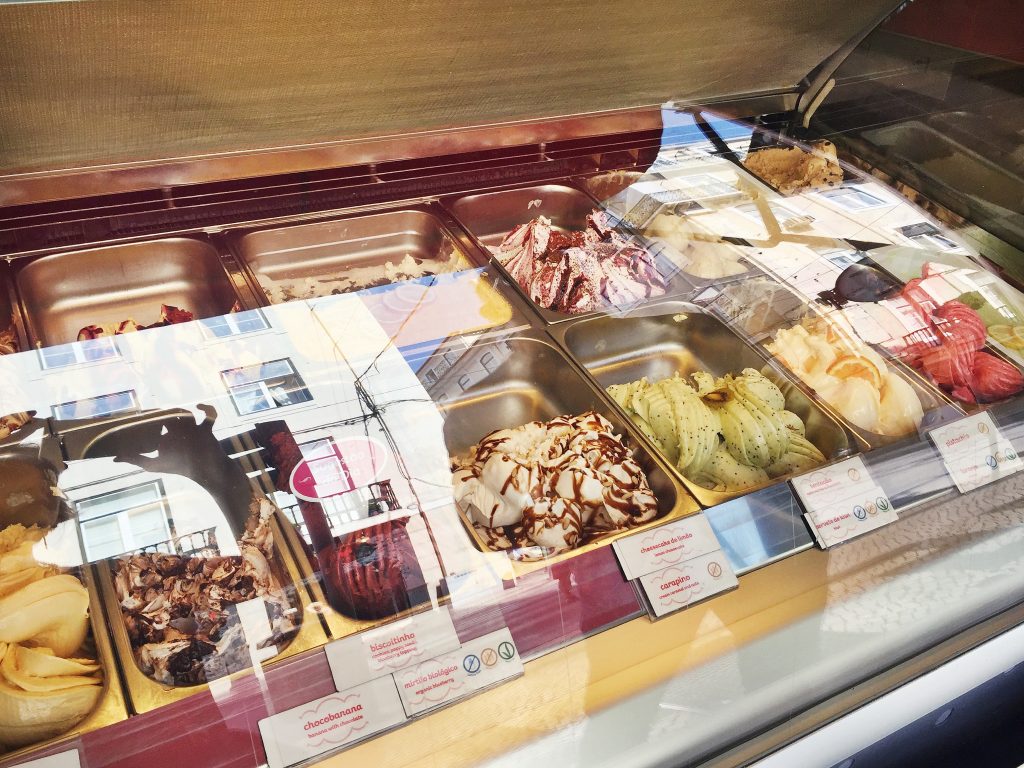 "Actually yes, we do! We have Salted Caramel, Vanilla, Hazelnut, and Chocolate but the chocolate is not very sweet. You may not like it." They actually keep their vegan gelato in a separate fridge (not in the case with the rest of the gelatos). And like that, my dream was back in action. We each ordered the Salted Caramel and Vanilla.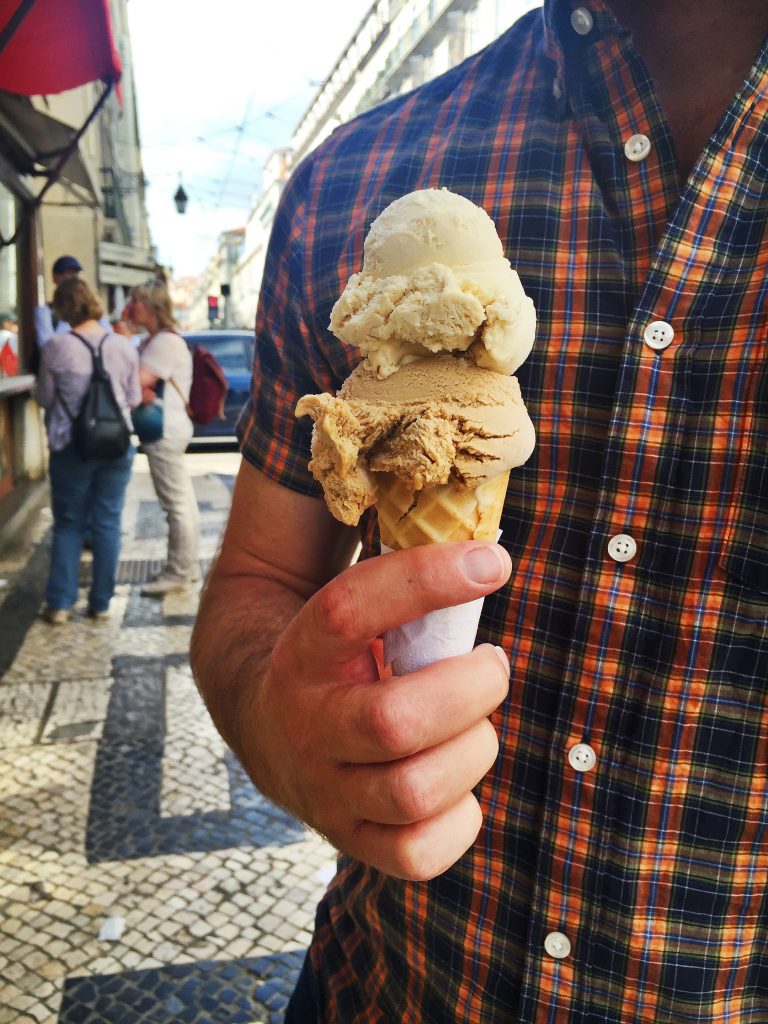 And it was better than I'd hoped. It was fantastic. So rich and creamy!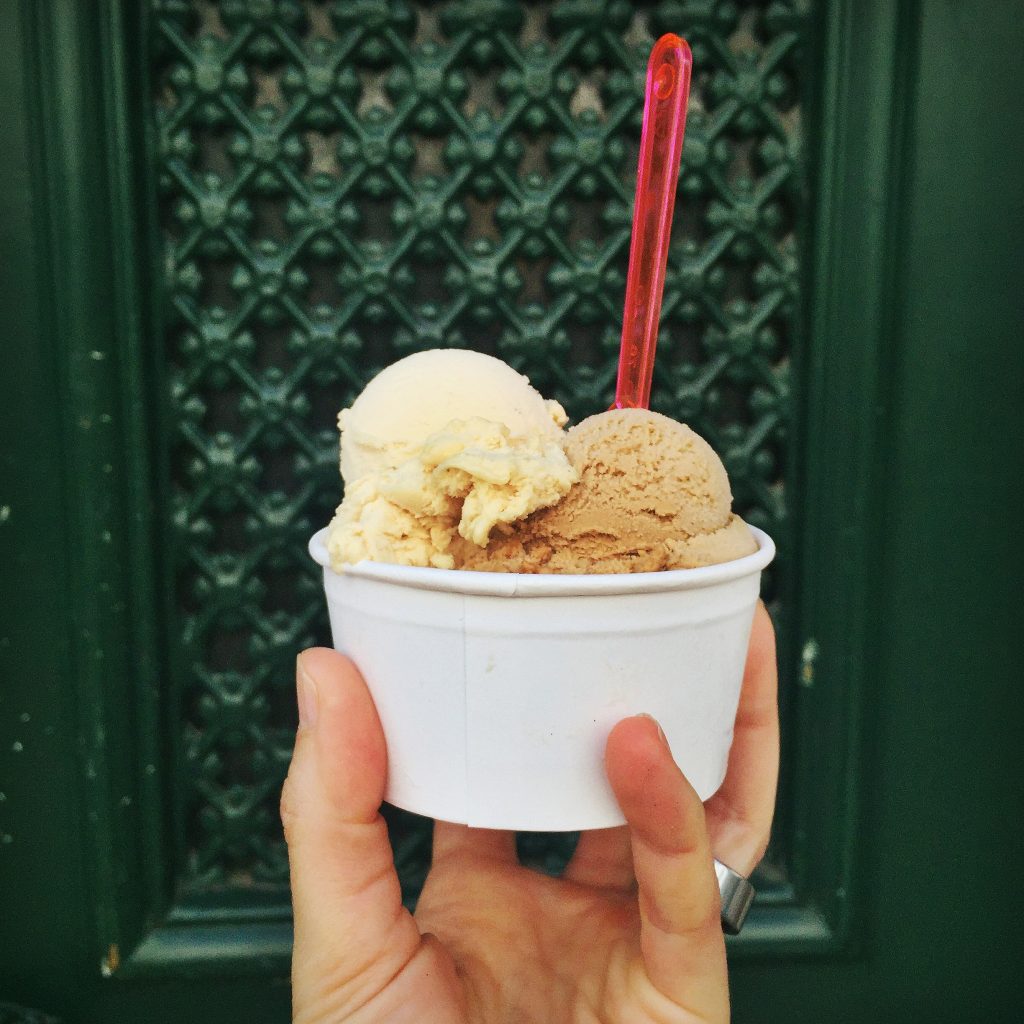 We ended up stopping here every afternoon, though the next two days, they had Cinnamon flavor instead of chocolate so we got the caramel and cinnamon. Also wonderful.
Rua de Prata (where Fragoleto is located) is a walking street (a little on the touristy side) in the center of Lisbon. Heading north will lead you towards the Avenue du Liberdade, a major shopping street. Heading south will lead you to the port and the Plaça do Comércio, a large plaza with statues, lined with cute shops and cafes (though they tend to be on the overpriced/touristy side). With our gelatos in hand, we made our way down to the plaza. We came upon the Colégio Militar's gymnastic team doing a huge demonstration in the middle of the plaza. It was incredible and thrilling. We stayed and watched long after our gelato was gone.
After the demonstration was over, we continued to walk around the center of town, until we found a cafe overlooking the ocean and the city and we stopped for a glass of wine and olives. After relaxing for awhile, we decided to go get dinner. Again, Happy Cow led us to our meal.
Calçada do Sacramento 36, Lisbon  •  +351 21 346 9308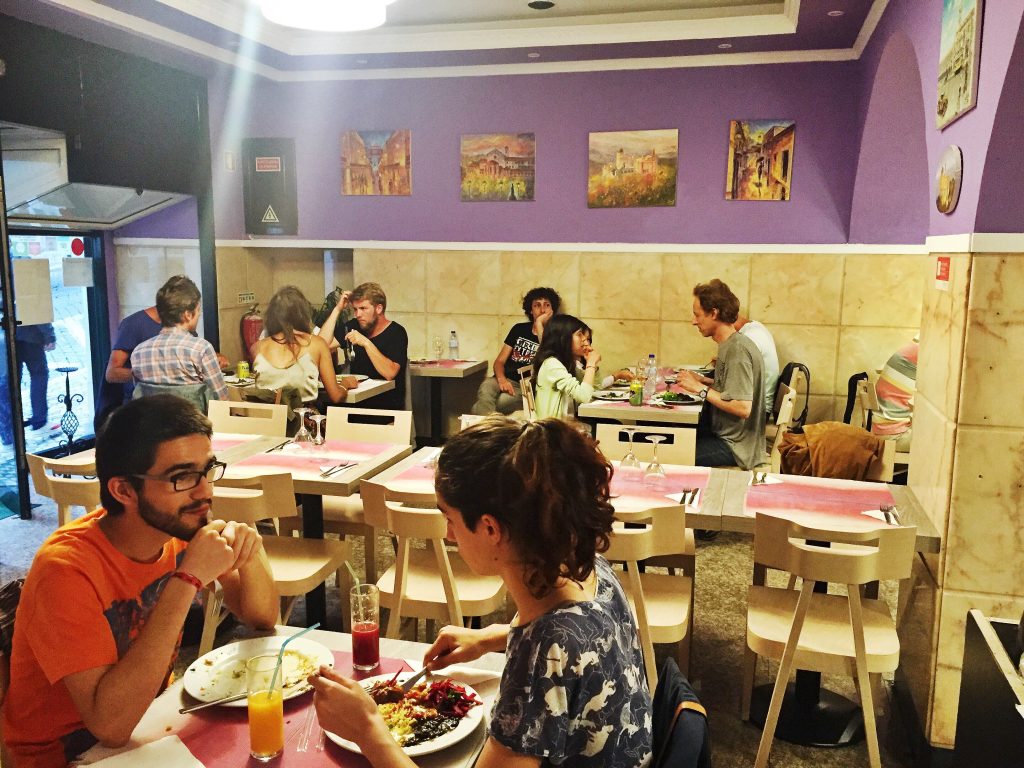 Jardim das Cerejas is a small, vegan buffet-style restaurant in the Chiado neighborhood. We walked in and immediately loaded up our plates.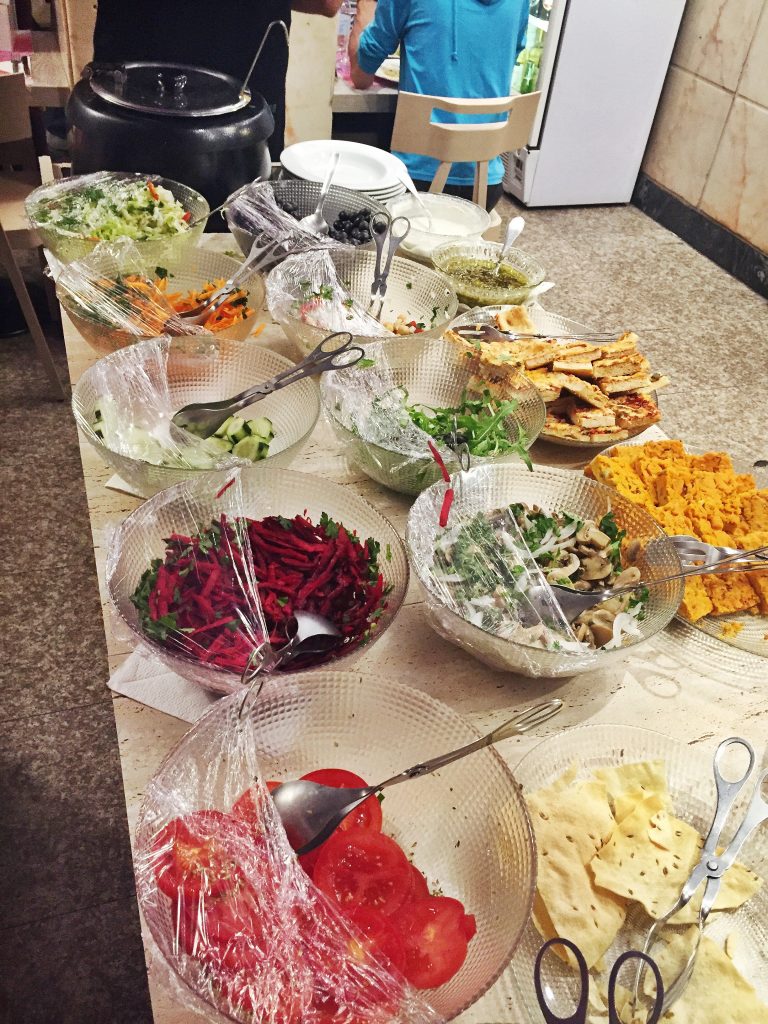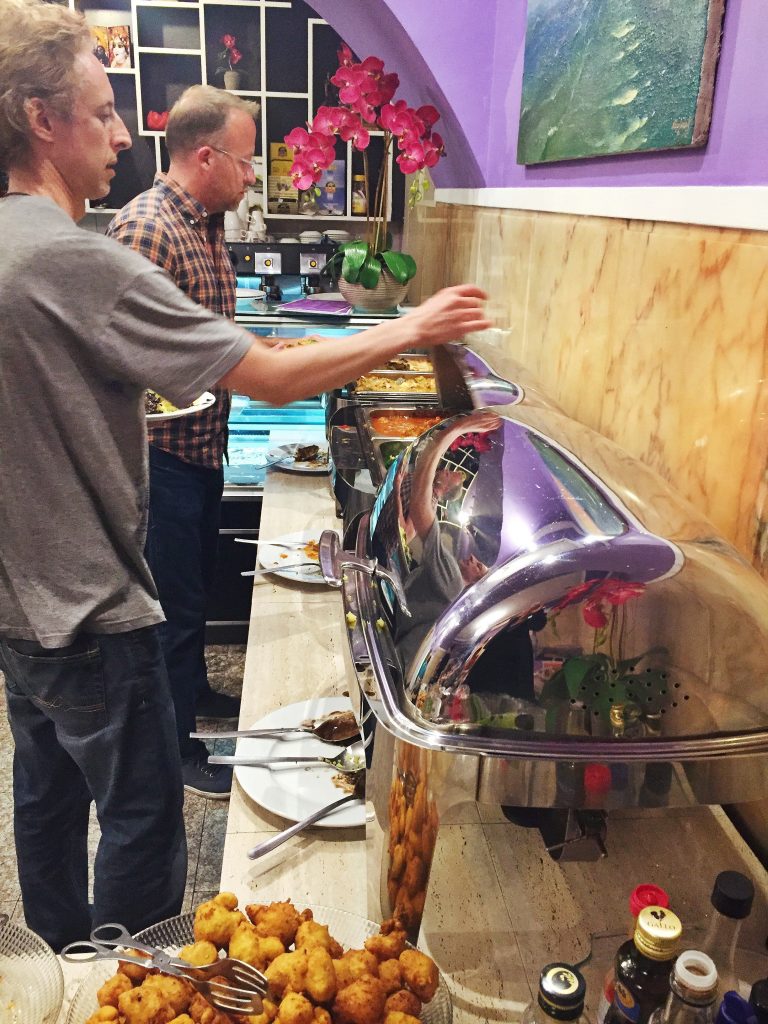 And Holy Moses, was this food good! Everything was fresh, delicious, and tasted like an ol' fashioned home-cooked meal. Chris and I both put this restaurant on our list of "Top 5 Meals we had in Portugal."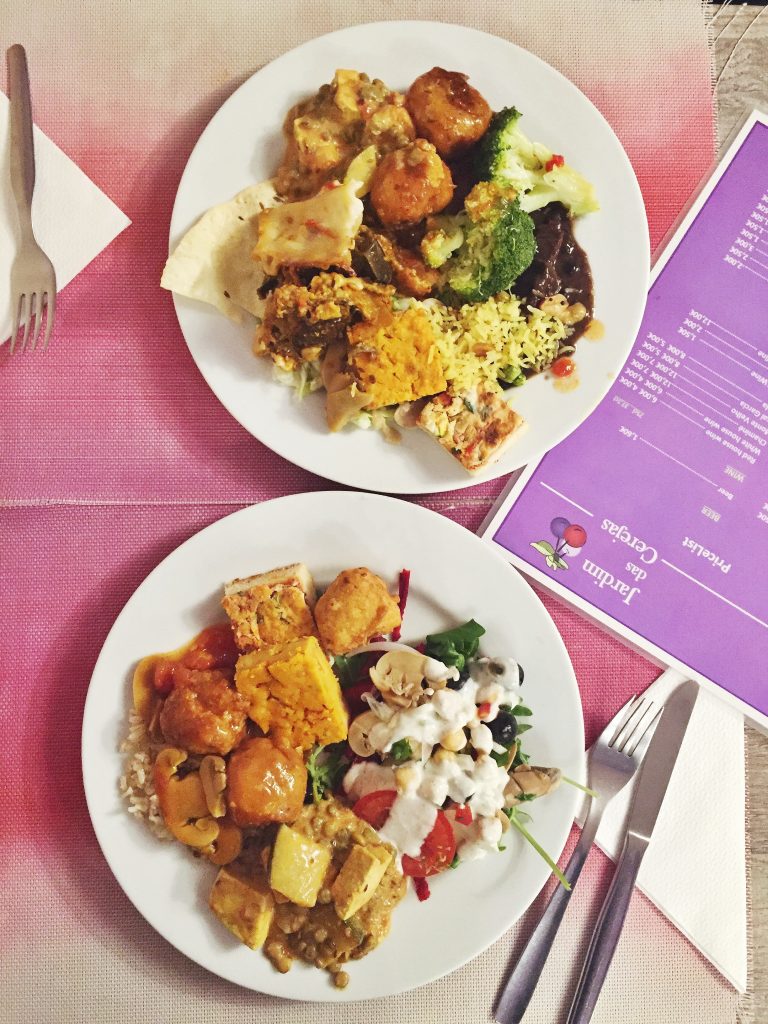 Chris filled up on food, but I couldn't leave without dessert. So I went to the counter where they had several desserts on display and of course, I walked away with chocolate cake. And oh. my. god. This cake. Its was so moist and the frosting was so rich but not too sweet. Heavenly.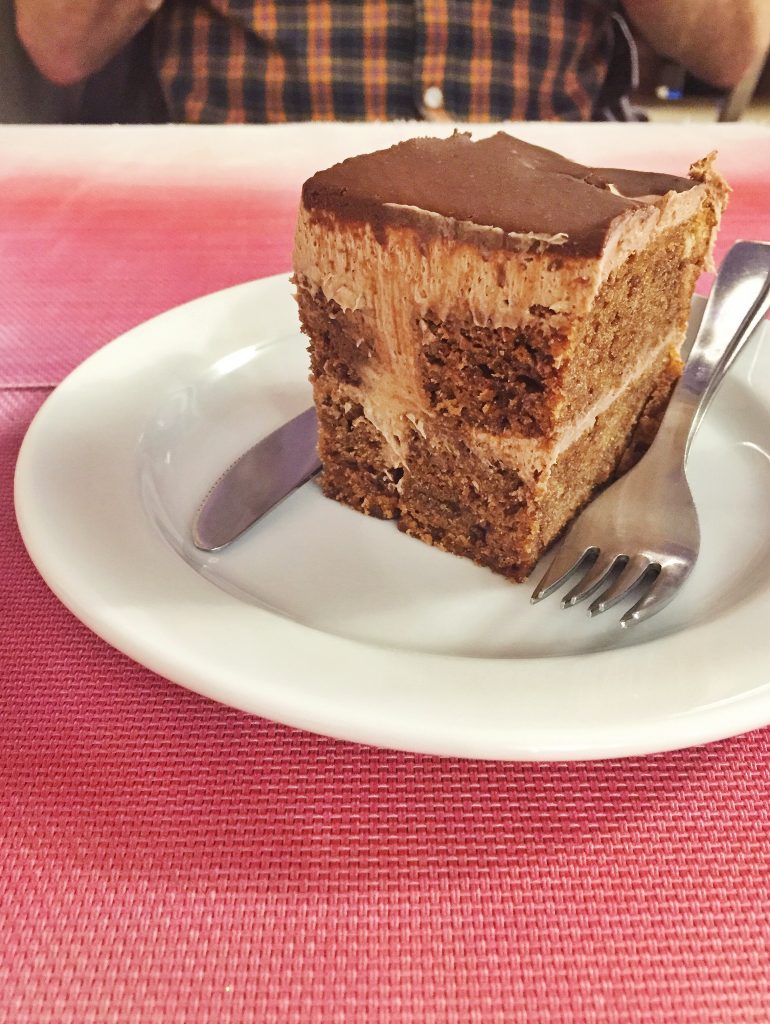 After dinner, we walked back to our hotel and after spending some time winding down and looking at the view on the deck, we went to bed. The next morning, we did breakfast at the hotel and then headed to the Castelo de Sãu Jorge (St. Jorge Castle). After paying the entrance fee, we spent a couple hours wandering around this old castle. The views are phenomenal and it would make an amazing place to watch the sunset. They even have a restaurant there with probably the best view in Lisbon. But we where there before noon, so it was bad timing on our behalf (but not really. Look at that view!)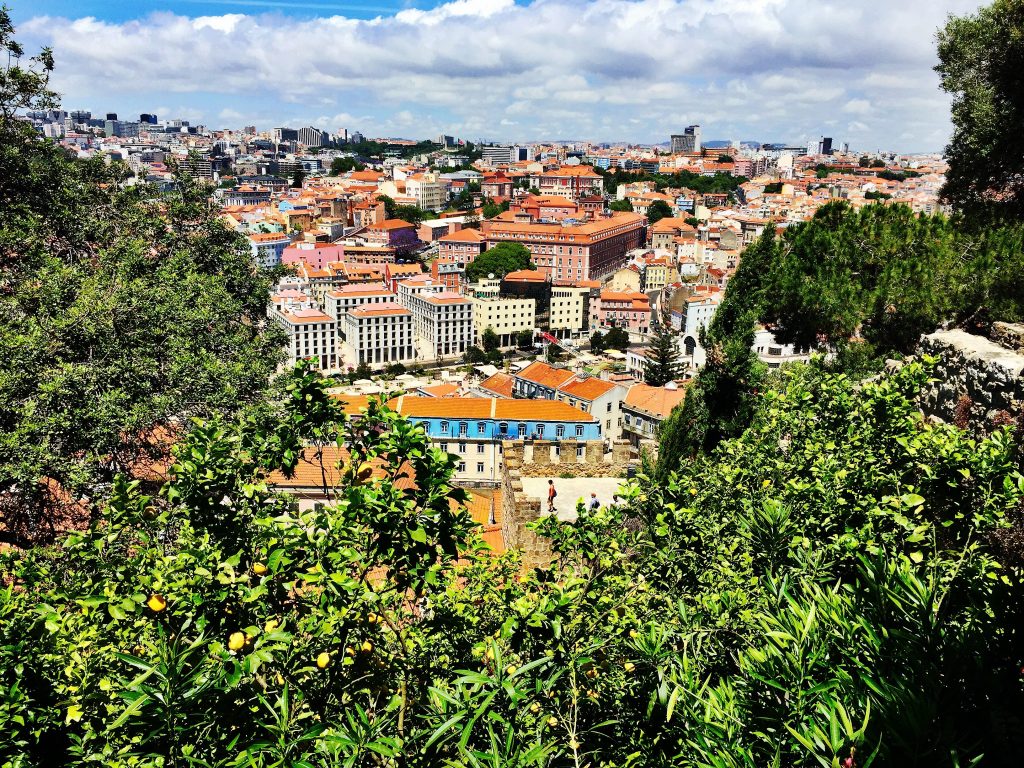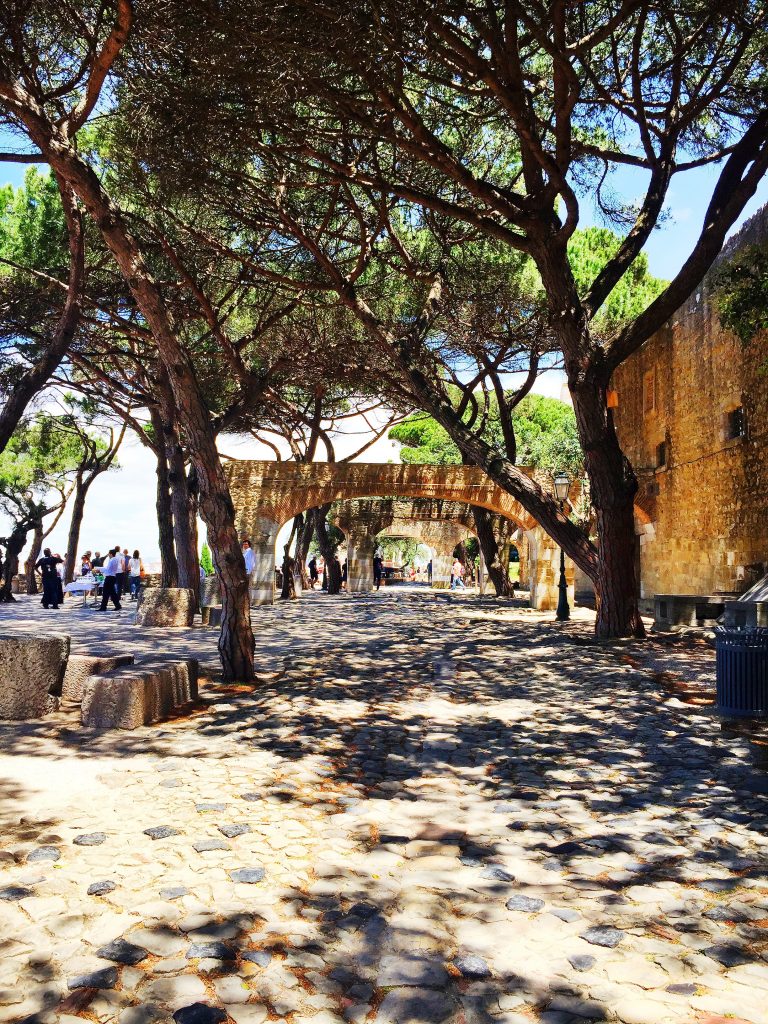 There's also peacocks!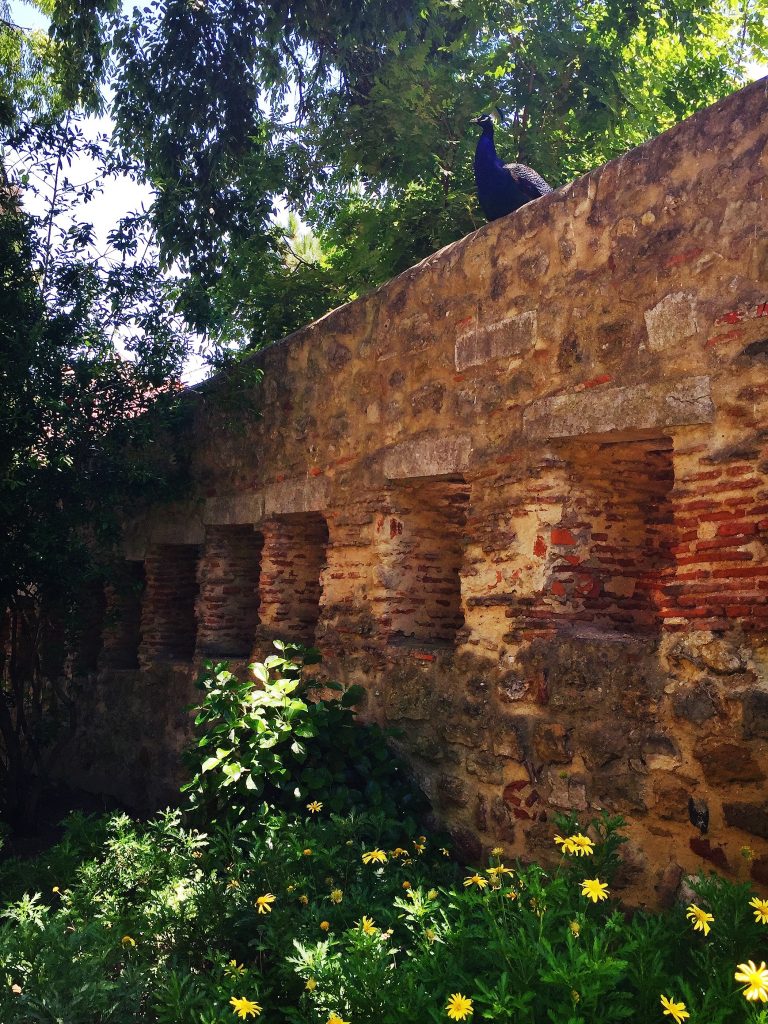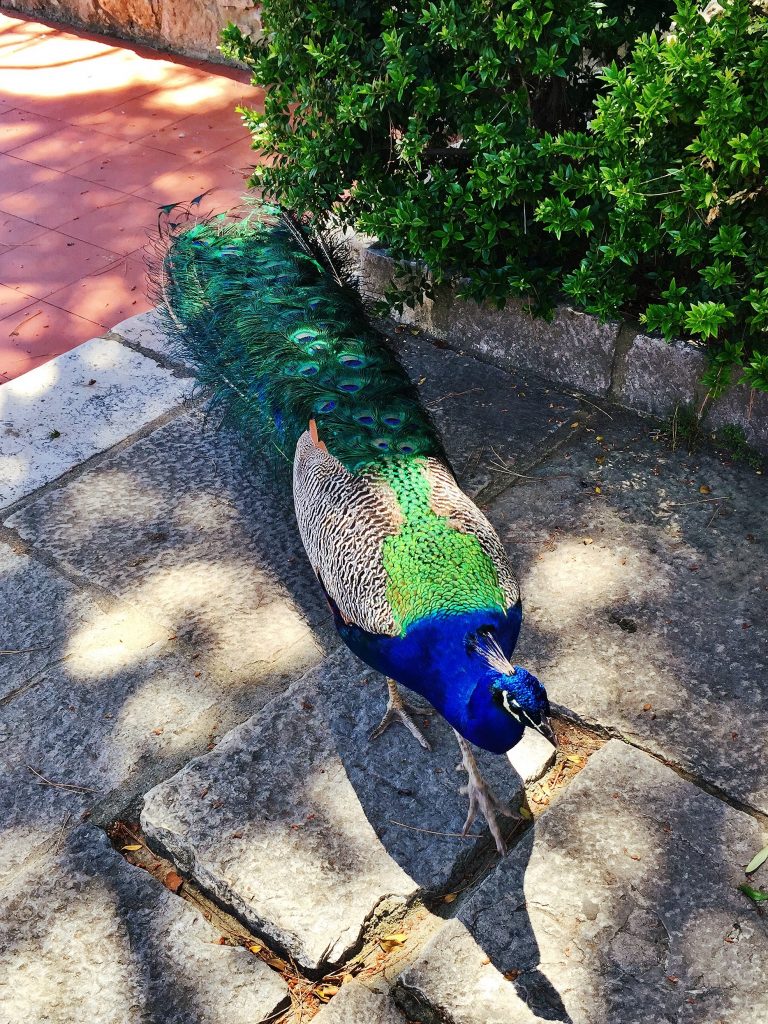 After the castle, we made our way over to the Bairro Alto district to wander around and eventually stop for lunch.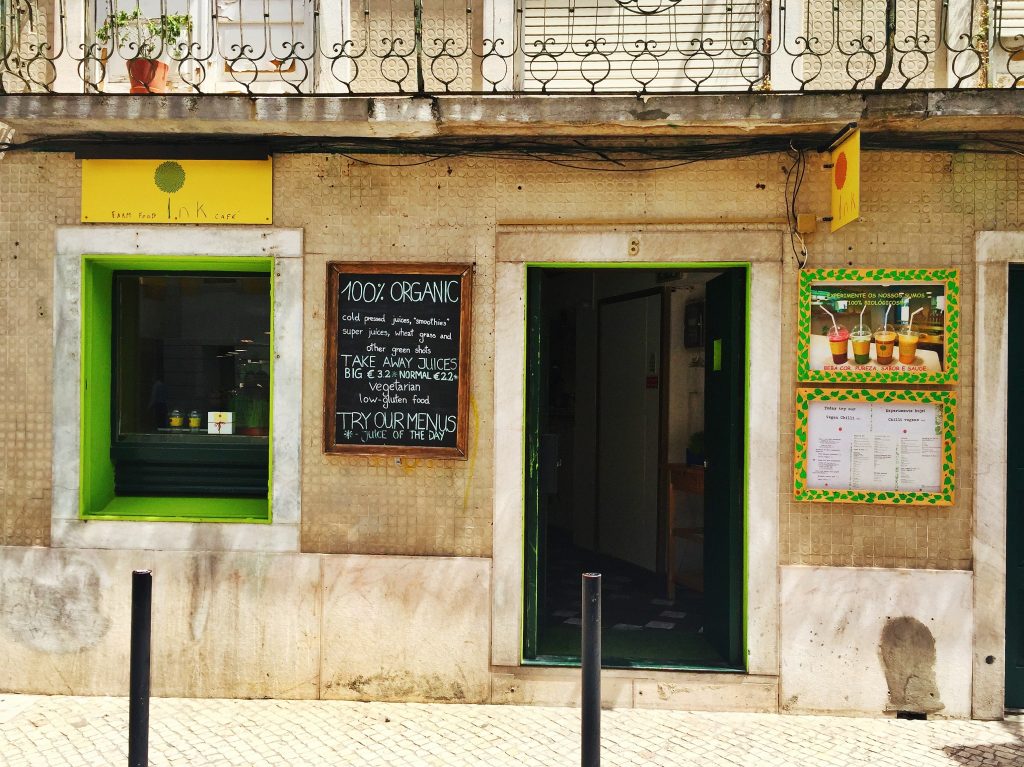 Rua Marechal Saldanha 6, Lisbon  •  +351 21 137 9934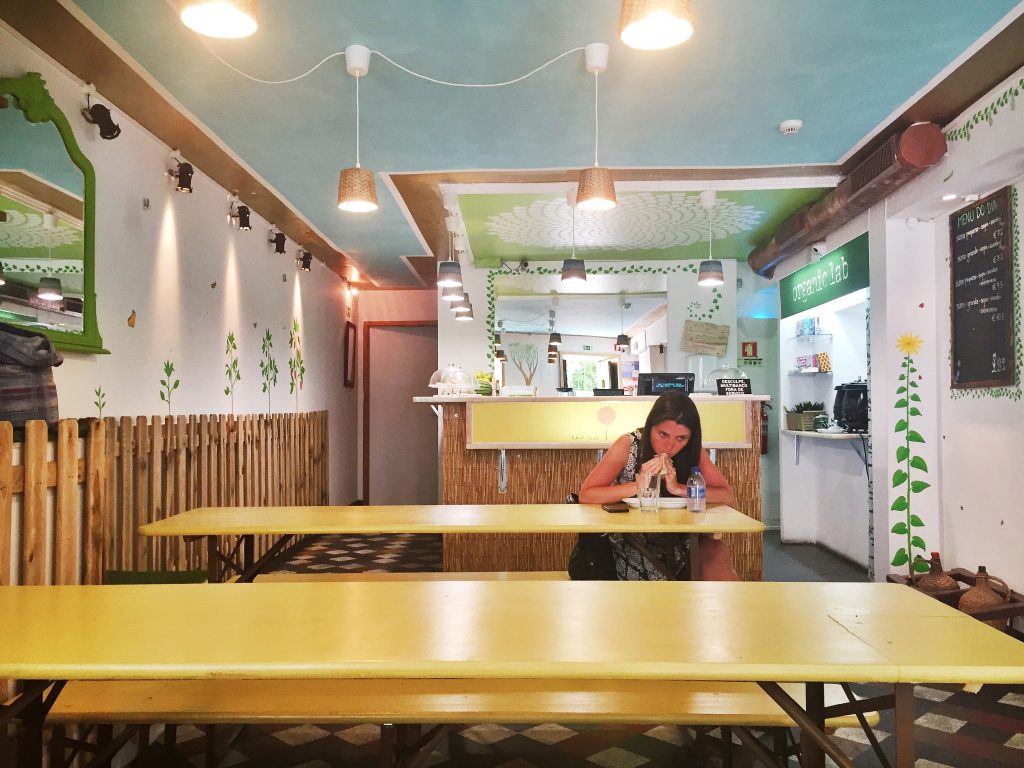 Farm Food Ink Cafe is the type of place where you order at the counter and then they bring you the food. The lady working there was very knowledgable and after telling her we were vegan, showed us which items on the menu were vegan or could be made vegan. We started with an appetizer of some sort of carrot bruschetta. It was pretty good, but not terribly extraordinary.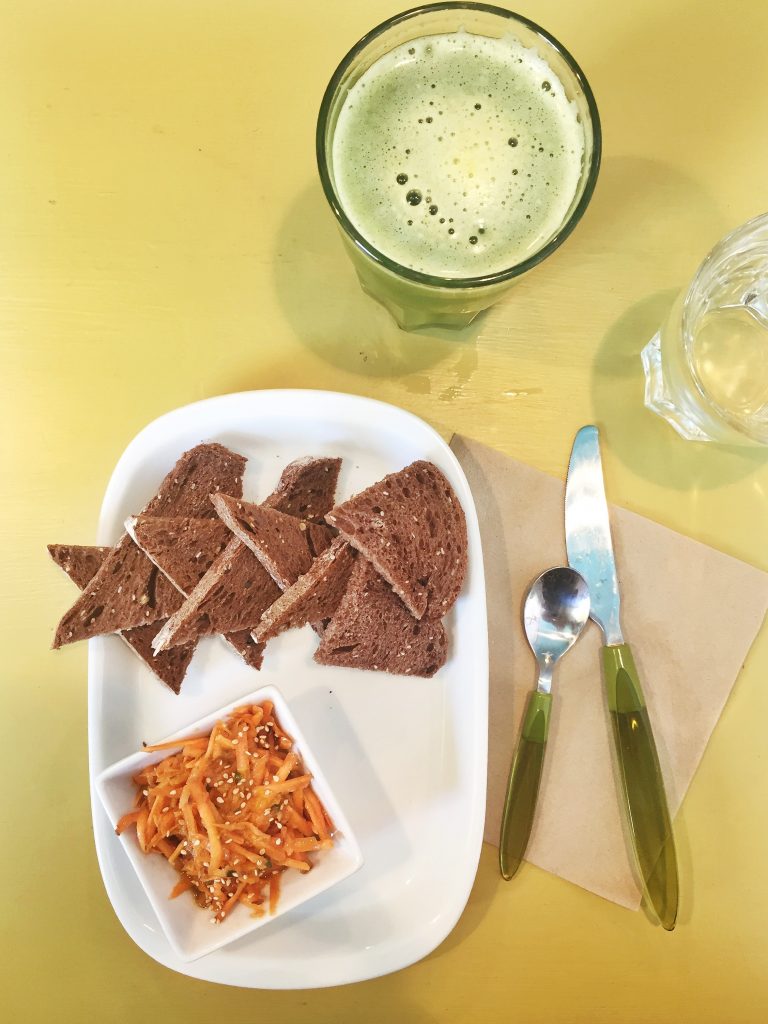 I ordered a green juice and the Tofu Peanut Sandwich. The juice was fantastic and refreshing. The sandwich was light, simple, and so wonderfully delicious. I couldn't believe that something as simple as thinly sliced tofu and peanut sauce could taste so great but it was wonderful and filling.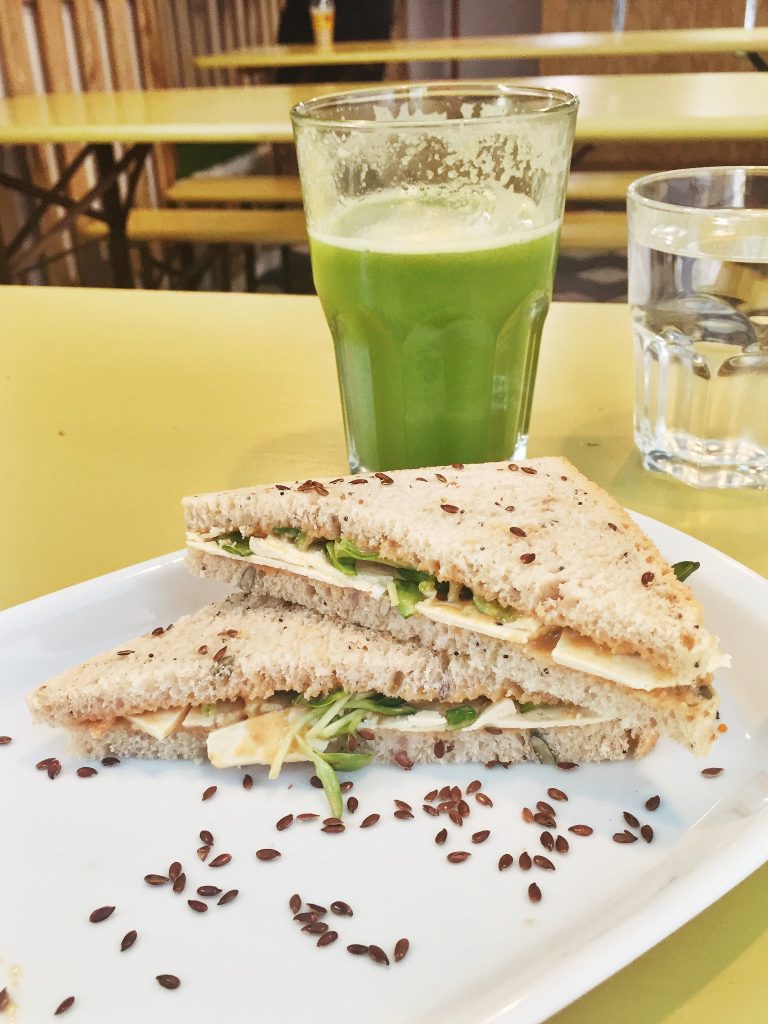 Chris ordered the chili, which came very highly recommended. It did not disappoint. Chris also says this was one of his favorite meals on the trip.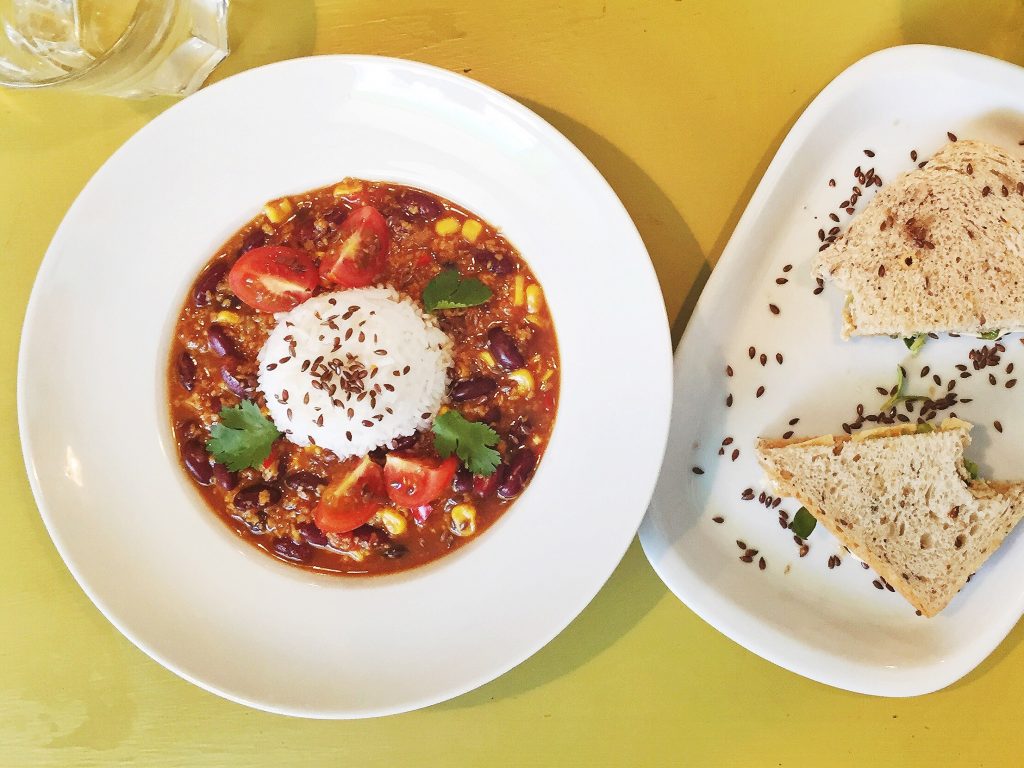 Farm Food Ink Cafe also has a decent dessert selection, but we weren't hungry enough for dessert.
After lunch, we wondered around the Barrio Alto a bit more.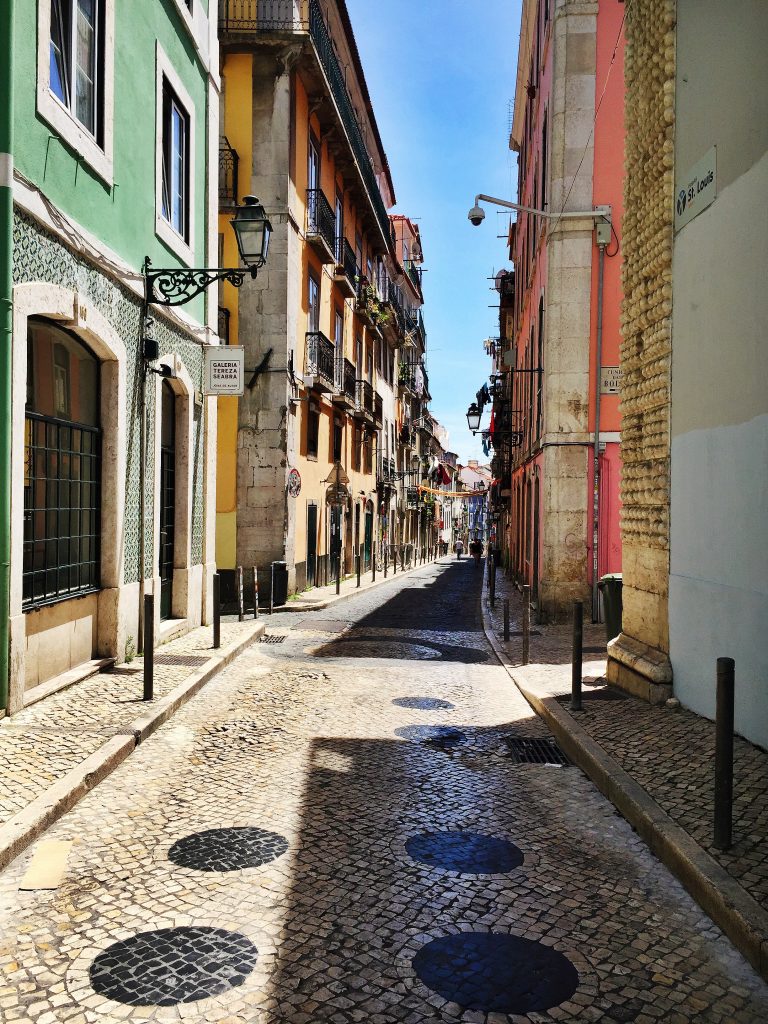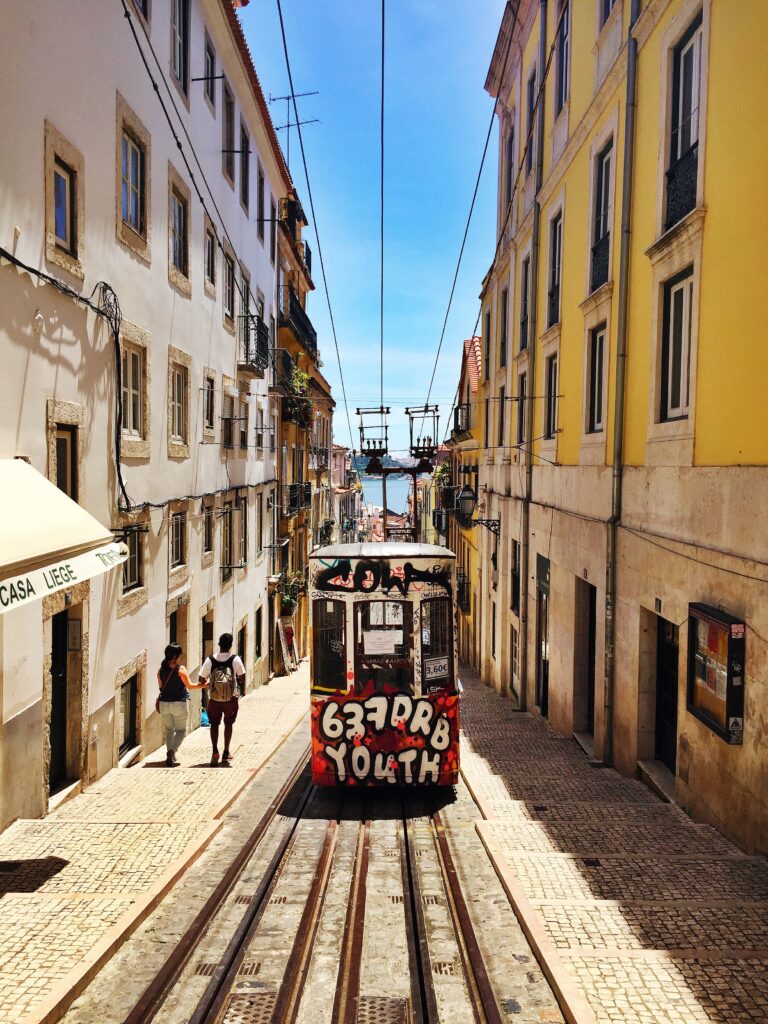 And then we made our way to the Chiado district to check out this organic, natural grocery store chain we'd heard about.
Travesso du Carmo, 1, Lisbon  •  +351 21 386 6406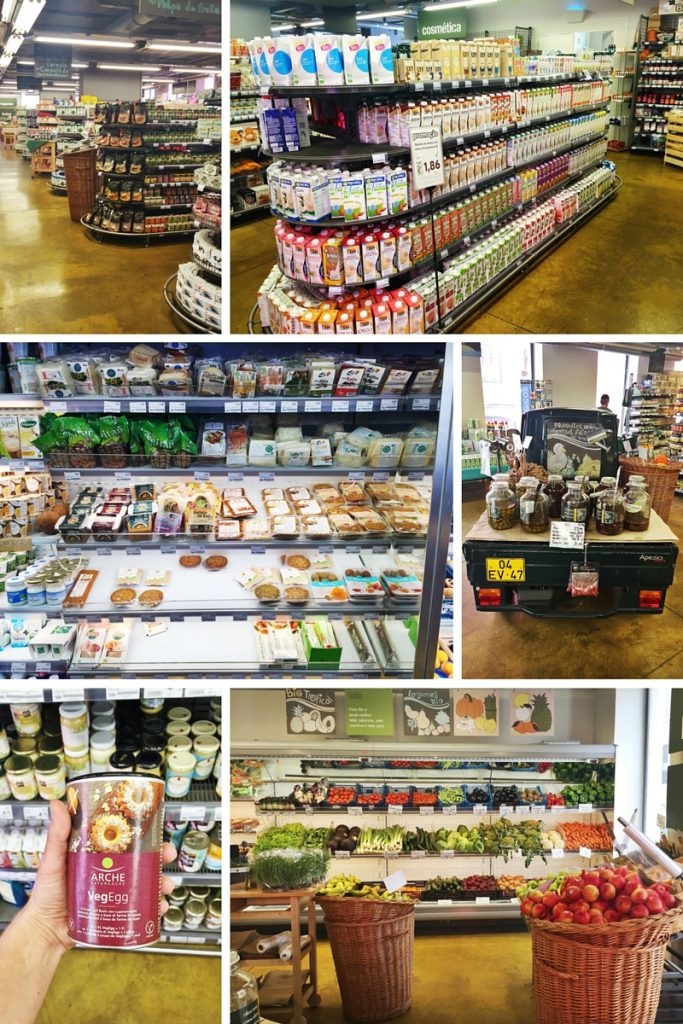 I love exploring new (to me) grocery stores, especially in foreign countries. Even more so if they're dedicated to healthy, natural, organic products with lots of vegetarian and vegan options. Brio was that and more. They have tons of vegan and cruelty-free options from food, beverages (check out their non-dairy milk aisle above!), household products, and self-care products. They have an olive bar! And fresh produce! And an impressive chocolate display!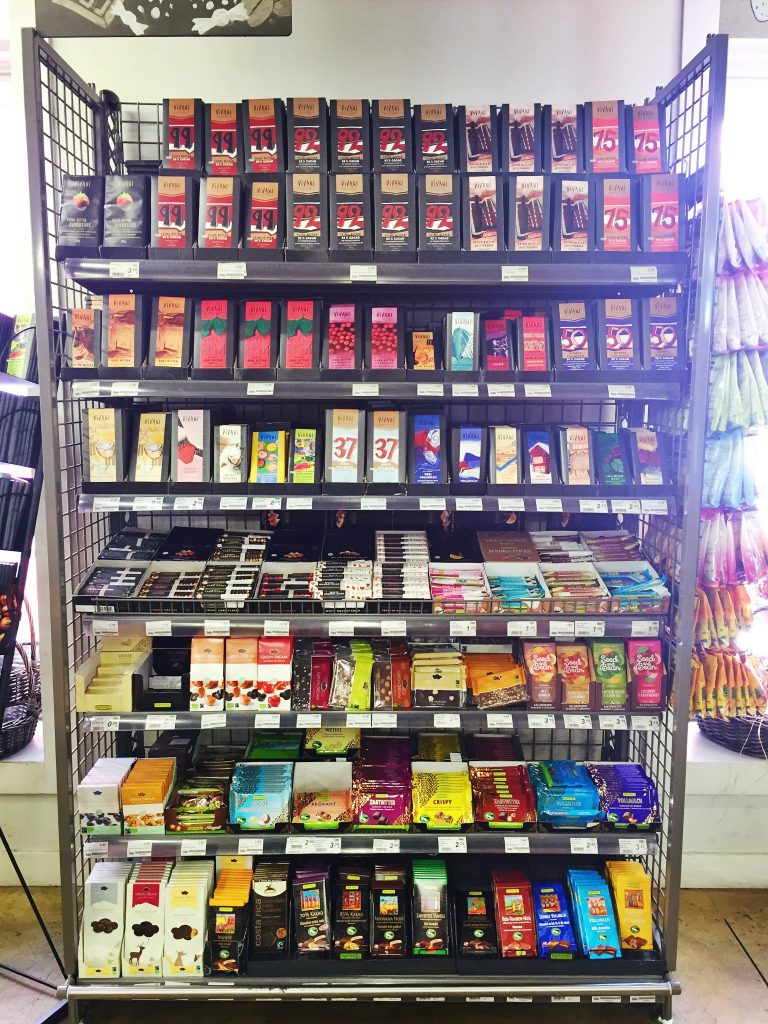 We probably spent half an hour exploring this store. I bought a bar of chocolate and then we decided to patronize their attached cafe for soy cappuccinos. Also excellent.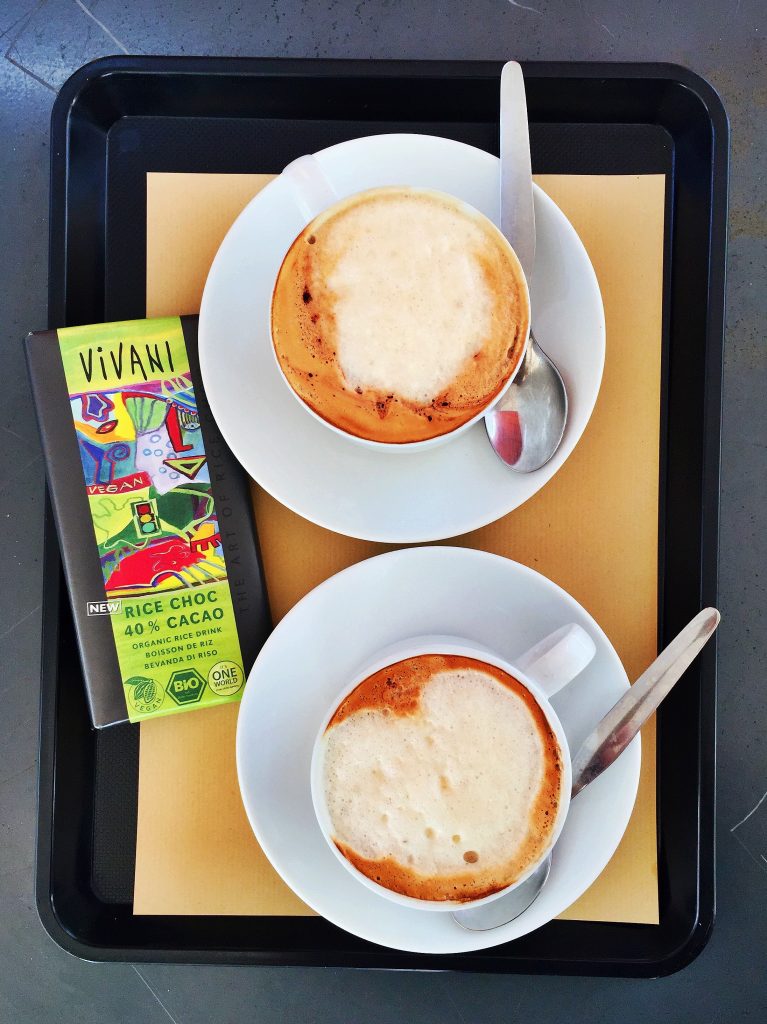 After cappucinos, we wandered around the Chiado district for awhile, doing some window shopping and making new friends.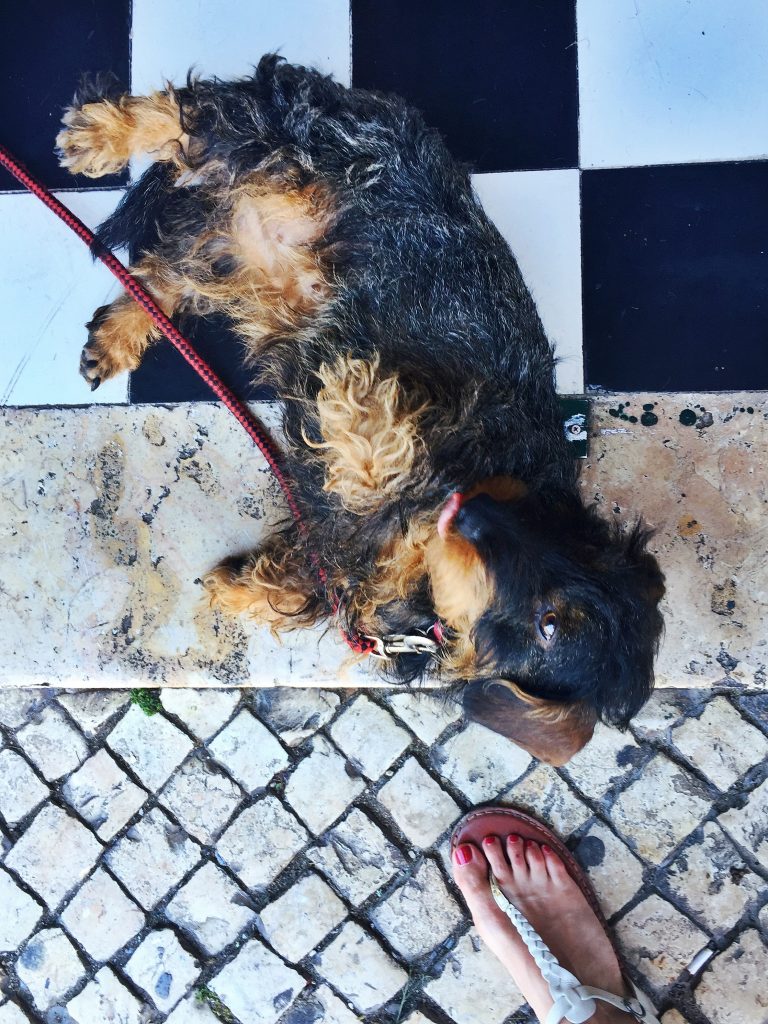 We made our way down to Fragoletto to get our daily gelato and then headed to the hotel where we spent the rest of the evening on the deck, doing wine/olives/bread. The next morning, after breakfast, we set off in search of the pink street. During my planning, one memory that I did have from my original trip to Lisbon was walking down a street that had been painted pink. I wasn't sure if this was a dream or reality, but after some research, I discovered that the pink street did indeed exist. The Cais do Sadré was originally the city's "Red Light District," but in recent years, while there are still strip clubs, there are also bars where you can see live music, dance clubs, and restaurants. My memory seemed to be during daylight so it's likely I walked there sometime after my "Port Experience," and not during the night when it's wild and crowded. We searched and searched until we found this little section of Lisbon. I then remembered that my hostel had been somewhere nearby in the Barrio Alto so I must've been headed there? It was like my own personal version of  "The Hangover." Exciting, I know. But the pink street is cool so totally check it out.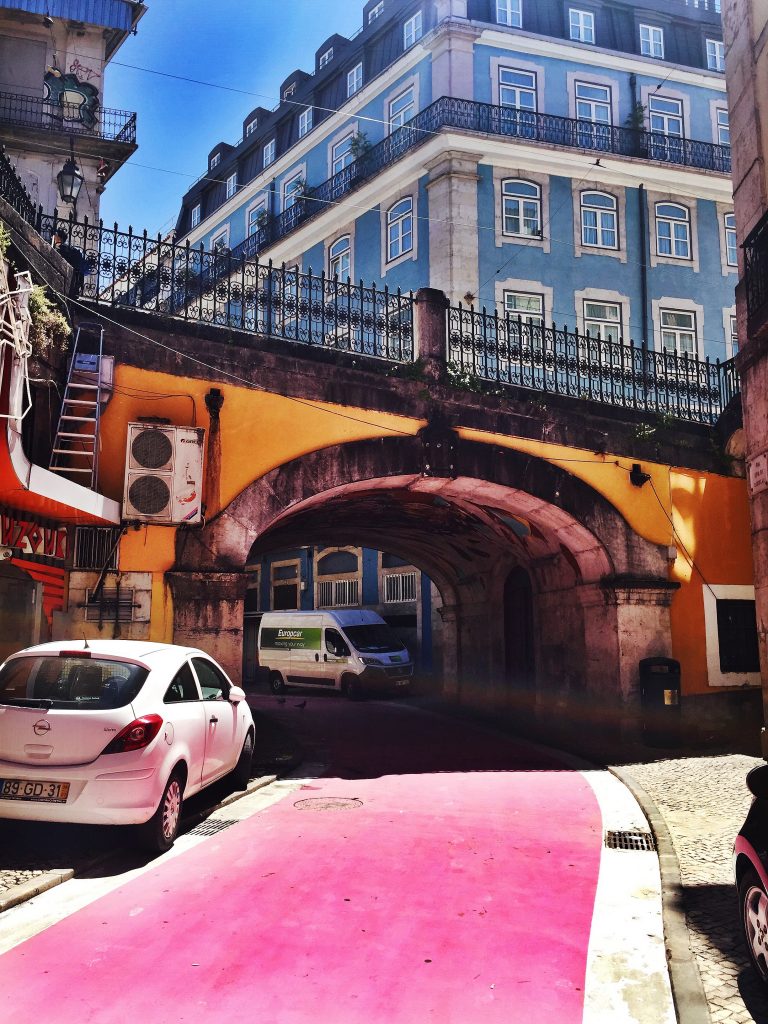 After our search for the pink street (it took awhile due to not having a good internet connection and our map app not knowing where the hell we were trying to go) and exploring the cute shops of the nearby Praça de São Paulo, we were hungry so once we did find an internet connection, we relied on Happy Cow to direct us to our next meal.
Rua da Emenda 110, 2nd floor, Chiado, Lisbon  •  +351 21 347 0500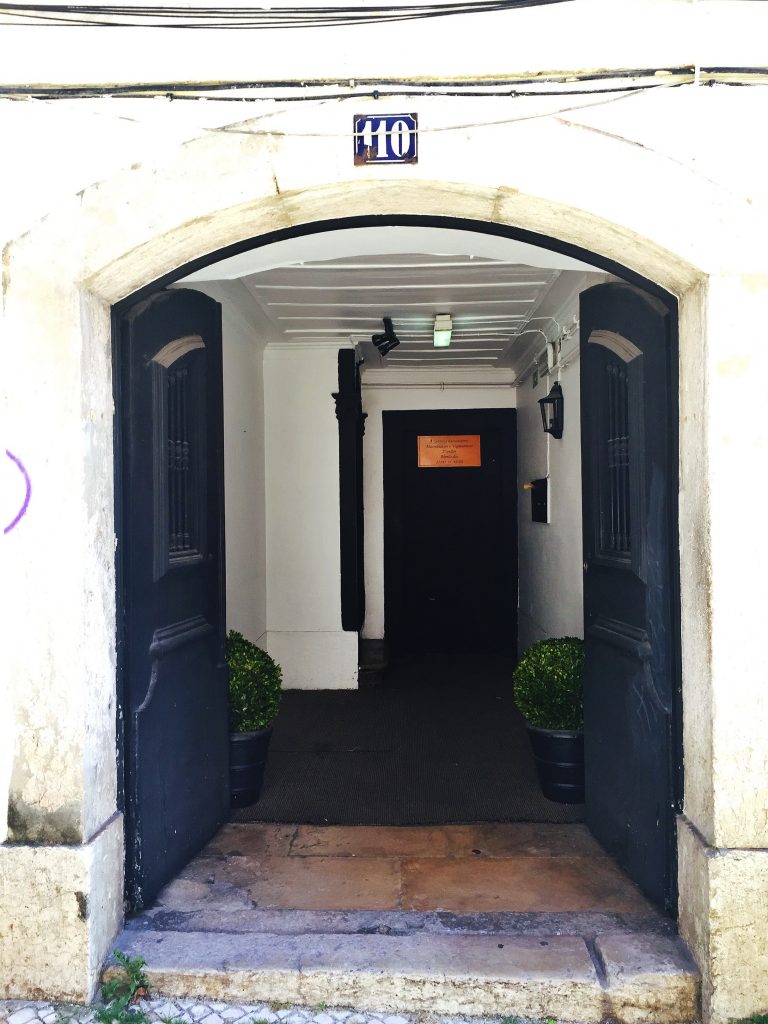 A Colmeia is tricky to find because they are located on the second floor of a building and their only signage is in their windows, also on the second floor. It is a cafeteria-style macrobiotic vegetarian restaurant. We seemed to arrive just after they'd opened because we were the only ones there.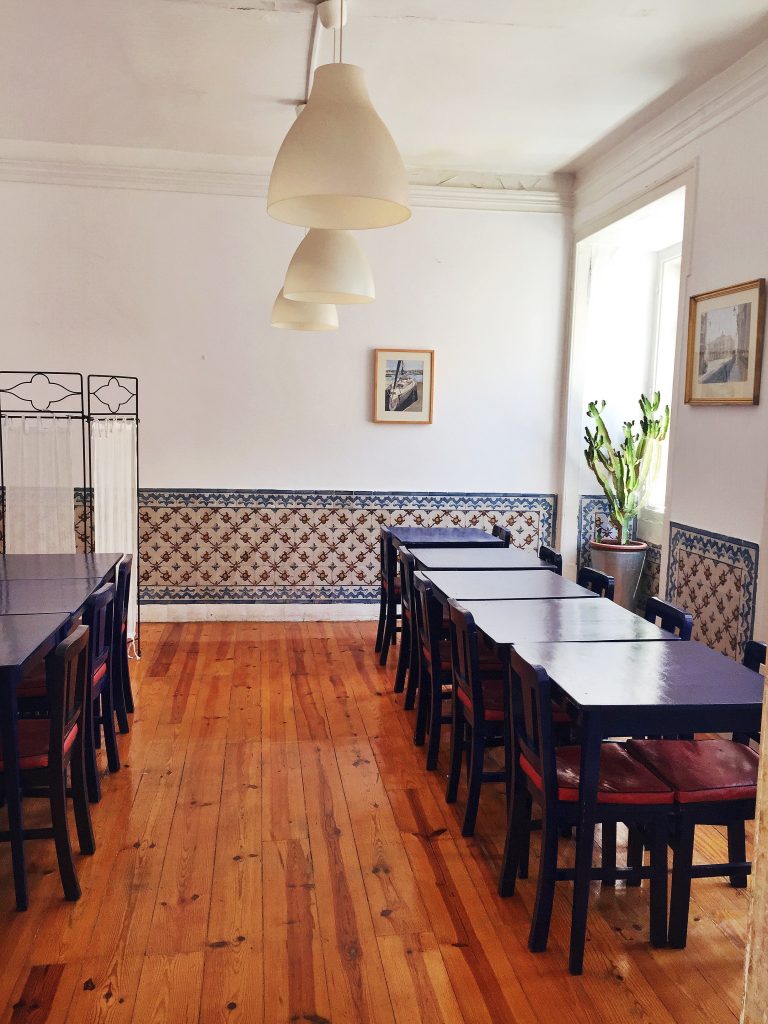 The woman working there explained the there is usually more of a selection but since it was summer, many of their regular local customers were on holiday, thus making their traffic a little slower. The restaurant had been around for many years (over 20 years!) so they had their seasonal traffic figured out. She also explained that everything, aside from the quiche, was vegan, and guided us through building our plates.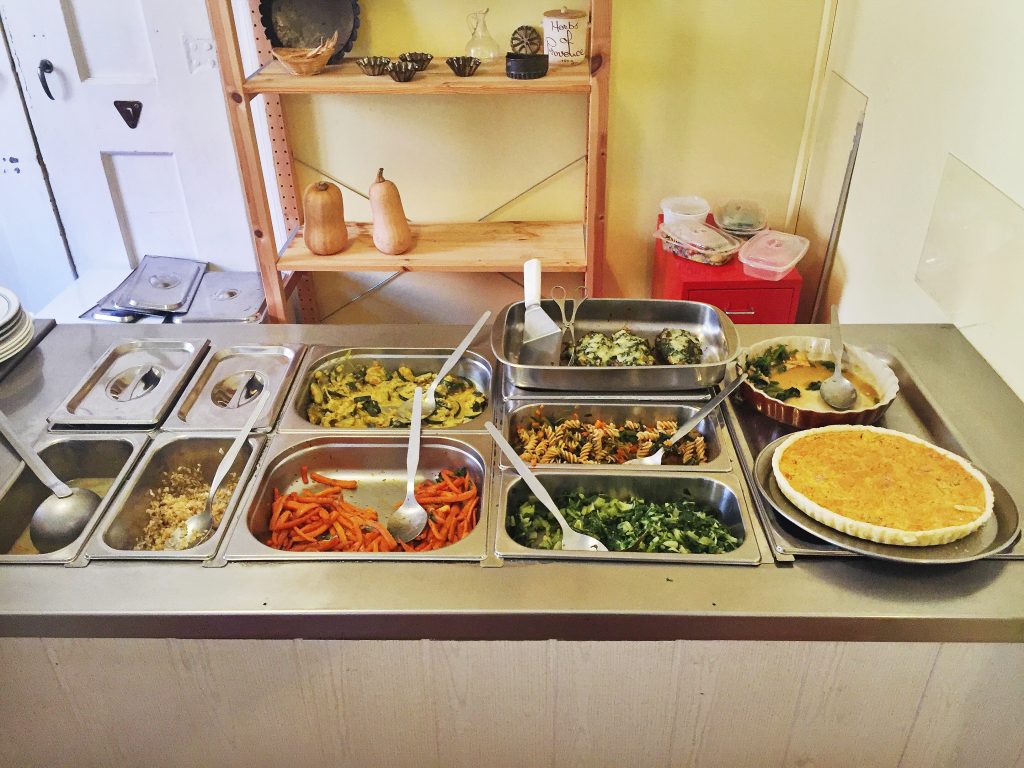 I was skeptical because it didn't look all that appealing and we were the only people there, but boy was I wrong! The food was fantastic!
When I eat, I love to save the best bite for last. So if I'm eating multiple things, I taste each, figure out which is my favorite, and save that part for last. Except with this dish, I couldn't figure out what I liked most. I had a hard time choosing what to make my last bite. It was definitely one of my most favorite meals on the entire trip. And while we were there, more customers stopped by and they all seemed to know the owner personally so they must've been regulars, which is always a good sign.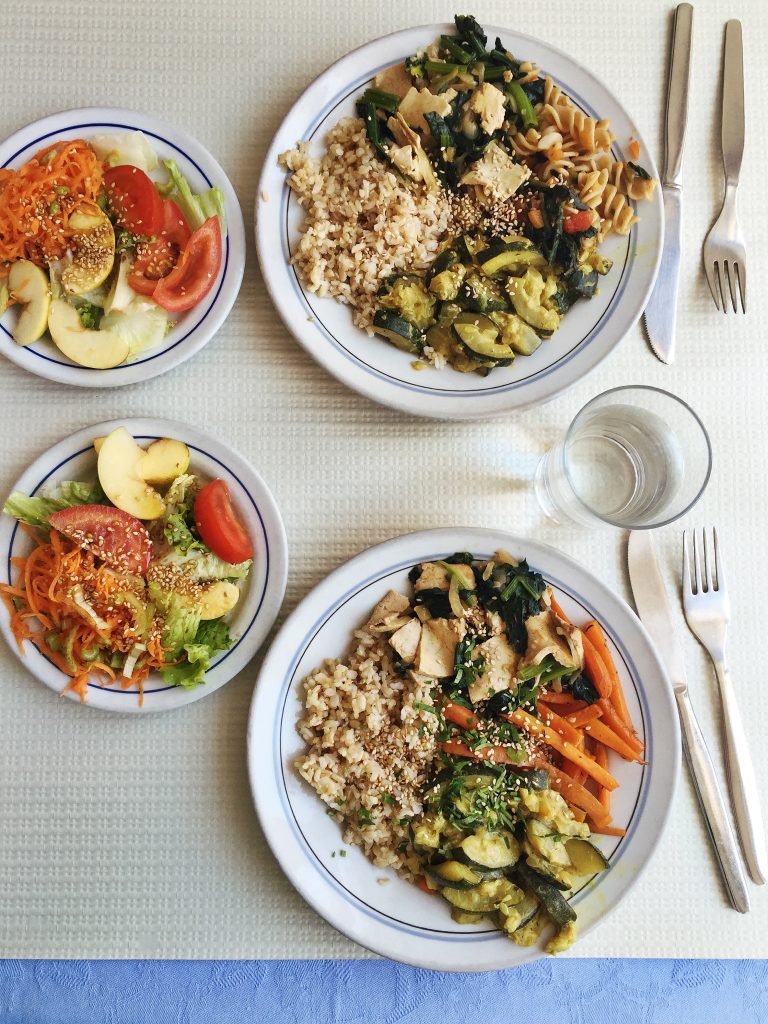 After lunch, we wandered around a bit more until eventually stopping at Brio for cappucinos. Then we wandered around more (this is seriously our favorite part of traveling- just walking around without an agenda, just seeing what we see).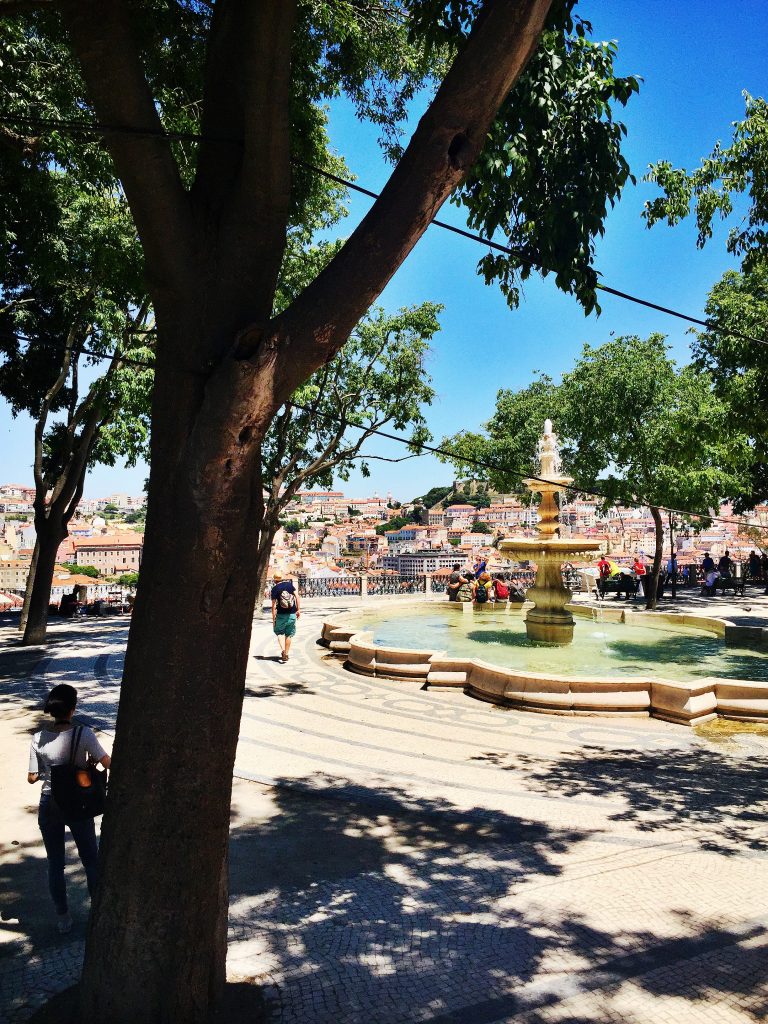 After a couple hours of wandering around, we got our daily gelato and headed back to the hotel. We rested a bit (it was very hot that day and we were exhausted). By the early evening, we weren't terribly hungry, but we knew that just olives and bread weren't going to sustain us so we walked to a nearby shop that Happy Cow mentioned had vegan pizza and empanadas!
Rua de Sao Tome 48, Lisbon  •  +351 96 273 7604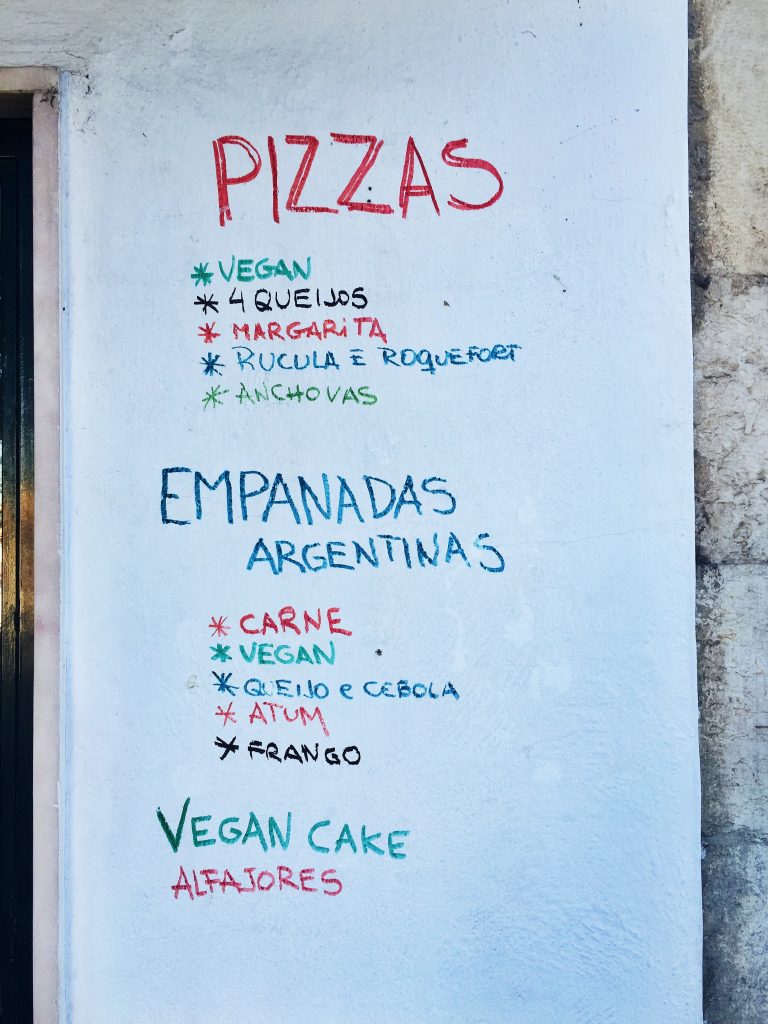 Sao Tome 48 is a small cafe, smartly named after its address, and was just a five minute walk from our hotel. There's a small outdoor eating area and some seats inside, though it's rather tight. The owner seemed to be closing a bit early by the time we got there and we asked him what vegan items he had. He told us he had three vegan empanadas left and we volunteered to take them off his hands. While he heated them up, we gut chummy with his adorable basset hound (I'm kicking myself for not taking a picture of him). But here are the empanadas: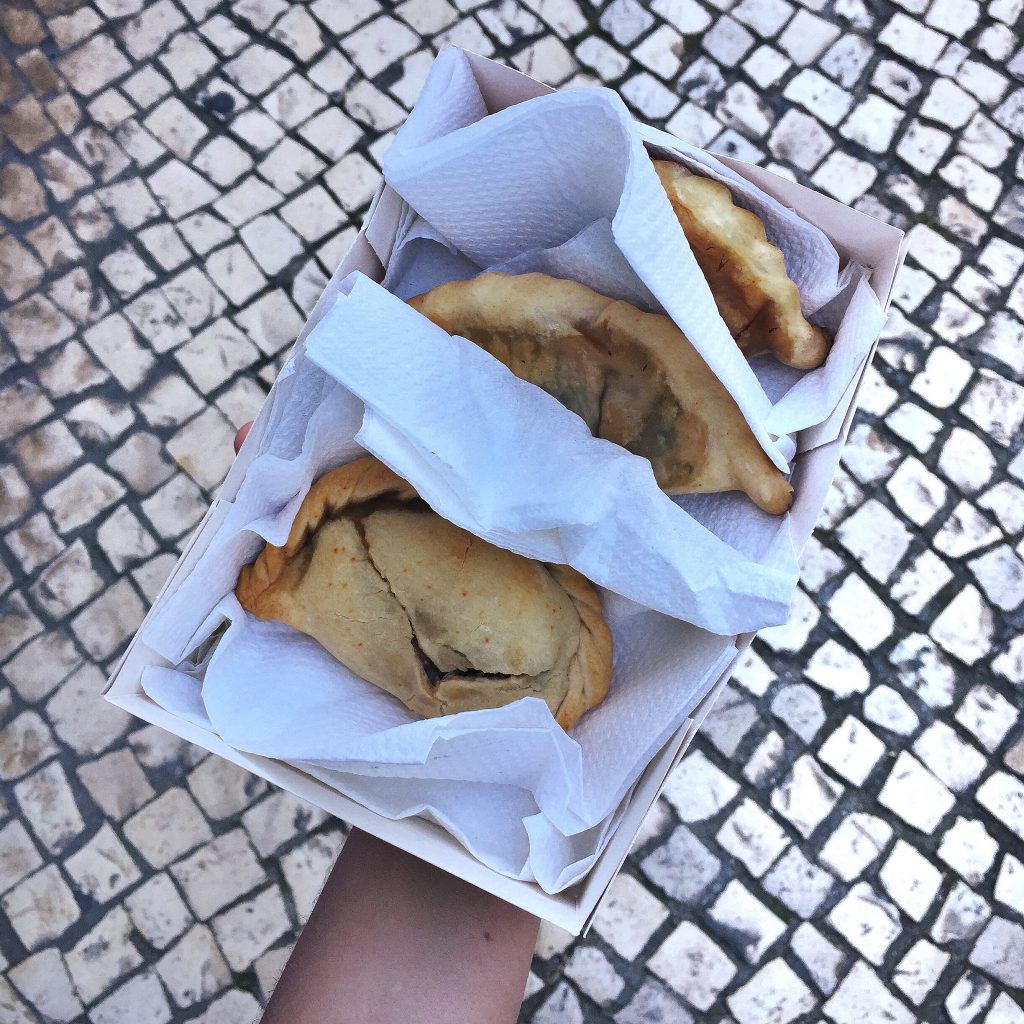 We carried them back to the hotel deck, where we ordered our wine, olives, and bread, and had ourselves a little feast. The empanadas were moist and flavorful, while being light and satisfying. I would definitely hit this shop up again, especially to try out the pizza!
The next morning, after breakfast, we packed up and checked out. We walked out to the main street and hailed a taxi to take us back to the train station. Our first taxi ride into the city, was friendly, hilarious, and took less than 15 minutes. This taxi ride was quiet and had us fearing for our lives for the entire 40 minute drive. He took the long route to the train station and had apparently learned to drive while playing Grand Theft Auto. By the time we got our seat reservations (we had bought tickets in advance, but you still have to reserve your seats at the station), and found our way to the correct track, we stood there for less than one minute before our train pulled up to the station. It was a stressful end to our time in Lisbon, but that made us even more ready for some beach-side relaxing on the Algarve Coast.
Lisbon is a lively, friendly, beautiful city and we loved our time there. We were especially amazed at how easy it was to be vegan in Lisbon- it seemed that there were options wherever we went. And we mostly stayed in the Alfama, Baixa, Barrio Alto, and Chiado districts. Lisbon is a huge city and there were areas (that we've heard have even more vegan options) that we didn't even make it to! If you're headed to Portugal, it's definitely a city you don't want to miss!