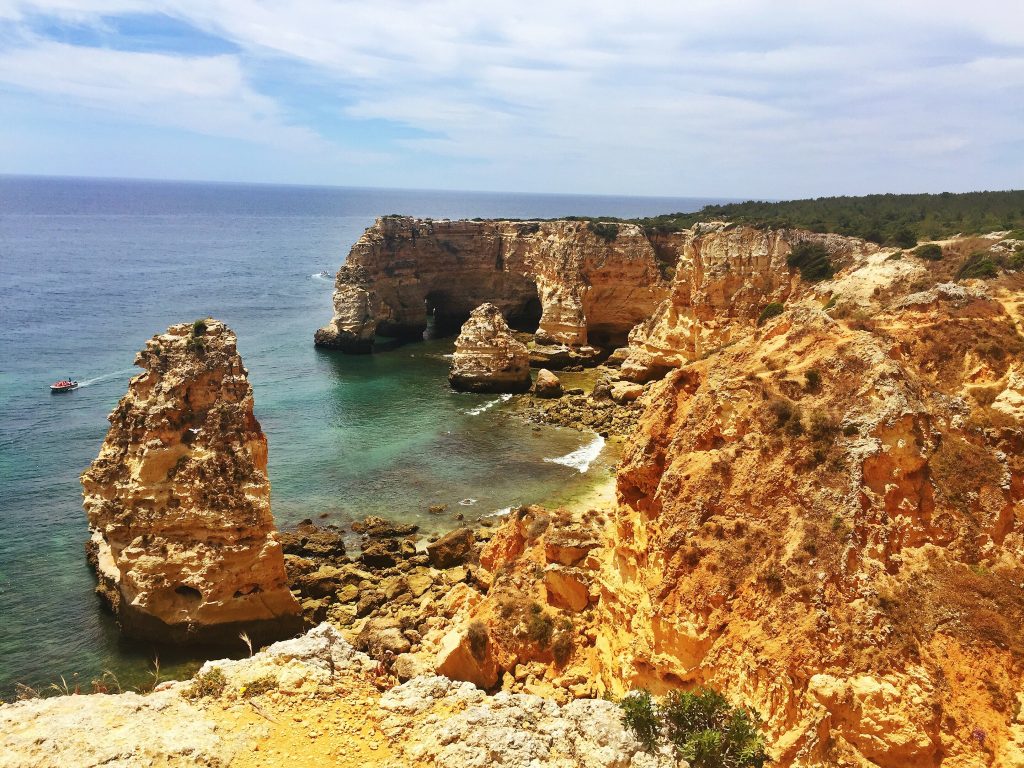 Our trip to the Algarve Coast had a bumpy start. As we were boarding the train in Lisbon, Chris was lifting our luggage into the overhead bins. While lifting one suitcase, he threw his back out. This happens every few years or so but we were not prepared for it on this trip. Luckily, if it had to happen sometime on this trip, it happened at the best time possible. We had gotten a great deal on a "villa" at a resort in Albufeira that boasted a small private pool in our own private yard. Our intention was to spend the next 5 days lounging, relaxing, swimming, and exploring. If he had to injure his back, he was already set up with the perfect place to recover. Sort of.
ALBUFEIRA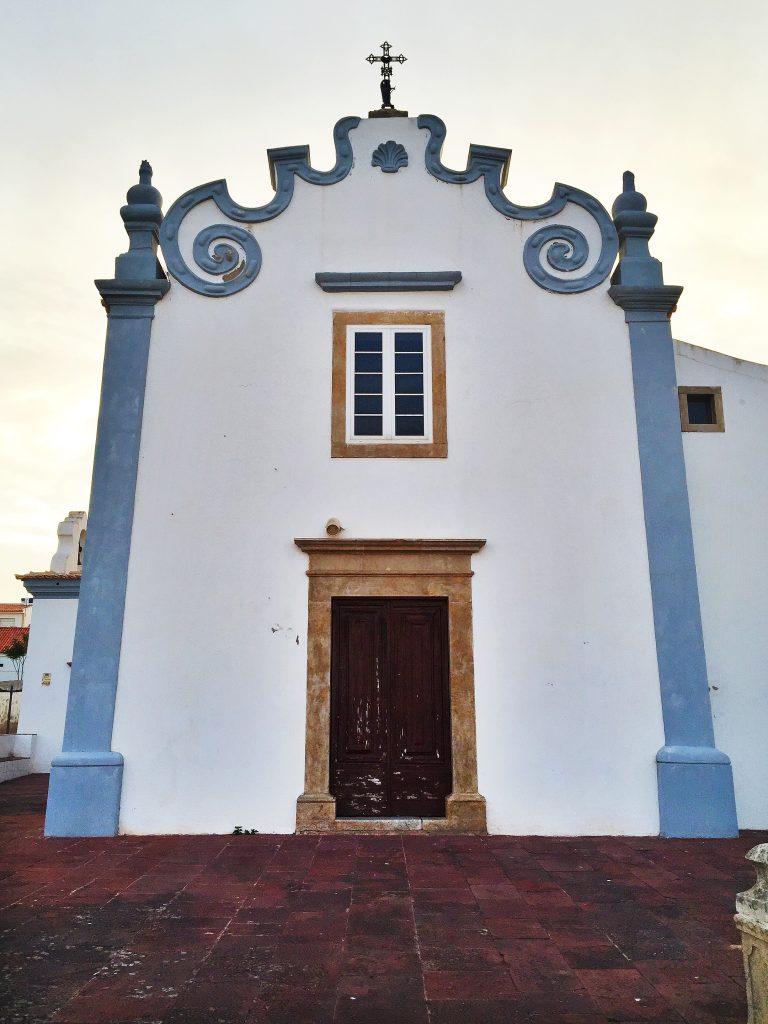 Usually I like to share the hotel we stayed at but I can't, in good conscience, recommend this resort. There wasn't anything bad about it, per say, but it really wasn't our style and after all was said and done, I probably would've enjoyed staying at a smaller place, closer to town, more. Let me explain.
The Algarve Coast is made up a collection of beautiful towns, stunning beaches, and the vast countryside and long roads in between them. While the resort claims to be in the town of Albufeira, in actuality, it's located somewhere amongst the vast countryside, about a 20 minute drive into town. It's not in a terrible location- a short walk will lead you to a view of the beach which is probably another 5 to 10 minutes walk away. We were able to walk about 10 minutes to a small, overpriced (due to the fact it was the only thing nearby) grocery store to pick up a few staples for our "villa's" kitchen. And Albufeira itself is located pretty centrally along the coast, making day-trips to nearby towns very convenient. But otherwise, it is a large sprawling compound (which is what we took to calling it), in which all the buildings are identical and lack any sort of character. Our "villa," while appointed with a full kitchen, washer/dryer, huge lavish living room, formal dining room, private yard and pool, two bedrooms (we were upgraded for some unknown reason, giving us two bedrooms instead of one, I'm guessing, just in case we wanted the option to sleep in separate rooms), and three bathrooms, was decorated depressingly, head to toe, in varying shades of beige and brown. From our bedroom window, we could see that all the other tan concrete buildings were identical to ours, all with the same pool layout in the backyard. And this was the nicest view we had from our "villa."
I can't complain, though, because it was nice having our own pool (no matter how small it was). I've never cared for hotel pools because, as much as I wish I didn't, I sometimes feel self-conscious walking around in my swimsuit in front of strangers. So the privacy was nice. When I'd seen it on the website, I had grand dreams of sipping wine in the evening, dipping our toes in the pool under the stars. It was our main reason in choosing this resort. But the website failed to mention that they are overrun with mosquitos come 7pm so after that, you need to be shut away inside with all windows and doors closed. If I wanted to drink my wine inside, I could stay anywhere else. Literally, anywhere else. But I'm not complaining.
The resort was also nice enough to schedule our rental car to be delivered to the hotel so we wouldn't have to go to Faro (where the airport is located) first and drive to the resort. The only problem is that I forgot to mention that we needed an automatic transition. Chris was the only one who knew how to drive a stick shift. Chris, the one with the bad back. So that first night, he took several anti-inflammatory pills, and we made the 20 minute drive into the town of Albufeira. It was very crowded and obviously a very heavily touristed town and by the time we arrived, it was party central. We had to park in a garage and walk (very slowly and carefully, due to Chris's back) to our restaurant.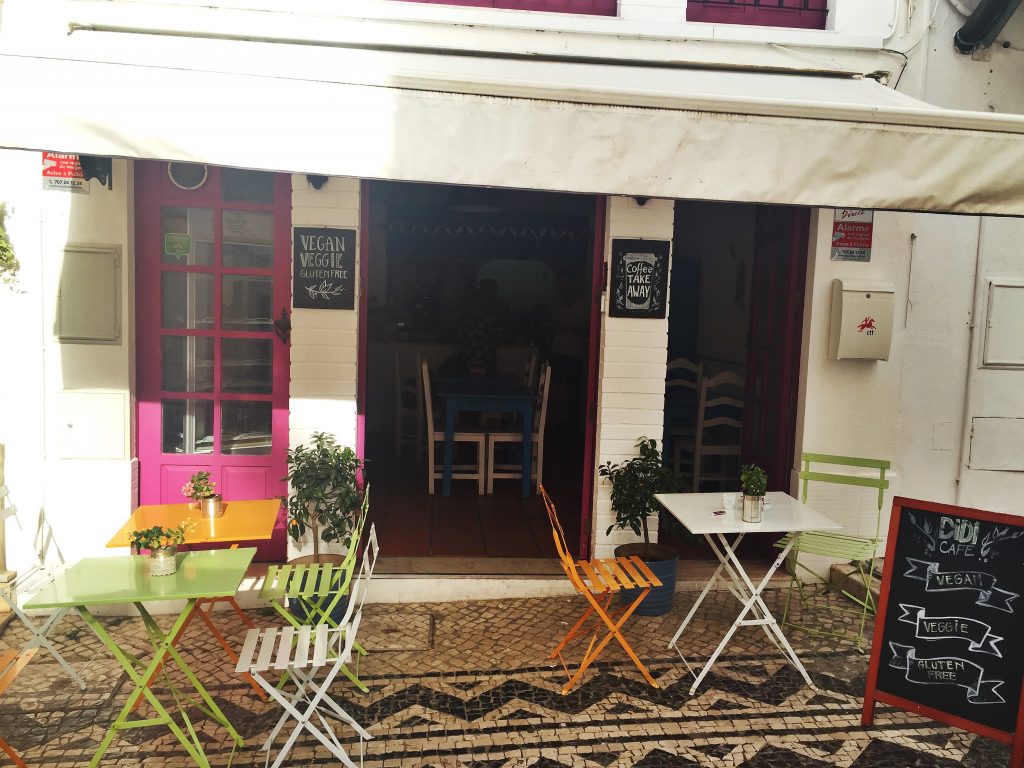 Travessa Cais Herculano 11, Albufeira  •  +351 28 914 2986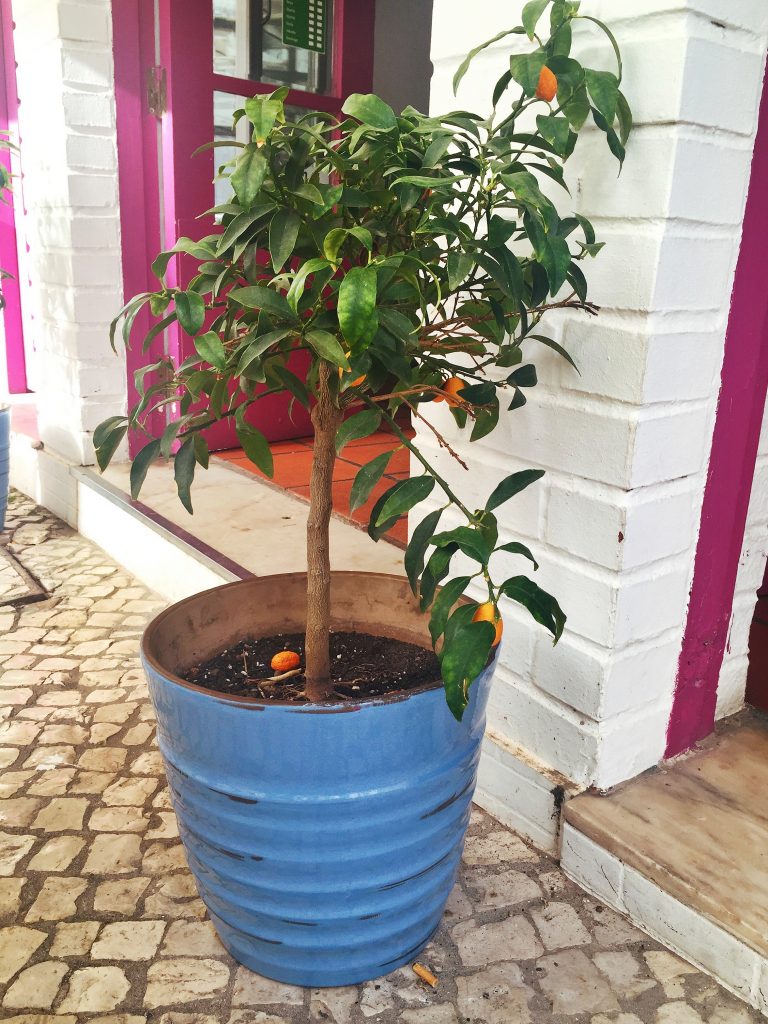 It is so refreshing to go to a vegan restaurant, ran by a passionate vegan. The owner came from Italy several years earlier, with the intent of opening a healthy, plant-based restaurant in Albufeira and lots of work paid off- his dream has come true. Didi Cafe is a small, adorably decorated gem in the middle of the mess of tourist trap restaurants that make up that part of town. On our way there, we were stopped by at least 10 people from 10 different restaurants, wanting us to see their menus and spend way too much money at their place of business. I can't stand that. So Didi Cafe, in all of its unpretentious, un-assuming glory, was a sight for sore eyes after just walking to the restaurant.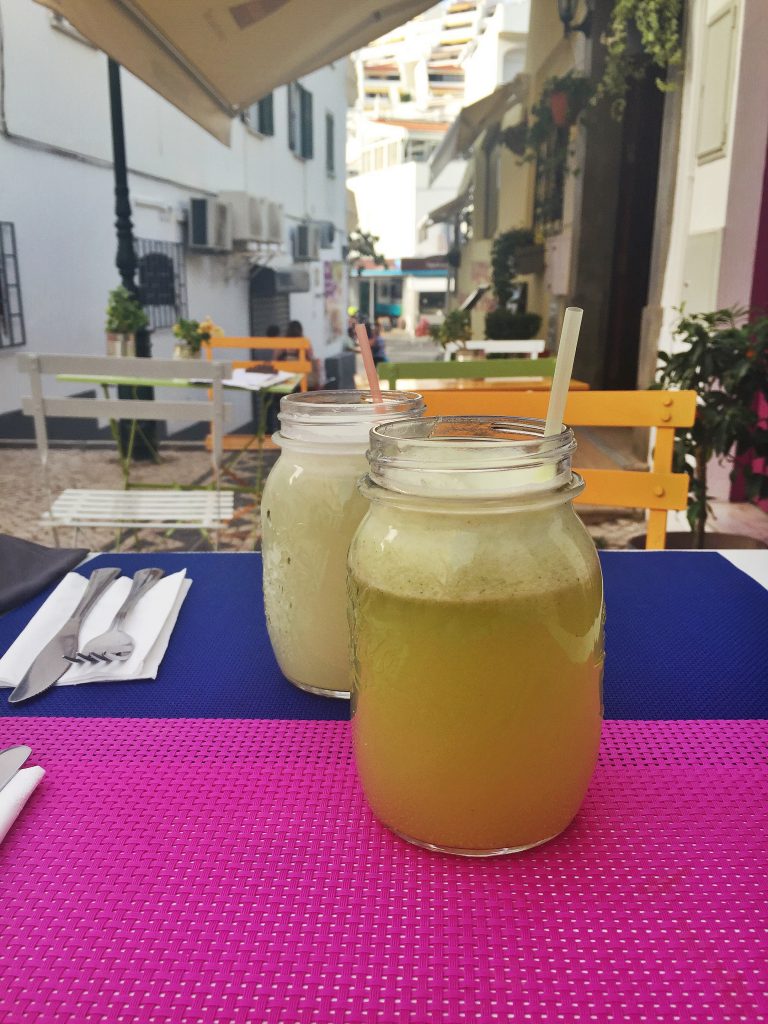 We were greeted quickly by the server who, after learning that we were vegan (he'd asked), said "Oh the owner is going to be so excited to meet you. He loves meeting other vegans." So do we! So the owner came out and spoke to us for awhile, telling us his story, and asking about our trip. He was so nice it made me even happier that we were patronizing his restaurant. And then the food came.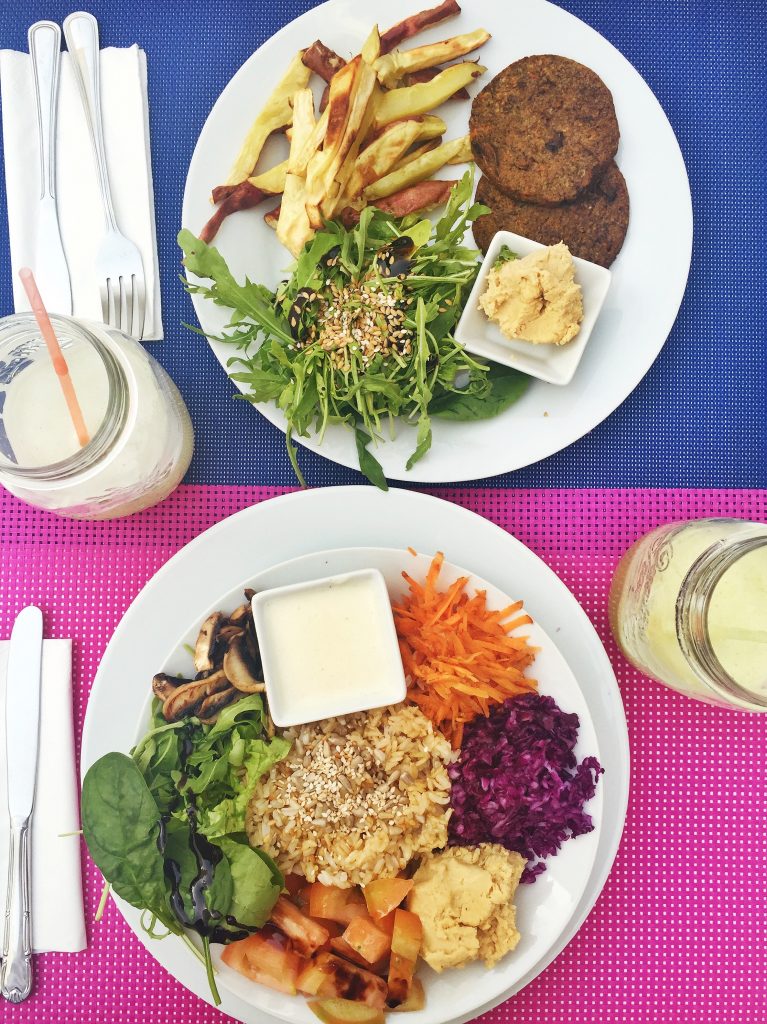 This food was so wonderful. The menu made it sound kind of basic, but we greatly enjoyed both of our meals. Chris got mushroom burger patties with hummus and fries and while that sounds fairly boring, it was actually surprisingly flavorful and satisfying. I ordered a Buddha bowl, and again, while it looked pretty basic on paper, it was a wonderful dish that I could easily eat every day. The dressing was good enough to drink. The food being so good, we couldn't not order desert. There was chocolate cake and an apple cake. While I would normally go with chocolate, no questions asked, the apple cake came highly recommended so we opted for that one. It came with a smear of chocolate sauce and it was delightful.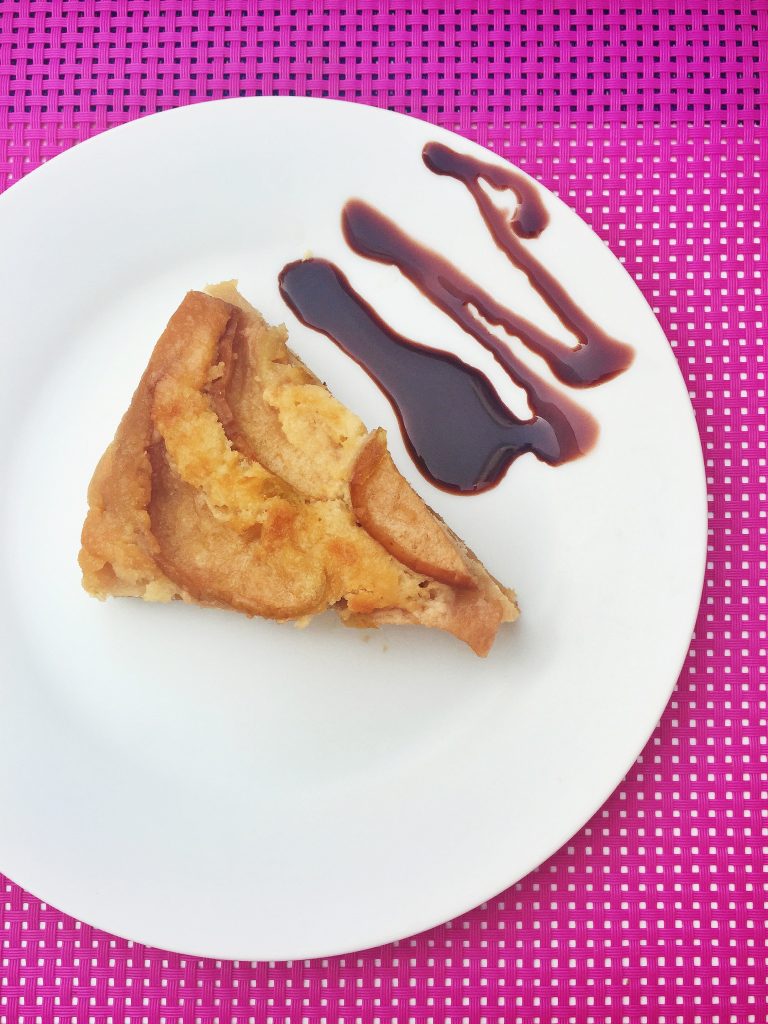 After dinner, headed back to the compound. We tried watching TV while icing Chris's back but TV was not very English-friendly, so after our glasses of wine, we retired to bed early. The next morning, I made coffee and toast and we ate it at the table in our yard. There were lounge chairs so we spent the rest of the day lounging in the sun (Chris alternating between icing his back with frozen peas and heating it with a towel that I'd soaked with hot water), reading, and swimming. We seriously slacked off on our sunblock game (applying it once, early on, before many trips into the pool), though, resulting in a terrible burn that prevented me from wearing a bra with straps for the next several days. Luckily, I'd brought my strapless one, but that did nothing to help the burn on my thighs. Or stomach. (One night, later in the trip, we ventured back out to Albufeira to explore the old town. We stopped into a restaurant to have a glass of wine and a bowl of olives, and enjoy the view of the ocean. I never take bathroom selfies [the lighting is unflattering and I hate taking selfies anyway], but the tiny, adorable restroom in this restaurant had a full wall of mirror [even the door was covered in mirror]. So I had to photograph the evidence of my sunburn. See below.)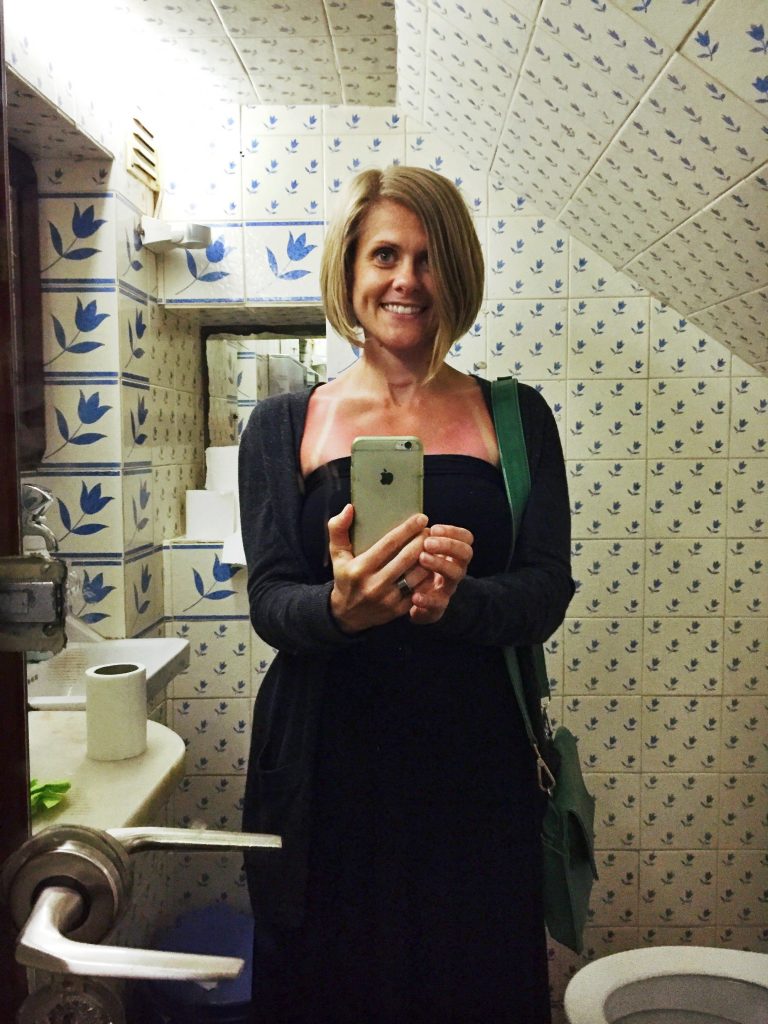 During the day, we noshed on hummus and crackers that we'd picked up at the store the day before but by the late afternoon, we were starting to get hungrier. Chris loaded up on the AI pills again and we drove to the store. It was a larger grocery store this time and it was very well-equipped. I was able to put a full, hearty meal together without much vegan ninja label reading at all. After my shopping spree, we went back to the compound. We're all for just hanging out and talking, but when you can't go outside and you're alone in a big empty house with no entertainment in your language, sometimes you start grabbing at straws. After a couple glasses of wine, I asked Chris if he thought the house would be a good fortress in a zombie apocalypse. This lead to one of the most hilarious arguments we've had in the 8 years of our relationship. It wasn't that we disagreed about the sturdiness of the house, but he was upset that I would even consider that a zombie apocalypse was a possible occurrence. It really got heated for a bit. He actually shouted "We've talked about this! I thought we felt the same way about this!" at one point. Which is now one of my most favorite lines to use when we talk about pretty much anything. I responded with "I'm not arguing about whether or not zombies are real, I just want your opinion on if you think zombies could break through these windows!" Moral of the story: Don't stay at this resort.
LAGOS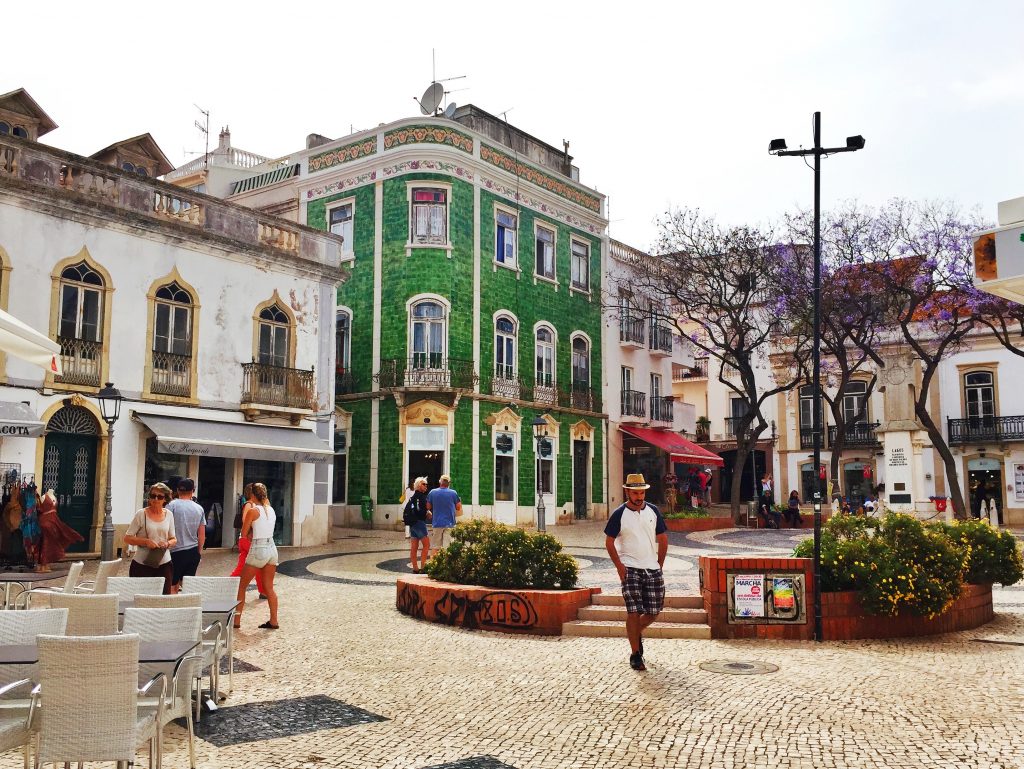 The next day, Chris was feeling quite a bit better. He wasn't 100%, but as long as he took his AI pills, he could get around pretty easily. So we decided to venture out and explore. I'd been to Lagos before and absolutely fell in love with the town so I knew I wanted to go back there. Since it was less than an hour from the compound, we decided this would be a good place to try out while Chris's back was still a bit tender.
On the way, we stopped at Praia da Marinha, one of the most beautiful beaches in Europe, well-known for it's large rocky stacks in shades of amber and rust, creating caves and coves in the stunning turquoise water. It's a long hike down to the actual beach, a hike that Chris wouldn't have been able to handle, but it was also a tad chilly and with my sunburn, I had no interest in hanging at the beach anyway. So we just wandered along the cliffs, admiring the views.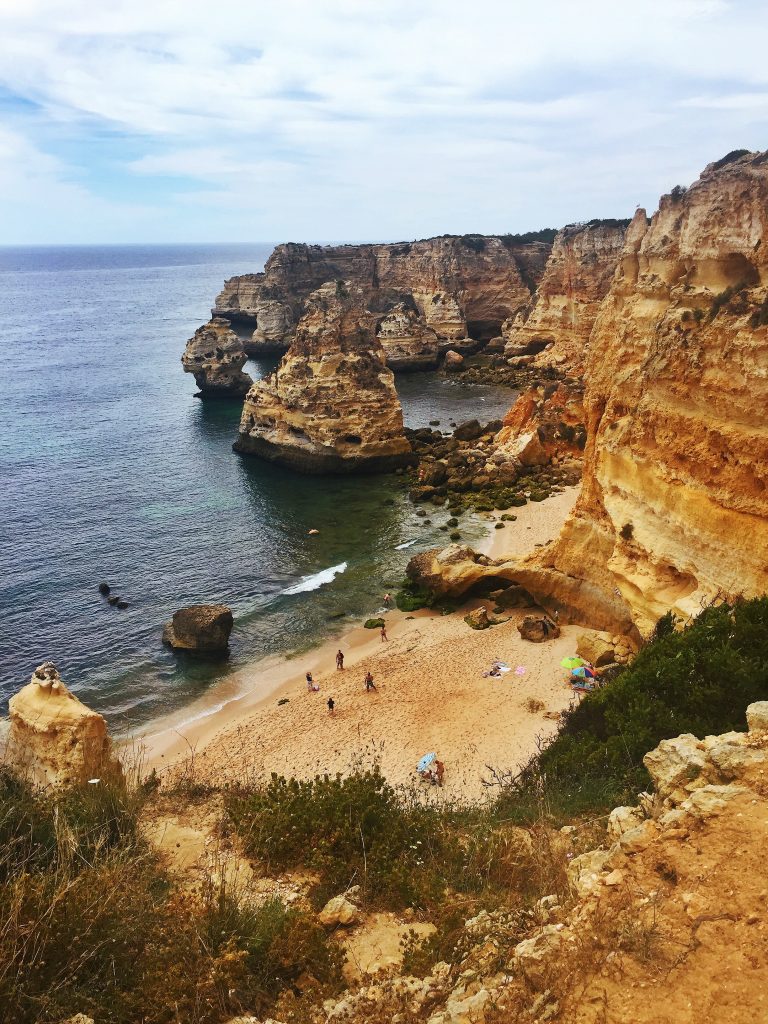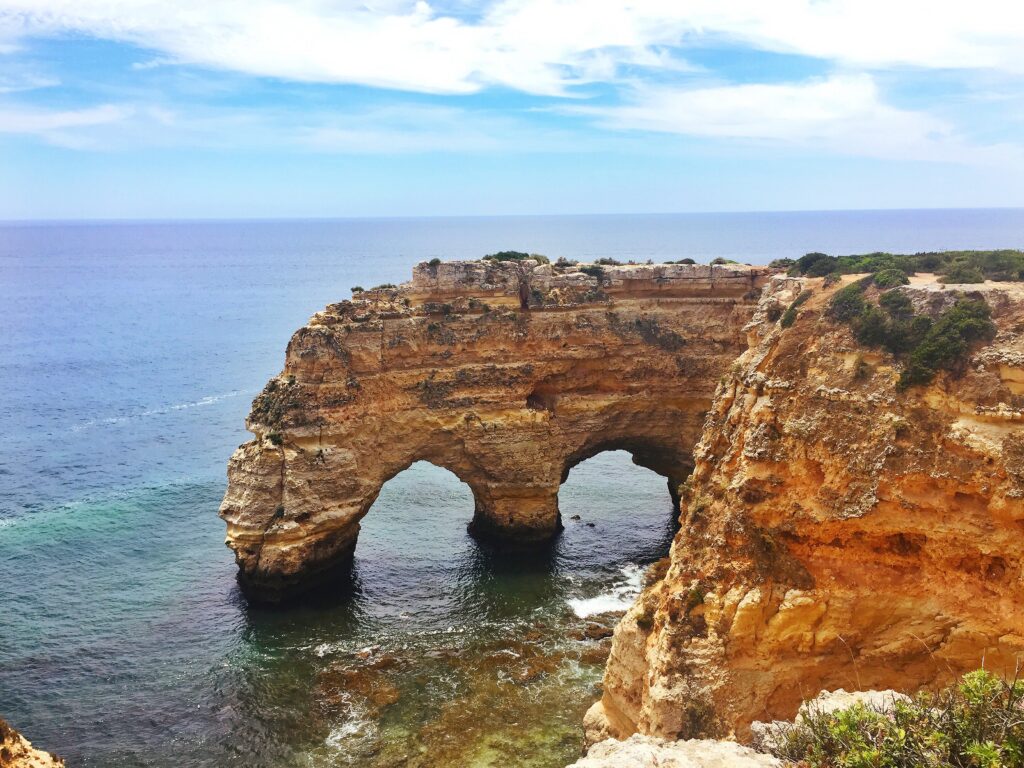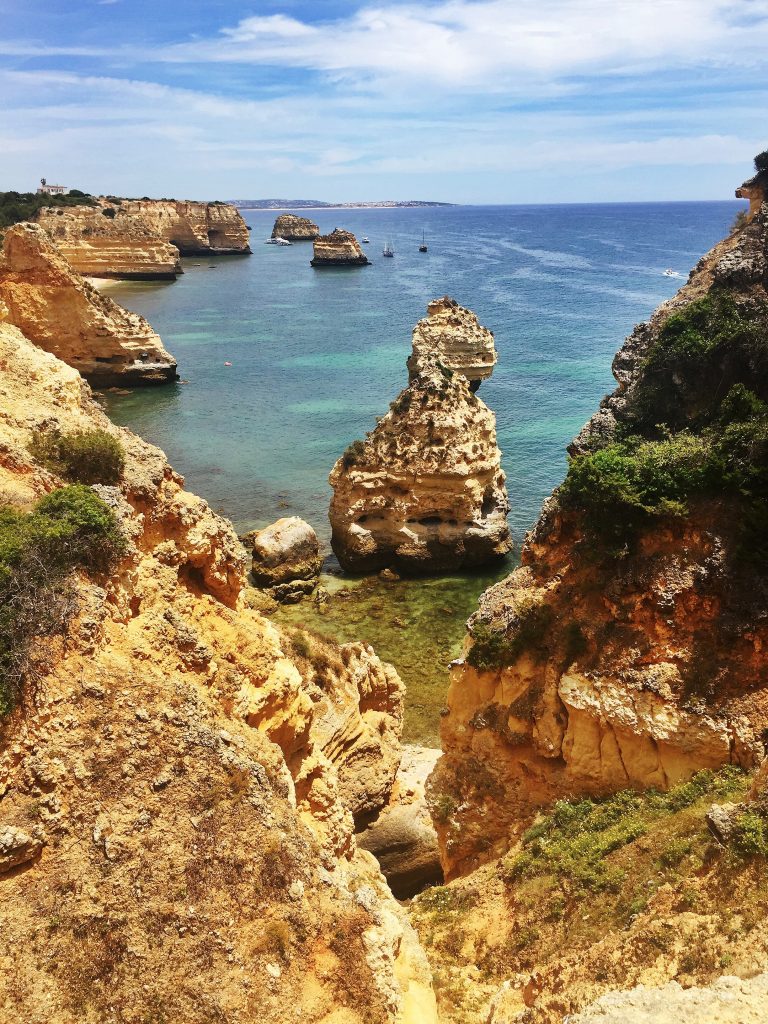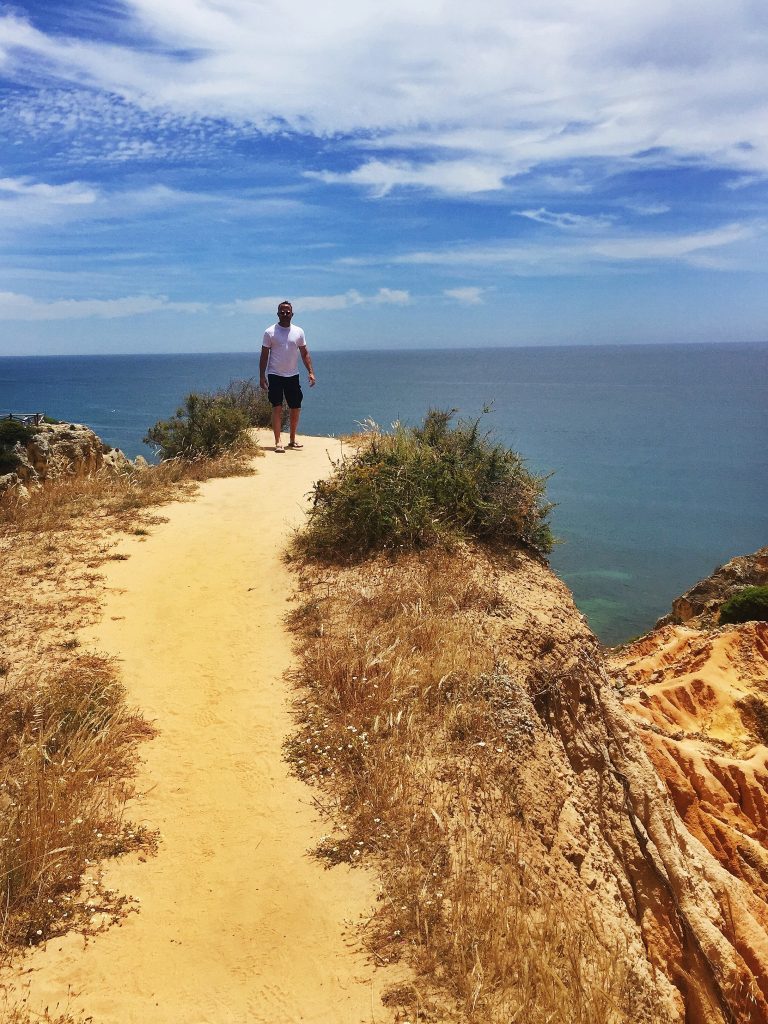 After the beach, we got back in the car and made our way to Lagos. While there is a lot of vast countryside, driving around the coast is very beautiful. The sweeping landscape, beautiful old houses and farms, the ocean. All of it is stunning.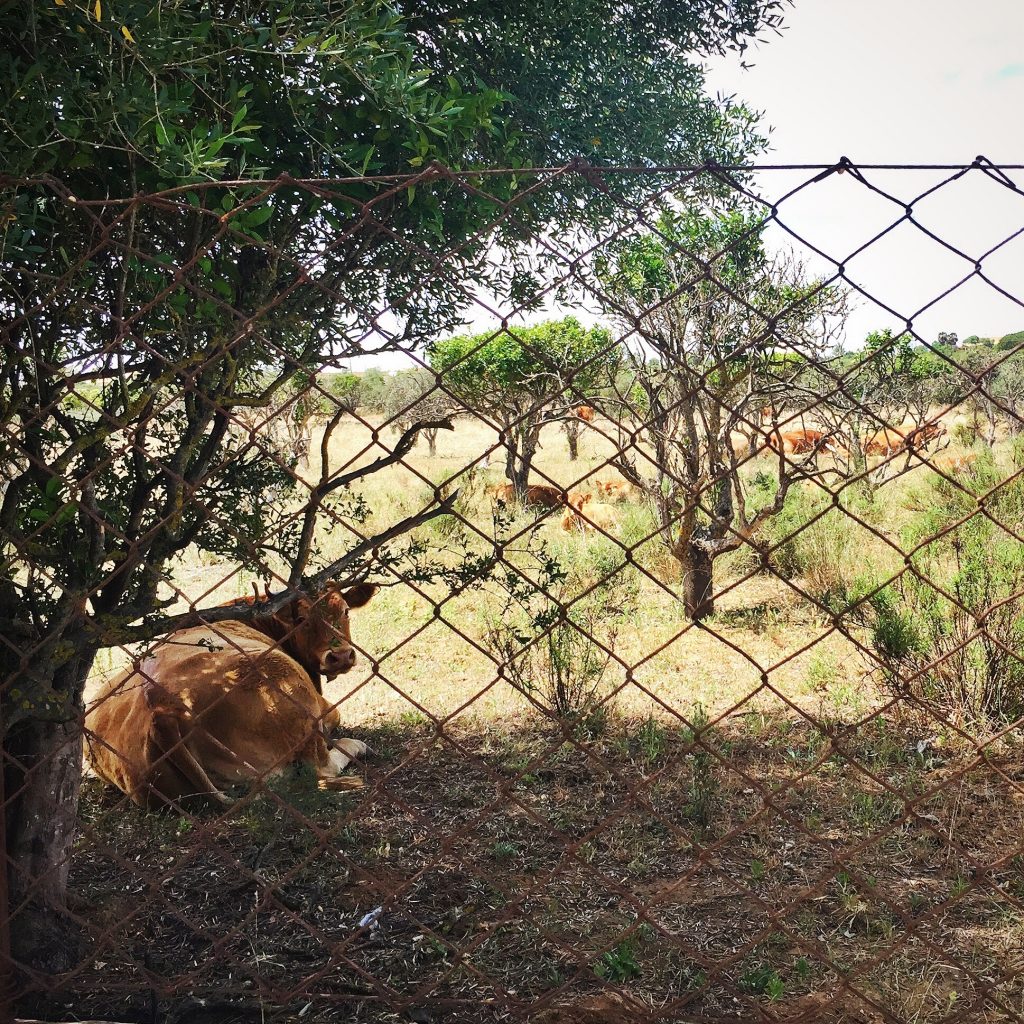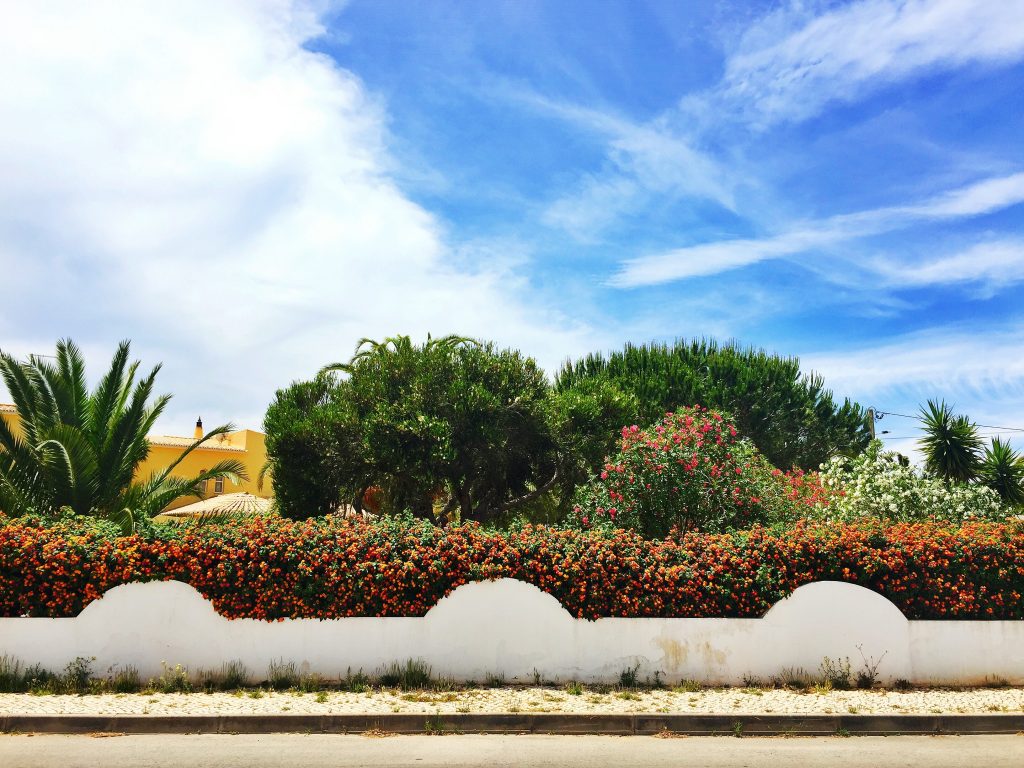 We parked just outside of the old town's walls and wandered in. First order of business was lunch. It was an odd time for lunch, so while Lagos had many vegan and vegetarian options, we chose the one that was open.
Rua Soeiro da Costa 40, Lagos  •  +351 91 519 1020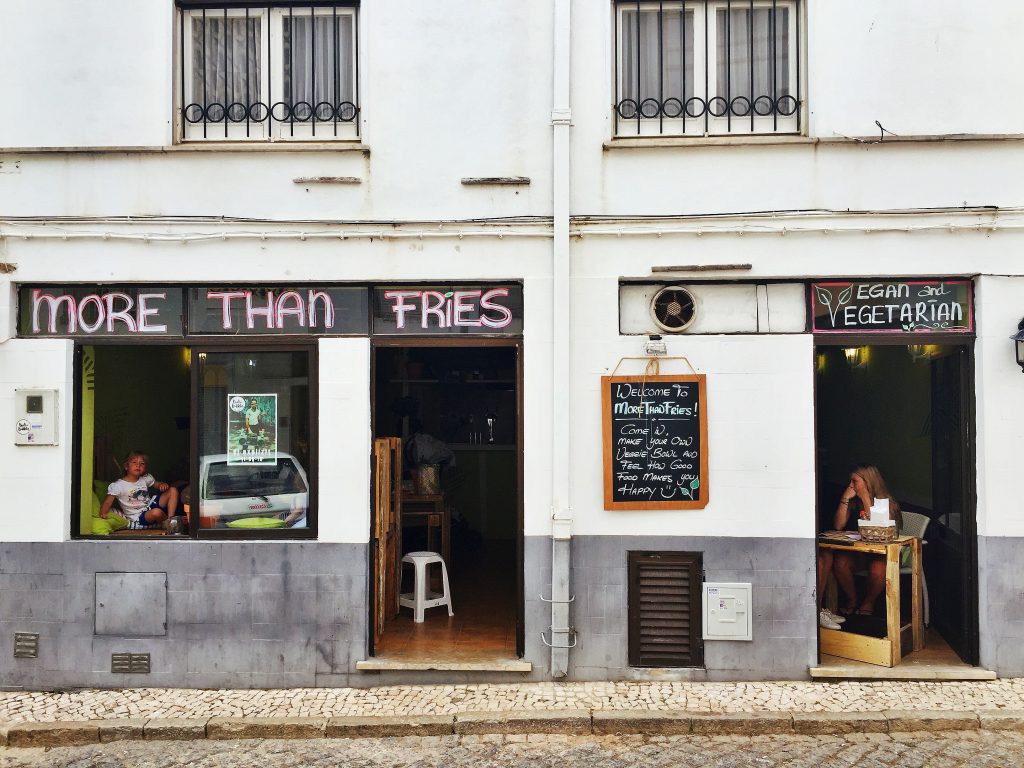 When we walked into More Than Fries, there was only one table not occupied (I took the picture below after our meal, when we were the only ones there). There was one person working behind the counter (we later found out that her coworker wasn't able to come in that day) and she was busy. Being this busy is always a good sign.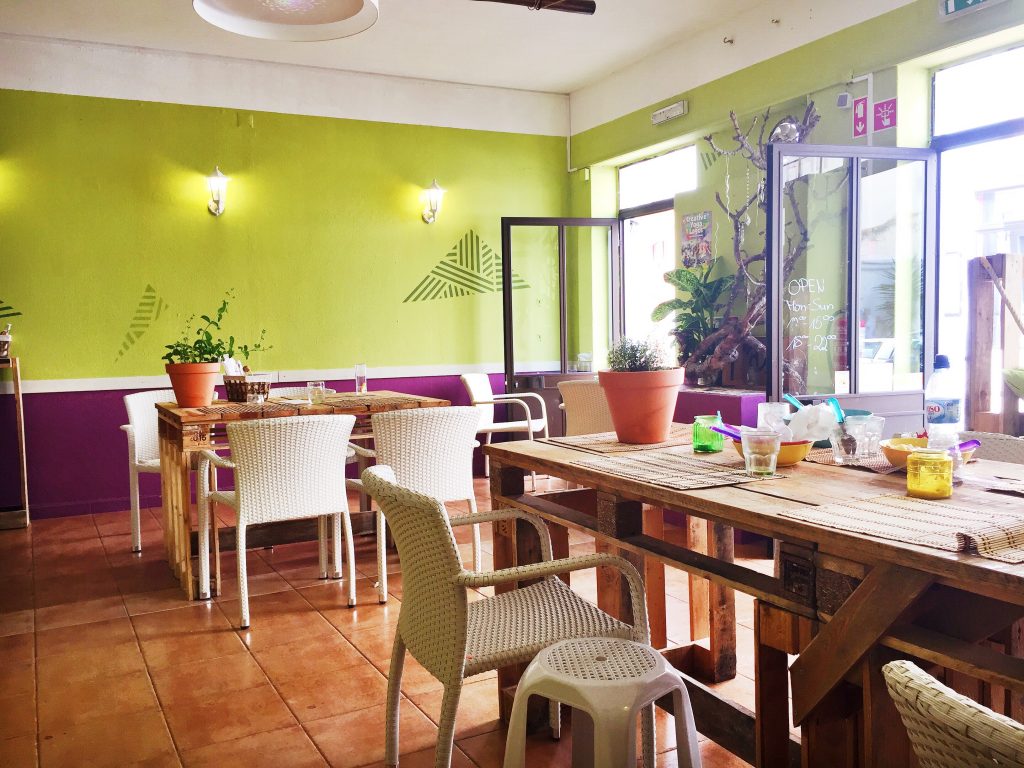 More Than Fries does bowls. Bowls may sound like a pretty basic concept, but this place does them right. , You get to choose your base (rice or pasta) and then as many other toppings as you'd like. Then the base and all the toppings you chose are cooked with a sauce of your choosing and served up in a bowl. One of the toppings was a type of cheese and one of the sauces included dairy or honey (I don't remember), but everything else was vegan. I got a "small" rice bowl and Chris got a large pasta bowl, and we both chose the beet pesto as the sauce (Yes! BEET PESTO!!!).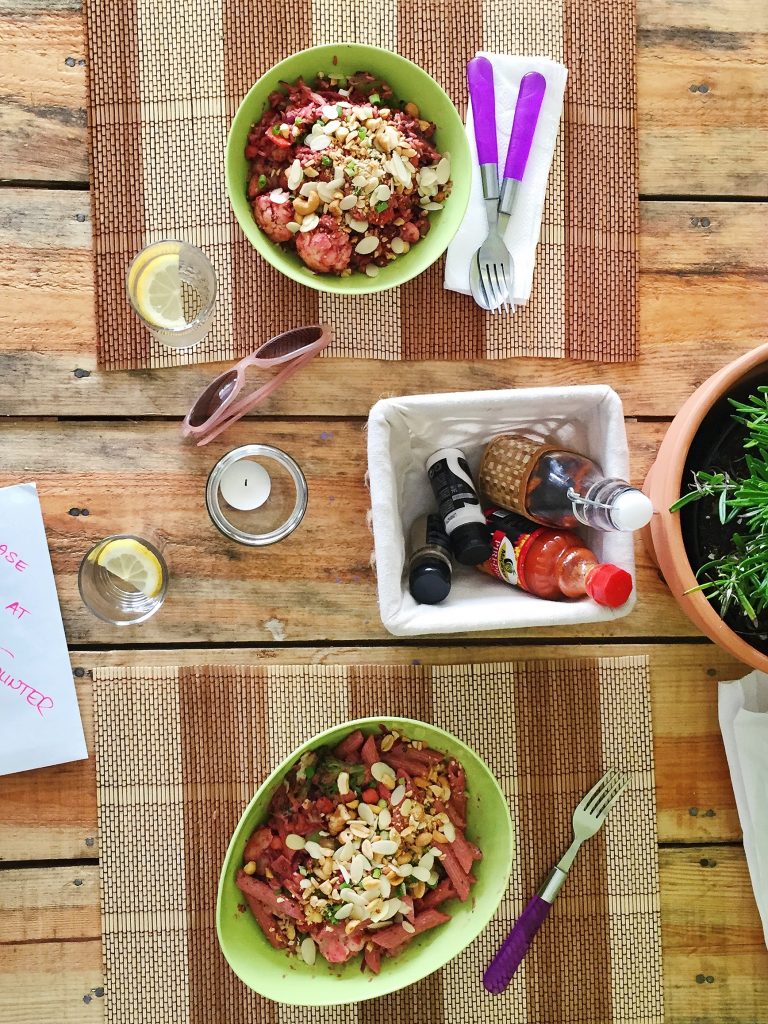 My friends, this was probably my most favorite meal on the entire trip. The flavor, the texture, everything about it was amazing and I didn't want my small-yet-pretty-big bowl to end. The first time I went to Lagos, I was vegetarian, and I had no problem finding vegetarian options and this was years before it was common to have a phone with apps like Happy Cow to help you out. Now, equipped with Happy Cow anytime we need it, it's even easier to find vegan options. Lagos is extremely vegan-friendly and now, looking back, I can say it had the best vegan meal of the entire trip.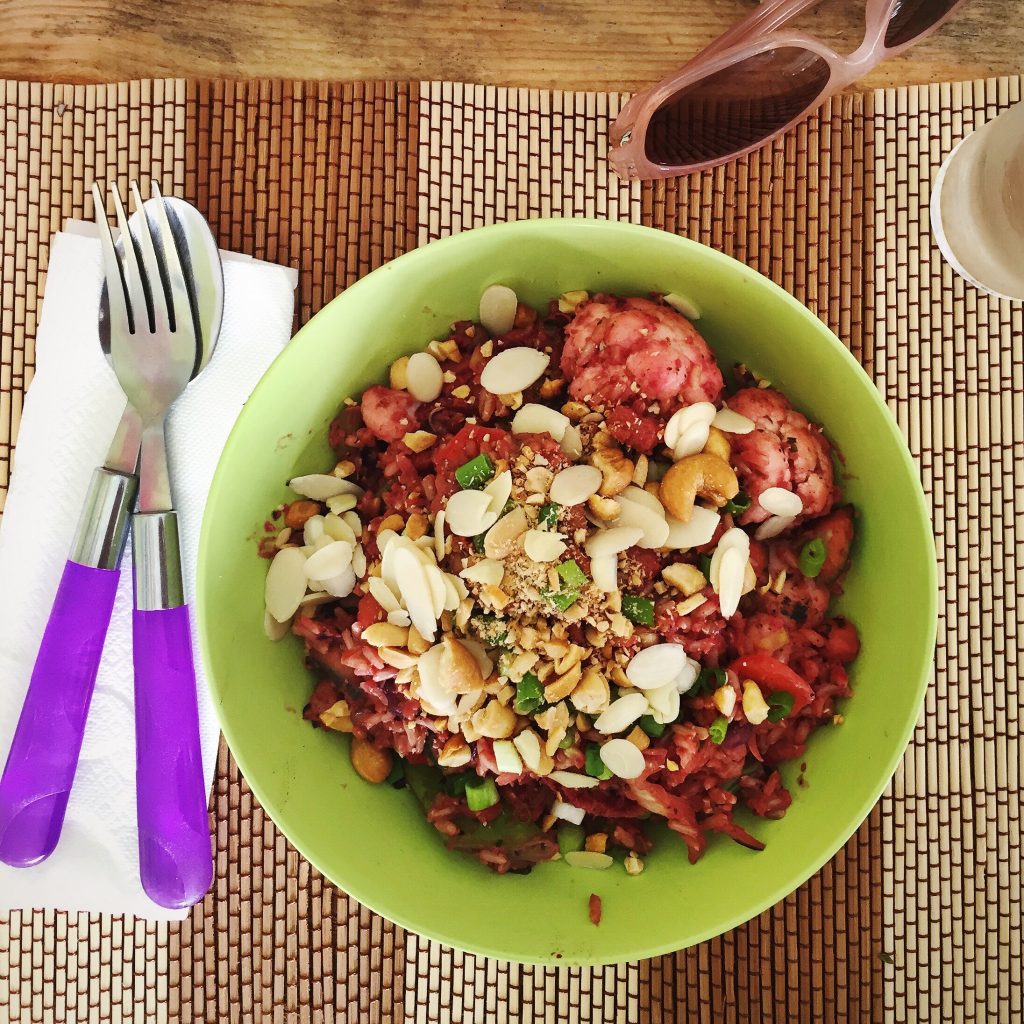 After lunch, we wandered around town, went down to the beach, and then did more wandering through town. It's a gorgeous town to wander through.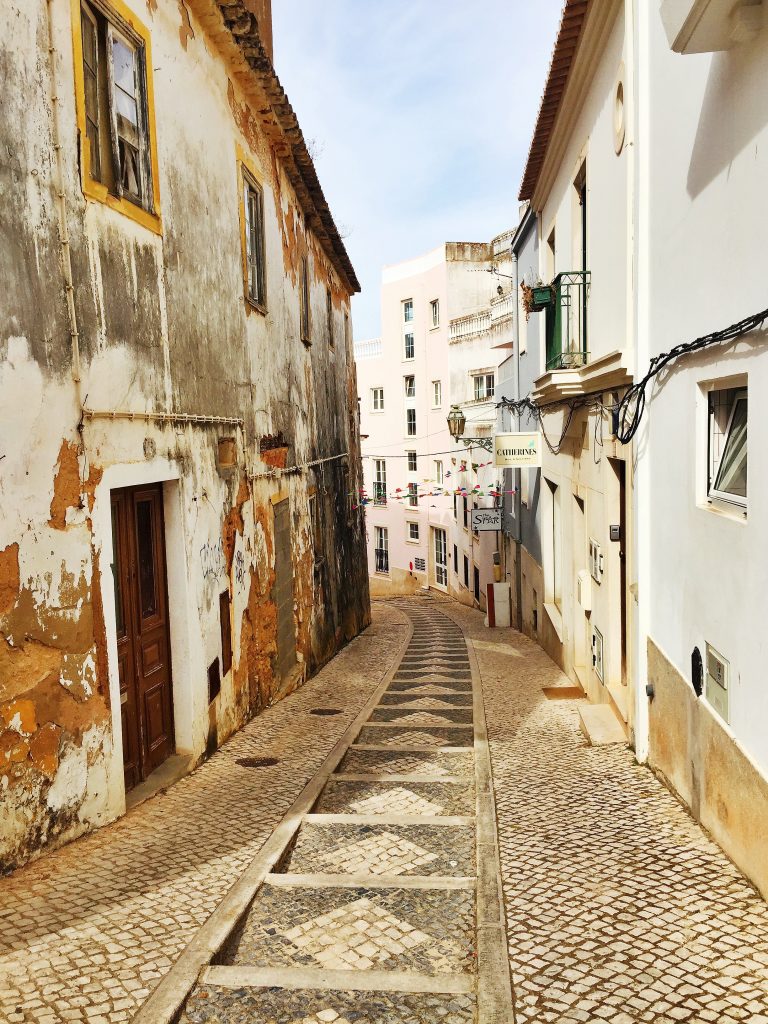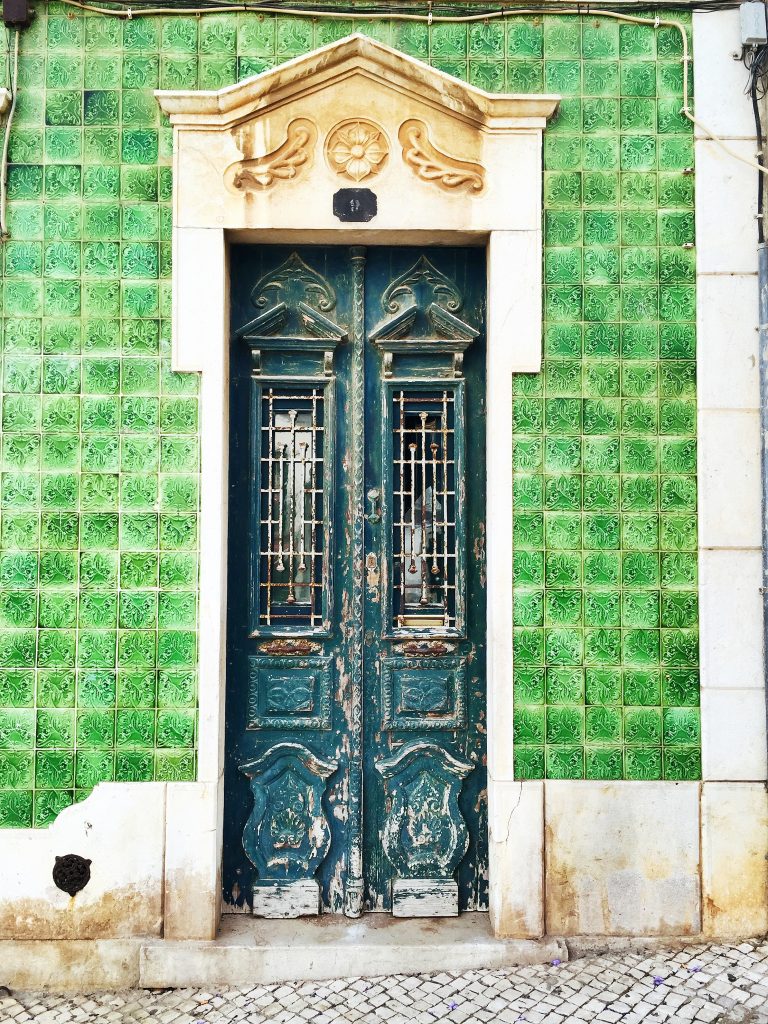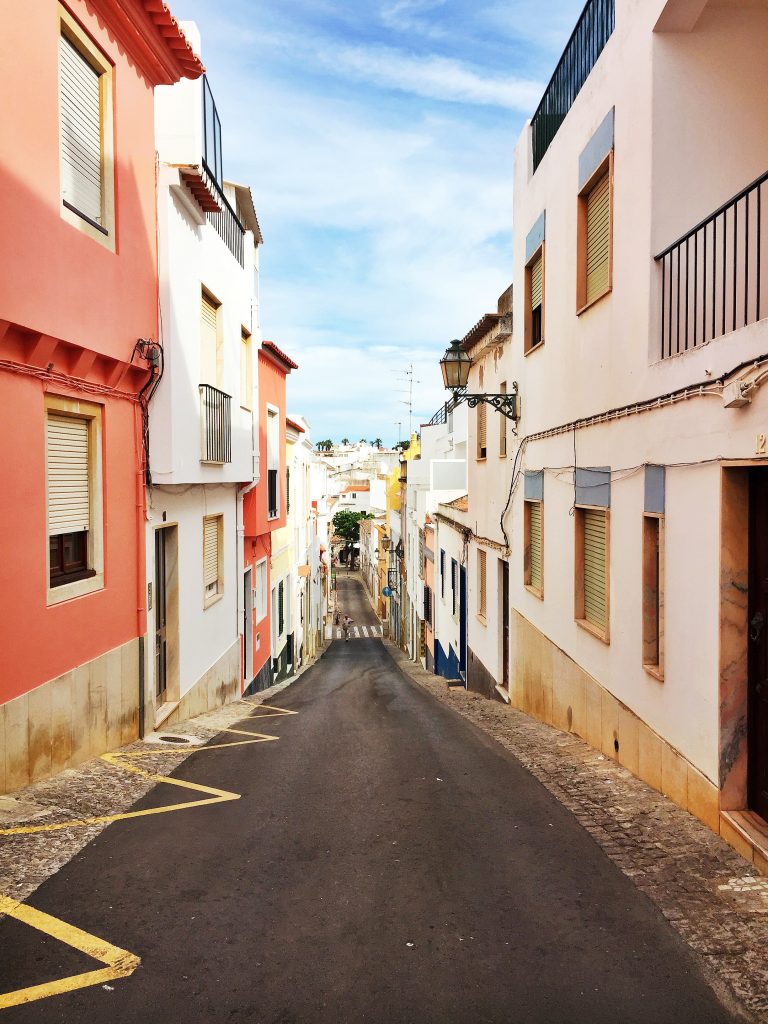 If we ever go back, I'll definitely be booking a hotel in or near Lagos.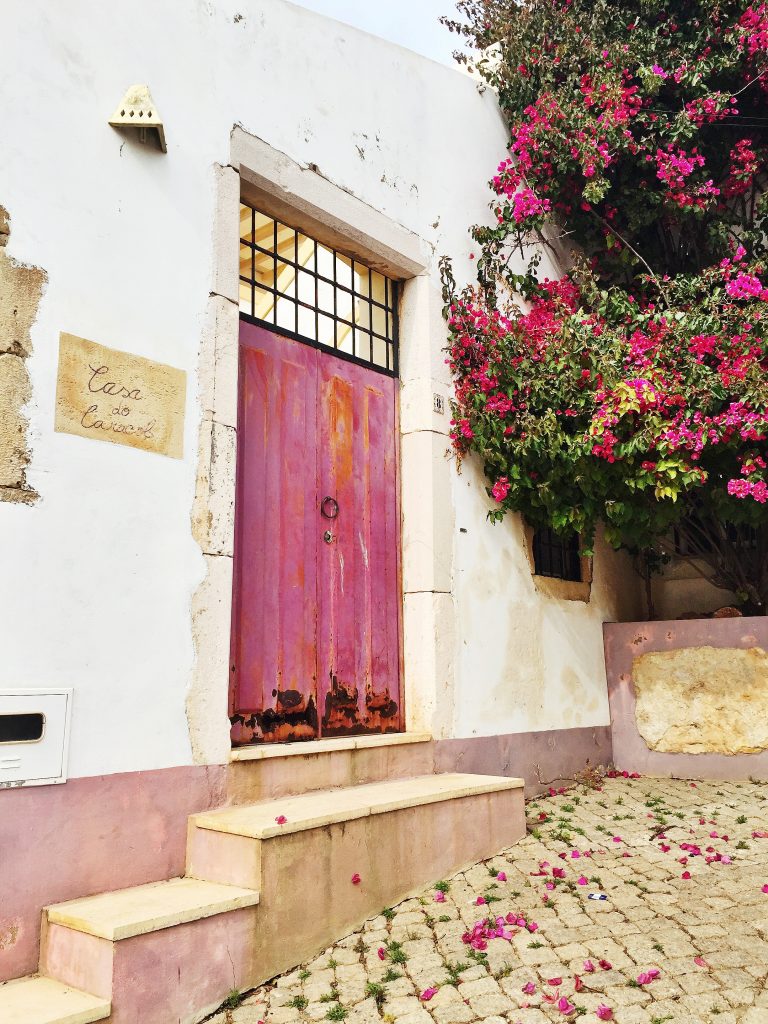 Stay tuned for Part 2 of our trip to the Algarve Coast! Also, be sure to check out our adventures in

Porto

and Lisbon!