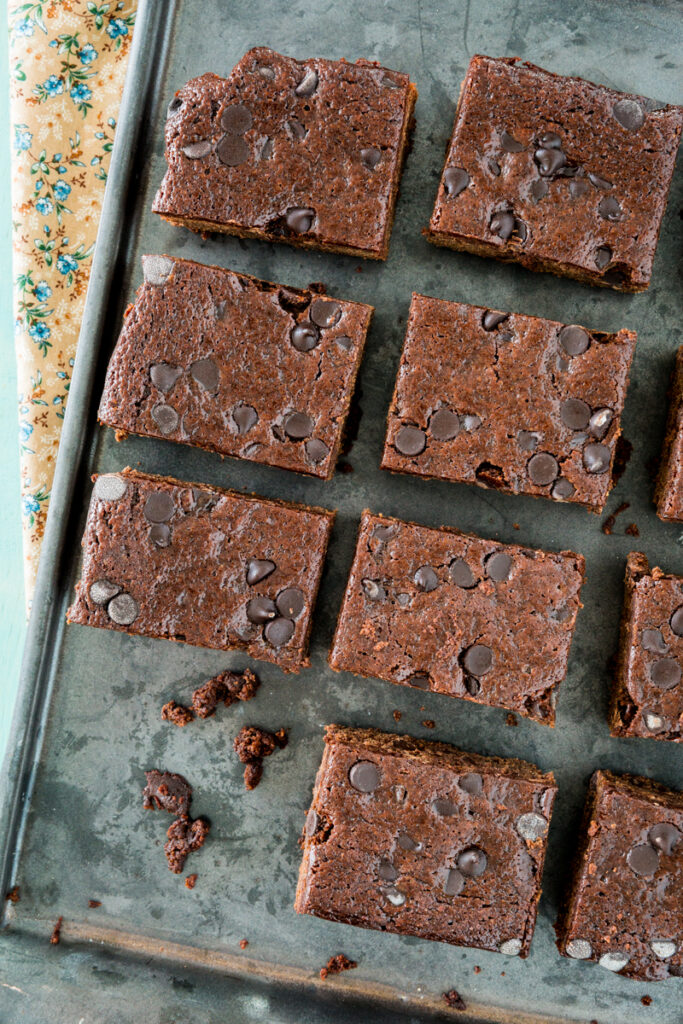 I'm picky when it comes to brownies.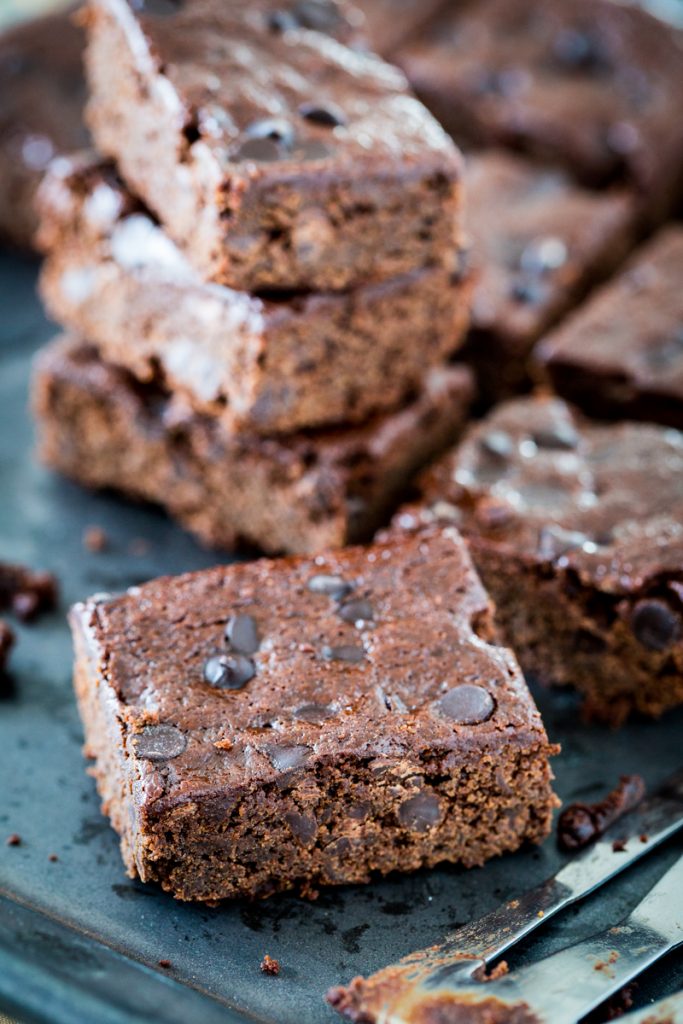 I need them to be dense and rich and I need them to be bold with chocolate flavor with just the right balance of sweetness. I don't waste my time with cakey brownies and I always feel a little cheated when they're too gooey and fudgy. And raw or "no-bake" brownies, while they might taste alright, are just a slap in the face when I'm in the mood for a good ol' fashioned brownie.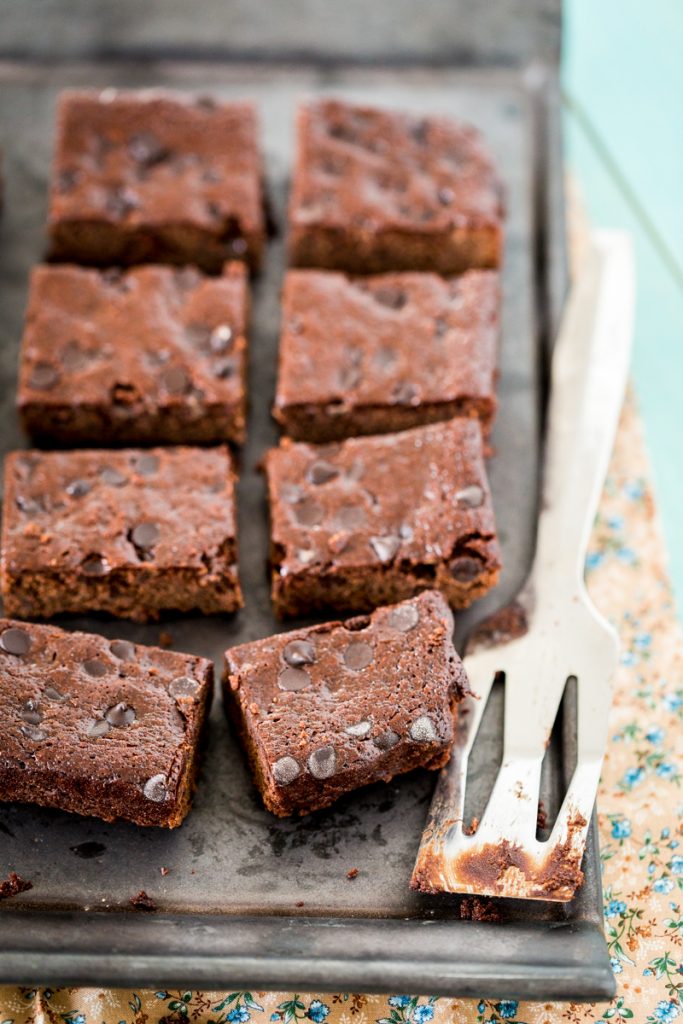 My philosophy when it comes to chocolate is "Go big or go home." That's why I like my brownies studded with chocolate chips. It's also why it's a no-go when it comes to nuts. They take away from the power of the chocolate. They're distracting. I like my brownies sans distractions.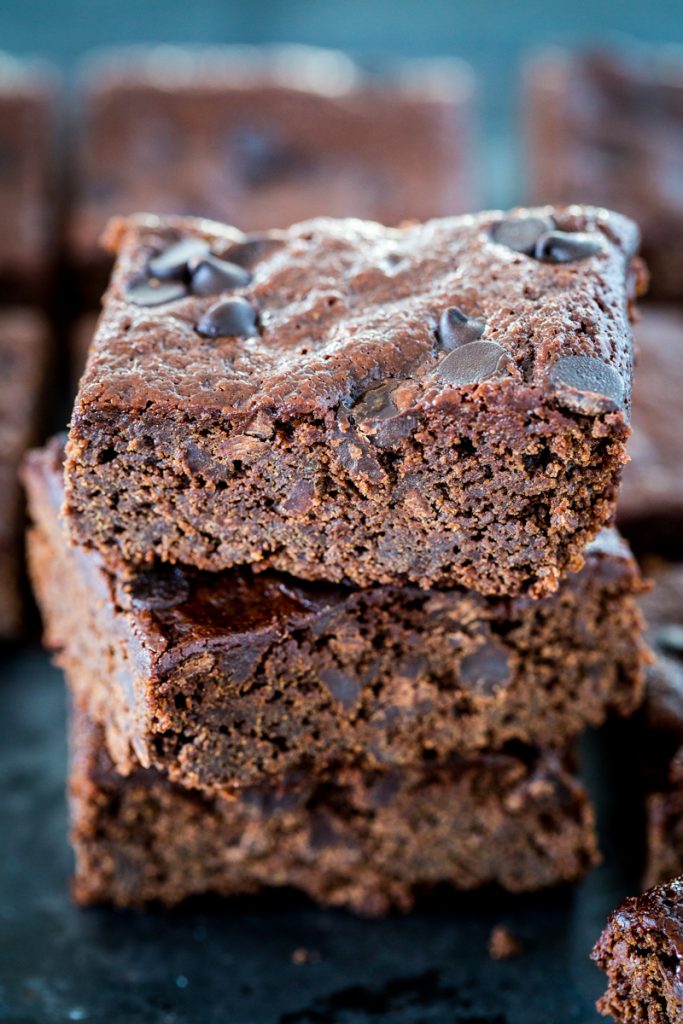 I also don't like them to be crumbly. I just want to bite into a solid, thick brick of chewy, chocolaty goodness and not have my face and shirt covered in crumbs. I don't feel like I'm asking too much. Side Note: the crumbs you see pictured here are hand-made for food styling purposes. They didn't just naturally fall off these gorgeous bars!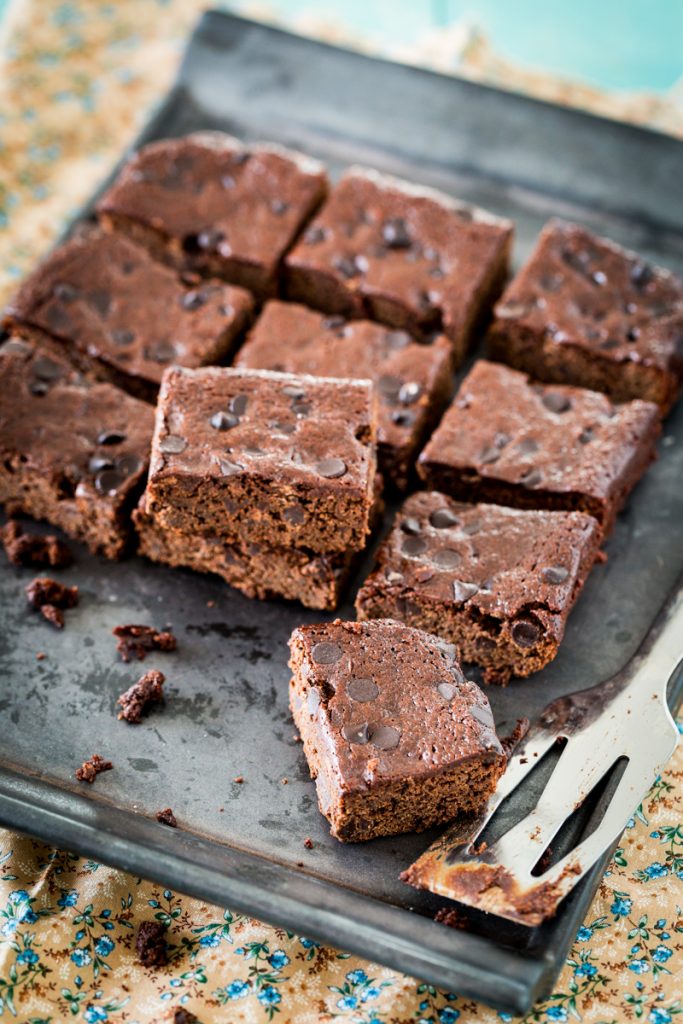 Up until I went gluten-free (almost two years ago now!!!), my favorite brownie recipe is the brownie recipe in my first book. But when I went gluten-free, I tried just making that recipe, but with gluten-free flour, I wasn't a fan. See above, re: crumbs. So every once in awhile, I would try a new variation but I was never super pleased.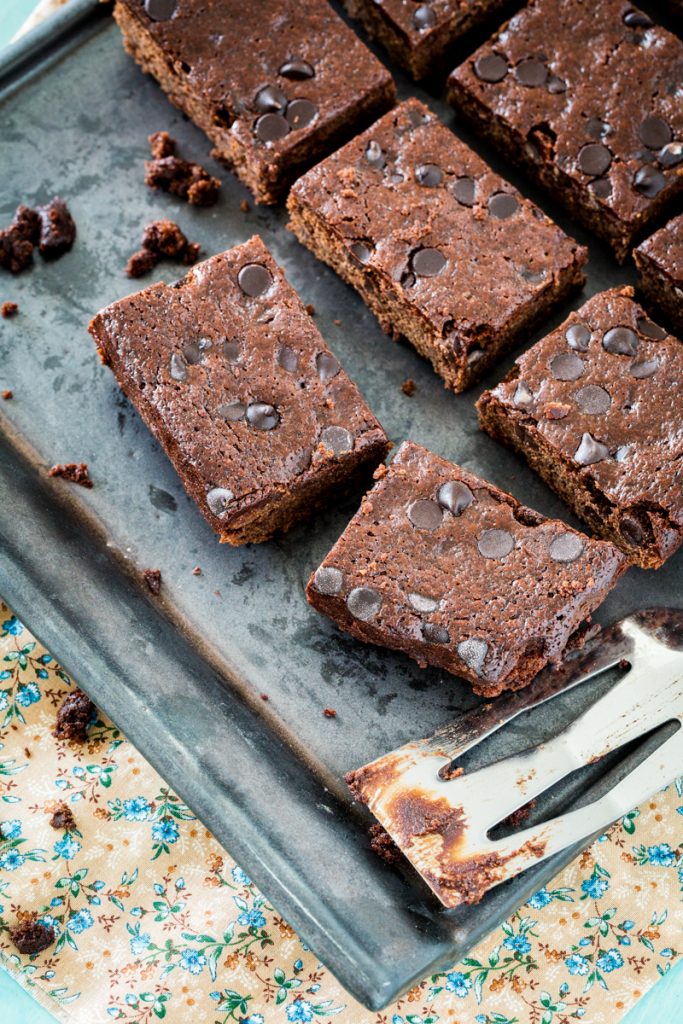 Once I conquered my chocolate chip cookie recipe (which, by the way, I just added an update to because I made them even better on my most recent batch!!!) I decided to take on brownies with the same pertinacity I approached my cookie recipe testing. I made batch after batch (as I mentioned when discussing my brownie chunk ice cream), until I came up with a brownie that adhered to my strict brownie guidelines. And these are them, my friends: Dense, thick, chewy, luscious, rich, chocolaty, crumb-lacking, filled with chocolate chips, vegan, gluten-free brownies. I wish I had a mic right now that I could drop.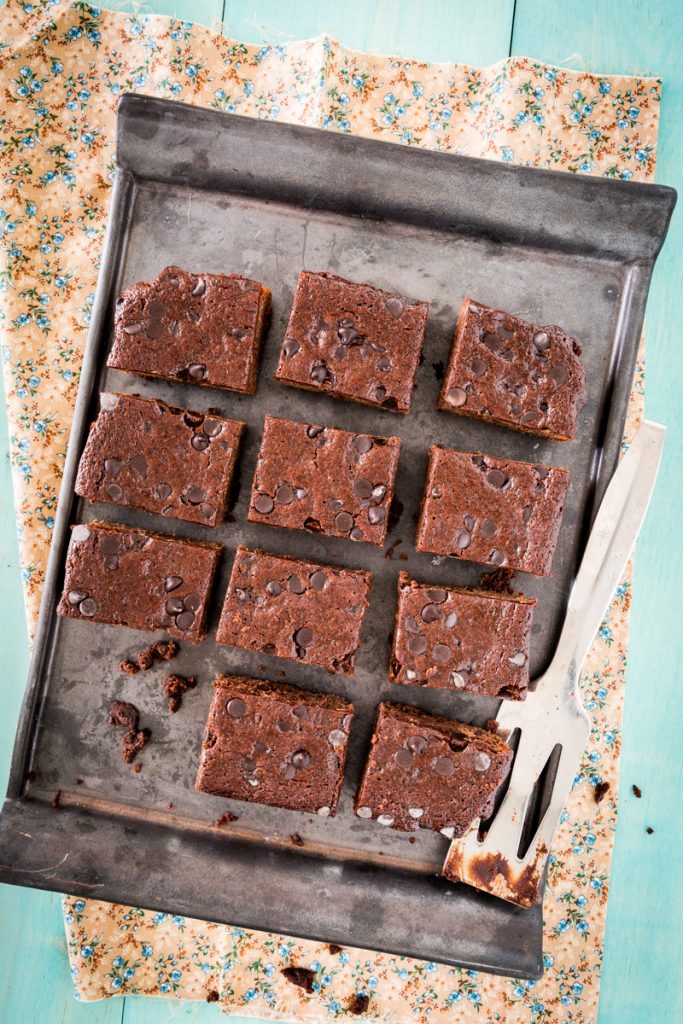 Fudgy Vegan Gluten-Free Bownies
Ingredients
1/2 cup oat flour
1/4 cup brown rice flour
1/4 cup almond flour
1/4 cup unsweetened cocoa powder
2 tablespoons arrowroot powder
1/2 teaspoon salt
1/2 teaspoon baking powder
½ cup vegan butter
¼ cup chopped vegan chocolate
2 tablespoons maple syrup
2 teaspoons vanilla extract
1/2 cup aquafaba (at room temperature)
1/2 teaspoon cream of tartar
1 cup coconut sugar, powdered
1/3 cup chocolate chips, optional
Instructions
Preheat the oven to 350. Line an 8x8 baking dish with parchment paper.
In a medium bowl, combine the oat flour, brown rice flour, almond flour, cocoa powder, arrowroot powder, salt, and baking powder. Set aside.
In a double-boiler or a heat-proof bowl fixed over a pot of boiling water, melt the butter and chocolate together, stirring occasionally. Once completely melted and combined, remove from the heat. Stir in the maple syrup and vanilla extract. Set aside.
Pour the aquafaba into a large bowl or the bowl of a standing mixer with a whisk attachment. If not using a stand mixer, use a hand mixer with a whisk attachment and whisk the aquafaba at high speed until it is thick and foamy. Add the cream of tartar and continue to whisk at a high speed until the mixture is thickened but still really foamy. Add the powdered coconut sugar a tablespoon at a time, with the mixer still going at high speed.
Once the sugar is fully incorporated, add the flour mixture a couple tablespoons at a time, with the mixer still going at high speed, until the flour is fully incorporated.
Pour the melted chocolate mixture and mix until fully combined. Pour the mixture into the prepared baking dish.
Sprinkle the chocolate chips over the top of the batter and use a butter knife or rubber spatula to gently "cut" them in. This prevents all the chocolate chips from being at the bottom of the brownies. You want them closer to the top, but still slightly incorporated. Place the baking dish in the oven and bake for about 45 minutes or until the center is firm when gently touched and it doesn't "jiggle" when the dish is moved. Remove from the oven and let cool completely before slicing. To make the brownies firmer and more fudgy, I reccomend refrigerating the brownies for at least 3 to 4 hours before slicing. Store the brownies in the refrigerator for up to 5 days. Enjoy!
Notes
To powder your coconut sugar, I reccomend placing the coconut sugar in your coffee grinder (1/4-1/2 cup at a time, depending on the size of your grinder) and grinding until it is a powdery consistency. If you don't have a coffee grinder, you can use a high speed blender, with a completely dry canister, to blend the sugar into a powder.
To use these brownies in my Peanut Butter-Caramel-Brownie Chunk Ice Cream, make the brownies without the arrowroot powder.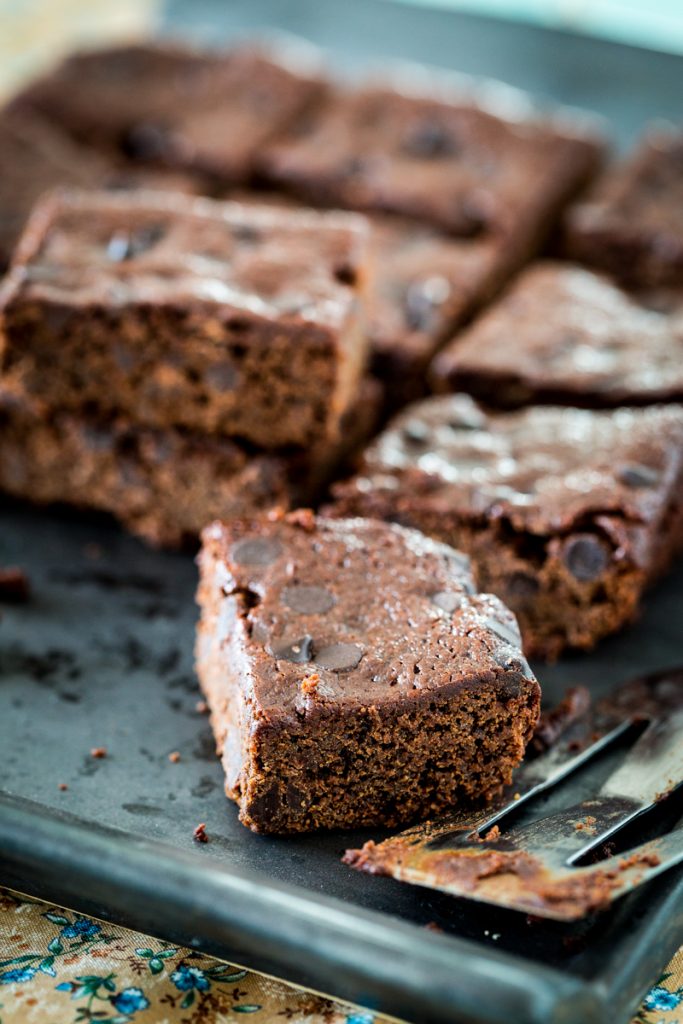 Also, this is my dog, Maeby, overlooking the brownie photo shoot. Sitting in the dining chairs is her favorite.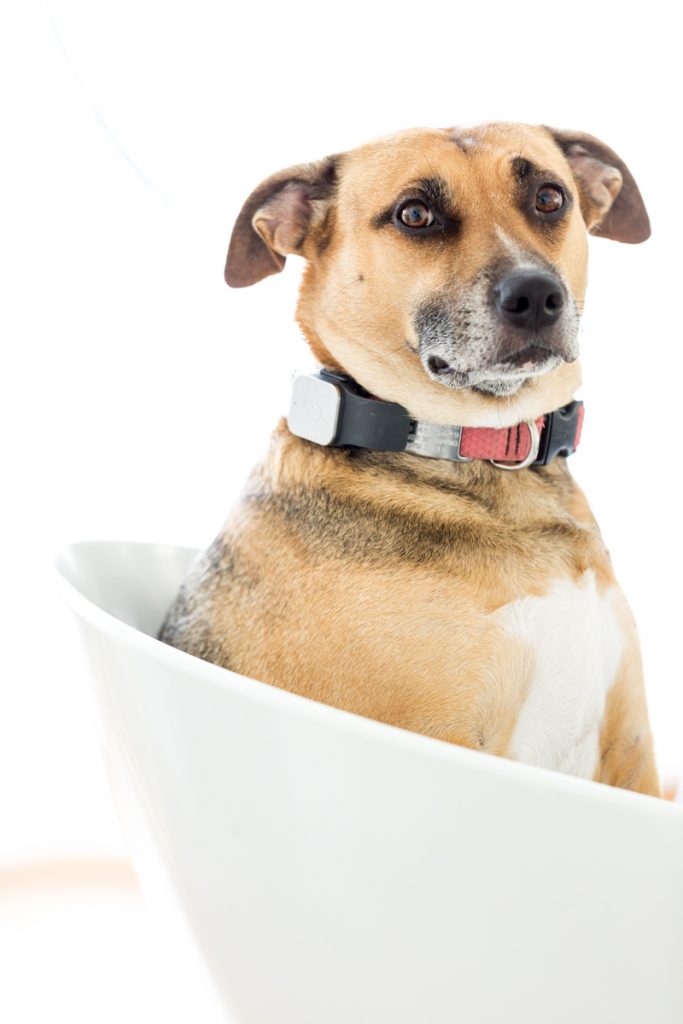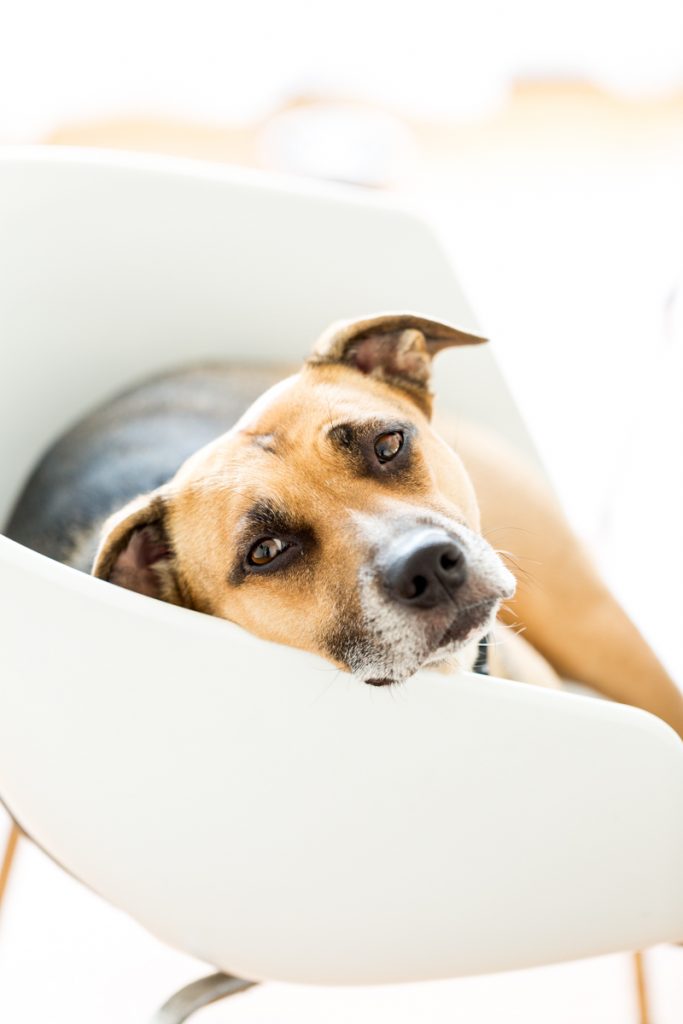 How do you like your brownies?
Photography by Chris Miller