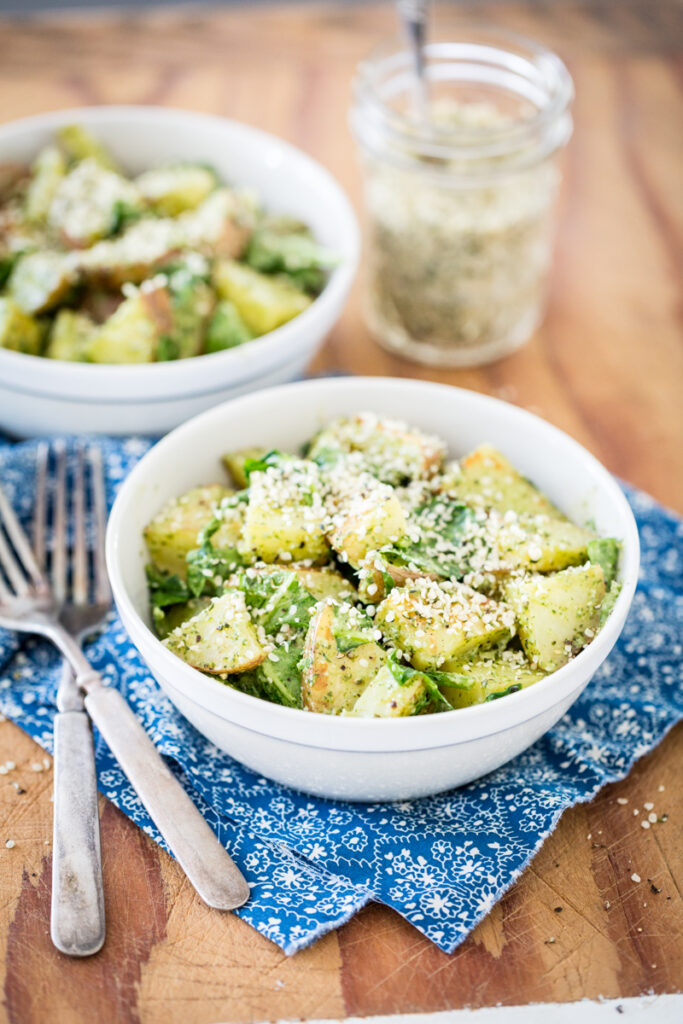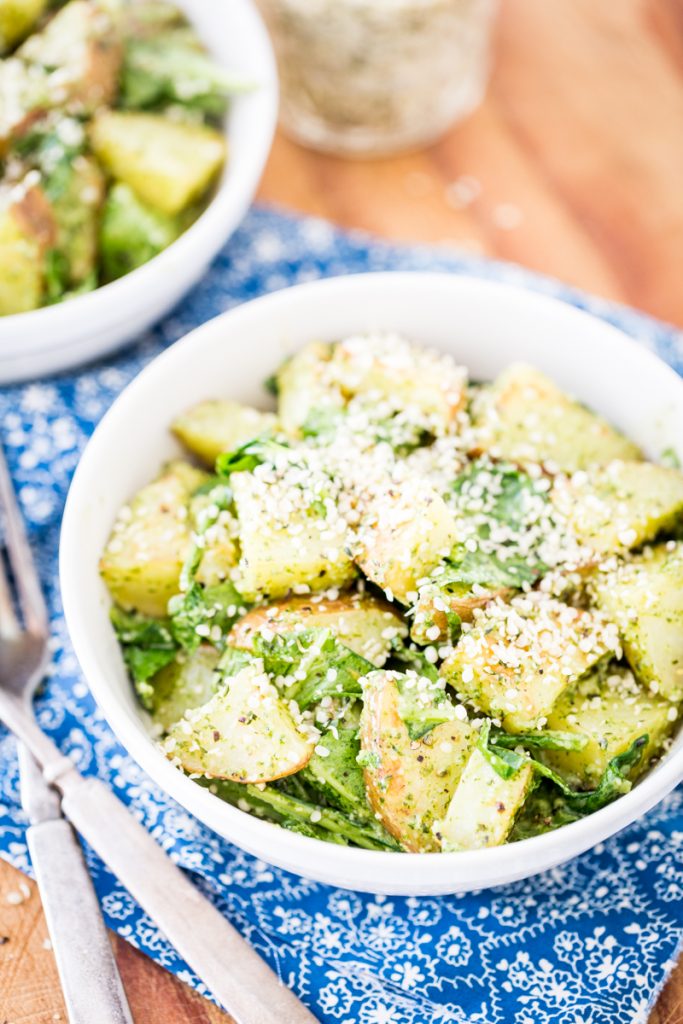 It has been ages since I've done a book review. And I have a stack of brilliant cookbooks that deserve reviews but I haven't gotten around to it. And I have no idea if I will. I have really good intentions but I only have so much time and energy.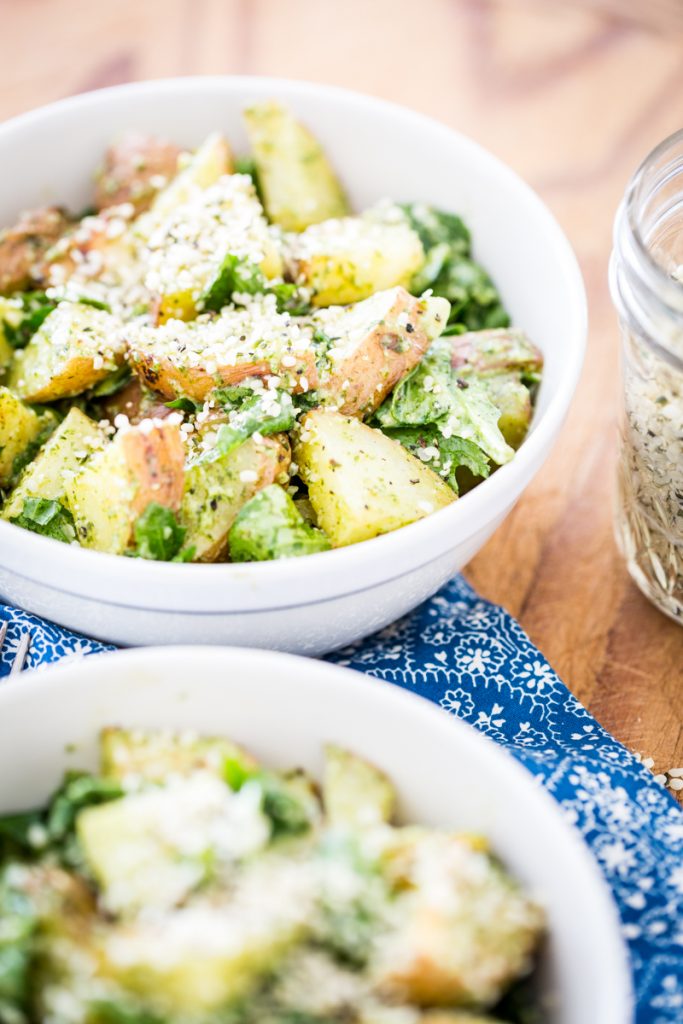 But when I received a copy of Angela Liddon's newest cookbook, Oh She Glows Everyday, it jumped right to the front of the line. Why? Well, because I know I could just close my eyes, flip through the book and randomly point at a page and know, without a shadow of a doubt, that that recipe will be incredible. I know this because every recipe I've ever made of Angela's, either from her blog or from her first book (check out my review), has been a winner. Also, the philosophy behind Oh She Glows Everyday is that the recipes are more simple, you know, like the things you make everyday. So delicious + simple = perfect.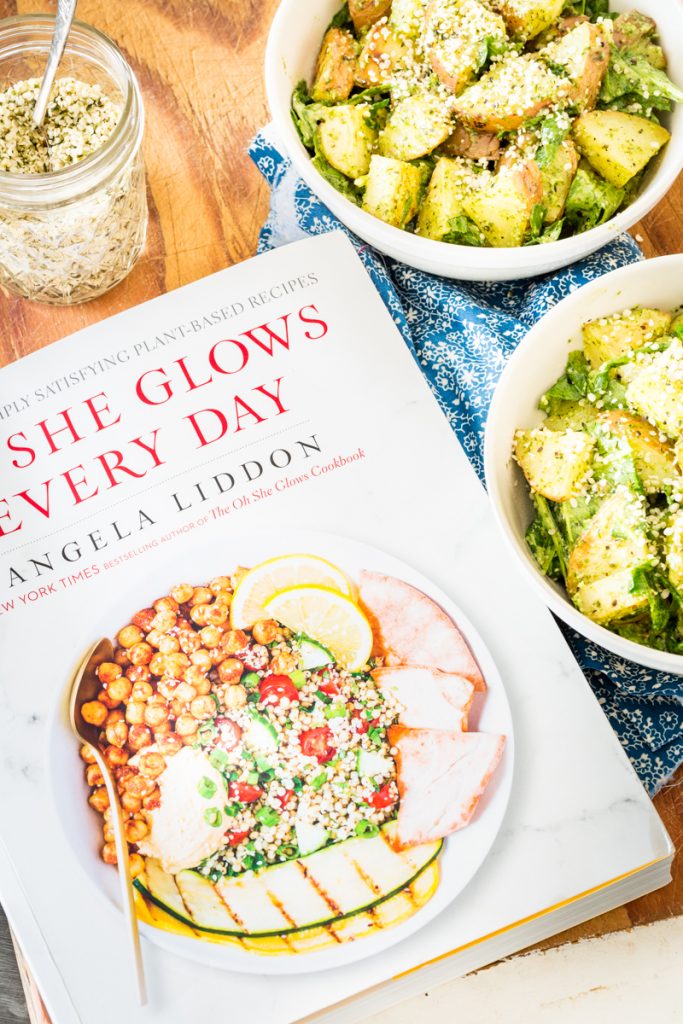 Oh She Glows Everyday is also a beautiful addition to any cookbook shelf. Though Angela shot the cover and a few other recipes, the majority of the recipes were shot by the talented Ashley McLaughlin. If you're like me and love flipping through gorgeous cookbooks, you'll love this one.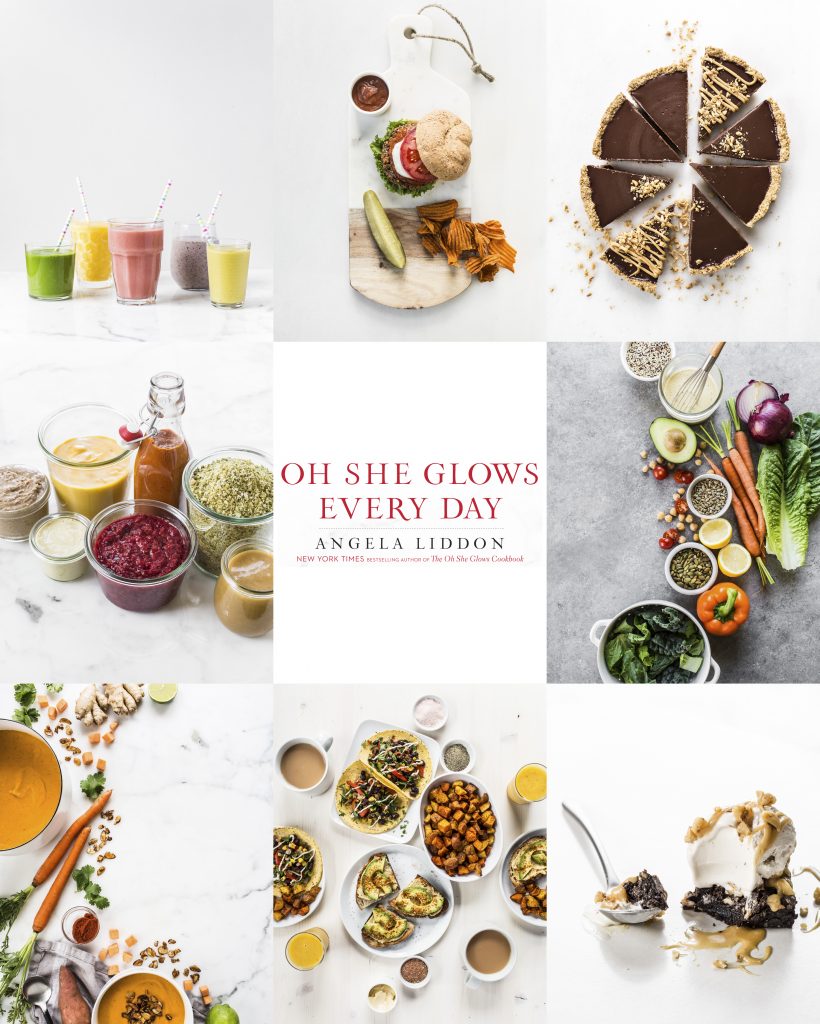 Photographs copyright © 2016 by Ashley McLaughlin.
I chose to make the Roasted Garlic Basil Pesto Potatoes with Arugula because a.) Roasted Garlic, b.) Pesto, and c.) Potatoes. I love all these things. I don't love Arugula but Angela suggests using it even if you're not a fan because it pairs well with the rest of the dish. And boy, was she was right! I loved everything about this dish. We served it alongside some roasted portobello mushrooms for dinner. The next day, I mixed in some cooked chickpeas and ate it cold for lunch. It was just as good the next day.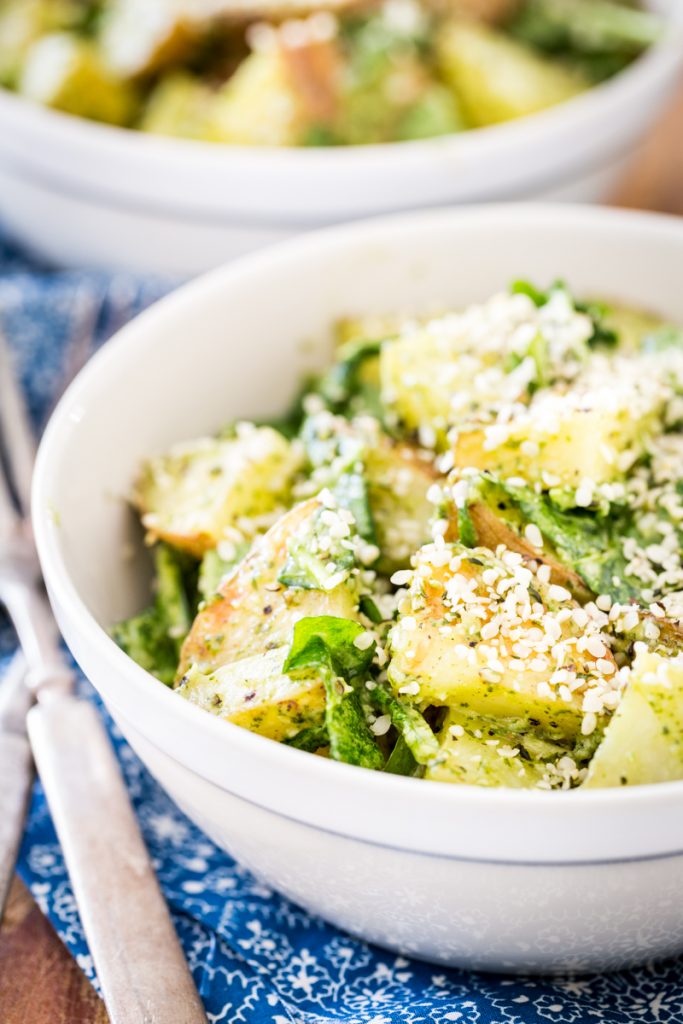 Roasted Garlic Basil Pesto Potatoes with Arugula from Oh She Glows Everyday + A GIVEAWAY
This is one of those amazing side dishes that disappears incredibly fast! It's a fancy, restaurant-worthy recipe that is sure to impress special guests. (If you are serving a large crowd, I recommend doubling the recipe since it only serves four as a side.) If you've been skeptical about arugula in the past, I encourage you to give this recipe a try; the spicy, peppery-tasting green pairs beautifully with a bold and bright pesto. If you can't find baby arugula, be sure to chop regular arugula into bite-size pieces so it's easier to eat. Hemp hearts add a kick of protein and omega-3 fatty acids for a nutritional boost. This dish is amazing served warm, but the chilled leftovers taste great as well.
Ingredients
2 pounds (900 g) Yukon Gold or red potatoes, unpeeled, chopped into 1-inch (2.5 cm) cubes (about 6 cups/ 1.5 L)
1 tablespoon plus 1 1/2 teaspoons (22 mL) extra-virgin olive oil
Fine sea salt and freshly ground black pepper
1 large garlic head
1/2 teaspoon (2 mL) extra-virgin olive oil
1 cup (250 mL/3/4 ounce/20 g) lightly packed fresh basil leaves
3 to 4 tablespoons (45 to 60 mL) hemp hearts
1/4 cup (60 mL) extra-virgin olive oil
2 tablespoons (30 mL) fresh lemon juice, or to taste
1/4 teaspoon (1 mL) fine sea salt
Freshly ground black pepper
3 cups (750 mL) baby arugula, chopped
Fresh lemon juice, for serving(optional)
1 tablespoon (15 mL) hemp hearts, for garnish
Instructions
Preheat the oven to 400°F (200°C). Line an extra-large baking sheet (15 by 21 inches/38 by 53 cm) with parchment paper.
Make the potatoes: Place the potatoes on the baking sheet and toss with the olive oil until thoroughly coated. Spread the potatoes into an even layer. Season with a couple of pinches of salt and pepper.
Make the roasted garlic: Slice the top off the garlic bulb so all the individual garlic cloves are trimmed. Place garlic bulb on a square of aluminum foil (about 8 inches/20 cm square) and drizzle the top of the cloves with the olive oil. Wrap the garlic bulb entirely in the foil and place it on the baking sheet with the potatoes.
Roast the potatoes and garlic for 20 minutes, then remove pan from the oven and flip the potatoes with a spatula. Return the potatoes and garlic to the oven and continue roasting for 15 to 20 minutes more, until the potatoes are golden and fork-tender.
Make the pesto: In a food processor, combine the pesto ingredients and process until mostly smooth, stopping to scrape down the bowl as necessary. Keep the pesto in the processor because we will add the roasted garlic as the final step.
Remove the potatoes and garlic from the oven. Carefully unwrap the garlic bulb and let cool for 5 to 10 minutes, until it's cool enough to handle.
Turn off the oven and return the potatoes to the oven with the door ajar so they stay warm. (You can also put the potatoes into an oven-safe casserole dish so the dish stays warm when serving.) Squeeze the roasted garlic cloves out of the bulb. You should have about 2 packed tablespoons (30 mL) of roasted garlic. Add it into the food processor with the pesto. Process until mostly smooth—you can add a touch more oil if necessary to get it going.
Assemble the salad: This is the important part where you need to act fast; I like to assemble the salad very quickly so that it's warm when I serve it. Grab a large serving bowl and place the arugula in the bottom of the bowl. You can break it up into smaller pieces with your hands a bit. Then, remove the potatoes from the oven and quickly place them into the serving bowl on top of the arugula. Toss the potatoes and arugula with the pesto until thoroughly combined. Taste and season with salt and pepper. Sometimes I add another drizzle of lemon juice if I feel like the dish needs more acidity. Sprinkle on the hemp hearts and serve immediately.
Notes
Reprinted from Oh She Glows Every Day by arrangement with Avery Books, a member of Penguin Group (USA) LLC, A Penguin Random House Company. Copyright © 2016, Glo Bakery Corporation.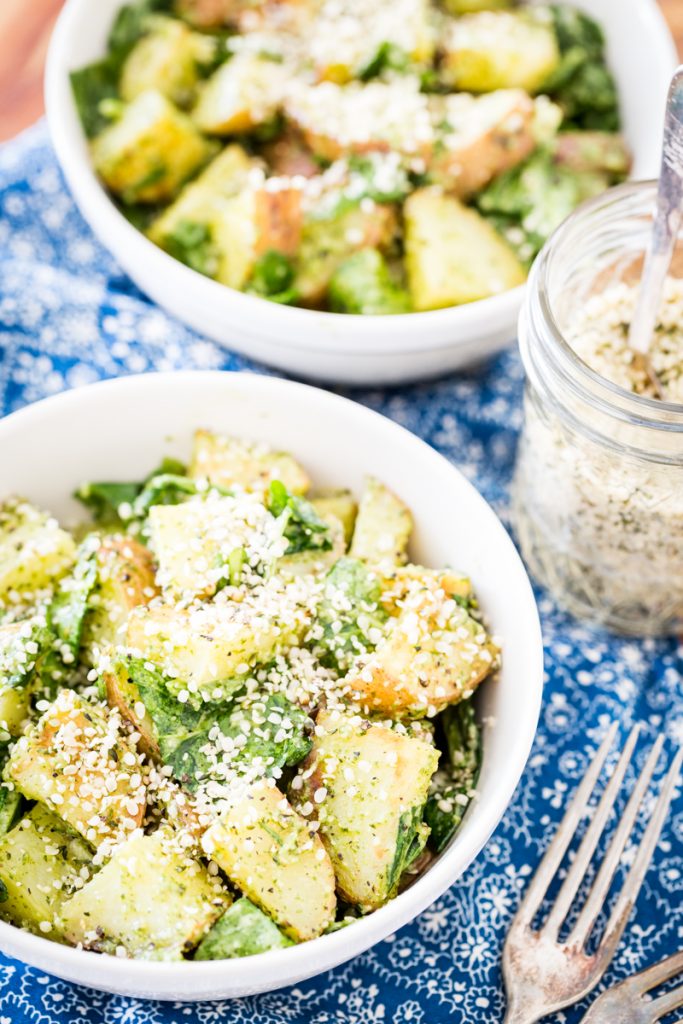 And now for the Giveaway!
In the comments below, please share what your favorite recipe from Angela/Oh She Glows. The winner will be picked at random and will receive one copy of Oh She Glows Everyday. The contest is open to US and Canadian residents only and will end at 11:59pm PST on September 21st, 2016. Good luck!
Unless otherwise noted, photography by Chris Miller