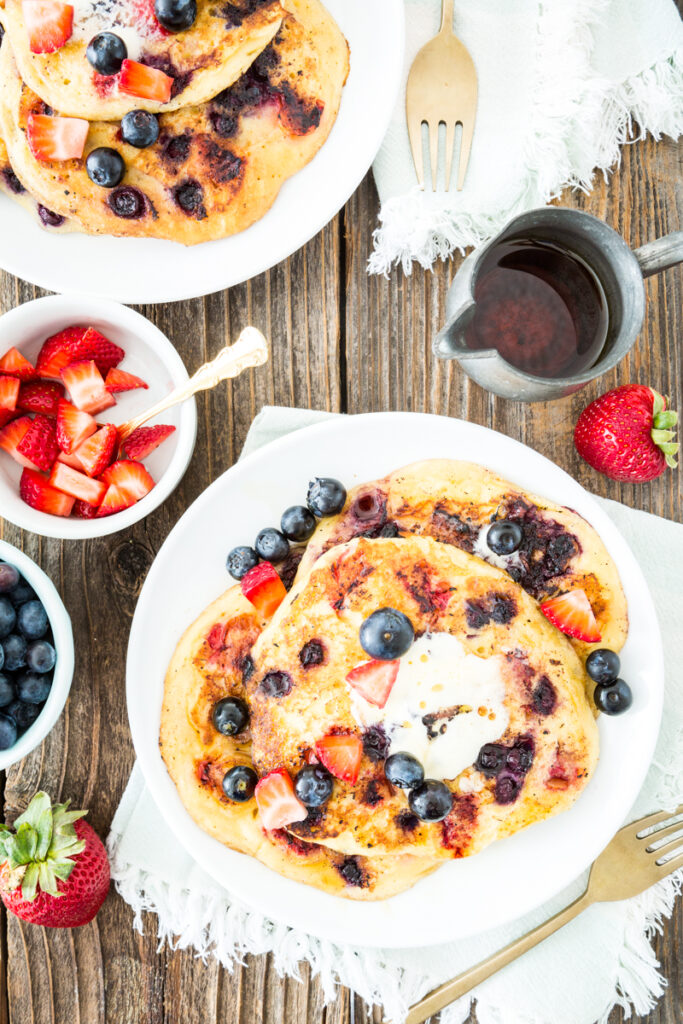 I've talked before about my newfound love of corncakes, so it should be no surprise that when berries started showing up at the market, I needed to incorporate them into my corncake regimen. So behold: Double Berry Corncakes.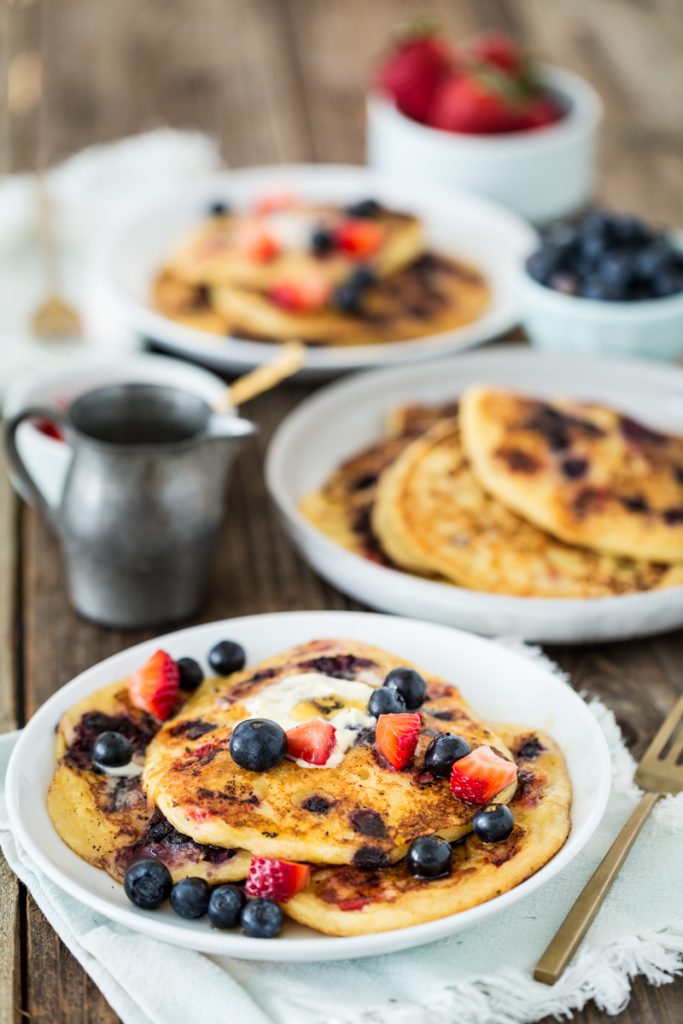 But before I get to that, I want to talk about why I haven't been posting here with much frequency recently. Like, my last post was over 6 weeks ago and it was also berry-centric. But life has been happening over here.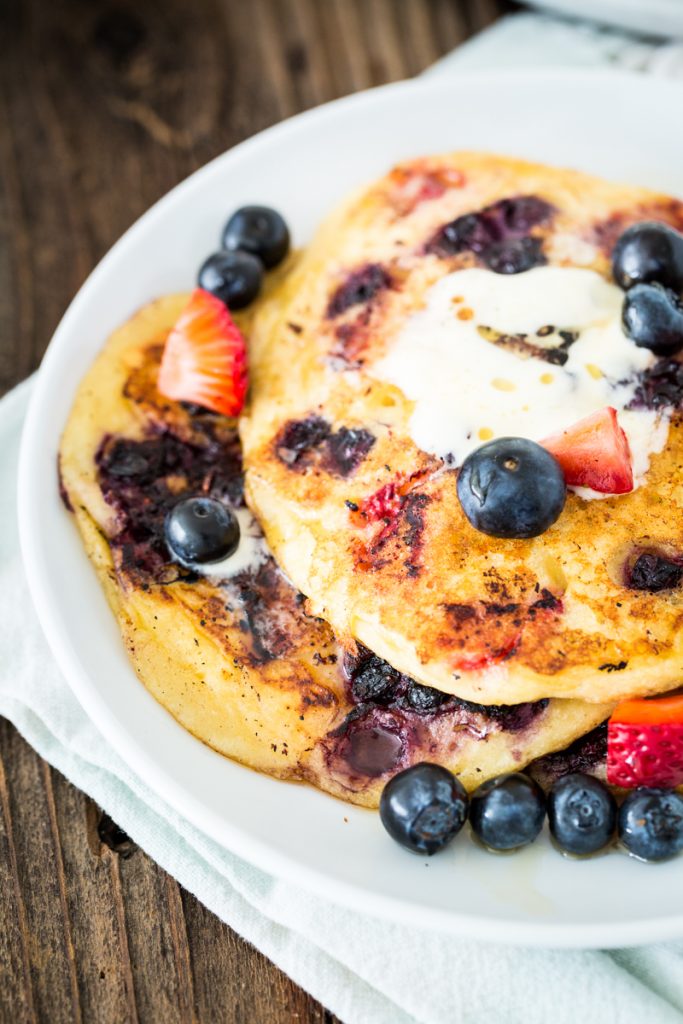 Firstly, I enrolled in a writing program. When they told me I would need to dedicate at least 10 hours of writing to the program for the next 2 years, I thought "Easy peasy. 10 hours is nothing." Now I'm realizing just how much work that is. I'm almost 3 months in (of a 3-month cycle) and just about to turn in the project I've been working on this first cycle. Then there are 3 more 6-month cycles, a new project for each cycle. I've also been working full-time. So spending 40 hours a week at the office, plus taking this course, has occupied most of my time. So-I haven't stopped writing. I've just been focusing all of my writing time on this project. It's very challenging and at times, I feel like I'm in over my head, but it's really good for me. I'm learning. I'm enjoying it.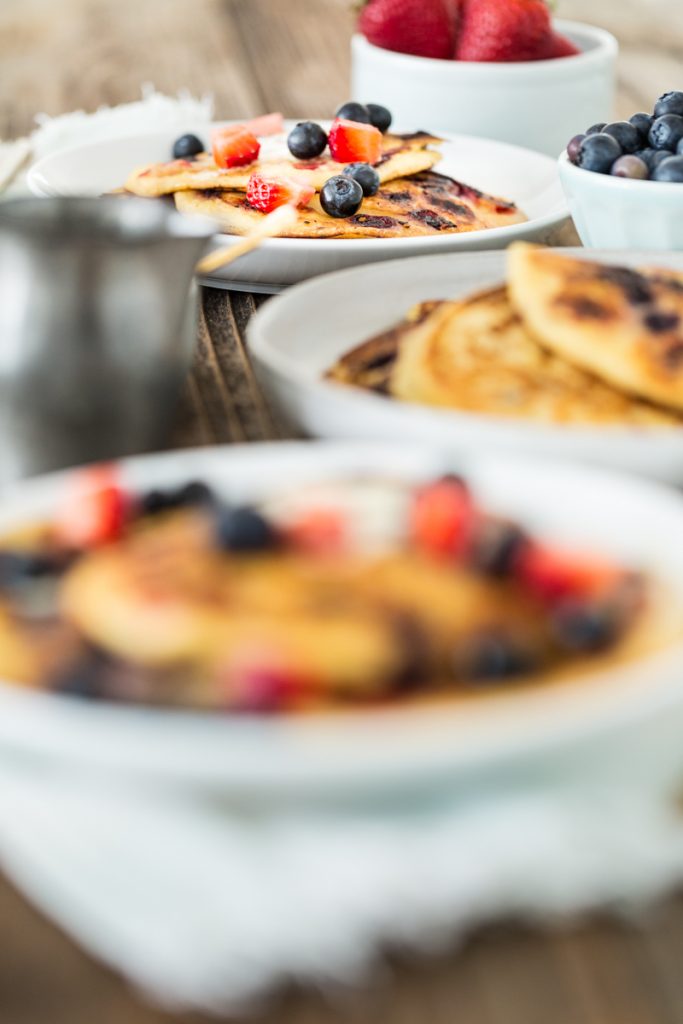 I've also been trying to slow my brain down. I'm really struggling with anxiety these days and I've had to decrease my internet time dramatically. The internet, and especially social media, feels way too noisy these days. So. Much. Noise. If I walked into a room where all of my friends and family and my favorite businesses and creators were all shouting about everything they believed I should know about, I would only be able to handle it for a couple minutes before I'd have to run out of the room. So that's how I'm treating social media- I just check in for a few minutes and then leave. I might check in a couple more times throughout the day to see how everyone is doing and watch a cute animal video or two, but for the most part, social media has taken a back seat.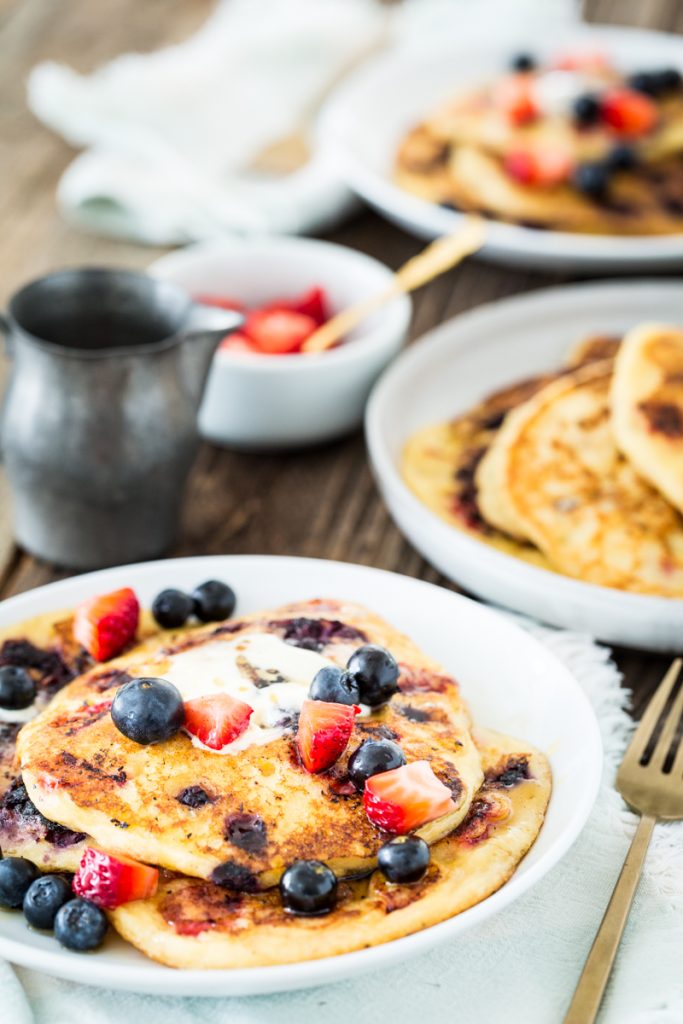 I realize the hypocrisy of talking shit about the internet while also being someone who creates content for the internet, thus adding to the noise. And I also realize that there is a lot of really wonderful, valuable content on the internet and that I probably wouldn't be vegan today if it weren't for social media and other bloggers that guided my journey. It's all very problematic and I realize that. But for my mental health, I have to have these limits. If you're feeling similarly, limits are greatly beneficial.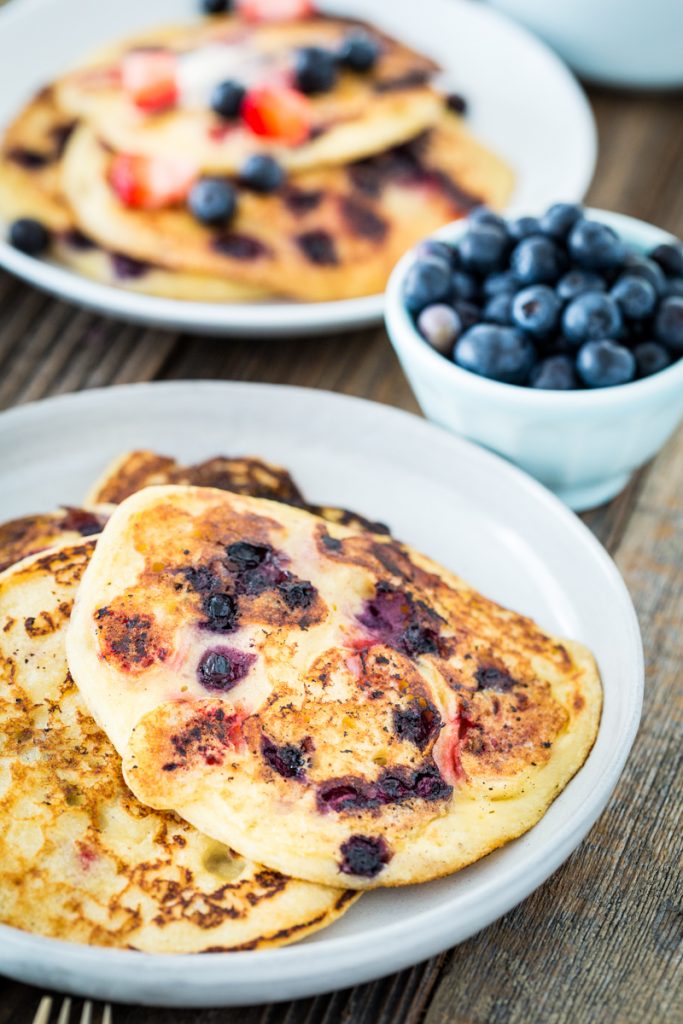 But I do struggle with the balance of creating content and wanting to share my work and also staying within my limits. It's an ongoing debate in my mind. I have to say, though, as a blogger, I've become much less concerned these days with the traffic my blog gets or the number of followers/readers I have. I can't judge my success by statistics anymore. I can't judge my success by how I fit in with the ever-changing standards of the food blogging world. I can only judge my success by how happy I am and for me, at least, knowing my limits is vital for achieving that. However, FULL DISCLOSURE: I have an assistant that I pay to assist with social media for KIK (HEY SARAH!), and I can't tell you how much this helps me out. Sarah is a social media whiz, a pro writer/copyeditor, a master of puns, a compassionate animal lover, and a good friend who knows me well enough to know what I would say and/or post about. Sometimes I send her things to post and I'll reply/tweet back/retweet to comments when I can, but really, Sarah has been instrumental (and amazing!) at keeping my KIK Facebook and Twitter accounts alive. The peace she has helped add to my life (and my mind) has allowed me to focus more on content for the blog without being overwhelmed.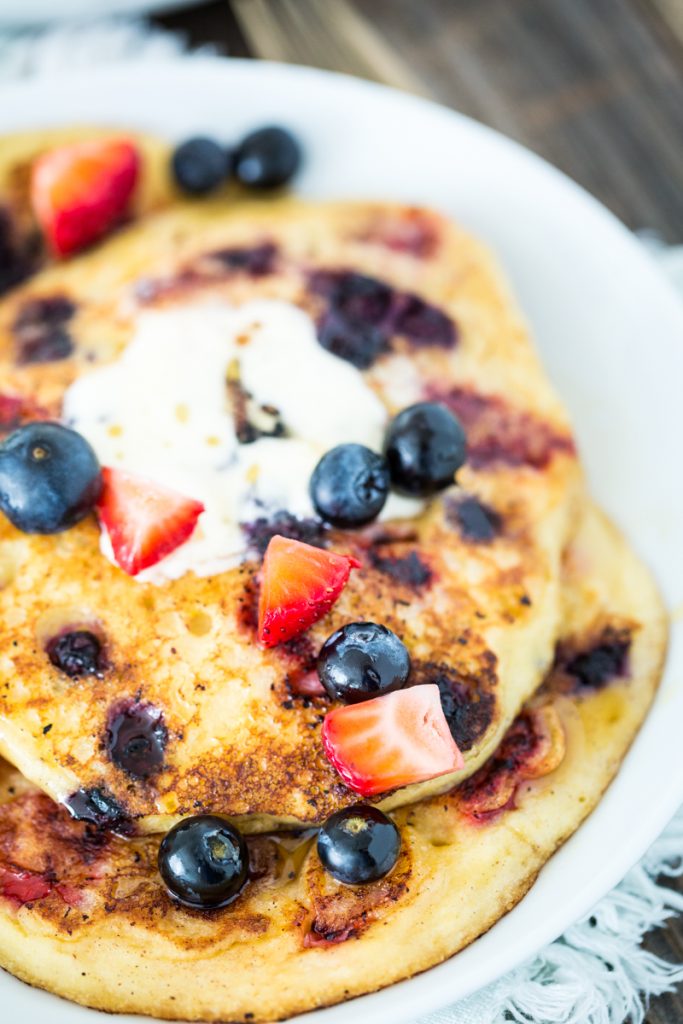 Another reason that I'm slowing down a bit is because I've physically slowed down due to a broken foot. I broke it doing box jumps at the gym, thinking I'd only just rolled my ankle. I spent the entire day limping on it, thinking I just had a minor injury but when it got super swollen by that night and was turning lovely shades of purple and blue, I knew it was not good. The next morning was worse so we went to urgent care and sure enough, I'd broken a bone. Now I'm adjusting to life on crutches and adjusting to needing help with a lot of basic tasks (like just getting a glass of water). Long story short: Crutches are a fucking bummer but my husband is the best partner I could've ever hoped for. So I'm taking this time that I literally can't be up and doing things all the time to just cuddle with my dogs, listen to more podcasts, binge-watch a lot of stuff, and basically learn how to be still.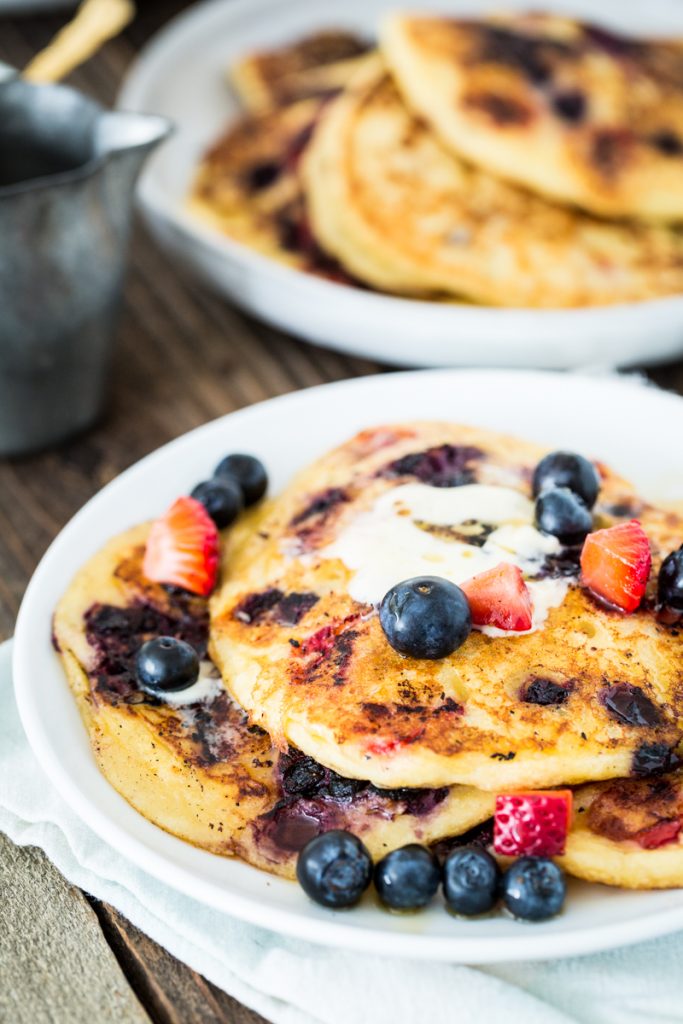 Now on to these corncakes! I actually made these over a month ago, but I still daydream about them on the regs. The base of these corncakes are very similar to my last corncakes, the most noteable changes being the addition of lemon juice and that I used corn flour rather than cornmeal. The cornflour makes the batter a little more elastic, for lack of better word, and holds together better when studded with juicy berries. They come together very quickly and they're really super tasty to boot. I can't wait to make another batch- once I'm back on my feet!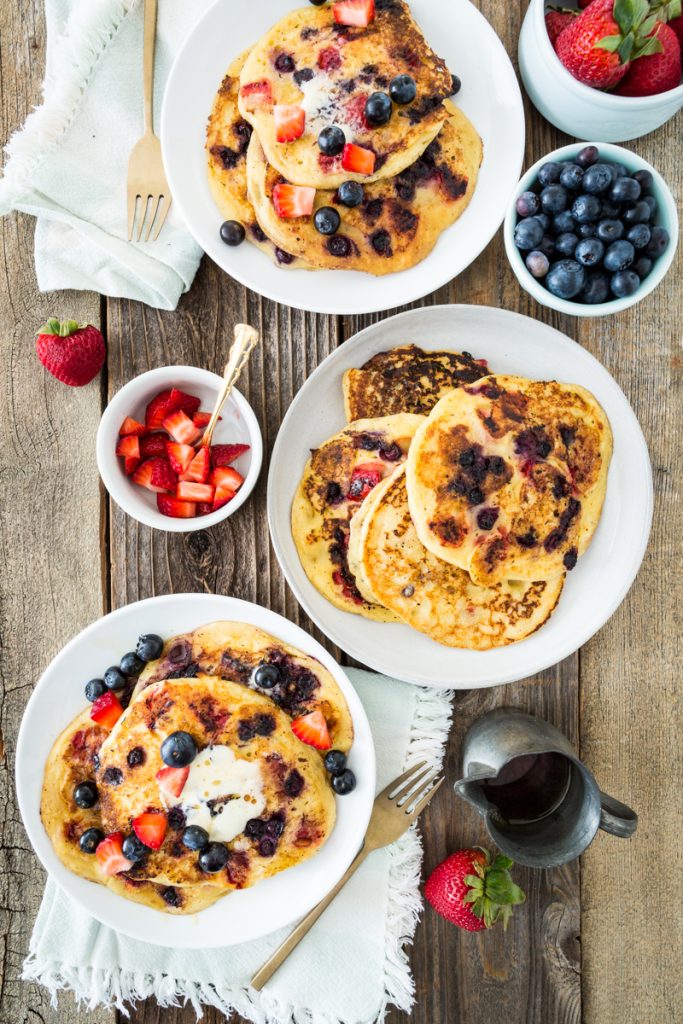 Ingredients
1 ¼ cup all-purpose flour (use gluten-free if necessary. I used Bob's Red Mill 1 to 1 Baking Flour)
¾ cup corn flour(use certified gluten-free if necessary)
1 tablespoon baking powder
¾ teaspoon salt
1 ½ cups non-dairy milk
¼ cup lemon juice
¼ cup maple syrup
¼ cup melted coconut oil or sunflower oil
¼ cup aquafaba
1 teaspoon vanilla extract
1 cup chopped strawberries
1 cup fresh or frozen (NOT thawed) blueberries (see note below re: blueberries)
Instructions
In a large bowl, combine the flour, corn flour, baking powder, and salt and whisk until combined.
In a medium bowl, combine the non-dairy milk, lemon juice, maple syrup, coconut oil, aquafaba, and vanilla extract, and whisk until combined.
Add the wet ingredients to the the dry ingredients and stir until combined. If the batter is too thick (i.e. not pouring easily), add 2 to 3 tablespoons of non-dairy milk until the batter is thick but pours easily.
Heat a large frying pan or griddle over medium heat for a few minutes. Liberally spray cooking oil on the pan/griddle. Use a 1/3 cup measuring cup to scoop batter and pour onto the pan/griddle. Sprinkle about 1-2 tablespoons of chopped strawberries and 1-2 tablespoons blueberries onto the batter. Let cook until the edges of the pancake become firm, about 2 to 3 minutes. Use a spatula to flip the pancake and let cook for another 1 to 2 minutes or until firm and golden. Remove from the heat. Repeat with the rest of the batter.
If you are not serving the pancakes right away, preheat your oven to its lowest setting. Place a cooling rack on top of a baking sheet. Once the pancakes are cooked, transfer them to the cooling rack and place the cooling rack/baking sheet in the oven. This will keep them warm until ready to serve, though, I wouldn't leave them there longer than about 20 minutes.
Serve topped with a bit of vegan butter, maple syrup, and perhaps a sprinkling of more strawberries and blueberries. Enjoy!
Notes
If using fresh blueberries, be aware that they may pop and bleed. It's not a big deal, just something to be aware of. You'll probably need 2 tablespoons of fresh blueberries per corncakes.
If using frozen blueberries, do not thaw them beforehand. Keep them frozen right up until the minute you sprinkle them in the batter. If your kitchen is warm, you may consider keeping them in the freezer while the corncakes cook. You'll probably just need 1 tablespoon frozen blueberries per corncake.
You can use blackberries or raspberries as well, if you'd desire. Just be sure to chop these berries in half so that they're not too large.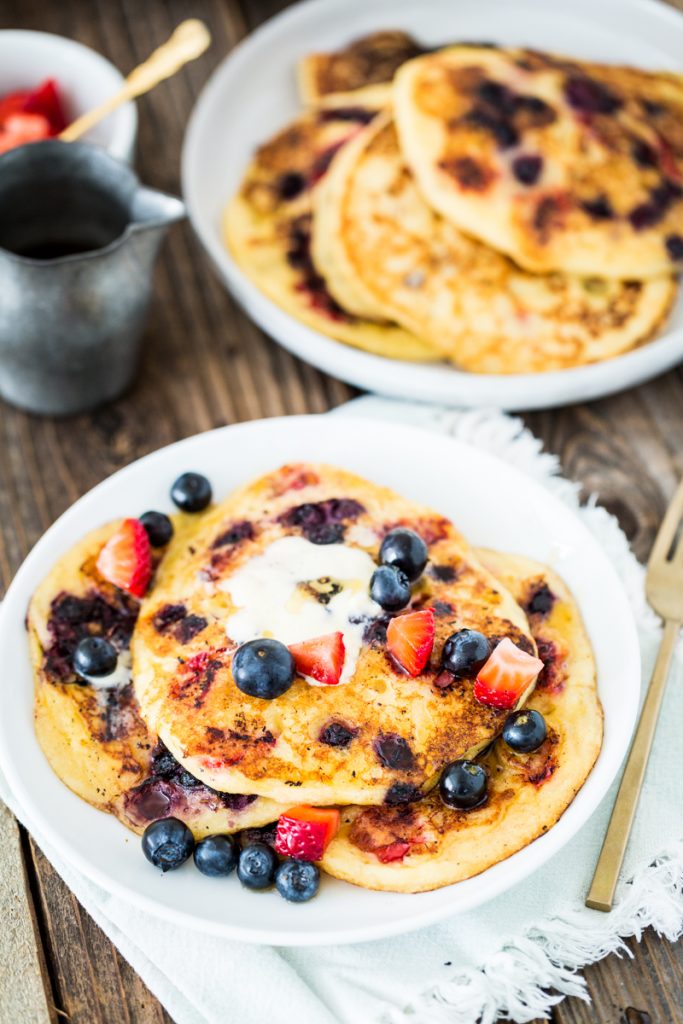 What do you do when you need to slow down?
Photography by Chris Miller