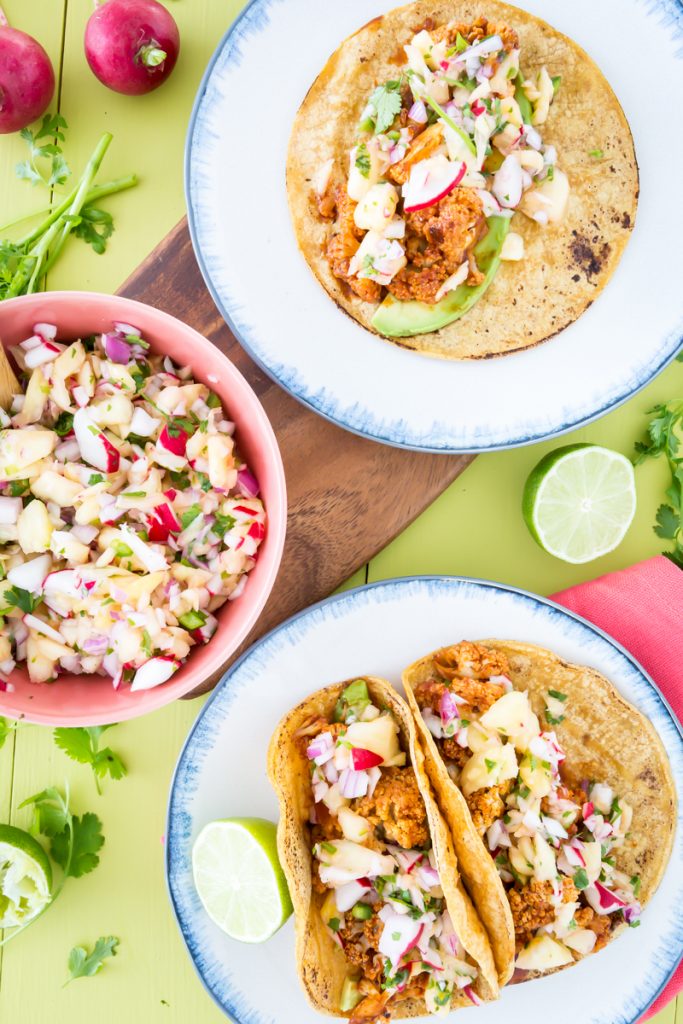 This post is sponsored by Dole Fresh Fruit and Fresh Vegetables. Dole compensated me for my time. As always, all opinions expressed in this post are mine.
I'm not sure if you are aware, but tomorrow, May 25th, is National Eat More Fruits and Veggies Day. No joke! Brought to you by Dole in their collaboration with Disney to promote Disney Pixar's Cars 3 movie coming out June, 16,, National Eat More #FruitsAndVeggiesDay is totally a thing and I'm all about it.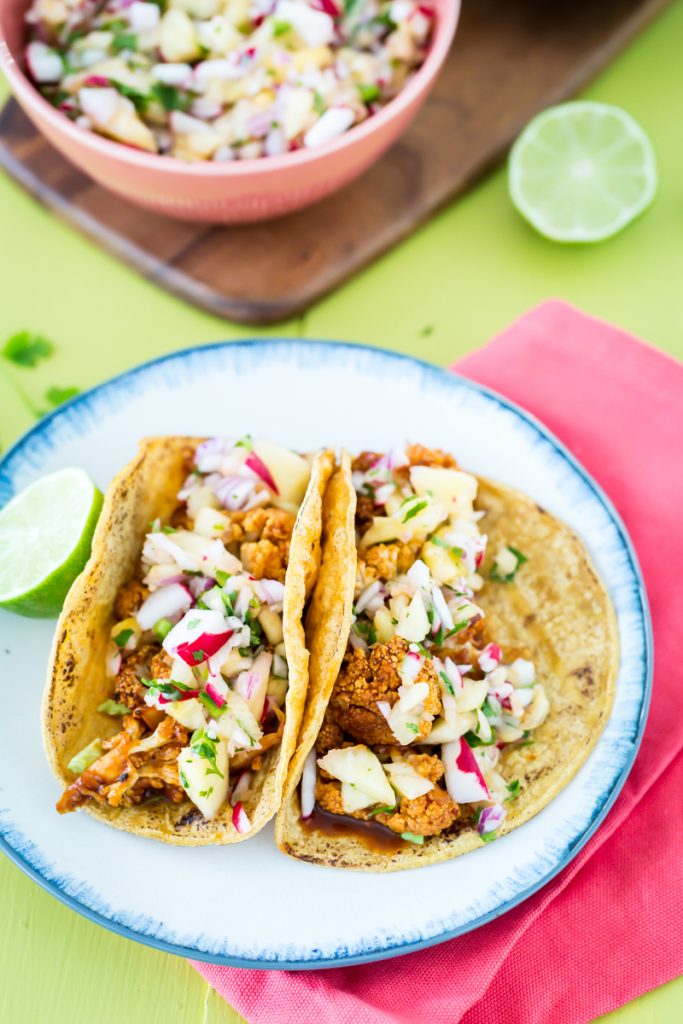 There's something about warmer weather that has me craving pineapple and one of my favorite ways to eat pineapple is in salsa form. True story: Once, for a cooking competition with the required ingredient being pineapple, I made Pineapple Salsa Sorbet and it was Amazing (and won 3rd place. #totallybragging). So, when I set out to create a recipe to commemorate National Eat More Fruits and Veggies Day, I was pretty set on using pineapple salsa.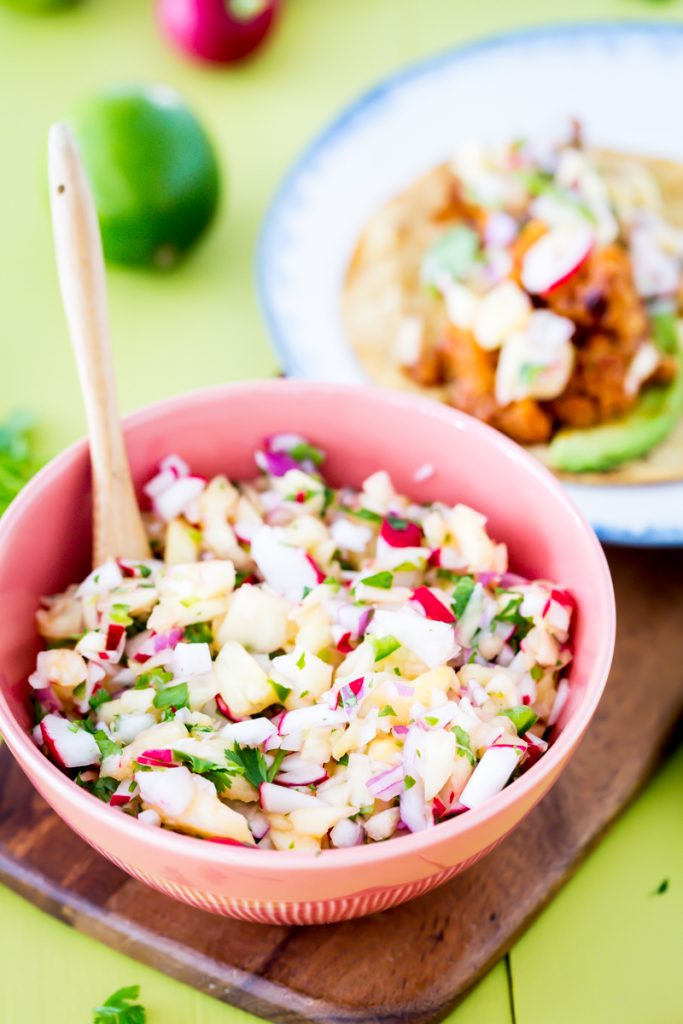 Now comes the question: What will be the vehicle for my Pineapple Salsa (i.e. How will I get it into my mouth)? The obvious answer was tacos because I can't get enough of them and also, they're perfect for a quick and easy meal. And my go-to taco filling for when I'm in a hurry is BBQ cauliflower. It's so simple (not to mention delicious) that I make it all the time. I had to check my recipe archives to see if I'd shared the recipe before and I was shocked to find that I hadn't.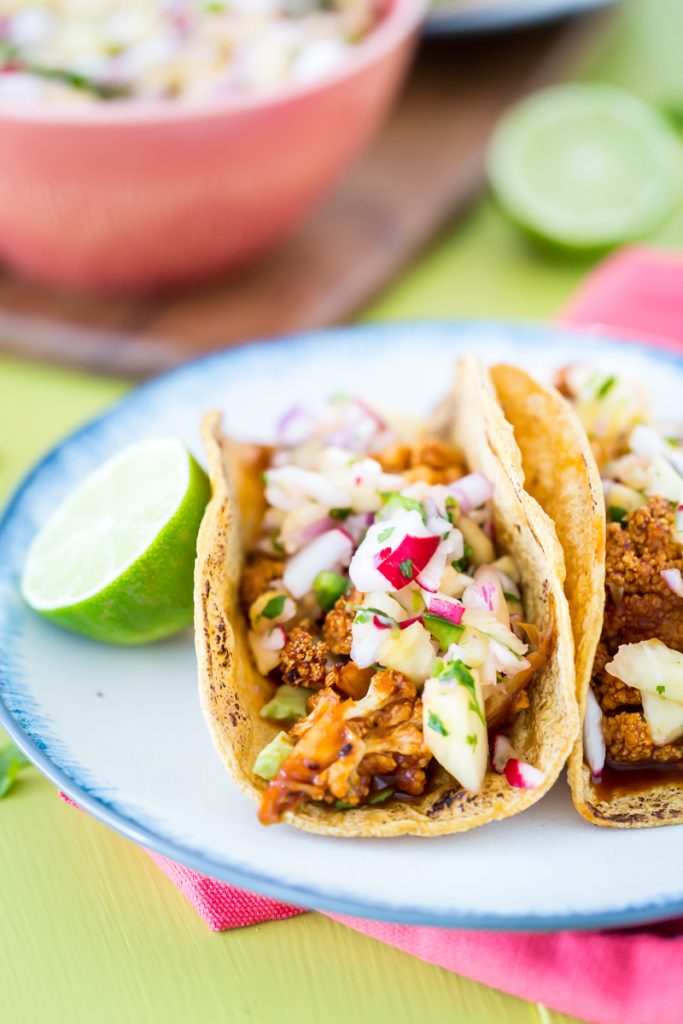 In an effort to add more fruits and veggies to these tacos, I chose to add some chopped radish to the salsa because a.) they're packed with nutrients, b.) their natural crisp crunch is perfect for salsas, and c.) I love them so much. I also added avocado to the tacos because duh, avocados are always welcome.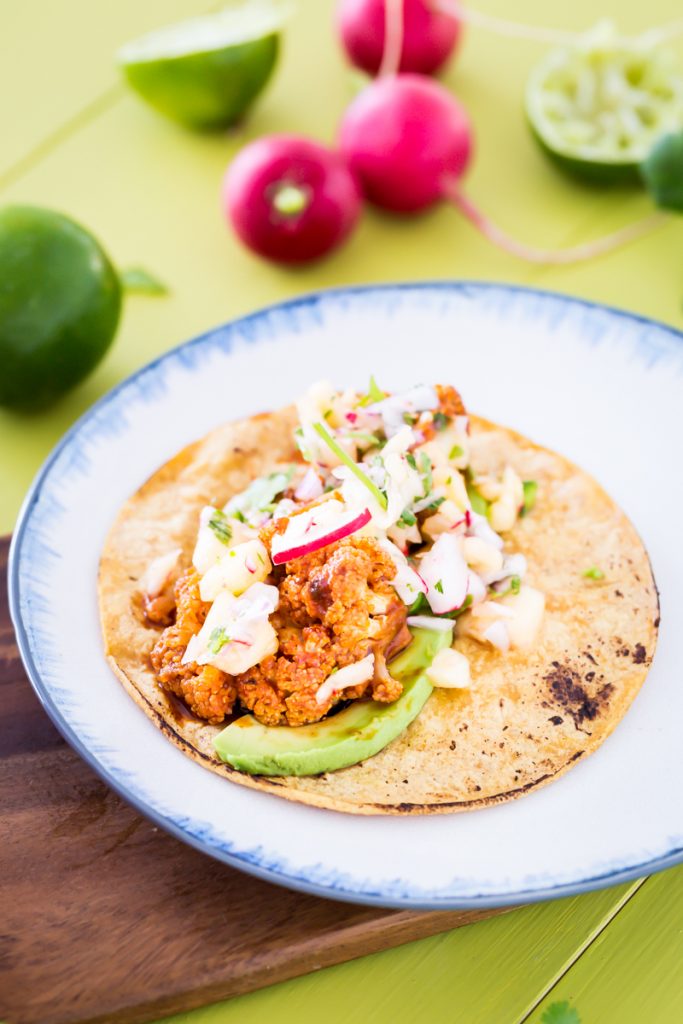 Needless to say, these tacos were a big hit in our house and they went from the kitchen to our table in under 45 minutes (including all the chopping and prepping). And bonus: if you have leftover pineapple, you can make a Pineapple Pit Stop Smoothie (inspired by the Cars 3 character Cruz Ramirez).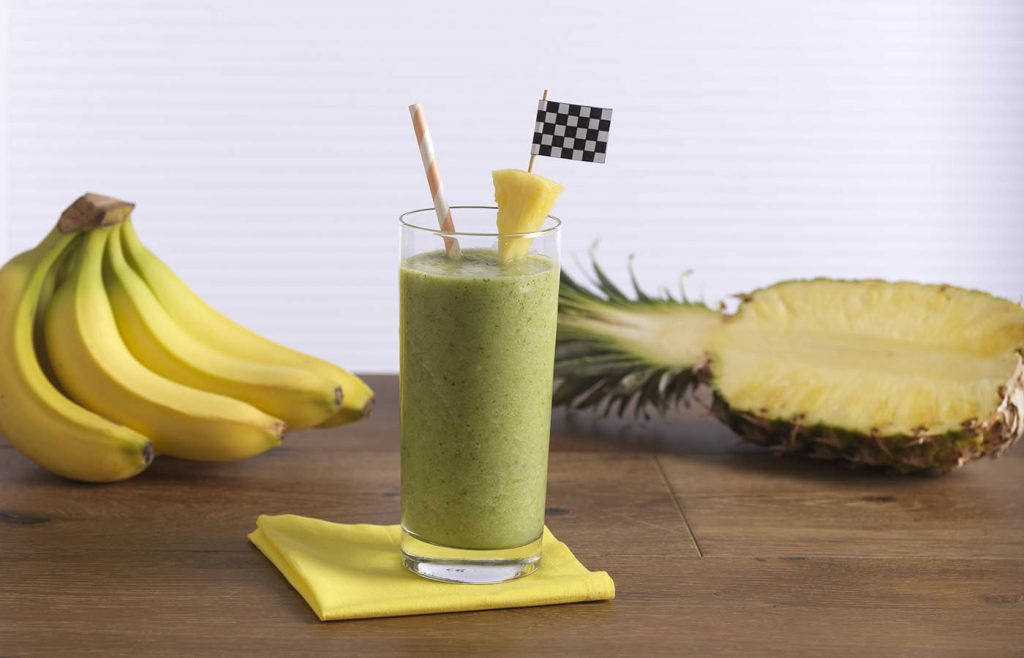 And even bigger bonus: You can enter the Fuel Up with Dole Sweepstakes starting tomorrow, May 25, through July 19!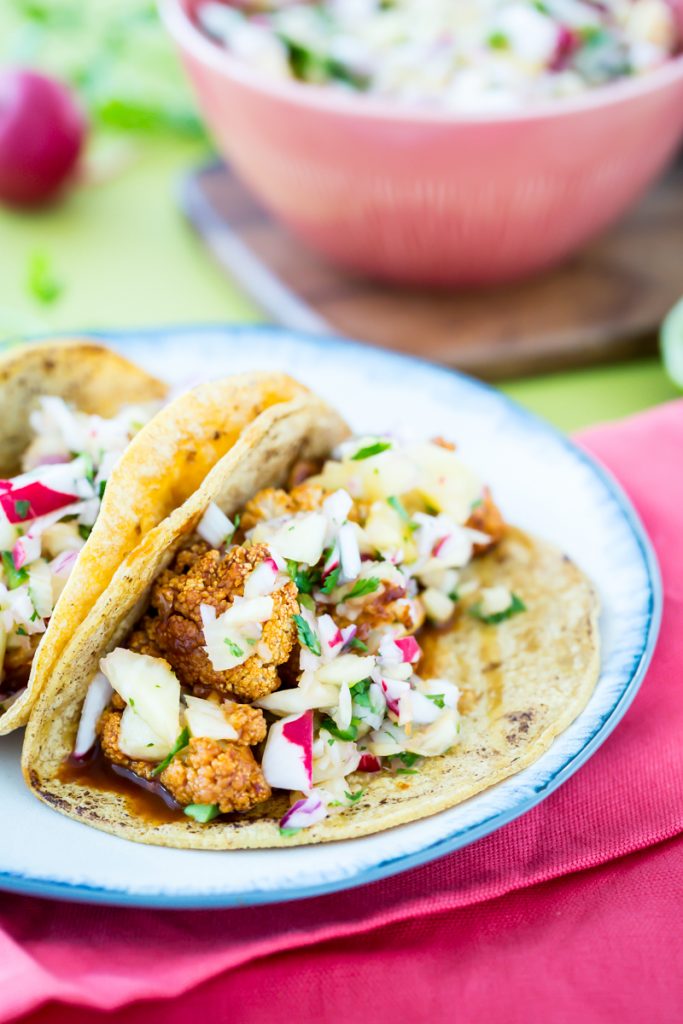 So get ready to up your fruit and veggie intake tomorrow on #FruitsAndVeggiesDay, and I think these BBQ Cauliflower Tacos are a great way to start!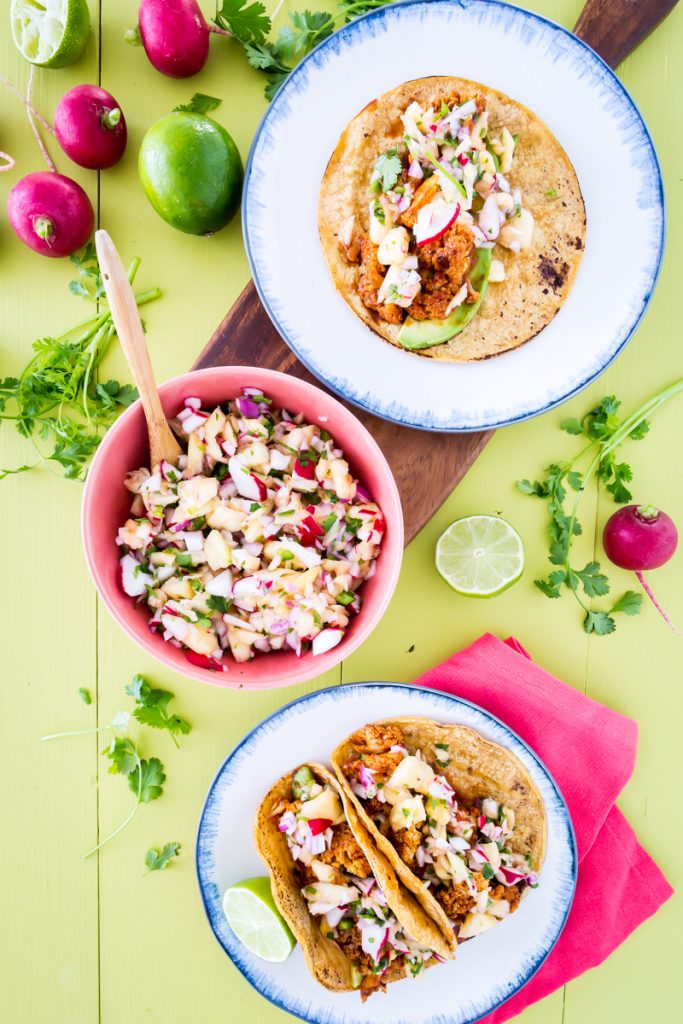 BBQ Cauliflower Tacos with Pineapple Radish Salsa
Ingredients
2 cups chopped DOLE® fresh pineapple
1 cup quartered and sliced DOLE® radishes
1/2 heaping cup chopped red onion
1 jalapeño, chopped
½ cup packed cilantro
1 tablespoon lime juice
dash of salt
1 head DOLE® cauliflower, broken into small florets
olive oil spray
½ teaspoon garlic powder
½ teaspoon smoked paprika
salt and black pepper to taste
1 cup Jalapeño Plum Barbecue Sauce (or vegan barbecue sauce of your choice)
1 tablespoon arrowroot powder or cornstarch
8 whole grain or gluten-free torillas
1 DOLE® avocado, sliced
Instructions
Preheat oven to 425. Line a baking sheet with parchment paper. Set aside.
Combine the pineapple salsa ingredients (except for the salt) in your food processor and pulse 3 to 5 times, until fully incorporated and broken into small chunks. Transfer to a bowl and stir in the salt. Refrigerate until ready to use.
Spread the cauliflower florets out on the sheet. Spray with olive oil and then sprinkle with garlic powder, smoked paprika, salt, and pepper. Toss to fully coat. Roast in the oven for 20 minutes, flipping the pieces halfway through to ensure even cooking.
While the cauliflower is cooking, pour the barbecue sauce into a small bowl and whisk in the arrowroot powder or cornstarch until combined. Once the cauliflower is done, pour the sauce over the cauliflower and toss until fully coated. Return to the oven and roast for 10 more minutes, flipping once halfway through to ensure even cooking.
While the cauliflower is cooking (for the second time), heat your corn tortillas in a frying pan over medium-high heat, cooking them for about 30-60 seconds on each side. Store them on a plate covered with aluminum foil until ready to use.
To assemble, place a couple slices of avocado on a tortilla, top with a couple spoonfuls of the cauliflower, and then add your desired amount of pineapple salsa. Serve immediately.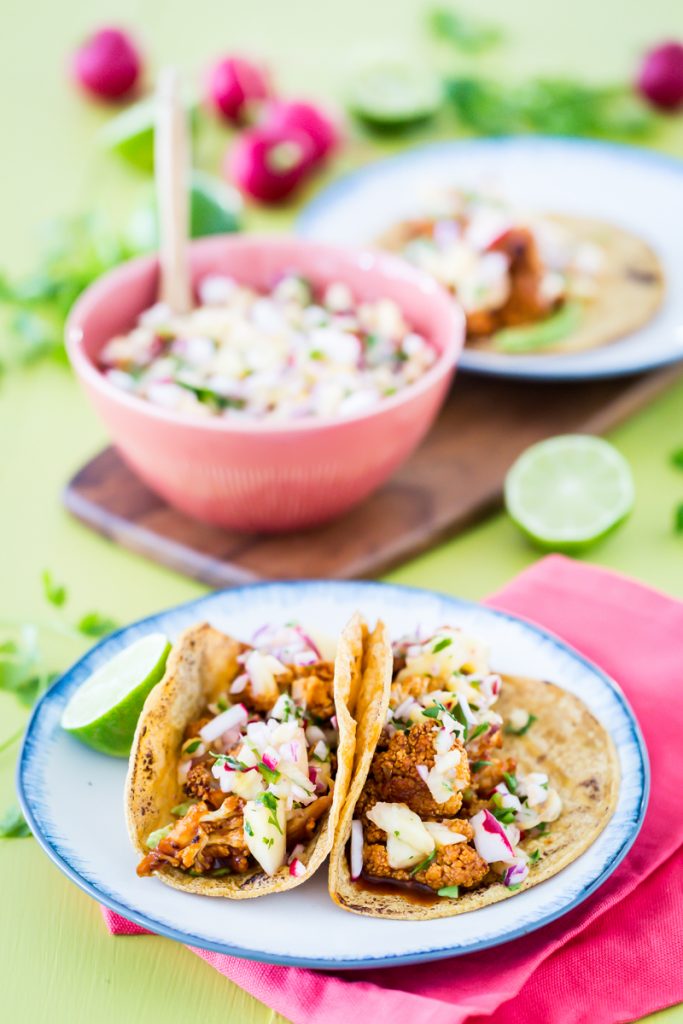 Photography by Chris Miller