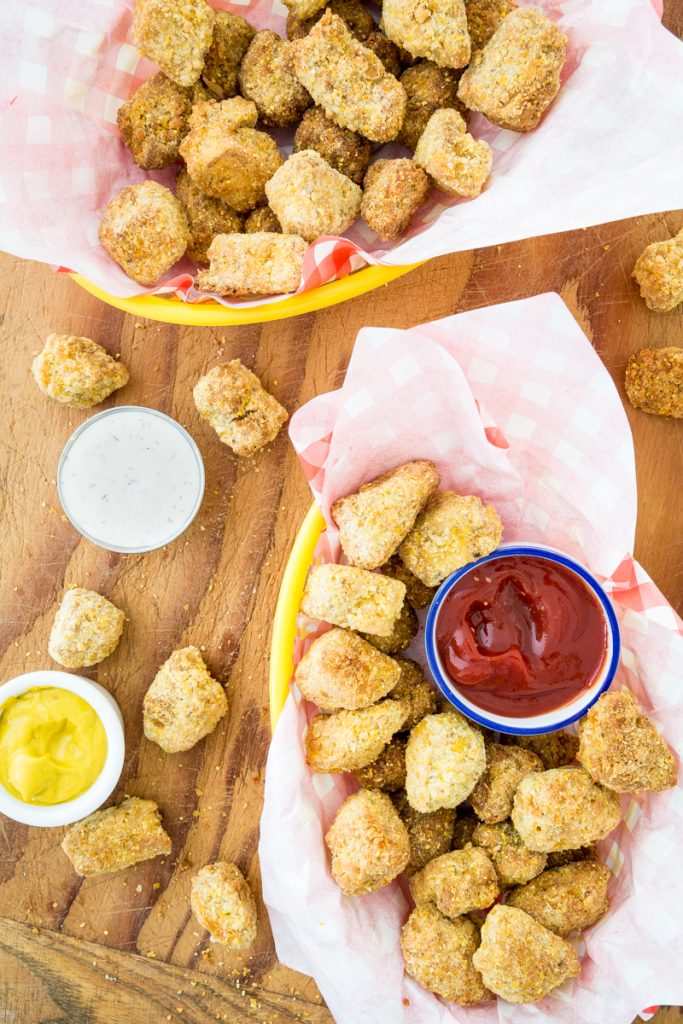 I became vegetarian (and then later vegan) before I was ever able to try popcorn chicken. I don't consider this a loss. In fact, I never really thought about it until I was in Austin a couple of years ago.
You see, we'd heard about this amazing popcorn tofu from Wheatsville Co-Op. This popcorn tofu is so popular it has it's own facebook page. Crazy. Well, we were on a quest to try all the amazing vegan must-haves in Austin, and this tofu was on the list. So we drove out there and stood in line at the counter to place our order and that's when it hit me: "Oh crap. This stuff is probably not gluten-free!"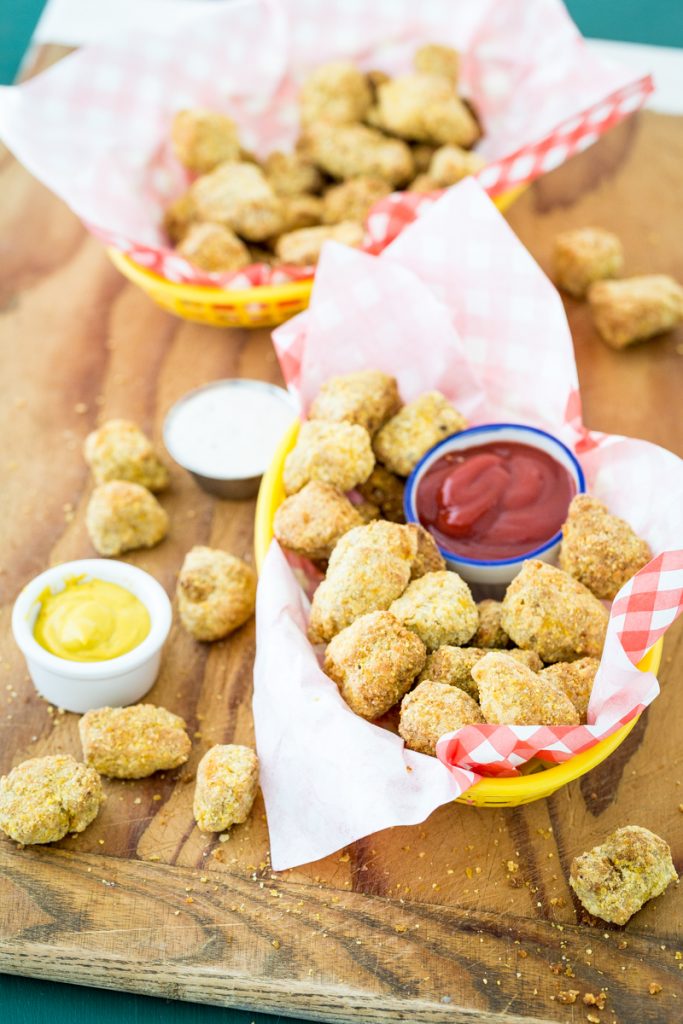 So once we reached the front of the line, I asked the employee, already knowing the answer but hoping that in some crazy twist of fate it wasn't true. But it was true- it was not GF (note- as of 5/3/17, Wheatsville's popcorn tofu is now gluten-free!). We were starving at this point but trying to sound convincingly noble, I told Chris "Go ahead- you get some for yourself." And he said, because he's the best partner I could ever ask for, "If you're not eating it, I'm not eating it." Swoon.
Luckily, Wheatsville had a wide variety of vegan, gluten-free options so we picked up a couple things to munch on and left. But I am still, almost 2 years later, sad that we didn't get to experience the famous popcorn tofu. This, I do consider a loss.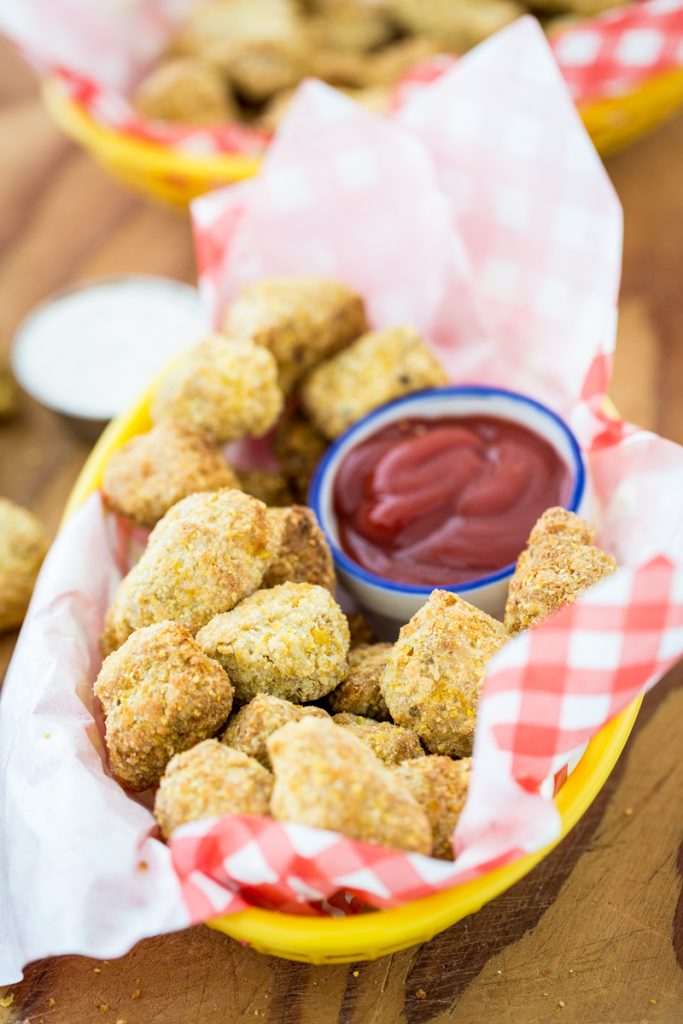 I often considered making my own popcorn tofu but I never got around to it. About 1 year after I first heard of an air-fryer and after seeing such amazing delicious things coming from Cadry's Kitchen, Olives For Dinner, and Glue & Glitter, I decided to give in and get one.  I'd resisted buying one because I was sure they were a fad and also, where in the heck was I going to put it? But fast forward to me clearing off a space on my counter for it and unloading the space-aged-looking pod. Of course, I immediately cooked up some frozen french fries. And just like that, I was hooked.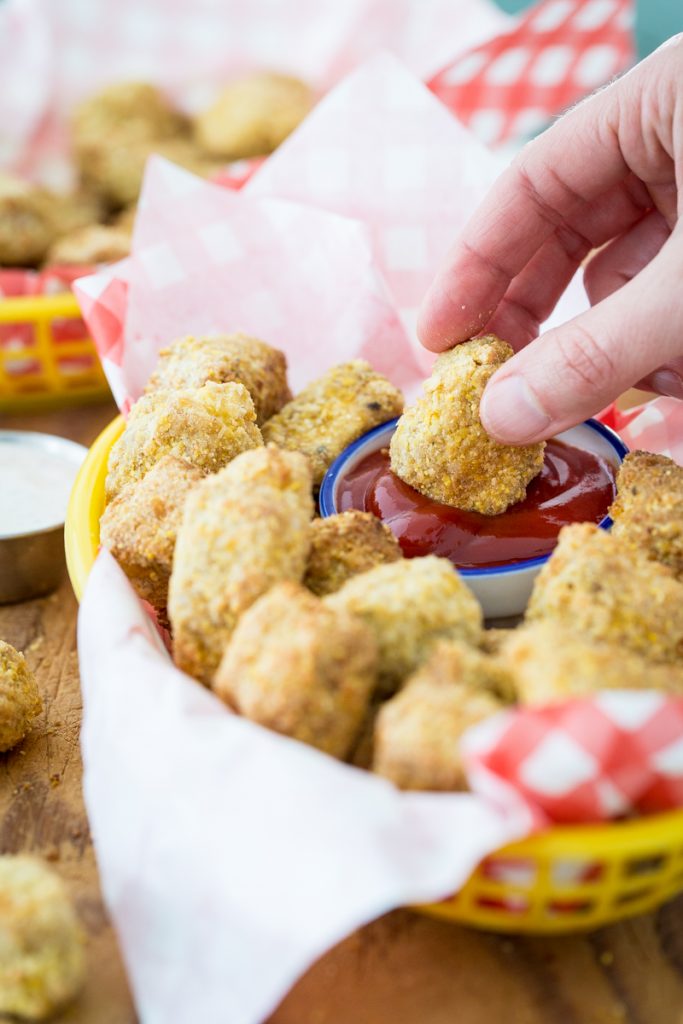 Yes, air-fryers are much healthier than deep-frying but that's not why I love it. I love it for its convenience. On weeknights, when I just feel like having a light dinner, I'll chop up a head of cauliflower, toss with some spices and a spritz of oil, and throw it in the air-fryer while I put my pajamas on and feed the dogs. Before I know it, dinner's ready (Yes, I just eat straight cauliflower as a meal sometimes because that's how much I friggin' love cauliflower, okay!) and there's no pots or pans to clean. Every time I use it, the machine reminds me of the oven/hydrator in Back To The Future 2, because everything cooks up so fast and fuss-free.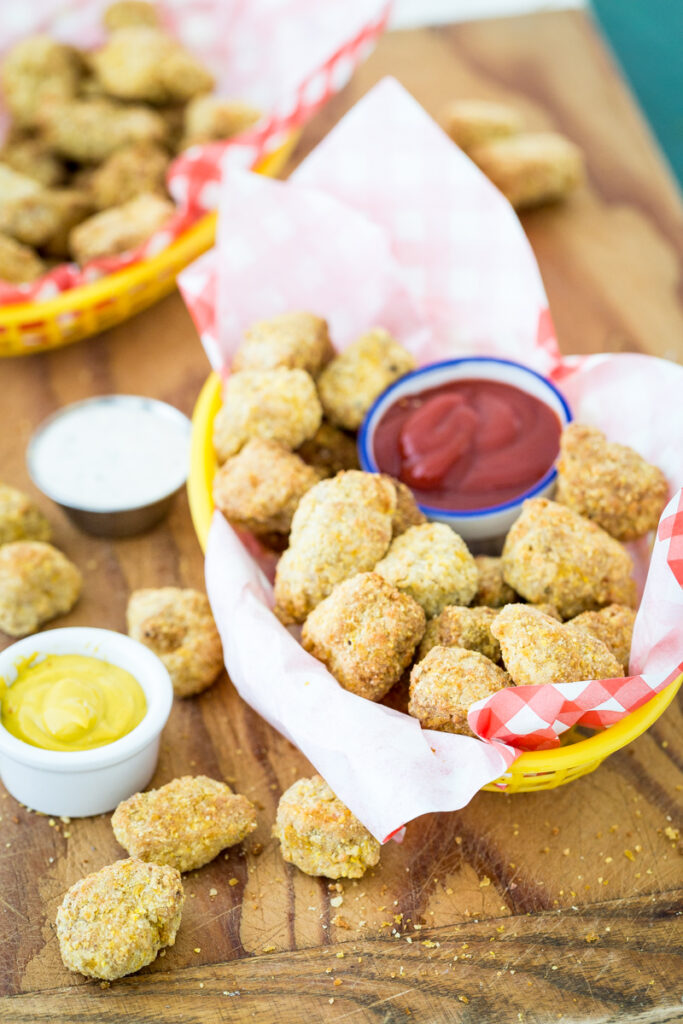 After playing around with it a bit, I got the idea to finally make that popcorn tofu that I'd never really gotten over not having. I have no idea if this is what popcorn chicken or popcorn tofu tastes like, because as I've said, I've never had either, but HOLY WHATEVER, BATMAN! This stuff is amazing and super addictive. I've never wanted to just down tofu by the handful, but now, well, let's just say, it is not very flattering.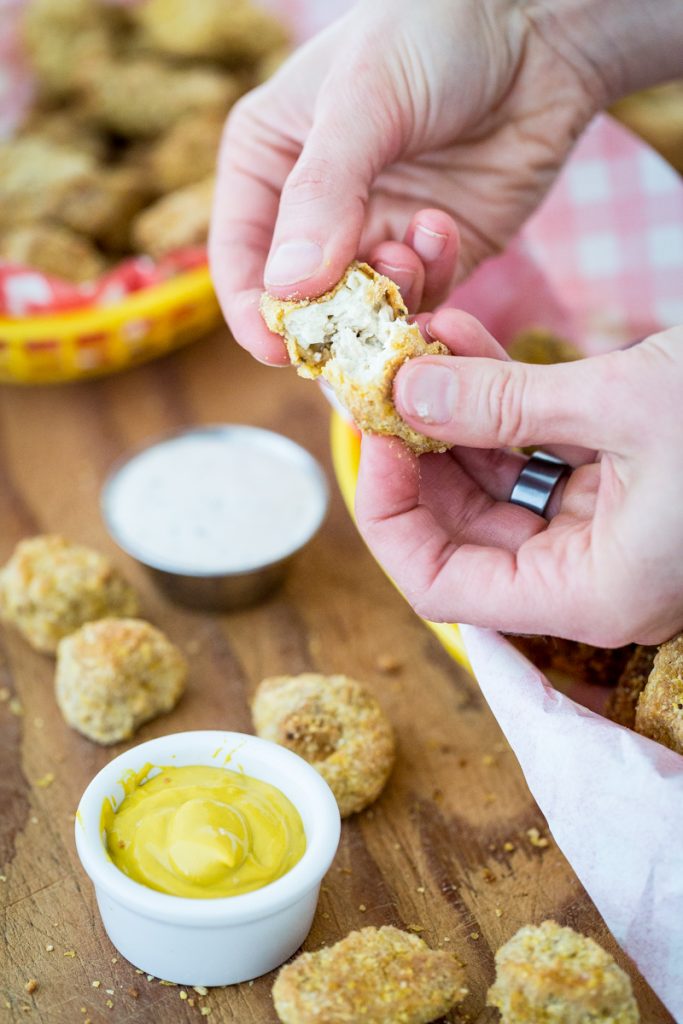 While I think the air-fryer (I have the large GoWise brand because often times, I'm cooking for us and two hungry teenagers, but if you're just cooking for 2 or 3, the small would be fine) will yield the crispest, least greasy results with this recipe, you can for sure pan-fry these mo-fo's. Or possibly even bake them, though I haven't tested it. If you do, definitely report back on how they turned out. Whatever method you try, though, don't miss out on this popcorn tofu. If you do, the loss may haunt you.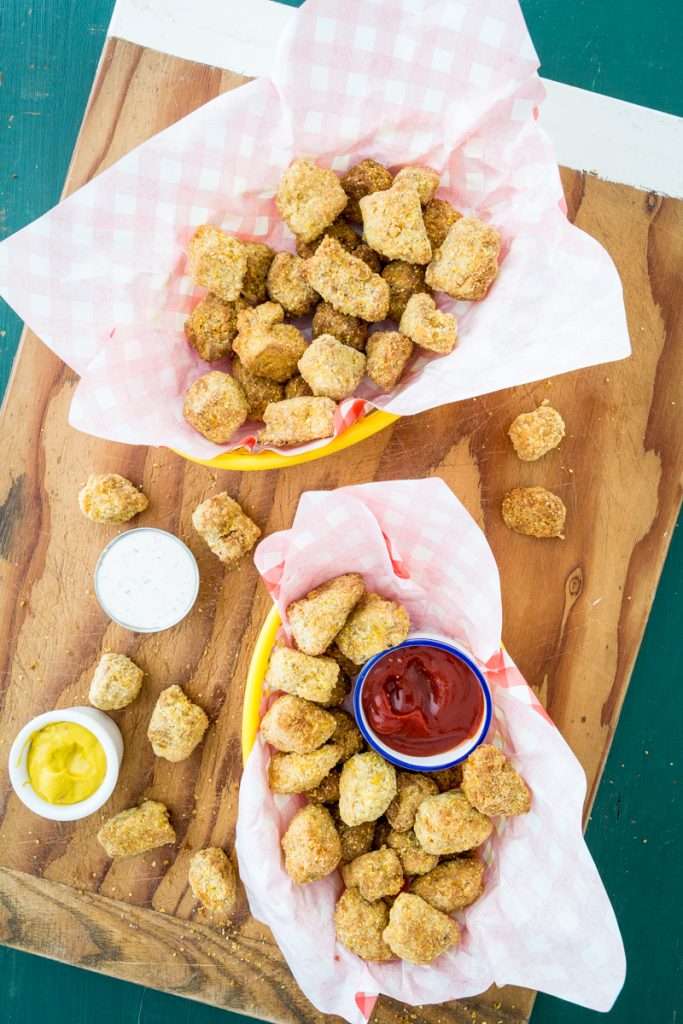 Gluten-Free, Vegan Popcorn Chicken (a.k.a. Popcorn Tofu)
Ingredients
1 block extra-firm tofu, pressed for 30 minutes
3 tablespoons liquid aminos
Coconut oil spray or other spray cooking oil
1/3 cup arrowroot flour or cornstarch
½ teaspoon salt
½ teaspoon garlic powder
½ teaspoon onion powder
½ teaspoon cumin
¼ teaspoon smoked paprika
¼ teaspoon black pepper
¼ cup chickpea flour
¼ cup aquafaba
¼ cup unsweetened nondairy milk
½ cup brown rice flour
¼ cup cornmeal
¼ cup nutritional yeast
¼ cup panko bread crumbs (use GF if necessary)
Instructions
Once the tofu has been pressed for about 1/2 an hour, slice the block in half lenthwise so you have two sheets of tofu (the same length and width of the original block). Tear each sheet into about 14 to 15 bite-size chunks. Place the pieces in a shallow baking dish and drizzle the liquid aminos over them. Toss to coat. Let them marinate for about 5 to 10 minutes.
While the tofu is marinating, Combine all of the ingredients for Bowl One in a small shallow bowl and whisk together. Combine the ingredients for Bowl Two in another small shallow bowl and whisk together. Finally, combine the ingredients for Bowl Three in another small shallow bowl and whisk together.
Lay a couple paper towels out on a plate or cutting board. Dip a few pieces in Bowl One and toss to coat. Transfer to Bowl Two. Use a slotted spoon to make sure each piece is doused in liquid before using the slotted spoon to transfer the pieces to Bowl Three. Toss the pieces until they are evenly coated and then use a spoon to transfer them to the prepared towel-lined plate/board. Repeat with the remaining pieces of tofu.
Once all the pieces are coated, one at a time, pick up a piece of tofu, hold it over the sink, and lightly spray it with the coconut or cooking oil. Place each piece in a single-layer of your air-fryer basket, taking care not to overcrowd them. If they don't all fit, you may have to cook them in two batches.
Cook in your air-fryer for 20 minutes at 400, flipping the pieces over halfway through (be careful not to burn yourself on the basket- it is hot. Perhaps use tongs). If you have to do more than one batch, preheat the oven to 200. Once the first batch is done, transfer them to a baking sheet and cover with foil. Place in the oven to keep warm until the second batch is done. Once they are all cooked, serve immediately with dips of choice.
Leftovers can be stored in the refrigerator in an air-tight container. Reheat by placing them in the air-fryer, spray them with oil, and cook for 10 minutes, shaking once halfway through. Enjoy!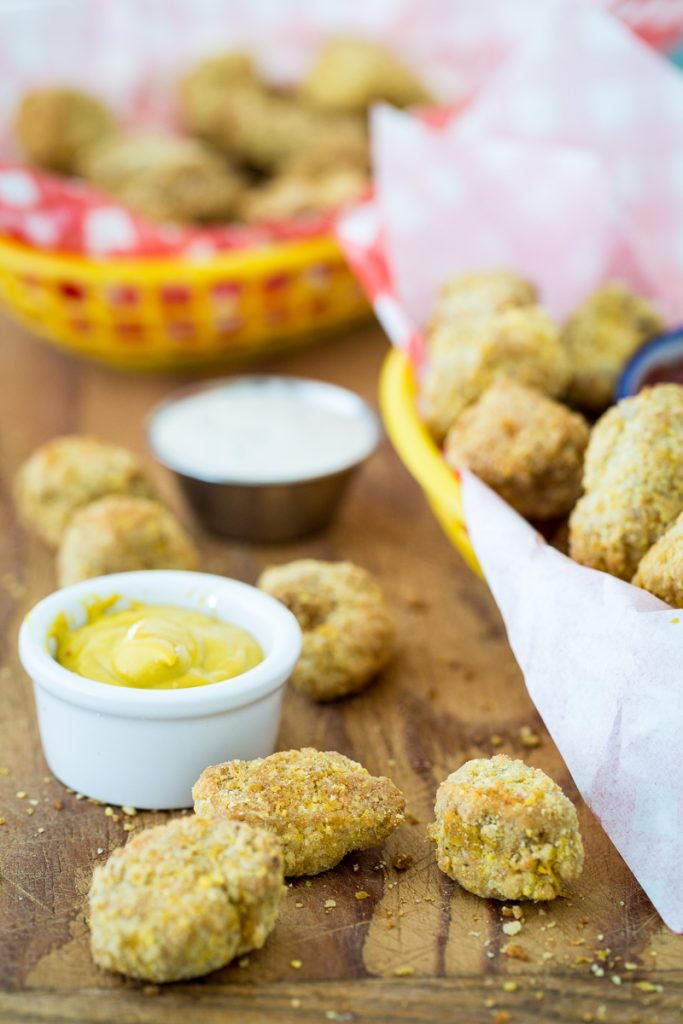 Photography by Chris Miller