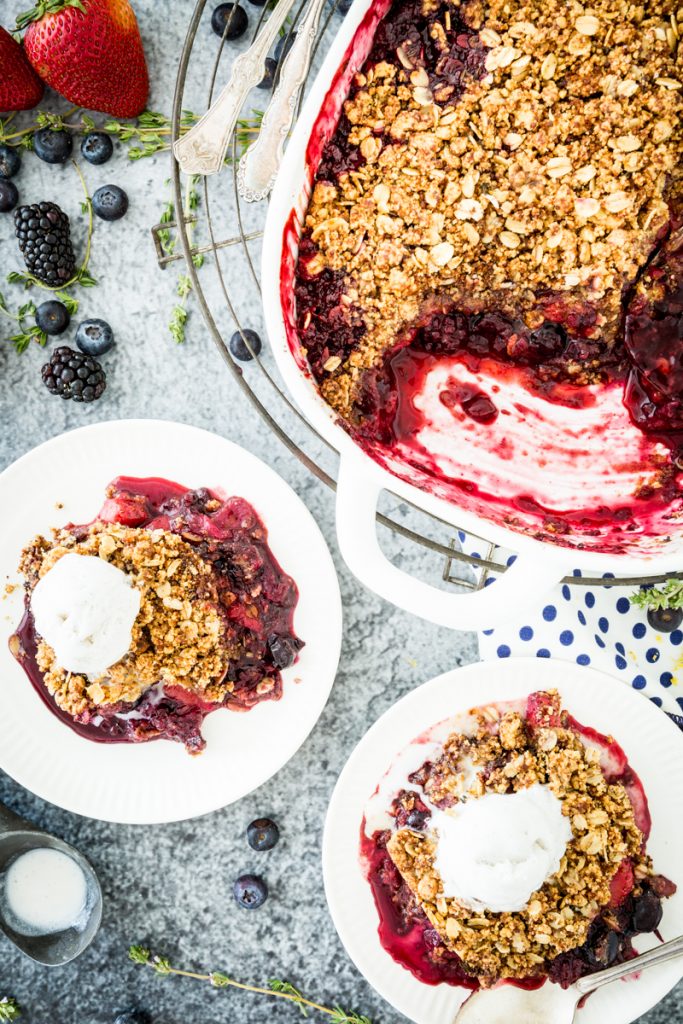 Whenever the weather changes and the new seasonal produce starts showing up at the grocery store and at farmer's markets, I'm thrilled. Every year, without fail, I will say to myself "Ooooh! Persimmons!, "Ooooh! Acorn squash!," "Ooooh! Asparagus!," and "Ooooh! Berries!" A couple of weekends ago, it was the latter that I uttered just before filling a canvas tote bag with all the berries I could safely carry from the stall at the farmer's market to my car.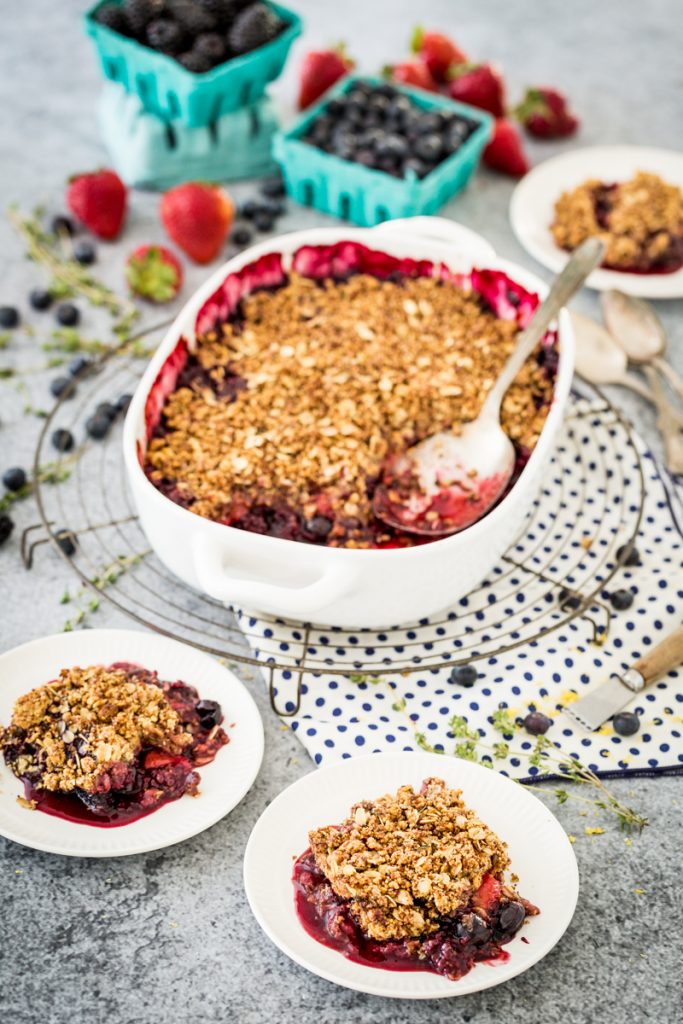 What I'd forgotten was that I'd had the same experience at the grocery store just a few days earlier. The result was far more strawberries, blueberries, and blackberries (#fuckraspberries, they're gross) than any sane family of four should attempt to eat over the course of a weekend. But I'll be damned if we didn't try.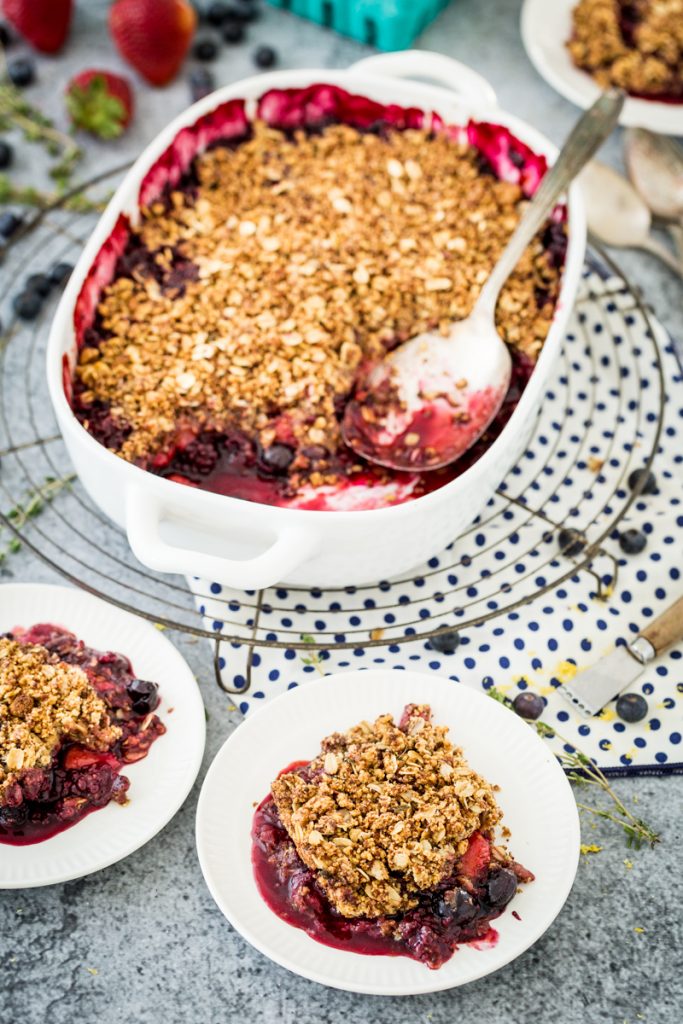 After eating several handfuls of berries as part of what I claimed to be a "healthy post-chores snack," I realized that I needed to make a game plan. And this a berry crisp of some sort was probably the best way to maximize our berry intake. And also blueberry-packed pancakes the next day for breakfast, but that's not what this post is about. Back to this gorgeous crisp...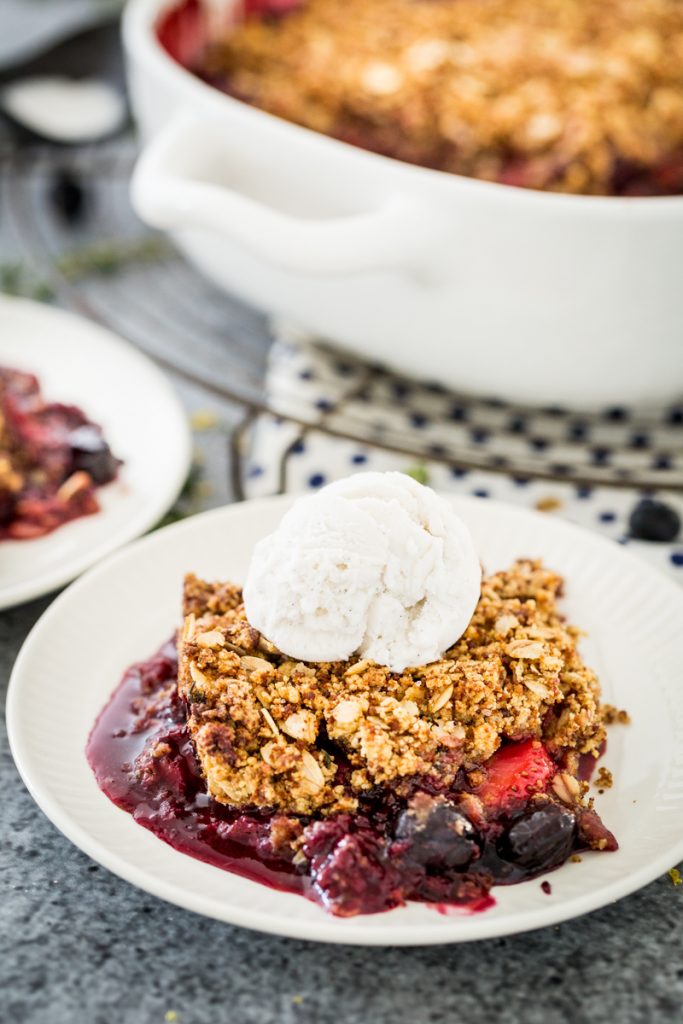 Now, of course, any old berry crisp would've worked but I decided to add some pizazz by way of some lemon (juice and zest) and some fresh thyme. Lemon definitely brightens it up and adds a little zip to every bite while thyme adds a layered, earthy flavor and aroma that pairs very well with lemon and, as it turns out, berries. By adding a little thyme to both the fruity filling and the streusely topping, it takes this berry crisp up a notch. While it's baking, the aroma that fills the house is intoxicating in the best way possible.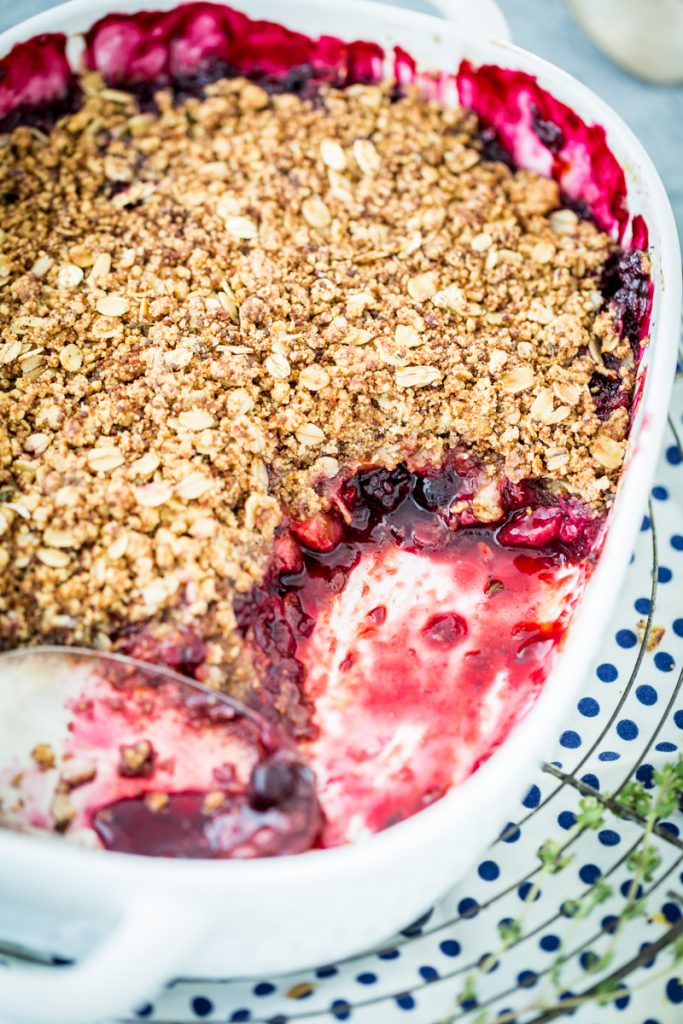 There are a couple things to be aware of when you're baking crisps. The first is that, though it may take longer than you'd imagine it should, it's important to wait until the berry filling is bubbling up around the edges before taking the crisp out of the oven. For me, it takes about 40 minutes to get good, solid, consistent bubbling (and not just sputters). I don't usually do this, but if you used a number of smaller, individual serving dishes to bake the crisps, the bubbling will likely happen sooner, but you'll also have more dishes to contend with. The second is to be sure to give the crisp sufficient time to cool before serving it. The cooling process allows the filling to thicken and become less liquidy. I would give it at least 15 minutes, but preferably around 20 minutes to cool. So patience is key when making this dish. It's bananas how simple it is to prepare. The tough part is waiting until you can dig in and take a bite.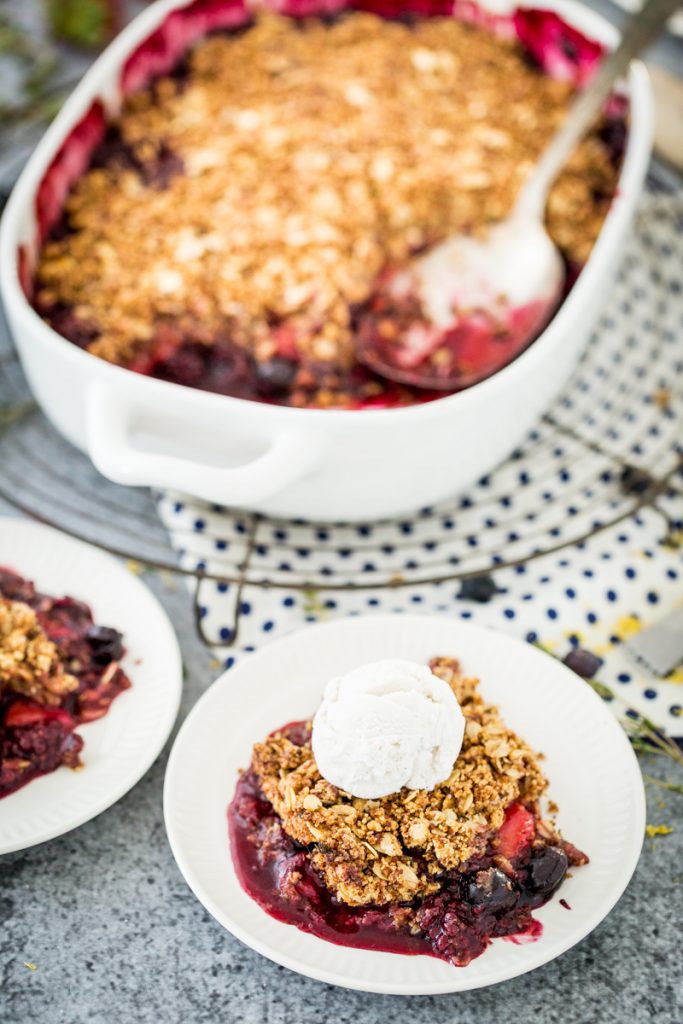 Now, this triple berry crisp is amazing by itself but it's even better when it's served à la mode. Just add a scoop of vegan vanilla ice cream (I used Nada Moo Vanilla...Ahhh). I promise you won't be sad about it.
Epilogue: Between this crisp, the pancakes, and several dozen handfuls we managed to eat all but about 8 strawberries and a carton of blackberries by Sunday night. #level17vegan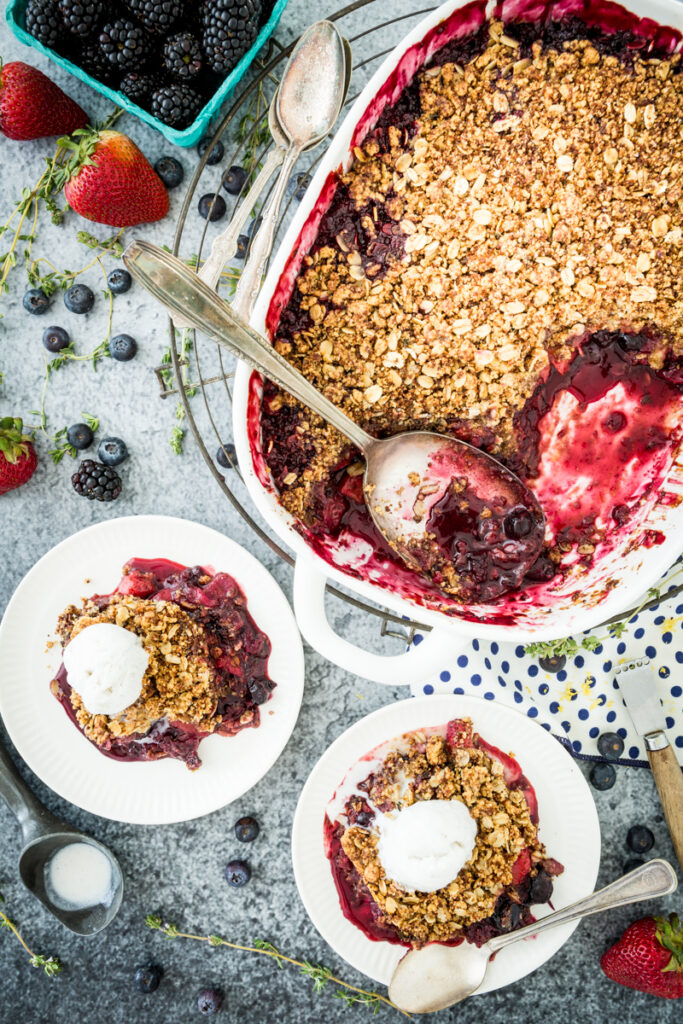 Lemon-Thyme Triple Berry Crisp
Ingredients
3 cups chopped strawberries
1 ½ cups blueberries
1 ½ cups blackberries
3 tablespoons coconut sugar
2 tablespoons arrowroot powder
2 tablespoons lemon juice
1 tablespoon lemon zest
2 teaspoons fresh thyme
¾ cup oat flour
½ cup corn flour (not cornmeal)
¼ cup brown rice flour
½ cup cold vegan butter
½ cup oats
½ cup coconut sugar
2 teaspoons fresh thyme
½ teaspoon salt
Instructions
Preheat the oven to 400. Lightly spray a 8x10 or 9x13 baking dish with cooking spray.
In a large bowl, combine the strawberries, blueberries, blackberries, coconut sugar, arrowroot powder, lemon juice, lemon zest, and thyme. Toss until fully combined. Pour into the prepared baking dish.
In another bowl, whisk together the oat flour, corn flour, and brown rice flour. Cut in the butter until no piece is larger than your pinkie nail and the mixture has a texture of wet sand. Stir in the oats, sugar, thyme, and salt, taking care not to mix too much. You want it to be clumpy but evenly distributed. Pour the topping out over the fruit and spread evenly.
Place in the oven and bake for 40 to 45 minutes or until the topping is crisp and golden and the filling is bubbling up around the edges. Remove from the oven and let rest for about 15 to 20 minutes before serving. Leftovers can be refrigerated in an airtight container for 3 to 4 days. Enjoy!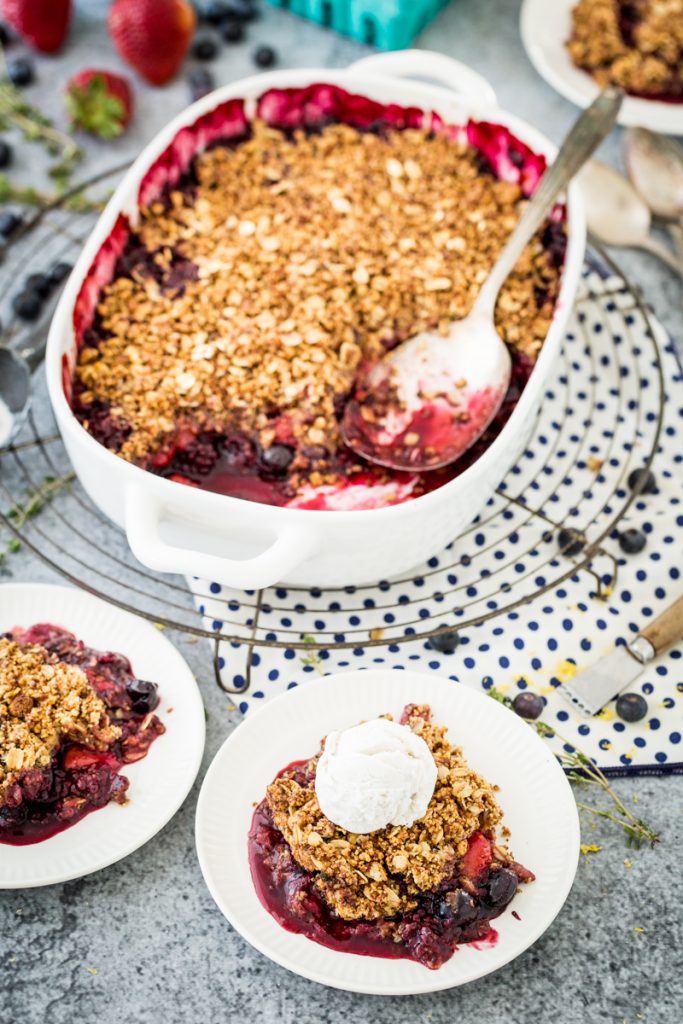 What's your summertime berry game plan?
Photography by Chris Miller