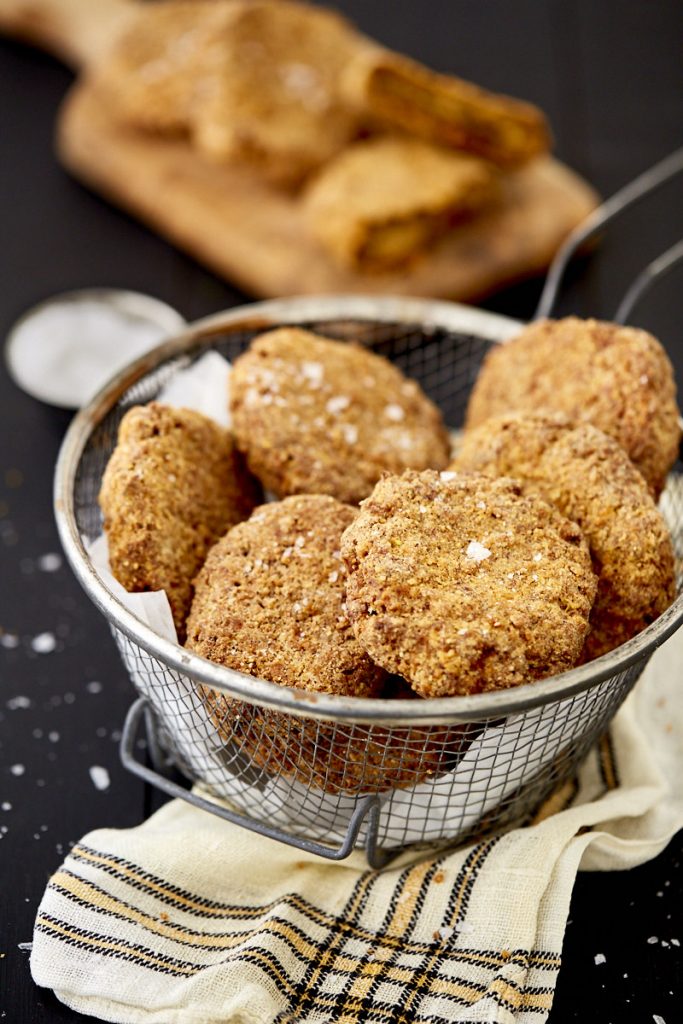 Y'all will never guess in a million years what this vegan Southern Fried Chicken is made of. Go ahead. Try. A store-bought chicken substitute? Nope. Mushrooms? Nope. Cauliflower? Nope. Seitan? The title says it's gluten-free, so what do you think?  Tofu? Nope. Tempeh? Nope. But you're getting warmer because it is soy-based...
Did anyone guess magic? Because you're partly right. The rest is made up of... drumroll please...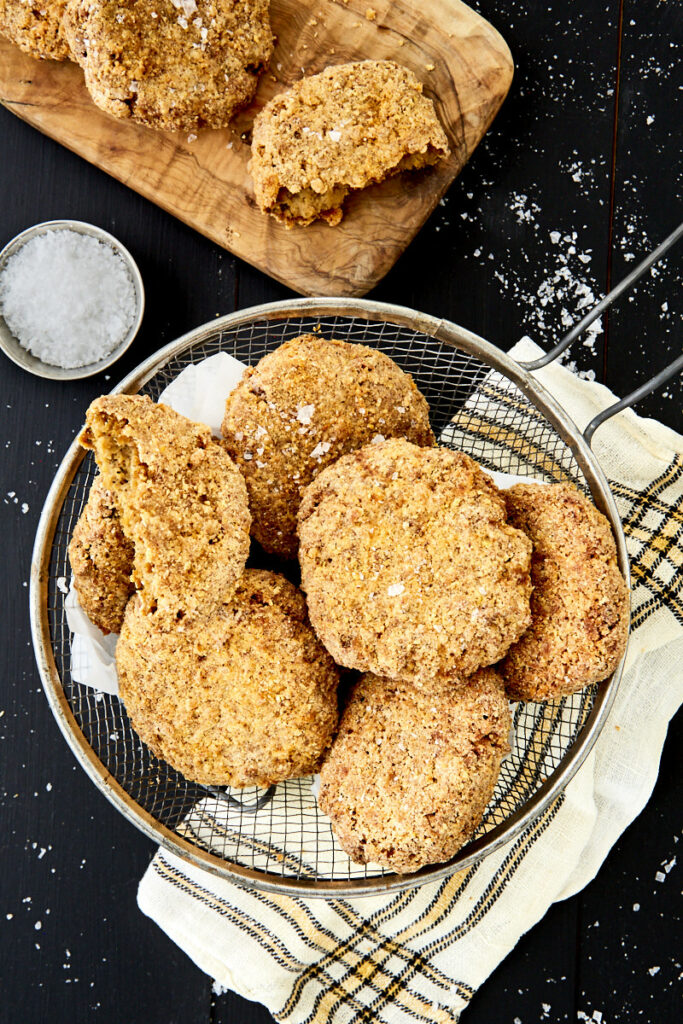 Soy Curls! And some other junk but mostly soy curls! They have great texture, are incredibly absorbant of flavor, and they're gluten-free in addition to being vegan. You're probably thinking to yourself "These filets don't look anything like soy curls. They're not in thin, meaty strips!" And you're right. That is not the form these soy curls have taken. Obviously.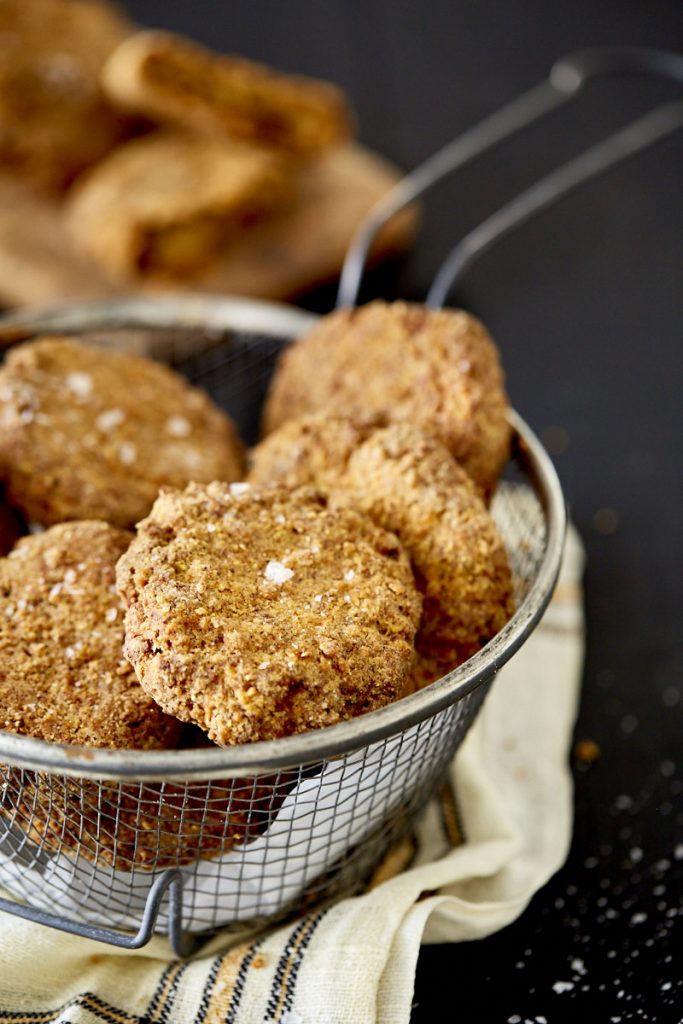 They started out as young little soy curl strips, dehydrated and ready to go in whatever your heart desired. But then they graduated on to a higher level. See what I did there? Cause it's graduation season? I made this recipe seasonal. *pats self on back*  Their journey includes soaking in hot vegan chicken broth until hydrated and then pulsing them in a food processor with all the other ingredients (such as the metaphorical glue, chickpea flour, for one) until you have a slightly chunky, sticky texture. Then you form them into whatever shape you want (I like this patty/filet shape because they're pretty versatile), and bake them until firm.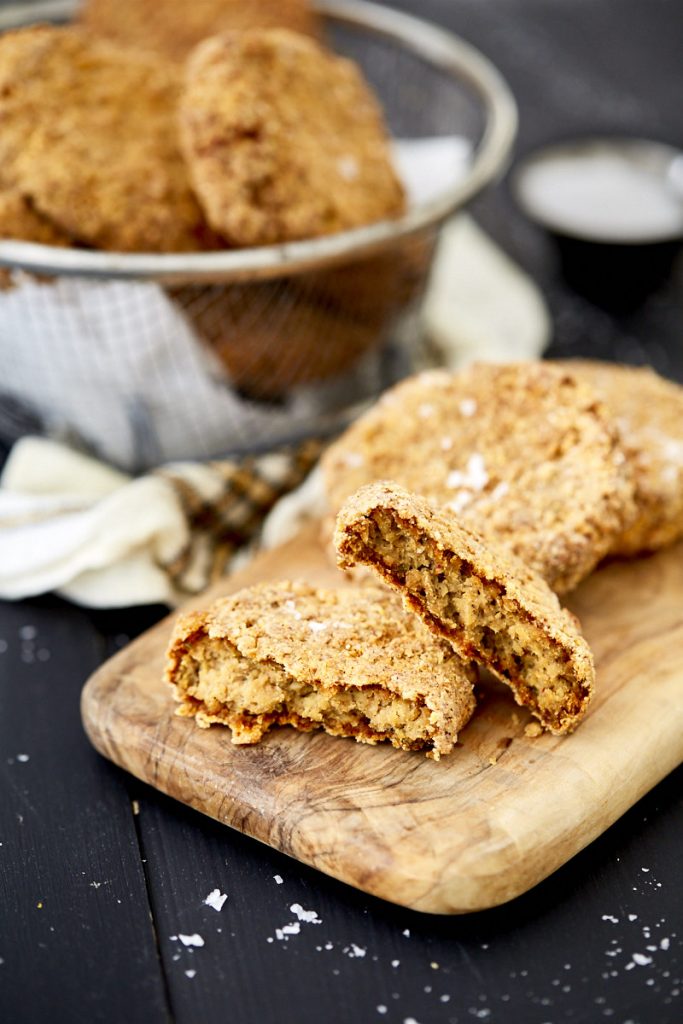 Also, speaking of graduating, I recently graduated too! I used to just do the writing, website upkeep, recipe development and testing, and the preparation and styling of said recipes for photography, which was then done by Chris. But his schedule does not really allow for food photography at the moment, so I put my big girl pants on and got familiar with a camera again for the first time since high school. This my friends, is my first recipe that I've developed, styled, and also photographed.* And can I just say- it felt so gooooooood! I know it's a work in progress, though, so please bear with me while I get the hang of this.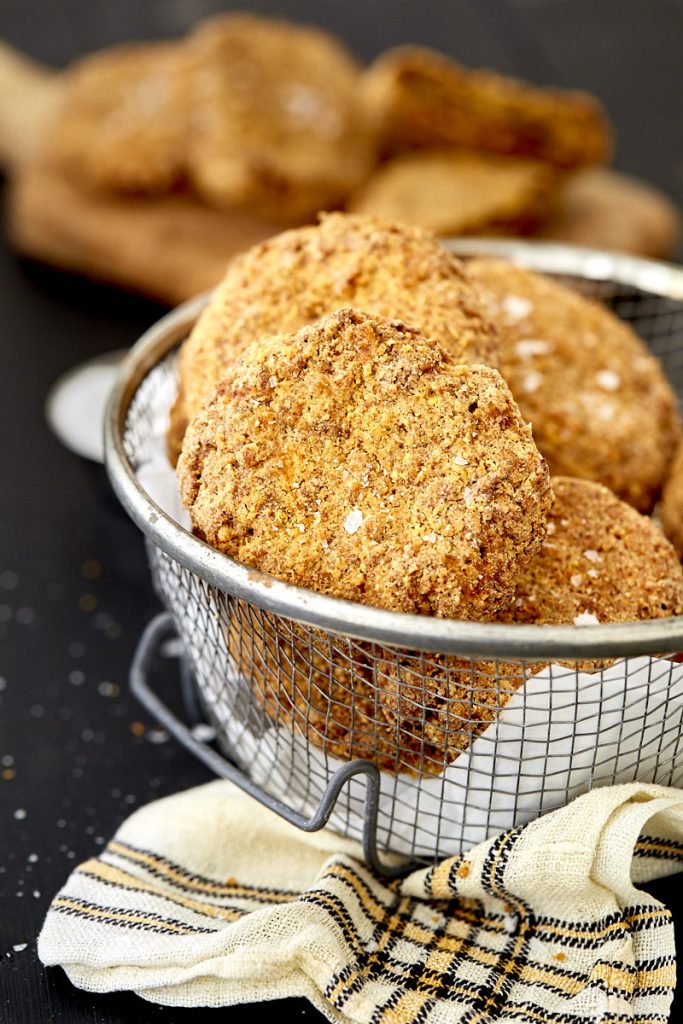 So yeah, back to this delectable vegan Southern Fried Chicken. Don't go into this expecting it to have the same texture as chicken. It does not. But the flavor is spot on. And the coating- hot damn! This might be my favorite part. It's all (vegan) buttermilk and hot sauce and cajun seasoning, adding a nice flavor with a bit of spice and a hint of heat. In the air-fryer, it gets nice and crisp while keeping the inside moist and tender. Don't have an air-fryer? These could totally be cooked the normal way, fried in a pan of hot oil. But the air-fryer is a little easier, healthier, and dare I say, keeps your kitchen cleaner and your home smelling nicer than deep-frying. Coming up, I have some awesome recipes to help you put this vegan southern fried chicken to good use, but in the mean time, they taste great by themselves (or dipped in BBQ sauce, or a vegan ranch dressing, or however you would normally eat fried chicken). Stay tuned!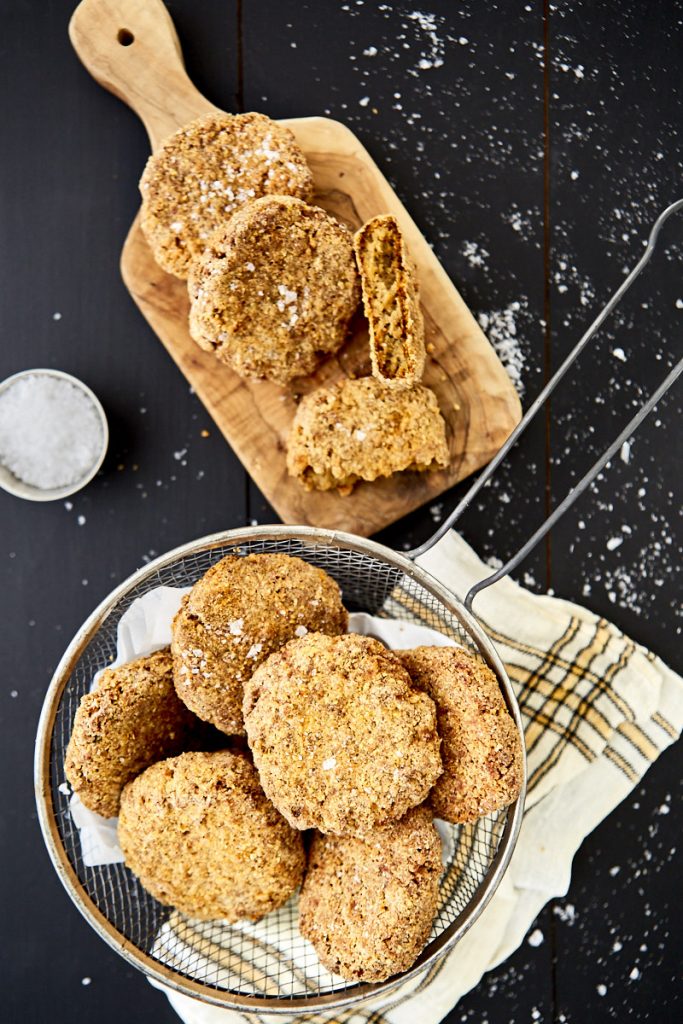 Gluten-Free, Vegan Southern Fried Chicken in the Air-Fryer
Ingredients
6 cups of water
1 8-ounce package of soy curls
10 tablespoons chickpea flour
4 tablespoons nutritional yeast
2 tablespoons liquid aminos
2 teaspoons onion powder
2 teaspoons garlic powder
1 1/2 teaspoons sage
1 1/2 teaspoons thyme
1 1/4 teaspoons salt (smoked salt is nice here, if you have it)
1 teaspoon marjoram
1/2 teaspoon rosemary
1/2 teaspoon smoked paprika
1/2 teaspoon black pepper
a couple dashes of cayenne pepper
1/3 cup unsweetened nondairy milk
1 teaspoon apple cider vinegar
1/4 cup aquafaba
1 or 2 tablespoons hot sauce or sriracha sauce
1 cup all-purpose flour (or a gluten-free flour blend. I used Bob's Red Mill 1 to 1 Baking Flour)
1/4 cup fine cornmeal
1/4 cup panko bread crumbs (use gluten-free if necessary)
1 tablespoon cajun seasoning
oil spray
Instructions
In small pot (roughly 2.5 quarts), combine the water and the two bouillon cubes. Bring to a boil, and whisk until the cubes are completely dissolved. Remove from heat and add the soy curls. Let them soak for about 15 minutes. Drain the water from the soy curls thoroughly.
Preheat the oven to 350 F. Line two baking sheets with parchment paper.
Transfer the soy curls to a food processor. Add the chickpea flour, nutritional yeast, liquid aminos, spices, salt, and pepper. Pulse 8 to 10 times until you have a well-combined chunky, sticky texture. If the flours aren't fully incorporated, use a spoon to help stir it in. You don't want the mixture to get too mushy.
Using a 1/3 measuring cup, scoop the mixture into the prepared baking sheets and shape into 3-inch wide patties (I made mine slightly oblong) or whatever shape you prefer. If you use smaller than 1/3 cup per piece (say you're making chicken strips, for example, you will need to decrease your baking time to prevent drying out).
Bake the patties/filets for 20 minutes, flipping them once halfway through. Remove from the heat.
In a small shallow bowl, combine the milk and apple cider vinegar, stir and let rest for 5 minutes while it curdles. Then add the aquafaba and hot sauce and stir until combined.
In another shallow bowl, whisk together the flour, cornmeal, panko bread crumbs, and cajun seasoning. Generously spray the inside of your air-fryer basket with oil. Set aside.
One by one, put a patty in the liquid mixture until fully coated before transferring to the flour coating bowl. Toss until fully coated. Gently place the patty in the basket of the air-fryer. If you have a large air-fryer, you can probably fit about six filets in one batch. Or if you have a wire rack to place inside your air-fryer basket, you can do four on the bottom, four on the rack. A small air-fryer will probably fit about four per batch. Repeat until you've filled your air-fryer basket. Once they're all in, spray each one generously with oil.
Cook them in the air-fryer with the fried chicken setting (my GoWise air-fryer does this for 20 minutes at 375), flipping once halfway through and respraying them with oil before returning the basket to the air-fryer. Repeat the process for the remaining patties.
Serve them immediately or you can refrigerate them for about a week or freeze them for up to a month. To reheat them, let them thaw if they've been frozen. Otherwise, place them in an air-tight container with the lid slightly ajar and microwave for one minute. Then place them in the air-fryer basket, spray with oil, and cook at the same setting but for 5 minutes, flipping halfway through. Enjoy!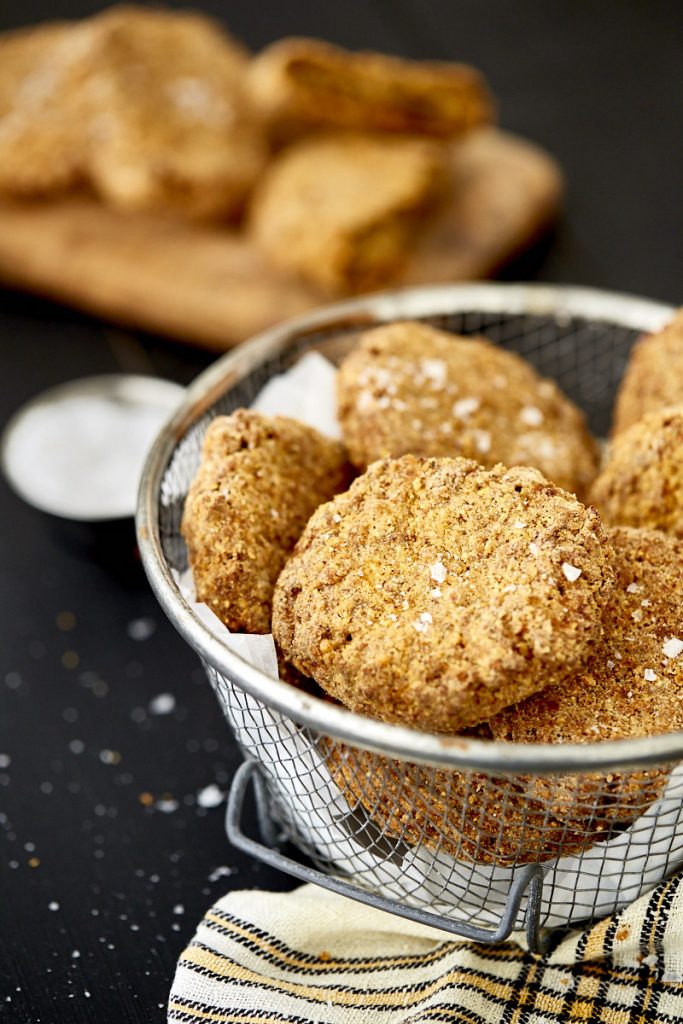 *Ok- that's a lie. Back in the day, six years ago, when I was a wee baby blogger, I would shoot some things with my phone when Chris wasn't around. The result was the opposite of great. Just take my word for it. Nobody needs to look at those.
Photography by Kristy Turner
(Hey! That's me!)