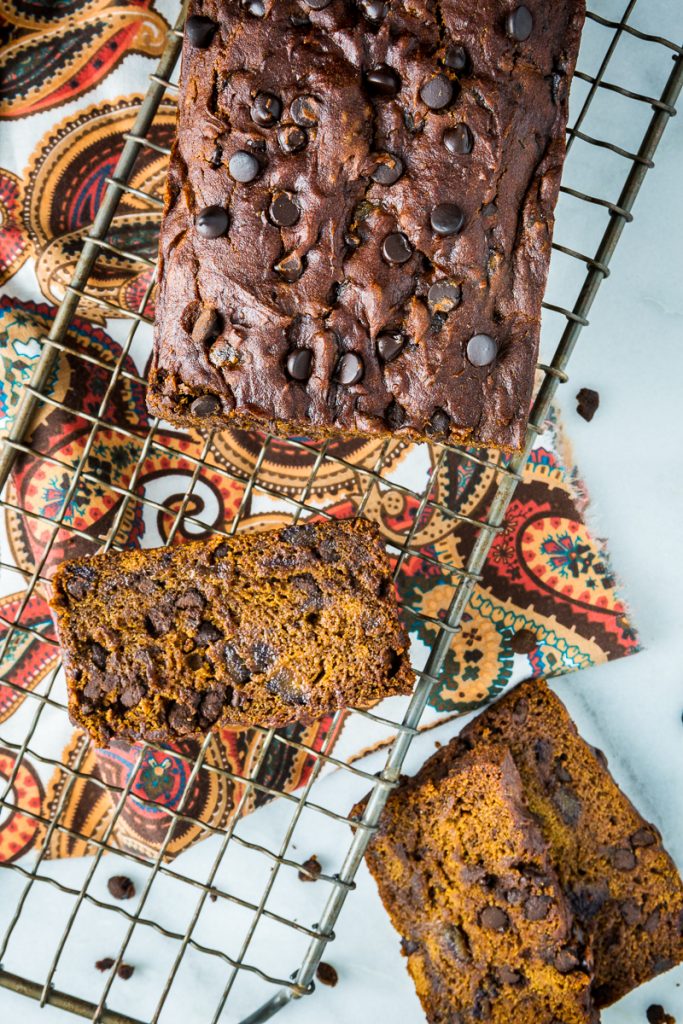 If you own my second book, But My Family Would Never Eat Vegan, then you may be familiar with the recipe for Grandma's Famous Date Nut Bread. When I asked my husband's family what family recipes they would like to see veganized, Grandma Hope's Date Nut Bread was the first thing everyone suggested. It was fairly easy to veganize. I used vegan butter instead of butter. I used applesauce instead of eggs. And as soon as I tasted my first slice, I knew why this recipe was so beloved. It. Was. Incredible.
Now, it would be great if it was just me who liked it. But what makes it one of my most favorite recipes in the book was how much Chris's family loved it. When I gave Grandma Hope her copy and showed her the recipe, she was so proud. And soon the family was baking loaves of it. And over the summer, for a family reunion, they asked me to bake up 4 loaves to have on hand. It's a hit and no one misses the animal products.
As fall approached, I knew that I was going to want to make this bread again, but with a pumpkin twist. For this rendition, I subbed the applesauce with pumpkin puree (plus some), nixed the walnuts (though they totally can be left in, if you want), and added chocolate chips because, frankly, why not? And the result was the most luscious, rich, and decadent pumpkin bread I've ever had the pleasure of tasting. I'm seriously in love with this pumpkin date bread.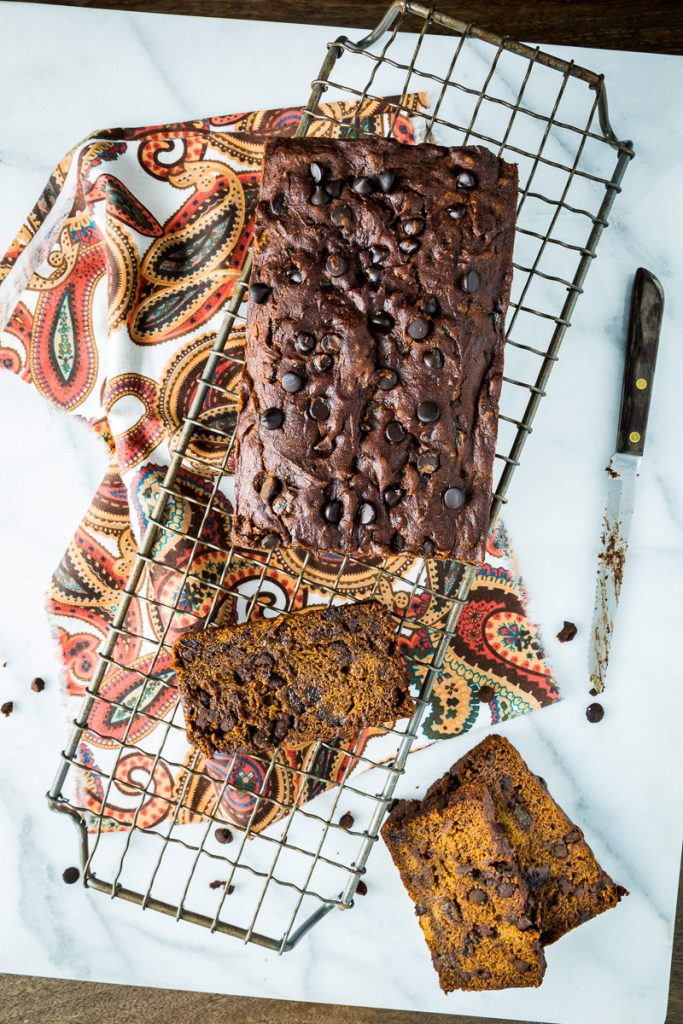 The method for this bread, which is typical of most date breads, requires you to soak the dates in boiling water, along with a few other ingredients, stir in the butter, and then let it rest for 20 minutes. I'd never tried this before until I tried Grandma Hope's recipe and oh my goodness, it's just the best thing ever. The dates get so soft, they melt in your mouth, and the sweet flavor of dates is infused into the bread. The rest of the recipe comes together in minutes. The most difficult part about this recipe is the time it takes to bake (almost an hour), and then the fact that you have to wait at least four hours to let it cool before you can cut into it. It's just part of the magic. It will be the hardest four hours of your life, but it will be worth it.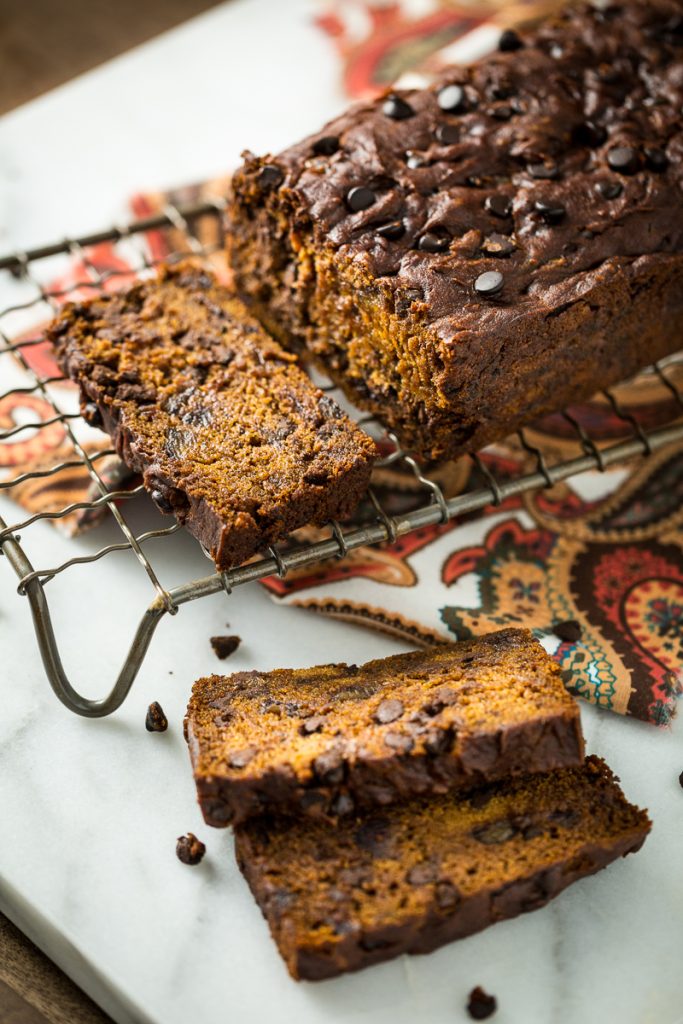 What more do you need to hear before you make this pumpkin date bread? Deliciously intoxicating pumpkin pie spices? Soft, silky date gems? Rich, chunky chocolate chips? Heavenly pumpkin? A gluten-free quickbread that is neither crumbly or gummy, but perfectly moist and tender? A surefire way to win over skeptical family members? Be sure to make more than one loaf- you're going to need it.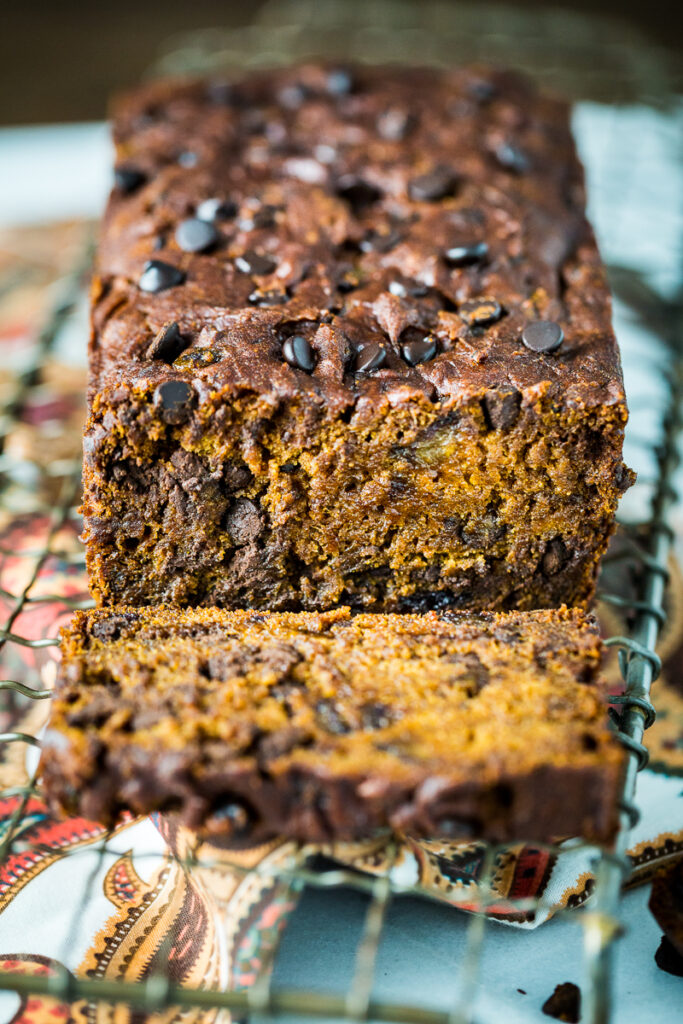 Gluten-Free, Vegan Chocolate Chip Pumpkin Date Bread
Ingredients
1 cup of pitted, chopped dates
2 teaspoons pumpkin pie spice
1 1/2 teaspoons baking soda
1/2 teaspoon salt
3/4 cup boiling water
3 tablespoons vegan butter
3/4 cup pumpkin puree
1 tablespoon apple cider vinegar
1 teaspoon vanilla extract
1 1/2 cups gluten-free flour blend (I used Bob's Red Mill 1:1 Baking Flour) or all-purpose flour
1 cup coconut sugar
1/2 cup chocolate chips
Instructions
Combine the dates, pumpkin pie spice, baking soda, and salt in a medium bowl. Pour the boiling water in the bowl and stir to combine. Stir in the butter until melted and combined. Let rest for 20 minutes.
Preheat the oven to 350. Spray a loaf pan (I used an 8"x4", but a 9"x5" will also work) with cooking spray.
In a large bowl, stir together the pumpkin puree, apple cider vinegar, and vanilla extract. Gradually stir in the flour and coconut sugar. It will be thick and lumpy and that's okay. Add the date mixture and stir until fully combined. Stir in the chocolate chips.
Pour the batter into the prepared loaf pan. Bake for 55 to 60 minutes or until firm and a toothpick inserted into the center comes out clean. Transfer the pan to a cooling rack and let cool for at least four hours before slicing and serving. To store, wrap in plastic wrap or store in an airtight container. It will last 5 to 7 days if refrigerated, but if you plan on eating it all within a couple of days, it doesn't need to be refrigerated. Enjoy!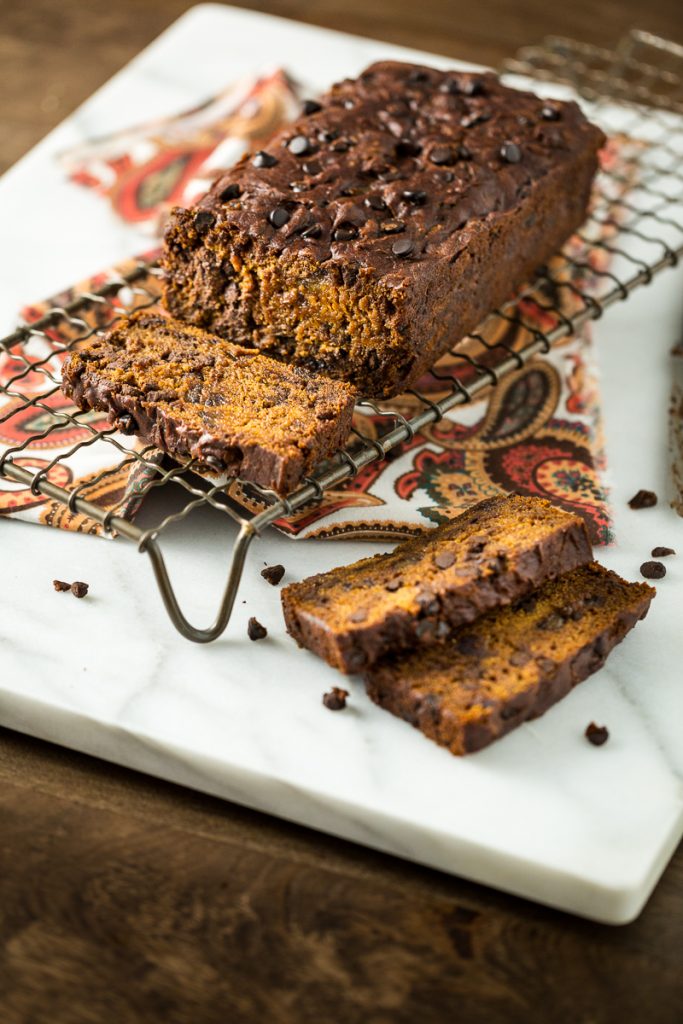 Thank you Grandma Hope! xoxo
Photography by Chris Miller