I like LOVE lists.  I have three things I want to cover today, so I am putting them in list form because it's more fun for me that way.  It's the little things that make me happy.
1.  I am very pleased to announce that on May 12th, I will be participating in a Virtual Vegan Potluck, organized by the amazing Annie from An Unrefined Vegan.  There will be over 50 bloggers participating, all contributing different dishes for different courses.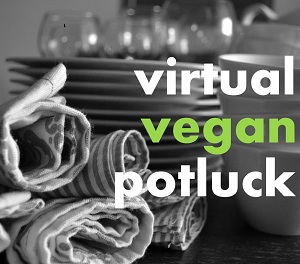 I am so excited to be participating!  Be sure to check back on Saturday, May 12th to see what myself and everyone else is bringing to the party!
2.  I just want to take a moment to talk about blogging.  Keepin' It Kind was an itch waiting for a very long time to be scratched.  It was an idea I toyed with for a long time, and one day I just got started.  When I started, I thought that this blog was going to just be where I could cook and write about it.  It has turned into so much more than I had imagined.  I had no idea that I was craving this creative outlet.  My soul is so content with this new-found passion.  As my husband, Chris, does most of the photography, this blog has turned into our project and something we have tons of fun working on together.  As vegans, it feels great to know we are contributing (on a small-scale, I'm sure)  to making a plant-based diet more accessible and removing the stigma often associated with the term "vegan."  Even if someone doesn't try one of my recipes, perhaps it perked their interest and they will be more likely to try a vegan meal later on, and that one meal saves lives.
These particular outcomes from starting this blog were somewhat expected.  What I did not expect at all was the friendships to be made and the amount support from this incredible blogging community.  This week especially, I have been overwhelmed with the huge amount of kinship felt with other bloggers.  Since the beginning of Keepin' It Kind, Cadry of Cadry's Kitchen has offered so much kindness, support, friendly emails, and laughs.  I had been a fan of hers for a while (on top of being an eloquent and humorous writer with great recipes, she makes cooking videos with claymation dinosaurs as her costar!  I mean, come on!  How can you not like her?!) so on Tuesday, when she wrote a post about my Tofu Chevré, I was just so overwhelmed and flattered.  Also, this last weekend, I had lunch with a fellow blogger (and someone I have admired since I was led to her by a google search for vegan Nutter Butters), Cara from Fork and Beans.  I had a blast getting to know Cara, and her warm personality comes through in person just as it does through her incredibly creative blog.  I am so thankful to be able to call her, as well as Cadry, my friend.  There have been so many bloggers who offer continual support and I've been introduced to so many really great blogs.  This has been the least expected and probably what I have come to love most about blogging.
3.  Speaking of support... yesterday, CJ at Food Stories honored me with the Kreativ Blogger and the Sunshine Blogger Awards!  CJ is one of those bloggers who always has something sweet to say and has been extremely supportive and friendly.   Food Stories is a fun-to-read blog, and it boggles my mind how CJ keeps track of what National Food Day it is (i.e.- today is National Raspberry Tart Day) and then manages to use it as the theme of her posts.  It seems as though these awards are somewhat similar to chain letters, but I think the fact that they are peer-nominated is pretty awesome.  I am so honored!
So, in the spirit of chain letters, there are some rules I have to follow.  I need to answer the following ten questions, give a random fact about myself, and name 10 bloggers to honor with these awards.  Yay- More lists!
1. Favorite Color – White
2. Favorite Animal – Dogs, but more specifically: my companion, Samantha
3. Favorite Number – any number with "7" in it
4. Favorite non-alcoholic drink – Water
5. Prefer Facebook or Twitter – Facebook (Twitter overwhelms me)
6. My Passion – Cooking, Travel, & Writing
7. Prefer getting or giving presents – Both?
8. Favorite Pattern – uh...
9. Favorite day of the week – I like every day
10. Favorite Flower – Tulips
Random Fact:  My brother and I share the same birthday and we are not twins.
I don't know how to narrow the honorees to 10, so I'm going to just name 10 cool blogs that I've discovered since I started Keepin' It Kind (If the rules would permit, I would name everyone on my Inspiration page as well!), in no particular order:
7.  Vegenista
10. Cheerfully Vegan
As I wrap this up, I am feeling very, very, very blessed.  I am so thankful to be alive right now, at this point in the universe, sharing this time with so many wonderful people.  Thank you.