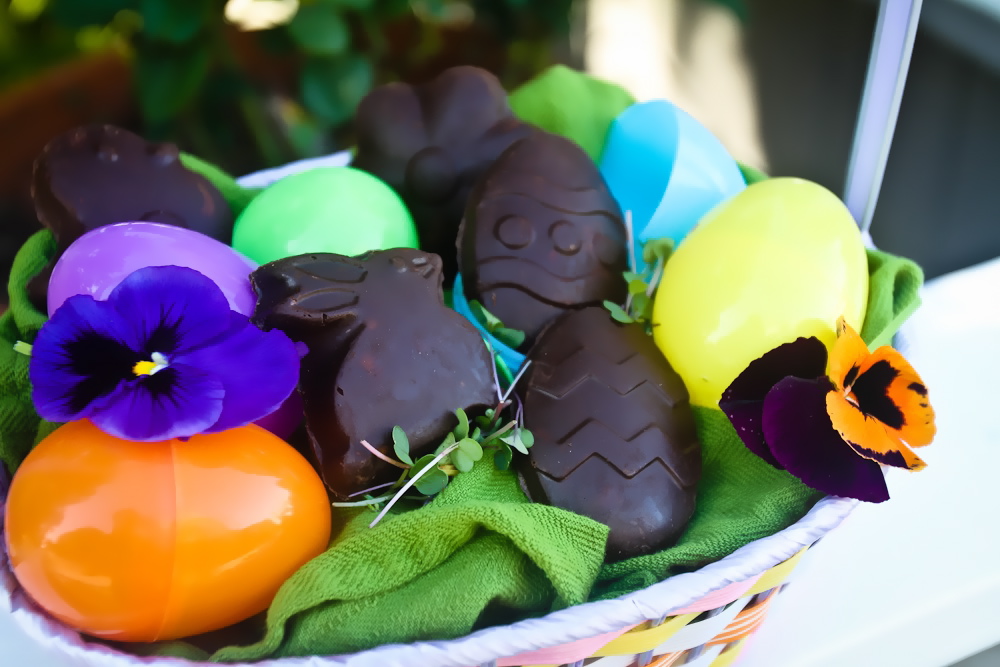 So, I was at Sur La Table, just to pick up one thing, when I decided to check out the clearance area.  I mean, if there's something I might need that's on sale, it's probably a sign I should get it, right?  While browsing amongst the odd and ends of barbecue tools and tea towels, I came across their holiday clearance merchandise.  All of their Easter stuff was on sale, and I was there and it was almost Easter and the twins were with me and they talked me into getting an Easter-themed cookie/candy mold (and by "they talked me into," I really mean "I grabbed it and showed it to the twins later.").
I didn't quite know what I was going to use it for, but after a couple days, I had put together a plan of how it was going to play out.  Sometimes, when I'm trying out something new, I'll research it to see how 23 other people have done it and then attempt to do it in a similar fashion.  This was not one of those times.  The twins and I had had a very long day of running errands, and I was very frustrated with my computer, so to take my mind off of everything, I dove into making these: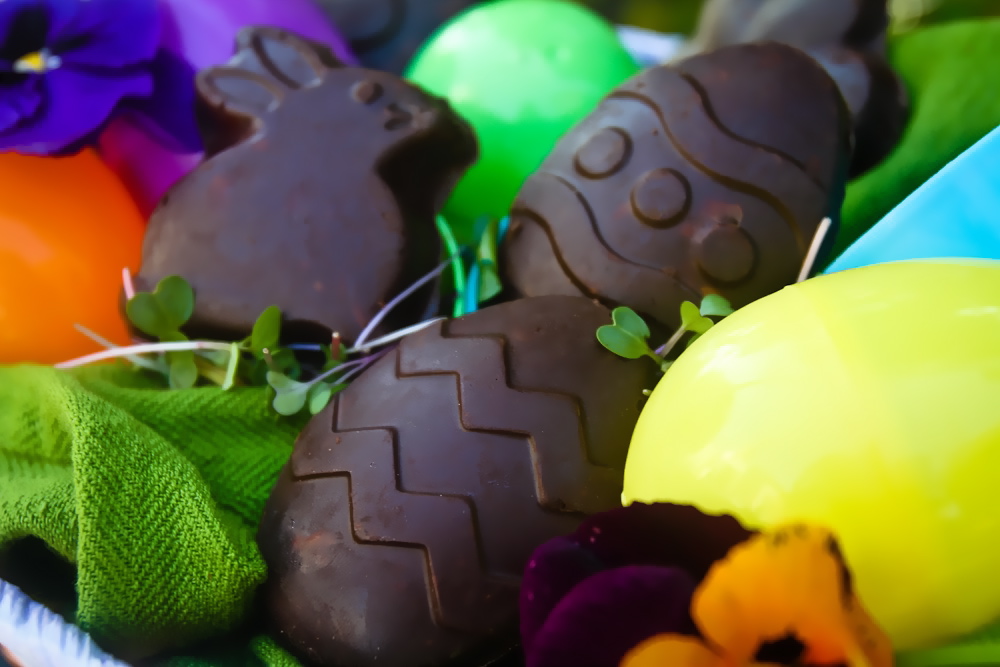 I used an old recipe that an old coworker of mine gave to me about 10 years ago (was it really 10 years ago???) for chocolate peanut butter bars as a starting point.  I've never used a candy mold before so I just winged it from there.  The original recipe called for graham cracker crumbs, and I know they worked really well in the original recipe, however, I could not find vegan graham crackers anywhere, so I used vegan animal crackers instead.  I couldn't be more pleased with the results!
My stepdaughter, Sophia (a true chocolate lover to her core), was hovering over me the whole time, just "enjoying the smell of fresh chocolate," as she put it.  When I was done, she tried to convince me that I should let her eat one right away, you know, to test it.  I told her she had to wait until I had time to take pictures of them.  Once she was able to have one, it was gone in about 20 seconds.
Then it was finally time for me to have a piece.  I took the head off the little duck (Chris and I are saving the eggs for Sunday).  There was no time to take a picture of the body.  It disappeared quickly.  Growing up, Reese's Peanut Butter Eggs were my absolute favorite Easter candy.  The ratio of peanut butter to chocolate increased exponentially, creating this marvelous piece of peanut butter heaven.  This little chocolate peanut butter Easter treat matched every memory I had of the candy of my childhood.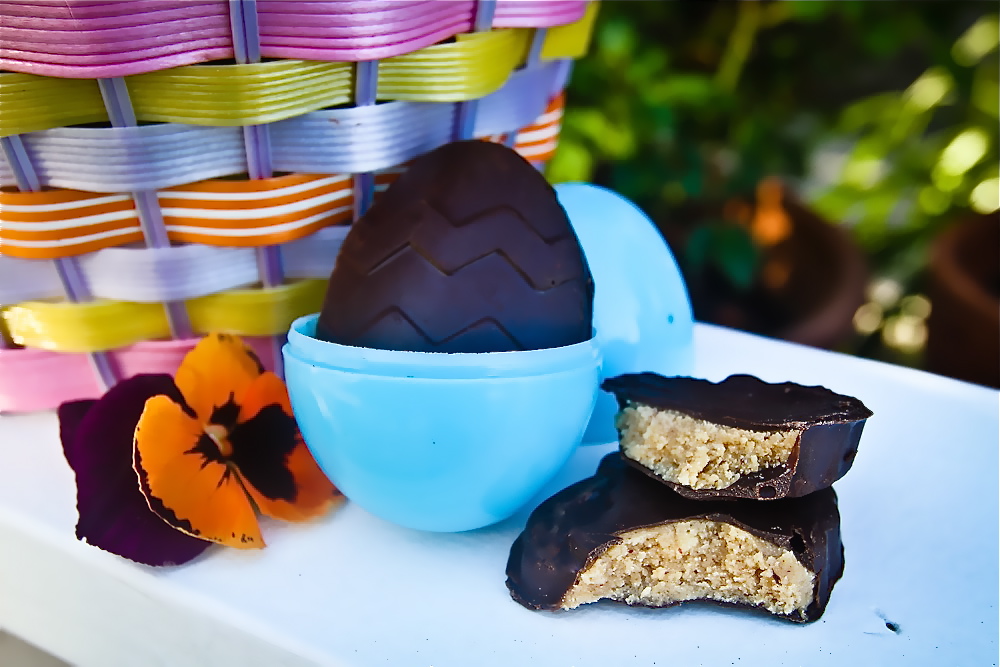 chocolate peanut butter easter candy
Chocolate Peanut Butter Easter Candy
Ingredients
½ cup peanut butter
½ cup vegan margarine/butter, softened
¾ cup vegan graham cracker or animal cookie crumbs
1/2 cup powdered xylitol or sugar
12 oz. vegan chocolate chips
1/2 tablespoon coconut oil
canola oil spray
Instructions
Lightly spray the molds with canola oil or other non-stick spray. Then use a paper towel to pat the excess oil away (but not too much, or the chocolate will stick). Alternatively, you can just put canola oil on a paper towel and rub onto mold.
Melt the chocolate an coconut oil in the microwave (which is what I did), in 30 second intervals, stirring after each 30 seconds, for about 2 minutes; or melt the chocolate and coconut oil in a double broiler.
Using a pastry brush or rubber spatula (I used a rubber spatula), lightly spread a thin layer of the melted chocolate in each of the molds. Make sure to spread the chocolate all the way up to the edges, so that the edges will be covered.
Let harden at room temperature, or put in the refrigerator for about 5-10 minutes.
Mix the first four ingredients together in a medium bowl. Set aside.
Once chocolate is set, using a ½ tablespoon, spoon the peanut butter mixture into the chocolate molds. Each mold held a little over 1 T of peanut butter mixture. I used my fingers to flatten/spread it out, but you can use the back of the spoon or a rubber spatula as well.
Put the molds back into the refrigerator for about 10 minutes, or until hard. If needed, reheat the chocolate a bit so that it is hot and melted again. Remove mold from refrigerator, and using the rubber spatula (or pastry brush) for the chocolate, spread a thin layer of chocolate over the top of the peanut butter, making sure to fill in around the edges. Let harden at room temperature or return to refrigerator.
Once the chocolate is set, turn the mold over and the chocolates should fall out. If not, tap the mold lightly on the counter until they all fall out. If needed, once you've removed the chocolates, run a knife around the outer edges of the shape to remove any leftover chocolate. Refrigerate in an air-tight container until ready to eat. Enjoy!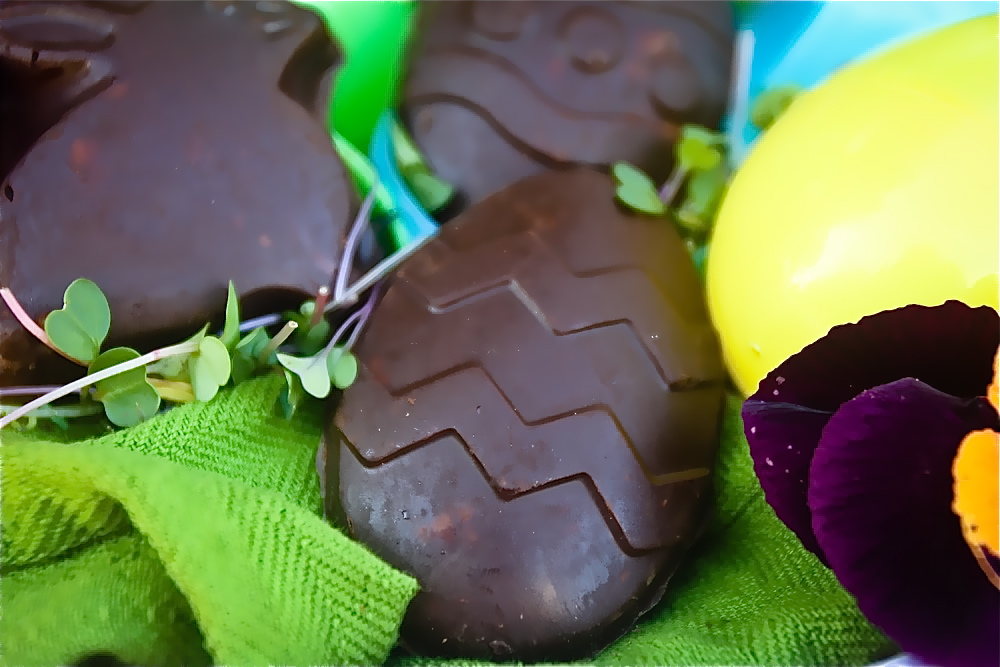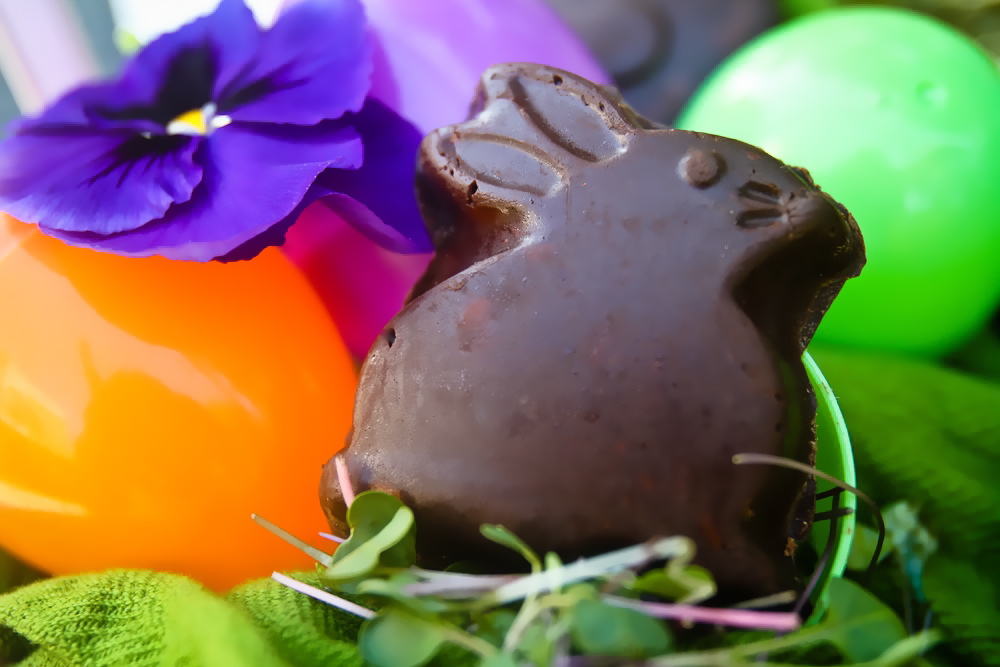 Have a Hoppy Holiday! Bad joke... I am so, so, so sorry... 🙂
Photography by Kristy Turner