A few weekends ago, Chris and I headed up to northern California for a wedding and to visit my grandmother in the hospital in San Francisco.  On our way into the city, we decided to get brunch at one of the restaurants we missed when we were in SF a couple of months ago.  I had been wanting to go to Source for a very long time and was bummed that we had missed it on our anniversary trip.  It was so great, though, that it was absolutely worth the wait.
The first thing I love about Source is that it is located in a car-friendly area of San Francisco.  Truth be told, driving in that city can be a little stressful so I avoid it at all costs.  Luckily, Source was not only easily accessible by car, we were able to get parking right in front!
Source is a vegetarian restaurant but everything that isn't already vegan on the menu can be made vegan and often gluten-free as well.  You order at the counter then go sit down and wait for your food.  I was slightly distracted by the dessert case.  I made a mental note to check that thing out again before we left.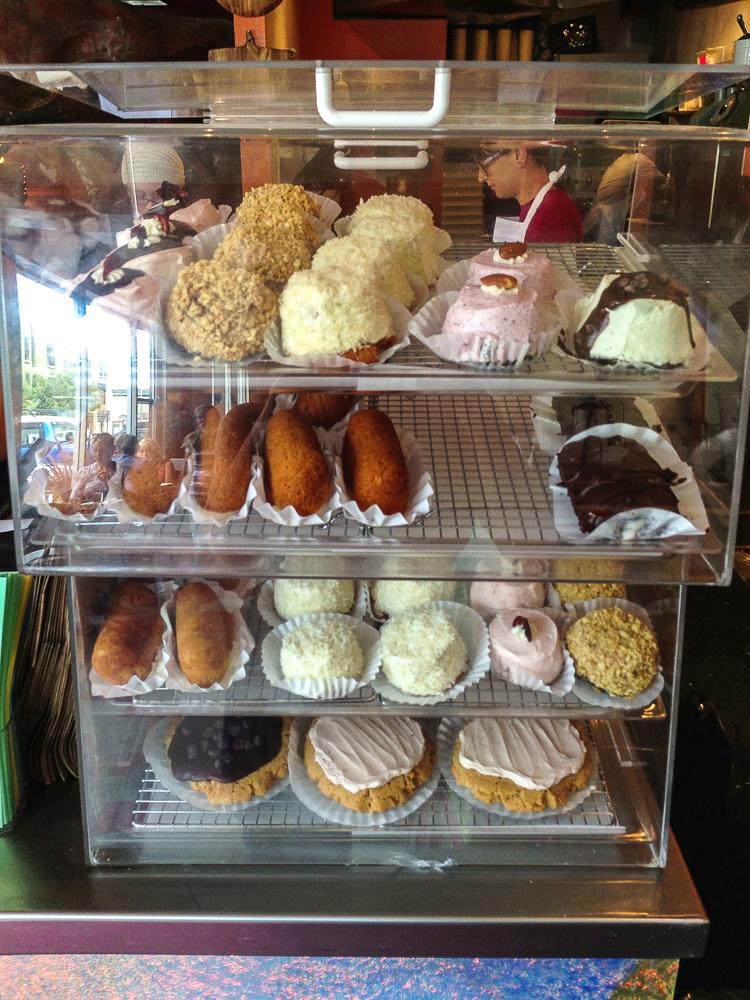 We were able to sit outside and Samantha was able to join us.  She's a crotchety old lady so it's hard bringing her out to eat with us but we were lucky to find seats in the corner with room for Sam to hang out and not bother anyone.  They brought her water and we got a little bowl of food out of the car so she could eat with us (random fact: Samantha will only eat when we are with her  and preferably eating as well.  She sometimes will wait all day to eat just so she can eat with us.).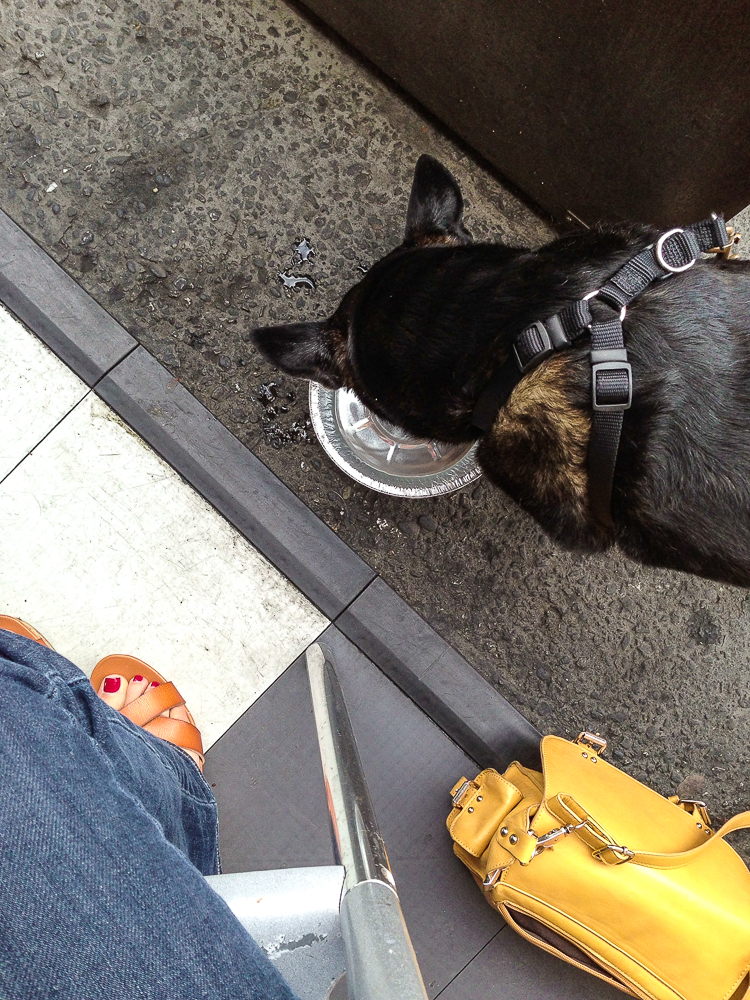 I watched as other people's food was brought out to them and I kept thinking "Oh man, I ordered the wrong thing.  I want that."  When they brought our food, though, I knew I had made the right choice.  I had ordered the Open-Faced Sante Fe Scramble Sandwich.  There was a layer of smoky black bean spread on two pieces of toasted focaccia, covered with an incredible tofu scramble, tomatoes, avocado and two types of vegan cheeses.  It was so, so perfect.  I loved every bite.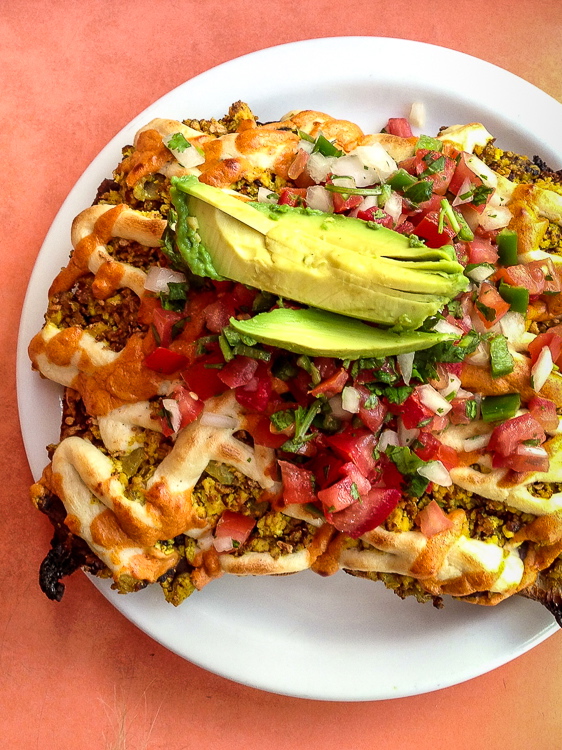 Chris ordered the regular tofu scramble.  He was expecting a normal scramble on a plate, with toast but this was far from normal.  The scramble came in a baking dish and it had obviously been baked, letting the scramble get hot and bubbly.  It was covered in a vegan mozzarella and topped with some avocado.  Chris liked it, but he said that even as a mushroom lover, he thought the amount of mushrooms in the scramble was a little much.  I tasted it and really liked it, but I can understand where he was coming from.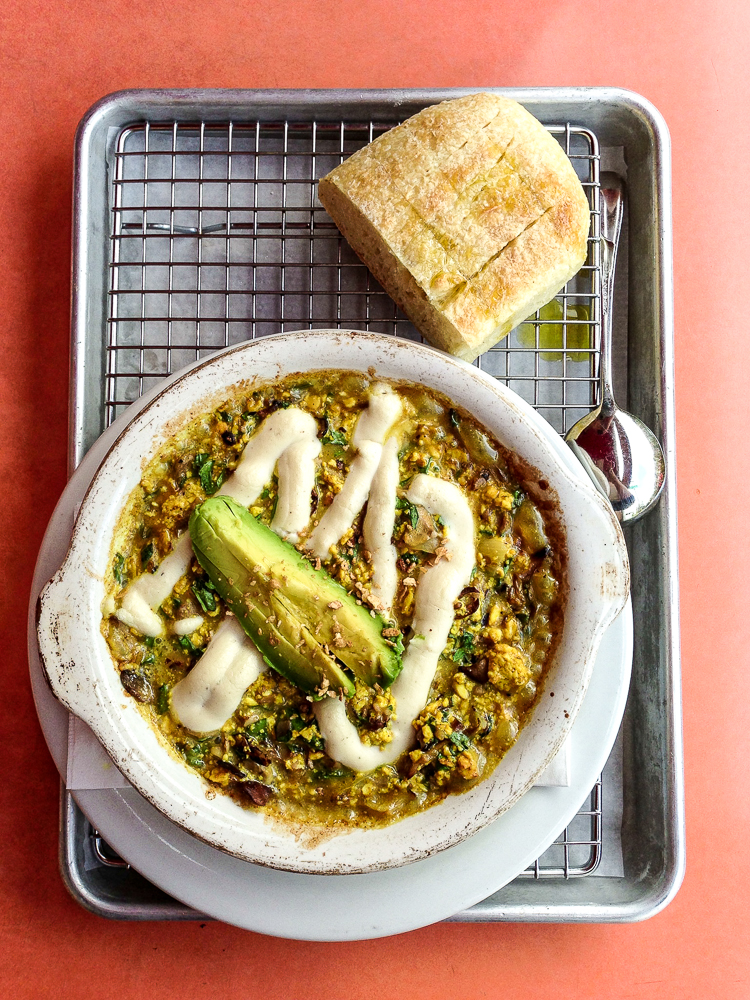 We were too stuffed for dessert, but we did get some for the long drive back to LA.  They have a selection of "snowballs" what are basically different types of cake in large ball form, covered in frosting and other toppings.  We got the chocolate peanut butter one, which was chocolate cake, covered in peanut butter frosting, nuts and a chocolate shell drizzle.  We inhaled ate it before it occured to me that we should've taken a picture.  The cake was super moist and just perfectly sweet and the frosting was divine.  I would get this again in a heartbeat.  They also had vegan twinkies, which are supposed to be Source's specialty, but neither of us have ever been big twinkie fans. Chocolate and peanut butter, on the other hand...
If you find yourself in San Francisco, Source is a must for a delicious, filling, and innovative meal.  I know for sure that I'll be back!
Source  ·  11 Division St., San Francisco, CA  ·  415-864-9000