For about two weeks, I planned a three-day-long road-trip up to Northern California for my cousin's baby's first birthday.  I had snacks and meals planned for Chris, the twins, and I- things we would eat while traveling, and things we could make while staying at my grandparent's house.  It was going to be perfect.  All of this went out the window, however, when Chris booked not one, but three projects all at once and had to stay home for the weekend in order to work on them.  He didn't feel comfortable with me driving by myself (though I've done this drive 10,000 times), so at the last minute (at 8 am on the morning we were supposed to leave), we booked tickets for me to fly to San Francisco and rented a car so I could drive to Tracy.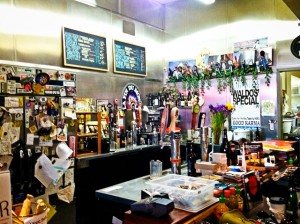 Because I did not know I was going to be flying, I only brought limited snacks, from what we had on hand: nuts, a couple apricots, and a couple of these muffins.  Nothing terribly substantial, but I thought I was going to be landing at 2pm and heading to a grocery store to stock up on vegan food for my grandparent's house.  Fate had other plans, and delayed my flight by several hours but then got me on a different flight, only an hour later than my original, into my hometown of San Jose, which also ended up being delayed slightly.  My limited snacks were not well-suited for this change in plans and suffice it to say, all my food was gone by 10 minutes into the flight.  By the time I landed and rented my car, I was a crazy, ravenous lady.  There are no Whole Foods anywhere in between the San Jose airport and Tracy, and it's been so long since I've lived there that I don't know where any other natural vegan-friendly stores are.  There aren't even that many vegan-friendly restaurants in San Jose, which is disappointing considering the size of the city (It is bigger than San Francisco and has about 200,000 more people).  While checking Yelp for vegan options, I came across a familiar name, Good Karma Vegan Cafe, and since it was on the way, I knew I needed to get there fast and fill my belly.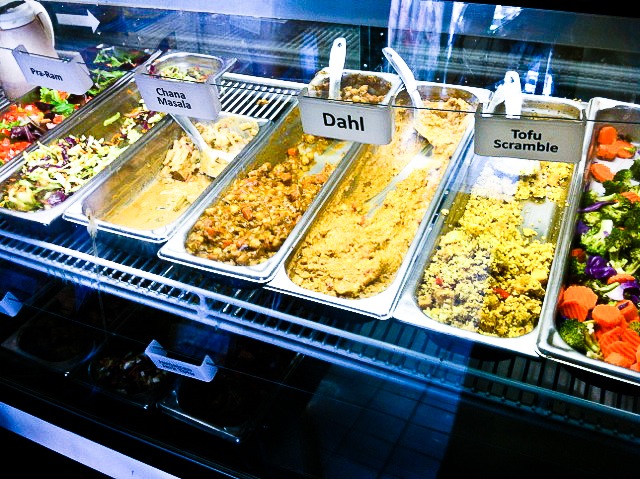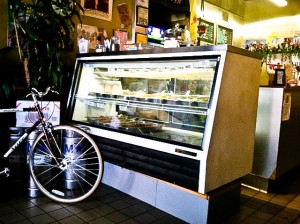 Good Karma is in downtown San Jose, very close to my alma mater, San Jose State University.  In my early days of vegetarianism, I ate at Good Karma frequently.  It's a funky, crunchy-hippie sort of cafe, with crazy art on the walls, at least one person with dreadlocks at all times, and a deli case full of pre-made food for you to fill a plate with or to stuff inside a burrito.  There's an eclectic mixture of things: tofu scramble, mashed potatoes, steamed vegetables, chana masala, thai tofu curry, to name a few.  Their barbecued "chicken" drumsticks were bought in bulk to take to family gatherings, so that I would have something to eat in place of the turkey or ham or whatever dead animal was being served up.  This place introduced me to vegetarian options that were not cheese or egg based (things I relied heavily on in my vegetarian days).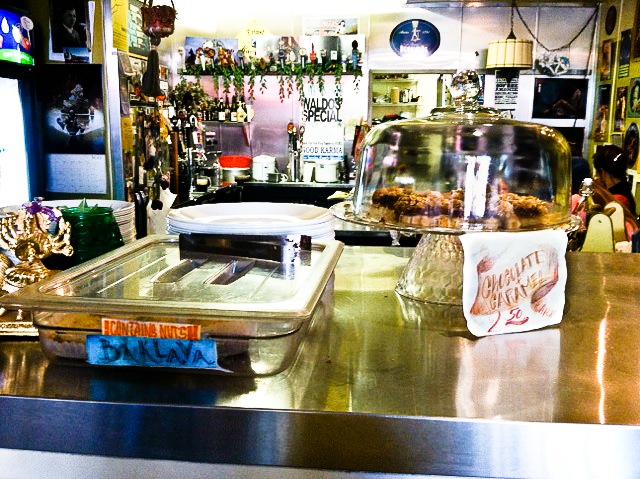 When I arrived at Good Karma, I noticed that not much had changed.  It's still pretty funky and seeming to be doing pretty well as I'd noticed they had added an outdoor eating area.  I ordered the three item plate, which comes with brown rice, along with 1 barbecued "chicken" drumstick (did I mention that I was ravenous?), and took my seat at one of the few indoor tables.  My food was heated and served promptly.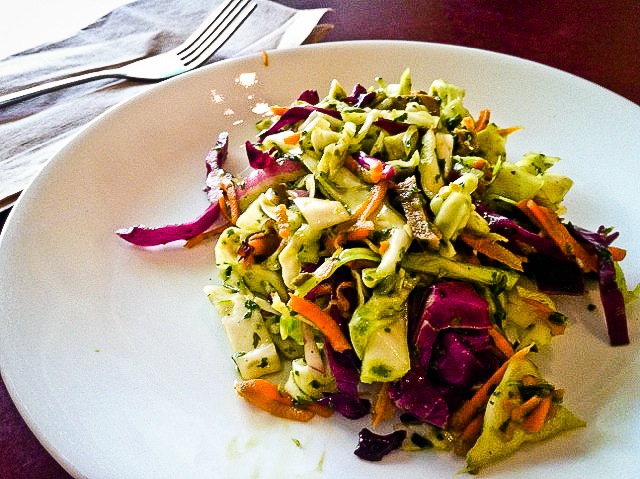 First up was the Chik'n Salad, which came in a generous portion, on it's own plate, since it did not need to be reheated.  Lots of green and red cabbage, carrots, strips of soy chicken and a light sesame dressing made up this lovely salad.  Although it was delicious, it was nothing I would write home about (does anyone "write home" about anything at all these days?).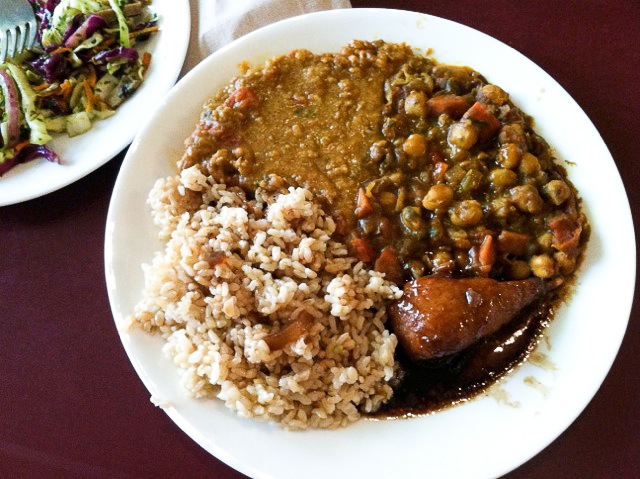 Soon, the rest of my order was served.  I had ordered the Chana Masala and the Daal, to go with my brown rice, and of course, there was the barbecued "chicken" drumstick.  It was all very satisfying, which is what I needed.  The drumstick was just as great as I'd remembered, but the rest of the meal, though it was pretty tasty, was slightly underwhelming.
I attribute the slight disappointment  to a few factors.  The first factor is that I had built up an expectation based on what I remember from about eight years ago, and perhaps I had built up my expectations a little too high.  Secondly, since my first dabblings in vegetarian/vegan cuisine, I have had the pleasure of experiencing some absolutely out-of-this world meals that changed the way I see vegan cuisine.  The simple, yet satisfying, dishes offered at Good Karma did not quite compare when I know what potential there is in vegan cooking.  Lastly, a factor that I seemed to have erased from my college memories, is that they reheat all of your food in a microwave, I'm guessing because it's faster (?).  Microwaving, to me at least, always seems to remove some of the original flavor and make it seem like you're just eating leftovers.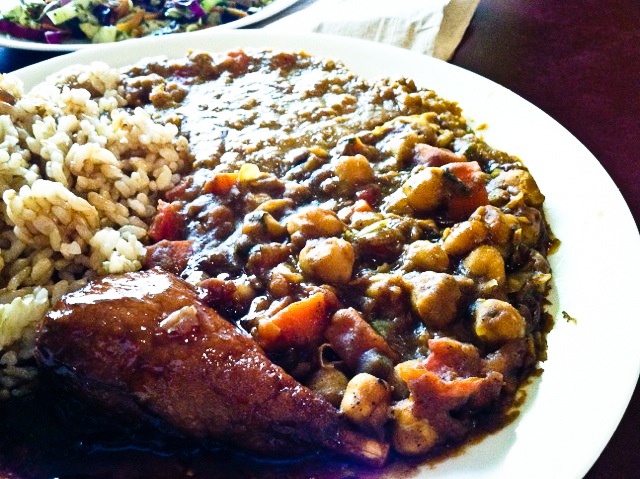 Good Karma provided me with just what I needed: tasty sustenance.  I was able to get back on the road in a much better mood, and get to Tracy to help my cousin prepare for the big party.  If there were a ton of vegan options in San Jose, I would tell you to go explore those before hitting up Good Karma.  That is not the case, however, so should you find yourself near downtown San Jose, I suggest heading to Good Karma Vegan Cafe.  And say hi to my old school while you're there.
All Photos taken on the phone of Kristy Turner

© Kristy Turner and Keepin' It Kind, 2012. Unauthorized use and/or duplication of this material (content and images) without express and written permission from this blog's author and/or owner is strictly prohibited. Excerpts and links may be used, provided that full and clear credit is given to Kristy Turner and Keepin' It Kind with appropriate and specific direction to the original content.