We arrived in Barcelona at about 9:30pm, exhausted and famished. This was Chris's first time in Spain and though I'd been there about 6 times before, I'd never flown in/out of the main airport there. We had to figure out how to catch the shuttle that would take us to the Metro line that would drop us near our hotel. I don't know about you, but Chris and I get pretty irritable when we're hungry and tired so I was incredibly impressed with how well we handled ourselves as we figured out that puzzle. We stayed totally calm and even laughed at the situation a few times (It was a little confusing. Or maybe it wasn't and we were just tired. I don't know). I suggest you just find an information desk as soon as you land, tell them where you are going and they will tell you how to get there.
We caught the very last Metro train for the night and it took us all the way to the Passeig de Gracia stop which was just a few blocks from our hotel. The Metro is the best way to travel around the city- it's pretty inexpensive, it goes everywhere, and the trains run pretty frequently. There are buses as well, but we only had to take a bus once the entire 5 days we were there. Like I said, the Metro can get you pretty much everywhere.
Gran Via des les Corts Catalanes, 647, Eixample, Barcelona 08010 • Ph. +34 934 121115
I had chosen this hotel because it was very centrally located, reasonably priced, and had a pool on the roof. Sadly, we never got to use the pool (we weren't provided with the appropriate weather), but we did spend an hour or so every evening on the roof at their bar. There is bar seating that overlooks the city skyline and there is also a cushioned seating area along with the normal tables and chairs. We would have a glass of cava (Spanish sparkling wine, most of which is vegan because it is fermented in the bottle and doesn't go through the same refining procedures regular wine does) and olives every evening before heading out for dinner or whatever we had planned for the night. Sitting up there, every evening with my best friend, relaxing and discussing the day, is one of my most favorite memories of this trip.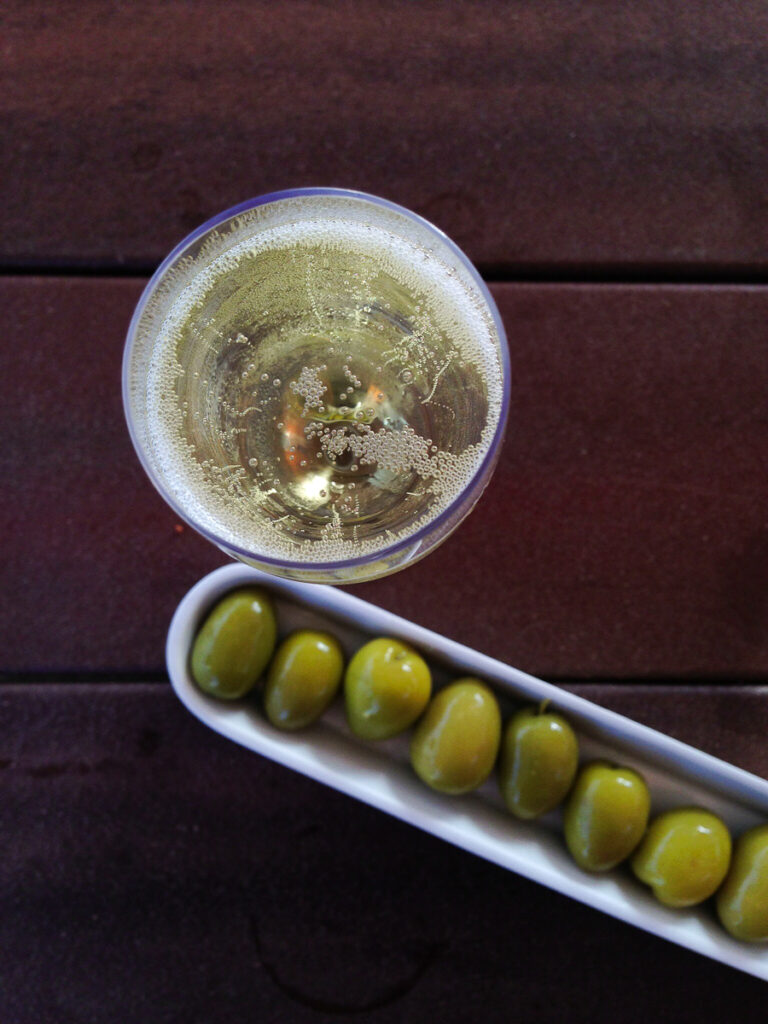 The rooms were nice as well. They were modern and you could tell they were probably remodeled about two years prior, but our room was a little roughed up, as if there had been a serious brawl in there. I can't complain, though. It was a very nice place to stay in a very nice location.
Carrer de Ferran, 13, 08002 Barcelona • Ph. +34 678 604946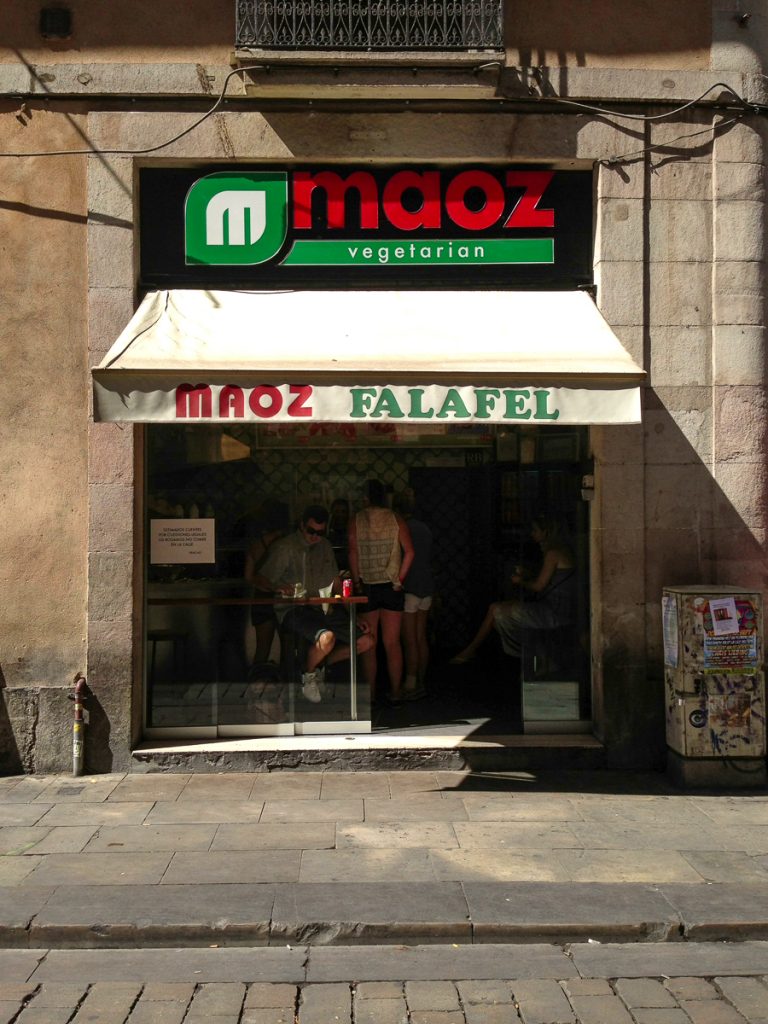 After checking in and lugging our stuff up to our room, we needed to eat something and soon. After checking Yelp and Happy Cow, it seemed that the closest vegan eatery available to us that late at night(Barcelona doesn't even get started until about 10 at night, but some vegan eateries have weird hours so it's always good to check) was Maoz Falafel, even though it was a solid twenty minute walk away. We didn't care. I will walk for miles for a good falafel wrap.
We walked all the way down to Las Ramblas (the main touristy drag in Barcelona) which of course was a madhouse with young Americans partying like it was 1999. I can't say that I've never been one of those party-hearty 20-somethings thinking I was the shit while parading around the Gothic Quarter in Barcelona, but this 30-something woman had a little bit of culture shock having just come from Italy where this sort of behavior is just not tolerated. It was probably also due to the fact that I was hungry starving, but I probably rolled my eyes at 42 people during that walk. I thought for sure, Chris would decide right then and there that he hated the city, but he was enjoying himself.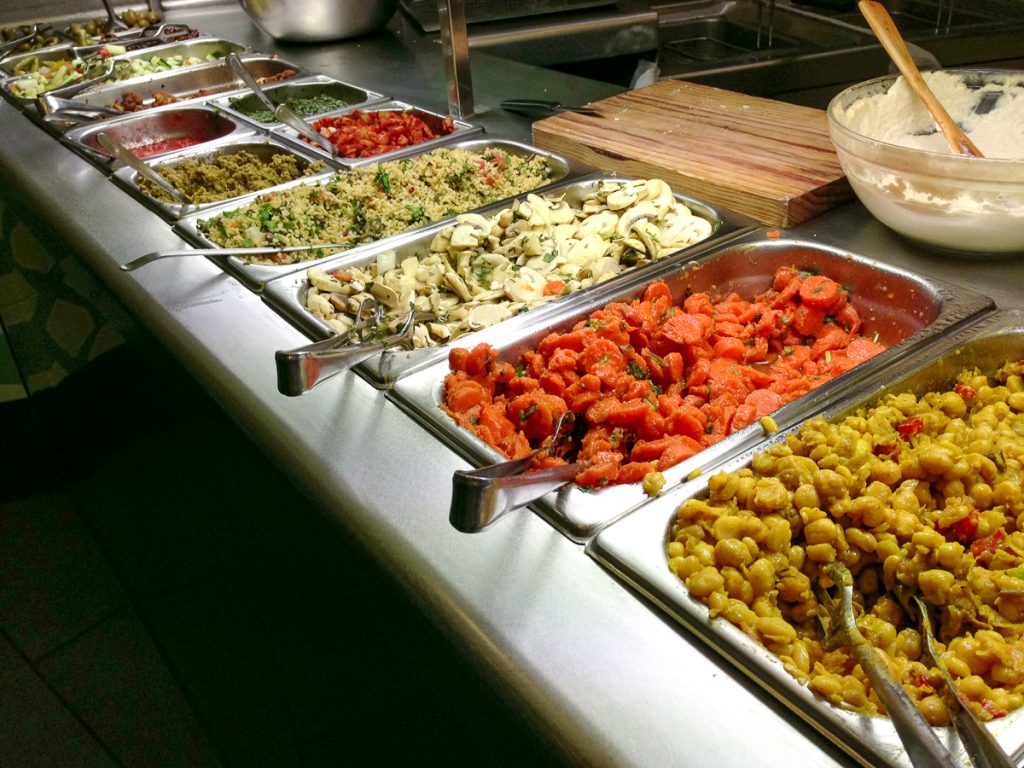 I'd always heard great things about Maoz, but I'd never had the opportunity to try it. When we got there, I don't quite remember what I ordered but I think it was along the lines of "I want everything that's vegan." At Maoz, they prepare the falafel for you, but you get to add whatever you want to it from a wonderful little salad bar. There was only one item there that was not vegan, so I packed my pita with so much stuff, it was overflowing (Did I mention I was ravenous?). Chris did the same and we also got french fries.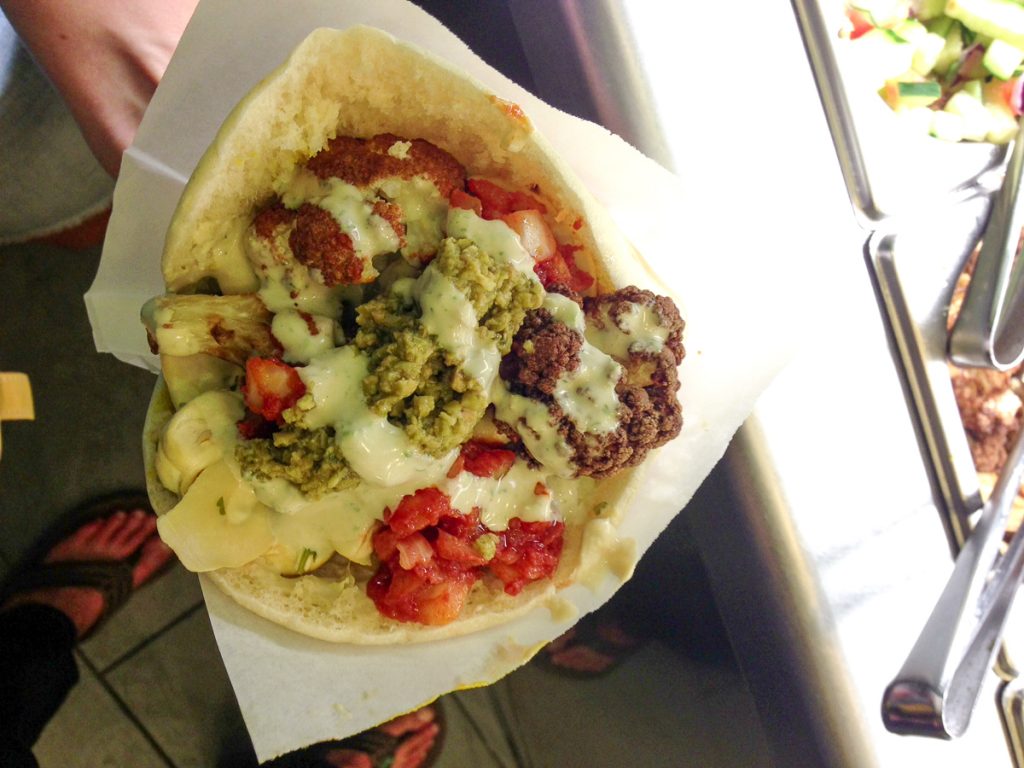 We sat down and dug in. We ate in silence because we were too busy savoring every bite. It was incredible. The best falafel wrap I've ever had. Even when I got full, I kept eating because I couldn't bear the thought of throwing away the last 6 or 7 bites. And it was just too good to stop. I finished it off and I was in terrible pain from being so full but I didn't care (well, at the time, I kept saying "I wish I hadn't taken those last five bites," and "I think I'm going to explode," but in retrospect, I am so happy I finished it off.
I was much more tolerant of all of the crazy twenty-year-old partiers as we rolled our stuffed bellies back to the hotel. I was even able to point out significant places in my party history like "That's where I met this guy with a puppy named King and he let me hold him," and "that's where Katie switched shoes with this Swedish guy…"
The next morning, we slept in (as you do in Barcelona) before venturing out to get some breakfast. I'd warned Chris that Spain doesn't really do breakfast- they're more the "Cafe Con Leche and a pastry" types and that's just the omnivores! We had open minds as we went searching, knowing that it may be slim pickings.
Carrer del Cardenal Casañas, 7, 08002 Barcelona (Gothic Quarter) • Ph. +34 933 024330
Carrer de l'Hospital, 74, 08001 Barcelona (El Raval) • Ph. +34 934 439082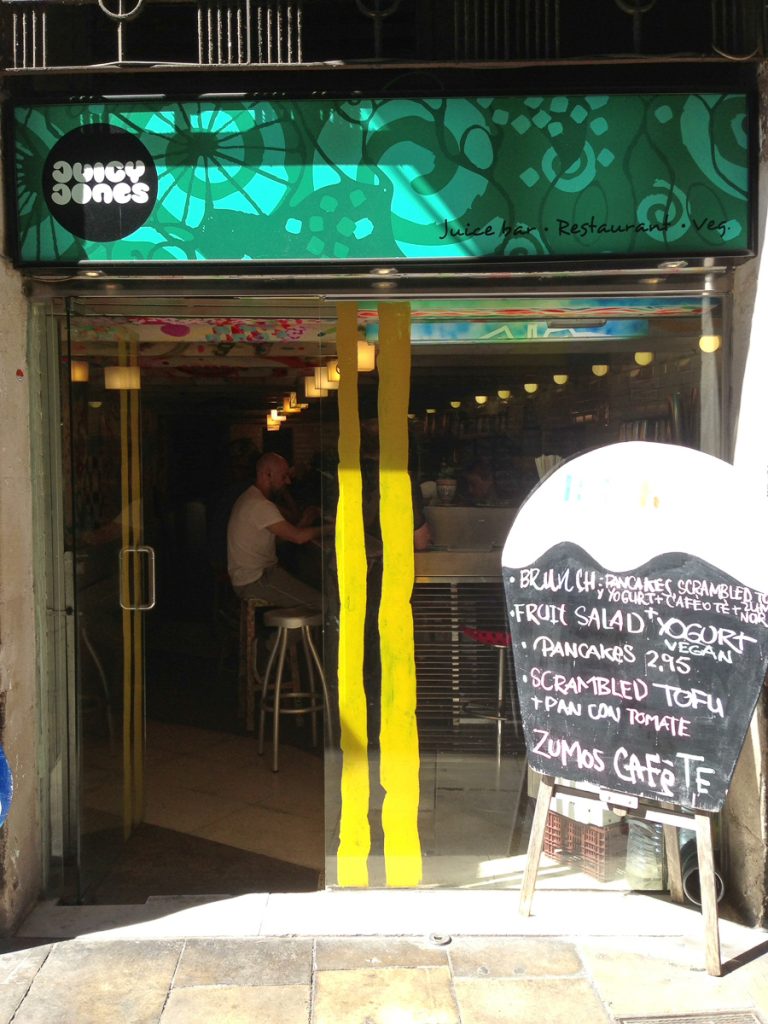 Juicy Jones is an all-vegan restaurant with two locations in Barcelona. I had been there a couple times in the past but only for their smoothies. I'd never tried any of their cooked meals. They get rave reviews, however, and I was excited to try some other things from their menu. As we strolled up to their Gothic Quarter location, thinking we would just grab a sandwich or a smoothie, we were delighted to see a board outside noting that they had a tofu scramble! A tofu scramble in Spain? Heck yes!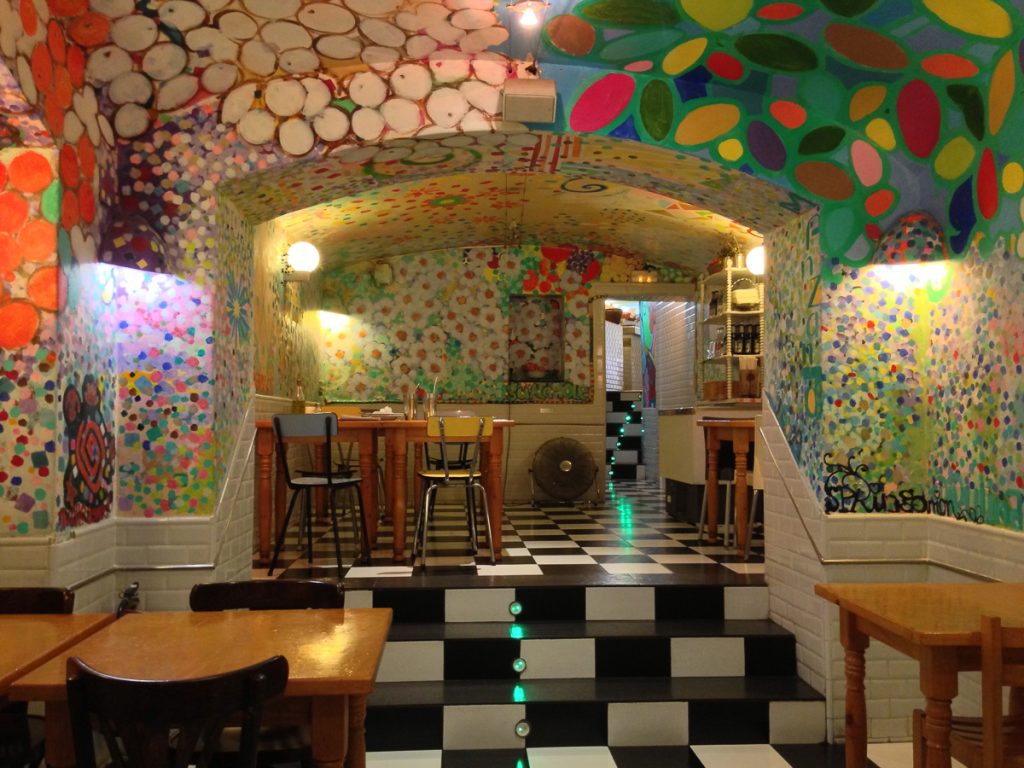 Once we had the lady behind the counter's attention, we asked if we could order the tofu scramble. She told us that the kitchen doesn't open until 1pm. We looked out our phone. It was 12:55. It sounded good to us! We ordered a couple smoothies and went downstairs to sit and wait for the kitchen to open.
Apparently, one o'clock was just a rough estimate for the time the kitchen would open because it didn't actually open until around 1:30, or at least, that's when a waitress finally came and took our order. Chris ordered the tofu scramble and I said "I'll also have the tofu scramble." About 20 minutes later, the waitress came back with one tofu scramble and left. We thought she was getting the other one so we waited, neither of us wanting to eat without the other one. After about 5 minutes, we each had a piece of toast and after a few more minutes, we finally flagged down our waitress. We asked if the other one was on its way. She seemed confused. We explained that we had ordered two. She responded with "I don't think so" and walked away. We weren't sure whether she was getting another order but we decided to share the one that was getting cold. I hate giving negative reviews and generally, if I have a negative opinion of something, I won't share it. In this situation, I've decided to share it. Juicy Jones gets great reviews on Happy Cow so maybe this was just a fluke, but this was the worst tofu scramble I've ever had. It was inedible. It tasted like plain tofu and turmeric. We flagged down the waitress and asked for the bill. She was not happy with us at all and was very quick to get us out the door.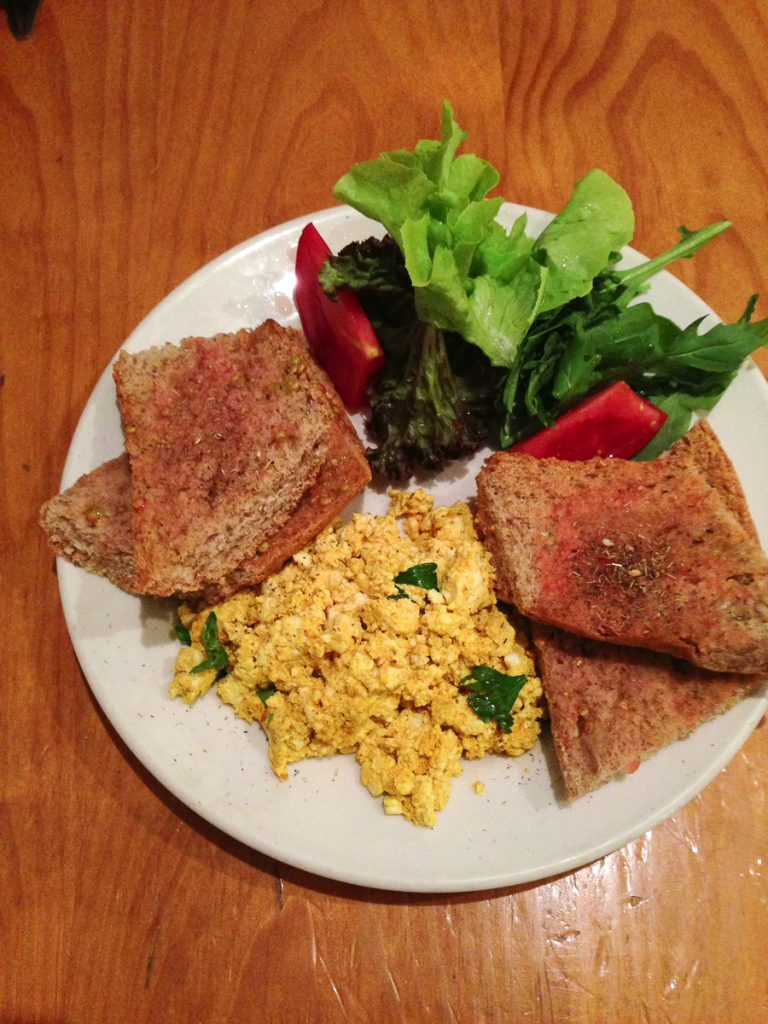 We decided to give Juicy Jones the benefit of the doubt and tried out their other location for dessert one night after dinner. We each got a glass of sangria (When in Spain…) and shared a piece of cake. Both were just average. I actually didn't love the Sangria, but I think I may just not like Sangria in general (our conversation went like this: While looking over the menu, I excitedly said "Oooh, they have vegan Sangria!" Twenty minutes later, as we sipped our sangria, I exclaimed with utter distaste "I don't care for Sangria."). So the cake was okay. All in all, go try one of their smoothies- they're fantastic. Try their food too- you may have better luck than we did because I know there are people who love this place.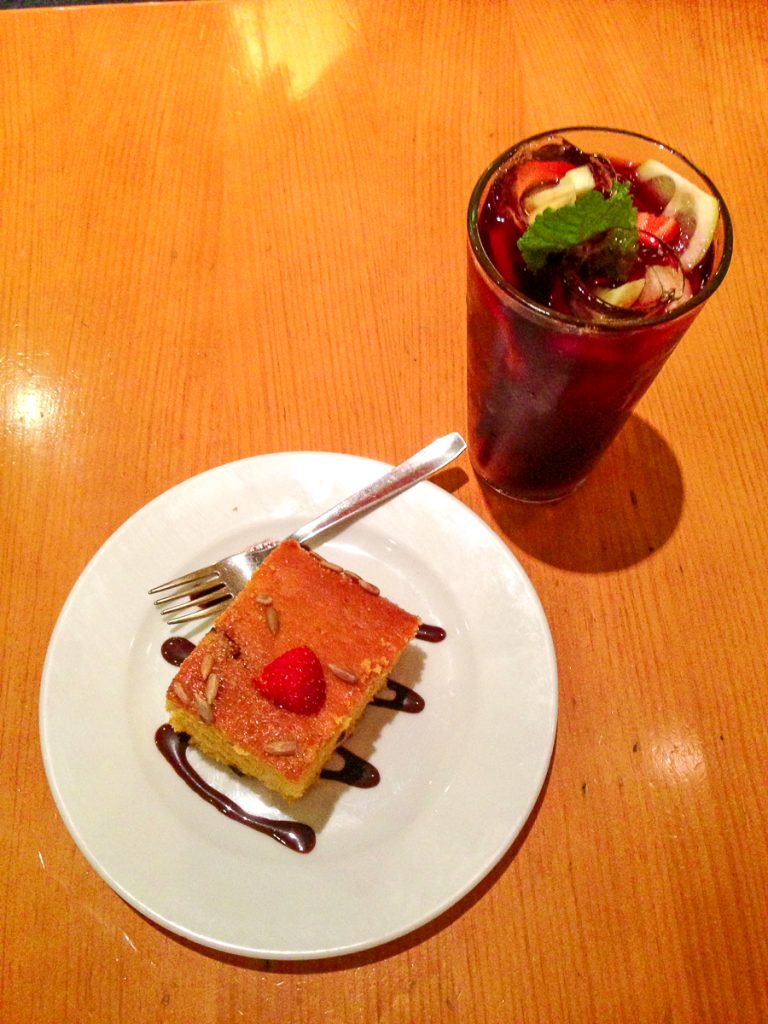 We left Juicy Jones still pretty hungry and now that it was well after 2pm, it was close to lunch time and we still had only had smoothies. I was beginning to think that Barcelona may have been a bad choice for us vegans to travel to but then we found the place that completely proved me wrong.
Carrer Escudellers 42, Plaéa George Orwell, Barcelona 08002 • Ph. +34 933 189215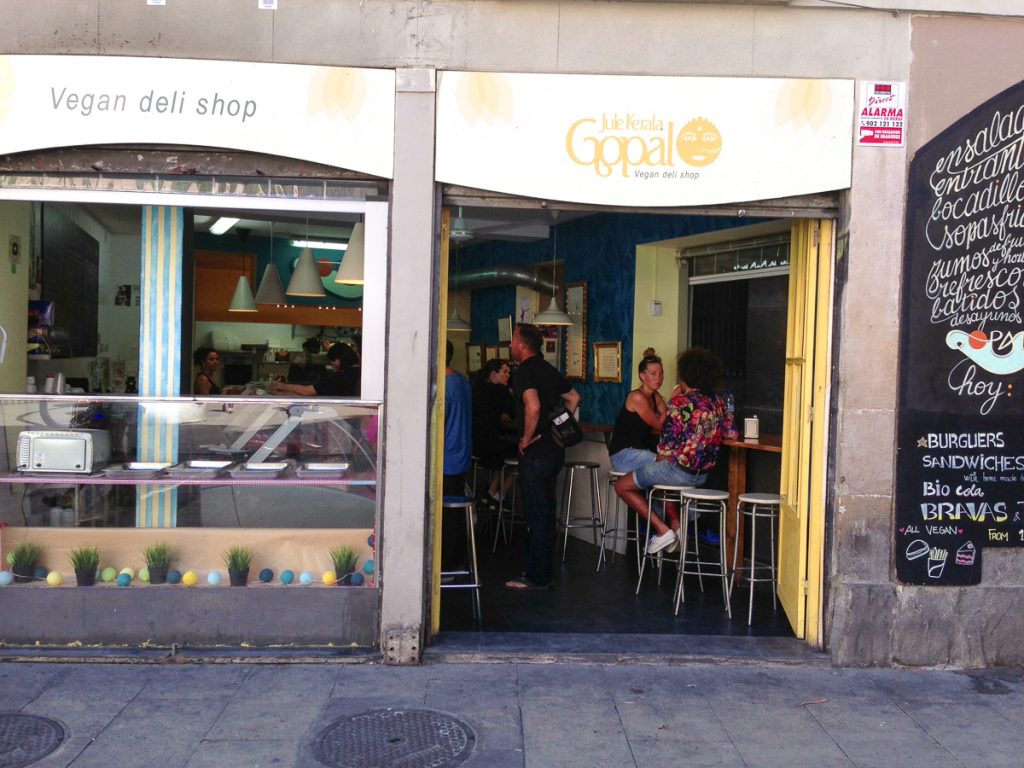 We headed to George Orwell plaza because I had remembered a vegetarian restaurant that I had frequented almost every time I had visited Barcelona, though I could not remember the name of the establishment. We found the restaurant I remembered, but two doors down, there was a fully vegan restaurant, Gopal, with a line to the door so we decided to check them out first.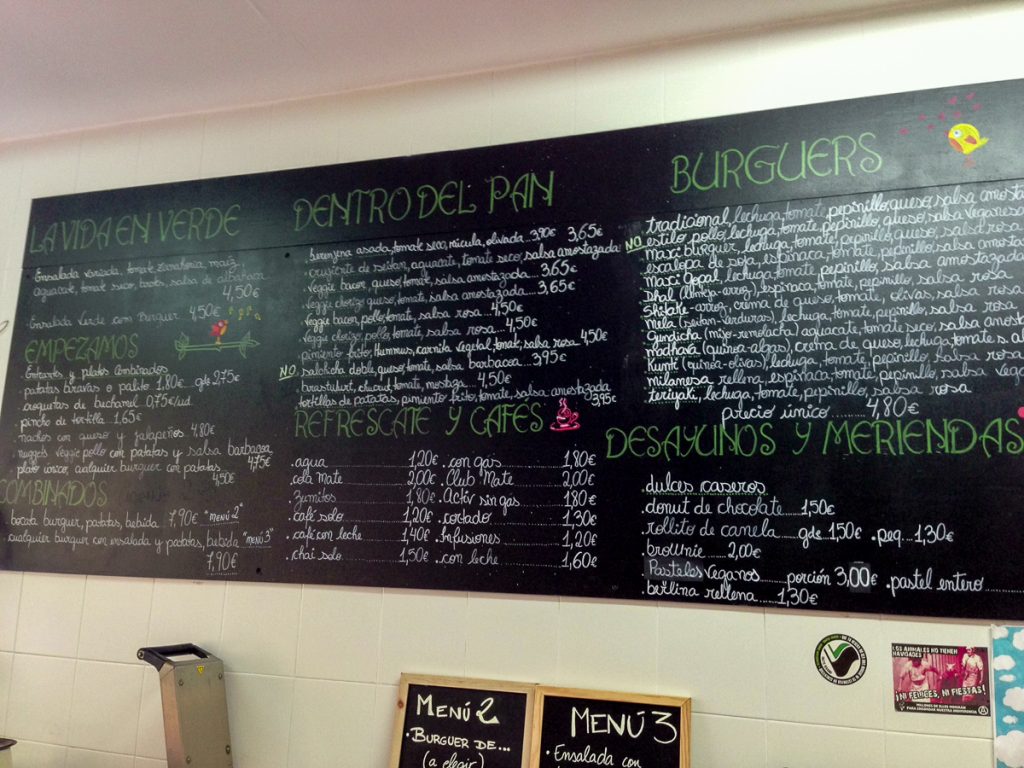 Gopal is similar to a deli, offering a variety of vegan meats for sale, desserts, and made-to-order sandwiches as well as a few other menu items. By the time we got there, it was fixing to be lunch time for Barcelona locals. I was so happy to see how packed the restaurant was. While we waited in line to place our order, we drooled over the desserts in the case. We both ordered a cafe con leche but Chris ordered a chocolate-coated doughnut to go with his and I ordered a cinnamon roll.
Both were good, but that chocolate donut was incredible. It was so good that Chris had to have one every day that we were there.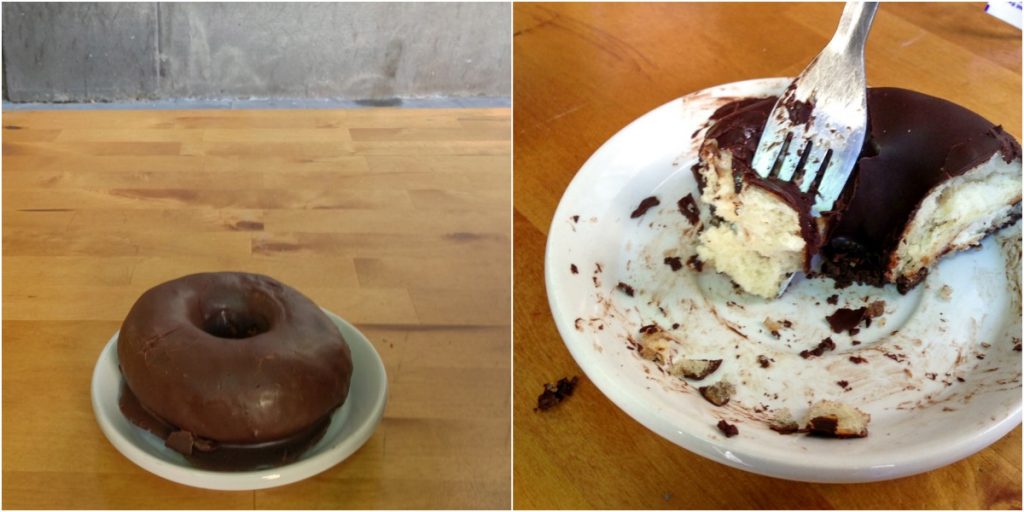 Because our initial visit was so great, we went back several times. Once, we went for a vegan version of my favorite tapa, the tortilla espanola. We also had some patatas bravas. Both were incredible.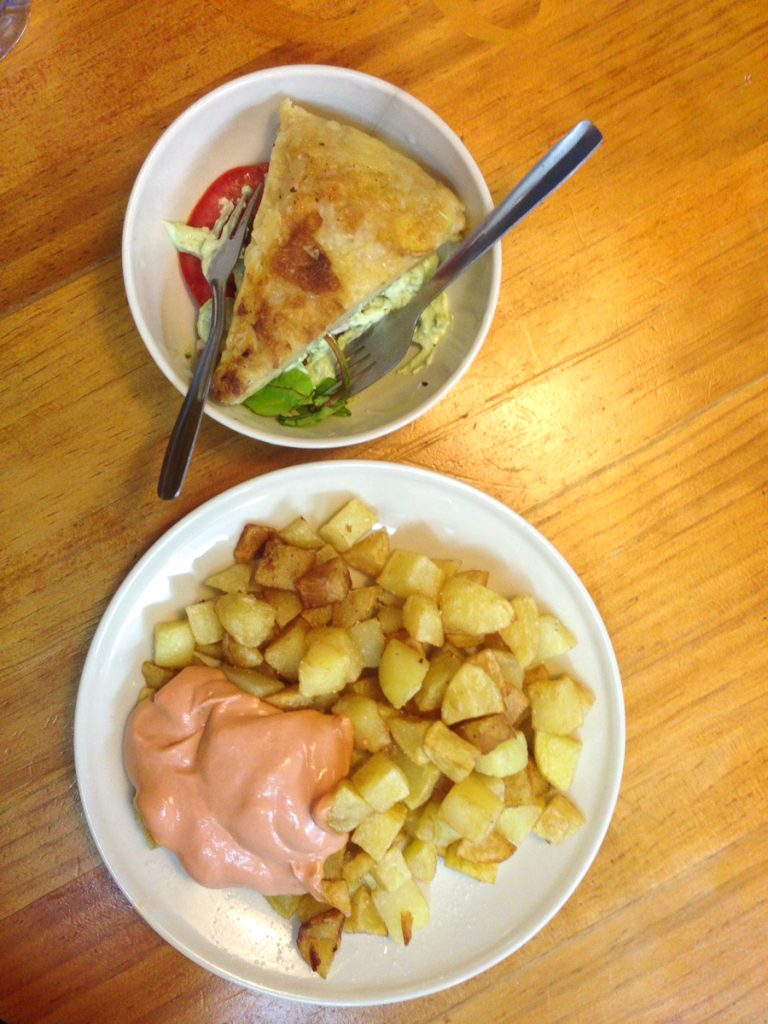 We went back for seconds on another day.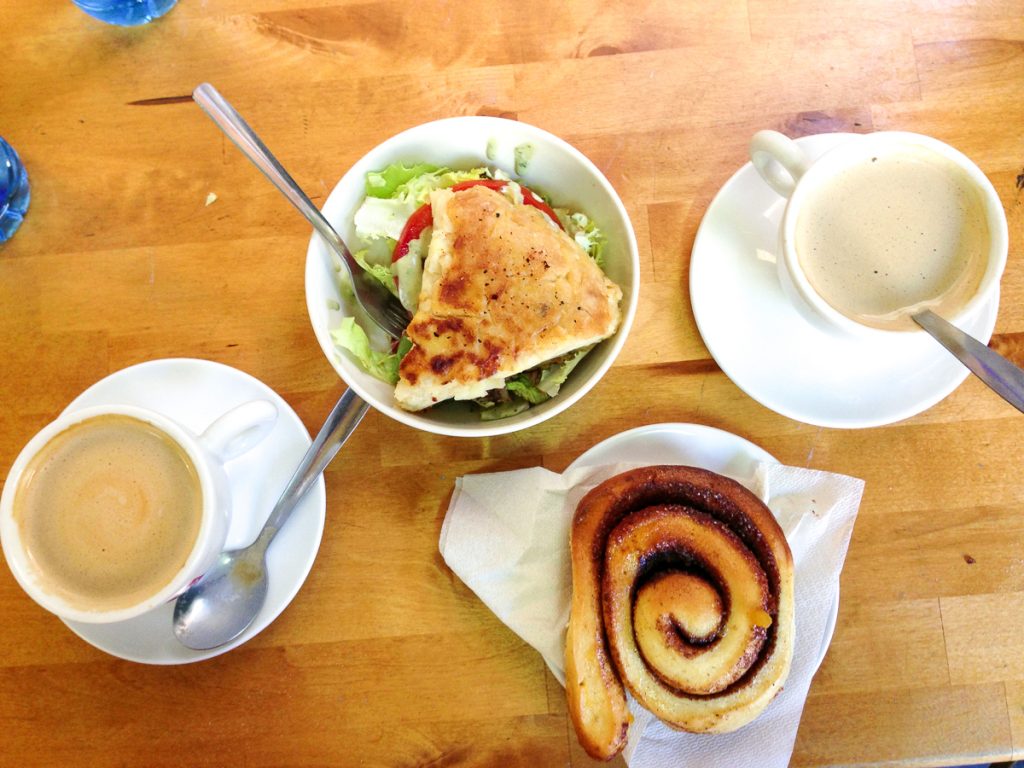 One day we tried their burgers. They were good, but not nearly as good as some other vegan burgers we had on this trip (see "Cat Bar" below).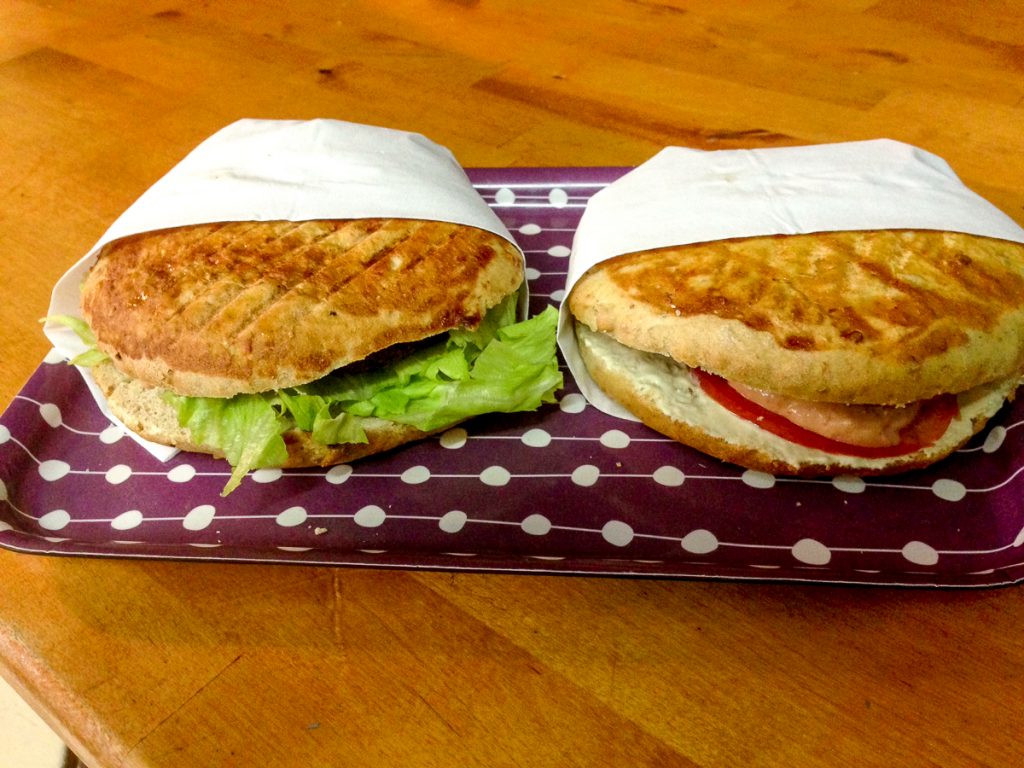 On recommendation of Emma, we went back for cake one night. They didn't have the carrot cake that she loved, but we had a chocolate cake instead. It too was wonderful. Gopal was certainly a sign of great vegan foods to come during our stay in Barcelona.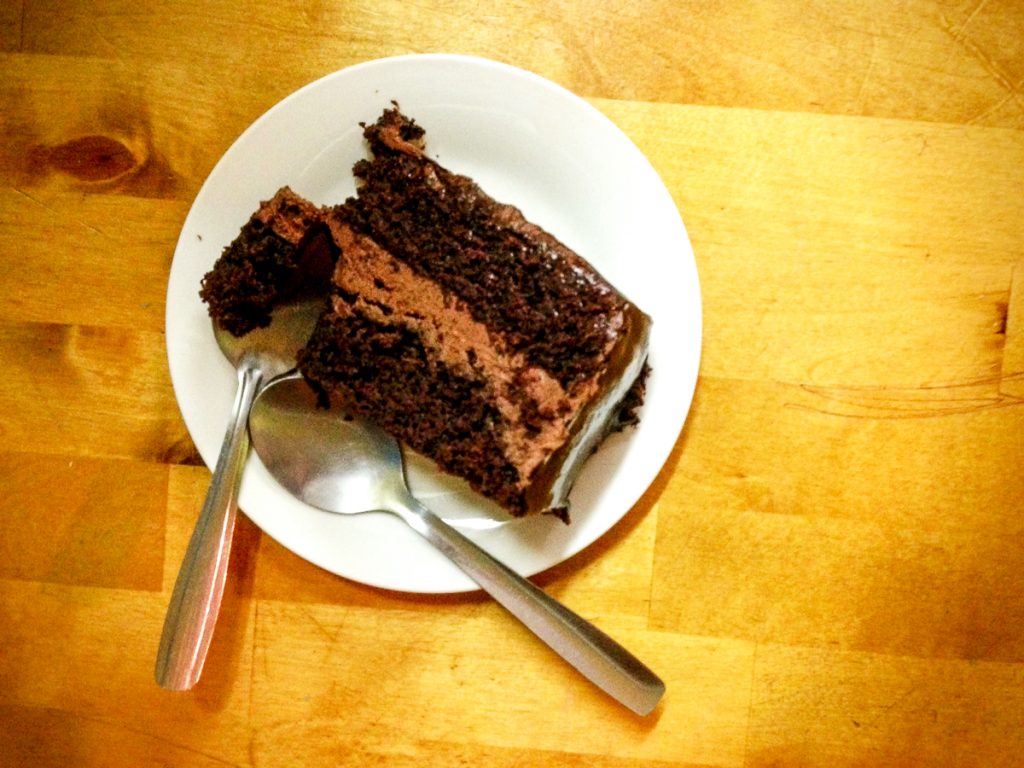 After the discovery of the Gopal Donut, we spent the rest of the day walking around, exploring some of the architecture of Gaudi before returning to the hotel to rest for a bit.
After having olives and cava on the roof of our hotel, it was around 9pm. It was still early for dinner by Barcelona standards but we were hungry and went in search of food. Our search led us to CatBar.
Carrer de la Bòria, 17, 08003 Barcelona • Ph. +34 932 956815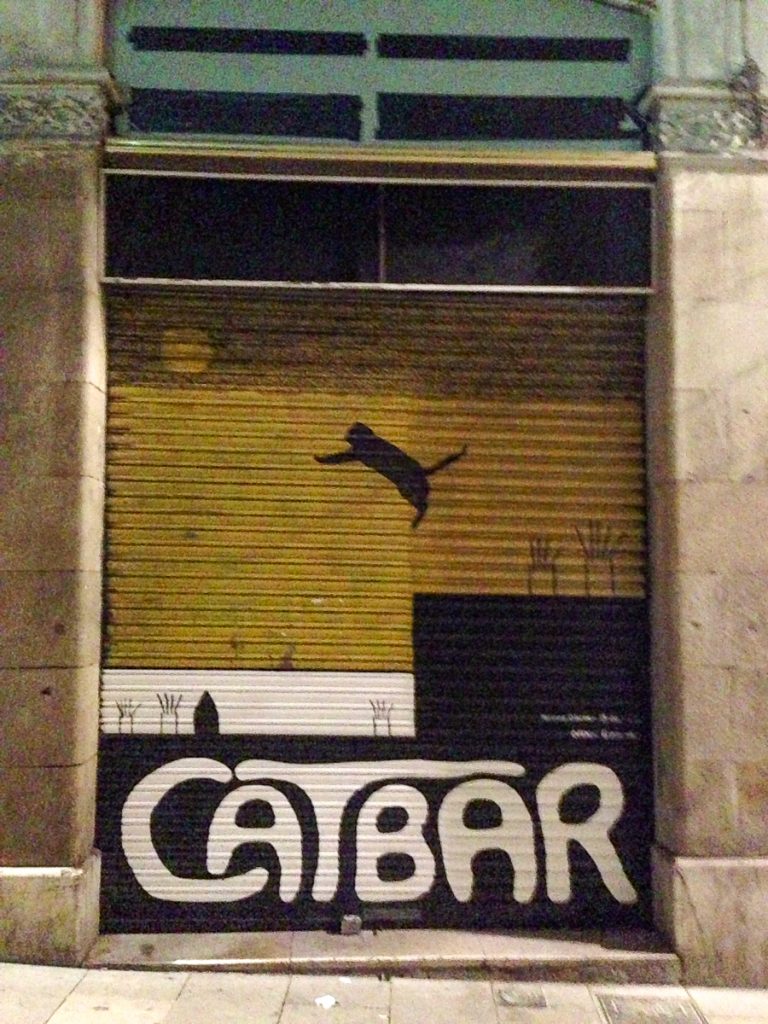 Cat Bar was on my list of places to try in Barcelona but all I knew about it was that it was a vegan bar that had some food on the menu. We thought we'd be able to get a few small plates to go with some vegan wine but we thought we would likely be hungry again in a couple hours and would have to break into our bag of snacks back at the hotel. Yet again, Barcelona had a surprise in store for us.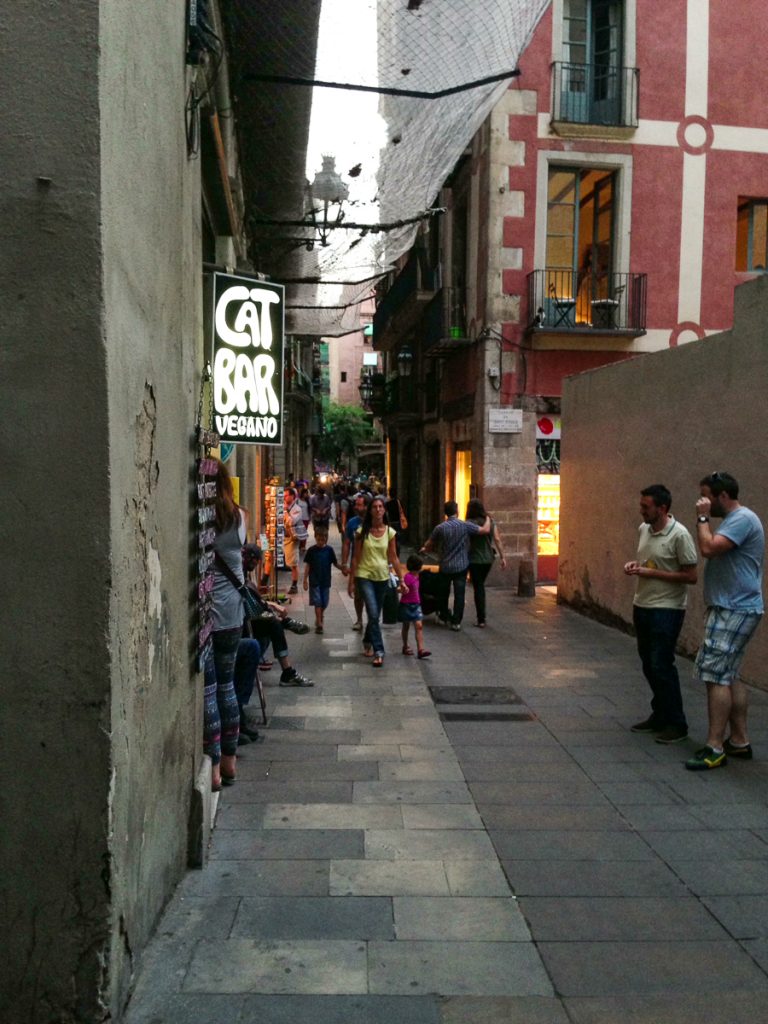 Cat Bar is located in the El Born neighborhood, very close to the Jaume 1 Metro stop. El Born is probably my most favorite neighborhood- it's hip and trendy but unpretentiously so. It's very down-to-earth and not very touristy at all. I was pretty excited to find that this bar was in my favorite area.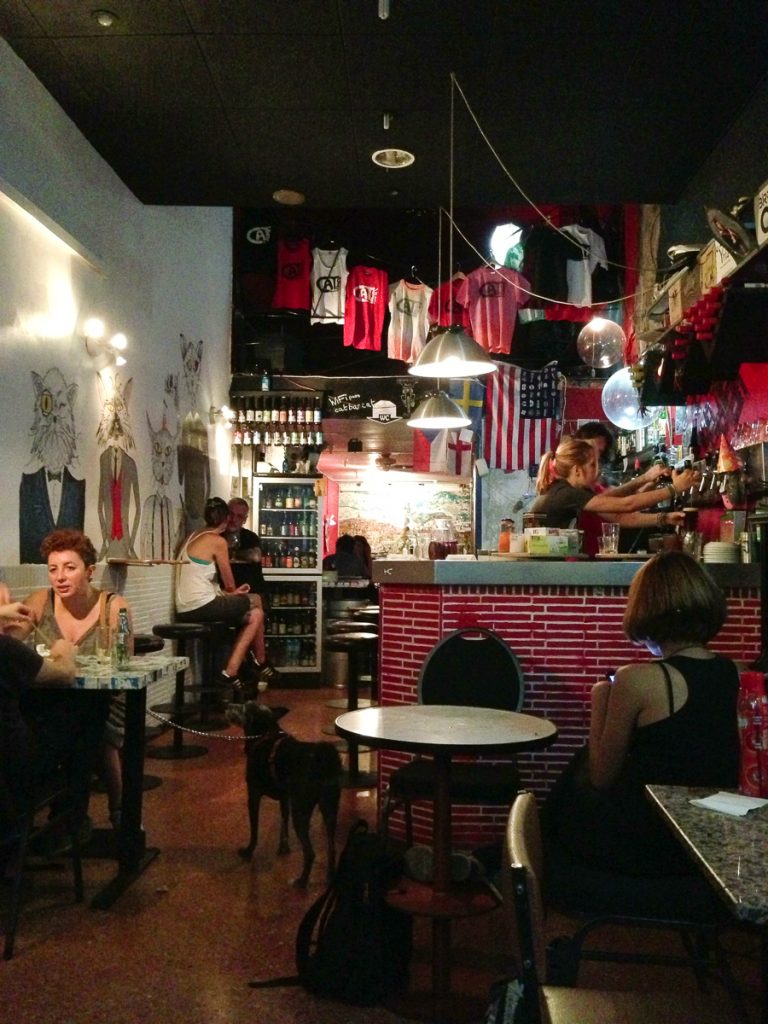 When we got there, we were able to snag a table right by the door/opening at the front which was perfect for people watching. Once we sat down, we were suddenly very hungry. Expecting that the dishes would be small, we ordered a lentil salad to share as well as a burger to share. They have a build-your-own burger menu where you can choose your patty, sauces, bread, and fixings along with a side dish. I forget what we ordered on our burgers but I know we asked for two sauces for the potatoes on the side- ketchup (Chris) and bravas sauce (Me).
The lentil salad was much larger than we had anticipated and could easily have been a meal on it's own. Thinking that we were sharing a burger, we ate every last bite.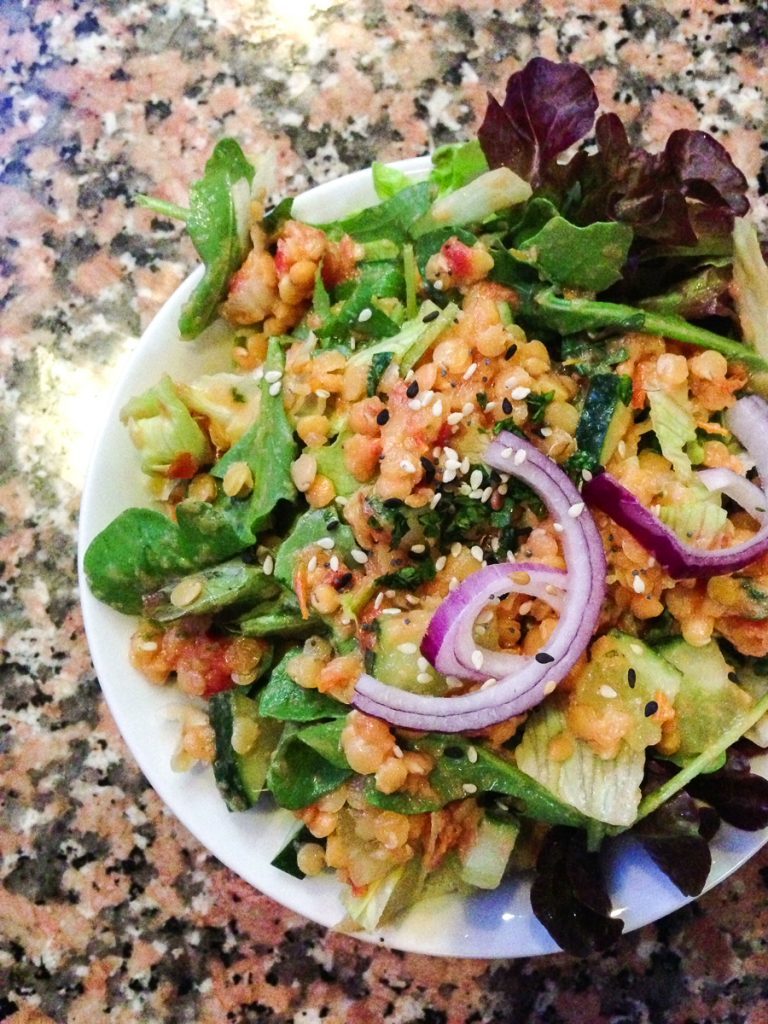 When our burger came, we were surprised to find that the waitress had ordered us each a burger. Meaning, we each got our own burger. And they were huge. We each also got our own side of potatoes.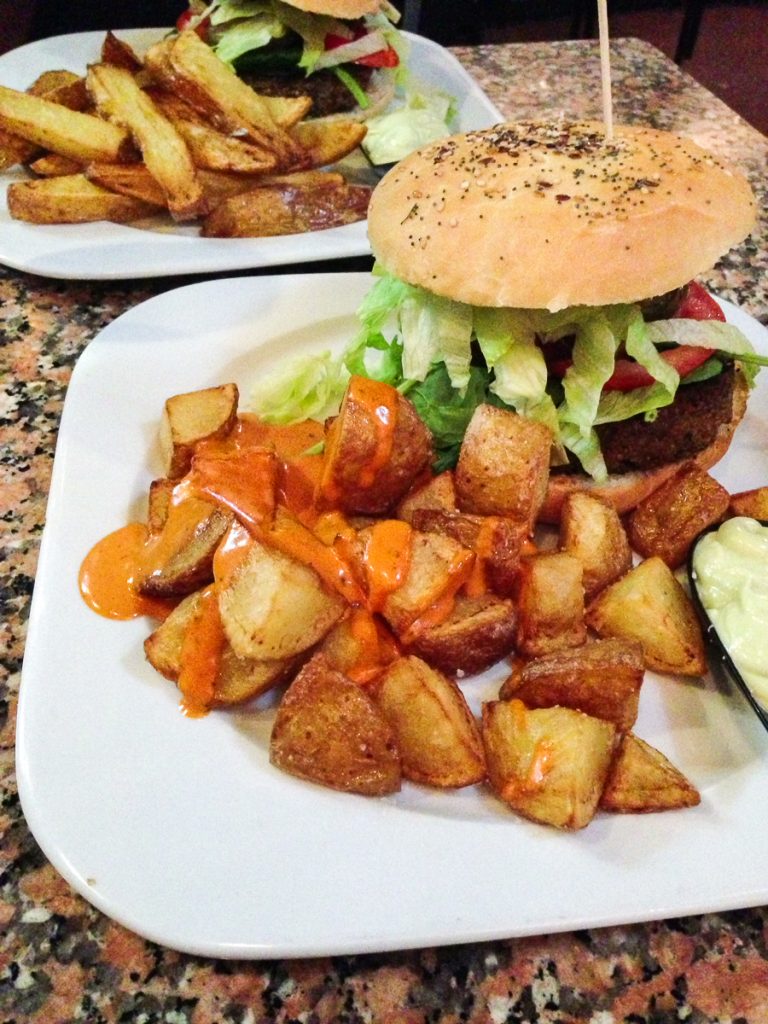 These burgers were the best vegan burgers either of us had ever had. In fact, I would go as far as to say that they we're the best burgers (vegan or not) that either of us had ever had. They had so much flavor, held together really well, and had that perfectly charred taste. We came back one more time during our stay but weren't hungry enough to eat (though we really wished we could've had one more Cat Bar burger during our time in Barcelona).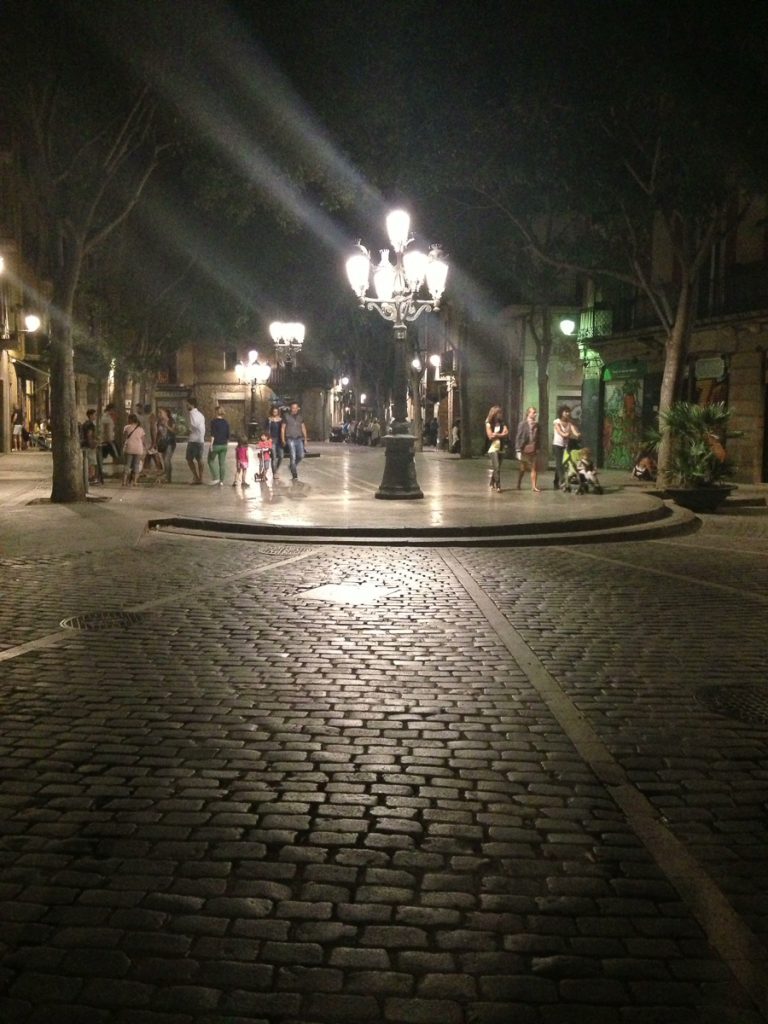 After we left Cat Bar, we walked the long way back to the hotel, taking some time to see the city after dark (when it really comes alive). We stopped by the Arc de Triumf and watched a group of women practicing a type of Asian dance while skateboarders practiced their tricks all around them. It was pretty neat to see people actually doing things at night, rather than just sitting at home in front of the tube.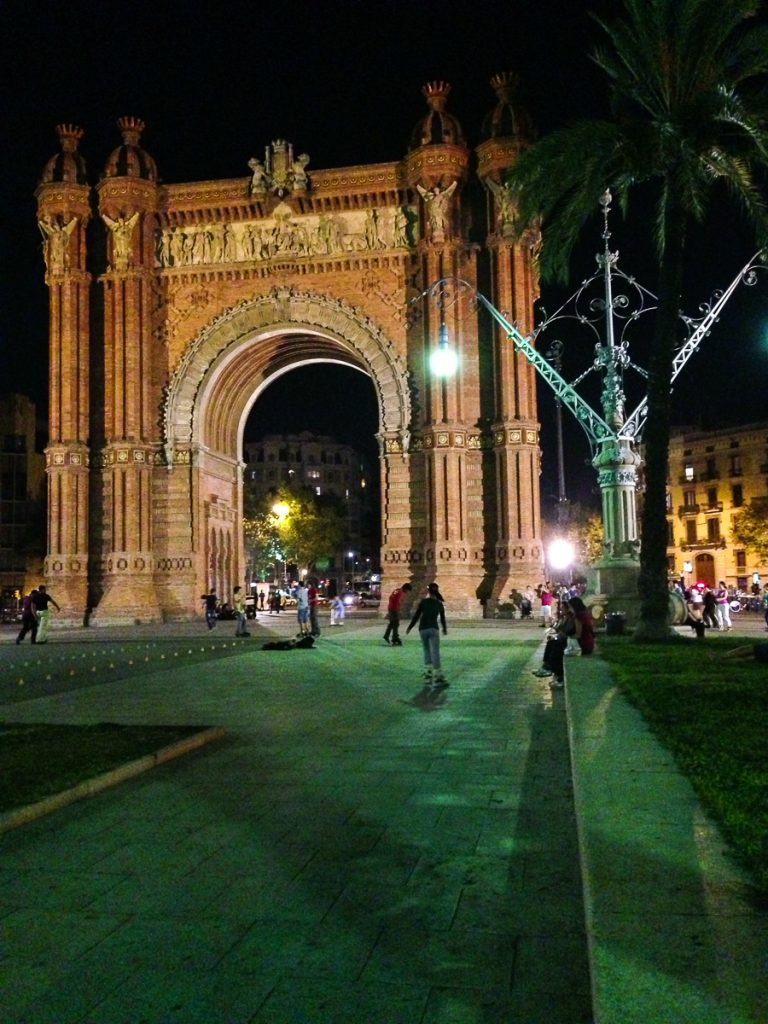 We also saw some pretty great graffiti not far from Cat Bar...