One of the first trips Chris and I took as a couple was to northern California, though it was not intended to be a romantic endeavor.  I was on a business trip of sorts to procure new cheeses for the cheese shop I worked at.  We stayed at my parents' house and Chris tagged along with me while I shopped for cheese in San Francisco and then in Berkeley.  We took BART to both cities and had a blast walking around each city, especially Berkeley.  We managed to turn that business trip into a very fun and romantic adventure and though we're vegan now and don't eat cheese anymore, Berkley has always been remembered fondly.  When Chris and I decided to do a quick getaway to San Francisco for our anniversary weekend, we knew we had to go up and spend a little bit of time in Berkeley.
On Saturday around 1pm, we took BART up to Berkeley (the BART strike ended just as we were flying to town so we were extremely grateful to have this super easy, fast, inexpensive, and convenient way to travel).  We got off in downtown Berkeley and spent a good hour or so just walking around University and Shattuck avenues.  We'd had a late, albeit very light breakfast, but felt we needed to get a solid meal in our bellies so we walked up Shattuck to Herbivore.
2451 Shattuck Ave, Berkeley, CA 94704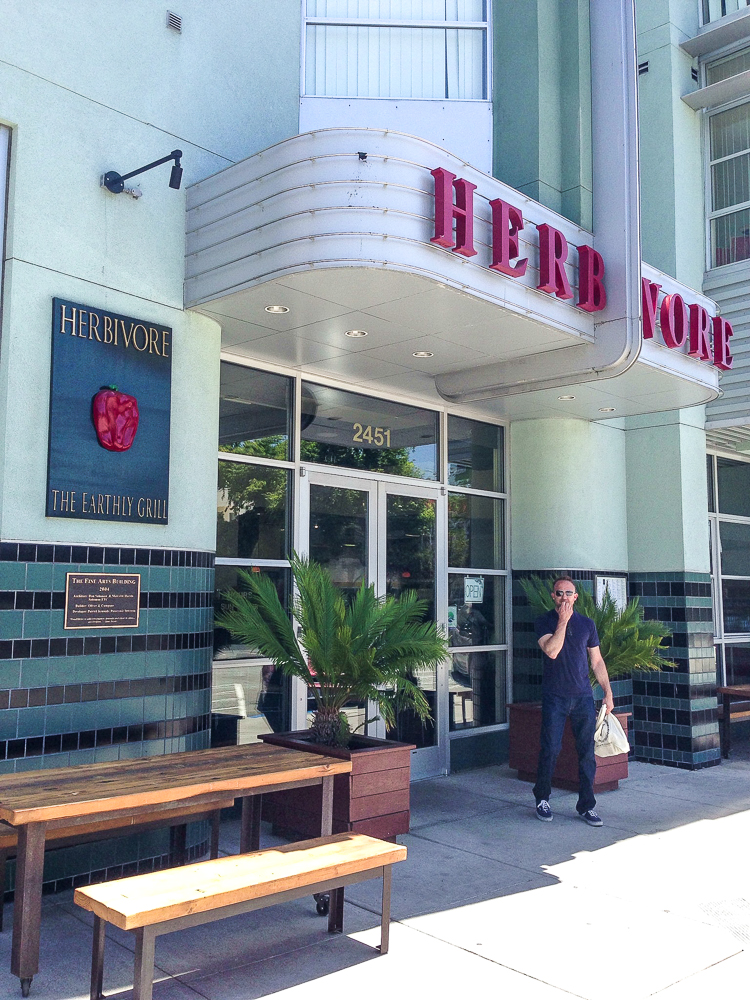 Herbovire is an all-vegan restaurant with three locations (two in San Francisco and one in Berkeley).  We were both happy to see that the restaurant was packed inside- we love seeing vegan businesses thriving.  Since it was so packed and because it was a nice day, we chose to eat outside.  This proved to be a great seat for people-watching too.
I really wanted to order the Grilled "Chicken" Shwarma because I've heard it's the best thing on the menu, but I was not terribly hungry.  Knowing that I would be indulging a little later, I decided to keep it healthy and just order the large Garden Salad with "chicken" chunks.  I was expecting something pretty measly (and a little boring, to be honest) so I was caught off-guard when a huge, beautiful bowl of salad was presented to me.  It was piled high with cucumbers, carrots, beets, tomatoes, bean sprouts, red cabbage, mixed greens and chunks of gardein chicken (Herbivore uses gardein products as well as daiya cheese and they serve Coconut Bliss ice cream).  I had asked for thousand island dressing, a childhood favorite of mine that I haven't had in many years, and was absolutely thrilled with how well it mixed with this salad.  They even put just the right amount of dressing- I could taste it, but my salad wasn't drowning in it.  I loved this simple salad and definitely didn't leave feeling like I had a boring, skimpy lunch.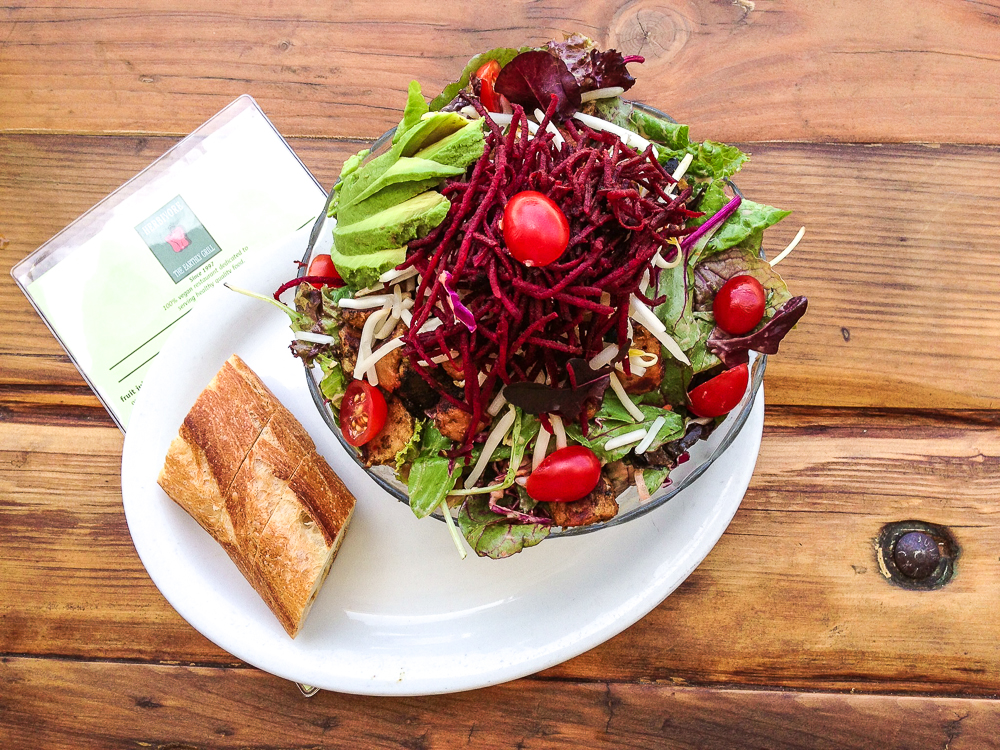 Chris was ecstatic that it was the afternoon and they were still serving breakfast.  I've mentioned before how much we love going out for a big breakfast (and hardly ever get to do in Los Angeles due to lack of restaurants offering a good vegan breakfast), so it was only natural that Chris would decide to jump at the chance and order the Basil Pesto Vegetable Tofu Scramble.  It was packed with vegetables and tossed in a wonderfully creamy basil pesto- it was delightful (Chris gave me a little bite).  It also came with house potatoes (which I had more than one bite of- these were incredible!) and toast with butter and fruit spread.  Chris wasn't crazy about the toast, but loved the rest of the meal.
We liked Herbivore so much that we decided that we had to visit one of the San Francisco locations before we went home.
We left and walked down Shattuck a little more before cutting over to historic Telegraph Ave.  This street really is a melting pot of people from different walks of life.  It's amazing to just walk down a street filled with so much diversity.  It's a beautiful street and like always, we had fun just walking around and exploring.  Once we arrived at the university, we decided to go to our next destination.
2132 Oxford Street, Berkeley, CA 94704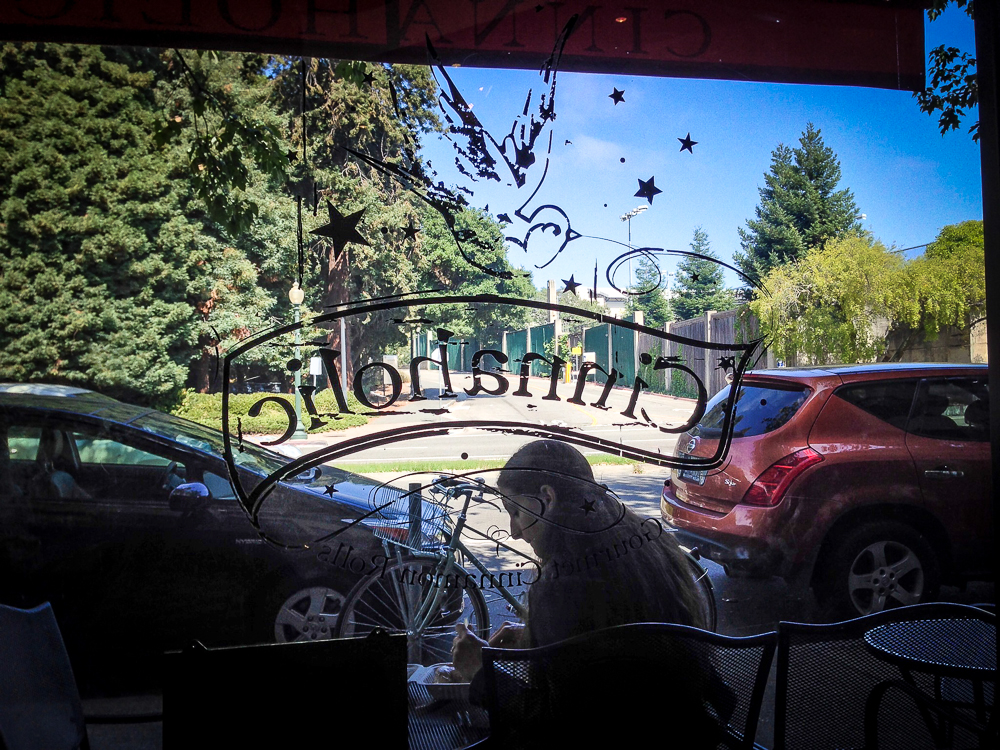 I have been wanting to go to Cinnaholic ever since I became vegan.  I learned about this legendary vegan cinnamon roll shop shortly after going vegan and have dreamed about their incredible creations ever since.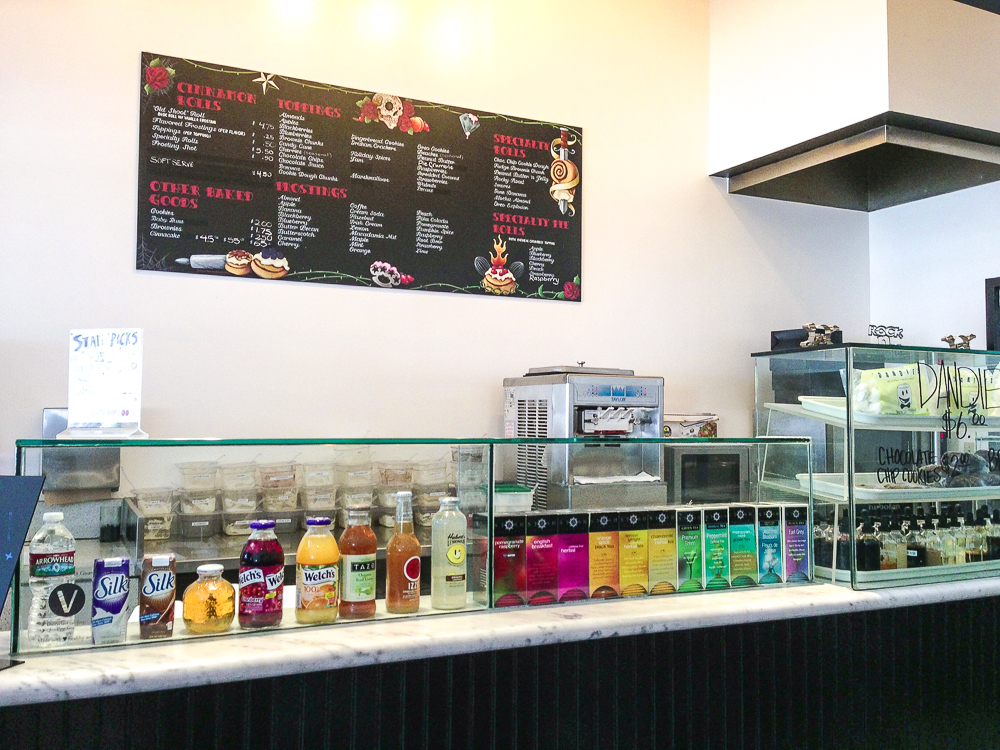 As soon as we walked in the door we were struck by the huge wafts of sweet cinnamon dough hitting our noses.  It's the sort of smell that makes your eyes roll back in your head for a moment while you take it all in.  It's just that good.  The owner, Shannon Michelle Radke, was manning the counter and she took our orders.  Cinnaholic offers a wide variety of icing flavors and toppings as well as soft-serve ice cream, all of them vegan, so there are an insane number of cinnamon roll creations you can make or you can order one of their standard flavors.  Chris ordered the ol' fashioned classic.  I asked what their most popular flavor was and was told that it was the Chocolate Chip Cookie Dough cinnamon roll. So I went with that one.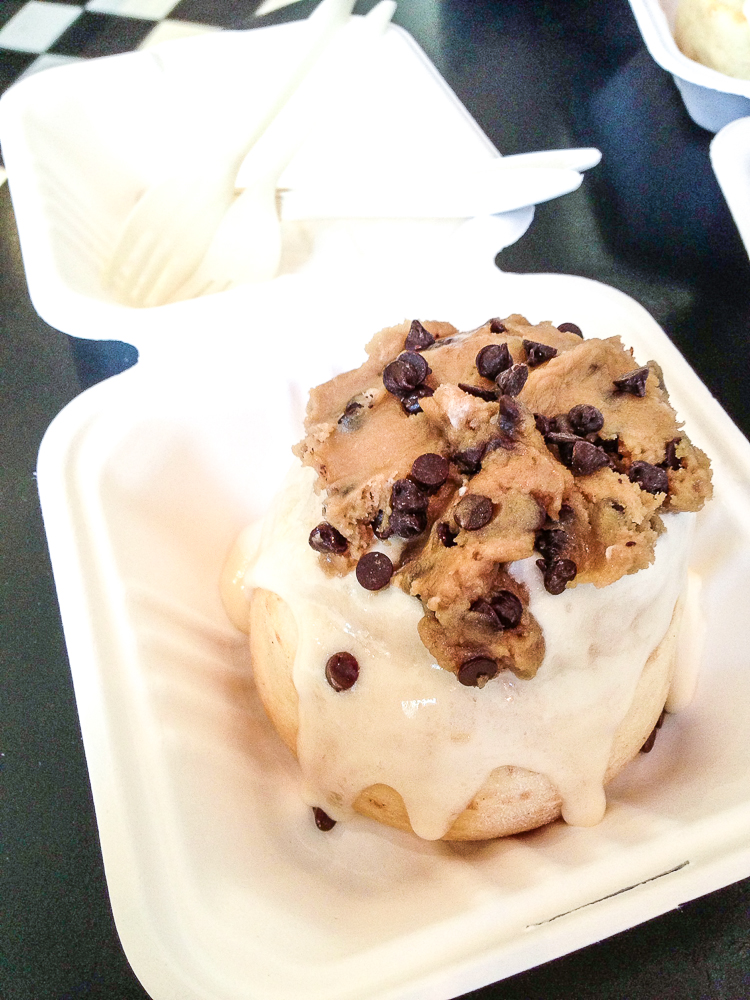 I had every intention of just eating half of one and saving the rest for later but once I started, I couldn't stop.  These cinnamon rolls were the best cinnamon rolls I've ever had in my life, vegan or not.  The warm, doughy rolls melt in your mouth while the sweet icing just makes your heart sing!  On the cookie dough cinnamon roll, the cookie dough actually gets kind of melty and mixes with the icing and I cannot express to you in words how delicious it was.  Just imagine the most delicious dessert you've ever eaten and then multiply that by 900.  That's how good this cinnamon roll was.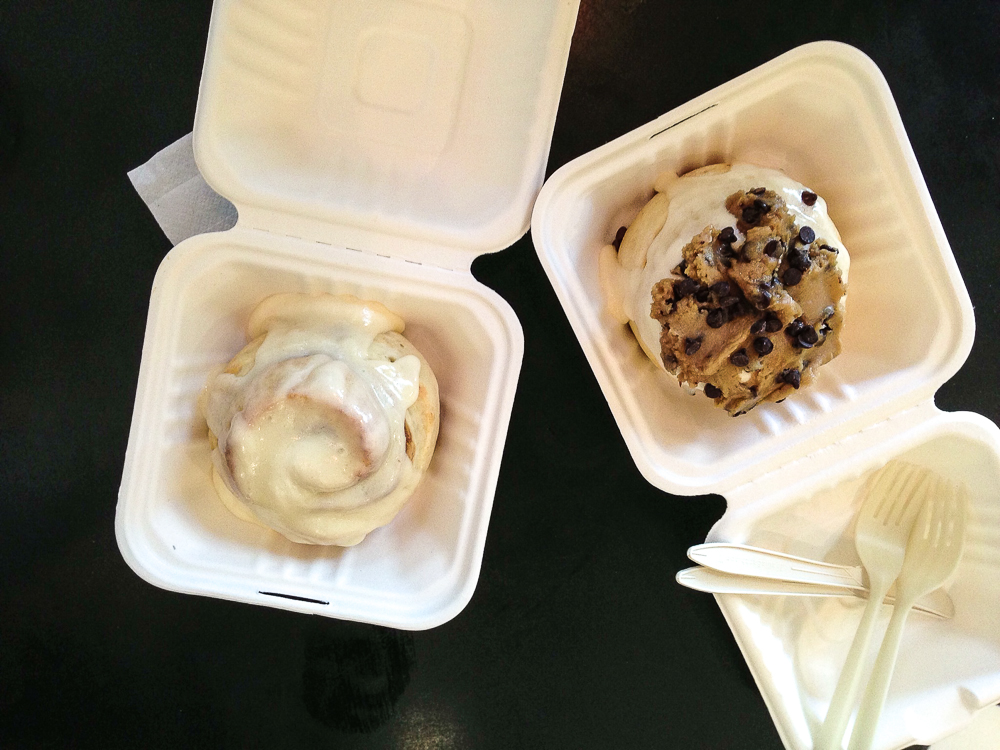 As we left, I noticed that Saturn Cafe was just a couple doors down from Cinnaholic.  Saturn Cafe is a vegetarian restaurant with plenty of vegan and gluten-free options (all of them clearly marked on the menu).  I used to eat at their Santa Cruz location all the time and always really liked the food.  If you find yourself in Berkley (or Santa Cruz) keep Saturn Cafe in mind as a dining option.
After we stuffed our faces with the best vegan cinnamon rolls ever to exist, we hopped back on BART to head back to San Francisco.  There's plenty more to do and see in Berkeley, should you visit, but Chris and I have always been taken with the simple beauty of the city.  We enjoy just walking around and enjoying the atmosphere of this city and now, with such great dining options, we have even more of a reason to return.
Stay tuned next week for more about our vegan travels in San Francisco!